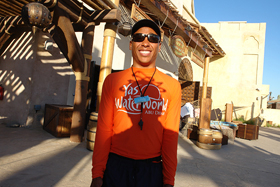 Review
February 05, 2013
I have accompanied Yas Waterworld since the early stages of construction. I was invited on site many times, took pictures, met the creators. I like the people who build it. But now it's time to write an honest review.
Yas Waterworld is an incredible water park with beautiful, local theming and an abundance of thrill water slides, but it has its flaws. It plays in the top league, but it's not THE best water park in the world. I still like Disney's Typhoon Lagoon, Atlantis Bahamas and even slide-devoid Valley of Waves more.
Why is that?
First of all, the location was chosen poorly. The magic of Yas Waterworld doesn't kick in because it's not built by the sea, and you can see all the other stuff beyond the park's boundaries. And there's no magic on Yas Island. The park's location in between two tarmac roads and adjacent to a big, red, clinical Ferrari roof, a Formula1 track, a shopping mall under construction, cranes and empty land plots doesn't make you feel that you've entered a different world. I miss the walls, trees and details that shelter Disney parks and Universal Studios from the outside world. How deeply can you get caught up in the story of the Disney-eyed Emirati girl in search of her magic pearl when the glare of a ritzy Ferrari roof keeps catching your eye?
Then, this one is easy to fix, but it is annoying: the beautiful Aladdin-style theming of the park is met with... Wet'n Wild-style pop music! Some parts of the park, like in the souq and around the central slide towers, have traditional local or classical music. But everything in between is MTV Top-40 (at the time of my review, at least). Does that fit? All the storytelling, warmth, romance and atmosphere that this park visually entails, spoiled by playing pop music made for the unthemed water park of your average suburb. It's as incongruous as hearing goth punk on Disneyland's Main Street.
That being said, the rockwork and visual theming is world-class and full of playful details, and the park has a sensational overdose of slides, most of them great. My favorite is the inconspicuous green slide on WhiteWater West's 'Slithers Slides' tower – it's a standard tube slide in the dark, but it drops surprisingly and speeds up nicely and smoothly. Love to get surprised! The world's first 'Rattler' slide disappoints: these fleeting oscillating movements in the cylinder shapes simply don't provide the best slide feel ever. It's beautiful that some slides have music, light effects and fog, even though the promised projections are not in place yet. The looping slide with the trap door (the region's sole offshoot) is great, and so is (of course) the massive Tornado slide 'Dawwama'. All in all, it's an amazing exhibition of slides unique to the Middle East, but nothing totally new and innovative.
Building a roller coaster meandering through the park's scenery was a good idea. The chance to splash bystanders and vice versa enables some communication – albeit somewhat kinky communication – between men and women that may not happen otherwise in this part of the world.
Overall, it's amazing, addictive, one of the world's best and surely the most complete water park in the Middle East. So here is some advice for all those living in Dubai, Doha and Riyadh: hurry up, come over while it's not that crowded yet!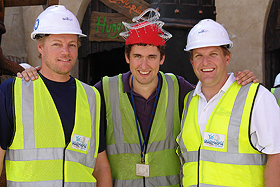 Construction Update
December 04, 2012
It's nearly finished, and the more I visit the site, the less I feel I'm in a water park.
It's more of a theme park, with a disproportional number of water slides. Where is the slipperiness in attractions such as the roofed souq, pearl diving show, suspended coaster and kids' treasure hunt?
Looking at these rumbling, jagged, immaculately-themed rock structures permeated by shipwrecks, humongous atmospheric caves and enormous thrill slides with fog effects and projections, all ingeniously intertwined and on top of each other, I think the designers had a party when putting this together.
It looks jaw-droppingly awesome and will definitely live up to Atlantis and Disney water park standards.
Contrary to Ferrari World next door I am confident this will be a hit, and thus may have a huge effect far beyond the Middle East. A themed water park carries a much lower price tag than a theme park, and if it's fun and it works, then why not build many more of them?
Thanks to Mike Oswald, Tim Mow, Abby Cronje, Ryan Watkins, Dayana Palermo, Kate Lockey, Kevin Johnson, Amin Rashmani, Jonathan Temple, Mark Joyce and Scott Wellington for facilitating all these site visits, but first and foremost for bringing this water park 2.0 to life!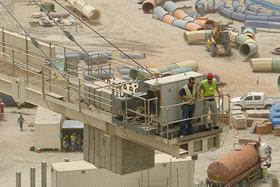 Construction Update
May 24, 2012
Desert storm during my photo session on the Yas Waterworld site. Everything looks a bit sandy and dusty today, but this just adds to the captivating magic to come.
It's really not a water park I am picturing here, it's a mutation, the offspring of a theme park and a water park proving in its own way how stunning and graceful mixed-race children can be.
I still believe that many didn't capture yet what's really being built here. It's a record-breaking venture and something tells me that this place, once open later this year, will never be empty.
Visit

for daily theme park construction updates worldwide