Yas Waterworld

Date Visited:
October 05, 2011 / December 31, 2011 / February 04, 2013
May 24, 2012 / December 04, 2012
Can you contribute? More construction updates here!

Review
February 05, 2013
I have accompanied Yas Waterworld since the early stages of construction. I was invited on site many times, took pictures, met the creators. I like the people who build it. But now it's time to write an honest review.
Yas Waterworld is an incredible water park with beautiful, local theming and an abundance of thrill water slides, but it has its flaws. It plays in the top league, but it's not THE best water park in the world. I still like Disney's Typhoon Lagoon, Atlantis Bahamas and even slide-devoid Valley of Waves more.
Why is that?
First of all, the location was chosen poorly. The magic of Yas Waterworld doesn't kick in because it's not built by the sea, and you can see all the other stuff beyond the park's boundaries. And there's no magic on Yas Island. The park's location in between two tarmac roads and adjacent to a big, red, clinical Ferrari roof, a Formula1 track, a shopping mall under construction, cranes and empty land plots doesn't make you feel that you've entered a different world. I miss the walls, trees and details that shelter Disney parks and Universal Studios from the outside world. How deeply can you get caught up in the story of the Disney-eyed Emirati girl in search of her magic pearl when the glare of a ritzy Ferrari roof keeps catching your eye?
Then, this one is easy to fix, but it is annoying: the beautiful Aladdin-style theming of the park is met with... Wet'n Wild-style pop music! Some parts of the park, like in the souq and around the central slide towers, have traditional local or classical music. But everything in between is MTV Top-40 (at the time of my review, at least). Does that fit? All the storytelling, warmth, romance and atmosphere that this park visually entails, spoiled by playing pop music made for the unthemed water park of your average suburb. It's as incongruous as hearing goth punk on Disneyland's Main Street.
That being said, the rockwork and visual theming is world-class and full of playful details, and the park has a sensational overdose of slides, most of them great. My favorite is the inconspicuous green slide on WhiteWater West's 'Slithers Slides' tower – it's a standard tube slide in the dark, but it drops surprisingly and speeds up nicely and smoothly. Love to get surprised! The world's first 'Rattler' slide disappoints: these fleeting oscillating movements in the cylinder shapes simply don't provide the best slide feel ever. It's beautiful that some slides have music, light effects and fog, even though the promised projections are not in place yet. The looping slide with the trap door (the region's sole offshoot) is great, and so is (of course) the massive Tornado slide 'Dawwama'. All in all, it's an amazing exhibition of slides unique to the Middle East, but nothing totally new and innovative.
Building a roller coaster meandering through the park's scenery was a good idea. The chance to splash bystanders and vice versa enables some communication – albeit somewhat kinky communication – between men and women that may not happen otherwise in this part of the world.
Overall, it's amazing, addictive, one of the world's best and surely the most complete water park in the Middle East. So here is some advice for all those living in Dubai, Doha and Riyadh: hurry up, come over while it's not that crowded yet!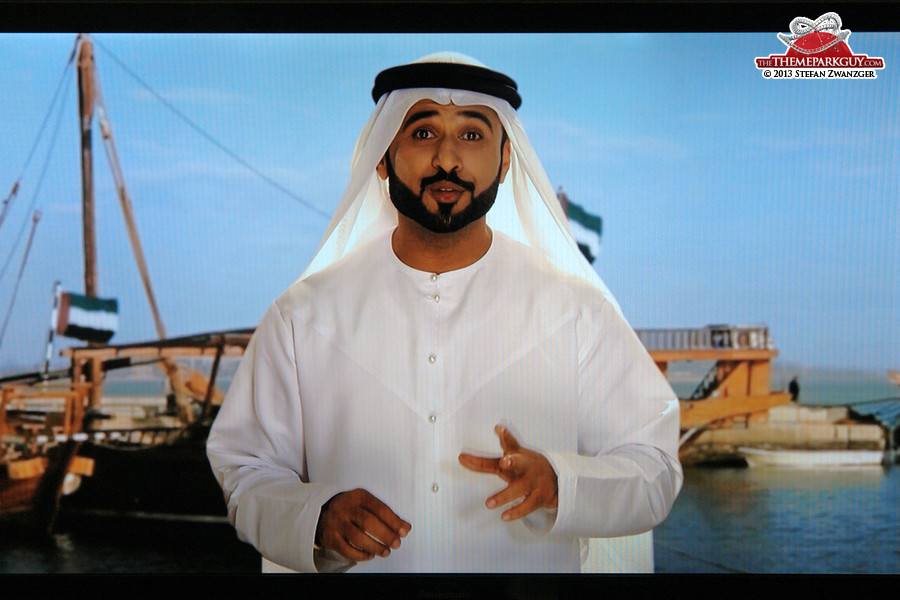 Welcome!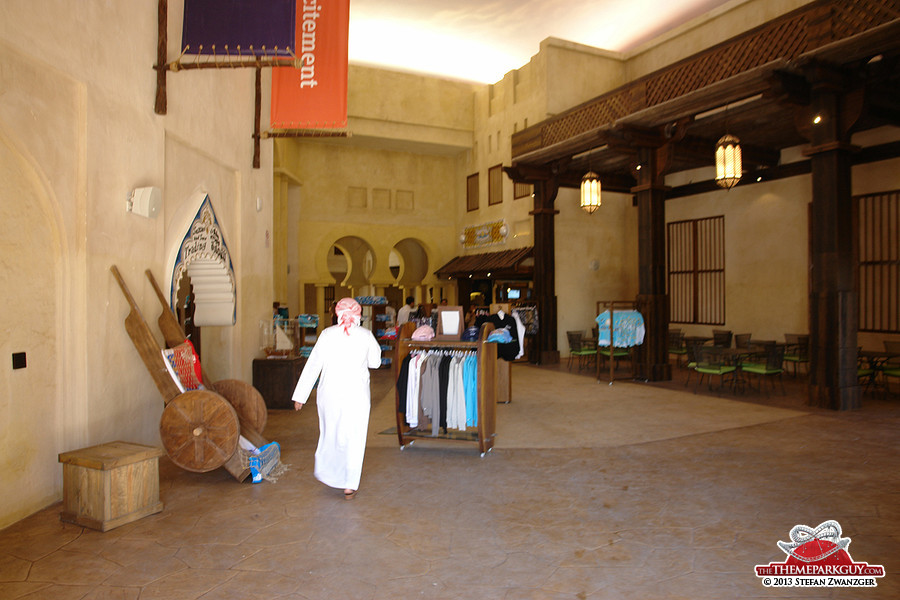 Let me...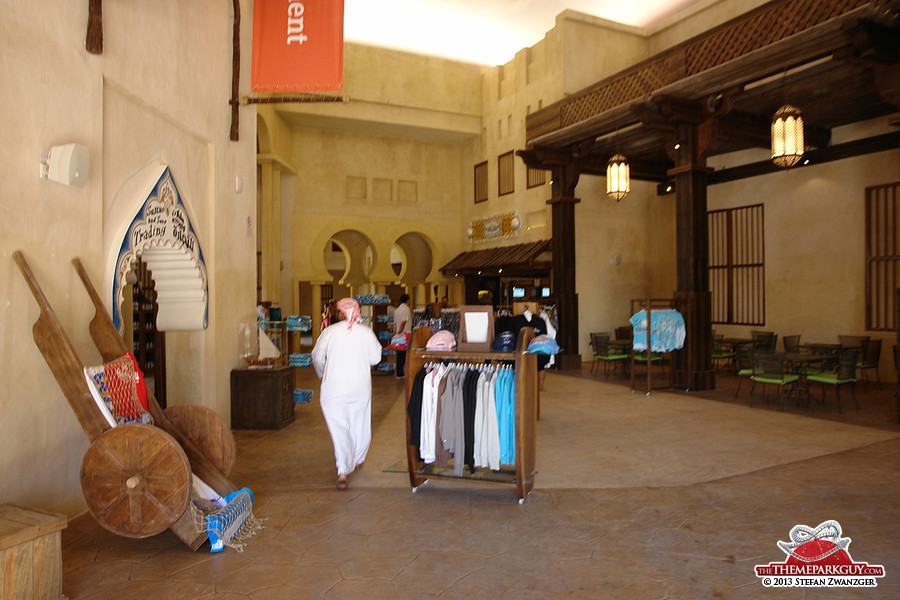 ...guide you!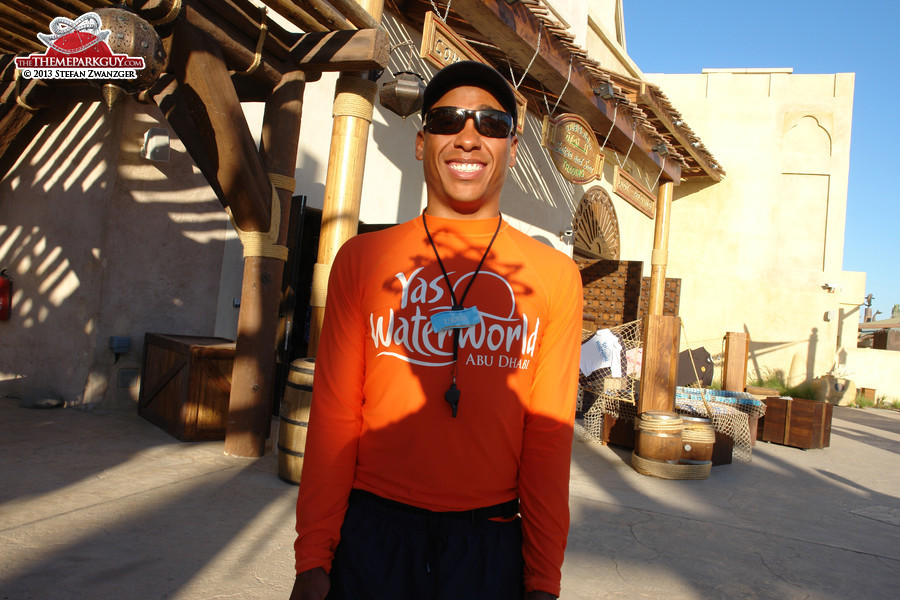 The shadow of review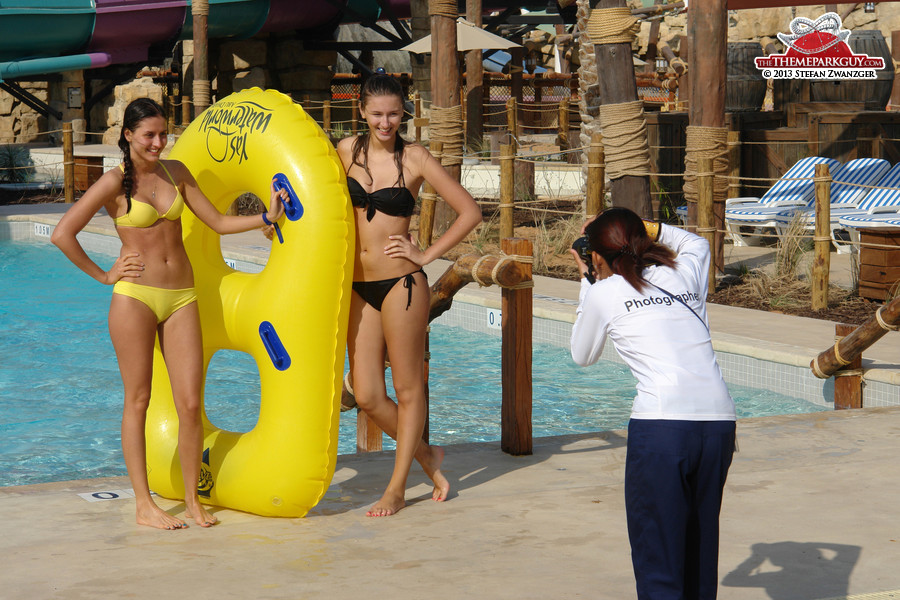 Male South Asian workers have been replaced with women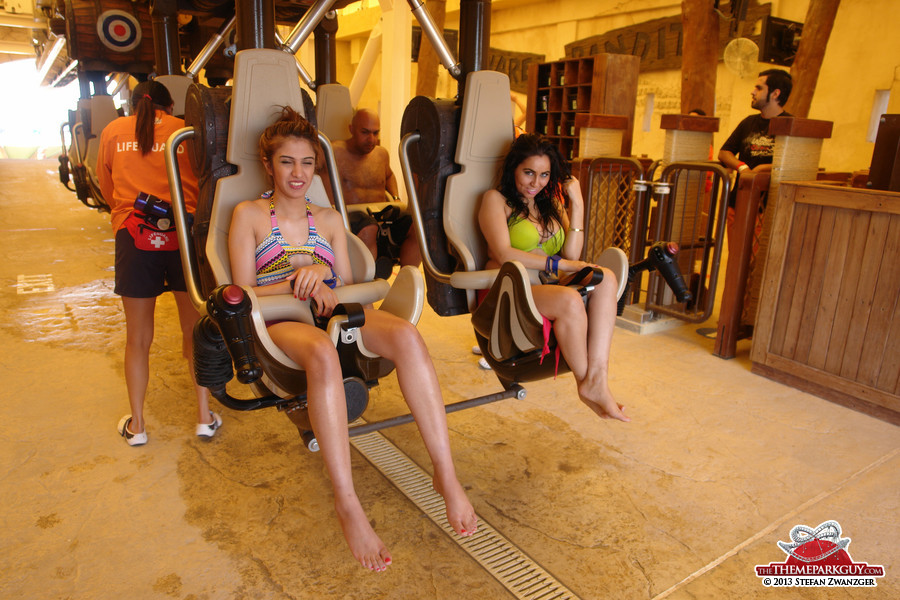 Arabic women on coaster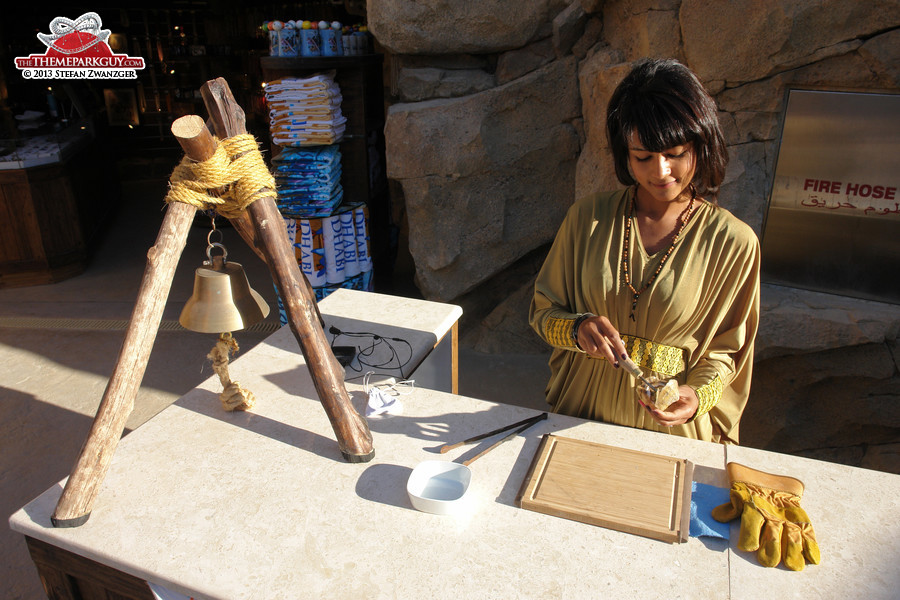 Woman employee on pearl discovery desk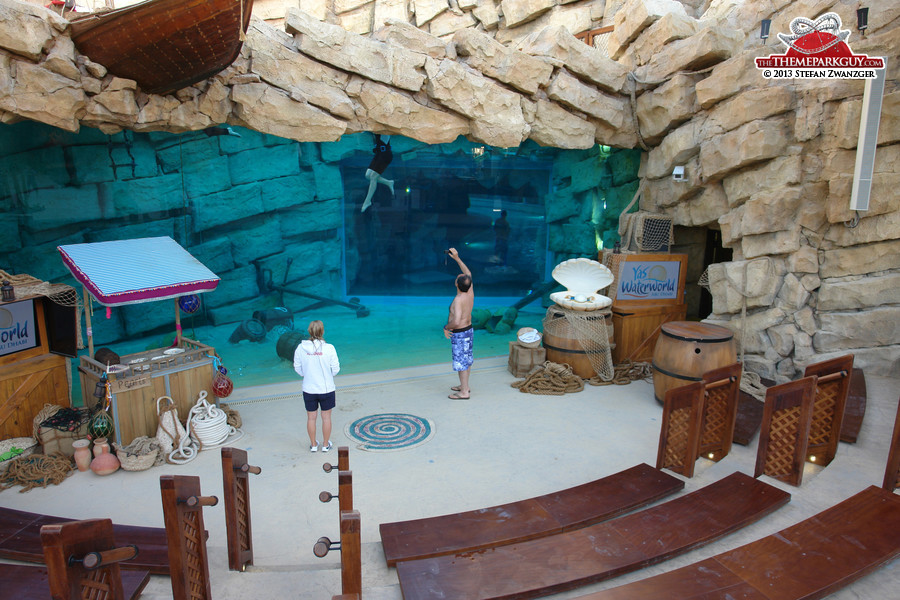 Woman pearl diver - a rare sight!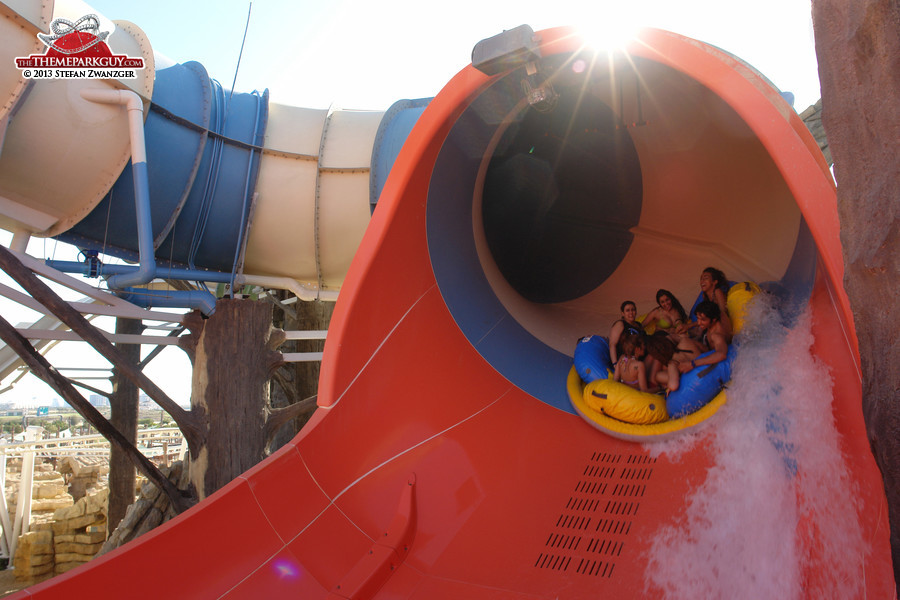 Family rafts...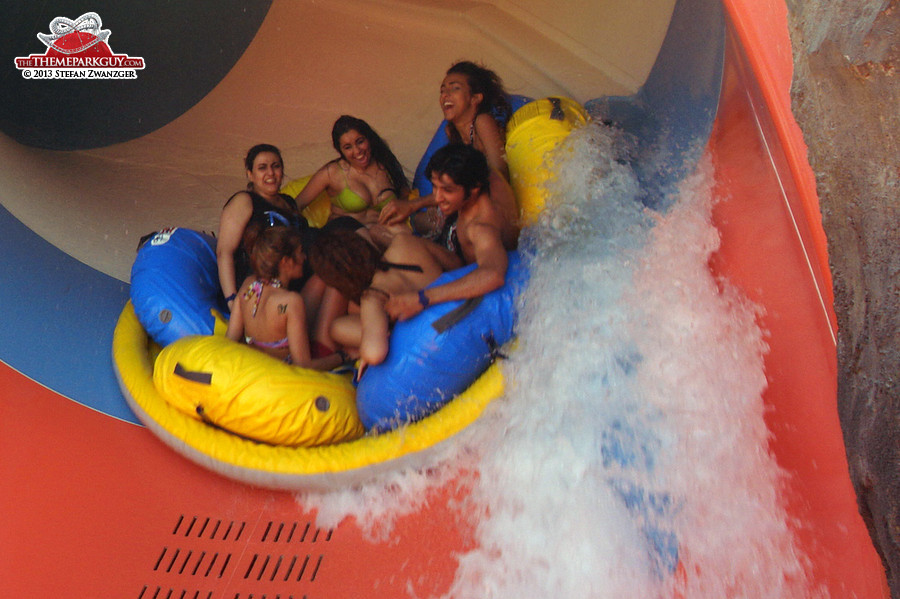 ...propelled by womanpower!
Guys splashing girls!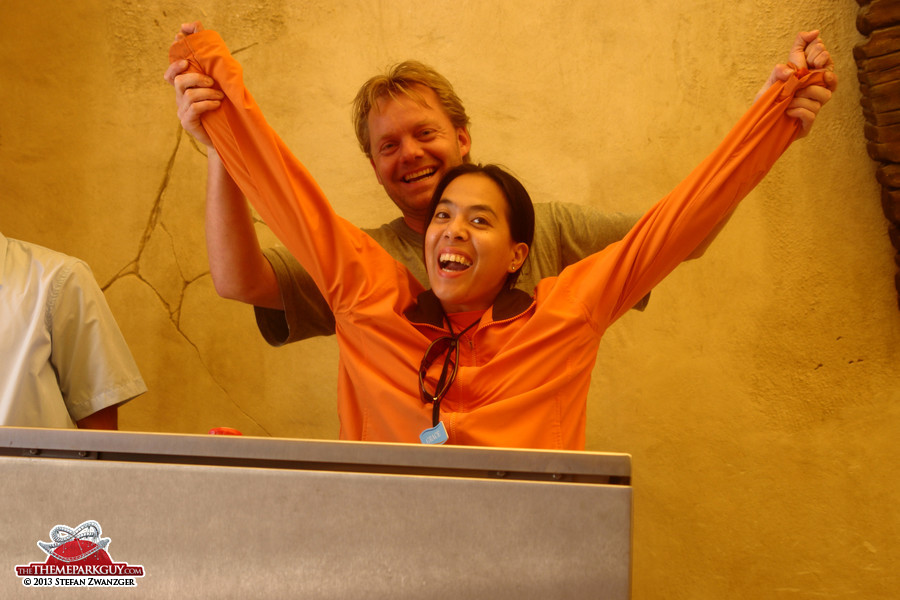 Hooray, we took over!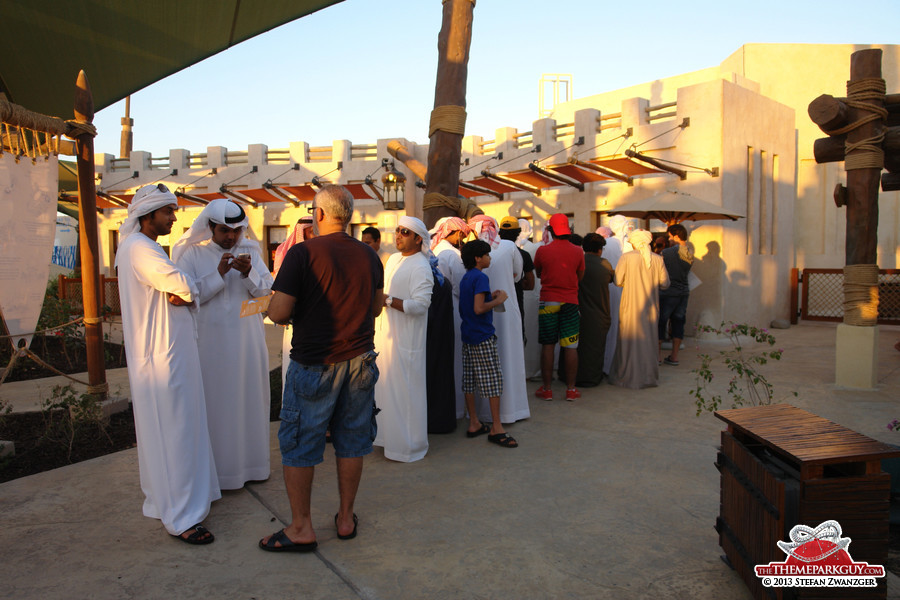 But not for long: here is the queue to the annual pass upgrade booth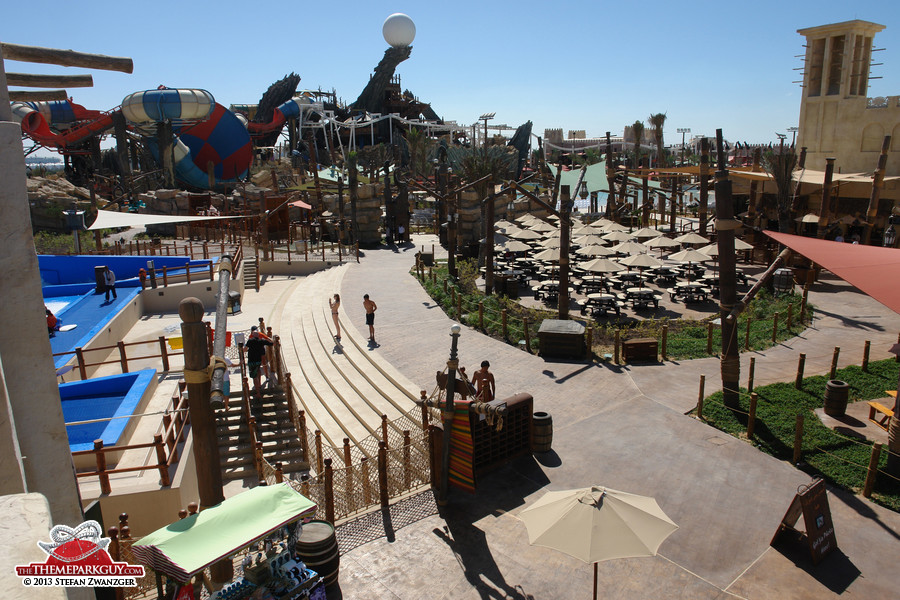 Yas Waterworld, now open to the public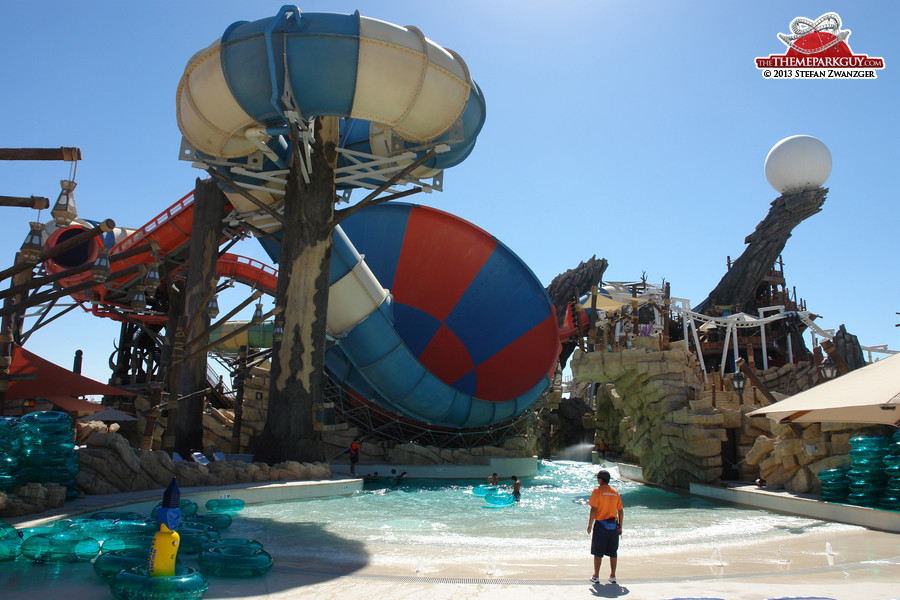 The gargantuan 'Dawwama' Tornado slide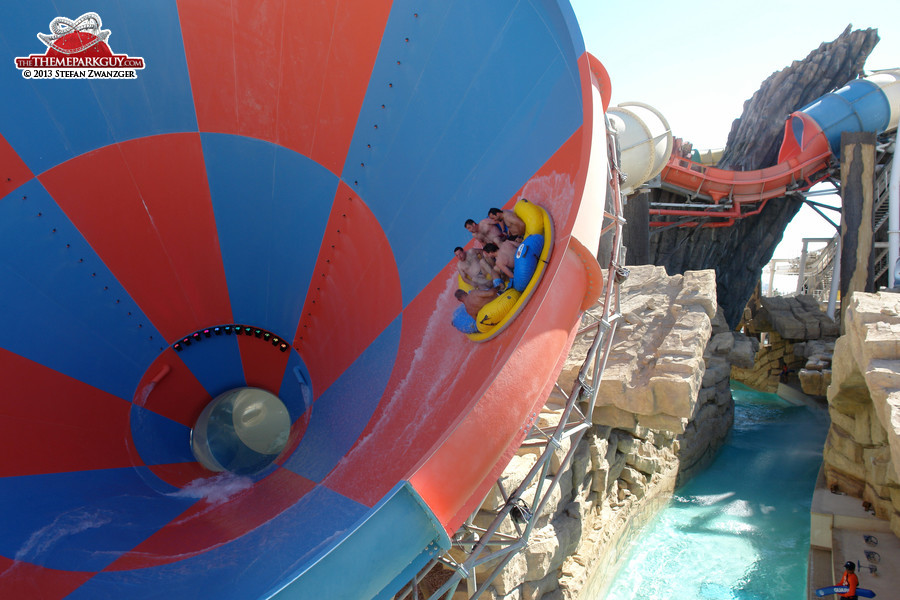 Funnel slides are fabulous fun!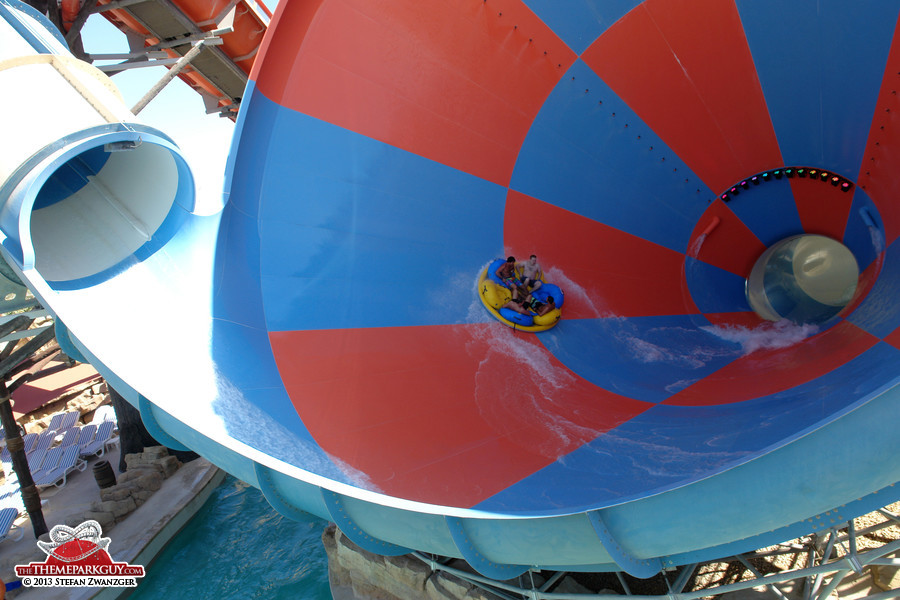 It's the first Tornado catering to groups of six!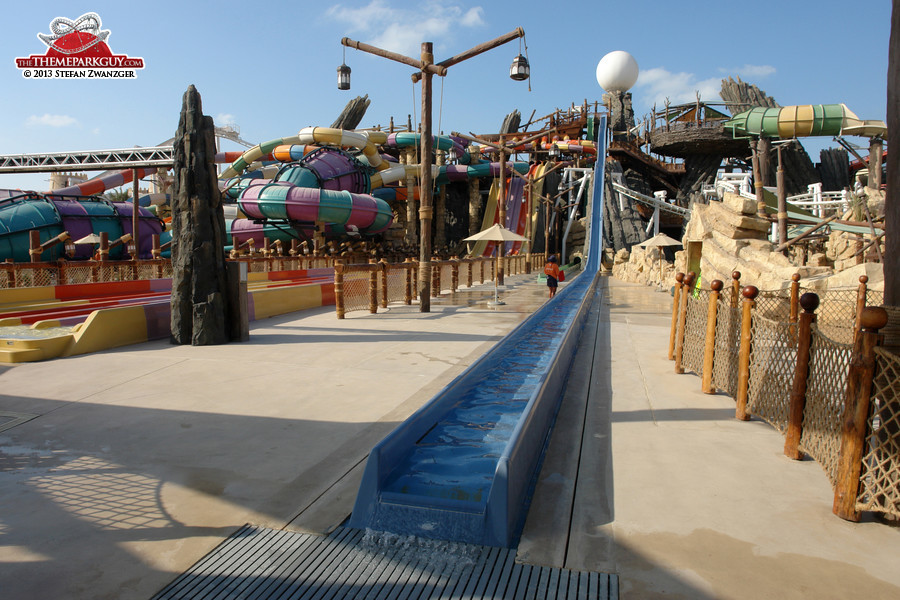 Speed slides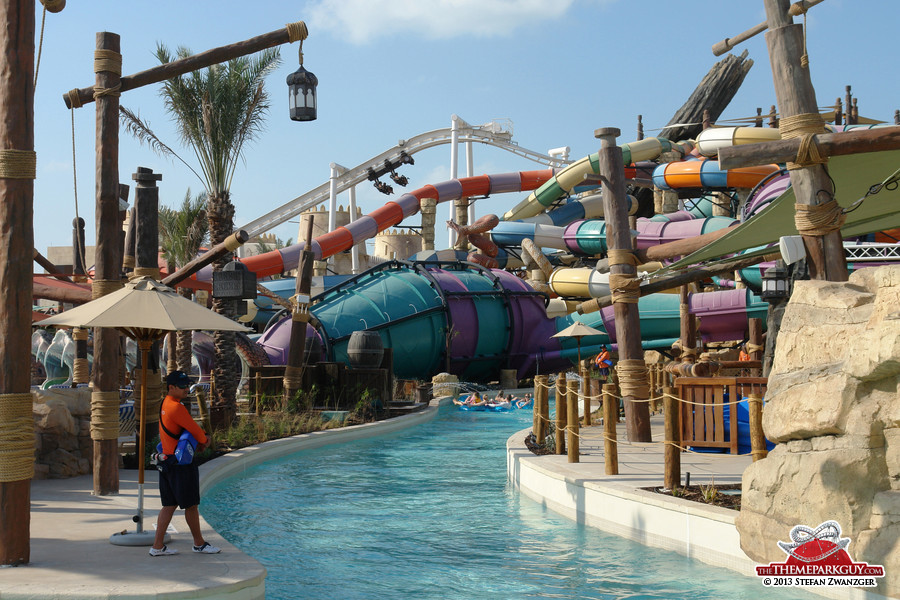 Lazy river (front), 'Rattler' slide (center), Bandit Bomber coaster (back)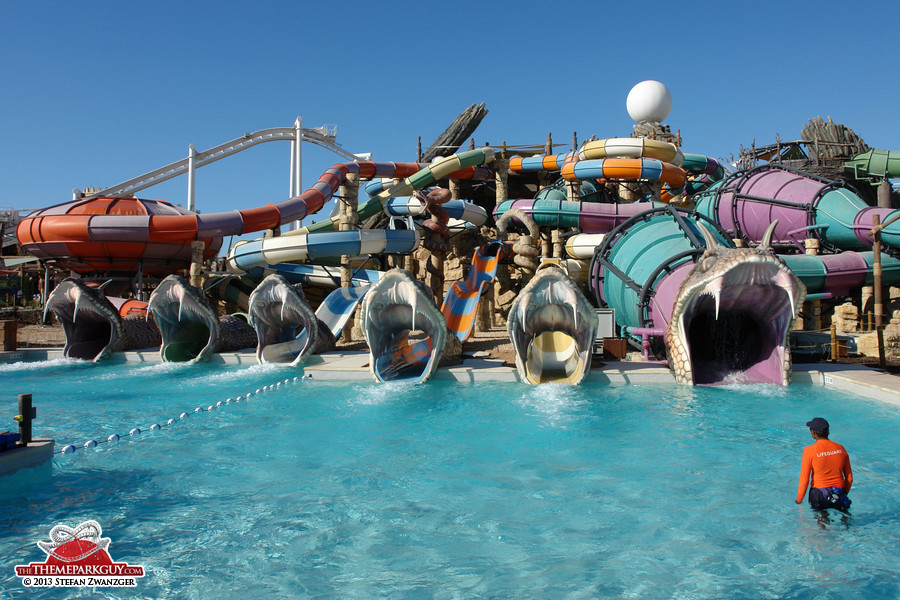 'Slither Slides' made by WhiteWater West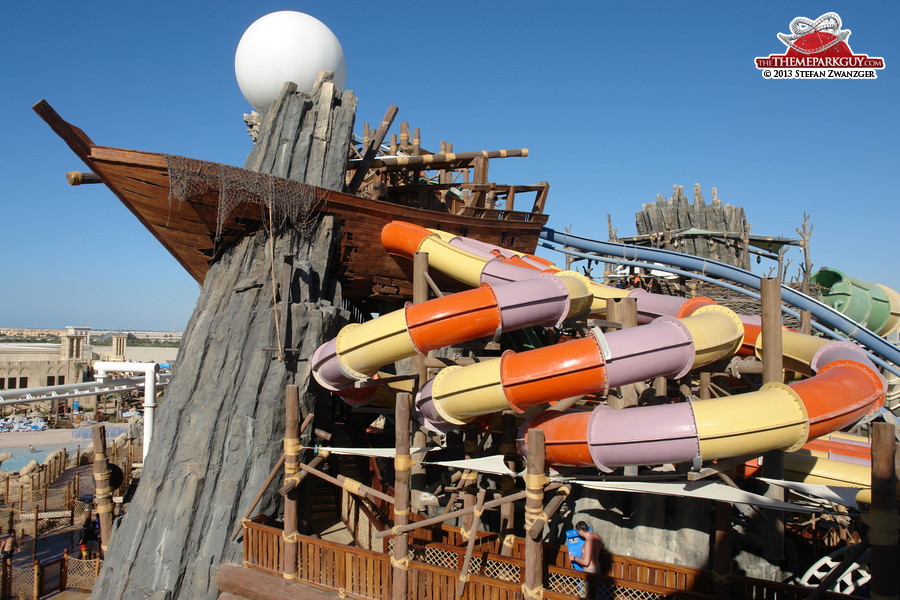 Mat racing slides protruding from a shipwreck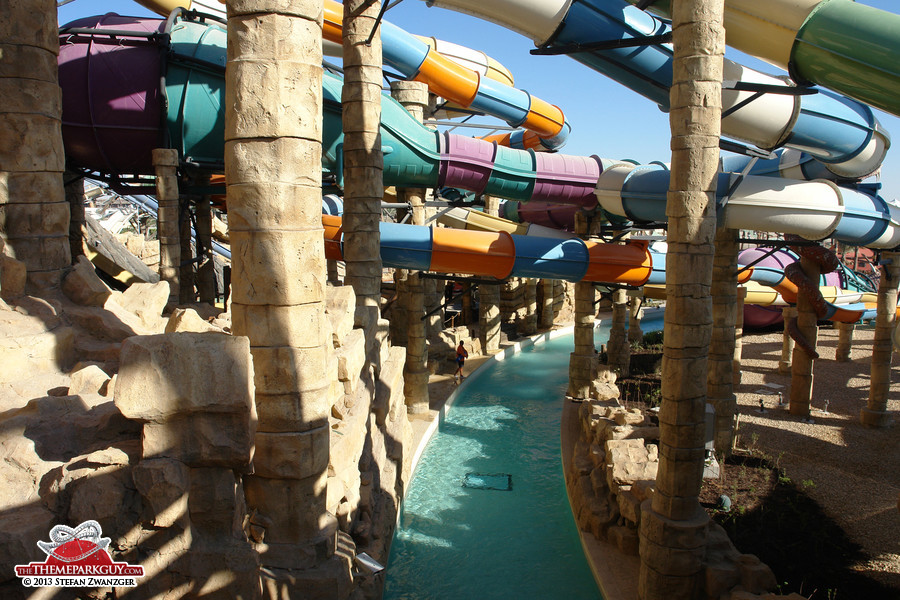 Lazy river meandering through slide jungle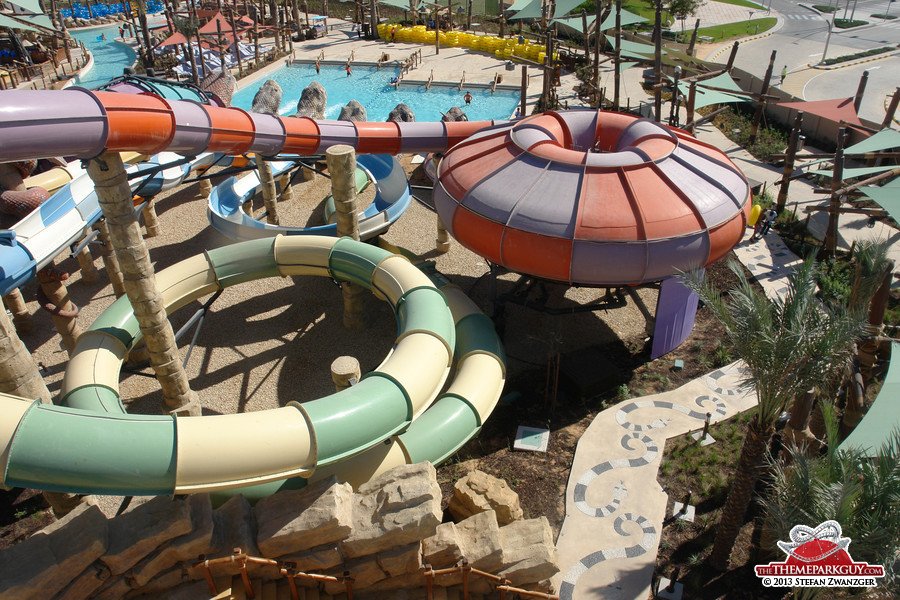 Covered bowl slide with music and effects inside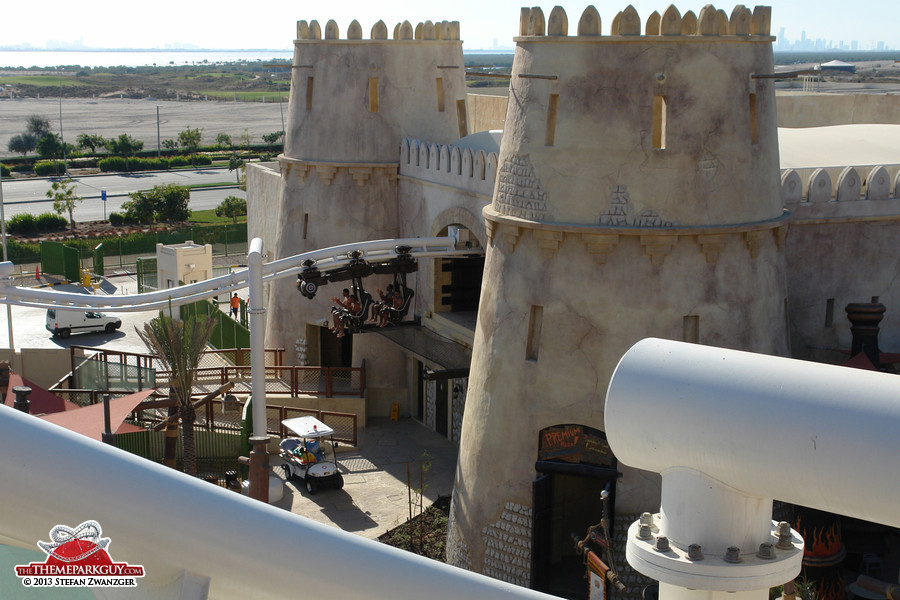 'Bandit Bomber' suspended roller coaster
The ghosts of Vekoma are still seen haunting the Bandit's Fort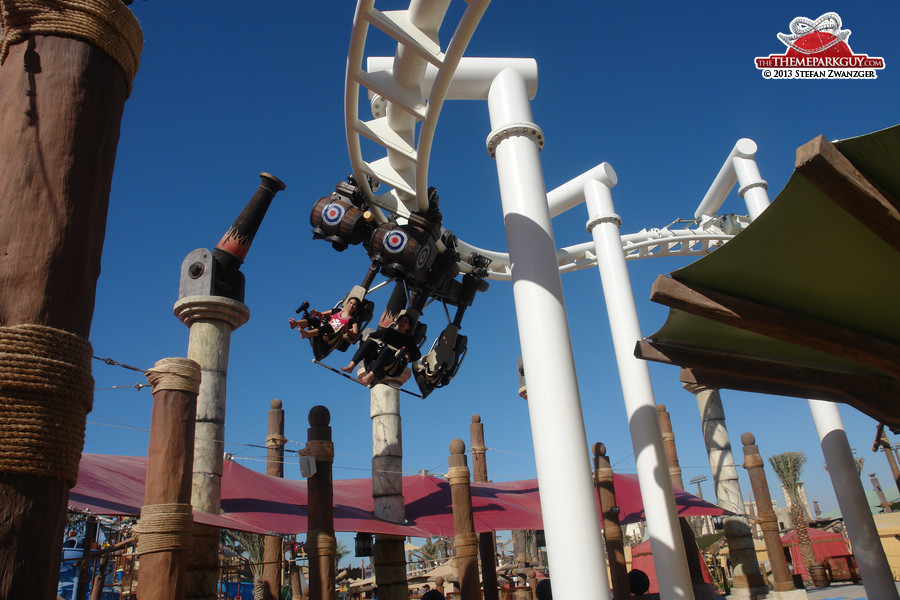 Racing through the park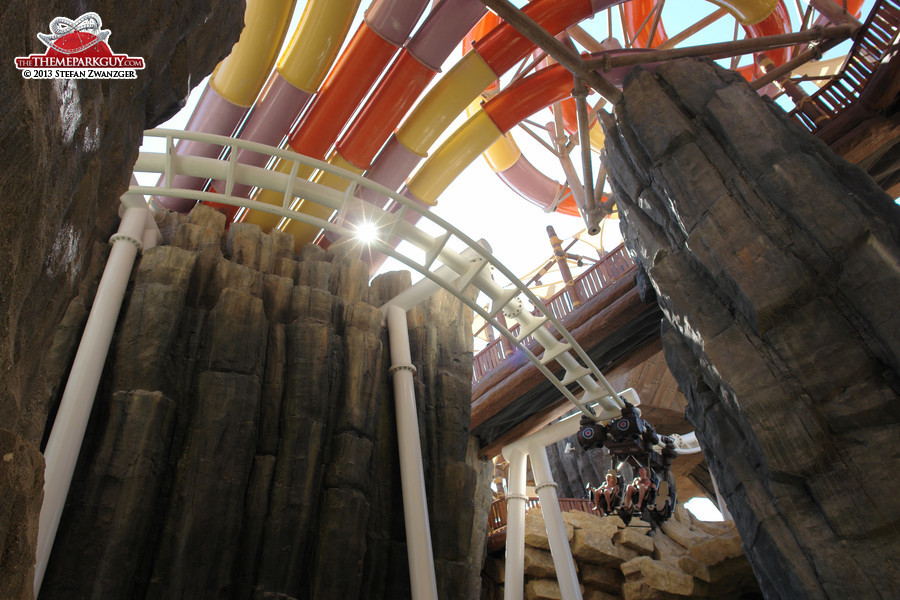 Hurtling through stunning scenery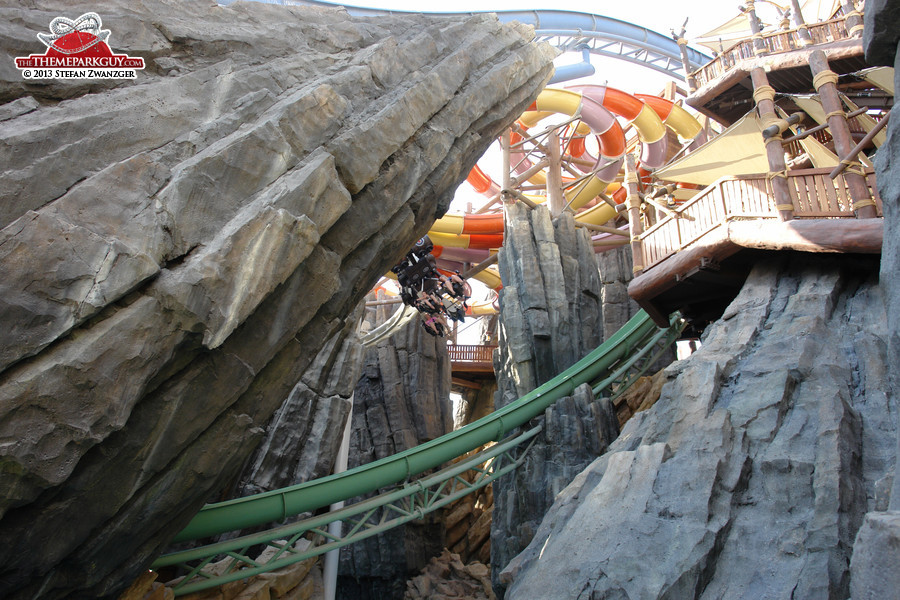 Water slides above, below, everywhere!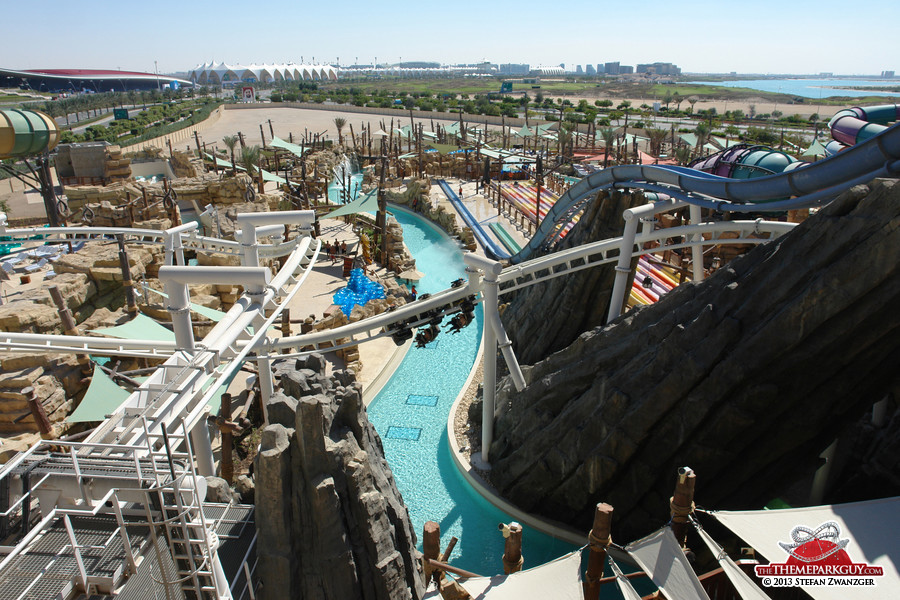 Yas Waterworld scenery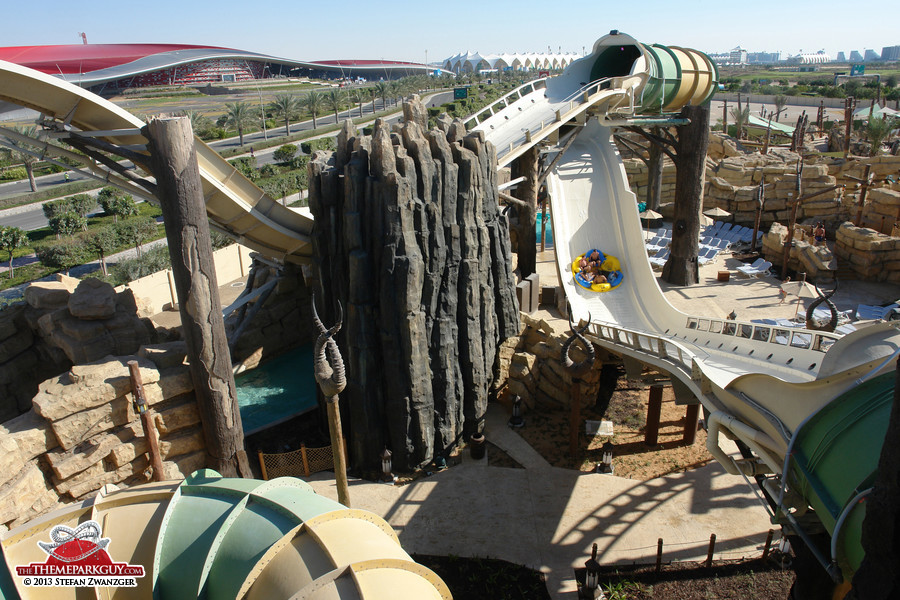 Magnetically-powered water coaster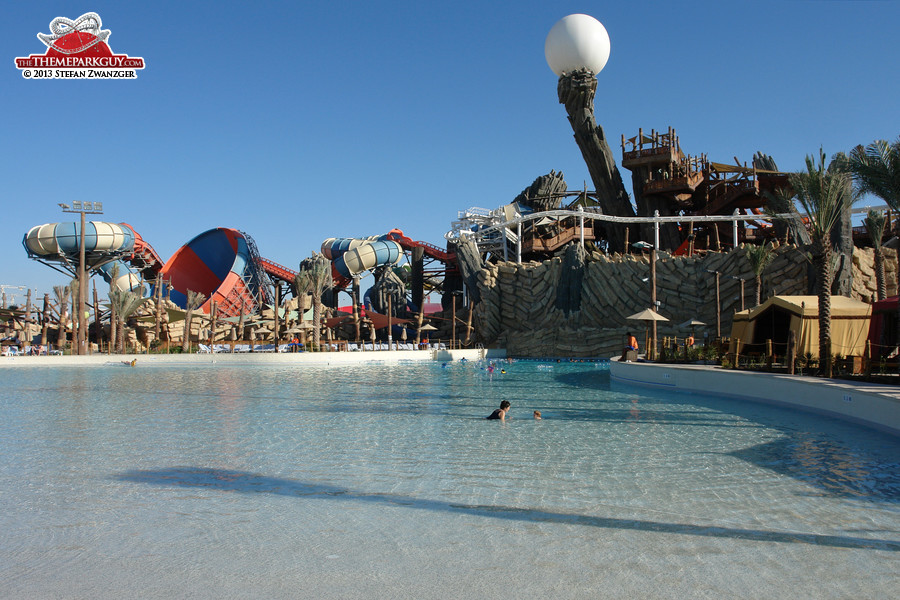 Yas Waterworld wave pool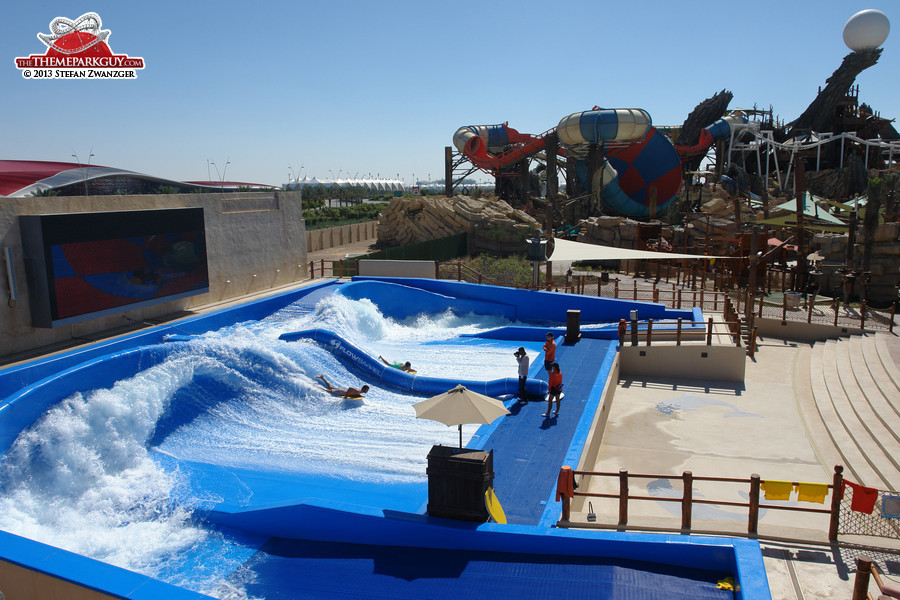 FlowBarrel, a training pool for aspiring surfers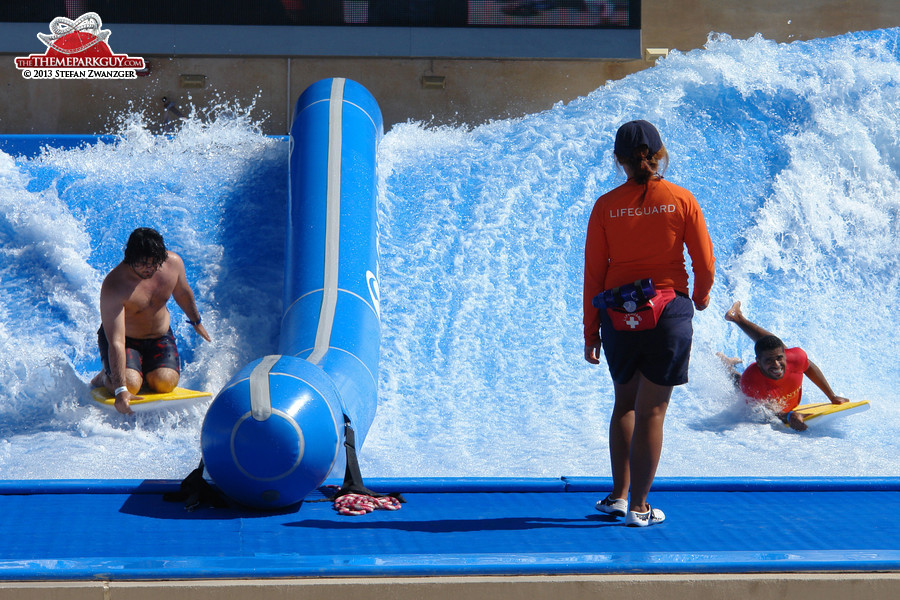 Bold hopefuls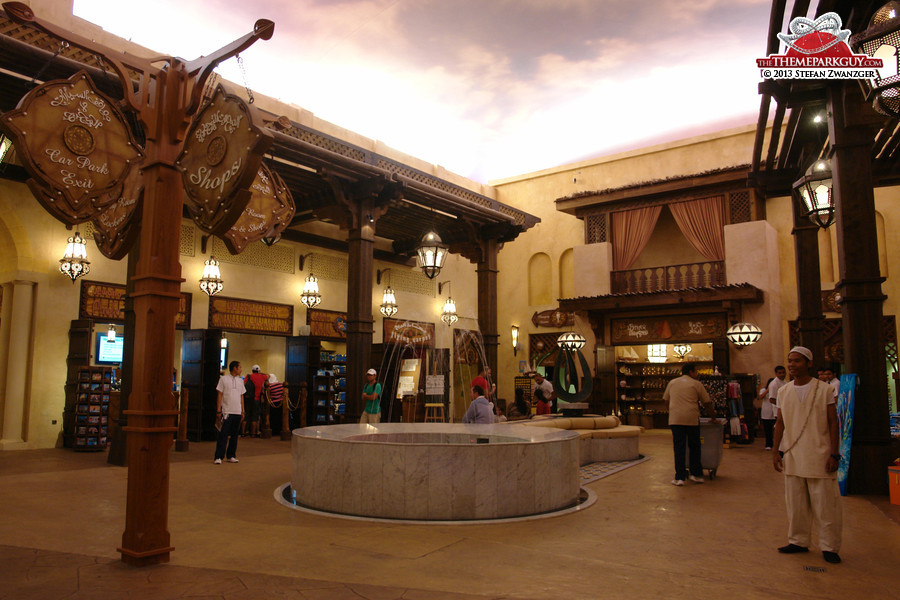 The small but charming souq at the entrance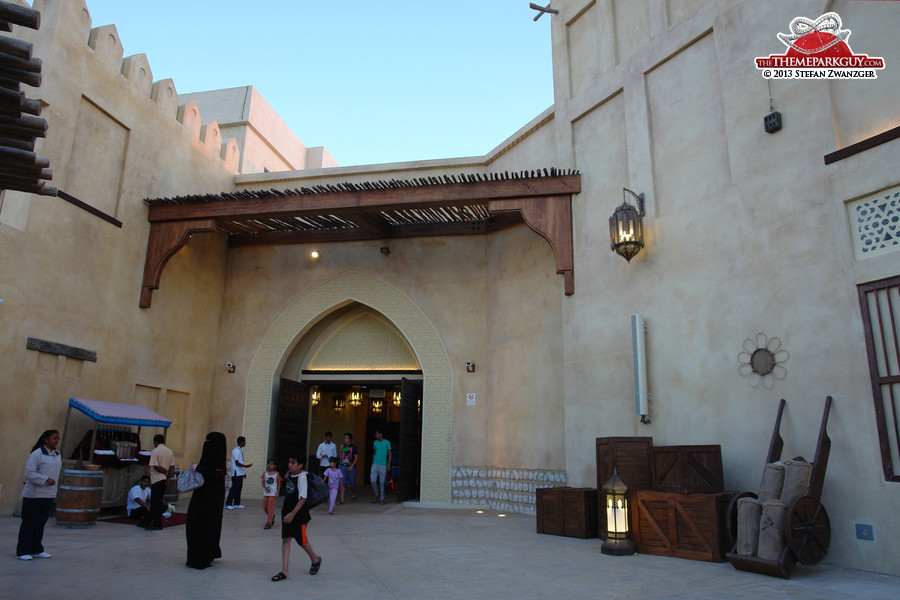 Going home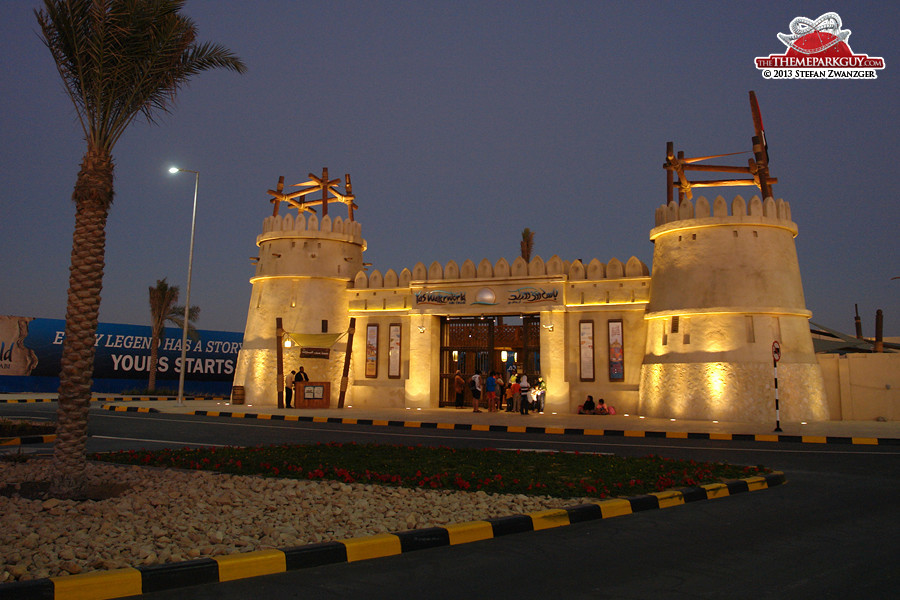 Yas Waterworld entrance at night
Construction Update
December 04, 2012
It's nearly finished, and the more I visit the site, the less I feel I'm in a water park.
It's more of a theme park, with a disproportional number of water slides. Where is the slipperiness in attractions such as the roofed souq, pearl diving show, suspended coaster and kids' treasure hunt?
Looking at these rumbling, jagged, immaculately-themed rock structures permeated by shipwrecks, humongous atmospheric caves and enormous thrill slides with fog effects and projections, all ingeniously intertwined and on top of each other, I think the designers had a party when putting this together.
It looks jaw-droppingly awesome and will definitely live up to Atlantis and Disney water park standards.
Contrary to Ferrari World next door I am confident this will be a hit, and thus may have a huge effect far beyond the Middle East. A themed water park carries a much lower price tag than a theme park, and if it's fun and it works, then why not build many more of them?
Thanks to Mike Oswald, Tim Mow, Abby Cronje, Ryan Watkins, Dayana Palermo, Kate Lockey, Kevin Johnson, Amin Rashmani, Jonathan Temple, Mark Joyce and Scott Wellington for facilitating all these site visits, but first and foremost for bringing this water park 2.0 to life!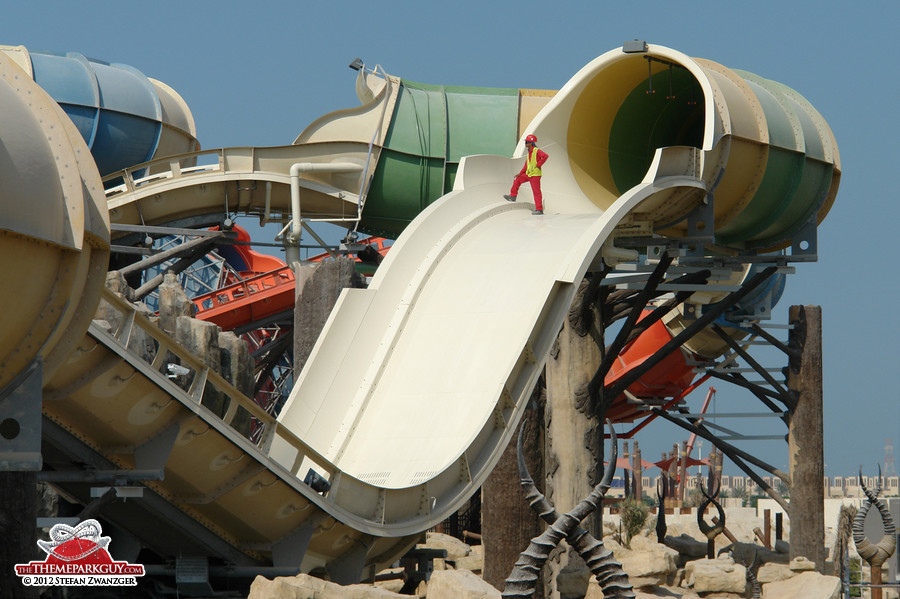 My dear family...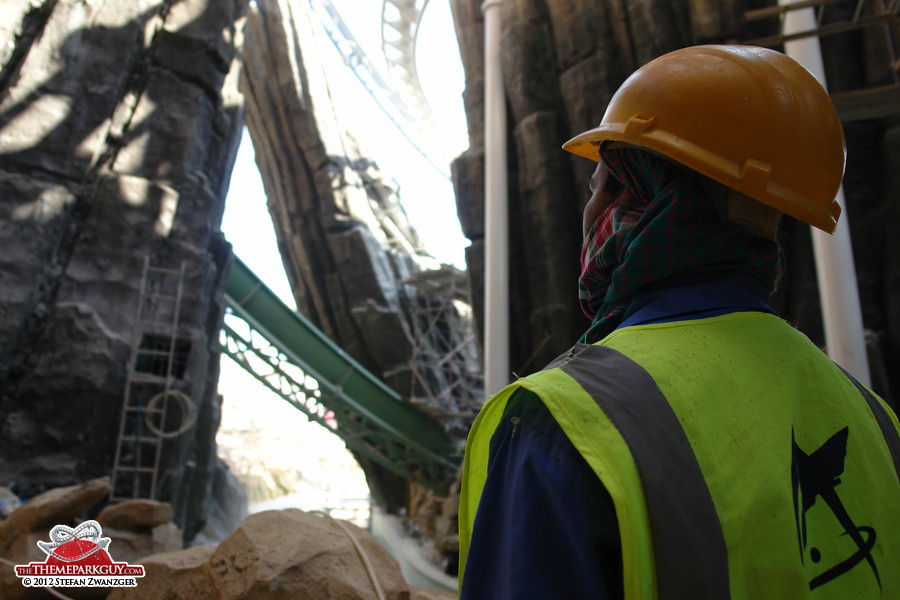 ...greetings from Abu Dhabi...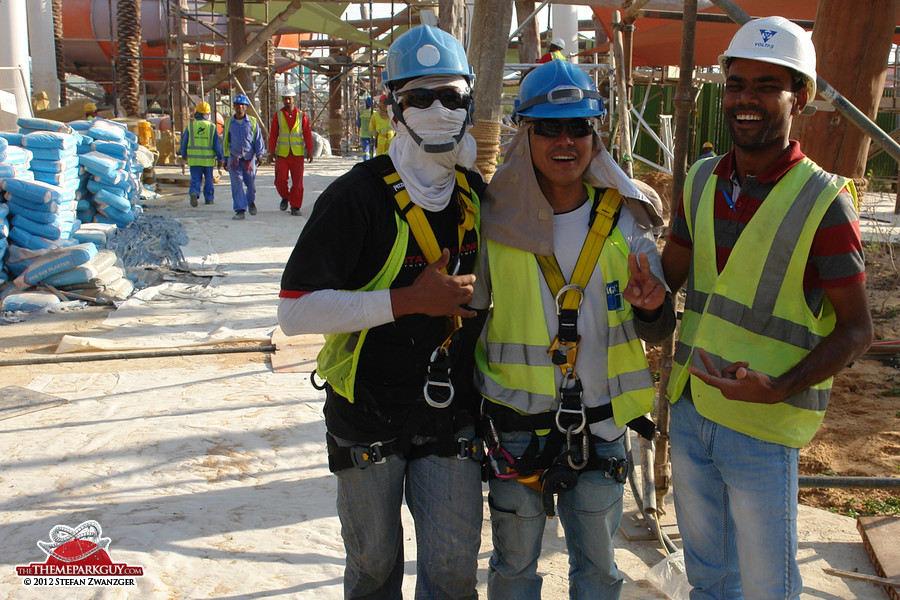 ...I have found many new friends here...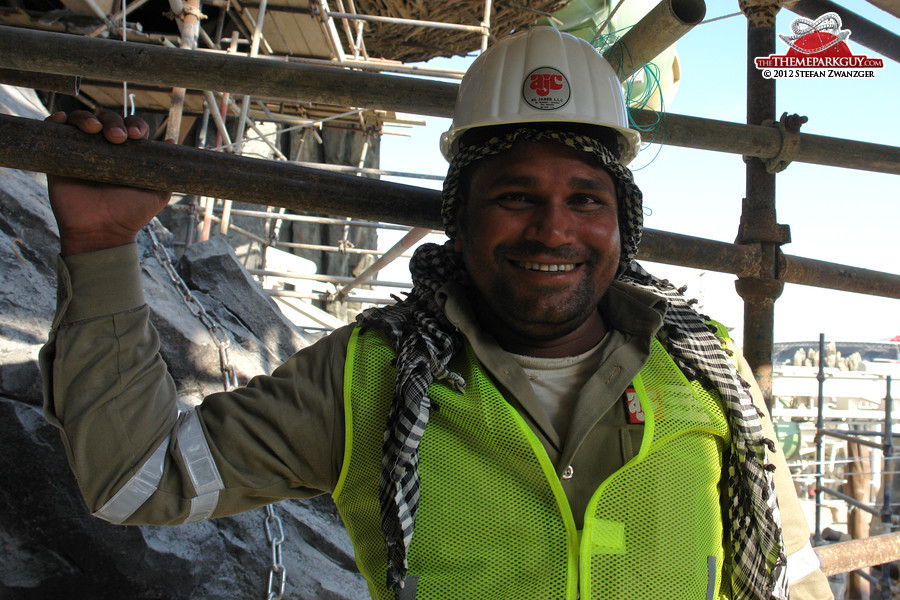 ...humble men, from crazy countries...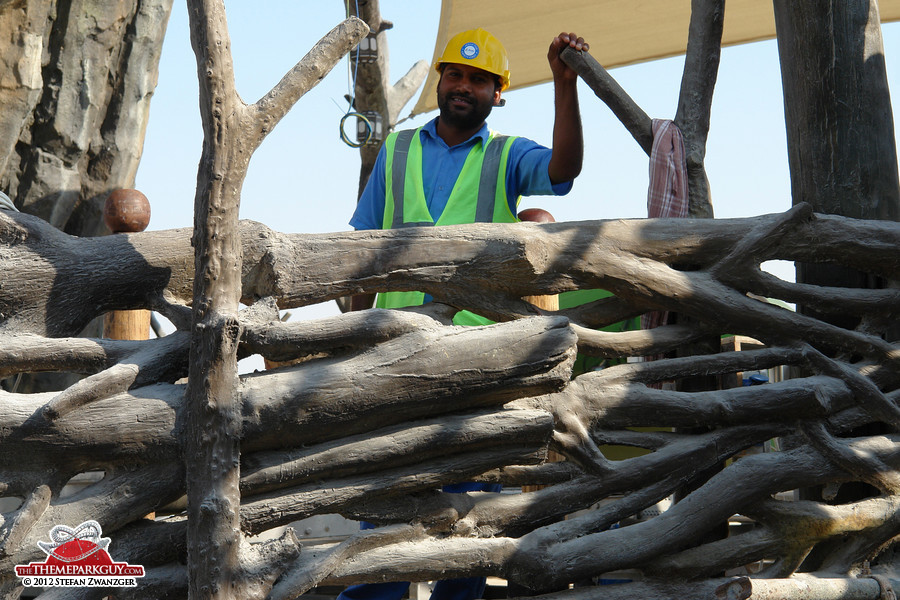 ...you wouldn't believe what we are building here...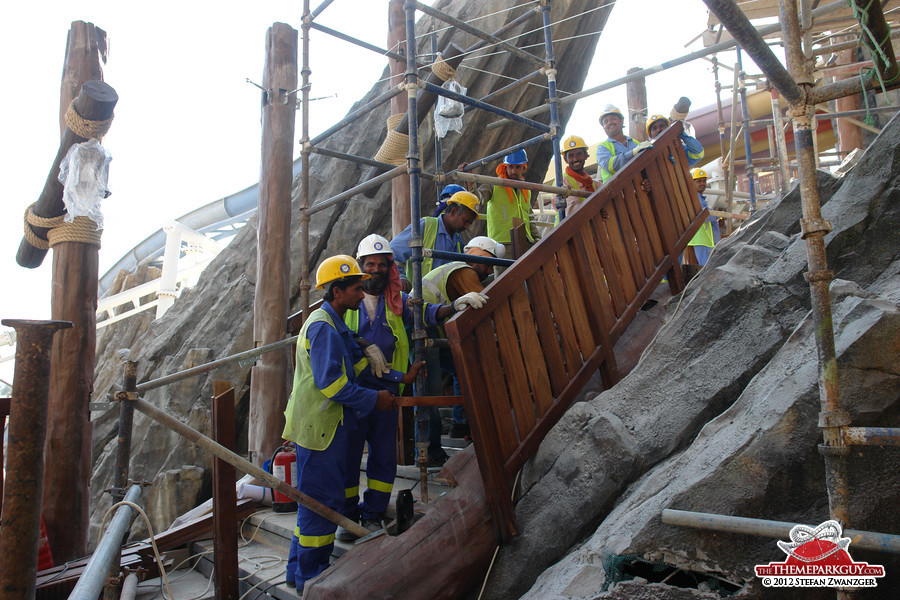 ...we create mountains...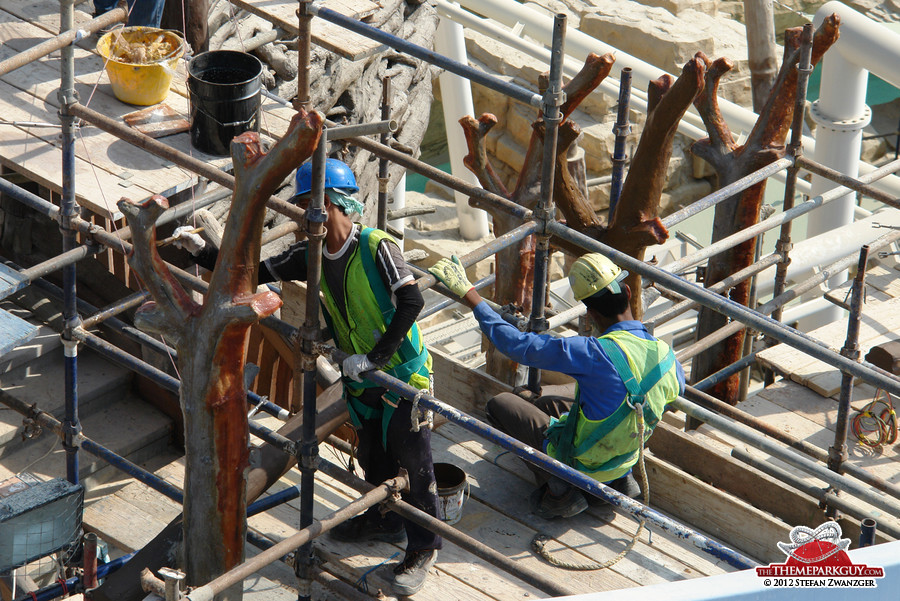 ...we craft trees...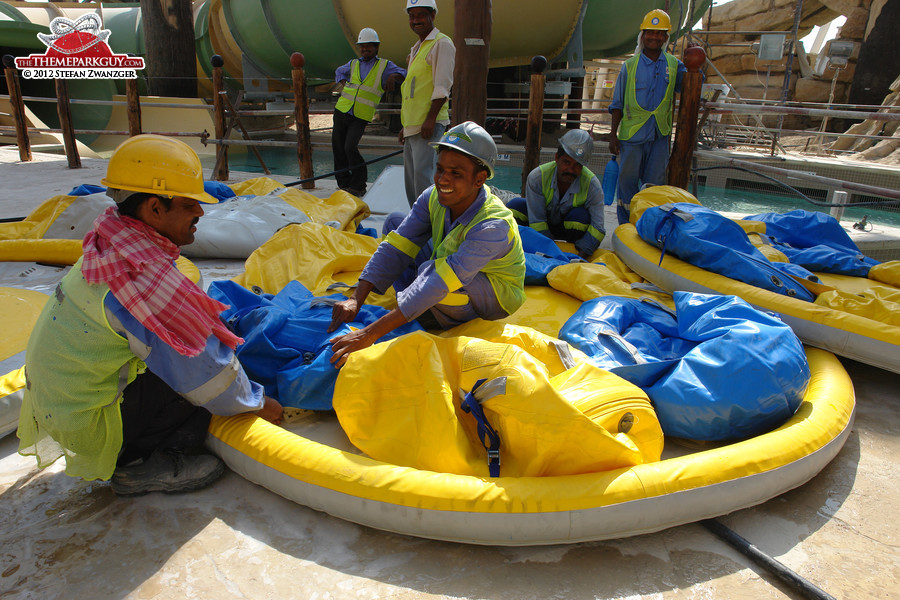 ...we inflate rafts...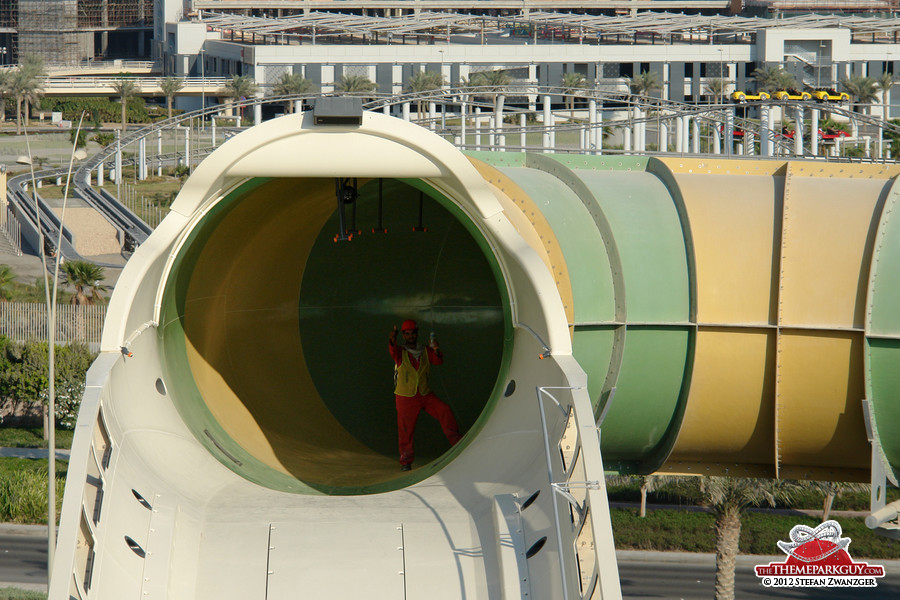 ...for water slides so big that you could live in them...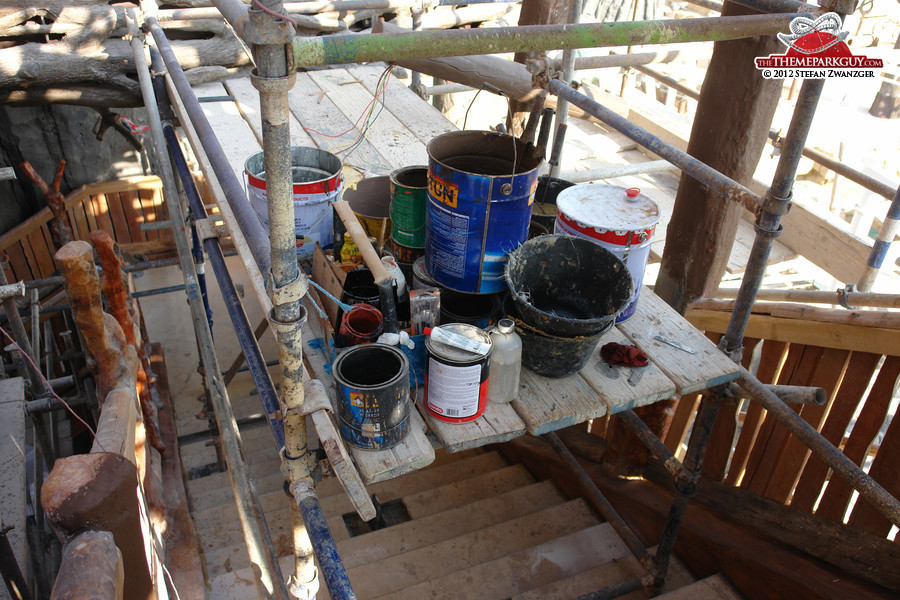 ...maybe we can come here with the kids one day, not sure...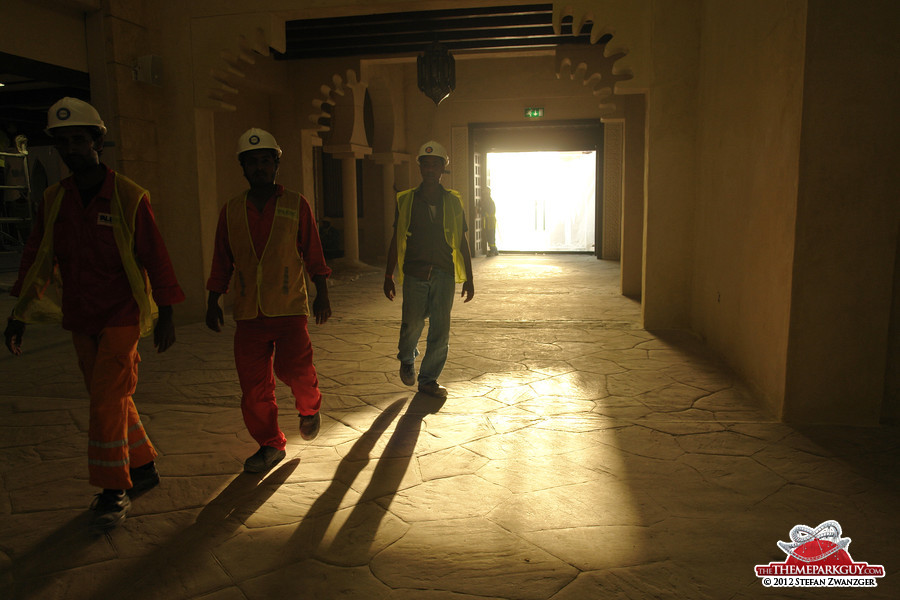 ...anyway, soon we'll leave for good...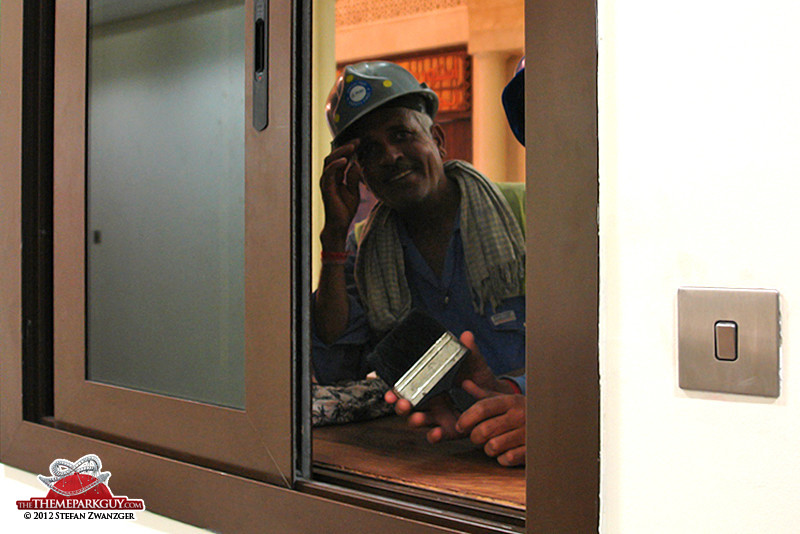 ...and will have created what they call...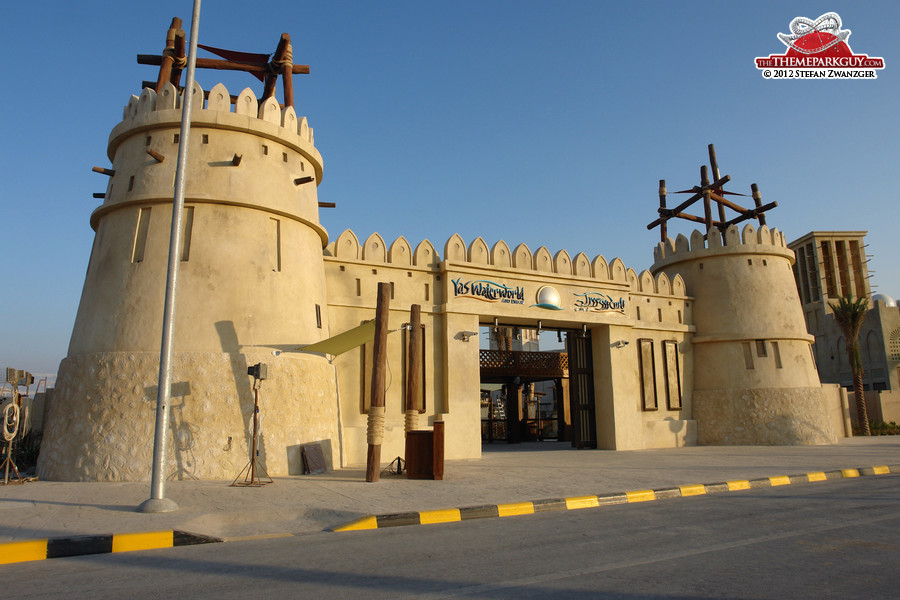 ...Yas Waterworld.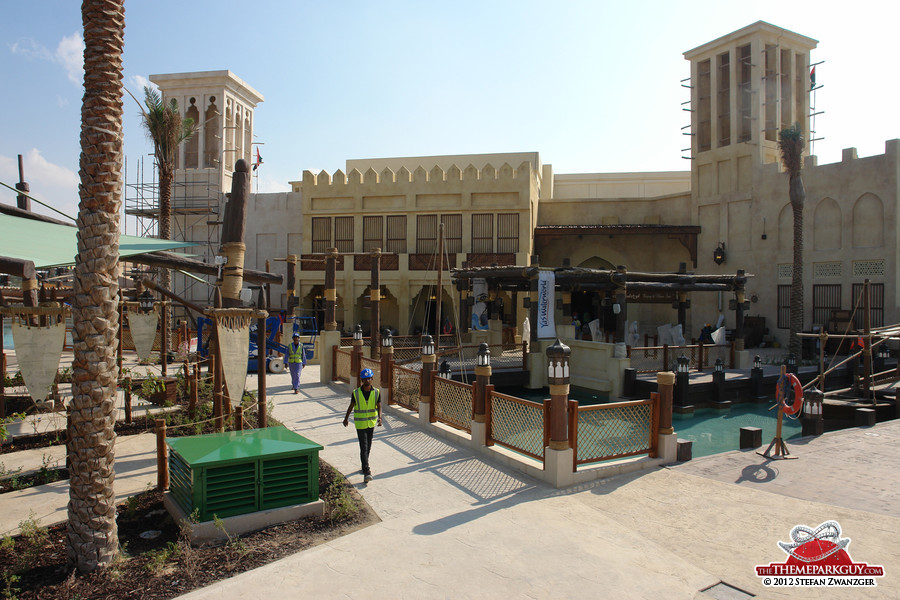 Yas Waterworld souq right behind the entrance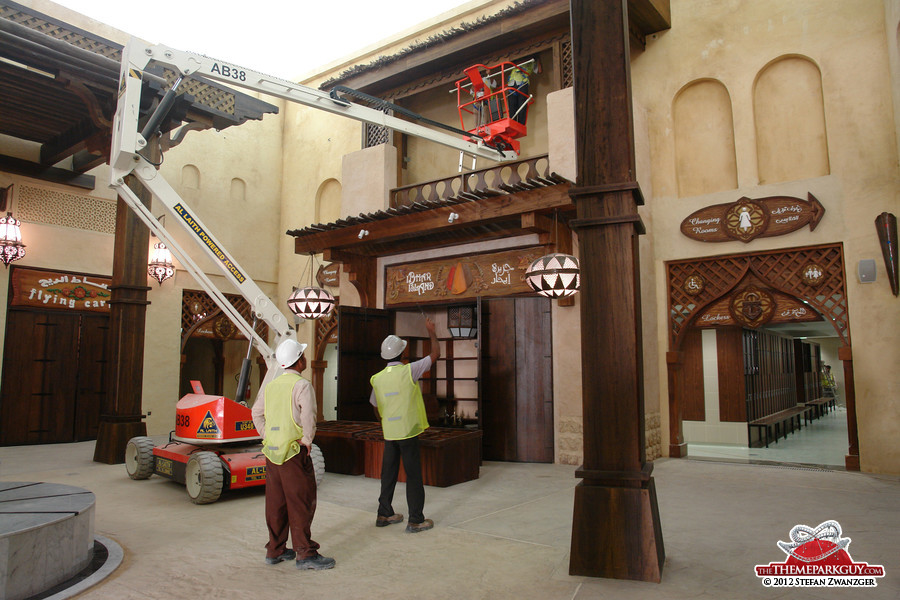 Souq interior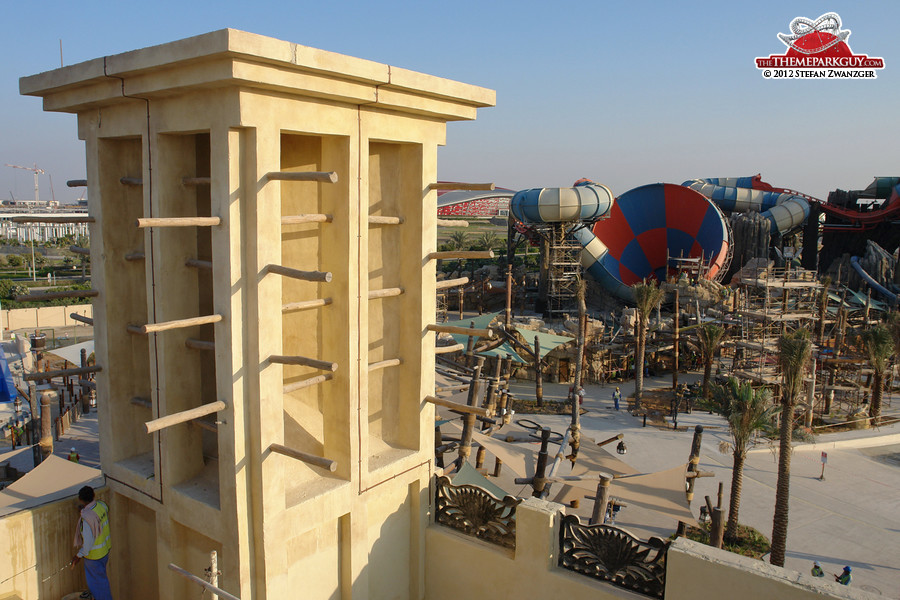 View from the souq roof onto the massive Tornado slide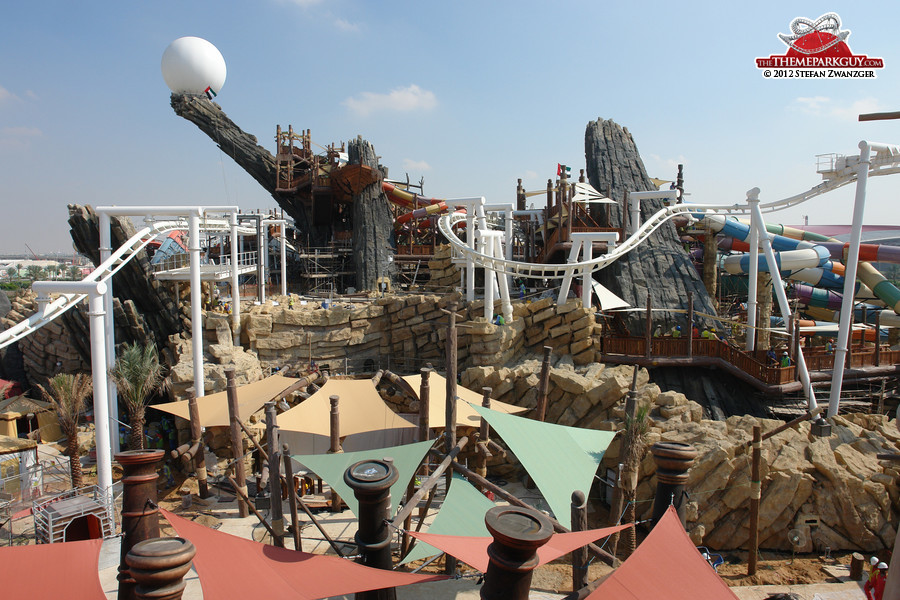 Yas Waterworld vista, December 4, 2012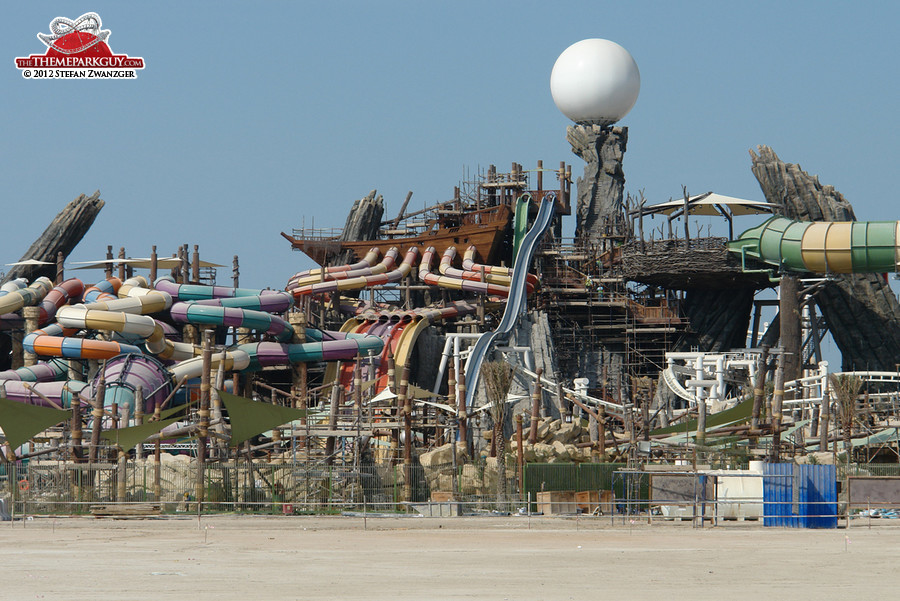 Yas Waterworld seen from the expansion area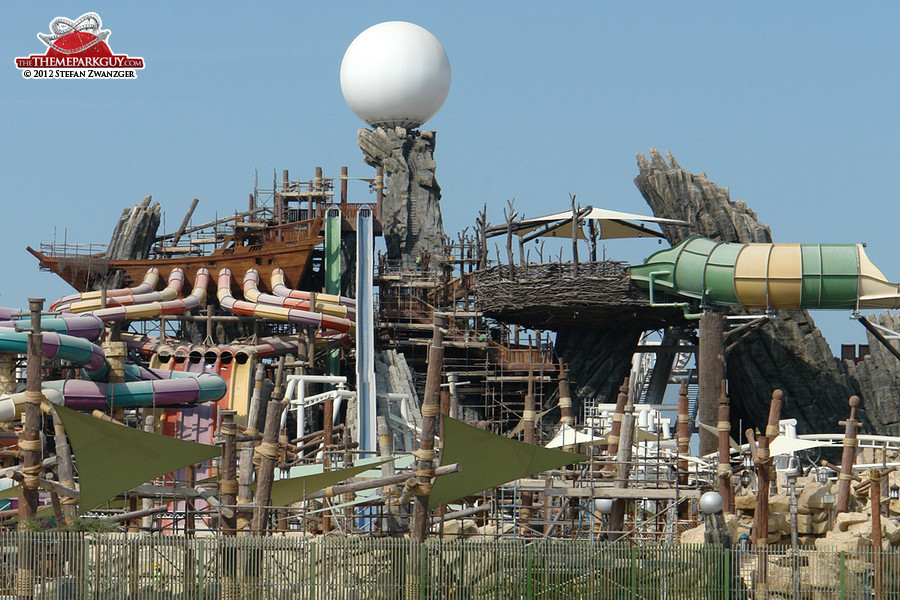 Yas Waterworld's quality of theming is top-notch!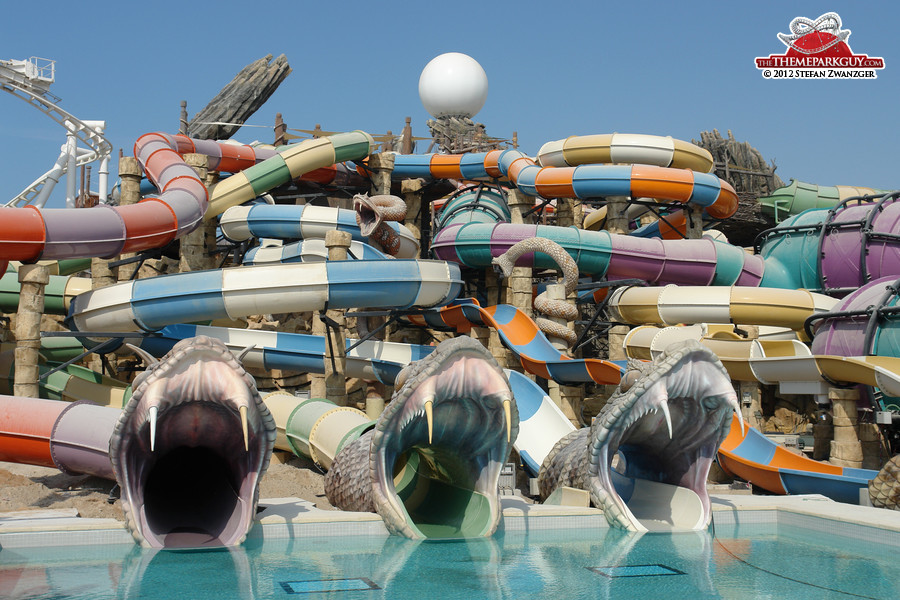 Snake slides made by WhiteWater West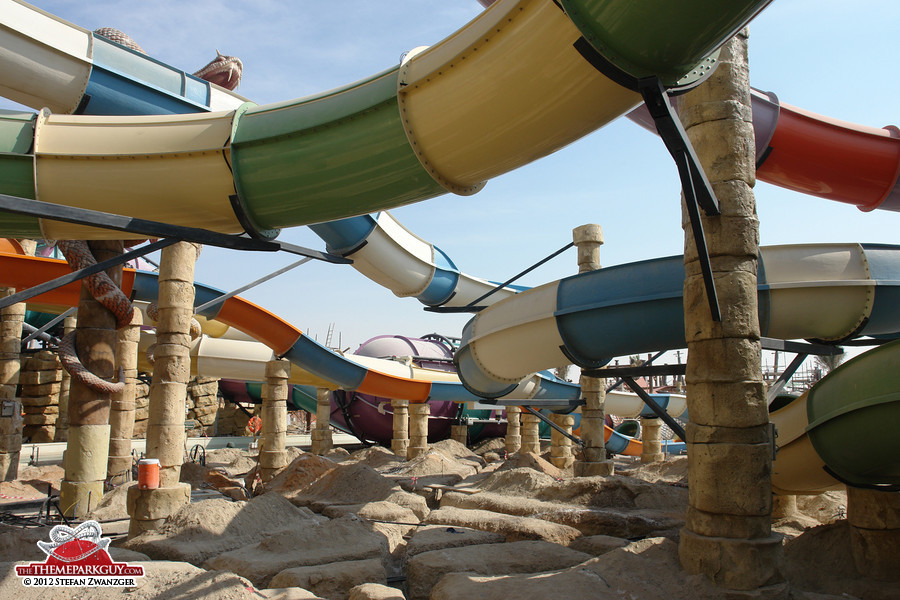 Slide jungle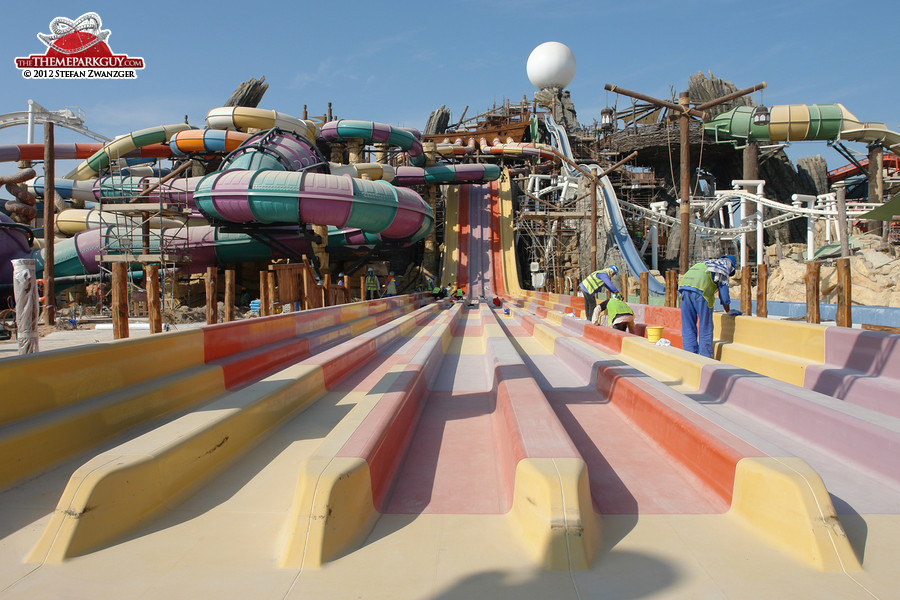 Multi-lane mat racing slide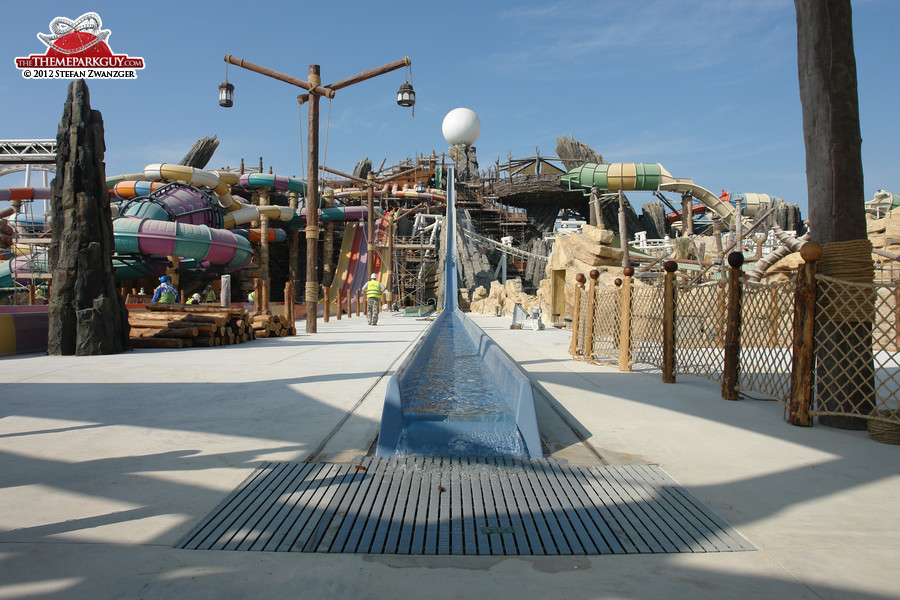 Very very fast body slide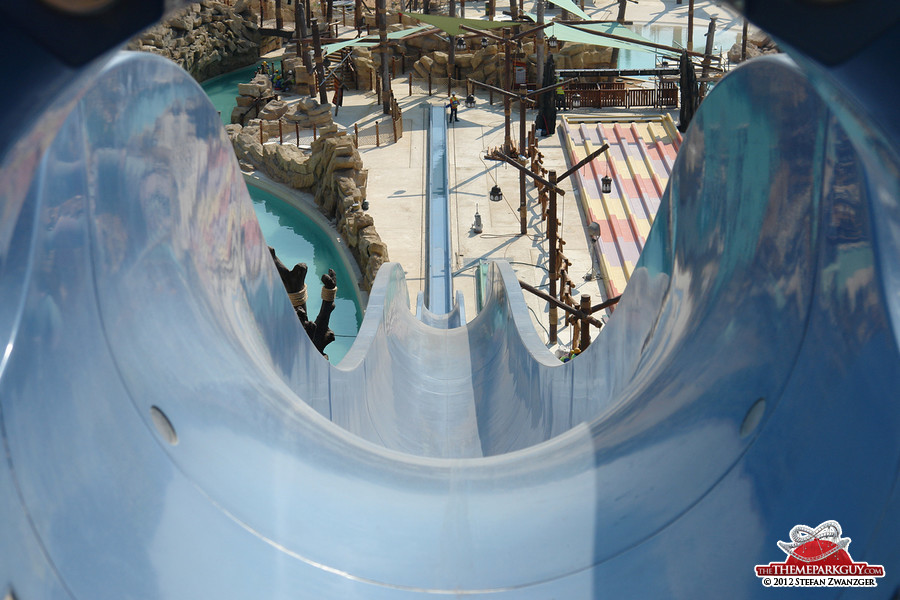 View from above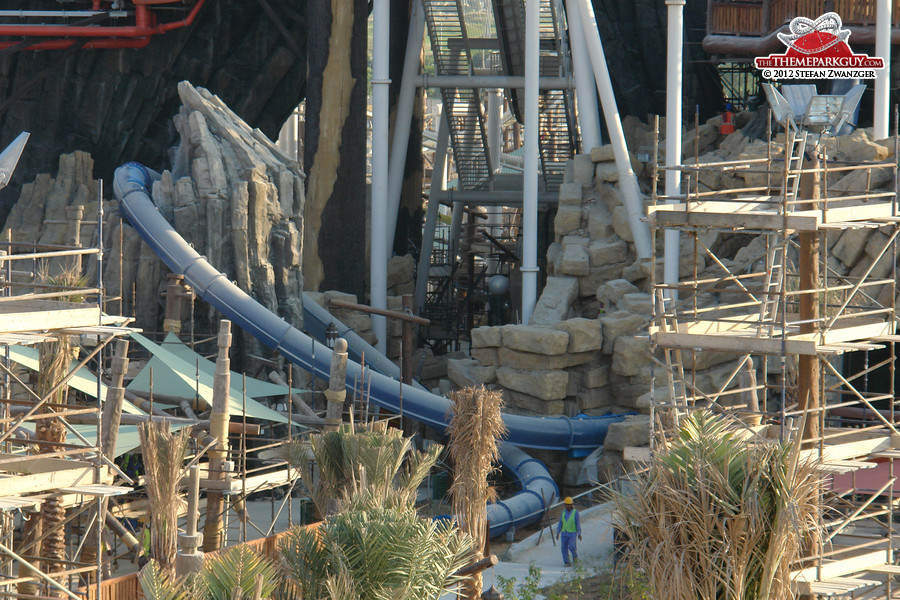 Looping water slide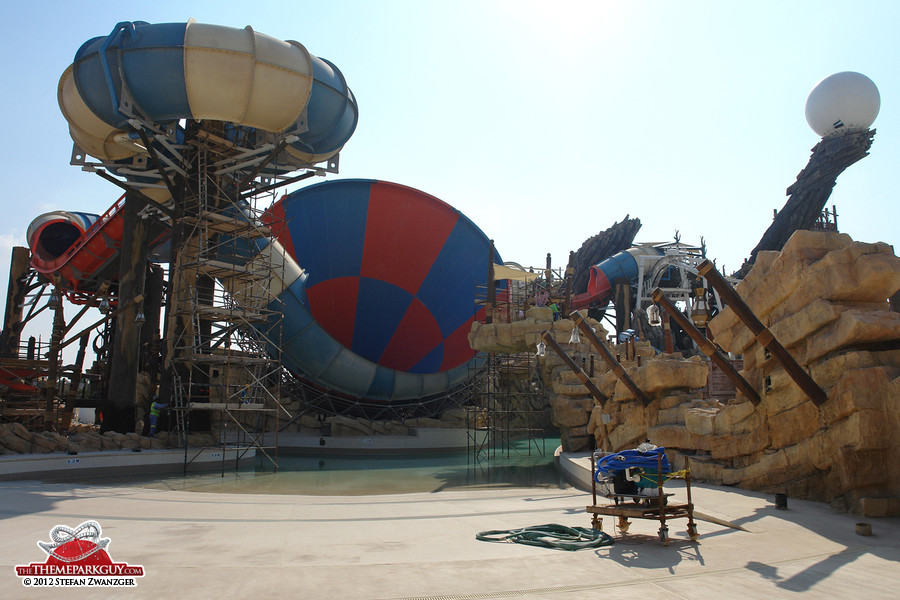 Giant tornado funnel slide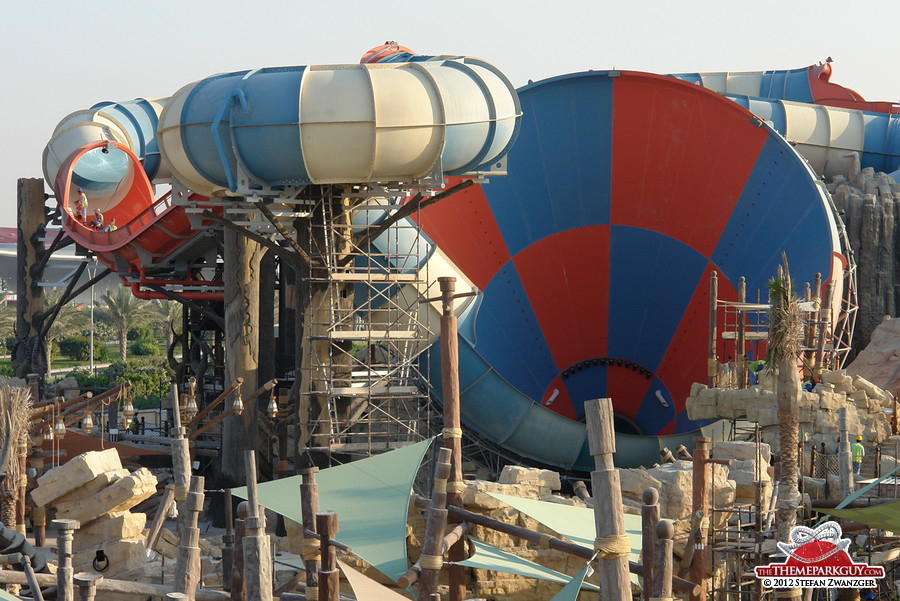 This will probably be the best in the park, if not the world!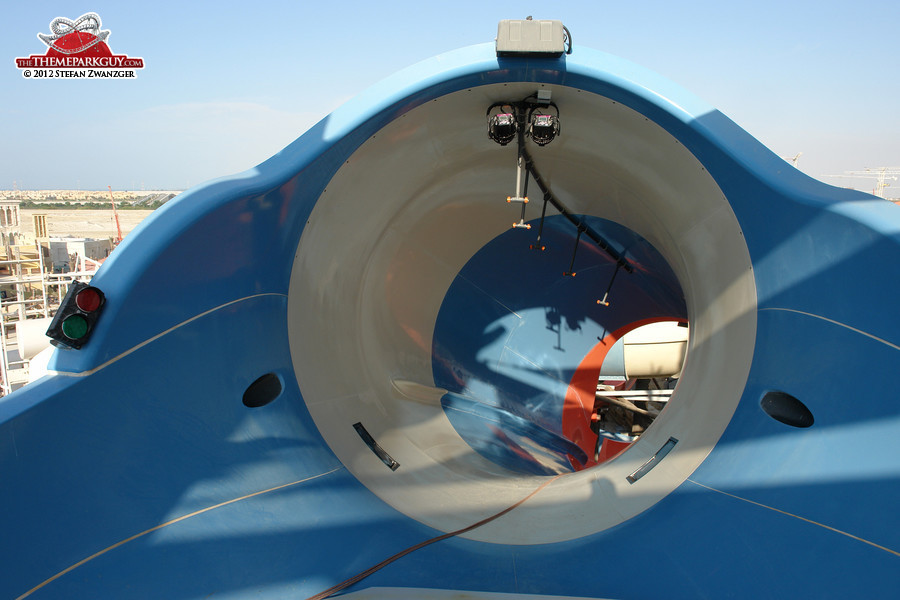 Tornado slide entrance (there'll be fog effects and projections in it)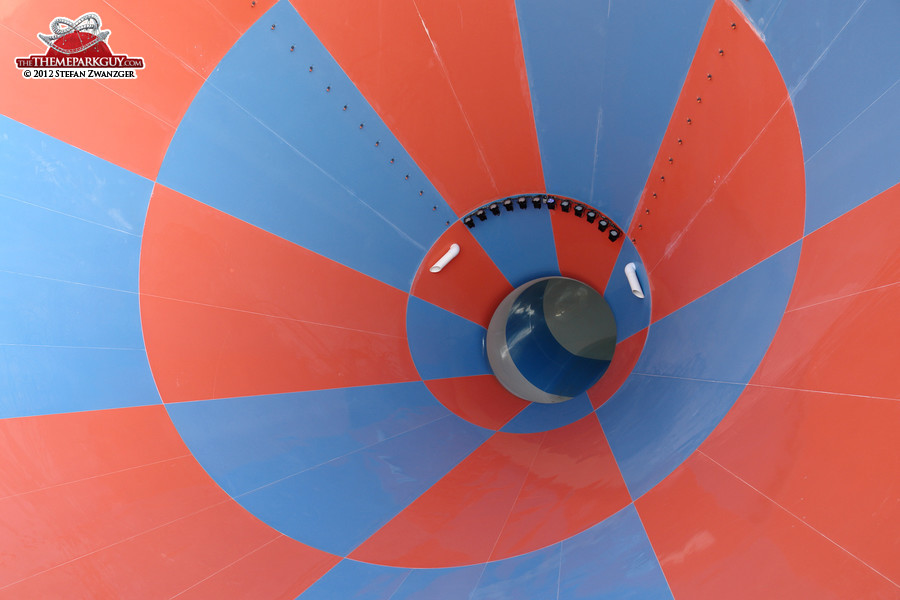 The eye of the Tornado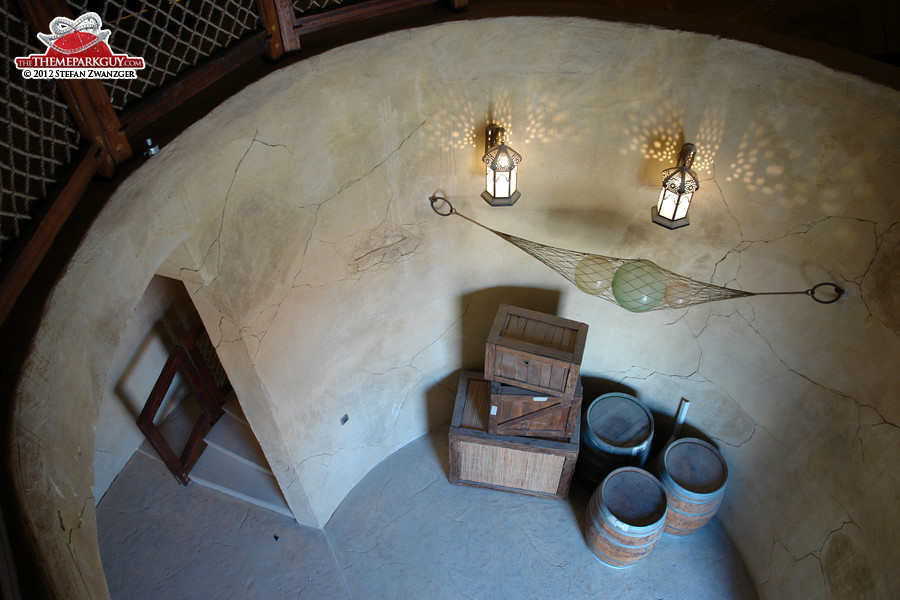 Entrance to the roller coaster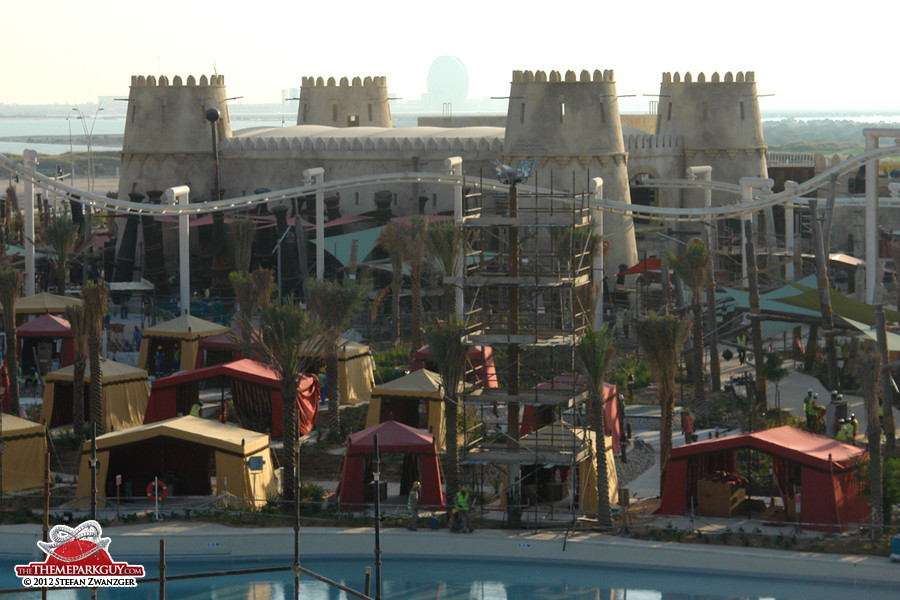 The Bandits Fort, home to the coaster loading station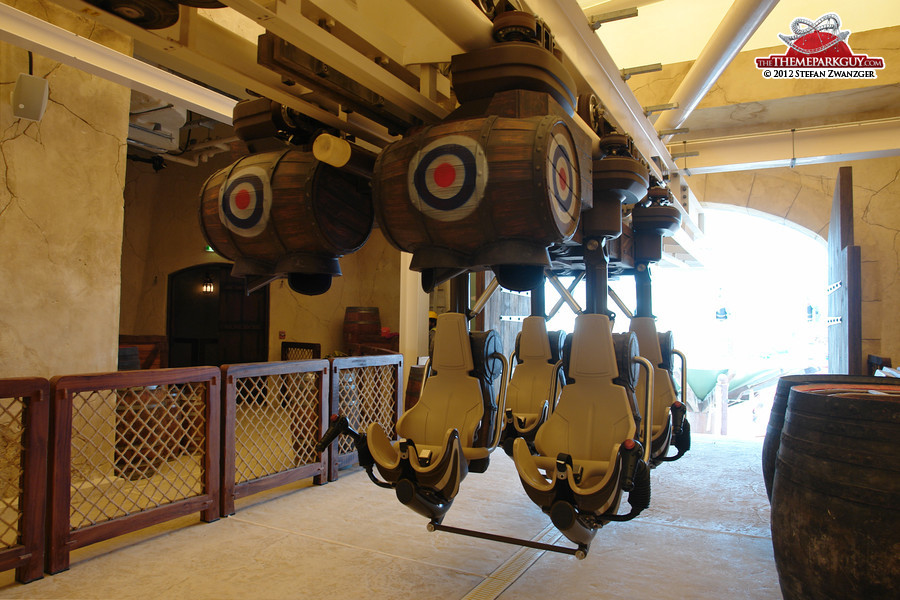 Bandit Bomber inverted roller coaster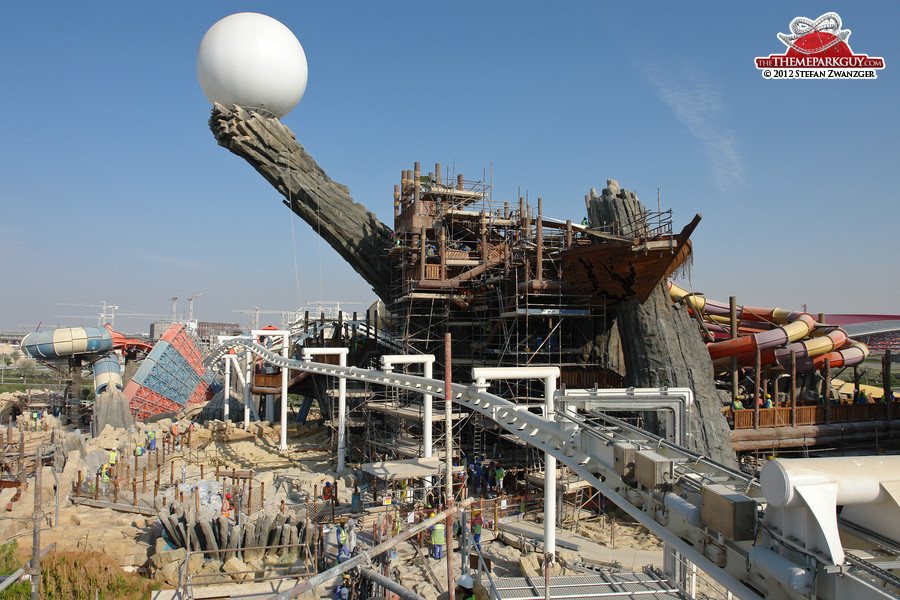 Coaster track leading into slide territory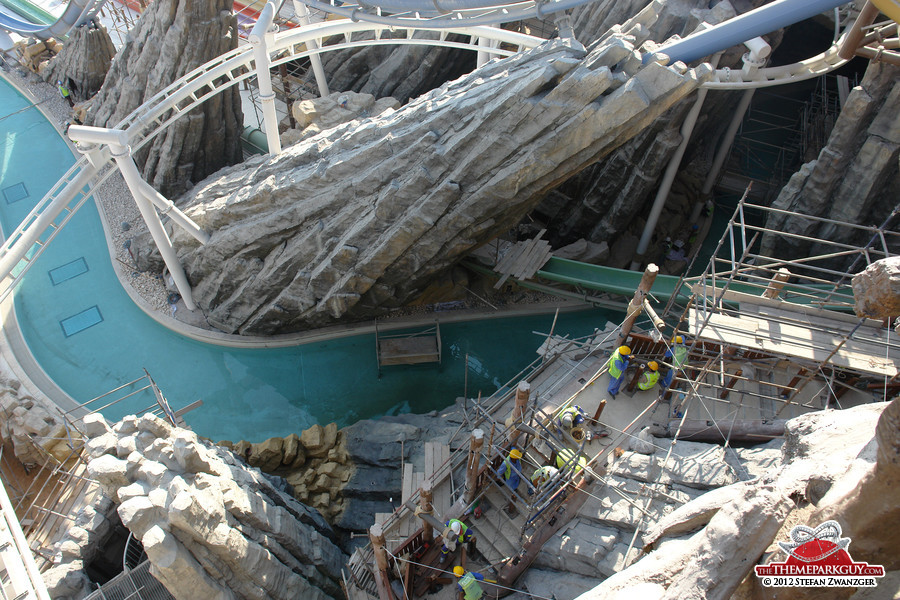 ...well, not only slide territory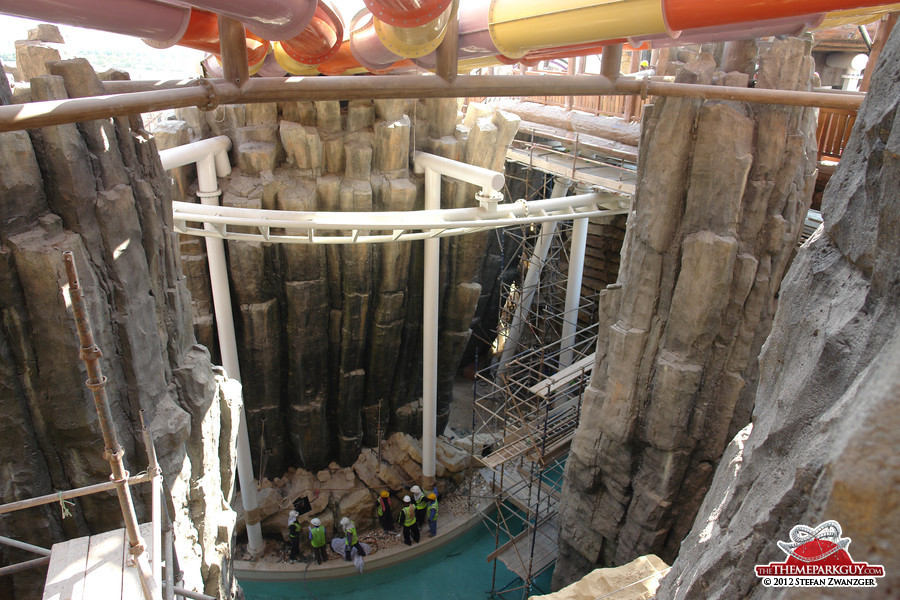 Here's slides, caves, coaster and lazy river on top of each other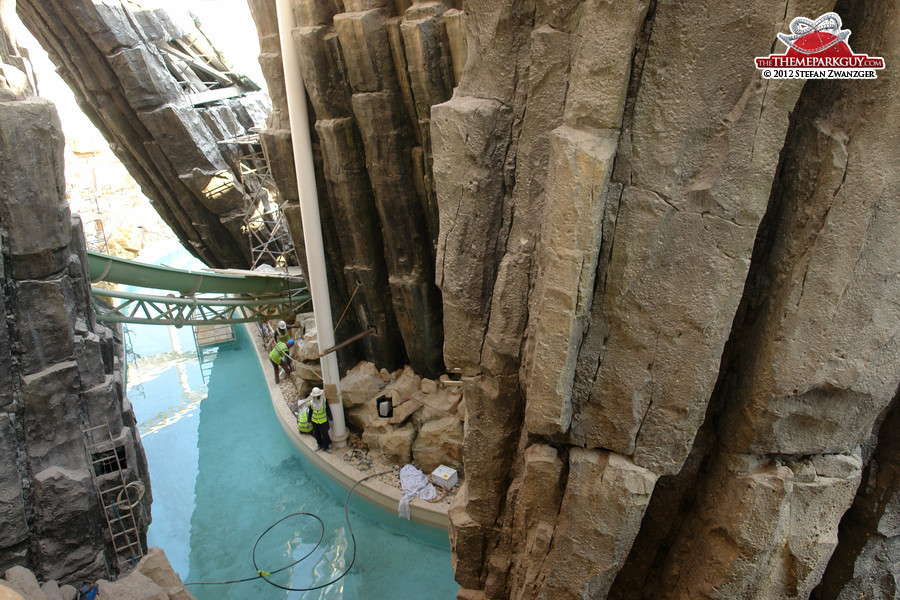 How awesome is this?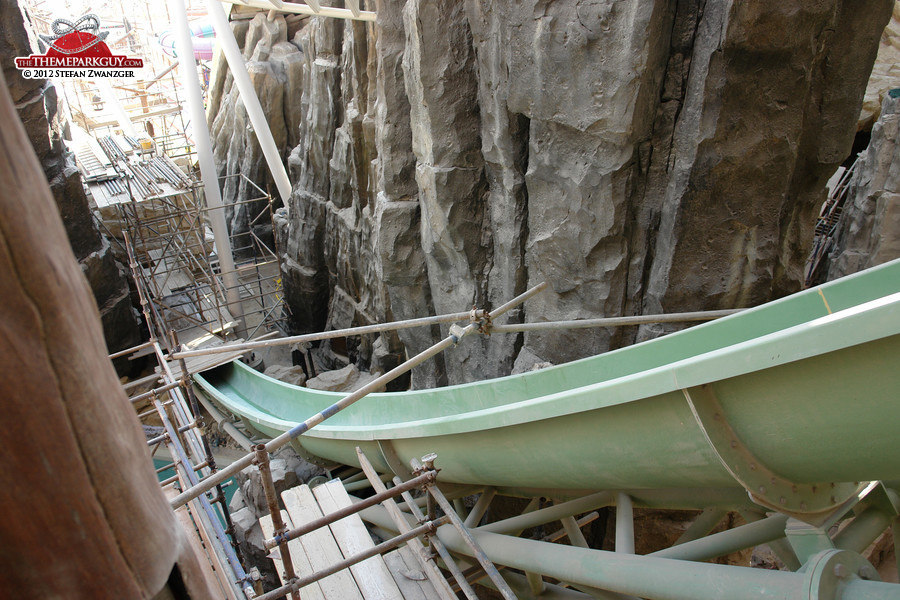 Body slide zooming through well-crafted rockwork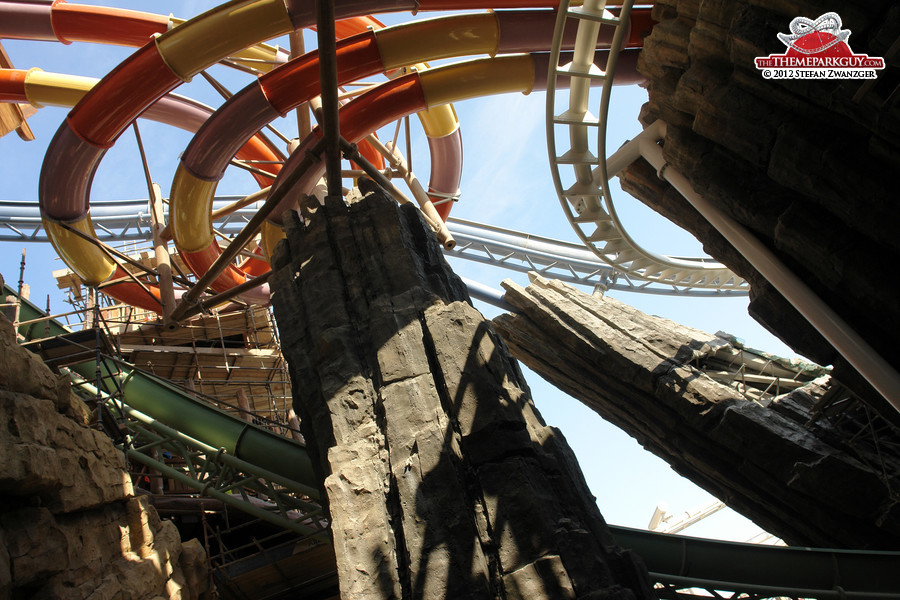 Man-made wonders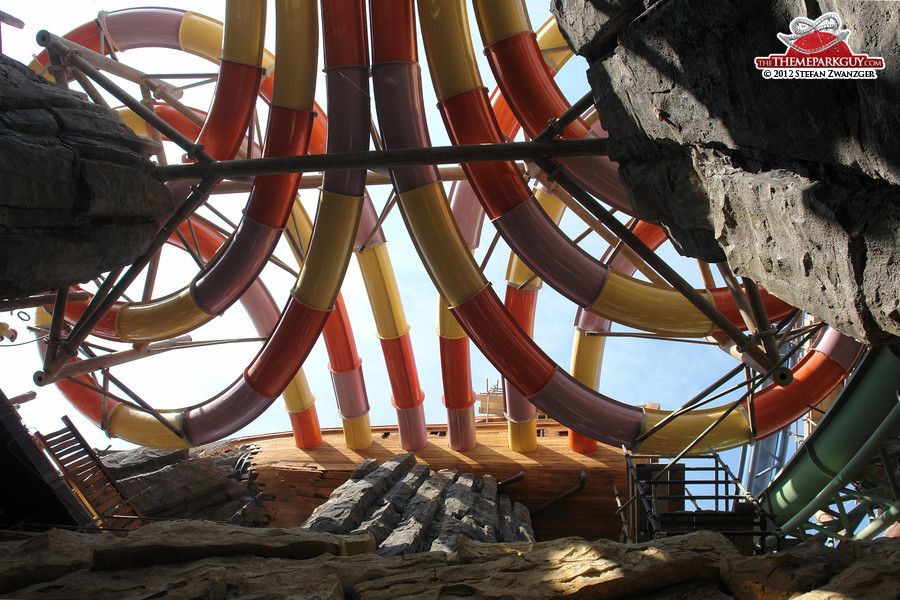 Dramatic view above the lazy river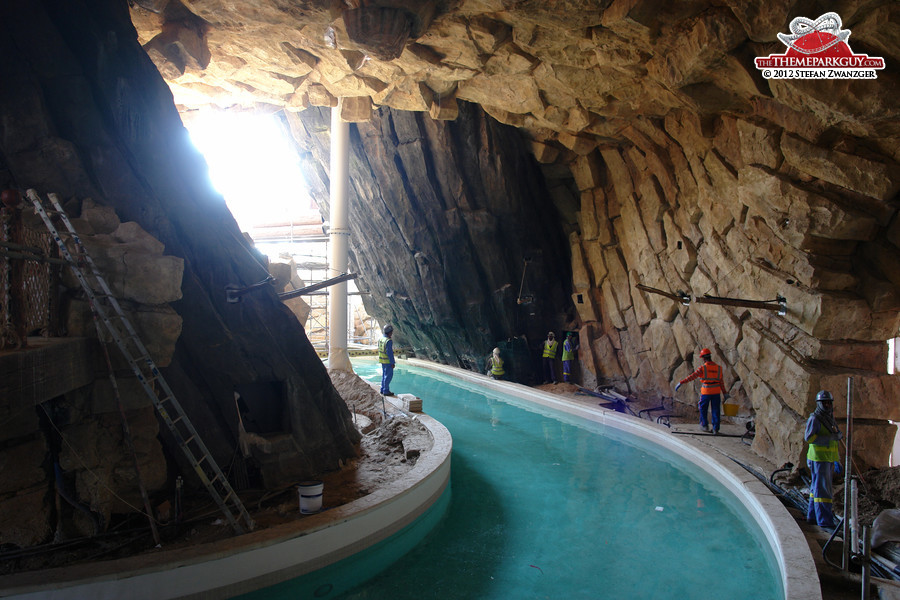 Now that is a lazy river cave!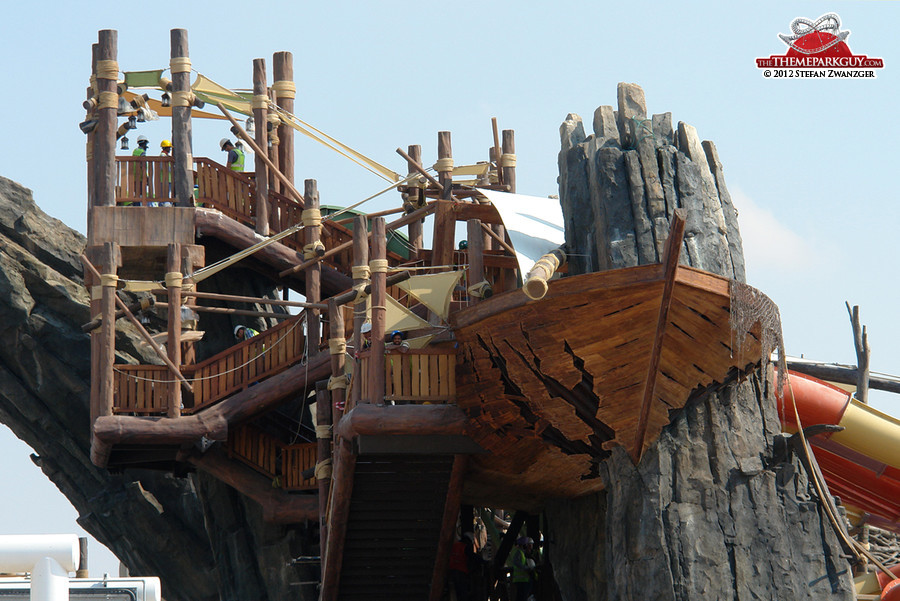 At the top of Yas Waterworld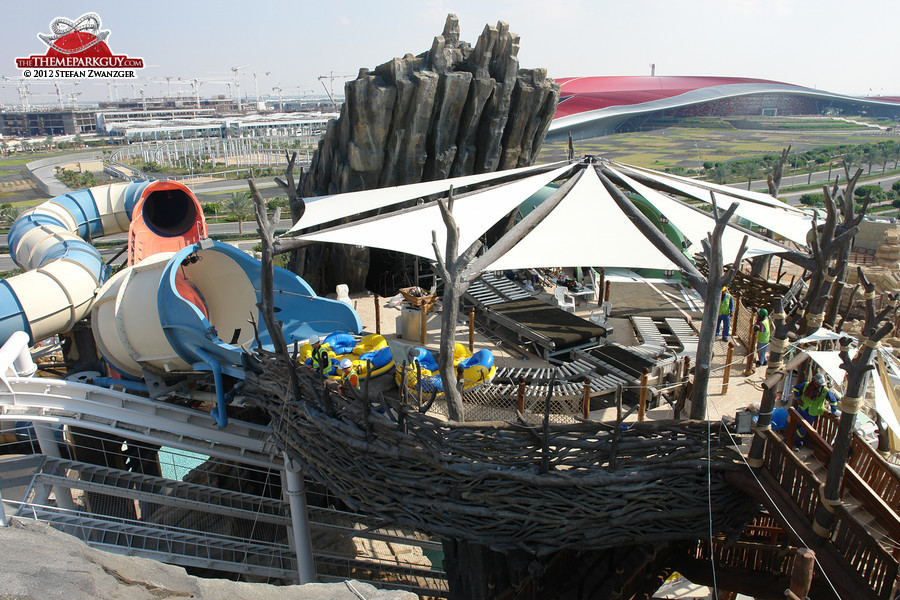 The 'Falcon's Nest', starting point for two colossal ProSlide thrill slides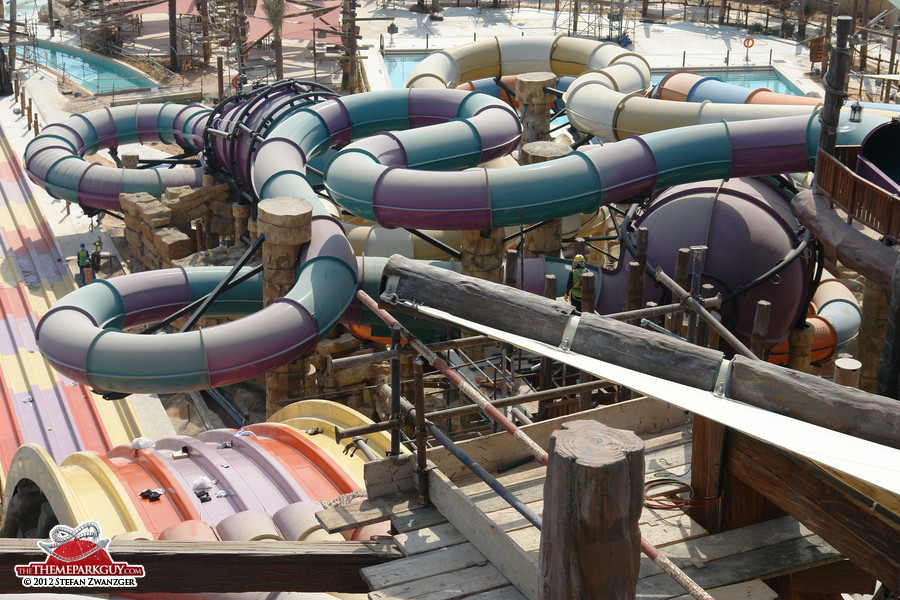 The first-ever Rattler slide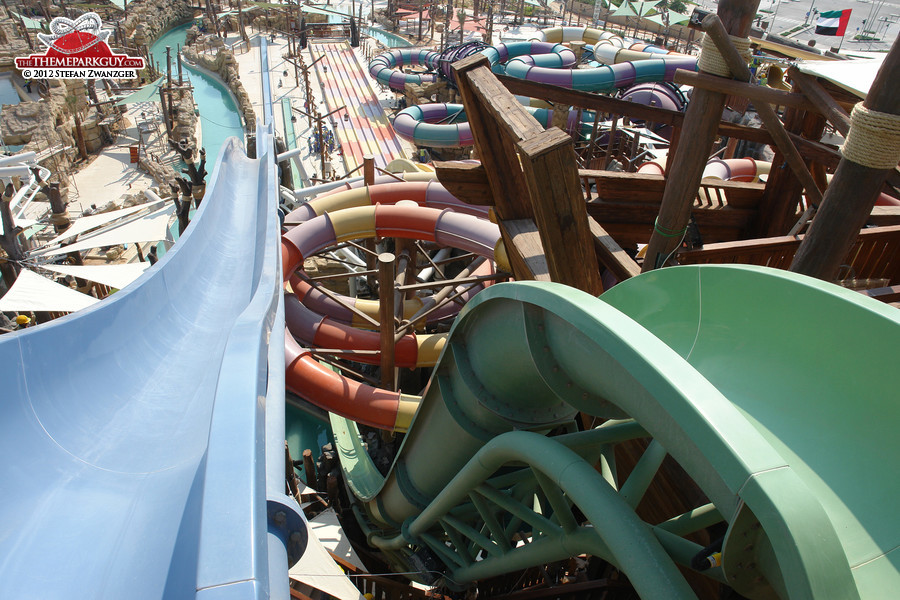 Steep and fast body slides!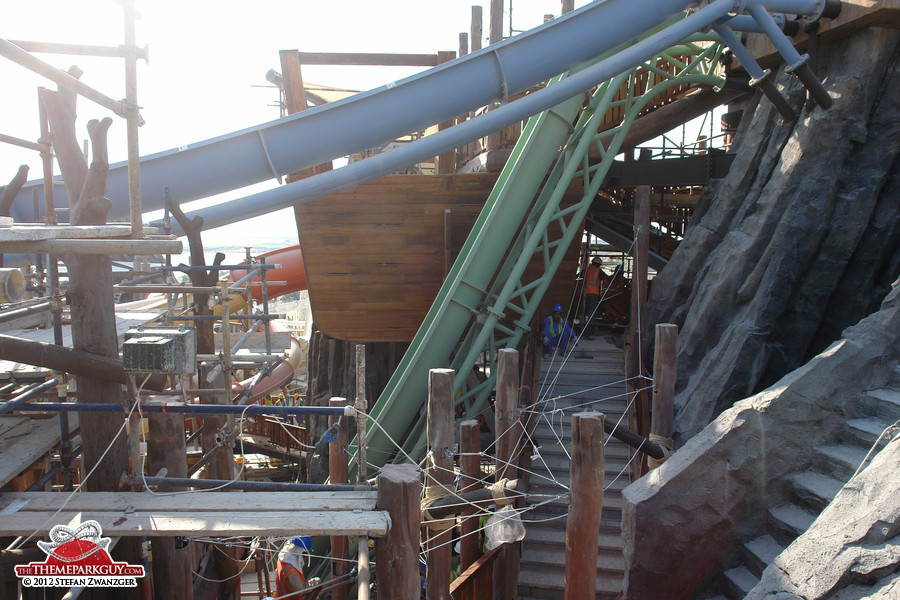 From the side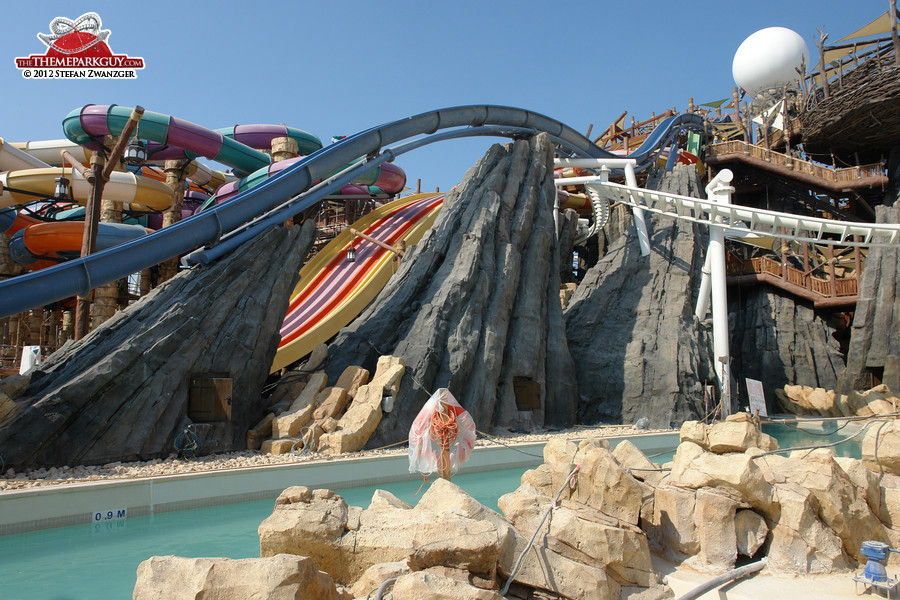 From below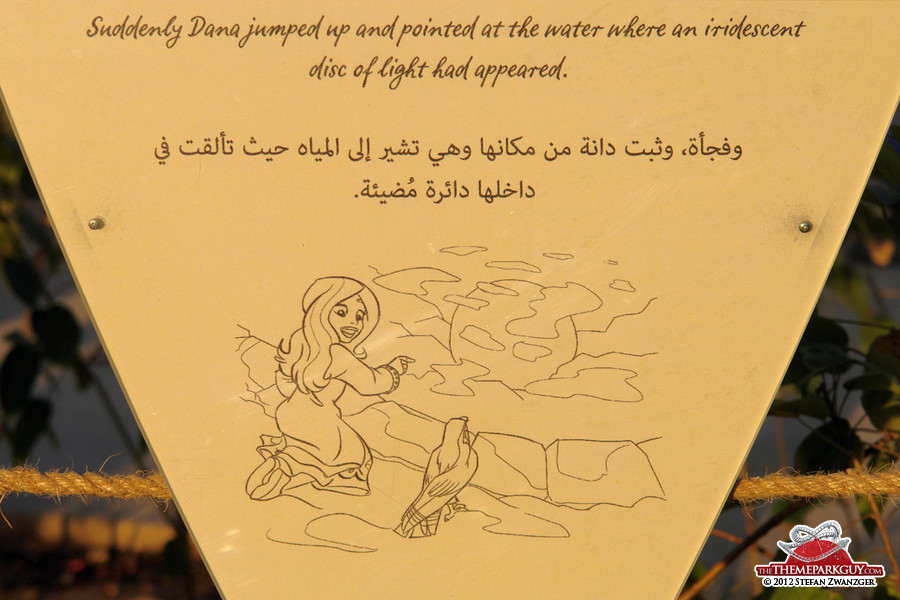 Cartoon characters with the eyes of Disney princesses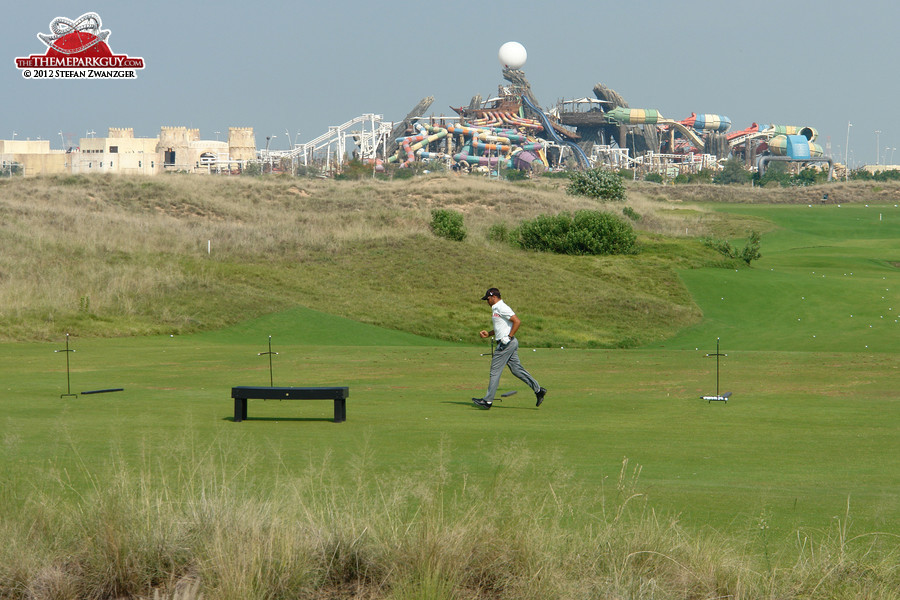 Yas Island golf course with Yas Waterworld backdrop
Construction Update
May 24, 2012
Desert storm during my photo session on the Yas Waterworld site. Everything looks a bit sandy and dusty today, but this just adds to the captivating magic to come.
It's really not a water park I am picturing here, it's a mutation, the offspring of a theme park and a water park proving in its own way how stunning and graceful mixed-race children can be.
I still believe that many didn't capture yet what's really being built here. It's a record-breaking venture and something tells me that this place, once open later this year, will never be empty.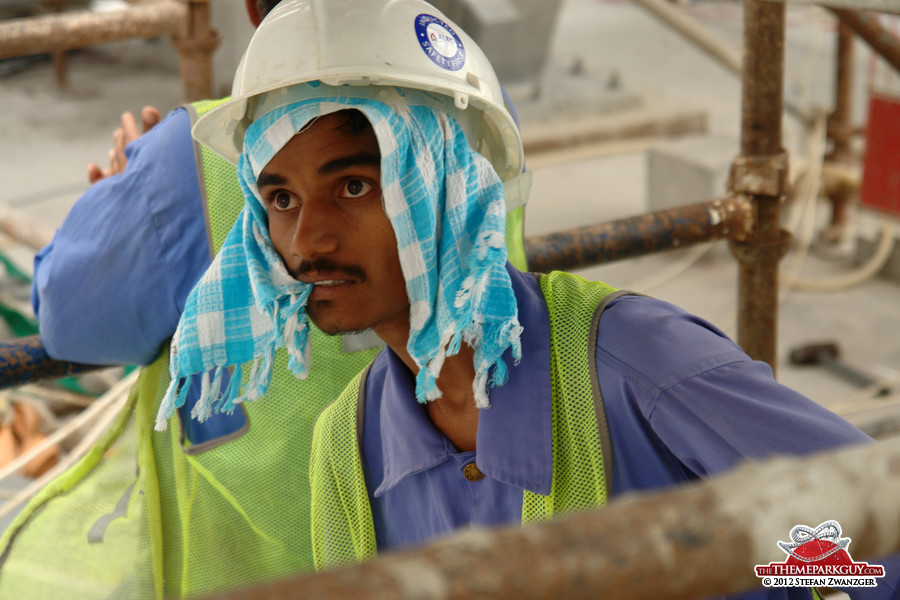 'Oh my...'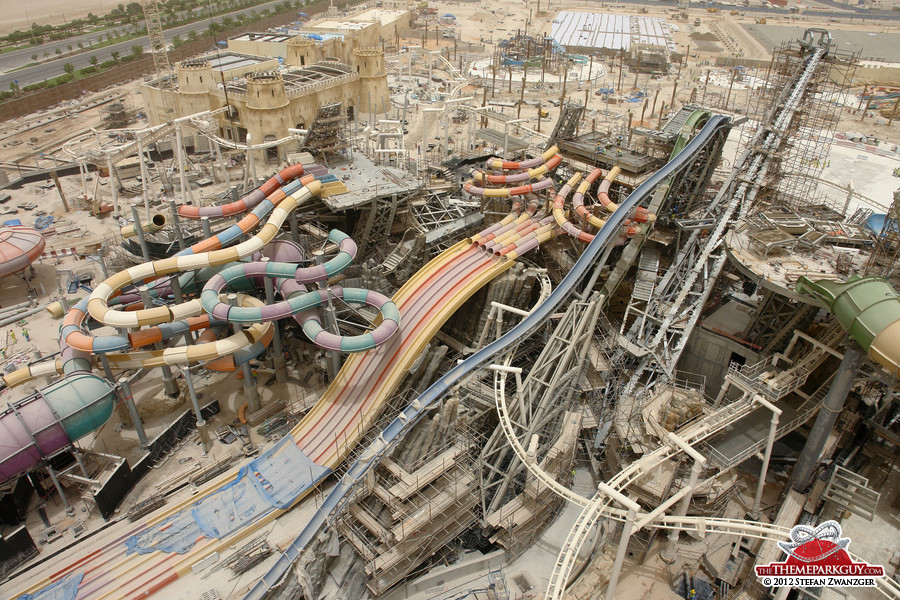 Yas Waterworld on 24 May 2012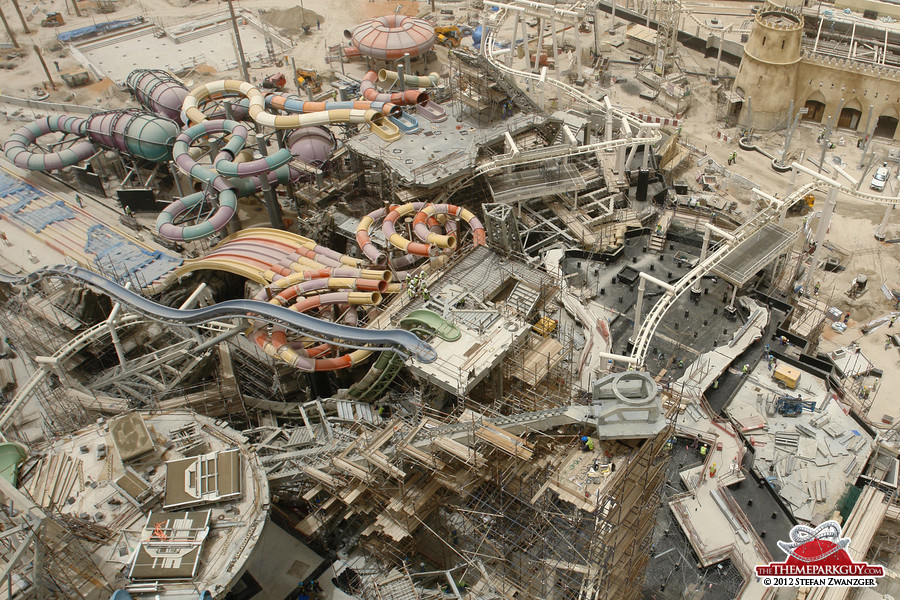 Incredible slide jungle at Yas Waterworld Abu Dhabi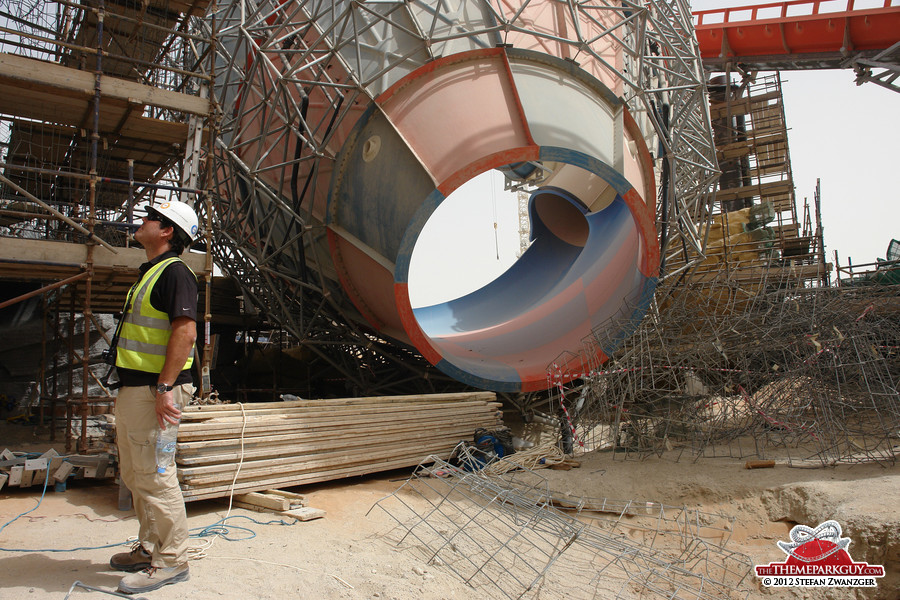 Design manager Mark Joyce inspecting a slide tower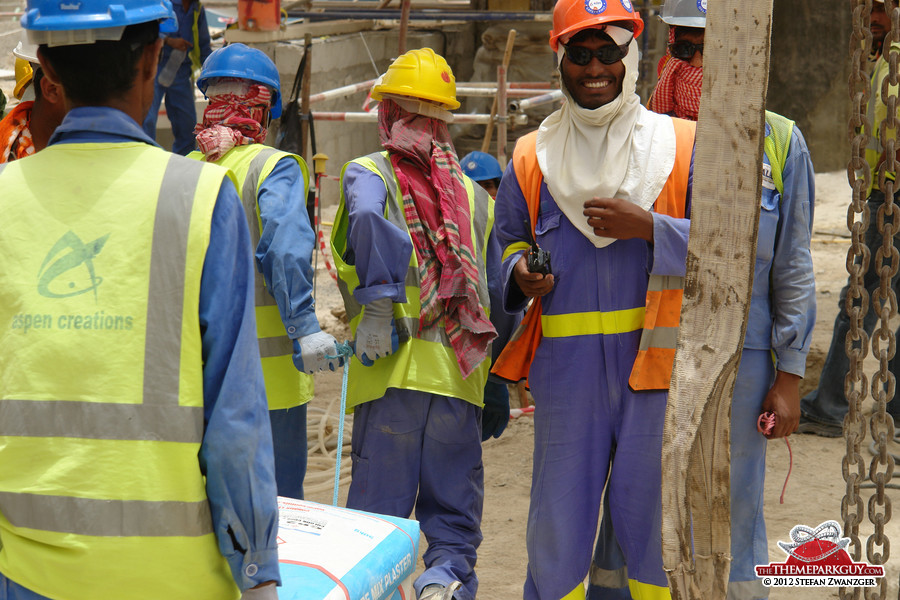 There's still plenty of hard work ahead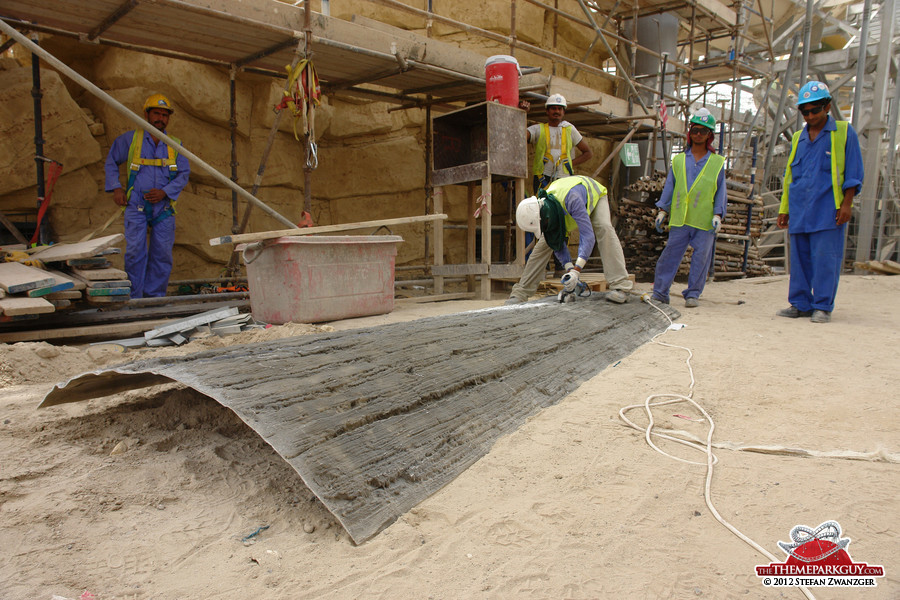 Tree trunk in the making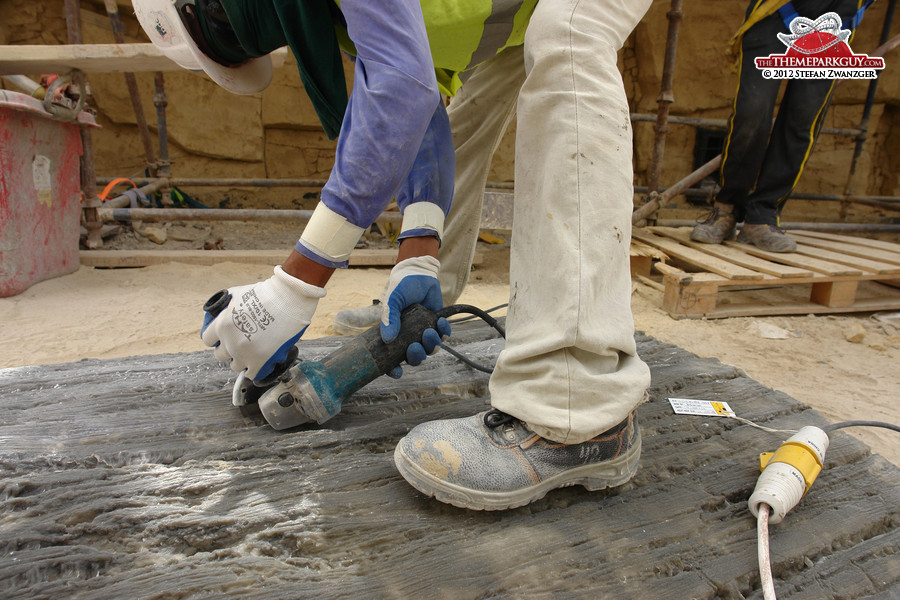 How 'trees' are made!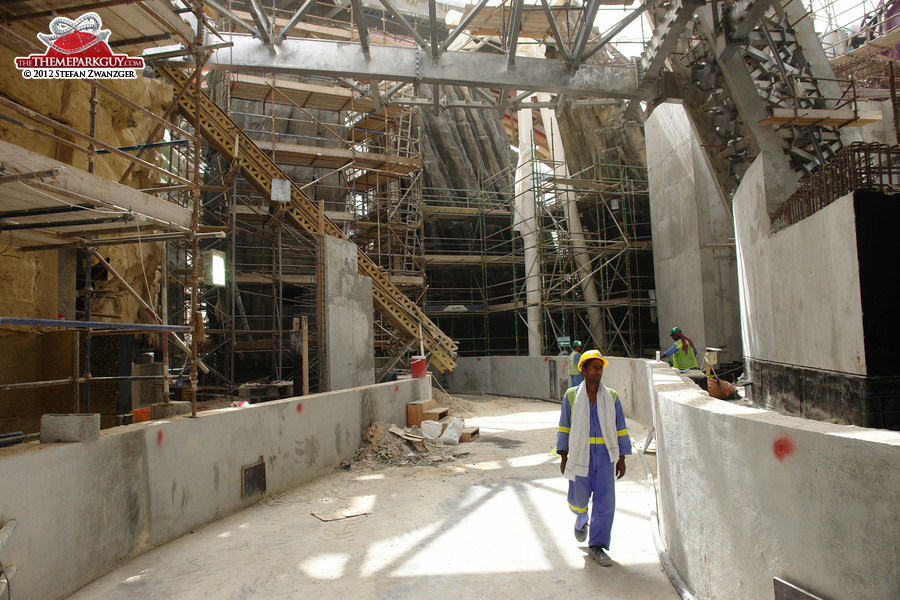 Lazy river meandering underneath the slide jungle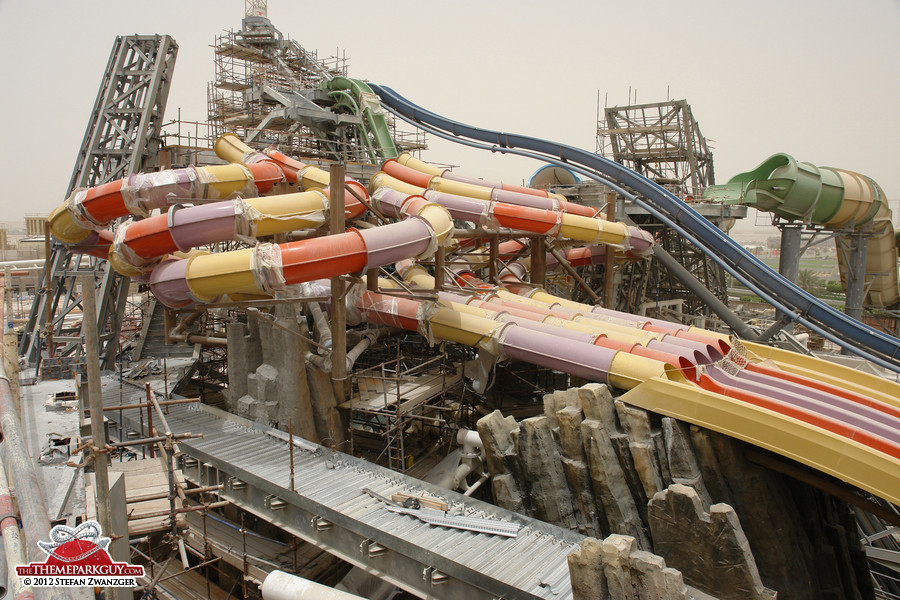 WhiteWater West manufactured body water slides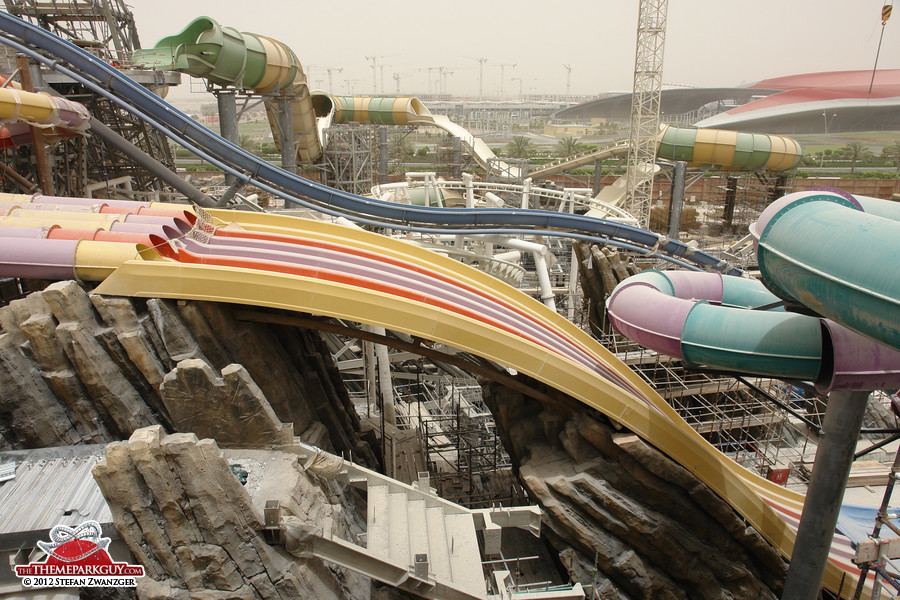 Freshly crafted rockwork among the slides, with Ferrari World in the background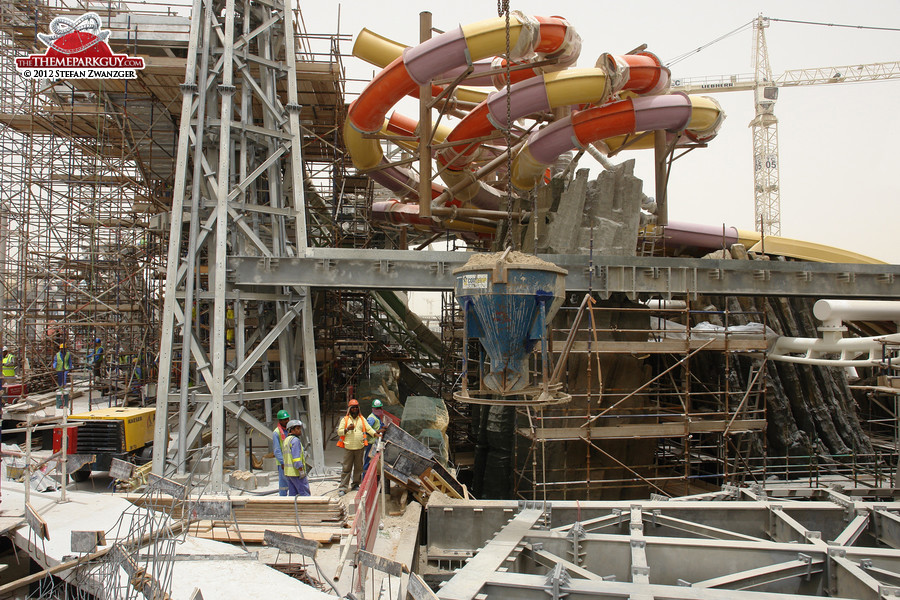 Yas Waterworld in the making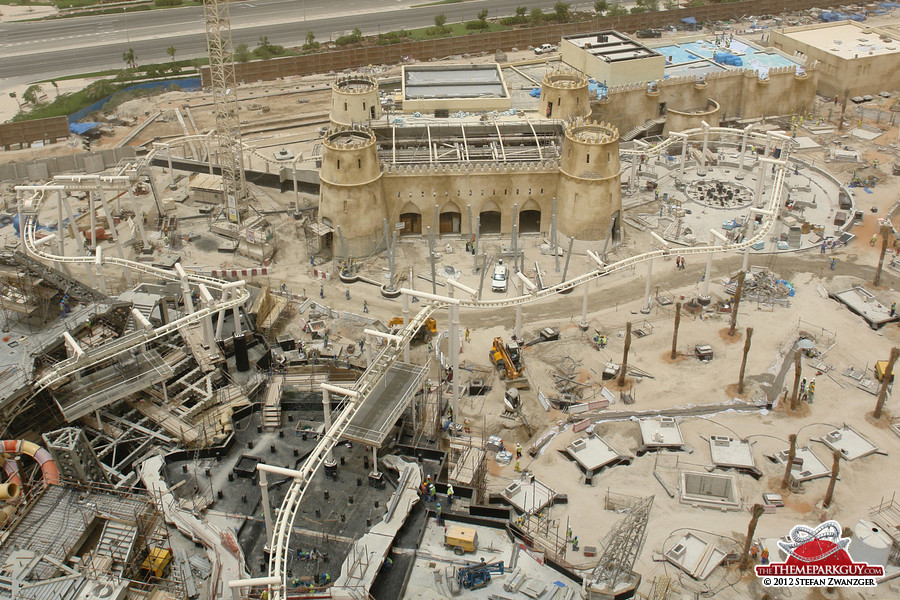 They call it the Bandit's Fort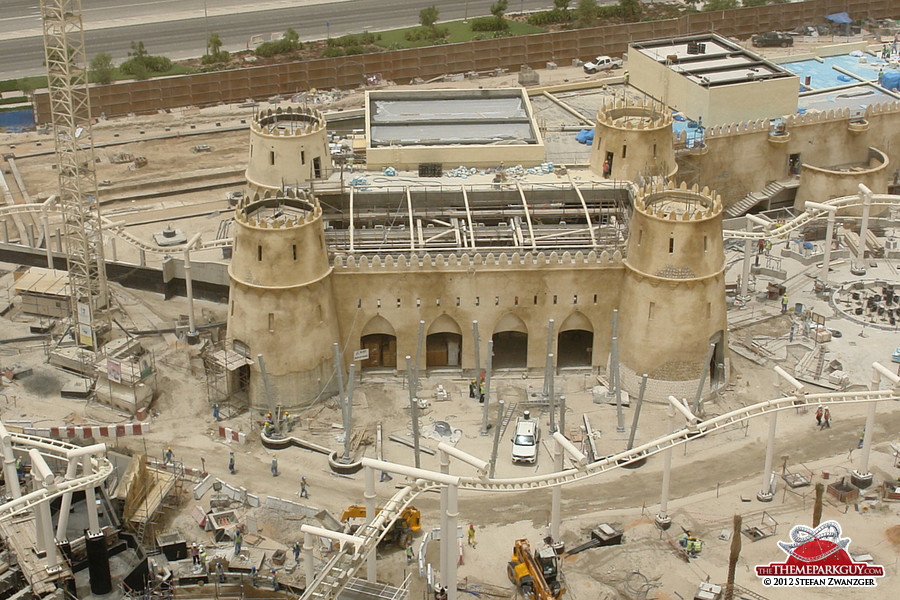 Bandit's Fort = roller coaster loading station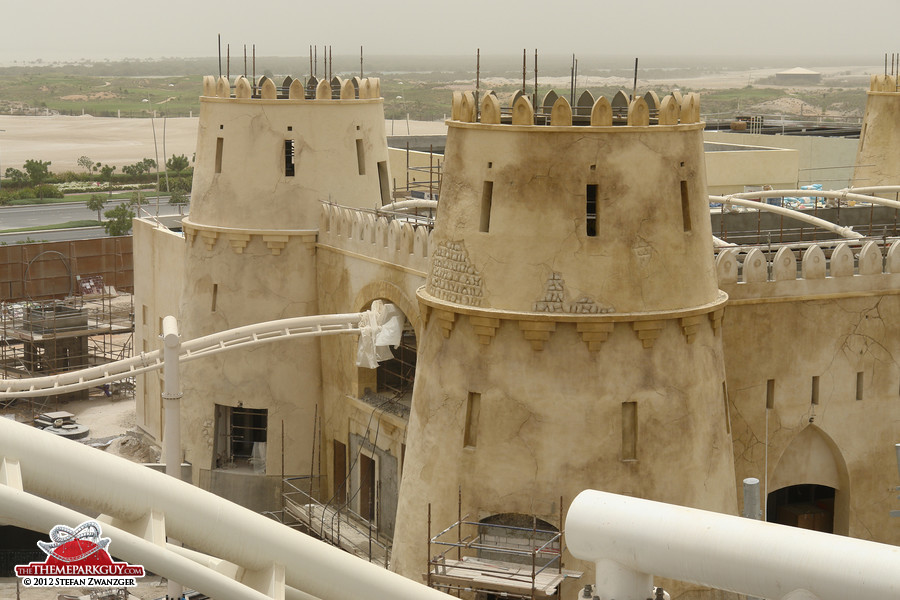 The well-themed fort from below
Suspended coaster loading station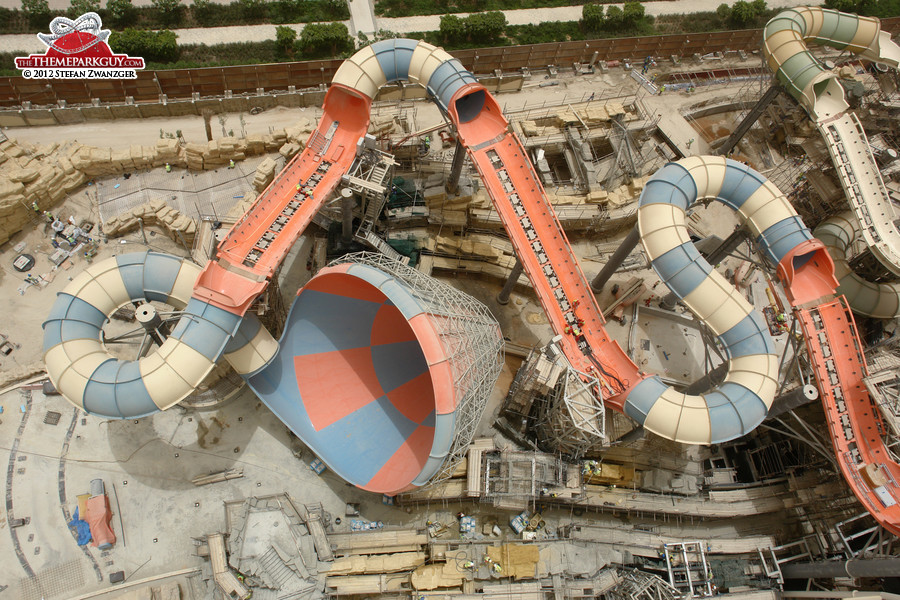 Tornado water slide from above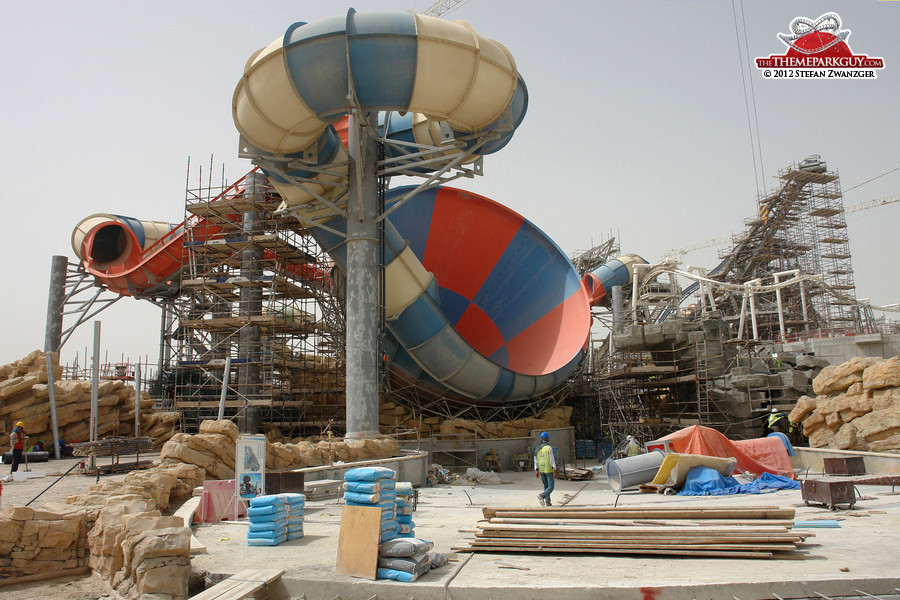 Yas Waterworld Tornado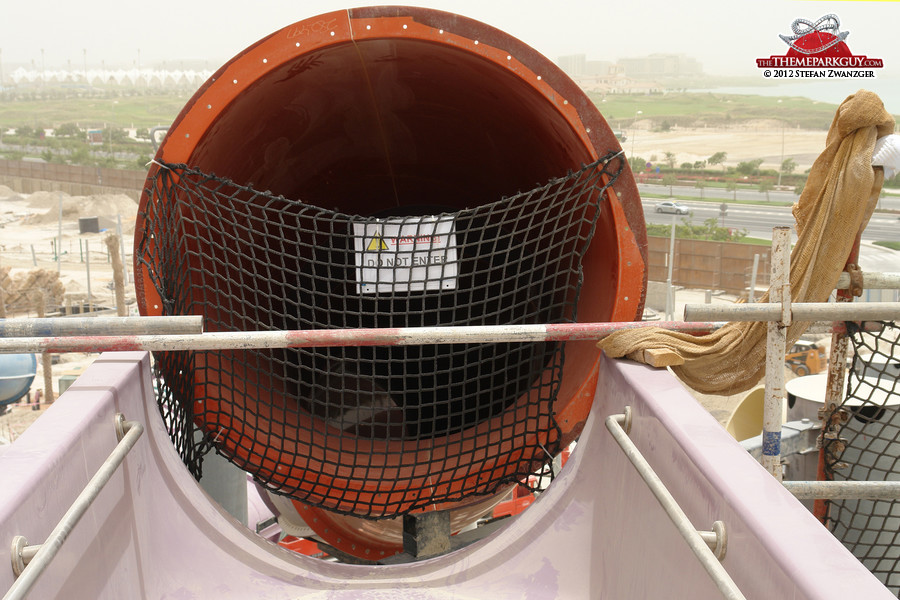 Do not enter? Why not?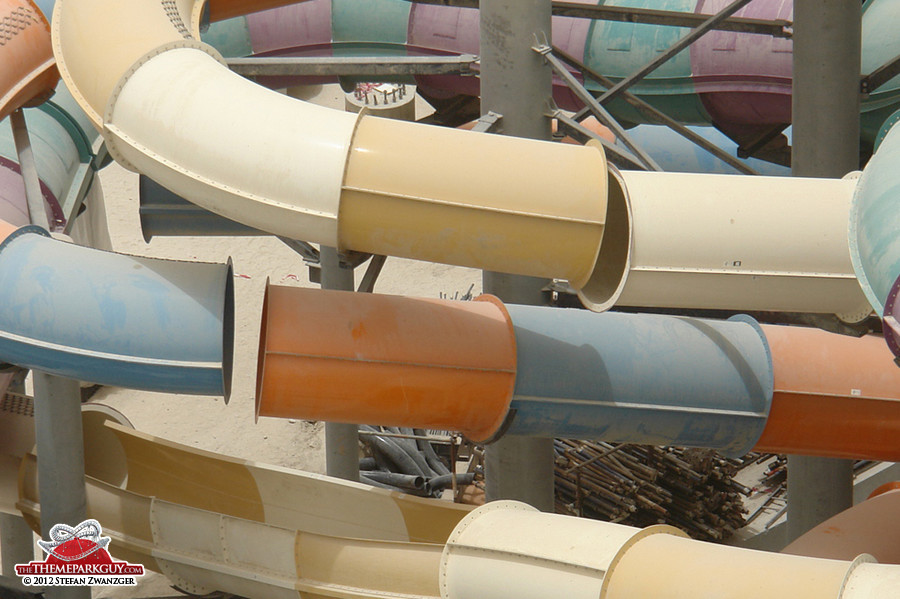 Ok, got it. Not yet.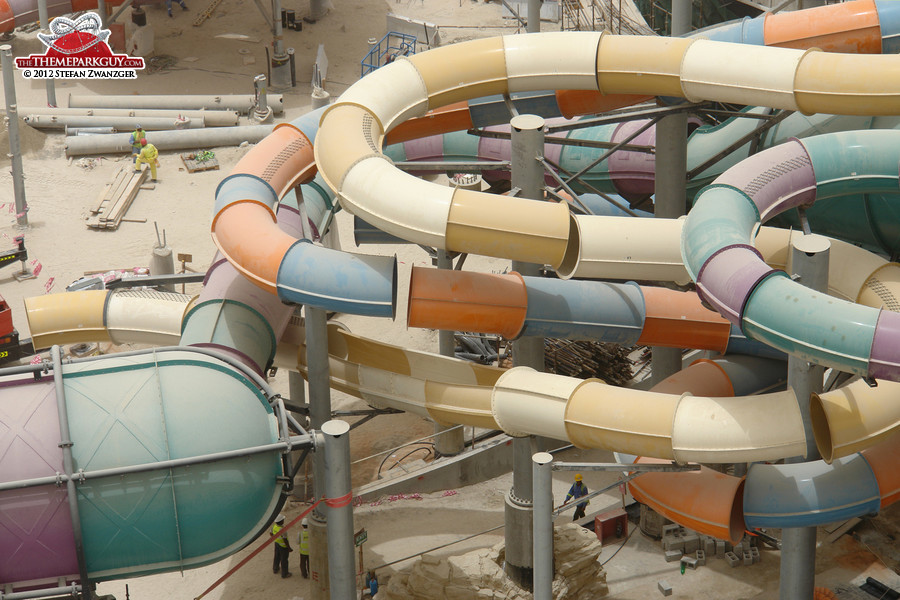 Slides with gaps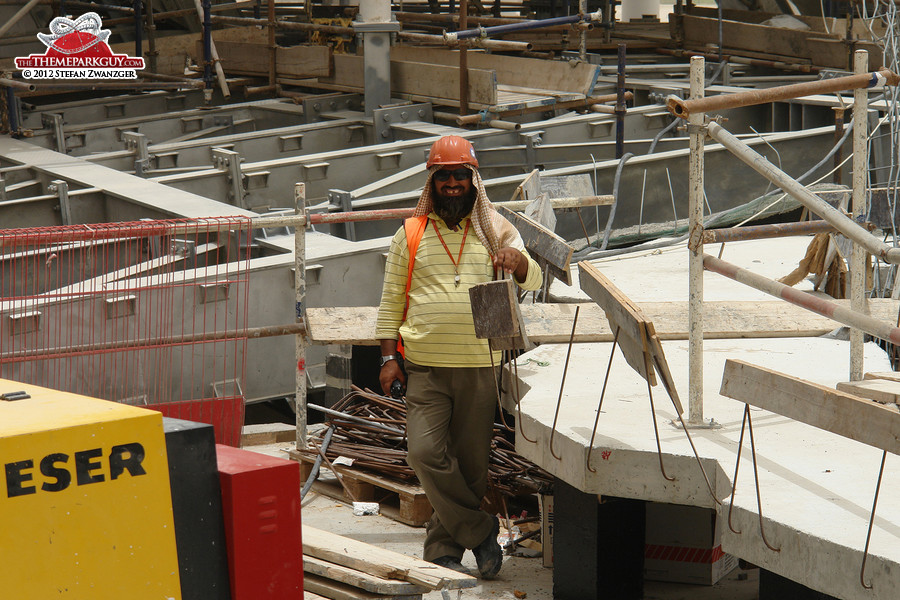 Smiles with gaps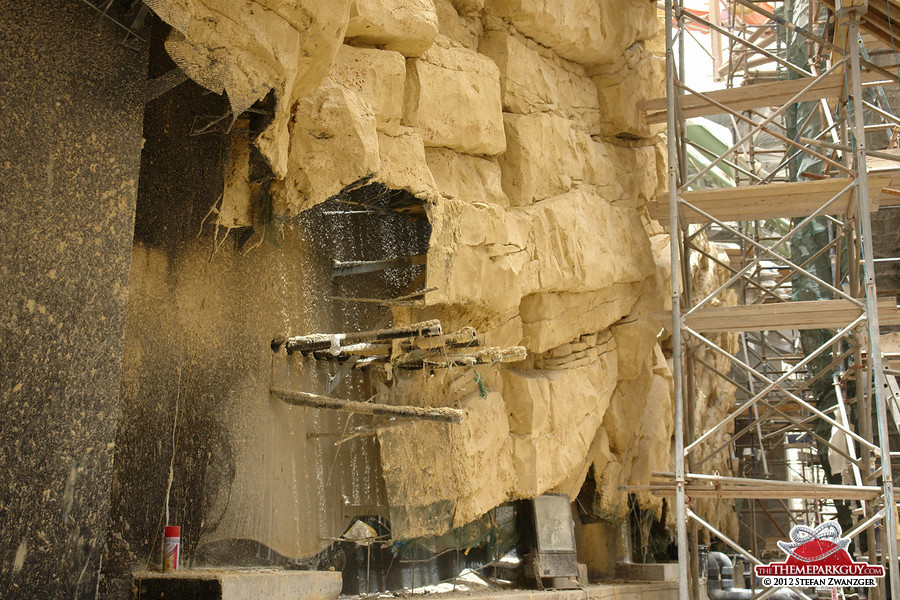 Rockwork with gaps. It's fascinating how solid it looks once it's finished!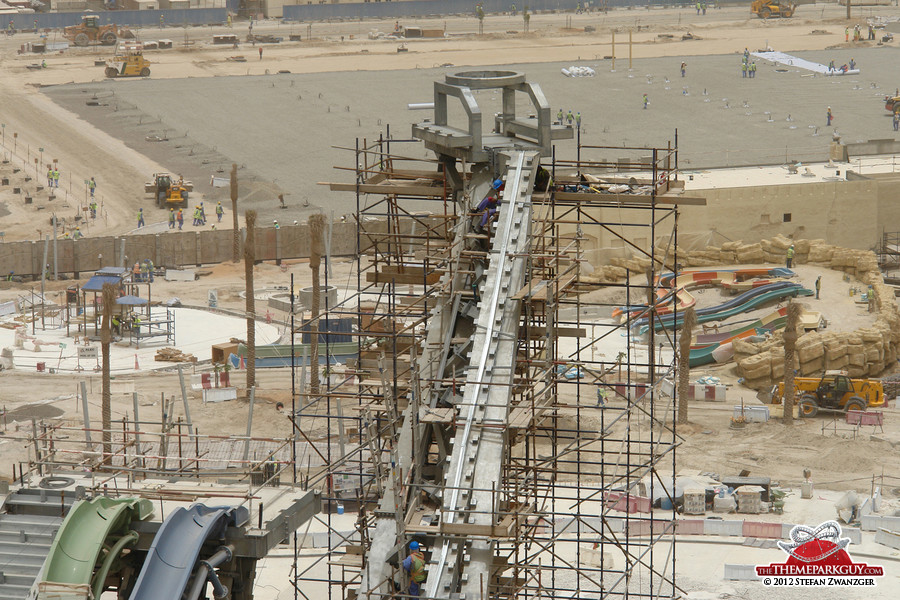 This peak structure will probably support the giant centerpiece pearl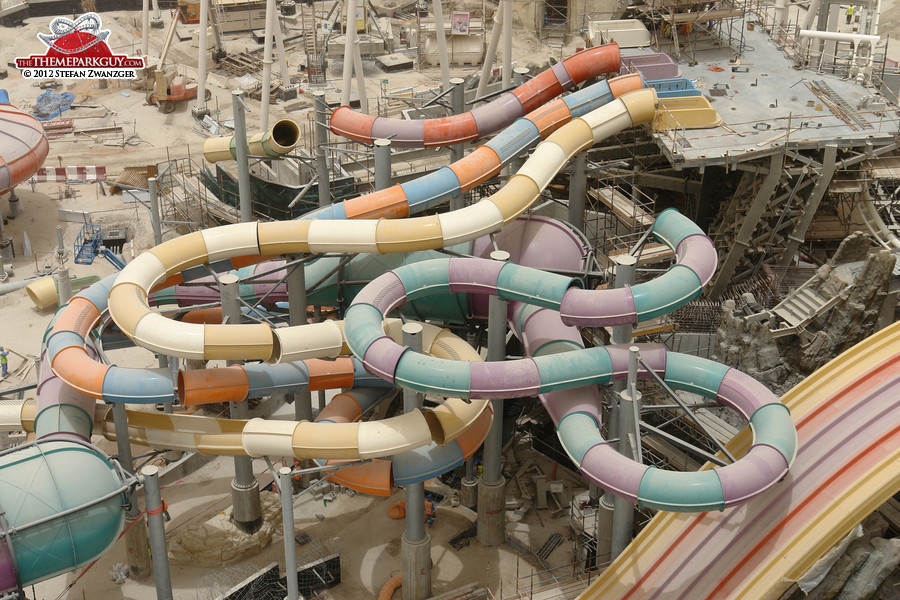 Old school water slides with effects inside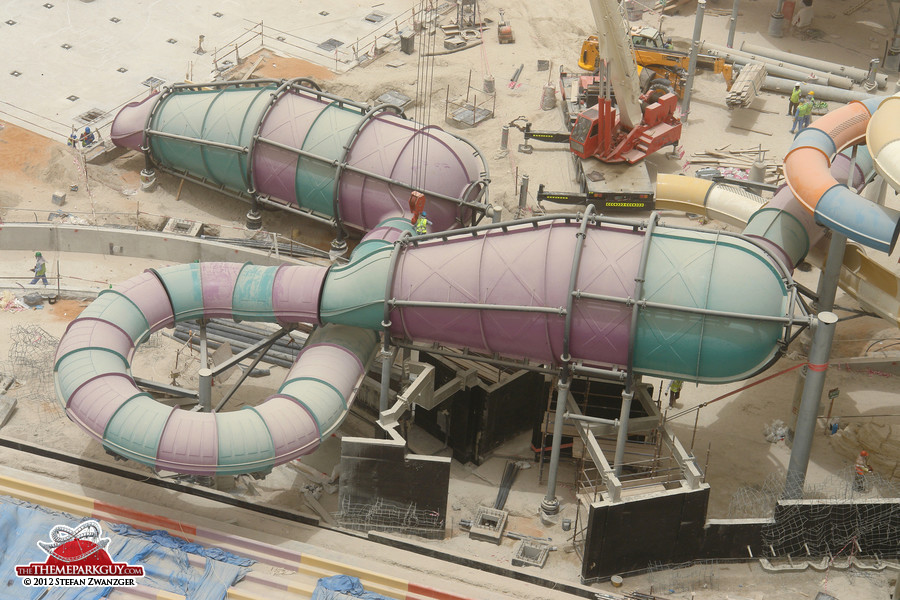 Experimental new water slide structure (called Rattler)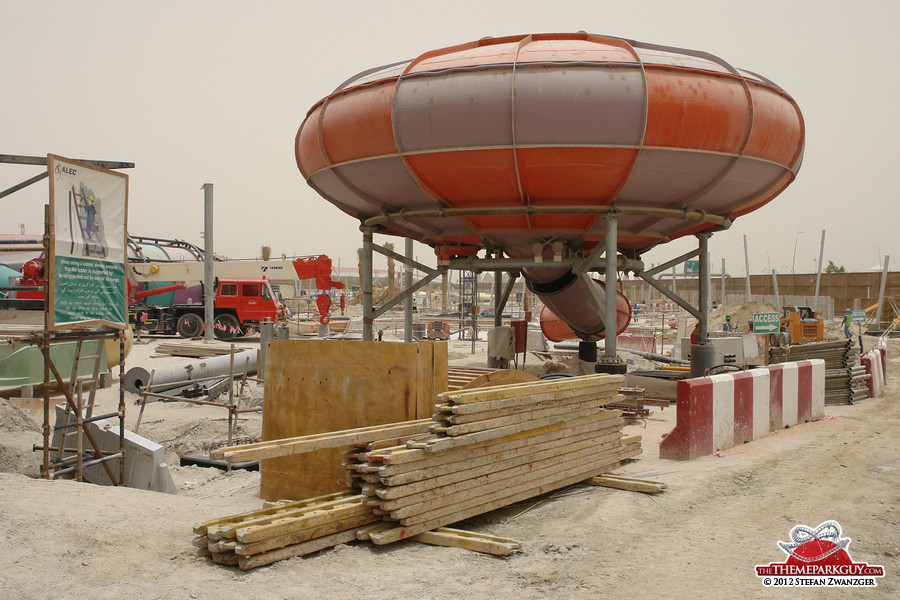 What's a flying saucer today will be a bowl-shaped body slide tomorrow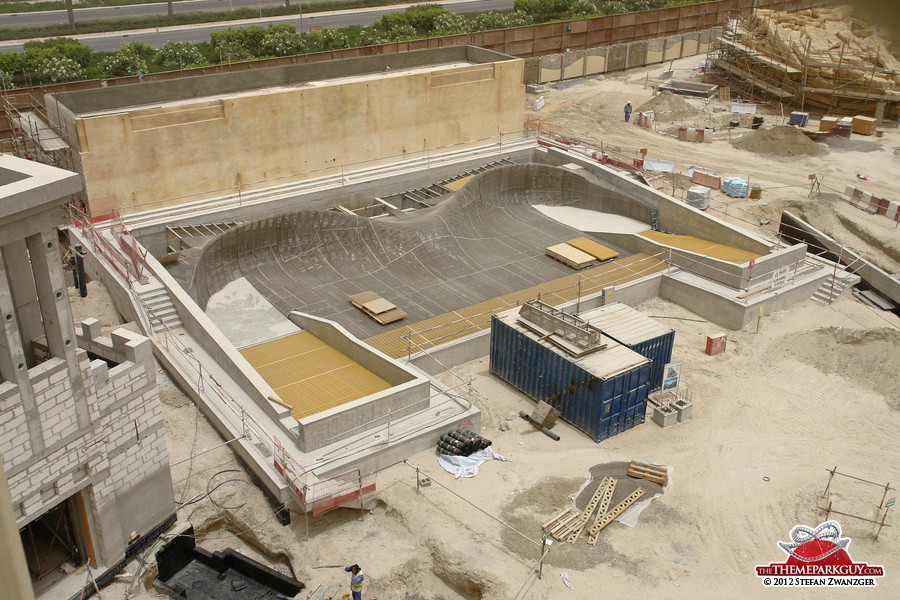 Sheet wave surf pool in the making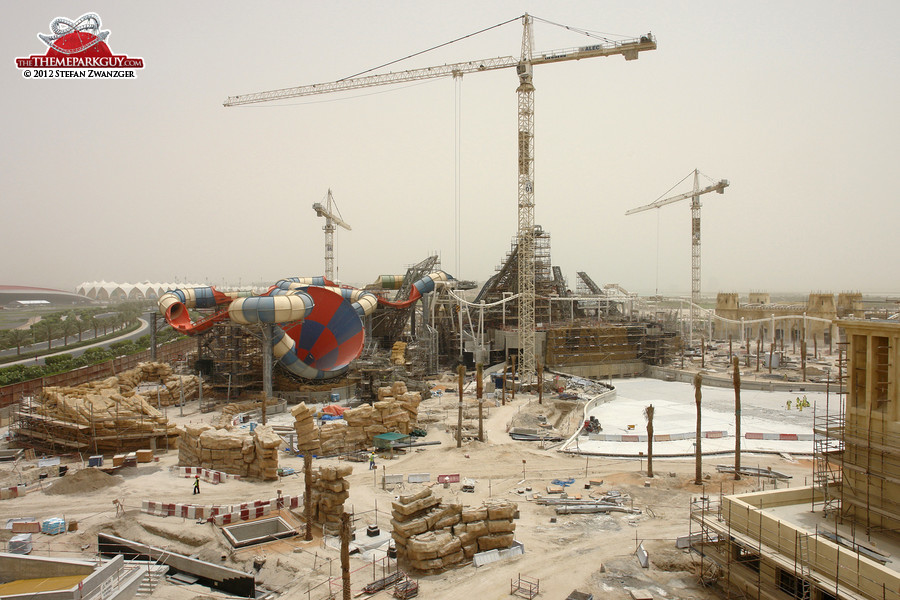 Yas Waterworld seen from the future entrance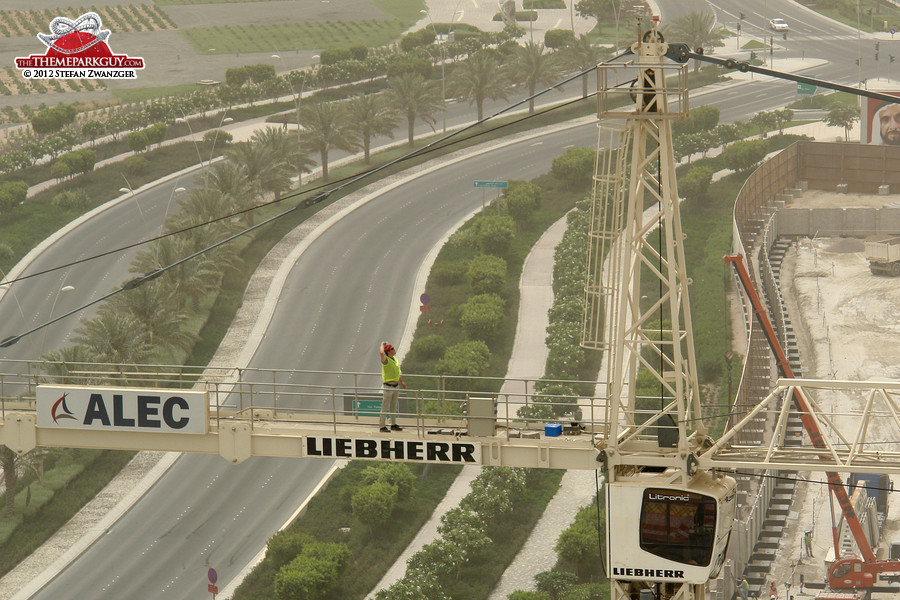 I really got hooked on climbing up cranes!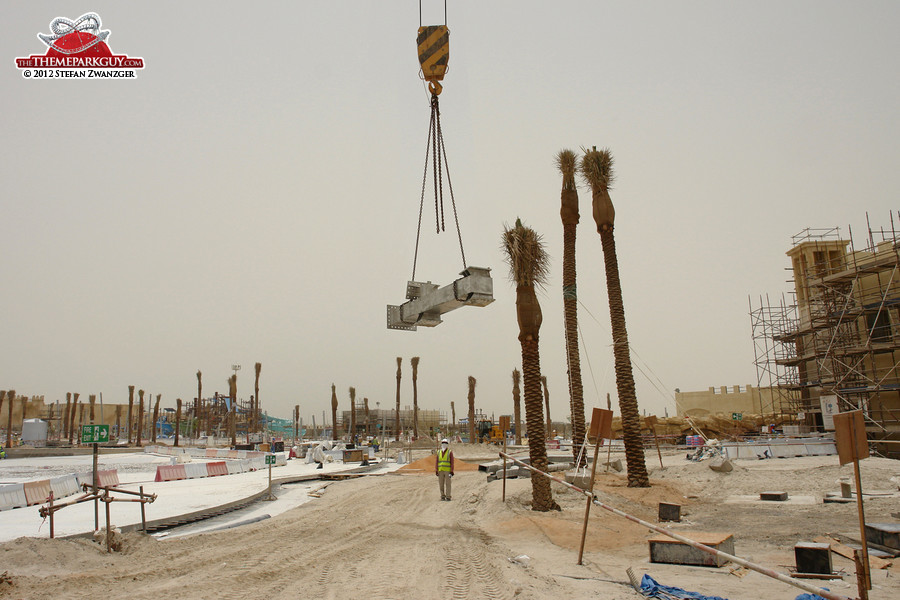 Just got to learn how to use it
Construction Update
February 04, 2012
Holy barracuda!
Abu Dhabi cabbies driving past the Yas Waterworld Aqua Park (new name!) construction site have genuine problems focusing on the road. Many of them habitually do, but this time it is serious. A 200 million USD water park marvel is rising from the ground here, and what today looks like a Double Whopper made of steel, slides and tracks is set to become a warm, romantic place, celebrating Middle Eastern heritage and the history of pearl diving in the region. Imagine souqs, forts, gardens and plenty of well-crafted rock facades.
Orlando will be jealous.
Massive funnel water slides and water coasters from Canadian manufacturers WhiteWater West and ProSlide are being set up, and I was told that this park will host some thrill slides never seen anywhere before. Construction progresses with record-breaking speed: the photos in this update are less than two weeks old, but the site already looks totally different. Crikey, I have to camp here!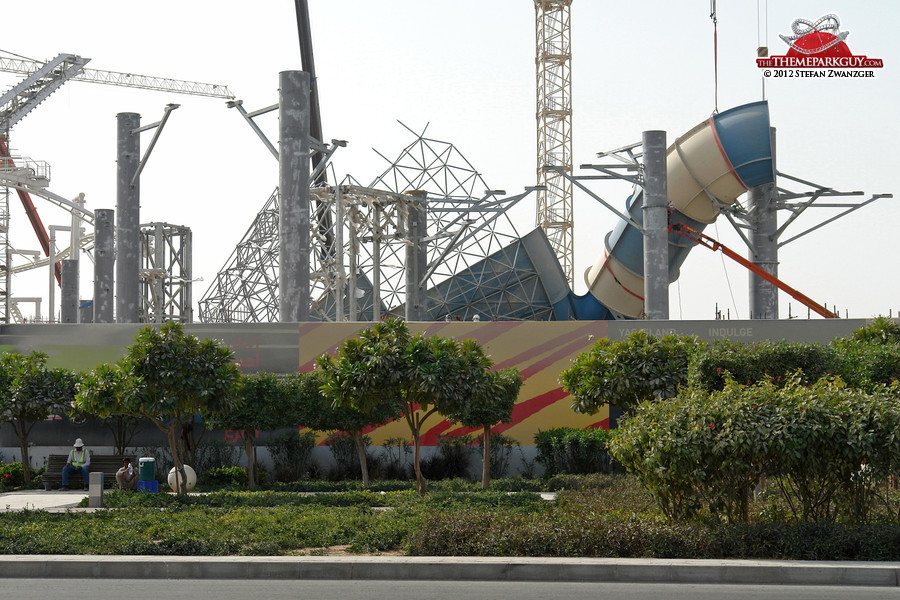 Abu Dhabi's water park is growing fast!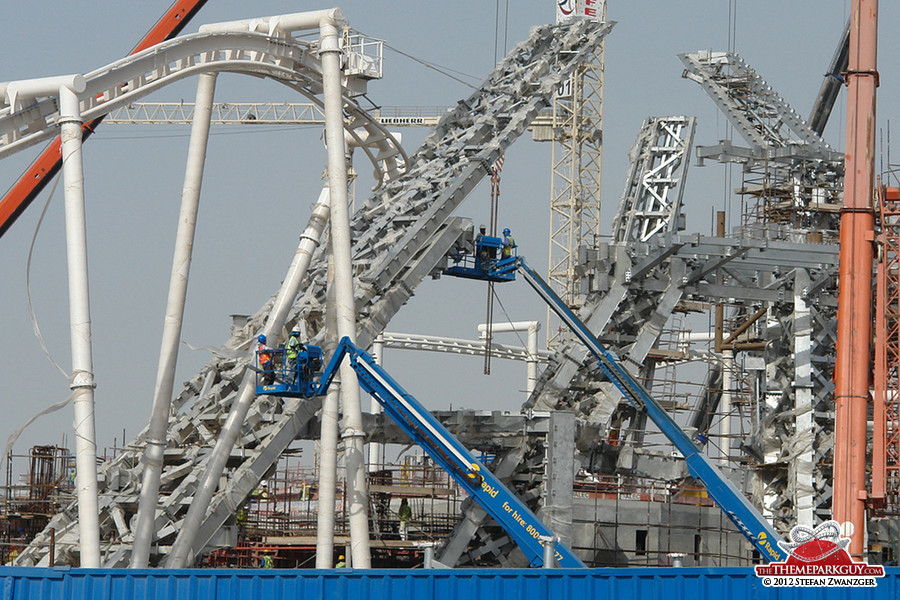 Coaster tracks and steel structures, seen from the outside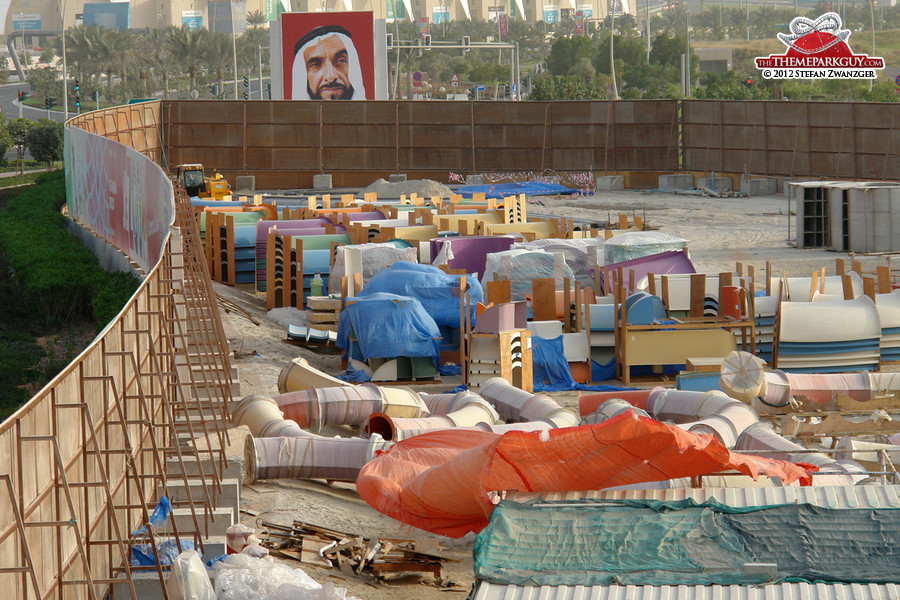 Let's have a look inside!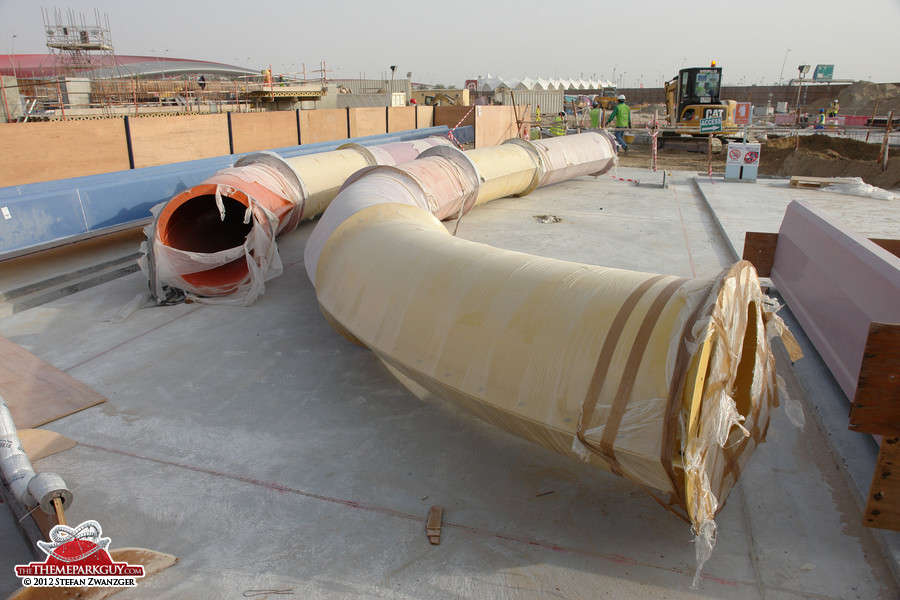 Slide parts (still) resting on the ground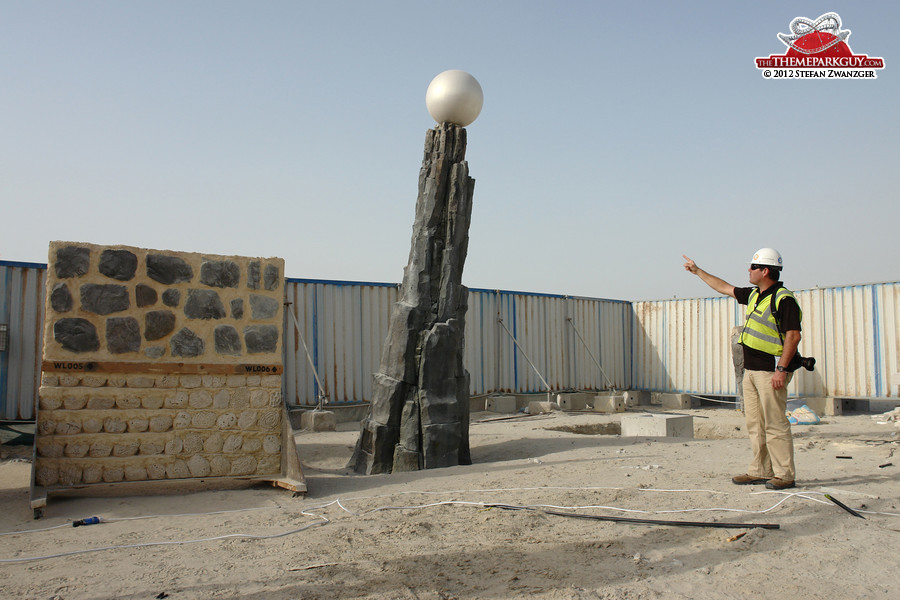 Design manager Mark Joyce points to a mock-up of the park's central structure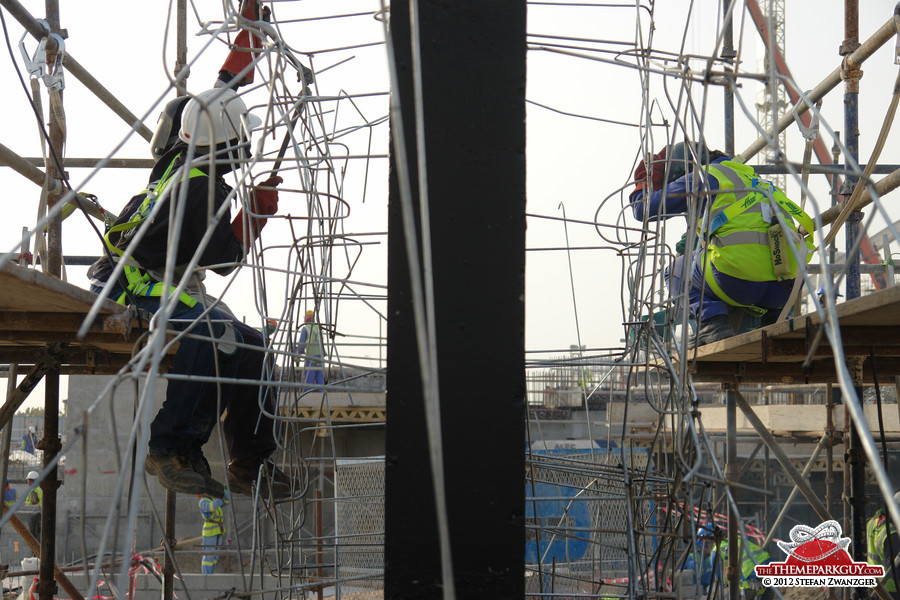 What looks like odd, random work...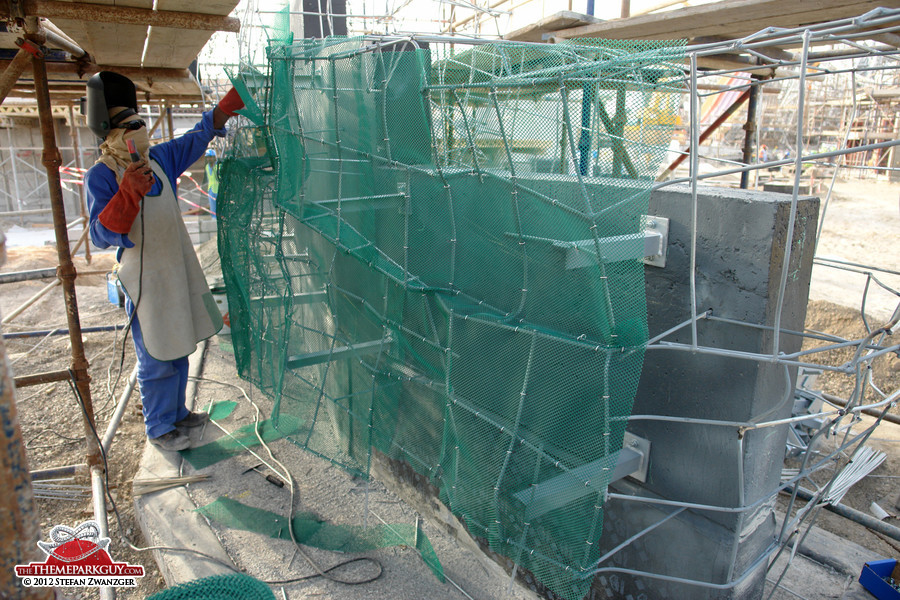 ...eventually becomes...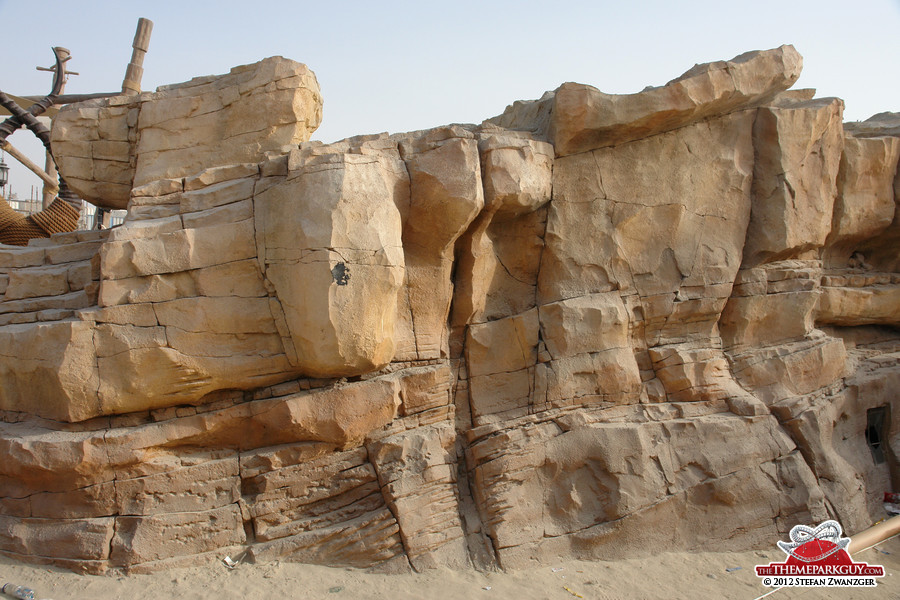 ...a meticulously-crafted rock wall!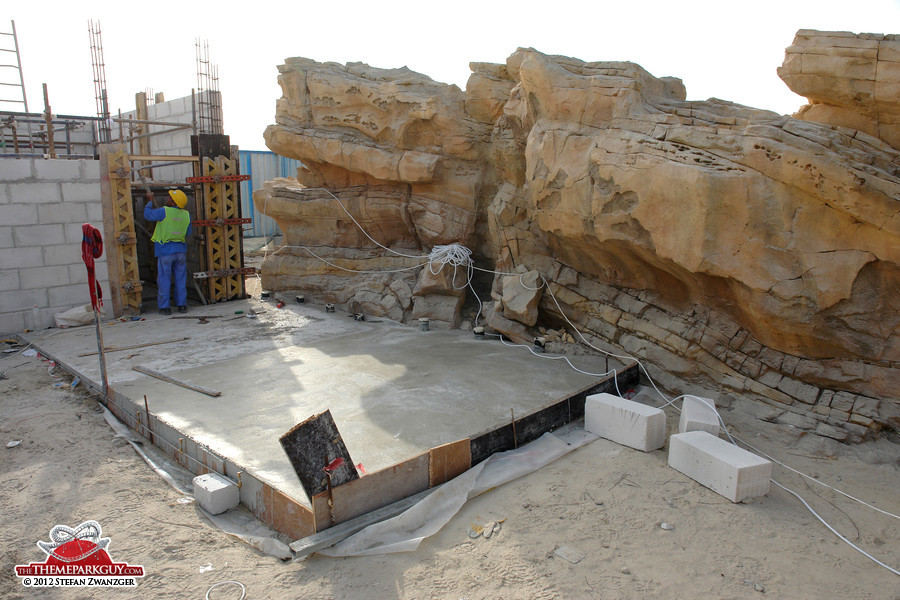 Wile E. Coyote-style rock walls at Yas Island Water Park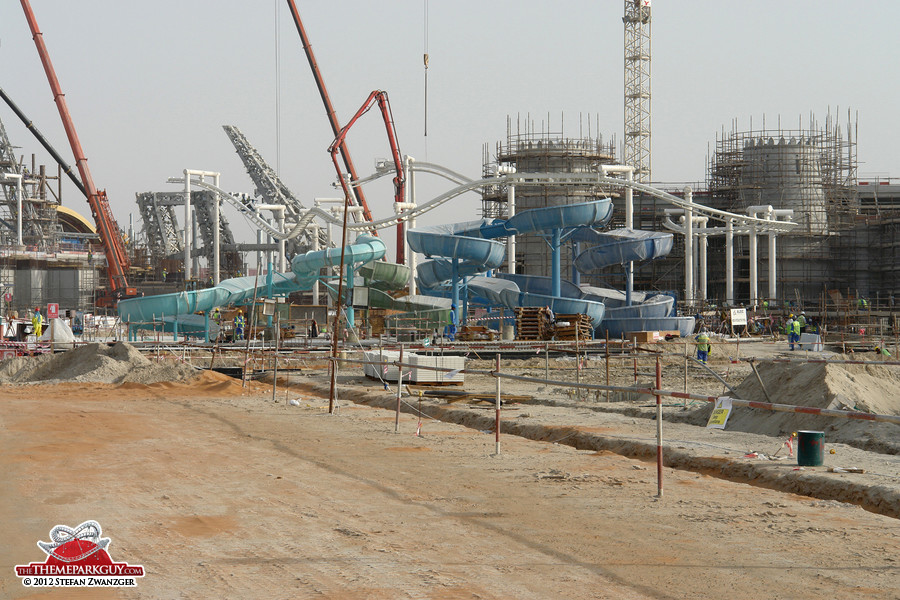 Slides and coaster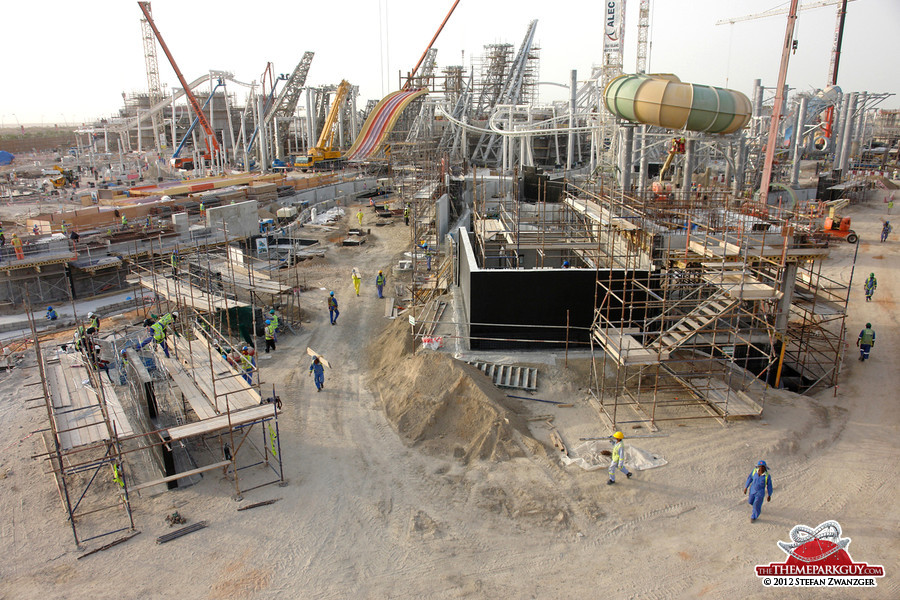 The mighty Yas Island Water Park construction site!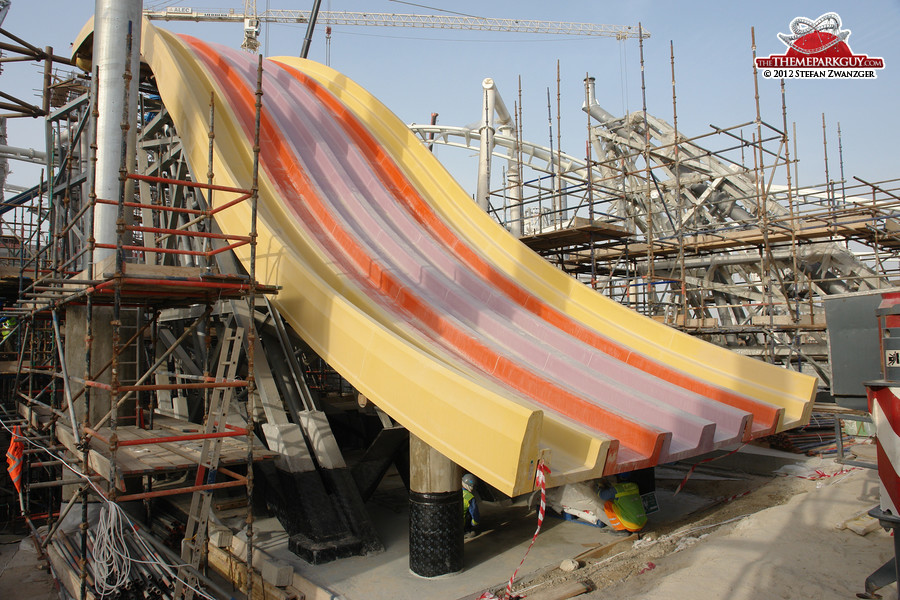 Mat racer slides in the making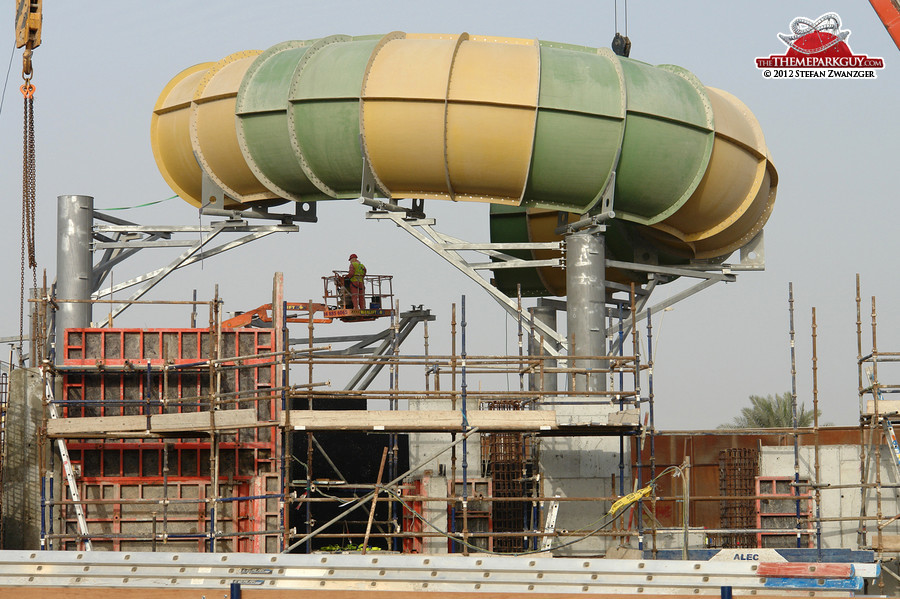 Floating slide section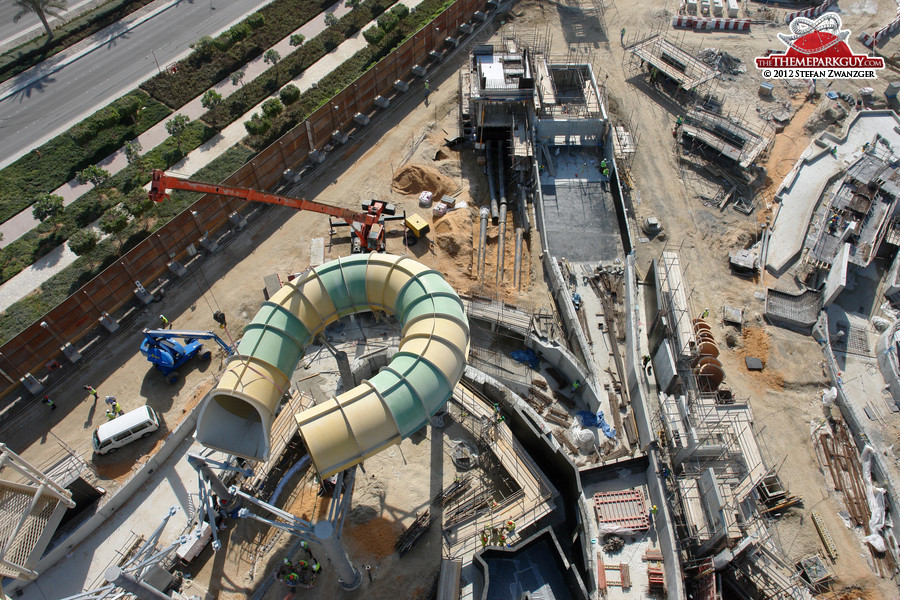 Floating slide section from above, plus a torrent in the making on the right!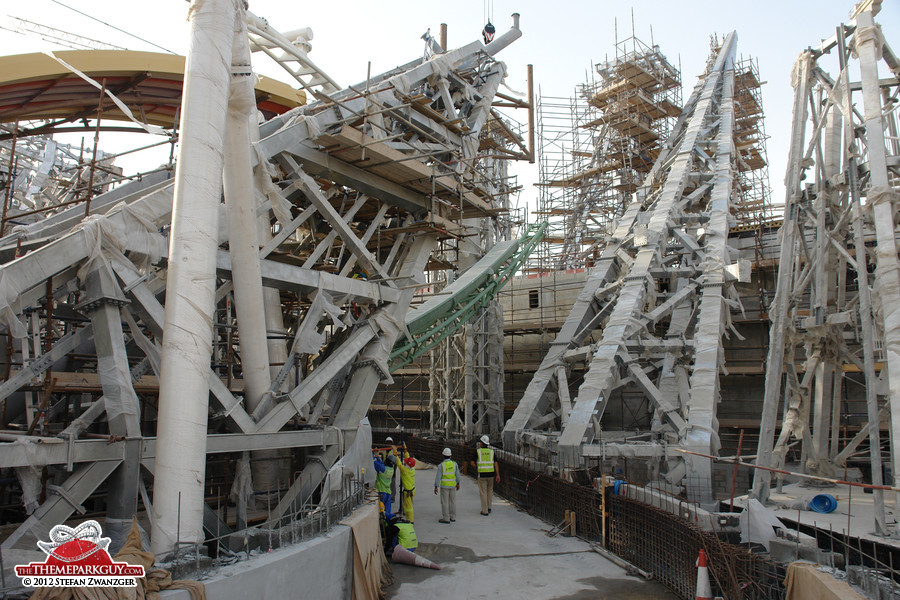 Torrent meandering through future rock wall territory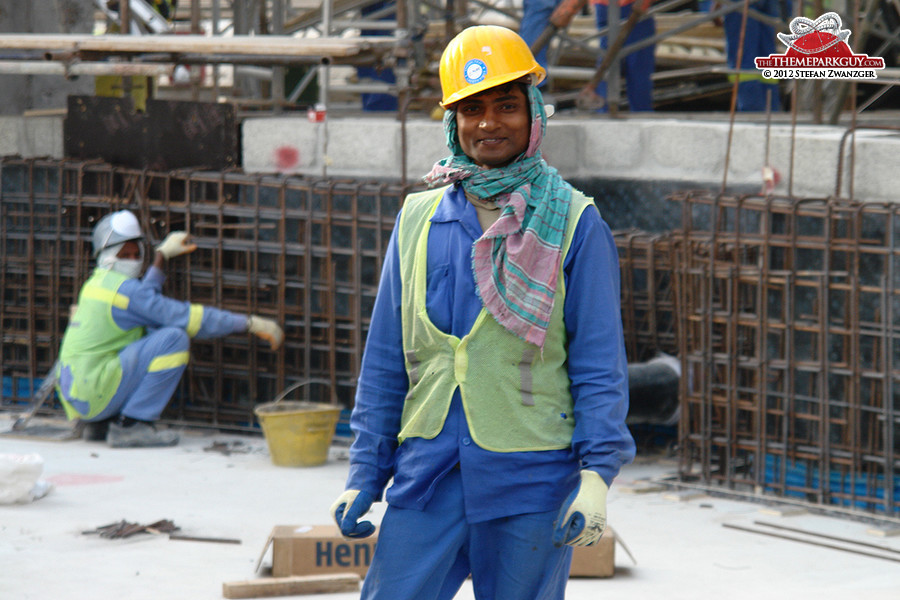 South Asian worker on site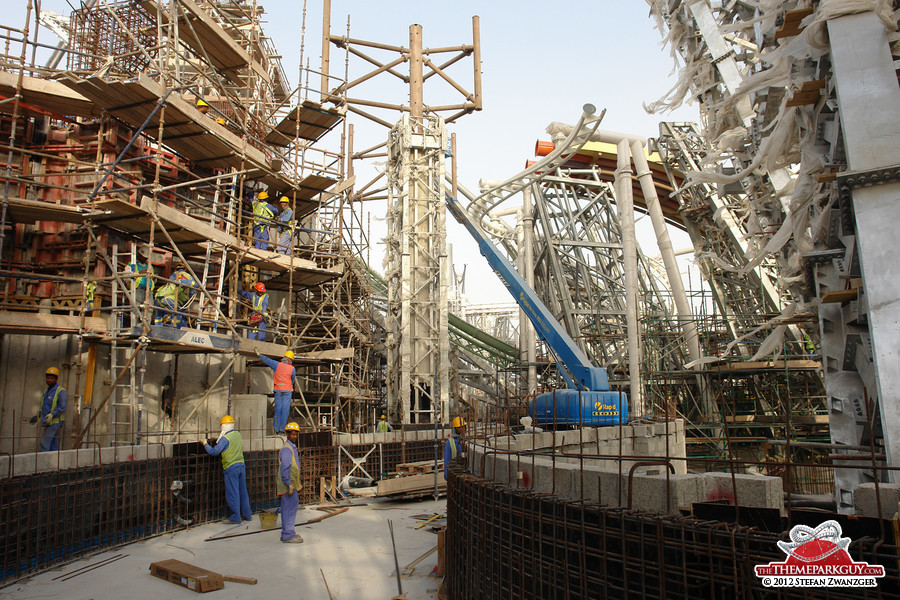 Torrent meets slide meets coaster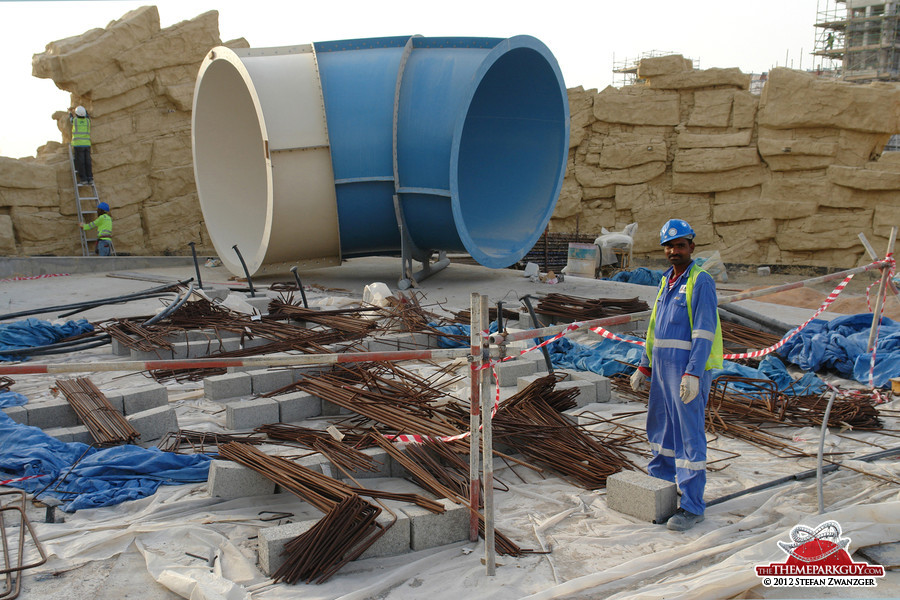 Monstrous slide section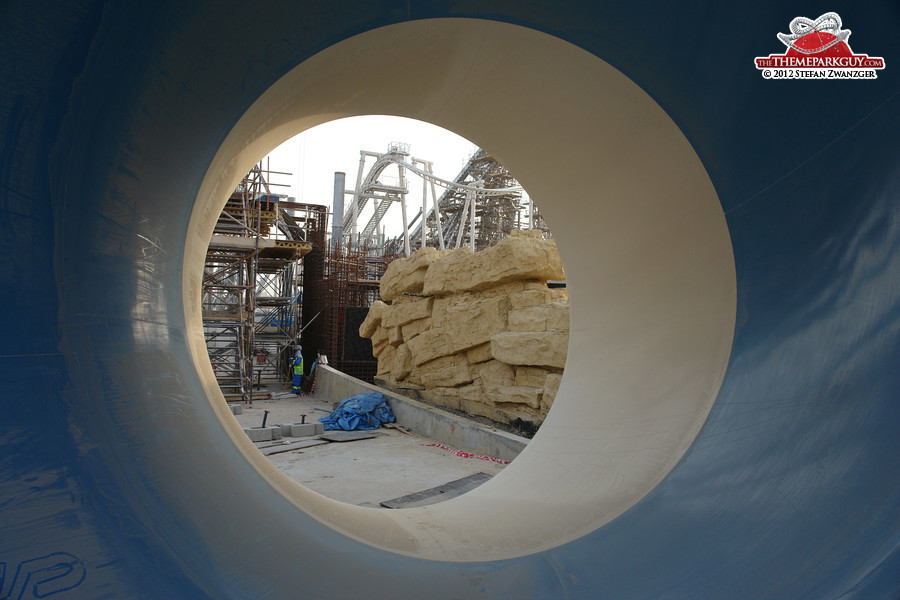 Looking through it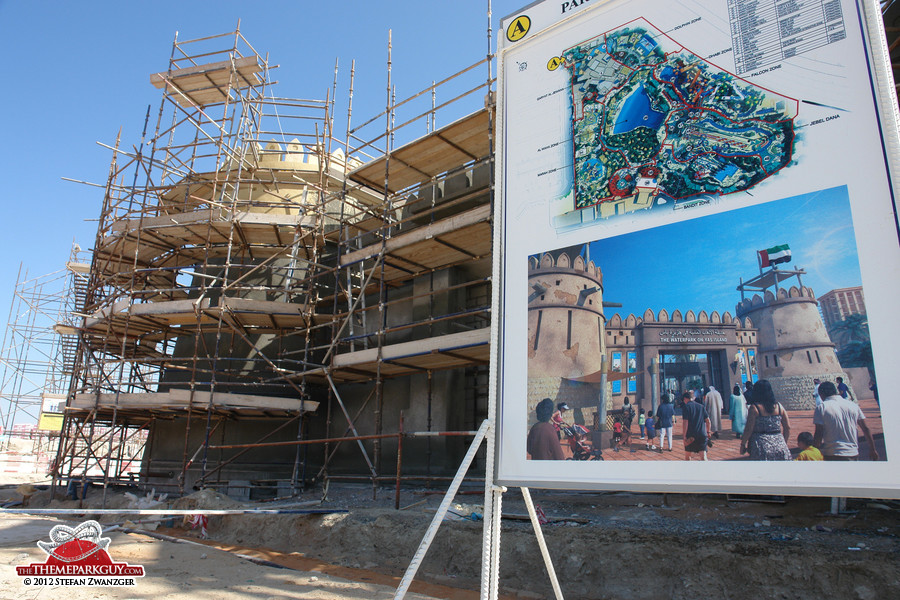 Yas Island Water Park entrance under construction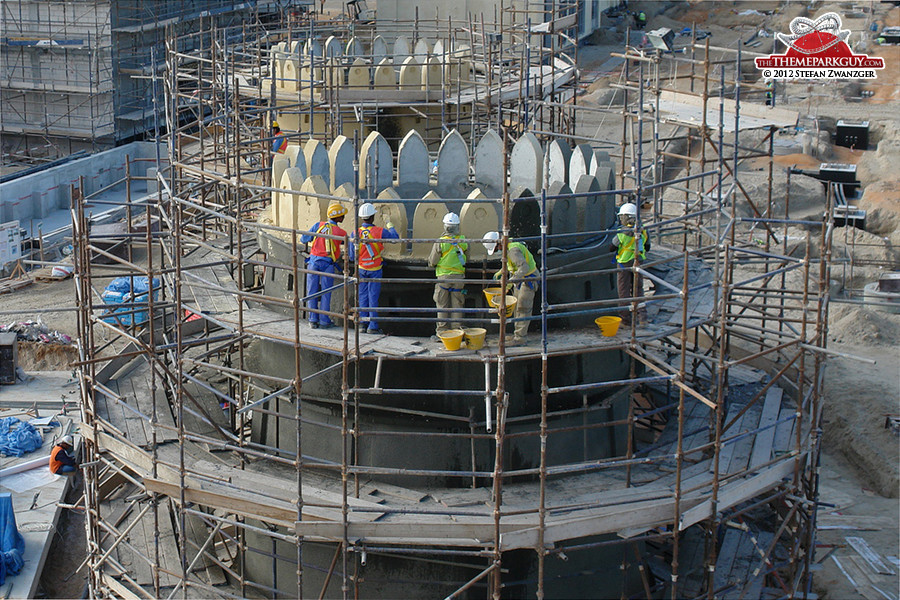 Creating that ancient look!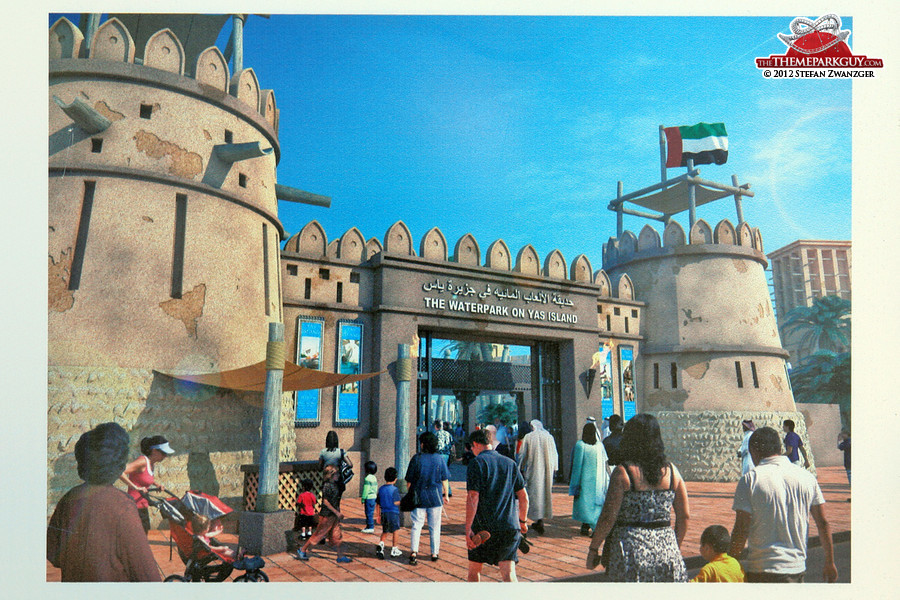 Artwork depicting how it's going to look!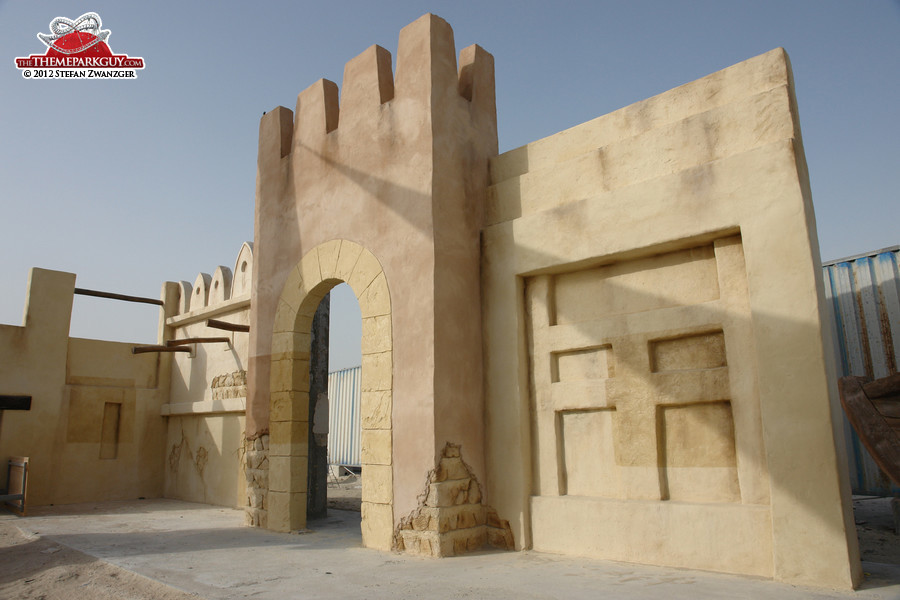 Mock-up of a themed gate. The finishing looks top-notch!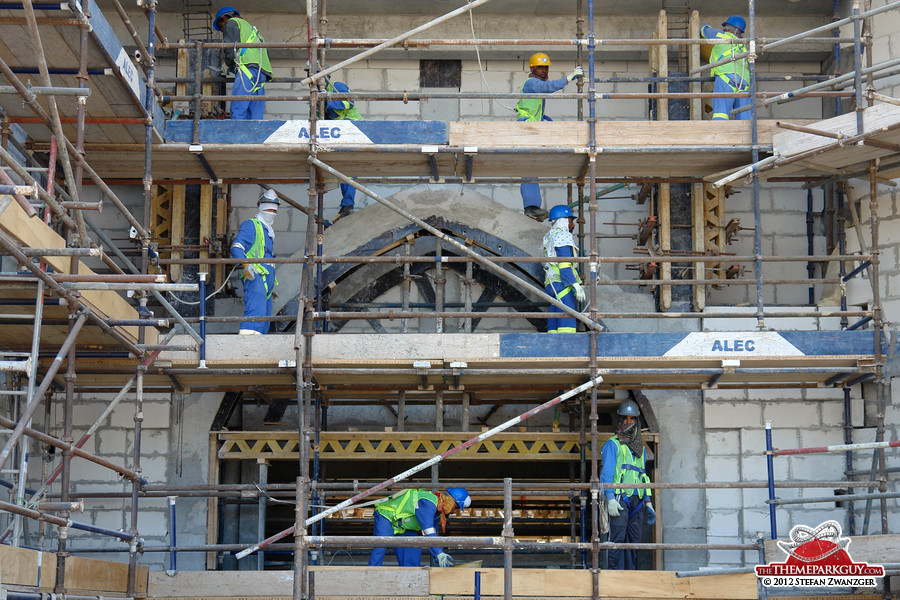 Finally Abu Dhabi will get a souq, albeit behind a water park gate!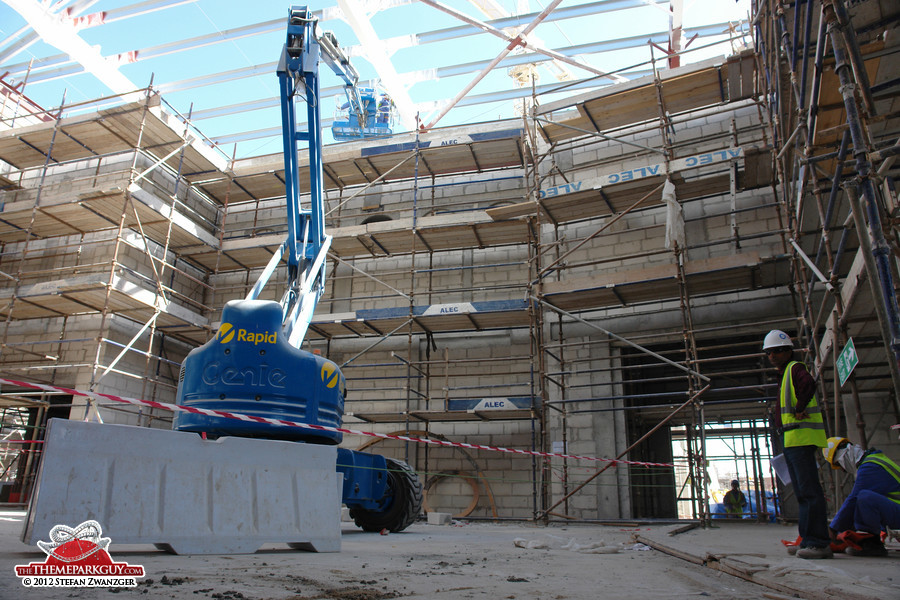 Abu Dhabi water park souq under construction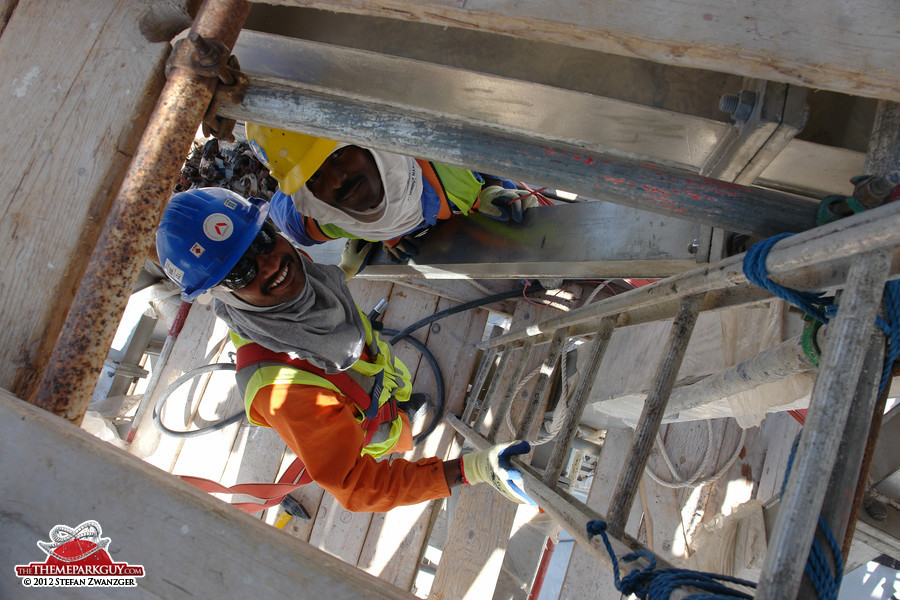 Let's climb up for a better view!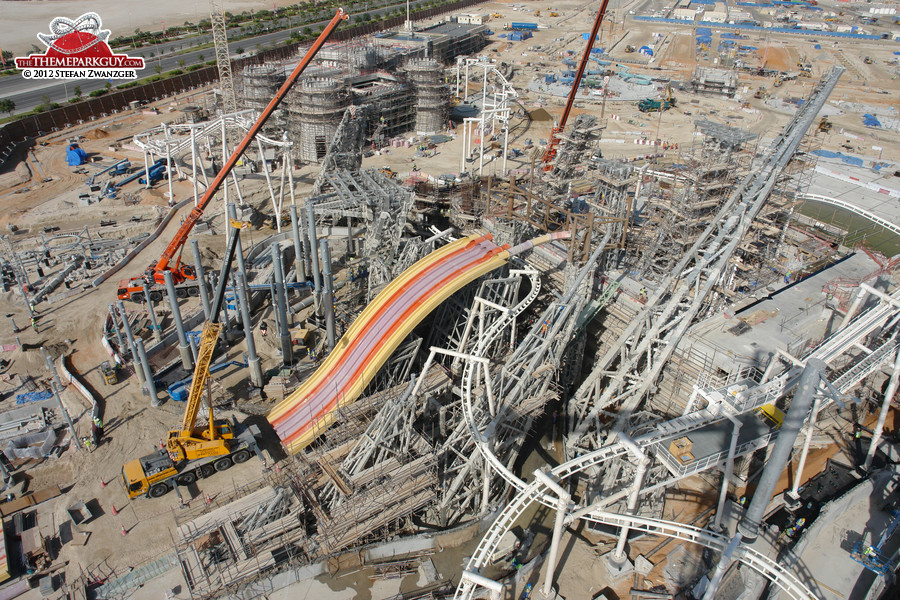 The central slide tower, or let's better call it slide-mountain-range!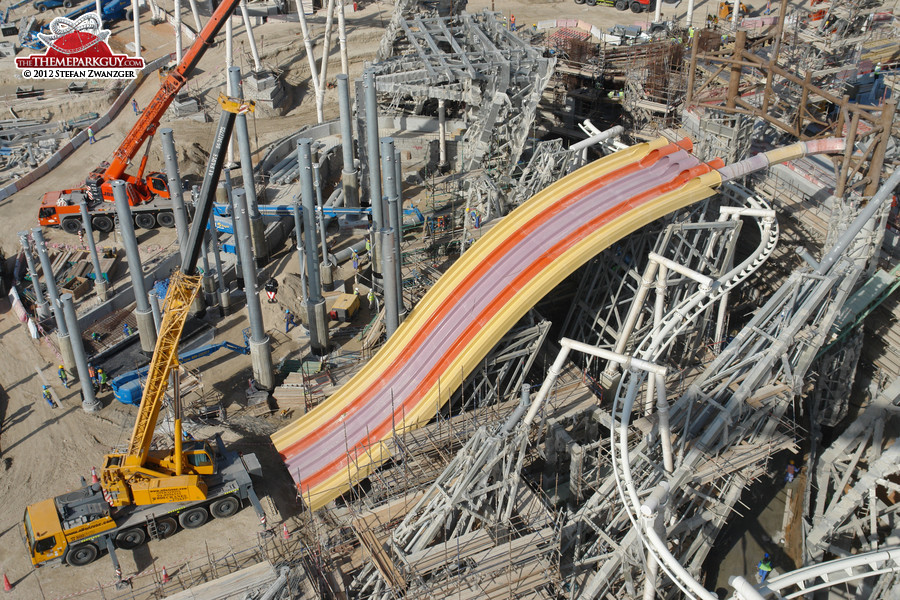 A symphony of steel, slides and tracks!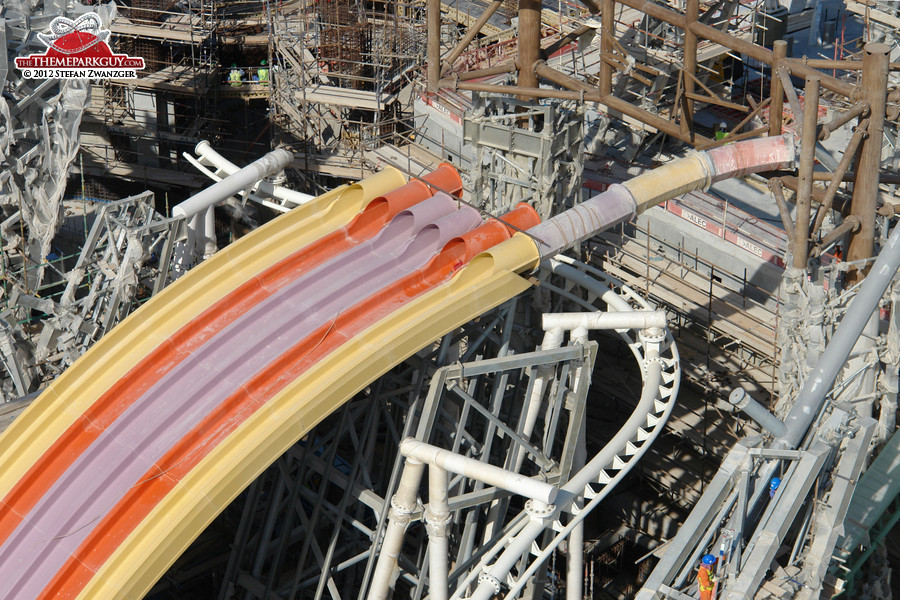 Probably the highest thrill ride density on the planet!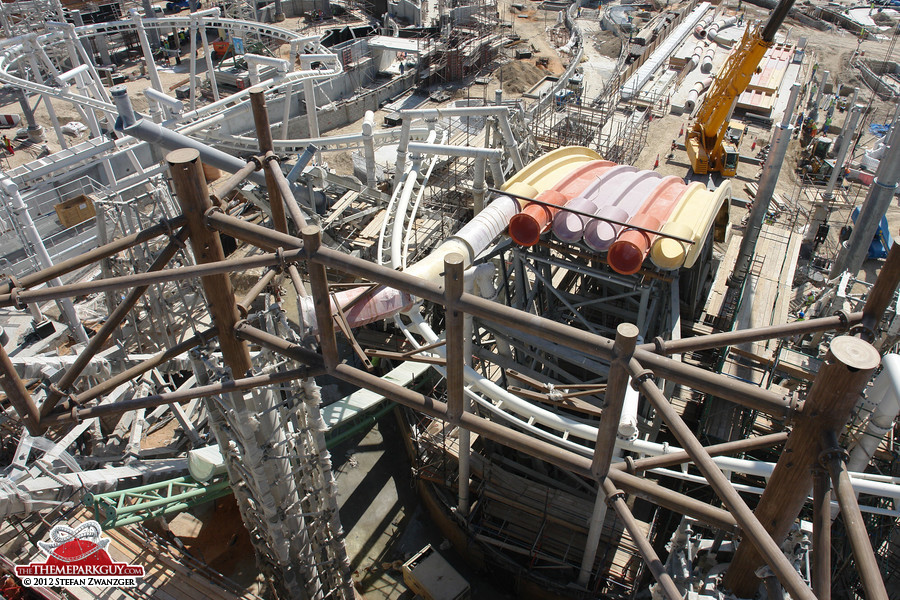 Torrent, high-speed body slide, roller coaster and mat racer super-imposed!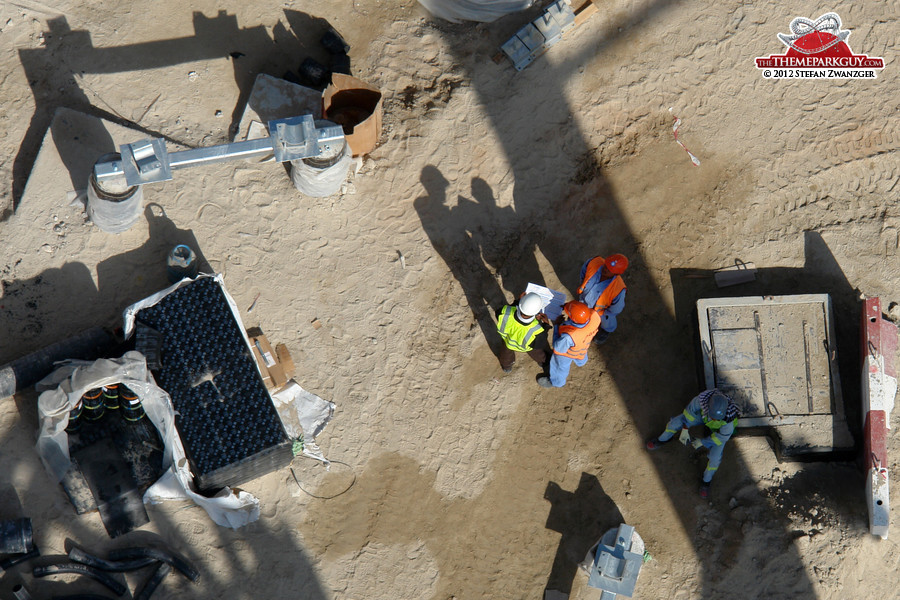 A serious discussion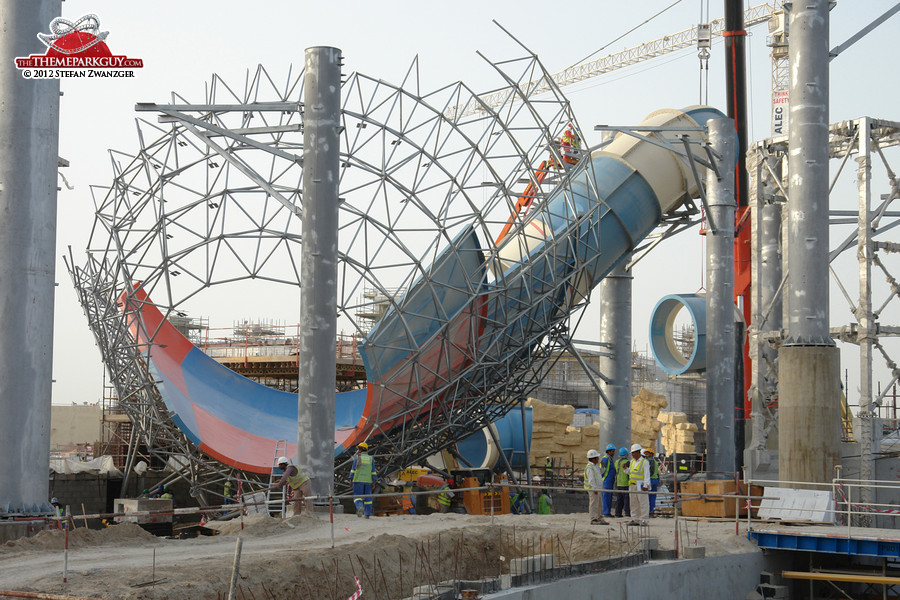 ProSlide Tornado water slide in the making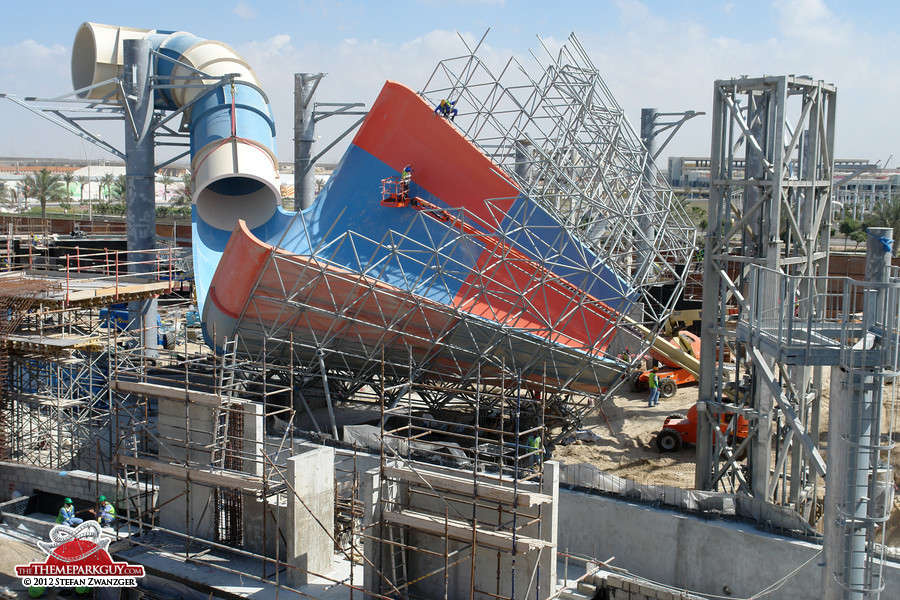 The only one of its great kind in the Middle East!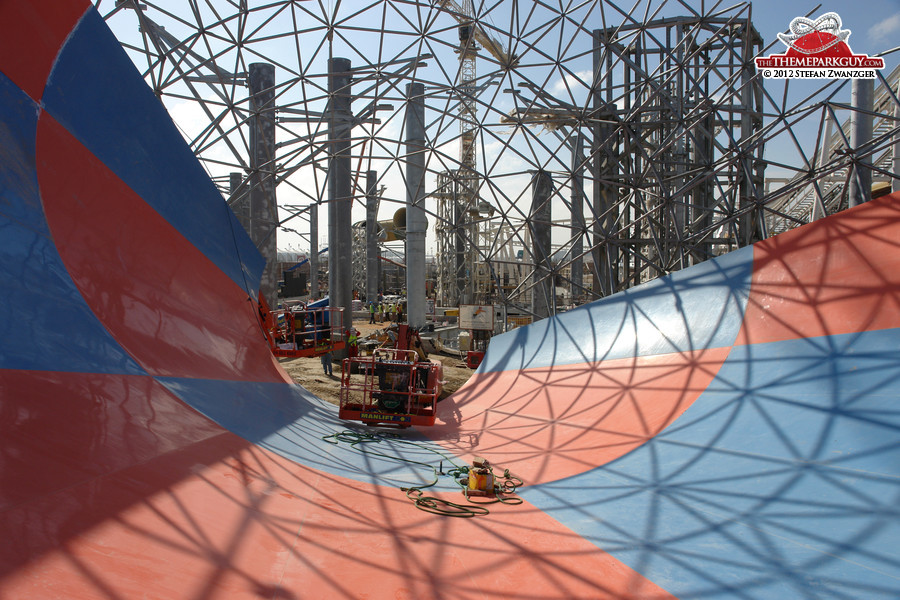 Tornado under construction POV
The eye of the Tornado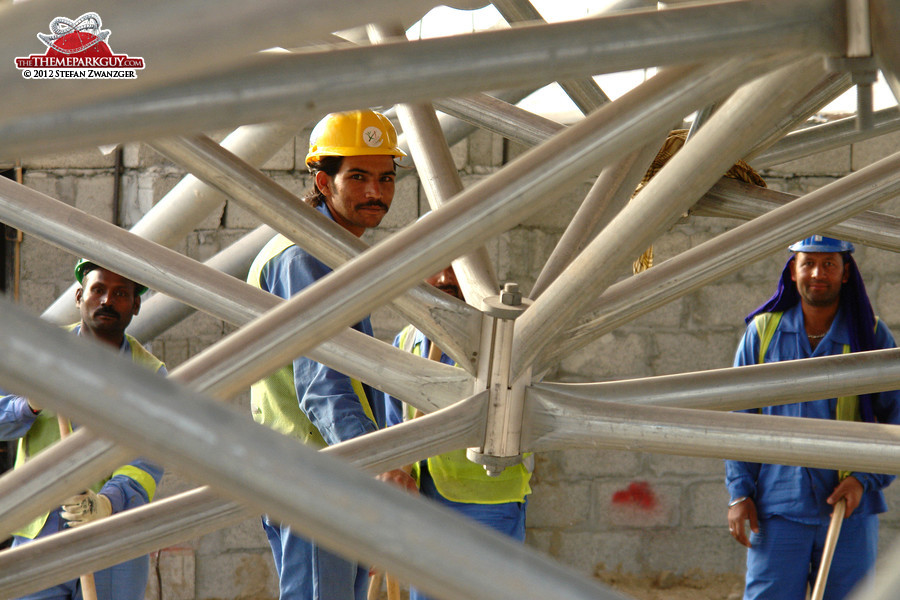 Eyes underneath the Tornado
Vekoma roller coaster under construction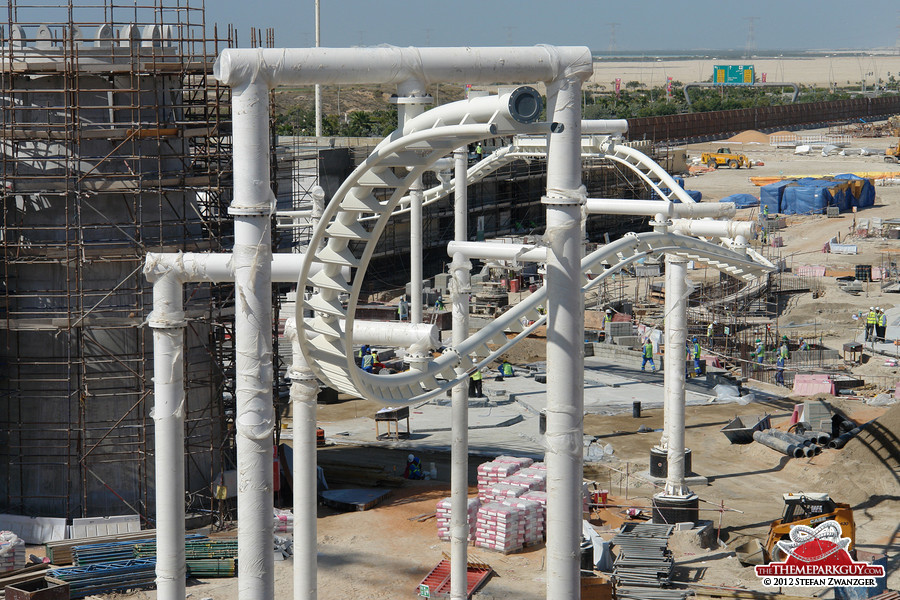 The emerging coaster looks like a snail tentacle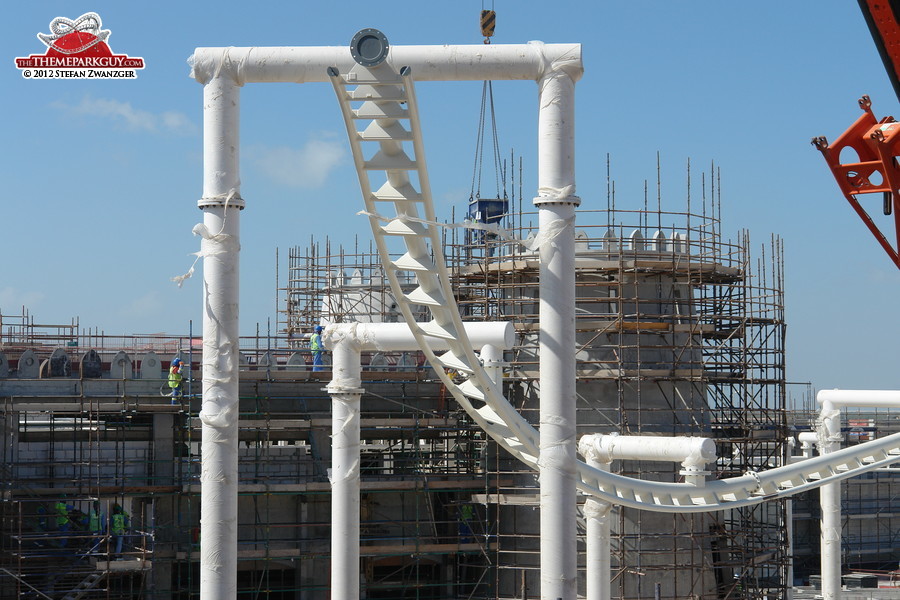 In search for the better half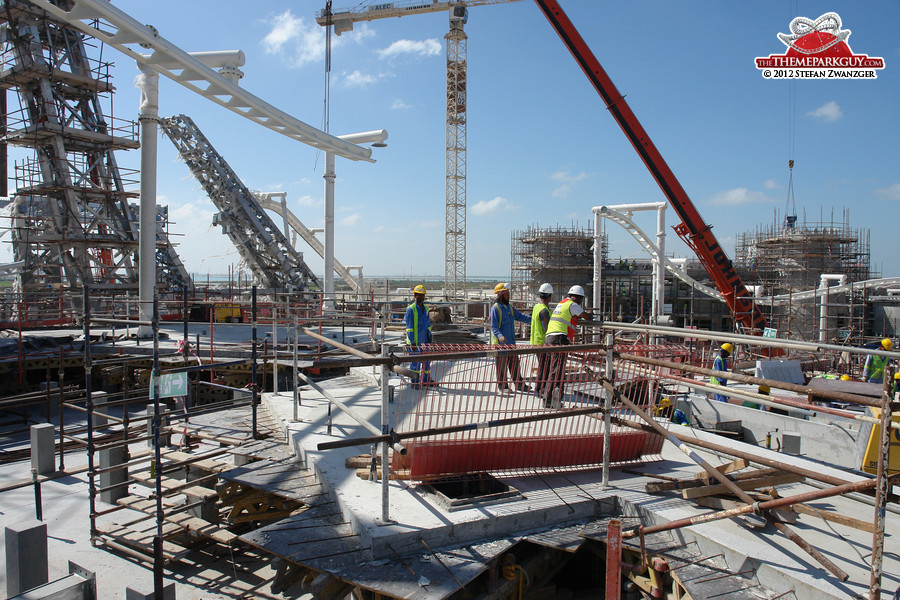 Meeting of the coaster tentacles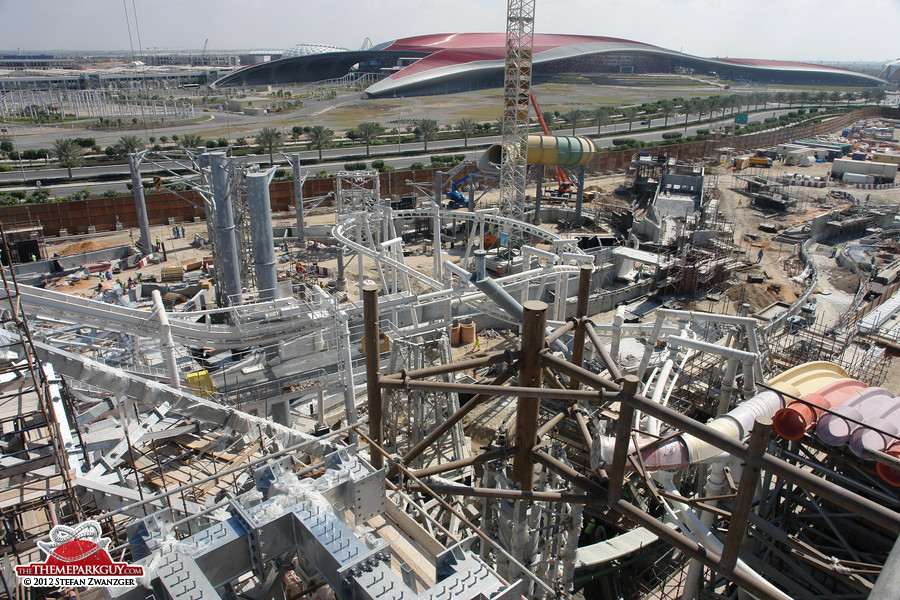 This place is going to be spectacular!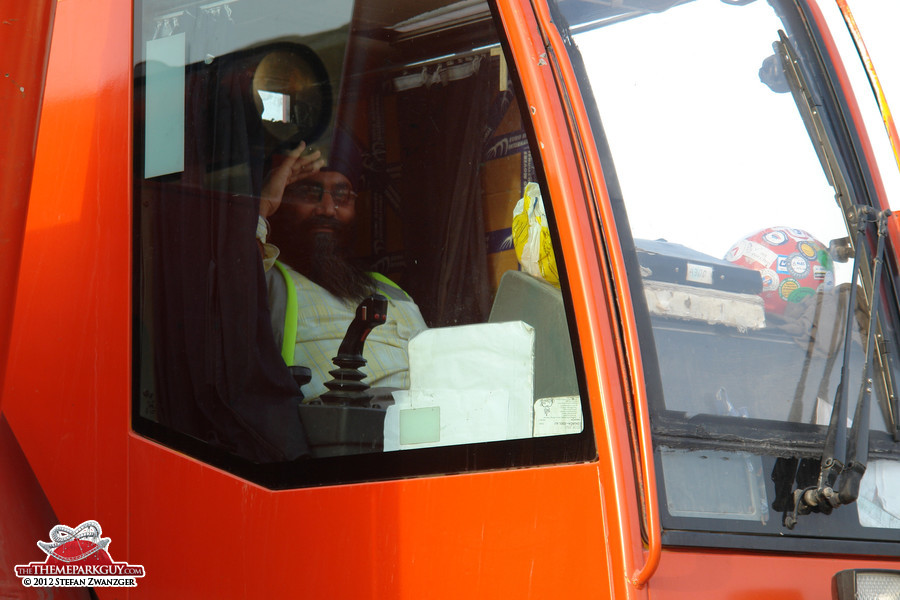 Yes, sir!
Construction Update
December 31, 2011
These days cranes and excavators are a common sight in once somewhat sleepy Abu Dhabi. And it's not districts, but whole islands that are housing the diverse developments: a cultural island (Saadiyat) featuring operating beach hotels and delayed museums, a business island (Sowwah) with the look of London's Canary Wharf, a residential island (Reem) with skyscrapers rising as far as the eye can see, and leisure island 'Yas' featuring Ferrari World, a Formula1 race track and a proposed Warner Brothers theme park, all of which are being developed - some at full speed, others at half steam - with huge freeways and linking bridges sprouting up in between.
The five cranes adjacent to the Ferrari World theme park are something special, though: they tower over the world's most exciting water park construction site at present. Arabian fort structures, a massive funnel water slide and a suspended roller coaster (exotic!) are gradually rising into view behind the fence, and work takes place day and night.
Since this endeavor proceeds with such enormous speed I will post another update shortly.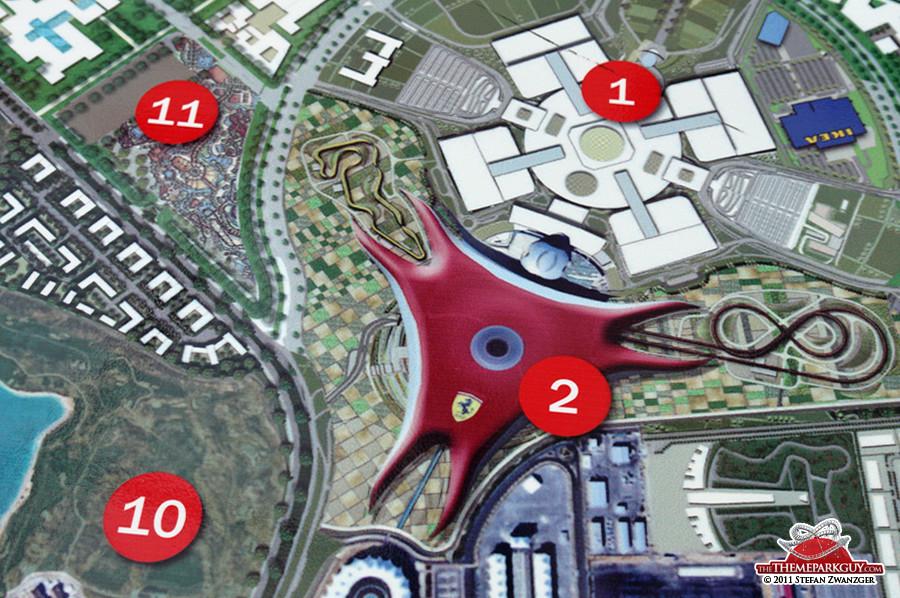 Yas Island map: (2) is Ferrari World, (11) Yas Island Water Park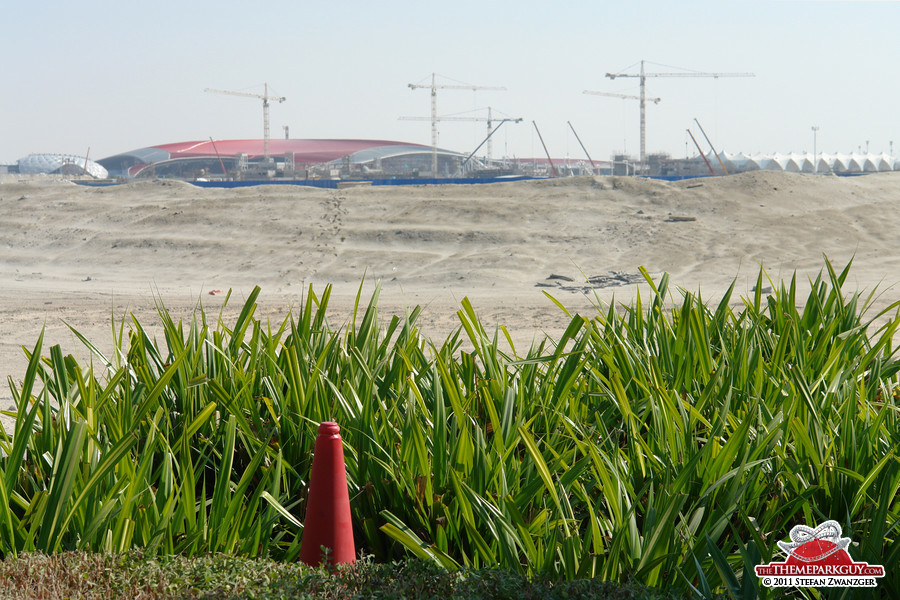 Water park cranes moving day and night
Yas Island Water Park, 31 December 2011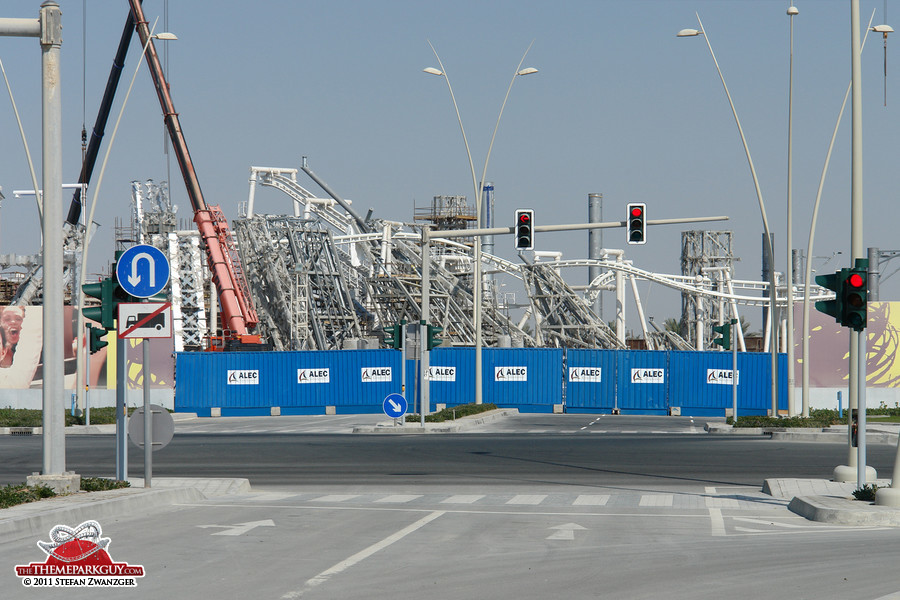 A roller coaster in a water park!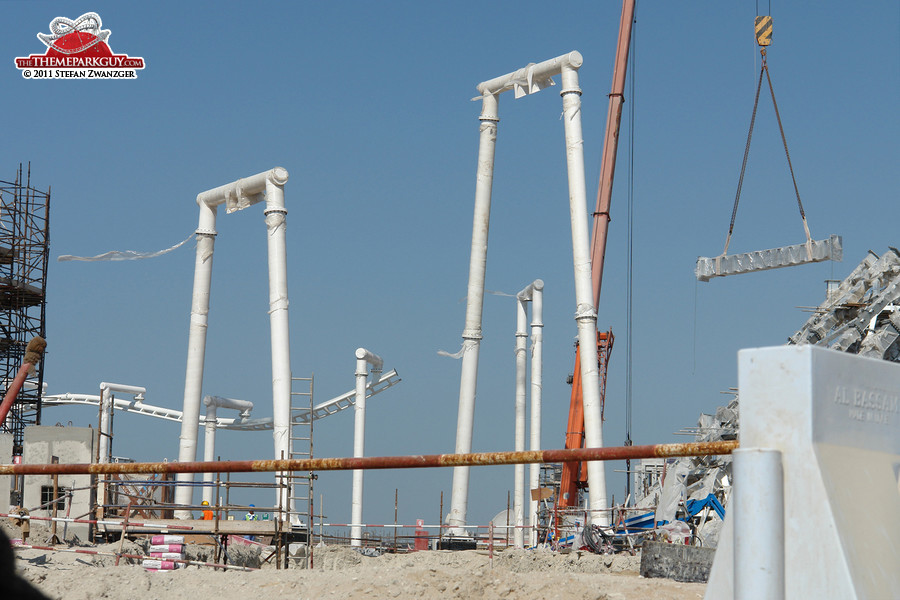 Suspended roller coaster under construction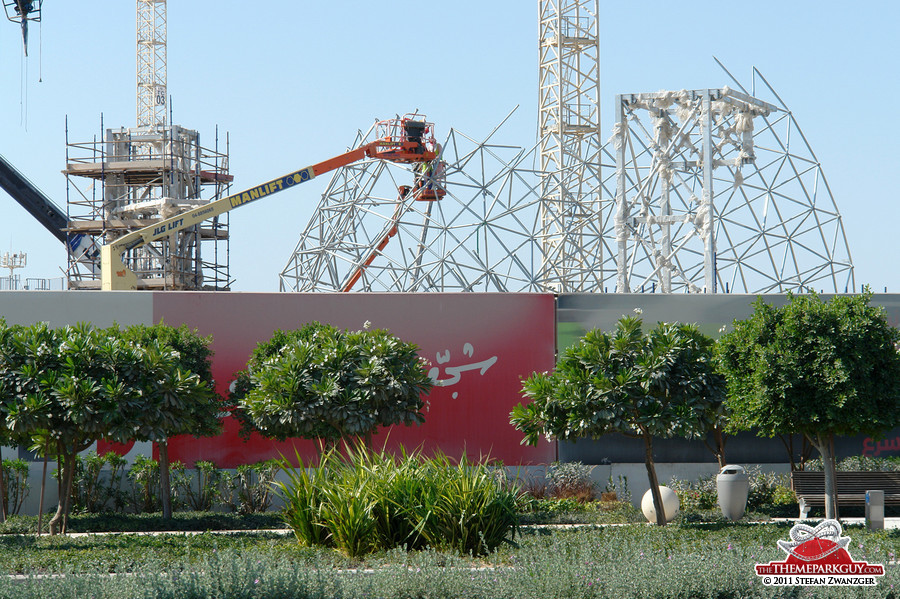 Funnel slide in the making
Slide embryos behind the desert fence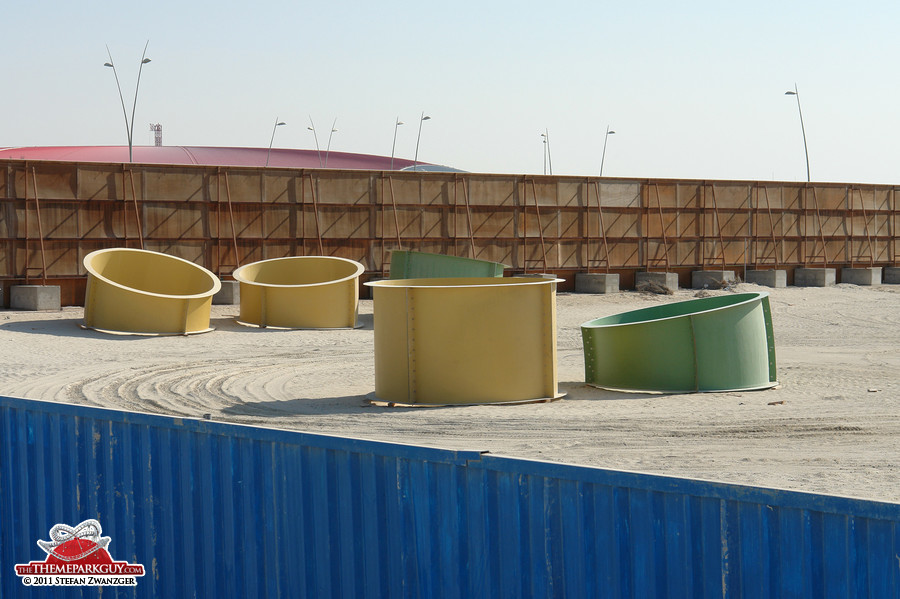 Spaceships from Canada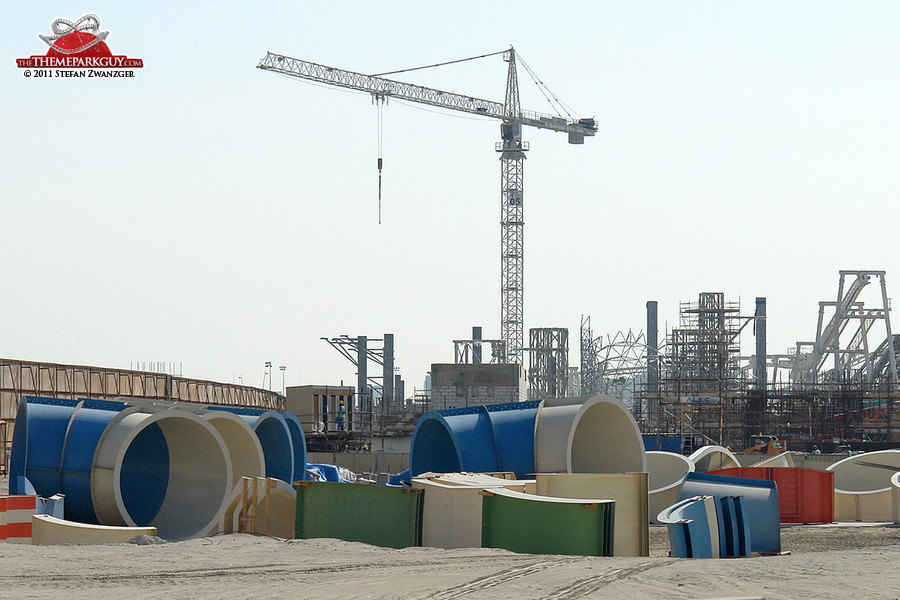 These massive slide parts...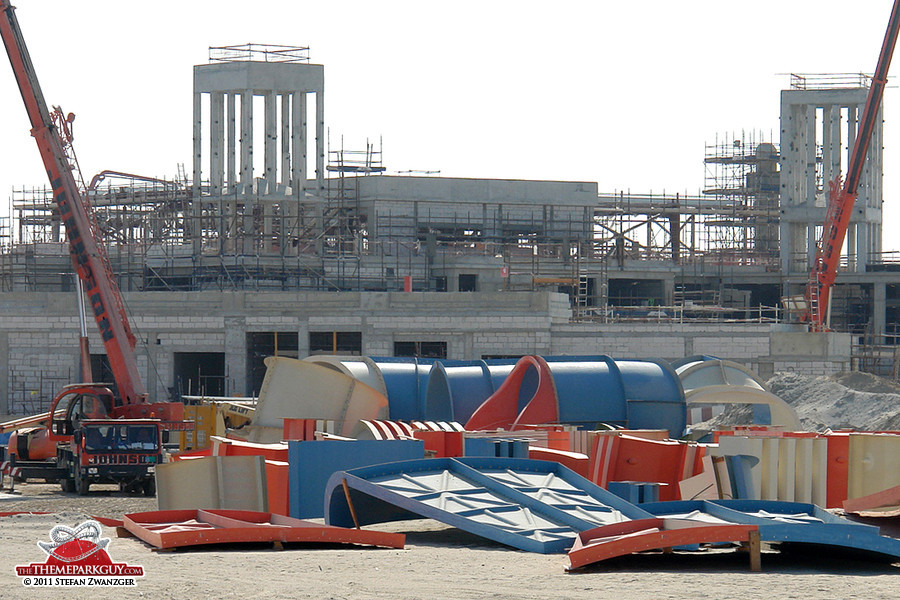 ...suggest some fantastic thrill water slides are in the making!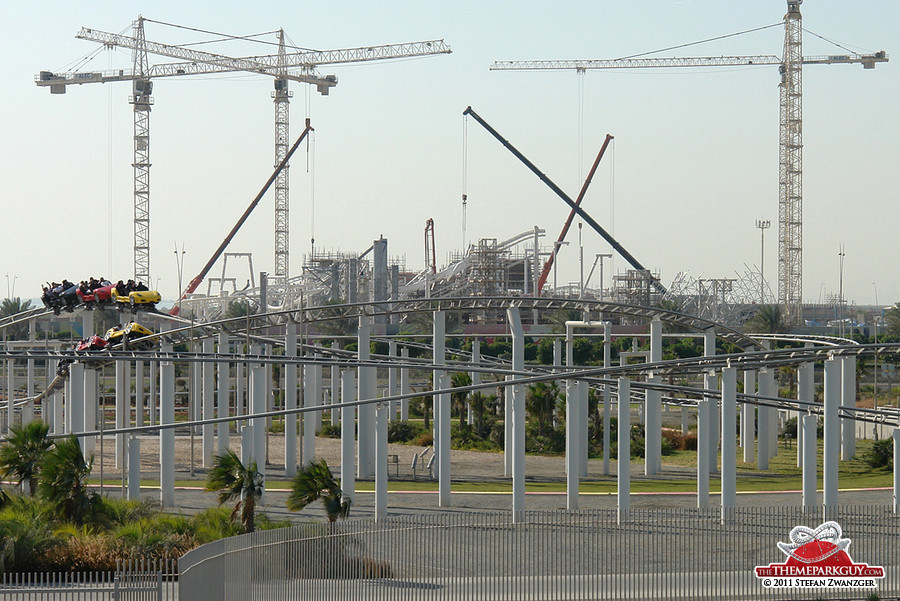 View from neighboring Ferrari World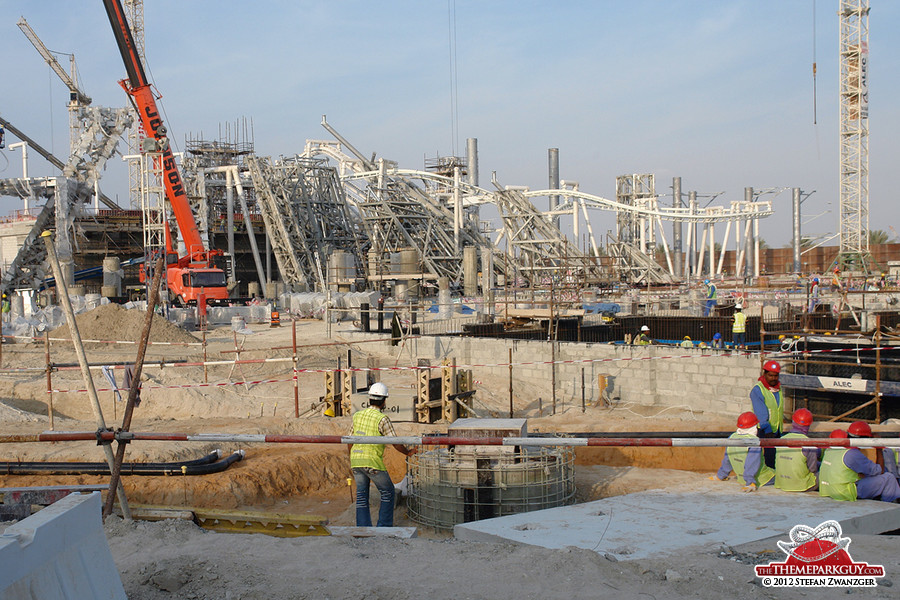 Newer photo, dated 5 January 2012
Construction Update
October 05, 2011
Construction is in full swing here.
This huge Arabian-history-themed water park was announced many years ago and is now finally underway. Adjacent to Ferrari World, it will include a huge number of Canadian-manufactured thrill water slides, an inverted roller coaster and numerous sand-brown wind tower buildings, fabricating the feel of old Arabia.
This could become the big tourism hit Abu Dhabi is aiming for. Construction is expected to wrap up in September or October 2012, with the opening expected shortly after.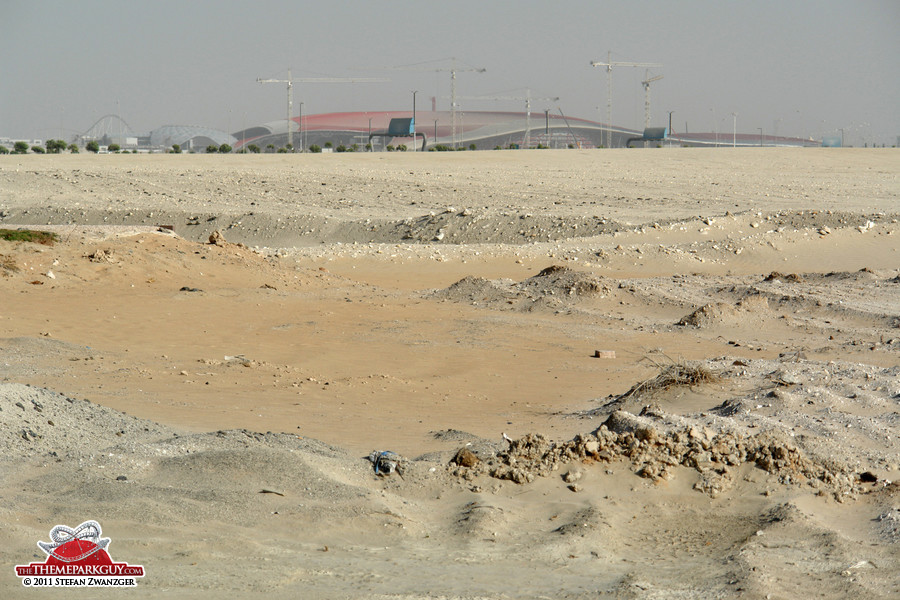 Lots of new cranes adjacent to Ferrari World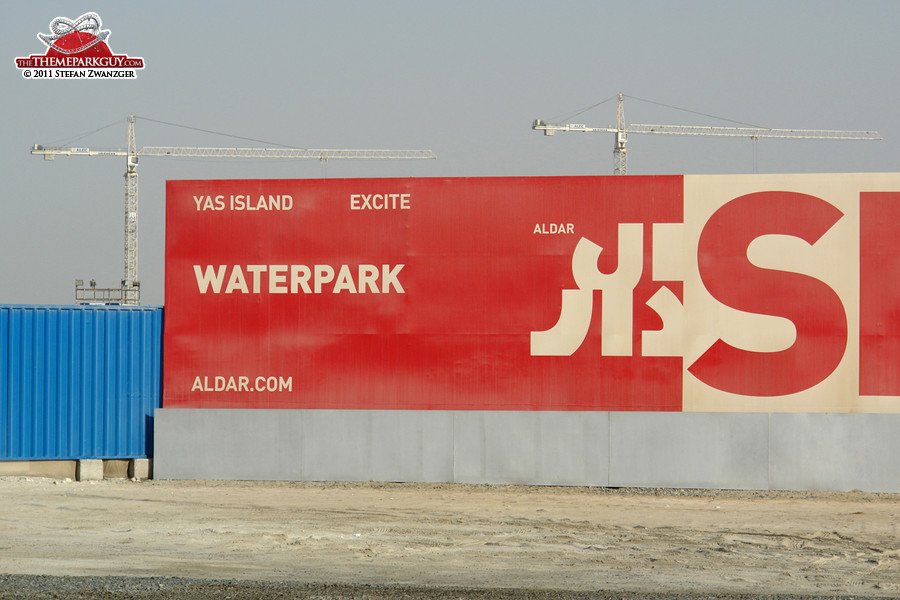 Yas Island Water Park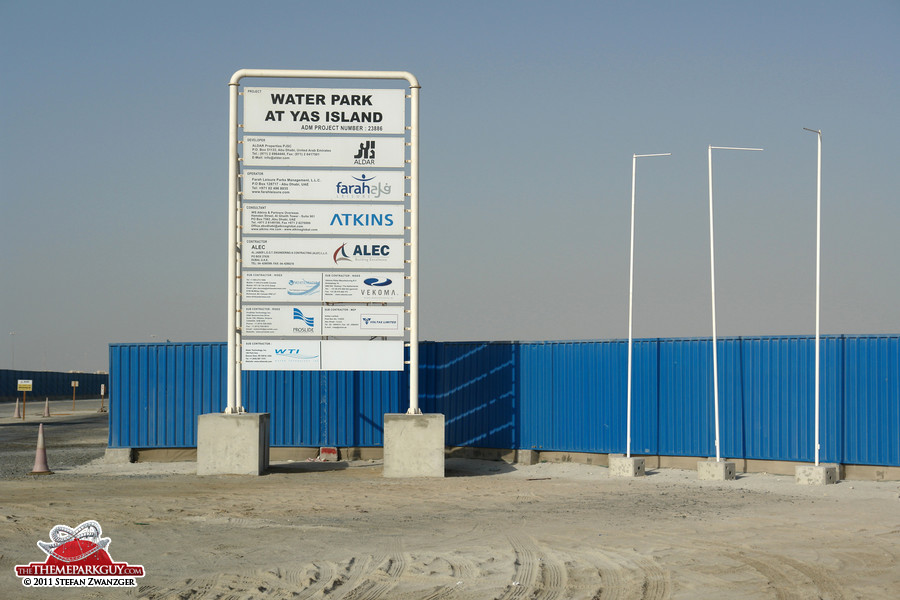 Construction board and site entrance
Both WhiteWater West and ProSlide will be delivering water slides
Dutch manufacturer Vekoma contributes with a suspended roller coaster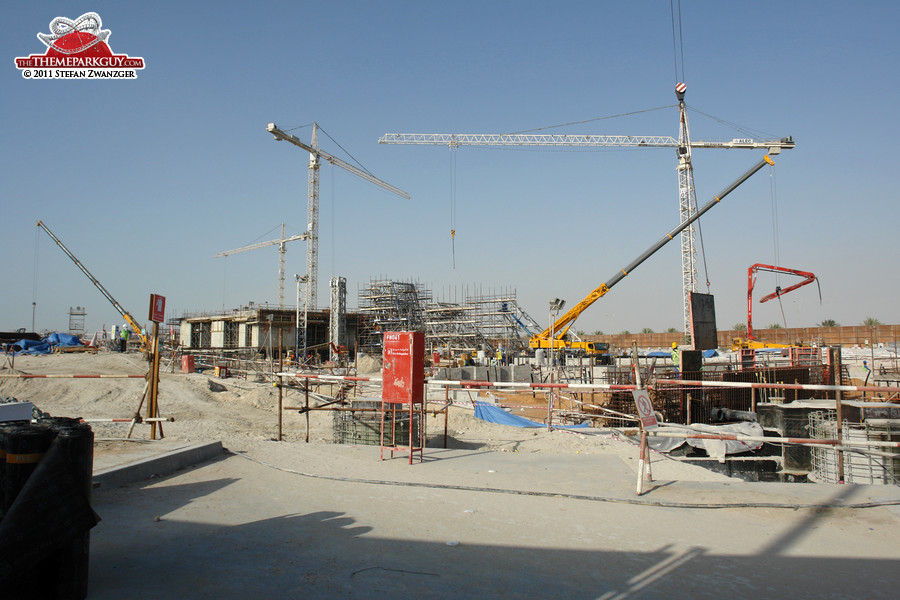 The first structures rise from the ground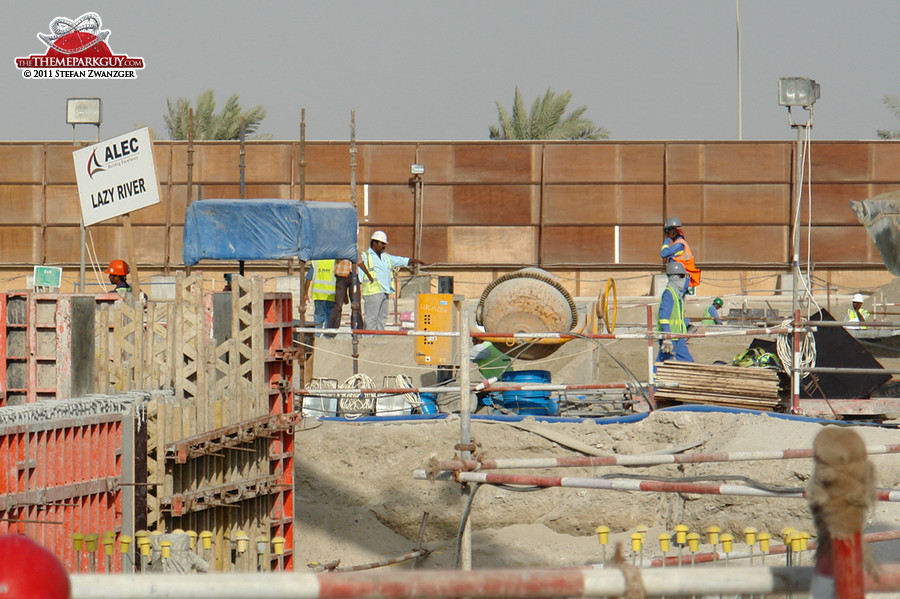 Lazy River among the hard-working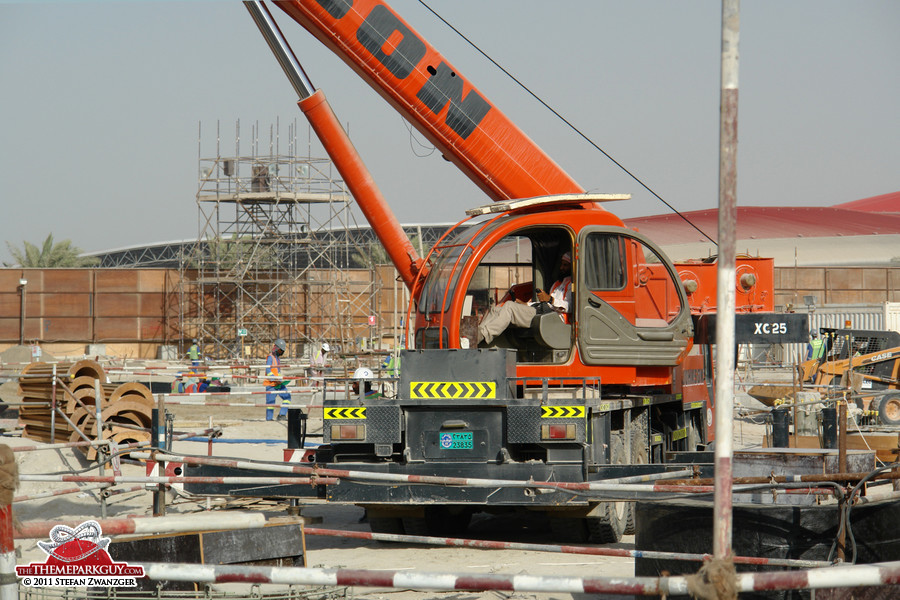 Yas Island Water Park site, with Ferrari World in the background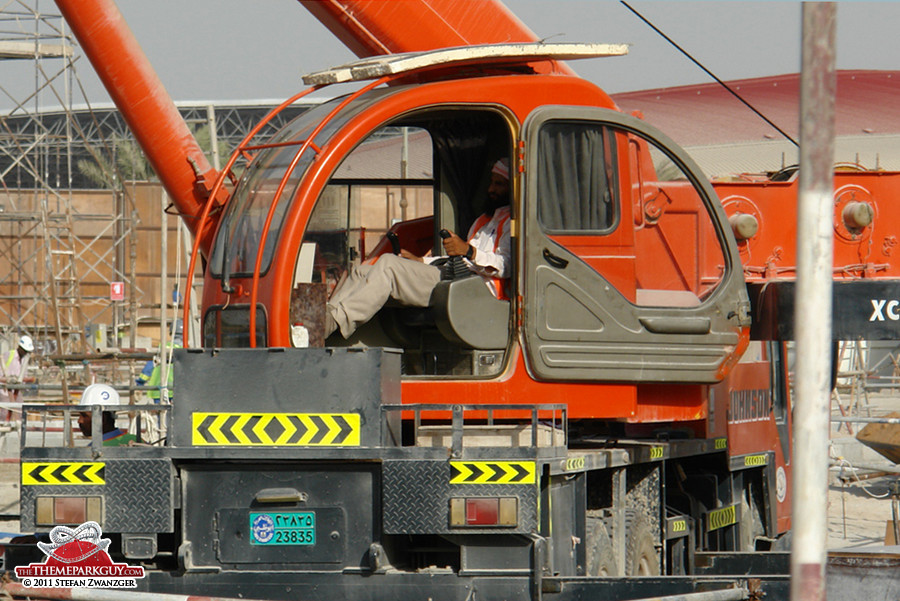 Closer look.
And closer. He is alive.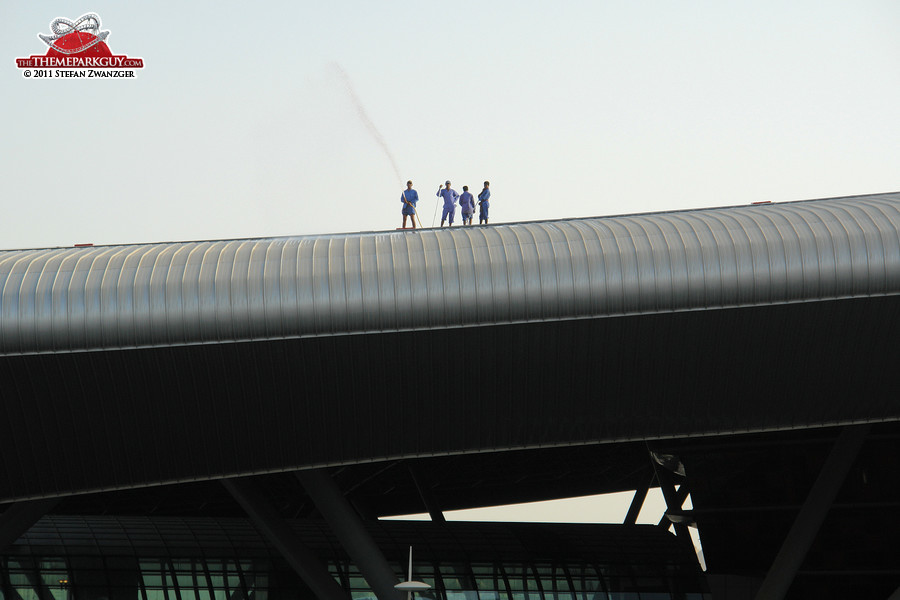 The cleaners on the Ferrari World roof enjoy the best view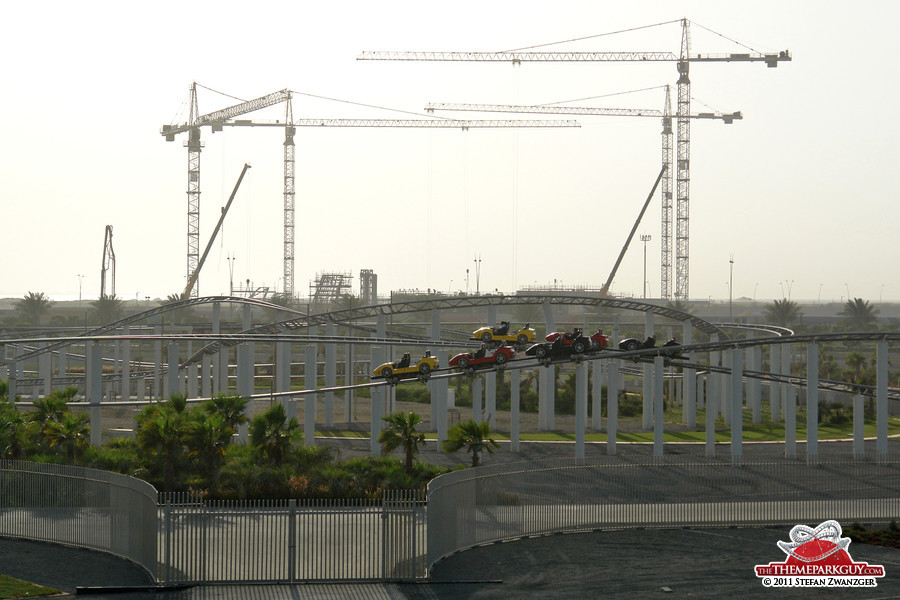 Ferrari World dueling coaster at the front, water park cranes at the back