Transformers and Madagascar Update
December 02, 2011
Two new major rides opened in 2011:
Transformers: this much-hyped addition is a worthy reinvention of Universal's legendary 1999 Spiderman Ride that can be found in Florida and Japan. I would call it Spiderman 1.5: it's not an innovation, it's not a new legend (since it doesn't add too much to what we have already experienced at Spiderman), but it's nevertheless one of the world's finest rides to date, if not the very best. Giant 3-D screens combined with brilliantly-timed ride vehicle movements just work, and provide an unmatched ride experience. This is the Must-Do ride at Universal Studios Singapore. And it gets better and better the more often you ride it.
Something went wrong with Madagascar, though. The removal of the initially planned splash drops in this indoor water ride leave riders with a monotonous 'It's a Small World'-like experience, somewhat stiff animatronics and, apart from a few innovative fume and video projection effects, not much to remember.
With the addition of these attractions Universal Studios Singapore, despite its small size, turned into one of the world's best theme parks.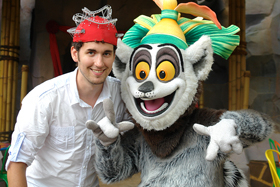 Park Review
March 18, 2010
The newest addition to the Universal Studios theme park family in Singapore is definitely the little brother of the group, but despite its small size it is cleverly arranged with some excellent Universal attraction classics and a couple of novelties. The park opened in March 2010 with three major rides:

'Revenge of the Mummy' – an Egyptian-themed dark ride/indoor roller coaster very similar to the same-named ride in Universal Studios Florida that is packed with evil, ugly Mummies and great in terms of storytelling with plenty of surprising twists and turns.
'Battlestar Galactica' – a "dueling" twin roller coaster branded after the TV series which, though compact, mysteriously manages to last for ages. Definitely the wildest ride at the equator.
'Jurassic Park Rapids Adventure' puts a new spin – a couple of spins, in fact – on the Jurassic Park experience: here a river rapids ride in a 9-seater circular raft (as opposed to the huge log flume boats in other Universal Parks), it's a long and entertaining journey through Jurassic jungle with lots of dinosaurs, great fog effects and spiced with constant evidence of human failure. The climax, though, is inferior to the same-named rides in the US, with a mini-T-Rex and a similarly small and quick drop. Depending on where you sit in the raft, you might get extremely soaked at the ride's end. Extremely. Madly!
You can walk one time around the whole park in just 10 minutes, but it's packed with attractions: the 'WaterWorld' and 'Donkey Live' shows and the 'Shrek 4-D' cinema are all well done and worth the wait. 'Lights! Camera! Action! hosted by Steven Spielberg' is a new special effects show taking place in a stunning hurricane-over-New York setting: the water-, fire- and destruction-effects appear a bit orchestrated and slow-motion, but I was told that the ride is still getting tweaked. The remaining attractions cater to young kids.
The true highlights will open in summer 2010 and at the beginning of 2011: the world-premiere of the Madagascar indoor flume ride and the Transformers dark ride – an upgrade of the Spiderman rides found in Florida and Japan. These two will make the park experience complete. One thing's for sure: Universal Studios Singapore has made maximum use of its limited space and created the southern-most world class theme park on the planet.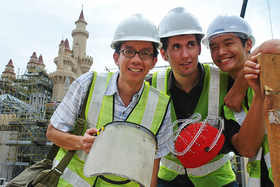 Construction Update
November 04, 2009
Universal Studios Singapore is nearing the finishing line.
I haven't had the chance to go on any of the rides yet, but here are my favorites from what I could see on-the-ground: The 'Jurassic Park Rapids Adventure', which, instead of lifting you on a slow ride through prehistoric-jungle like in the other Universal Studios parks, tosses you around in circular rafting boats with inevitable dinosaur attack-surprises; The 'Madagascar Crate Adventure' ride's cruise ship looks awesome from the outside and my guess is that the anticipated dark flume ride will be a mixture of 'Splash Mountain', 'Pirates of the Caribbean' and something totally new.

These are the two major world-exclusive rides to Southeast Asia's only Universal Studios park, complemented by 'Battlestar Galactica', a dueling roller coaster that will certainly satisfy thrill seekers and 'Revenge of the Mummy', a brilliant dark ride and probably an upgrade from its existing versions in the American parks.
Visit

for daily theme park construction updates worldwide