Shanghai Disneyland

Theme Park Guy Rating:
Date Visited:
February 22, 2009 / October 14, 2010 / June 16, 2011
June 14, 2012 / September 21, 2013
Location: View on map
Shanghai Disneyland Photos
Can you contribute? More construction updates here!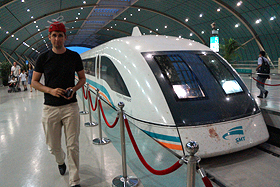 Construction Update
June 24, 2014
Construction is in full swing now, with multiple structures rising, including the Tron roller coaster, the Seven Dwarfs Mine Train, the Enchanted Storybook Castle, Pirates of the Caribbean and the resort hotels.
Fan Longde, the local shopkeeper who I've taken pictures with since 2010, is still there. In fact, he's the only man left, in the only house left, devoid of the village it was once part of. He now sells only cigarettes to his non-existing customer base, no more drinks; those who miraculously happen to pass by probably need a smoke to digest the rapid transformation.
In 1.5 years from now, Disney's 6th Magic Kingdom and 4th international adventure will be up and running, created by the most clever designers and engineers on earth, with technology not experienced before, and – believe it or not – even my friend Fan, the lone shopkeeper who turned into the last villagekeeper, looks forward to it. Enjoy the pictures: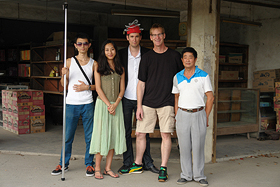 Construction Update
September 21, 2013
Latest update, 21 September 2013 (please scroll down for 2012, 2011, 2010 and 2009 updates):
- Street corner shop with smiling shopkeeper still alive, but surrounding village is gone.
- Lots of activity on site, but no rides going up yet
- Discovered a great viewpoint very close to the actual theme park site
- Pictured Shanghai Disney city office featuring Imagineers working late
Thanks to my friends Margot Chou and Drew Campbell for joining me on this little adventure!
Follow me on Twitter or contact me through LinkedIn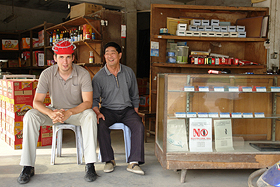 Construction Update
June 14, 2012
Here's an update from the Shanghai Disneyland site, one year after my last visit.
Not much to see yet apart from leveled land, with the area's characteristic water channels filled/removed. Multi-lane tarmac roads forcing their way through powerless countryside villages have appeared, and being primarily used by two- and three-wheelers are a sight to behold on their own.
Disney Imagineers take up residence in Shanghai these days, bringing much-needed creativity to China's uninventive theme park portfolio. Something tells me that the projected December 2015 opening date is set rather pessimistically - given that the land is ready now to have attractions built on it, it may open way earlier!