Can you contribute? More construction updates here!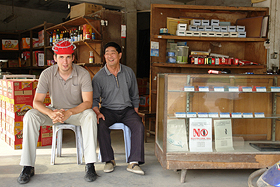 Construction Update
June 14, 2012
Here's an update from the Shanghai Disneyland site, one year after my last visit.
Not much to see yet apart from leveled land, with the area's characteristic water channels filled/removed. Multi-lane tarmac roads forcing their way through powerless countryside villages have appeared, and being primarily used by two- and three-wheelers are a sight to behold on their own.
Disney Imagineers take up residence in Shanghai these days, bringing much-needed creativity to China's uninventive theme park portfolio. Something tells me that the projected December 2015 opening date is set rather pessimistically - given that the land is ready now to have attractions built on it, it may open way earlier!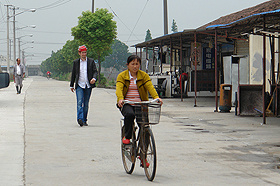 Construction Update
June 16, 2011
There is visible progress on the Shanghai Disneyland site: the huge moat that will encircle the Disney resort is being excavated, the three or four entry gates to the construction site are now equipped with barriers and security, and the site office has employees coming and going. And in the background, it's all digging and digging.
It's the third time I've been on site, and I must say it still feels out of place that a brand-new Magic Kingdom park will see the light of day here. Here, where life appears as if from different times, and from a different world. It's not the orange farms of Anaheim close to L.A.'s film studios. Nor is it the swamplands of the Disney-embracing Florida of the 70s, the harbor of high-tech and wealthy Tokyo, the middle-class suburbs of Paris, or the landfill on Hong Kong's airport island. It's the flat, remote, poor villages of Chuansha, Qigan, and Zhaohang, with all their dirty channels, crooked houses, toothless dogs, and smiling cyclists that made way for the invasion of the mouse; a mouse that became so huge and powerful that it can swallow men.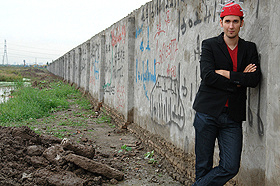 Construction Update
October 14, 2010
Holy swamplands! The villages I pictured on my last update below were indeed the right ones.
They have completely vanished.

A huge swathe of Shanghai suburbia has been flattened to make way for the future Shanghai Disneyland site and a wall just over half the height of the Berlin Wall protects the new depopulated hole that gapes in the area and separates the remaining Chinese villages from the Disney site. The on-site construction office is currently taking shape, supplied by armies of trucks that race through small village roads, blowing the winds of change through the thinning hair of old Chinese men on bicycles. It really looks like it sounds!
How do the locals take the change? I ask a local resident how he would react if his house would be next on the demolition list. He thinks for a few seconds, takes a drag on his cigarette, gets these reflecting Marlboro man eyes and responds: 'Well, let's see. It's ok. All up to the relocation package!'
Wow. Well. I really can't say now if this conversation was representative for the whole neighborhood, but it left an impression. Mao's disciples turned into business men. Good for me, since I am duly looking forward to seeing Disneyland's latest incarnation rising from the ground!