Shanghai Disneyland

Theme Park Guy Rating:
Date Visited:
February 22, 2009 / October 14, 2010 / June 16, 2011
June 14, 2012 / September 21, 2013
Location: View on map
Shanghai Disneyland Photos
Can you contribute? More construction updates here!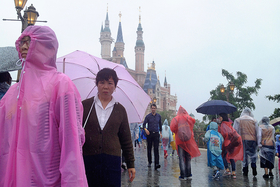 Park Visit
June 03, 2016
I had the chance to visit Shanghai Disneyland during the trial period on June 3rd, 2016. I did not take pictures on my visit, please head to themeparX for videos and photos taken by other visitors.
First of all, I am absolutely convinced this park will be a financial success. It will be so successful that the mouse – the physical mouse in charge of being hugged by the people of China – may be in danger.
Now, the main question: is this the best Disney park ever built? My answer: No. In fact, I think Shanghai Disneyland is one of the least 'magic' Magic Kingdoms ever erected. Main Street and Disneyland Railroad both had multiple reasons for their existence, and they are dearly missed.
The 'Gardens of Imagination', planted instead, is neither very imaginative nor inspiring, but rather flat and soulless. The same can be said of the overpowering, square castle, which looks very disconnected from its surroundings and has a bit the energy of the Tower of Terror (real princesses would move into this one). Same with the four Lands. There are very few cozy, charming places in Shanghai Disneyland. The whole park lacks density.
Of course, there is a reason for this. You can't built a park with narrow, romantic alleyways for a population of 1 billion keen to visit. The city of Shanghai itself dealt with deadly stampedes recently. Walkways must be wide. Main Street must be replaced with a giant plaza. All logical. Nevertheless, it has taken a toll on the charm.
Now, to the attractions: big praise here! There is no real storytelling innovation, but new technology has been employed smartly. While Shanghai Disney is by far not the most beautiful Disney park ever built, it is probably the most complete upon opening. The line-up of expensive, top-notch attractions is huge, with the 'Roaring Rapids' river rafting ride, Soarin' movie theater, a reinvented version of Pirates of the Caribbean, Seven Dwarfs roller coaster, Peter Pan dark ride, Tron coaster and Buzz Lightyear laser ride. Tron makes for an excellent coaster thrill, and the new Pirates of the Caribbean is a mind-blowing attraction employing never-seen-before technology that will have even the most seasoned theme park visitor or critic look about in awe – the boat movements, animatronics, underwater scenes, all absolutely fantastic! Just for the Pirates ride alone, it is worth taking a visa-free transit flight through Shanghai.
Bottom line: Hong Kong Disneyland opened with all its charming magic glory and (almost) no attractions. Shanghai Disneyland did exactly the opposite. Both are worth visiting. I look forward to seeing future Disney parks in Brazil, Russia and India (I am sure we will eventually see all three) get it both right, right from the start.
[PS: do NOT visit Shanghai Disneyland on a rainy day. There are barely enough sheltered walkways and indoor areas to keep you dry. You will be soaked beyond belief, and there'll be nowhere to go. I can't believe the planners forgot that there's rain in Shanghai, lots of it.]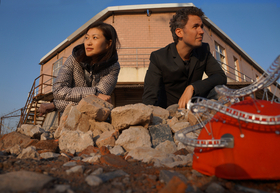 Construction Update
January 20, 2015
Villages vanished. Land cleared. Shanghai Disneyland rising.
While hyped as one of the "biggest Disney Parks of all times", to me, it looks like an average-sized, yet ambitious Magic Kingdom. My concern is that, in Pudong, it won't be easy to shelter the Disney ambience from the humdrum of its densely-populated, suburbian surroundings.
In fact, I am perplexed by HOW exposed this new Disney undertaking is, given that all pictures below were taken from outside the property. May the berm rise high.
I believe Hong Kong Disneyland, with its stunning location against the backdrop of Lantau Island's mountain scenery, will forever be more magical than Shanghai Disneyland. So, to all those concerned about the long-term prospects of Hong Kong Disney, don't worry.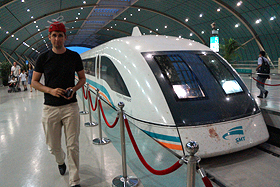 Construction Update
June 24, 2014
Construction is in full swing now, with multiple structures rising, including the Tron roller coaster, the Seven Dwarfs Mine Train, the Enchanted Storybook Castle, Pirates of the Caribbean and the resort hotels.
Fan Longde, the local shopkeeper who I've taken pictures with since 2010, is still there. In fact, he's the only man left, in the only house left, devoid of the village it was once part of. He now sells only cigarettes to his non-existing customer base, no more drinks; those who miraculously happen to pass by probably need a smoke to digest the rapid transformation.
In 1.5 years from now, Disney's 6th Magic Kingdom and 4th international adventure will be up and running, created by the most clever designers and engineers on earth, with technology not experienced before, and – believe it or not – even my friend Fan, the lone shopkeeper who turned into the last villagekeeper, looks forward to it. Enjoy the pictures:
Visit

for daily theme park construction updates worldwide