Can you contribute? More construction updates here!

Park Visit
June 03, 2016
I had the chance to visit Shanghai Disneyland during the trial period on June 3rd, 2016. I did not take pictures on my visit, please head to themeparX for videos and photos taken by other visitors.
First of all, I am absolutely convinced this park will be a financial success. It will be so successful that the mouse – the physical mouse in charge of being hugged by the people of China – may be in danger.
Now, the main question: is this the best Disney park ever built? My answer: No. In fact, I think Shanghai Disneyland is one of the least 'magic' Magic Kingdoms ever erected. Main Street and Disneyland Railroad both had multiple reasons for their existence, and they are dearly missed.
The 'Gardens of Imagination', planted instead, is neither very imaginative nor inspiring, but rather flat and soulless. The same can be said of the overpowering, square castle, which looks very disconnected from its surroundings and has a bit the energy of the Tower of Terror (real princesses would move into this one). Same with the four Lands. There are very few cozy, charming places in Shanghai Disneyland. The whole park lacks density.
Of course, there is a reason for this. You can't built a park with narrow, romantic alleyways for a population of 1 billion keen to visit. The city of Shanghai itself dealt with deadly stampedes recently. Walkways must be wide. Main Street must be replaced with a giant plaza. All logical. Nevertheless, it has taken a toll on the charm.
Now, to the attractions: big praise here! There is no real storytelling innovation, but new technology has been employed smartly. While Shanghai Disney is by far not the most beautiful Disney park ever built, it is probably the most complete upon opening. The line-up of expensive, top-notch attractions is huge, with the 'Roaring Rapids' river rafting ride, Soarin' movie theater, a reinvented version of Pirates of the Caribbean, Seven Dwarfs roller coaster, Peter Pan dark ride, Tron coaster and Buzz Lightyear laser ride. Tron makes for an excellent coaster thrill, and the new Pirates of the Caribbean is a mind-blowing attraction employing never-seen-before technology that will have even the most seasoned theme park visitor or critic look about in awe – the boat movements, animatronics, underwater scenes, all absolutely fantastic! Just for the Pirates ride alone, it is worth taking a visa-free transit flight through Shanghai.
Bottom line: Hong Kong Disneyland opened with all its charming magic glory and (almost) no attractions. Shanghai Disneyland did exactly the opposite. Both are worth visiting. I look forward to seeing future Disney parks in Brazil, Russia and India (I am sure we will eventually see all three) get it both right, right from the start.
[PS: do NOT visit Shanghai Disneyland on a rainy day. There are barely enough sheltered walkways and indoor areas to keep you dry. You will be soaked beyond belief, and there'll be nowhere to go. I can't believe the planners forgot that there's rain in Shanghai, lots of it.]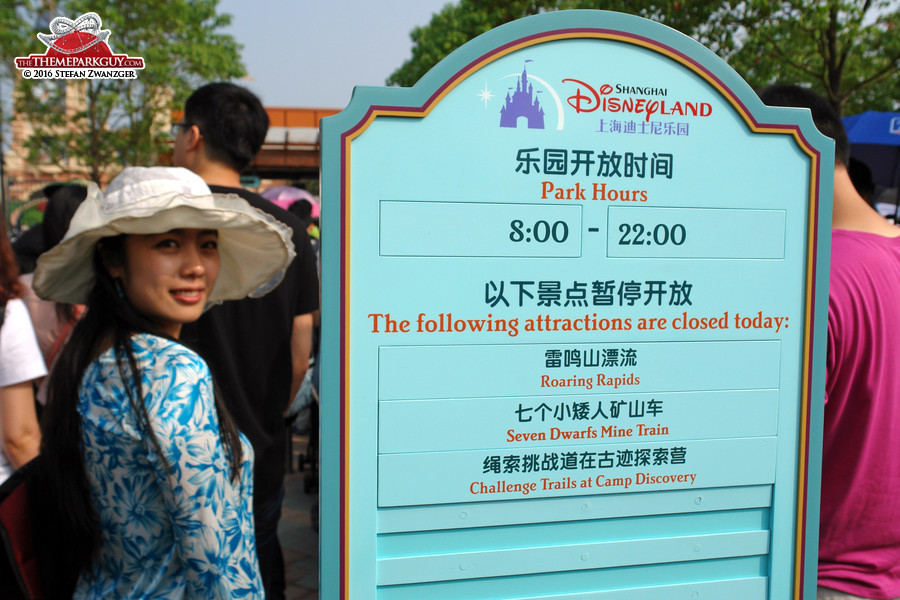 Shanghai Disneyland entrance queues in June 2016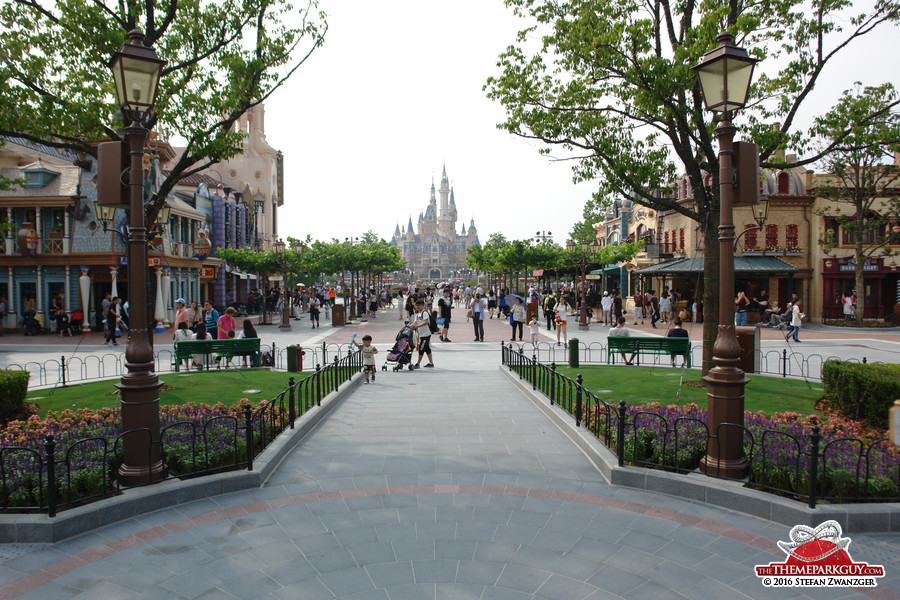 Shanghai Disneyland castle view from Mickey Avenue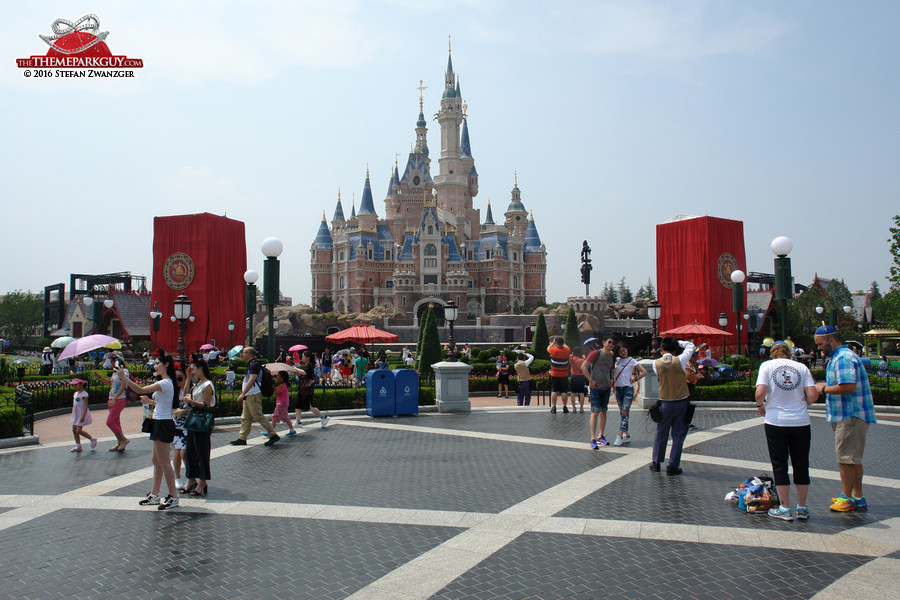 Shanghai Disneyland castle: Cinderella's Tower of Terror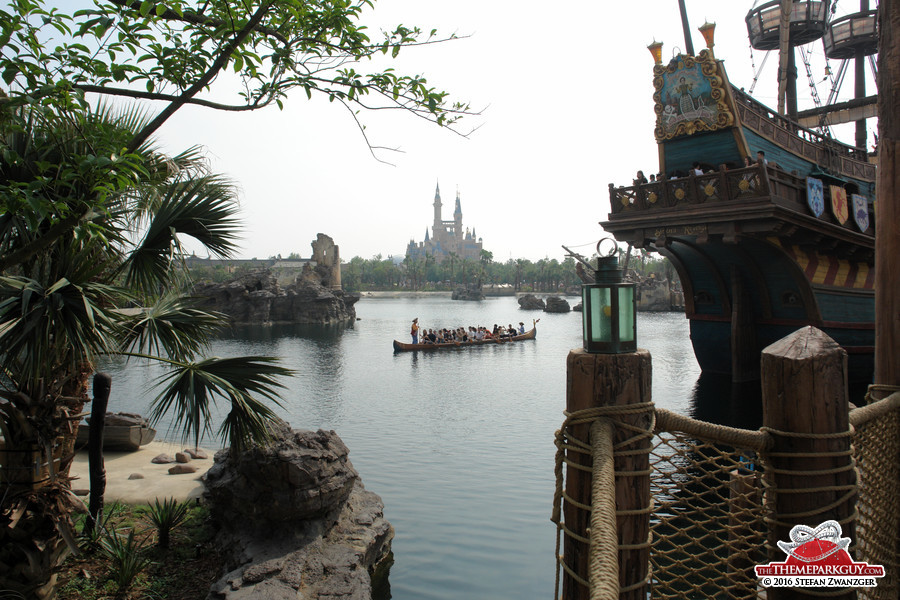 Nice angle, but Shanghai Disneyland is much less scenic than it appears here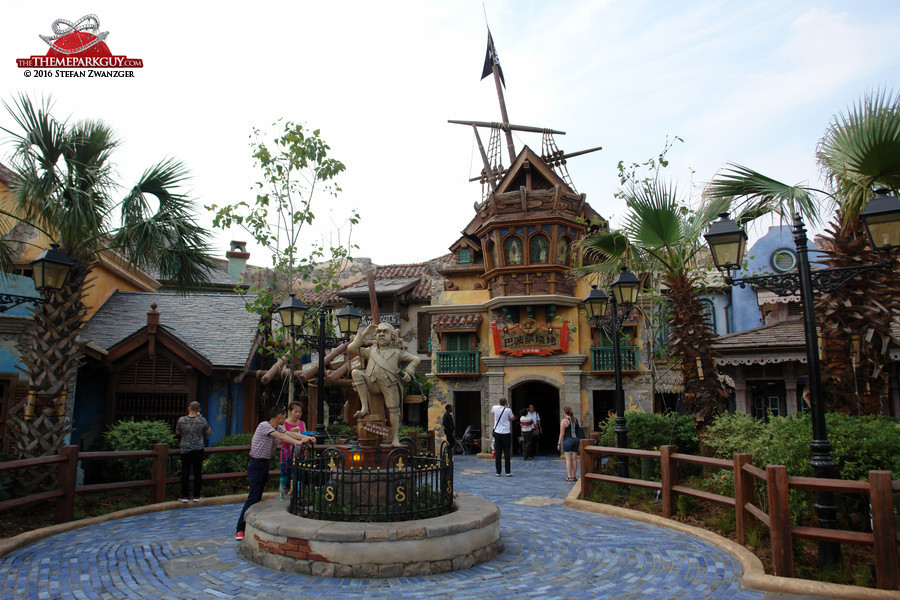 Pirates' Land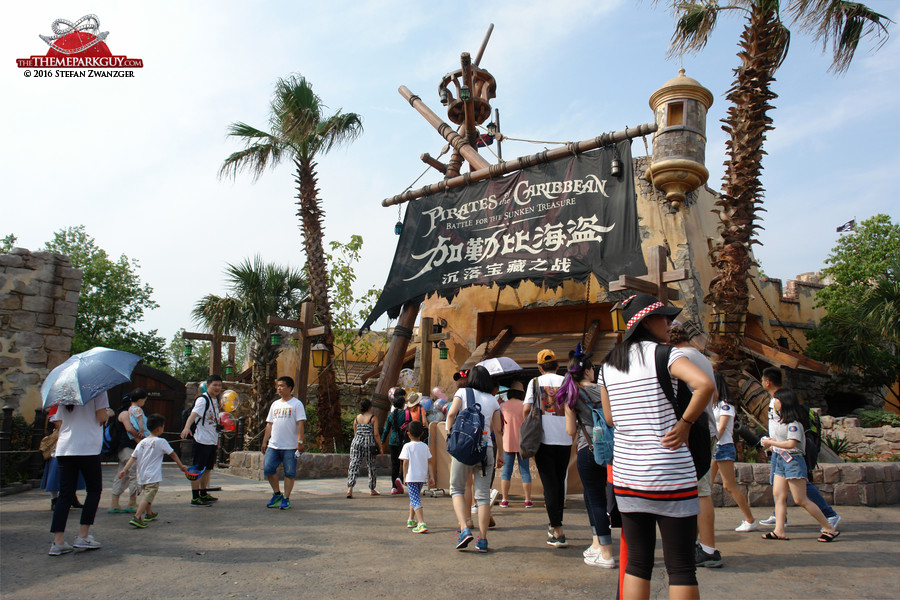 Shanghai Disney's unique Pirates of the Caribbean ride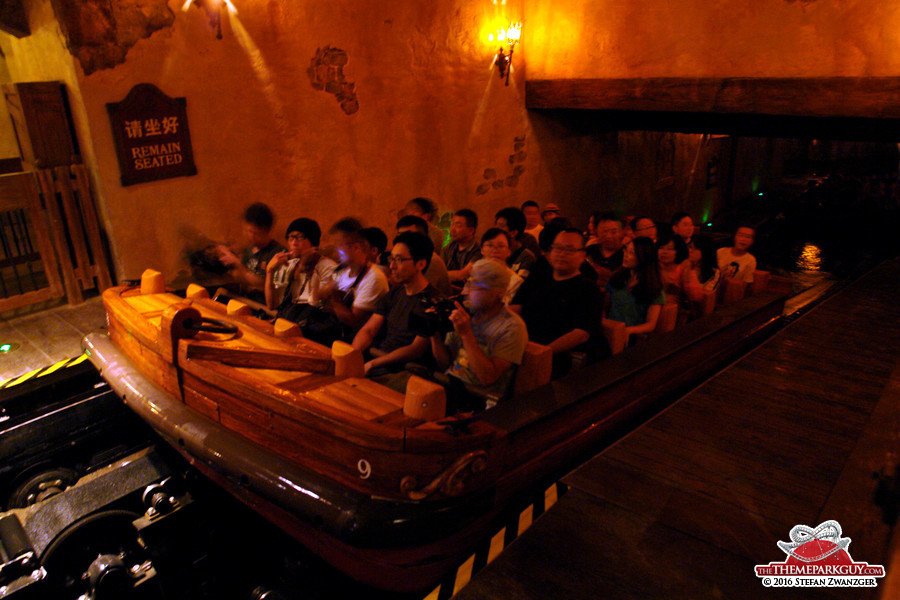 Pirates of the Caribbean boat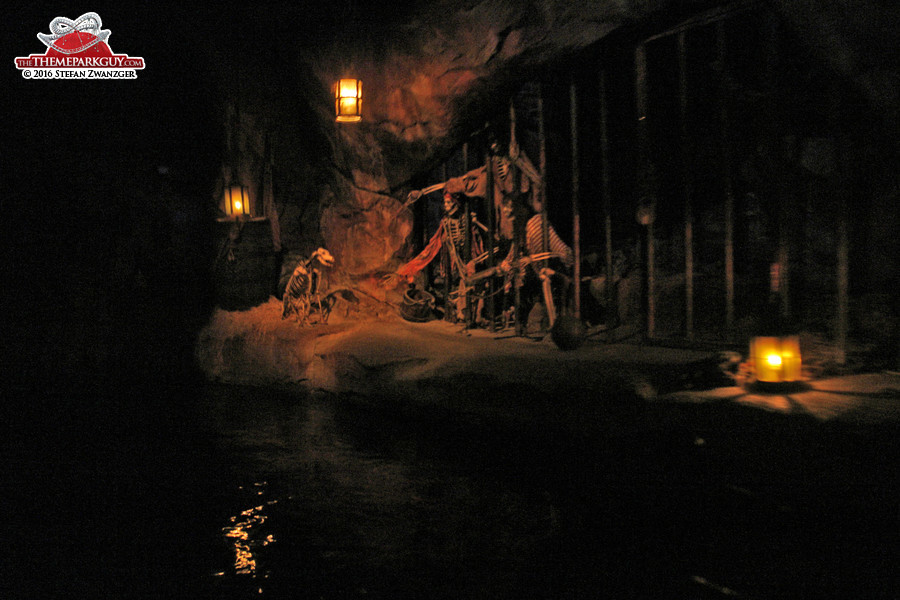 Pirates inside joke, stating 'we have retired the old concept'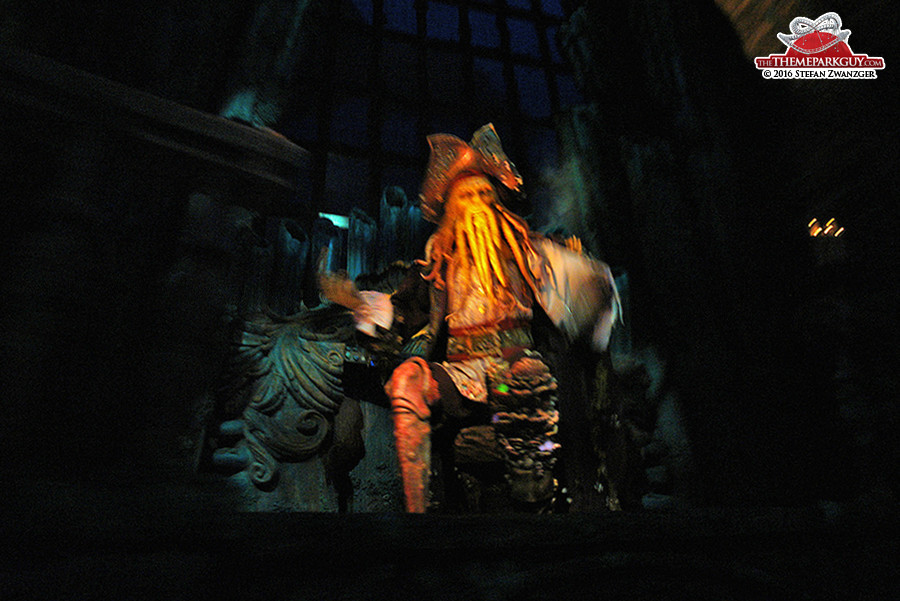 Great animatronics on the Pirates ride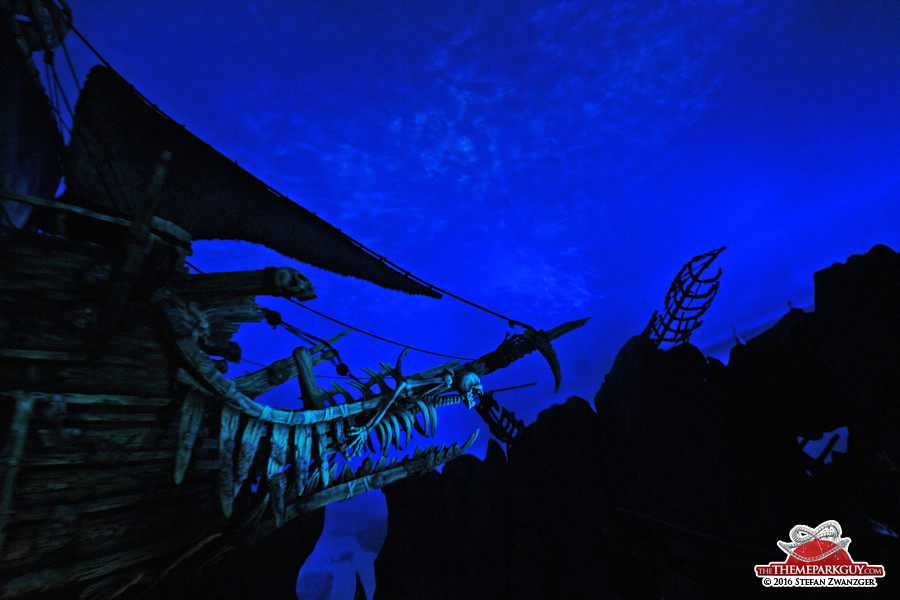 Stunning ceiling projections. Bravo, Disney Imagineers!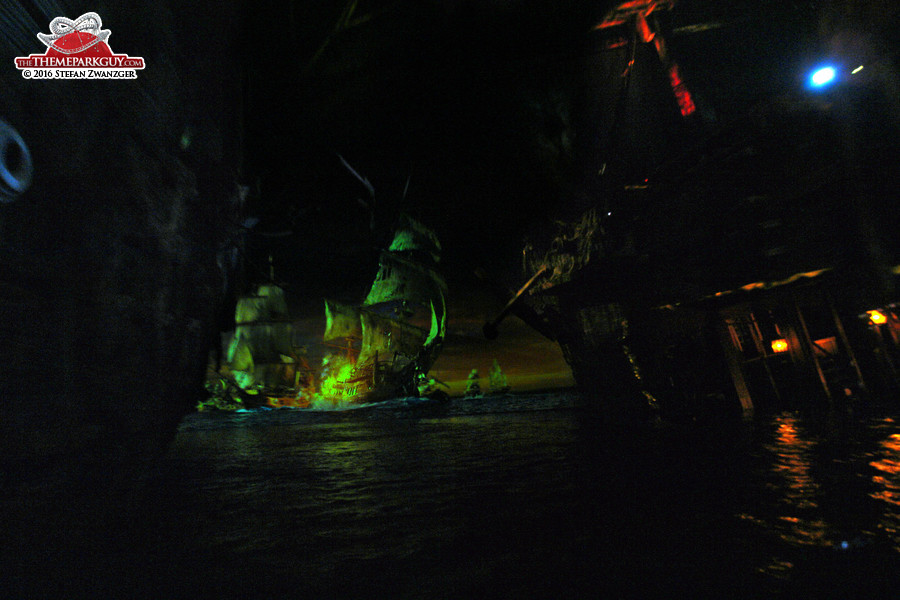 Props, water and projections thrown together at Pirates of the Caribbean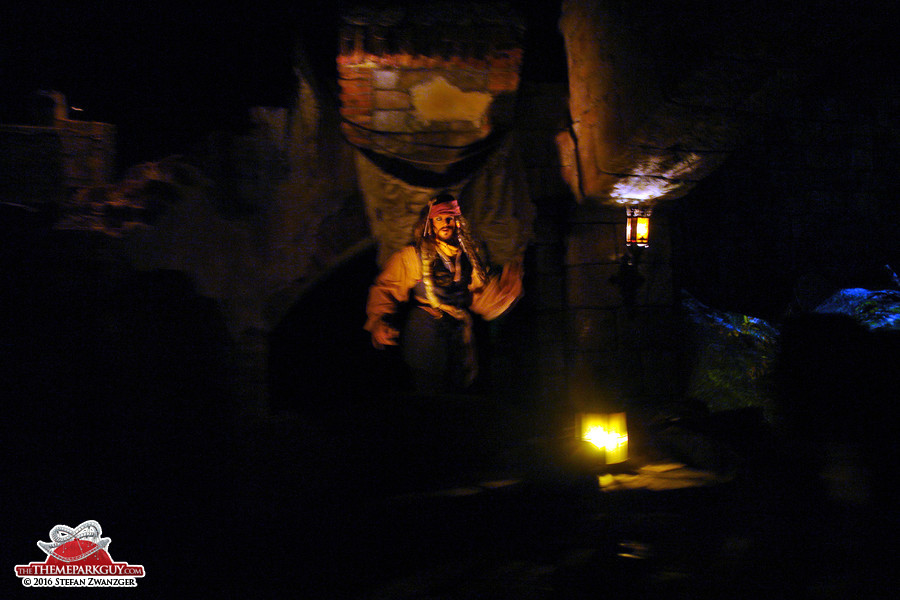 Jack Sparrow cross-eyed at Shanghai Disneyland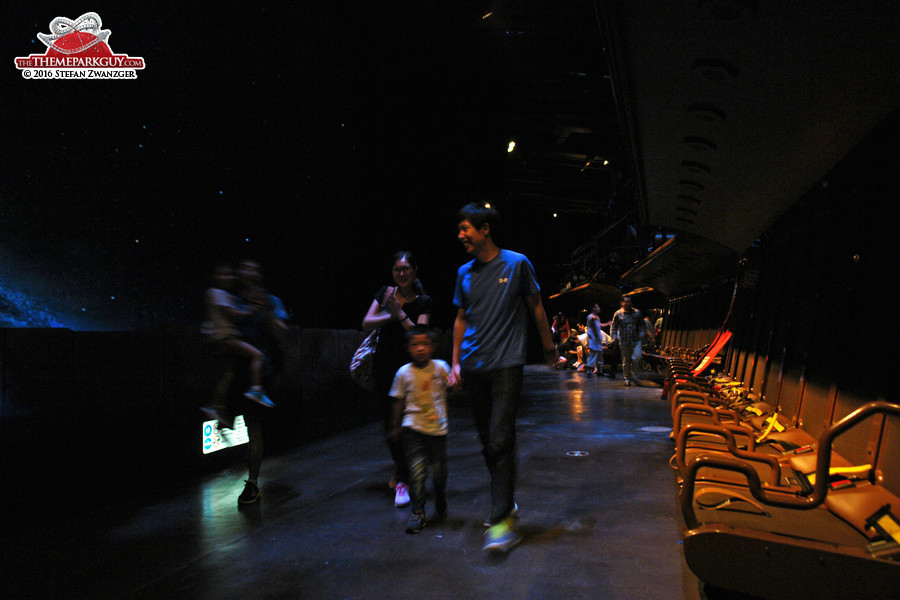 Soarin' Over the Horizon flying theater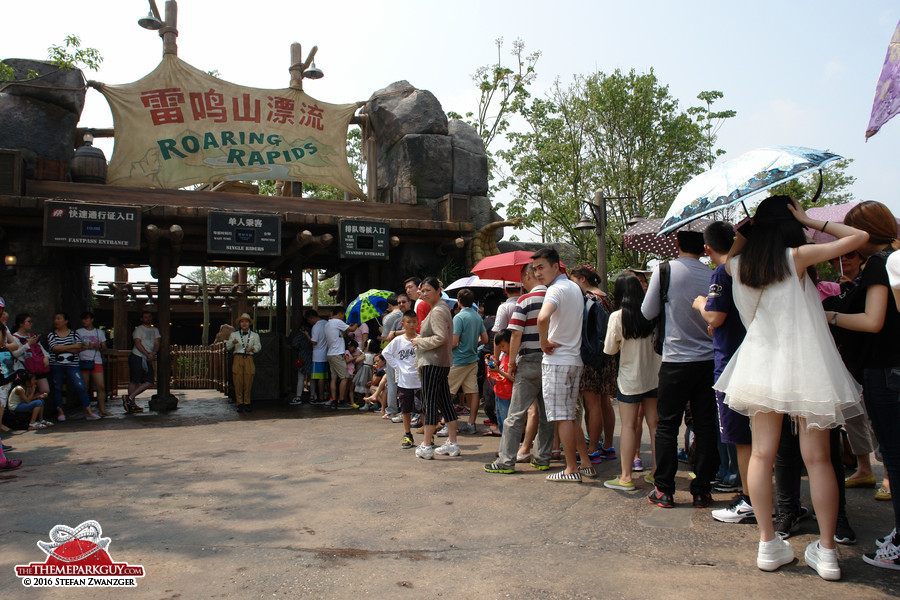 Long and unruly queues leading to Roaring Rapids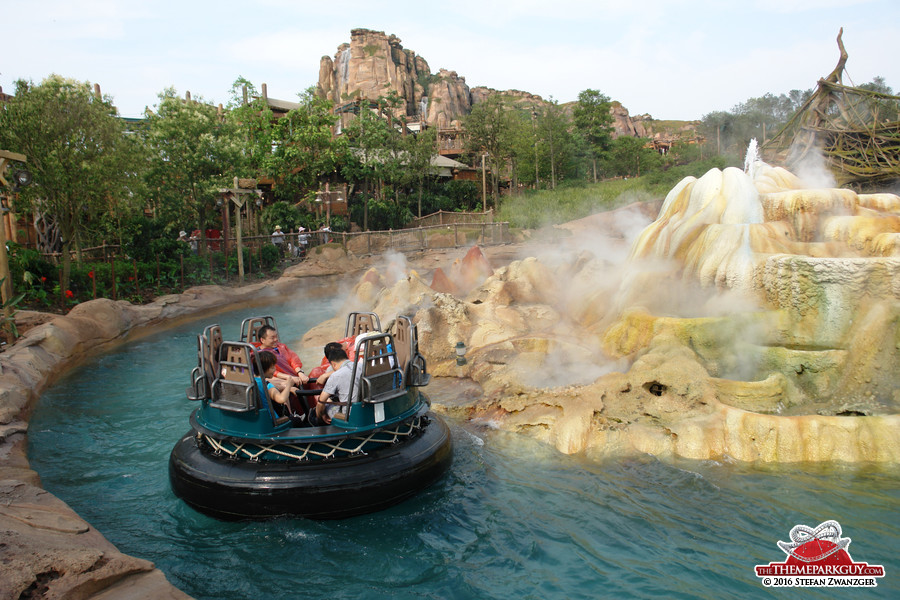 Roaring Rapids river rafting ride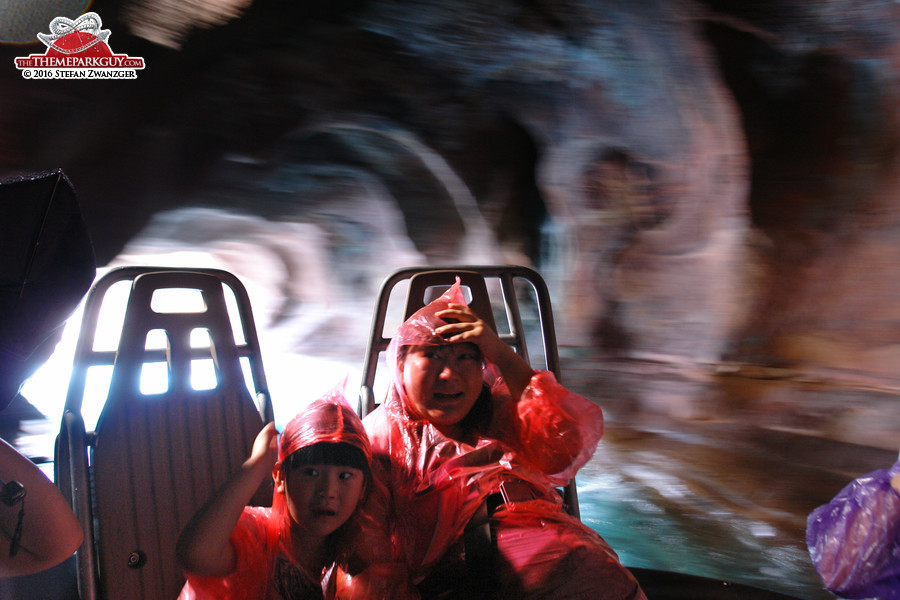 The beauty of Shanghai Disneyland: awestruck local visitors!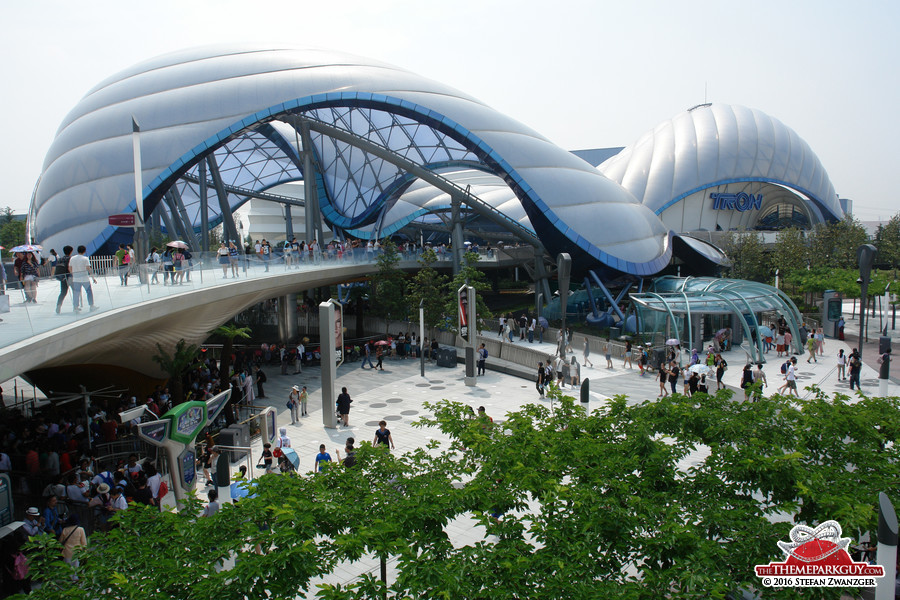 Shanghai Disneyland's Tomorrowland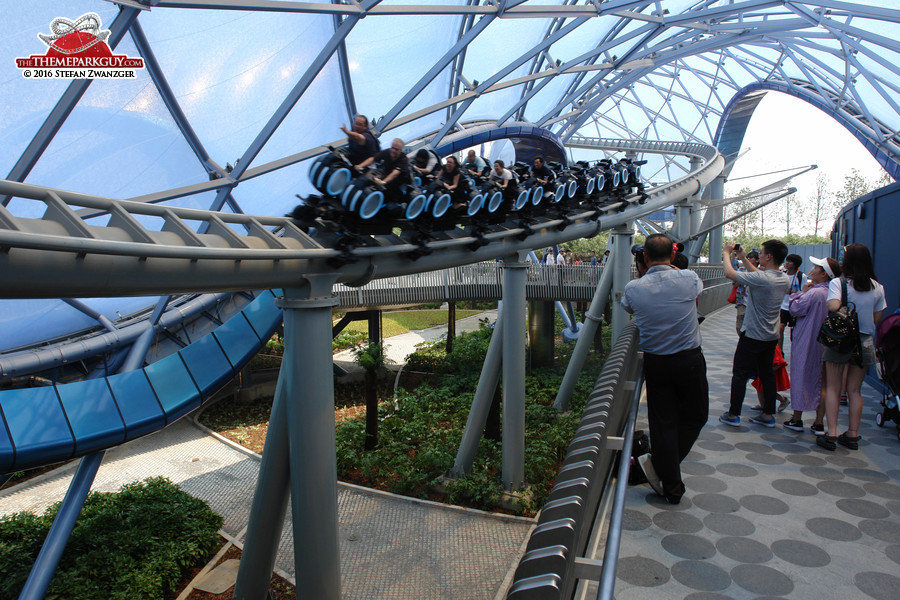 Tron motorbike roller coaster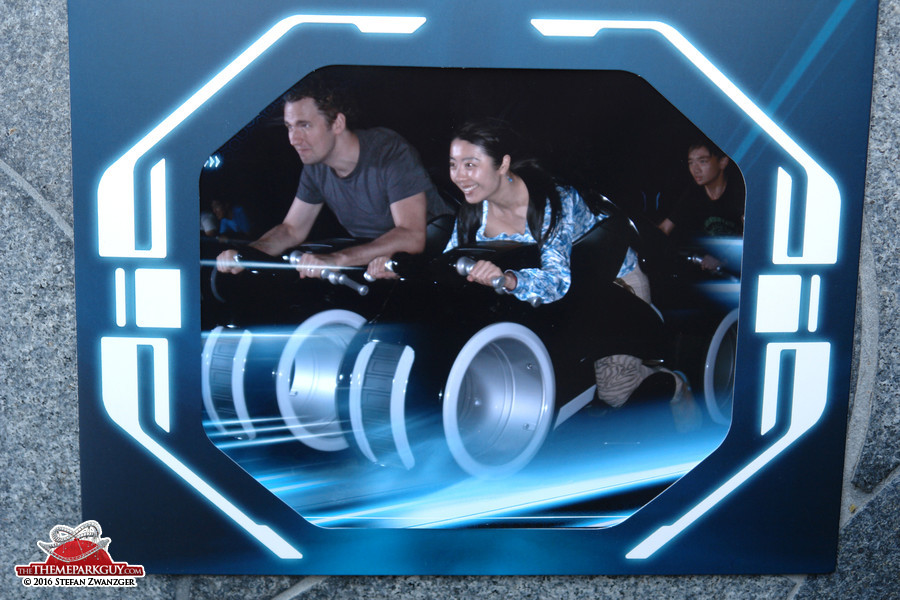 My Chinese friend Karen and I on the Tron coaster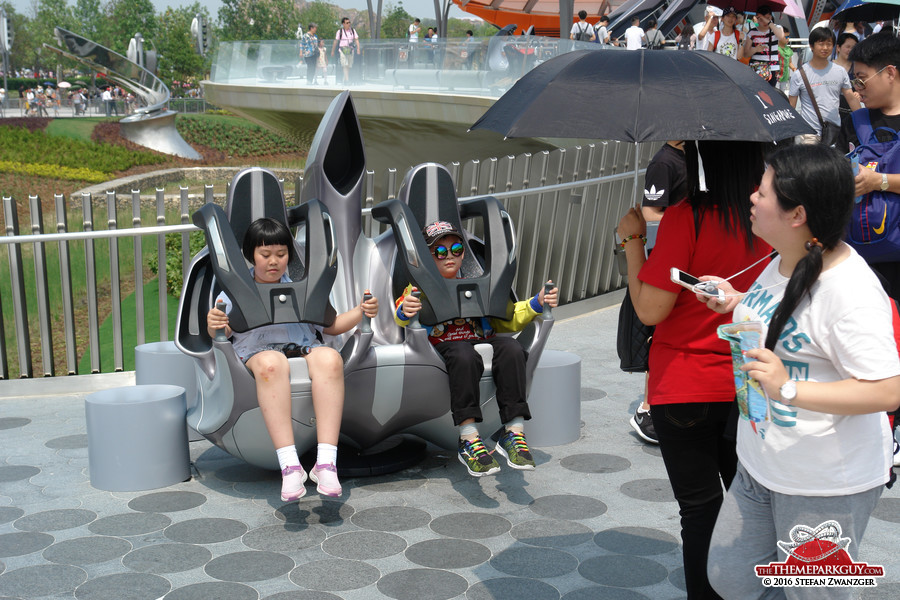 Tomorrow's generation meets Tomorrowland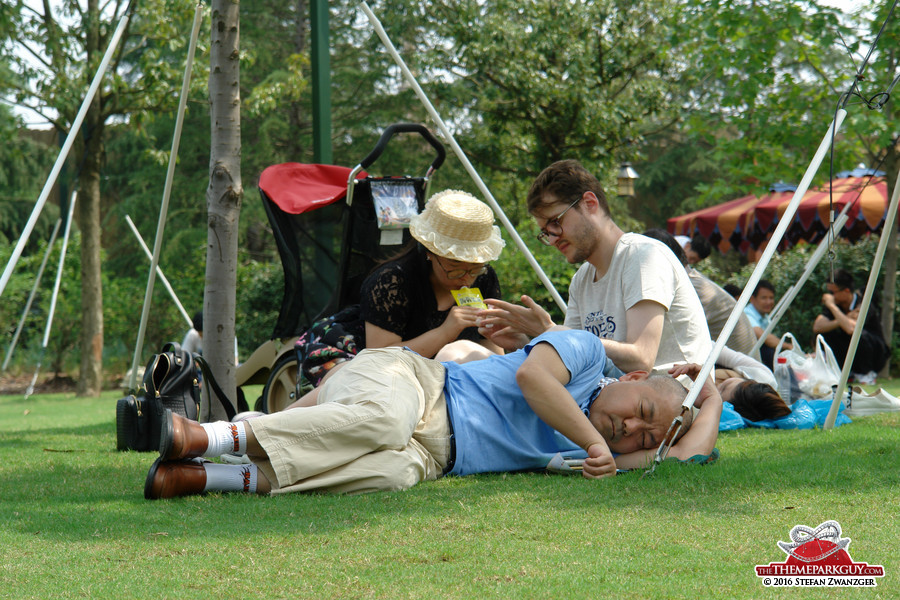 Long multiple-hour attraction queues are tiring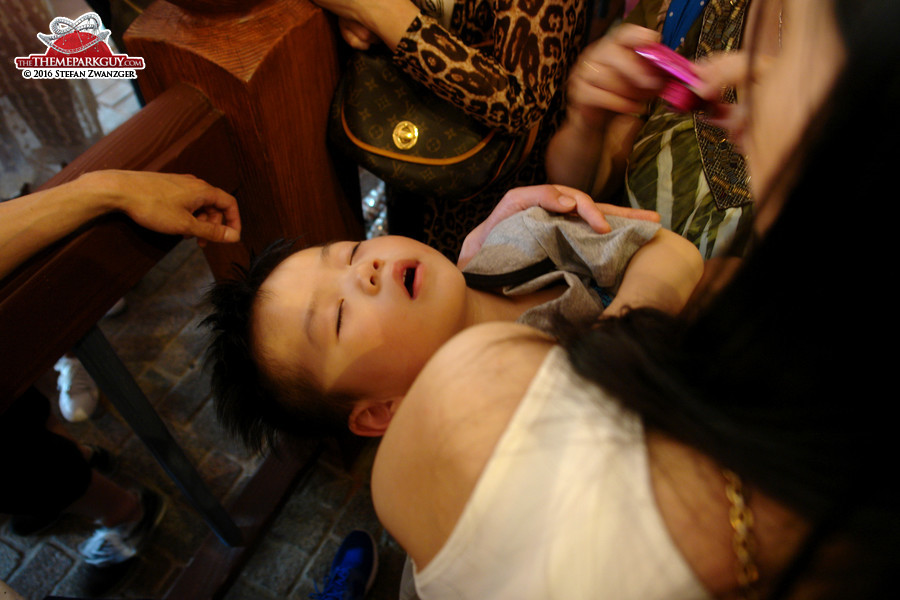 ...for the old and for the young...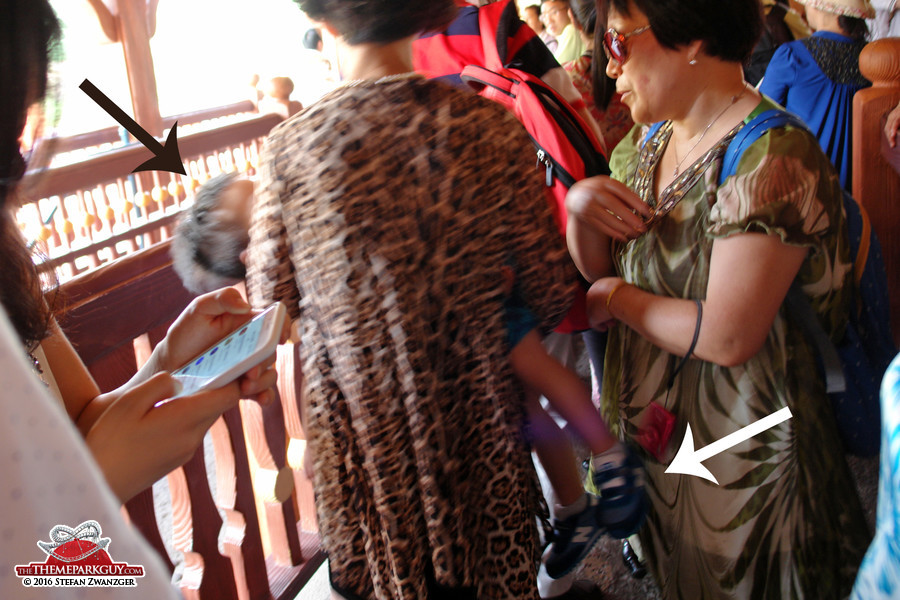 ...it even allows for sleeping in almost impossible positions!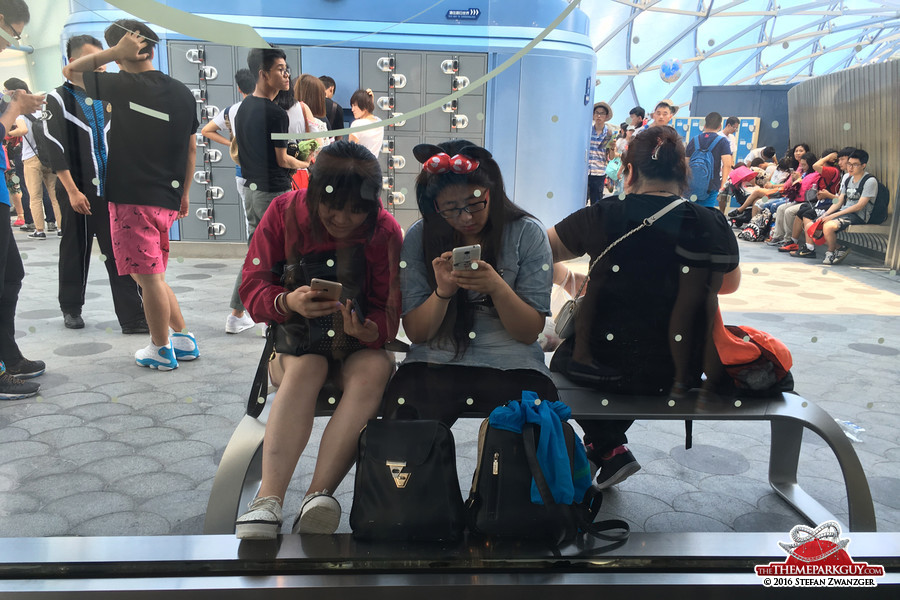 Teenagers never sleep, but they are not present either.
Construction Update
January 20, 2015
Villages vanished. Land cleared. Shanghai Disneyland rising.
While hyped as one of the "biggest Disney Parks of all times", to me, it looks like an average-sized, yet ambitious Magic Kingdom. My concern is that, in Pudong, it won't be easy to shelter the Disney ambience from the humdrum of its densely-populated, suburbian surroundings.
In fact, I am perplexed by HOW exposed this new Disney undertaking is, given that all pictures below were taken from outside the property. May the berm rise high.
I believe Hong Kong Disneyland, with its stunning location against the backdrop of Lantau Island's mountain scenery, will forever be more magical than Shanghai Disneyland. So, to all those concerned about the long-term prospects of Hong Kong Disney, don't worry.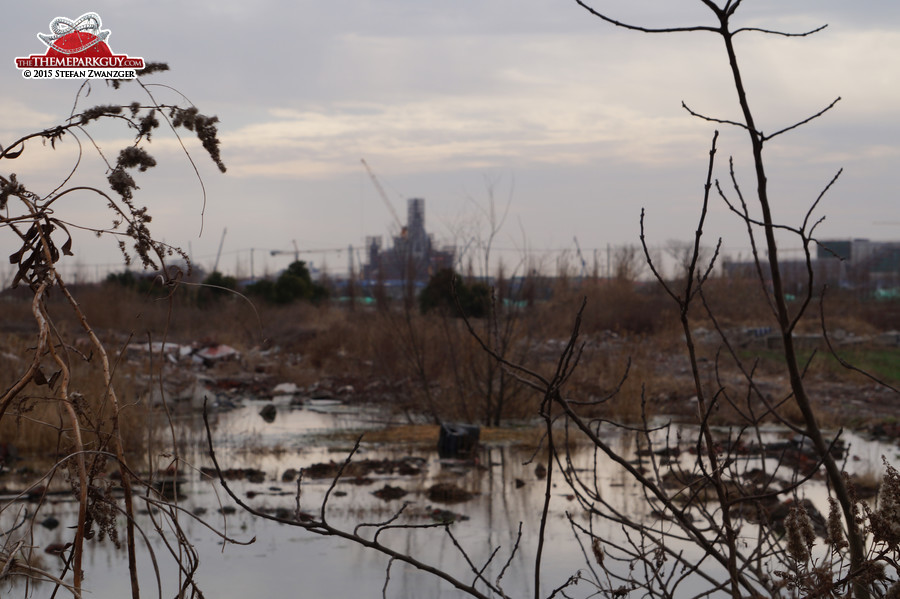 The swamplands and the Shanghai Disney castle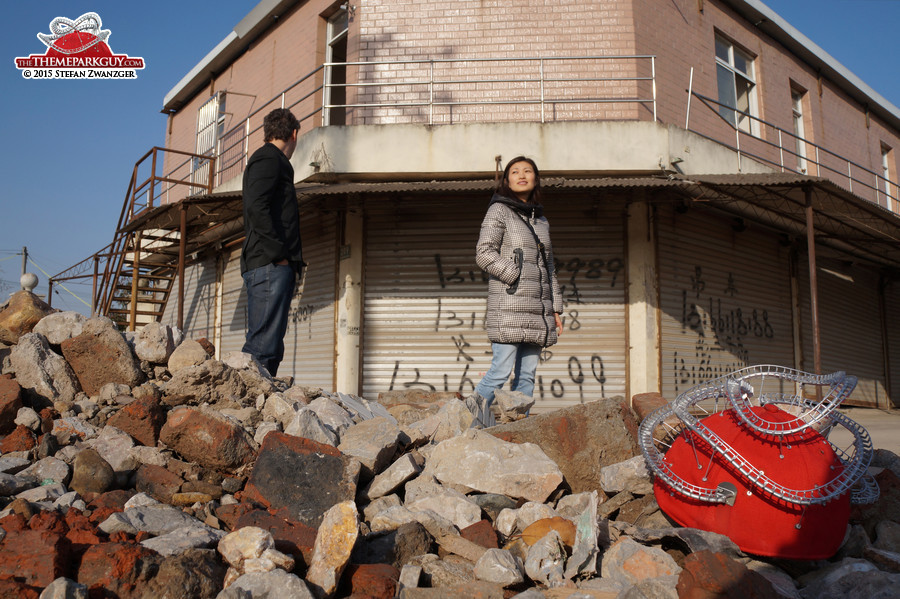 Fan Longde's shop still stands, but no Fan no more.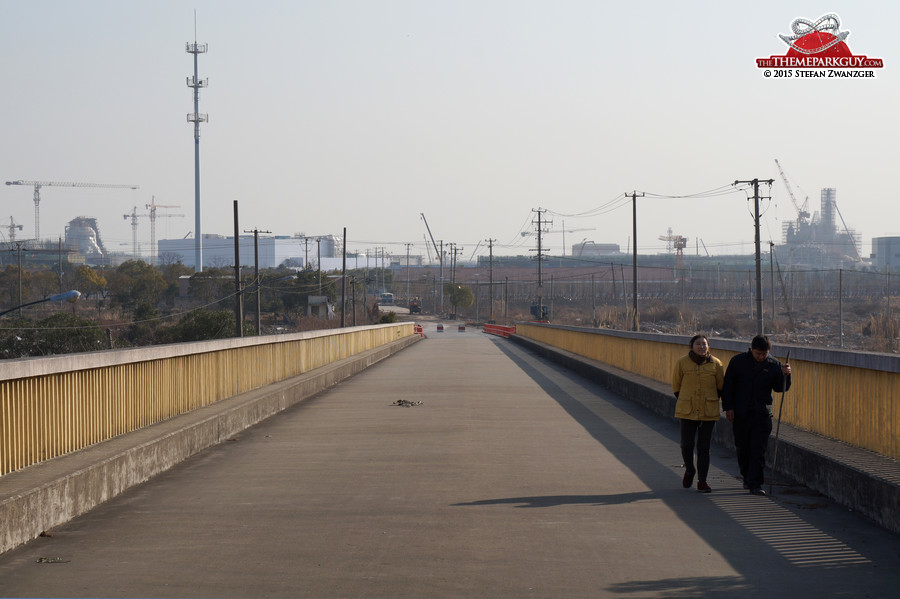 Shanghai Disneyland panorama from behind Fan's shophouse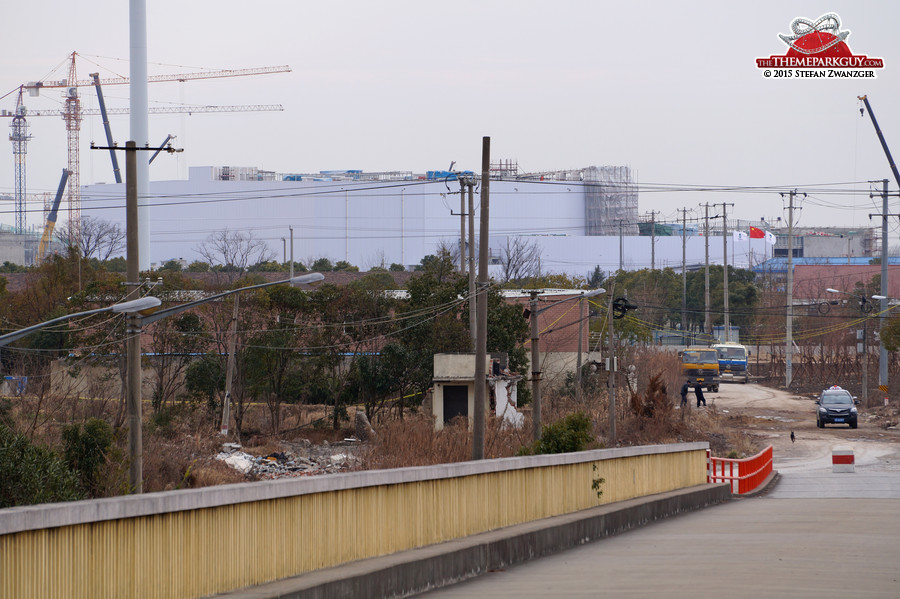 Fan's shophouse now has a Pirates of the Caribbean view!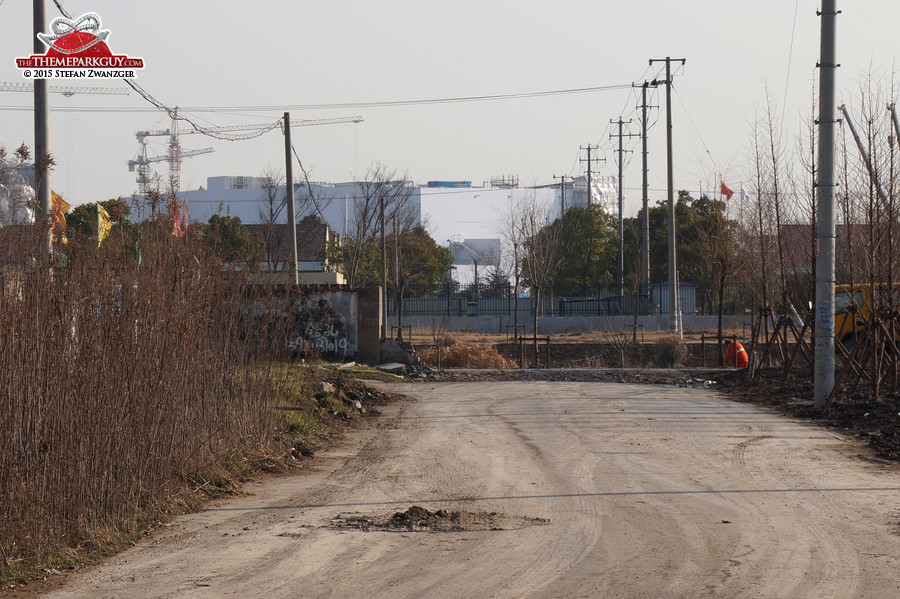 Huangzhao Road. Same angle, different world. Scroll down to the 2010 pics to compare!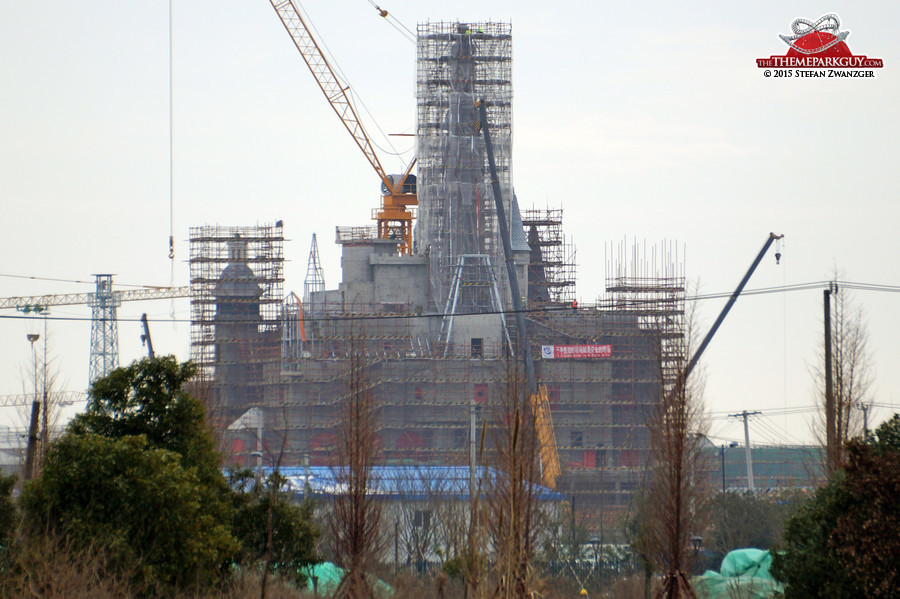 The Shanghai Disney castle as of today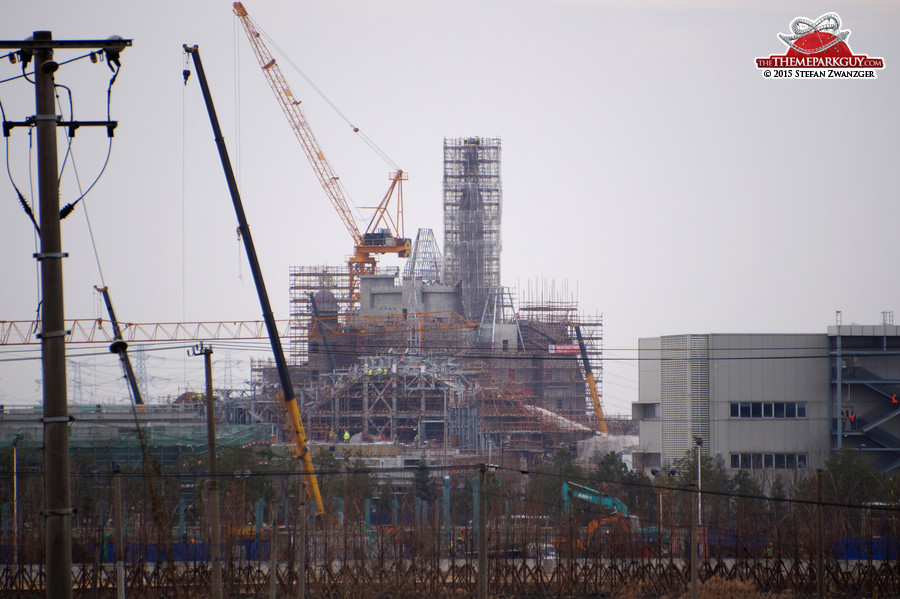 Shanghai Disneyland castle from a different angle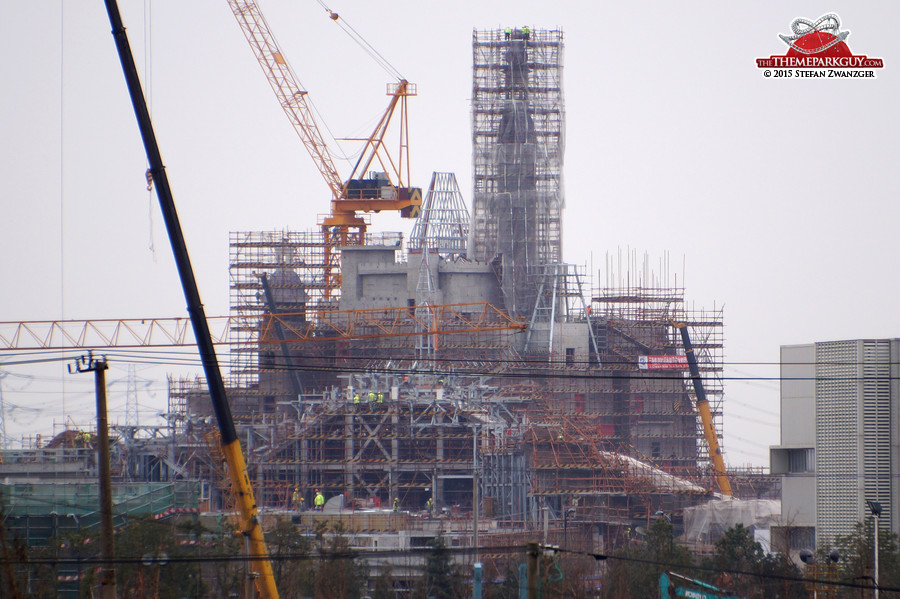 Closer look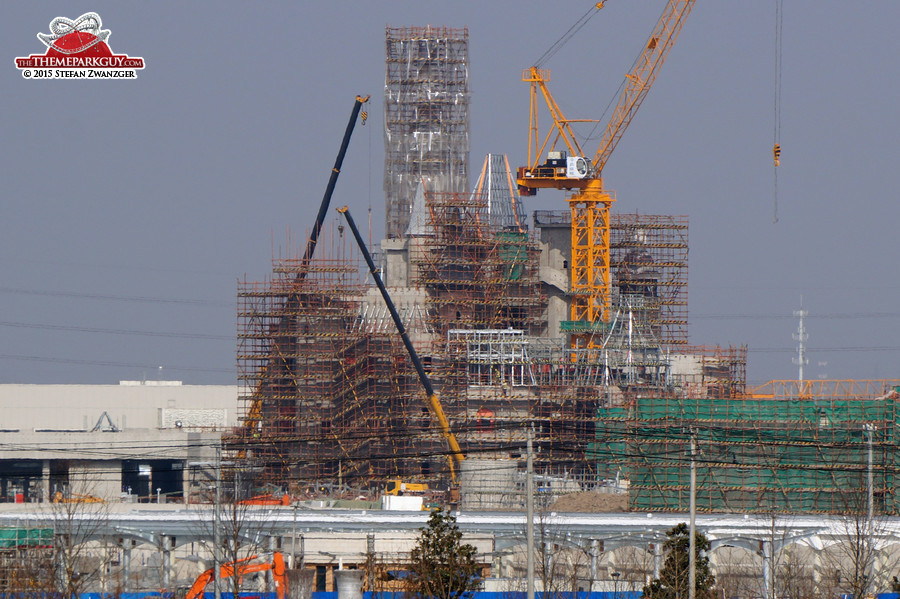 Shanghai Disney castle view from the side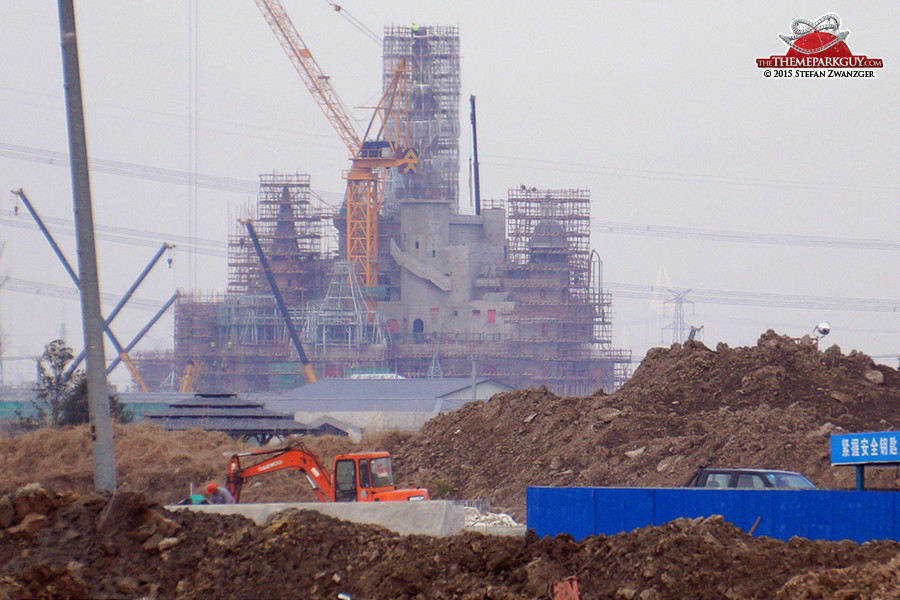 Shanghai Disneyland castle frontal view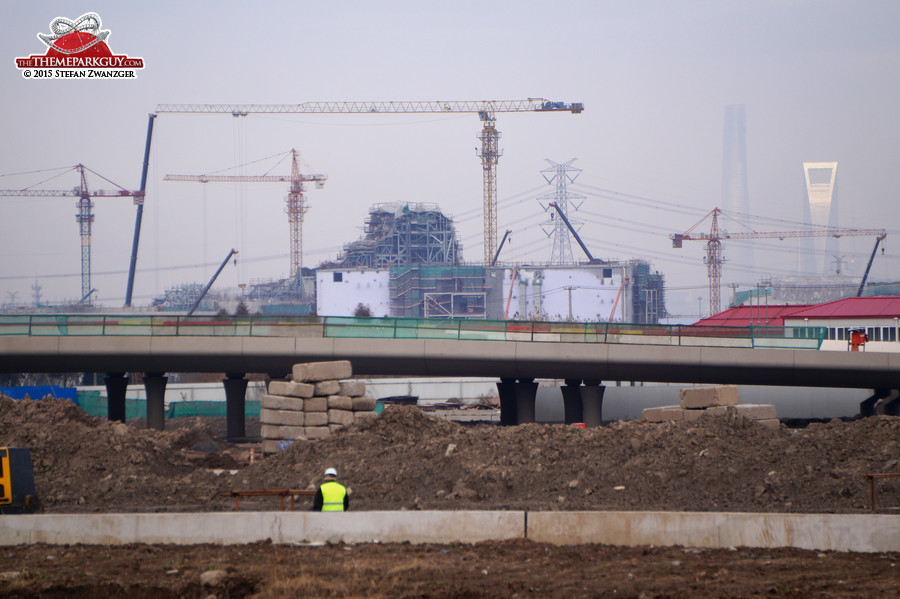 Roaring Rapids mountain water ride with a Shanghai background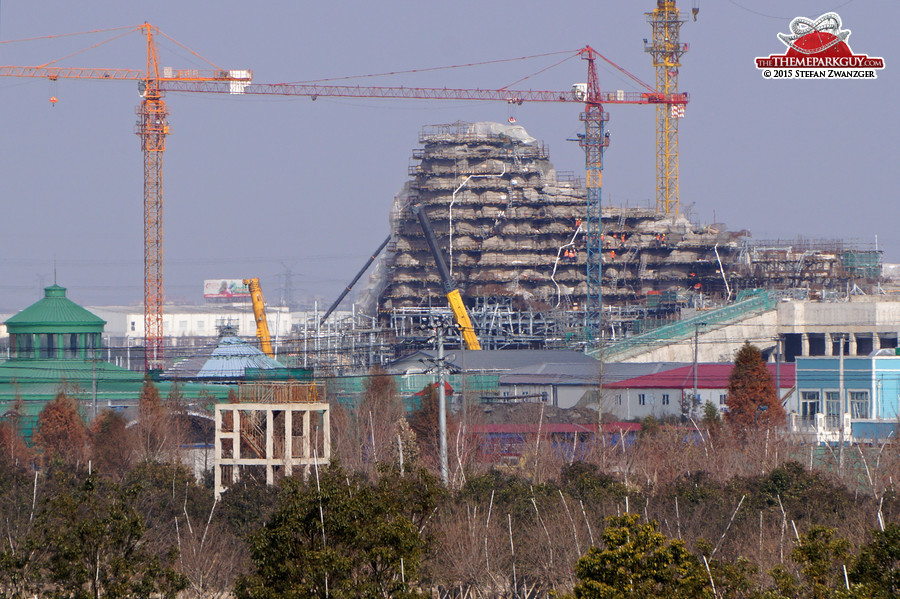 Roaring Rapids under construction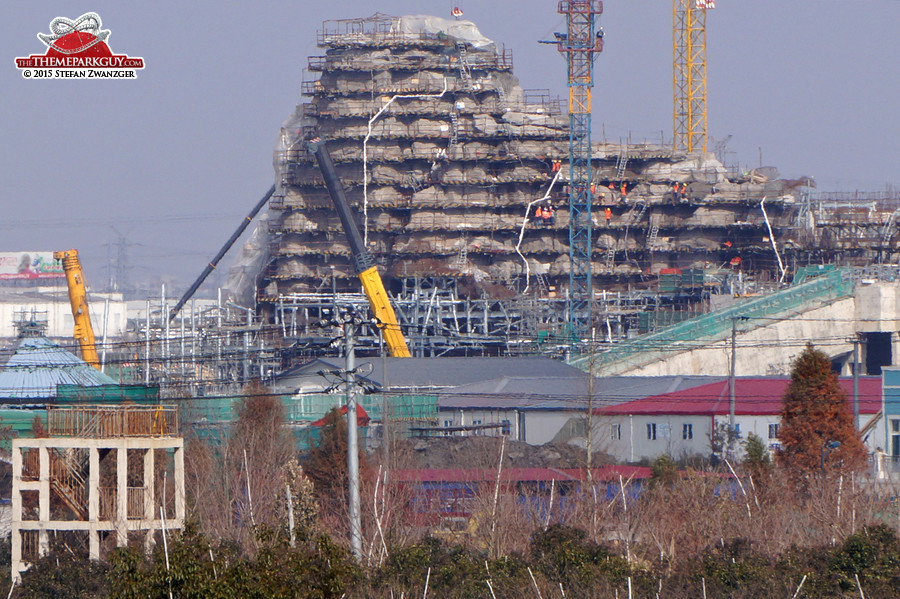 Roaring Rapids mountain water ride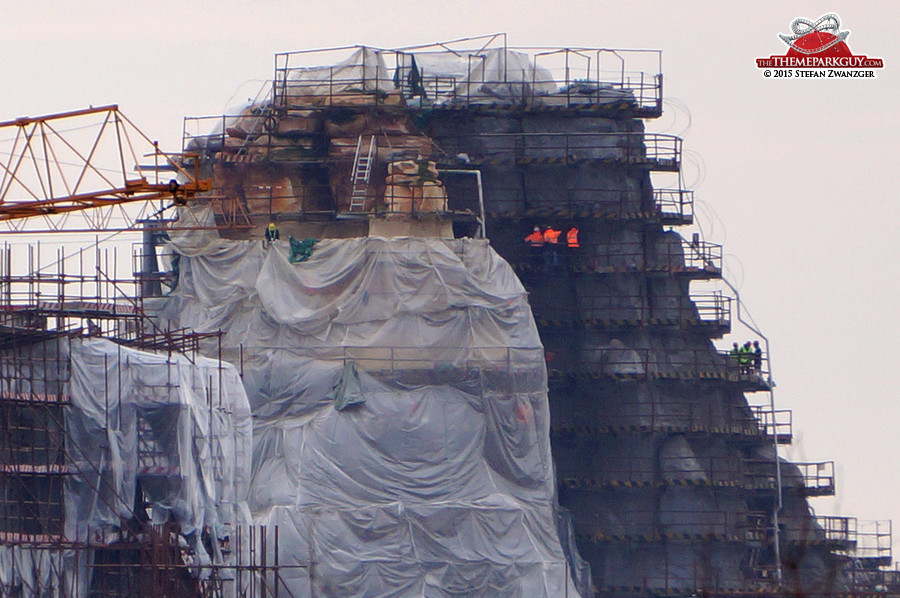 Roaring Rapids rockwork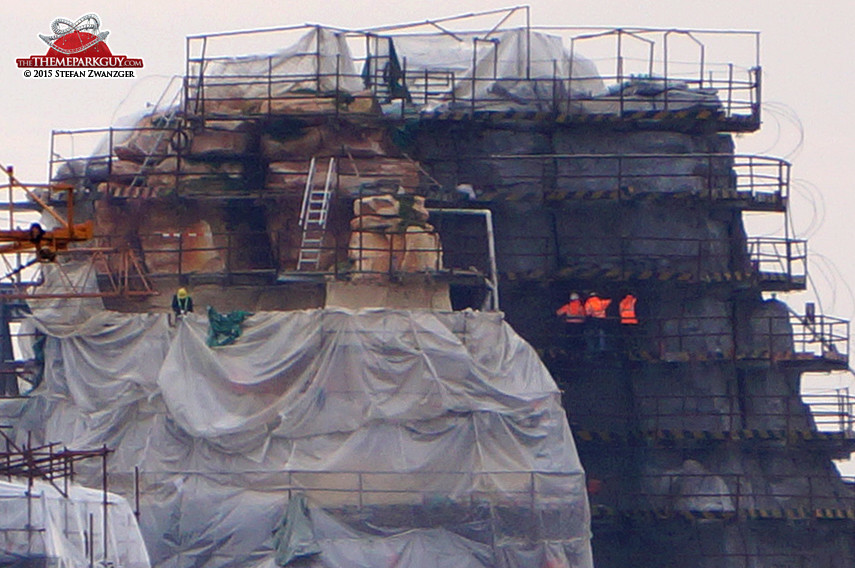 Wile E. Coyote meets Shanghai outskirts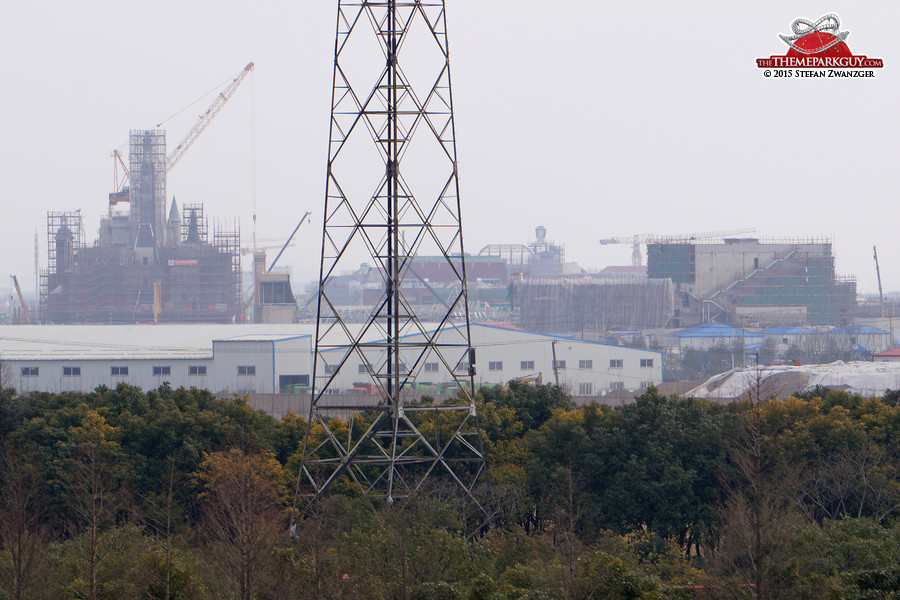 Shanghai Disneyland seen from the freeway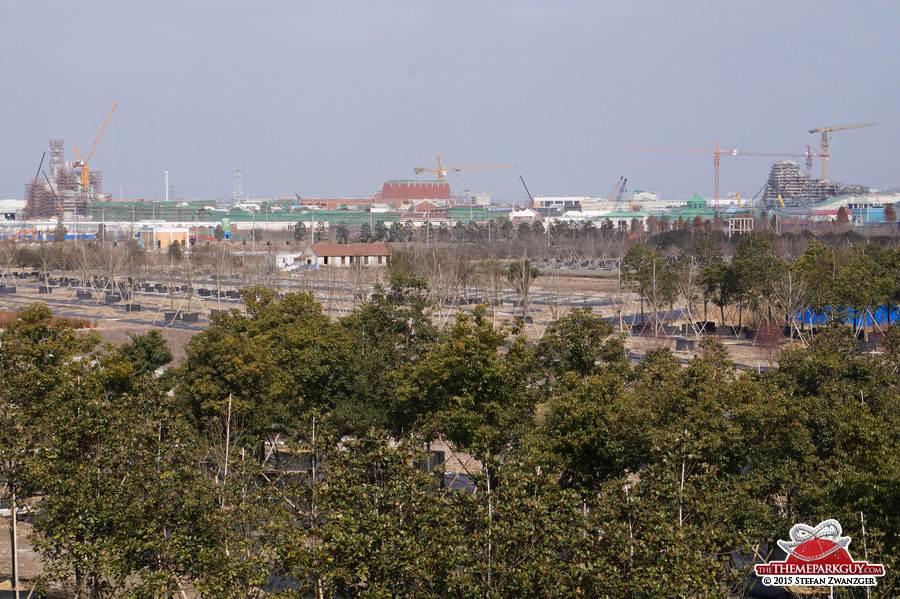 Shanghai Disney castle on the left, Roaring Rapids on the right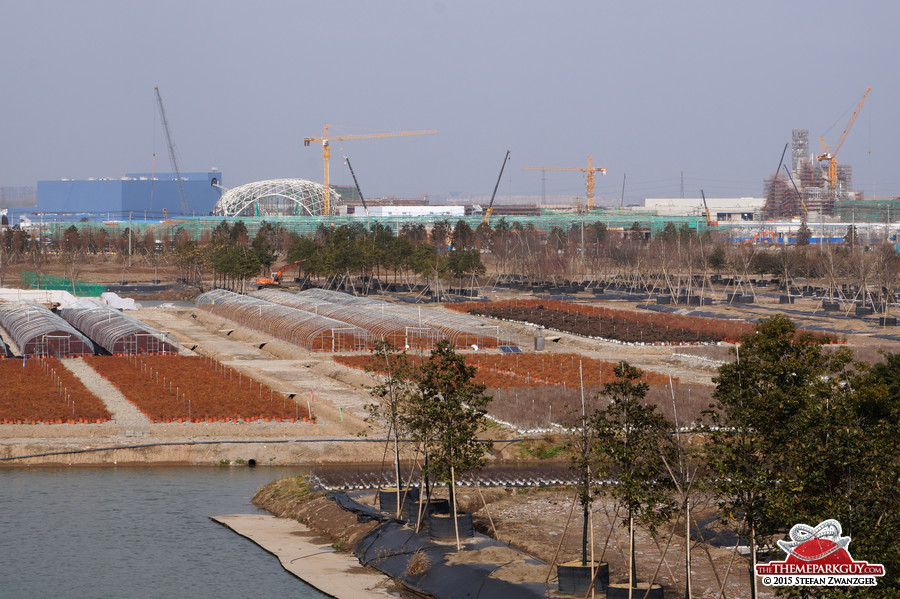 Tron roller coaster to the left, castle to the right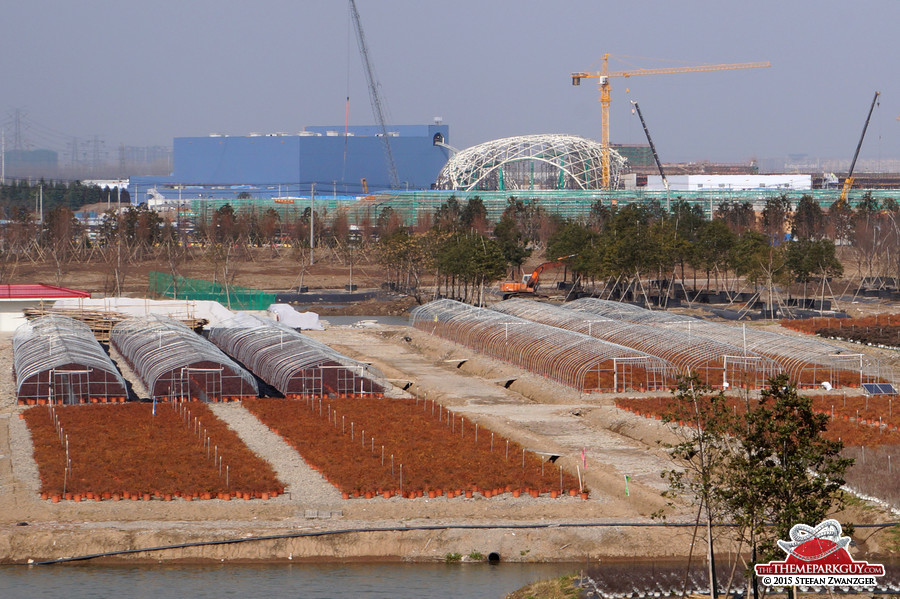 Tron roller coaster at Shanghai Disneyland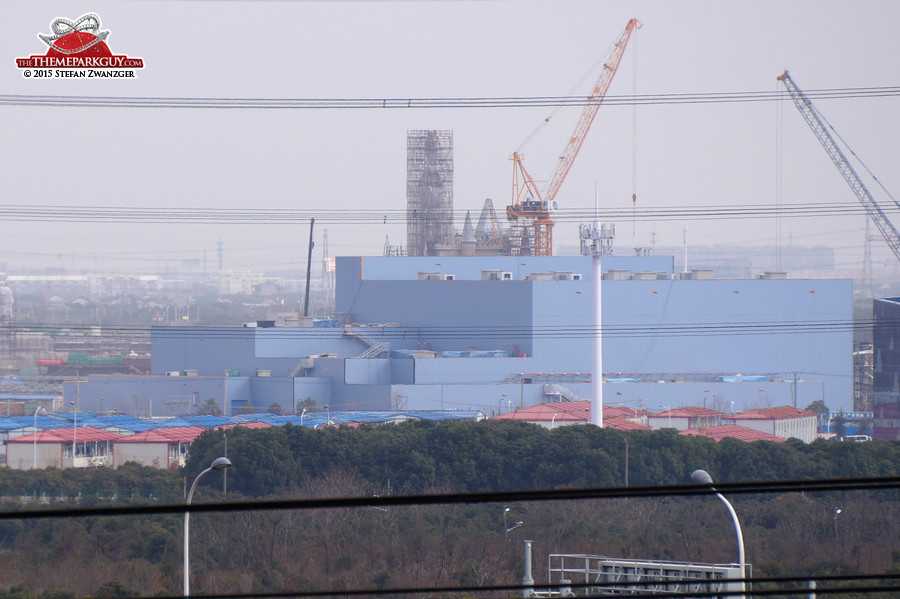 Disney's coal power plant? Nope, it's a coaster and a castle.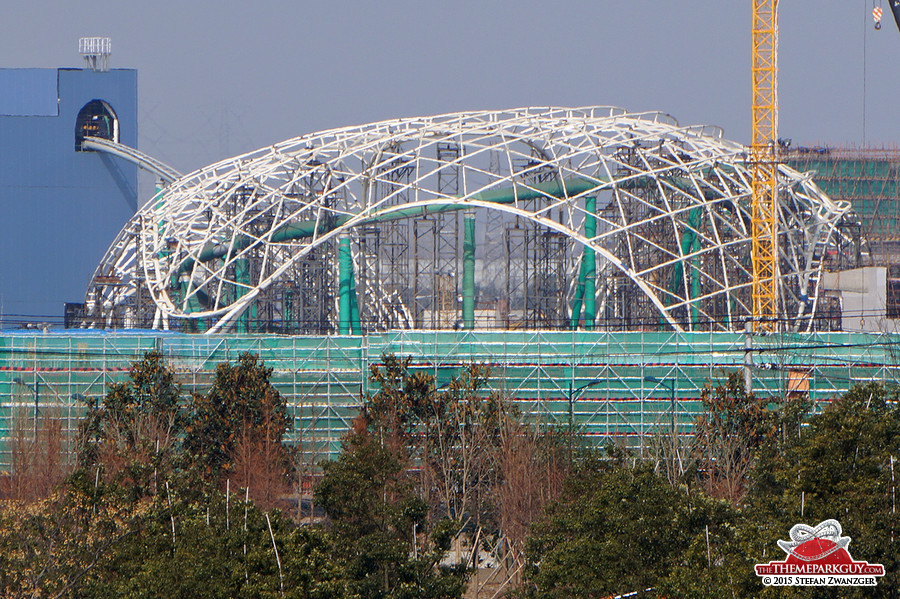 Tron coaster close-up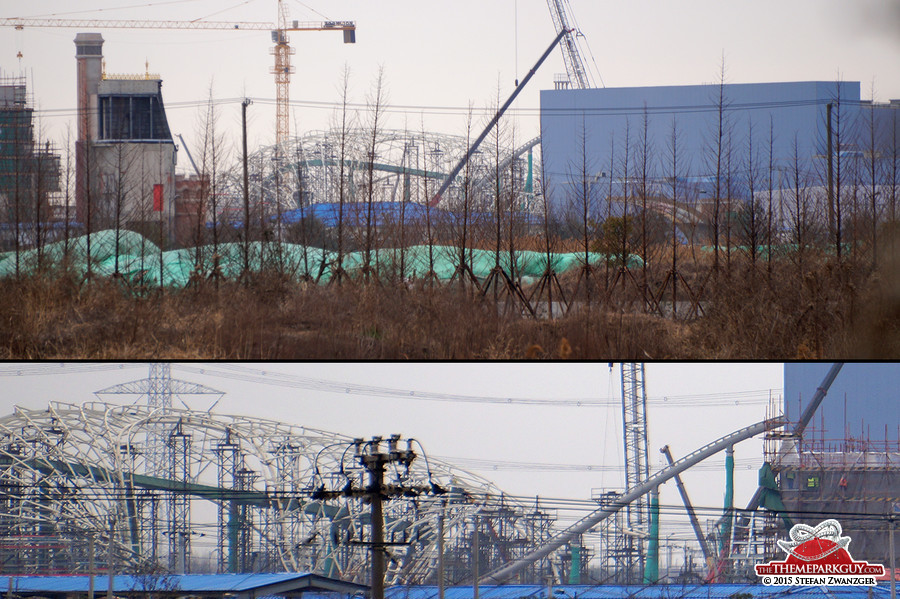 More Tron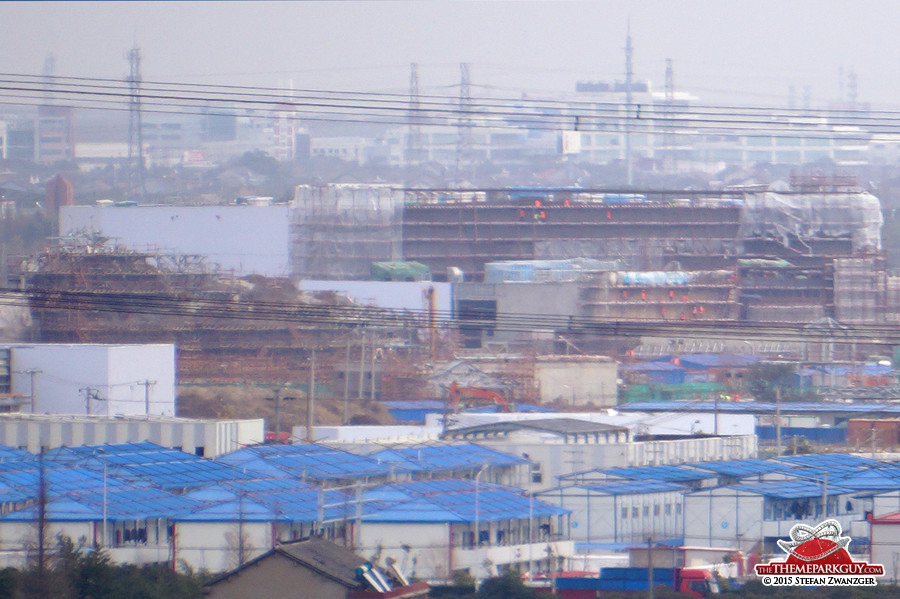 Seven Dwarfs Mine Train on the left, Pirates of the Caribbean on the right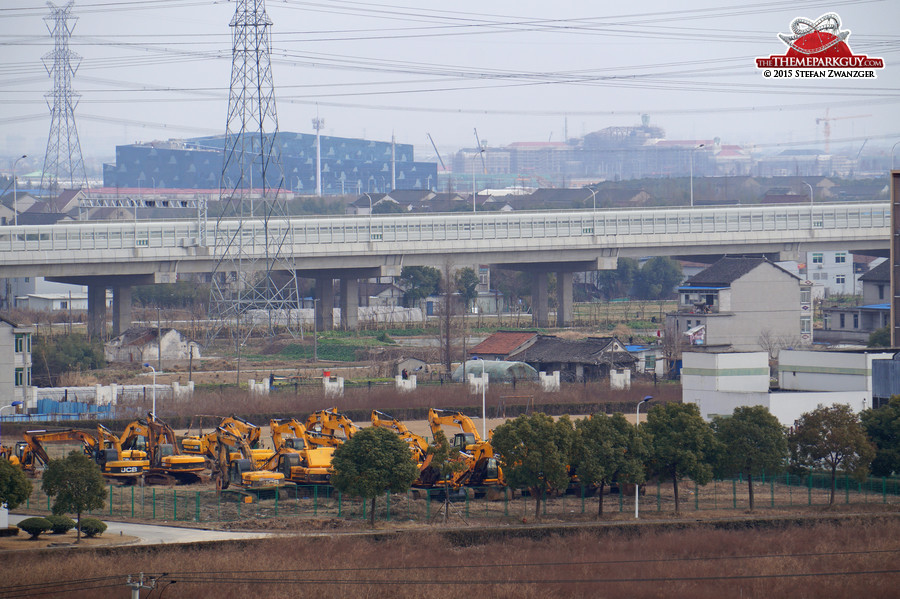 Hospitality! Toy Story Hotel to the left, Disneyland Hotel to the right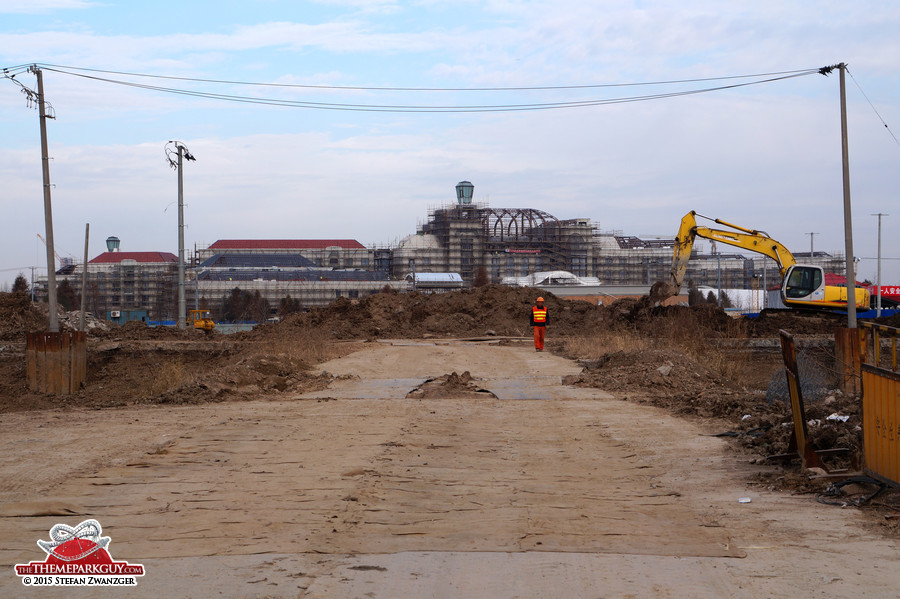 Disneyland Hotel: 5-star accomodation underway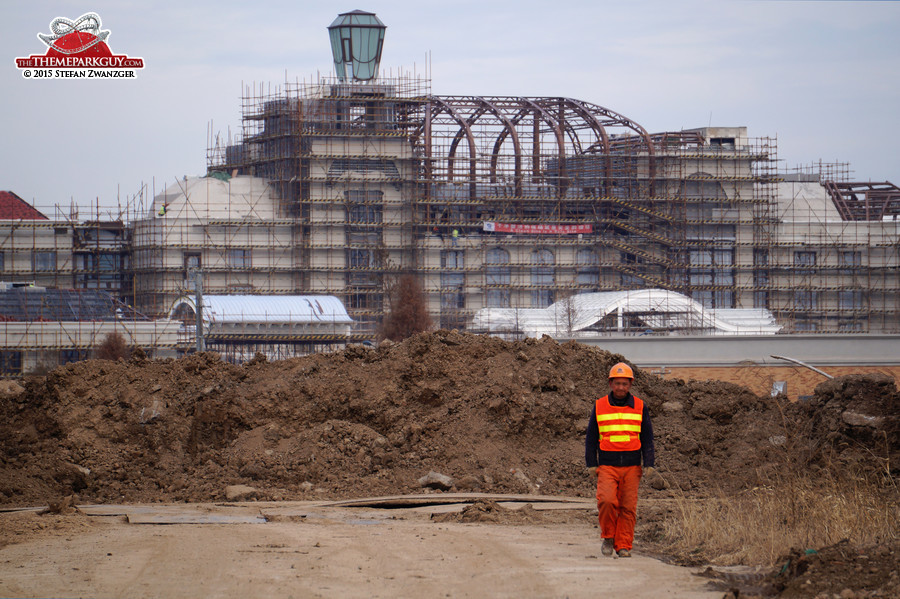 Disneyland Hotel close-up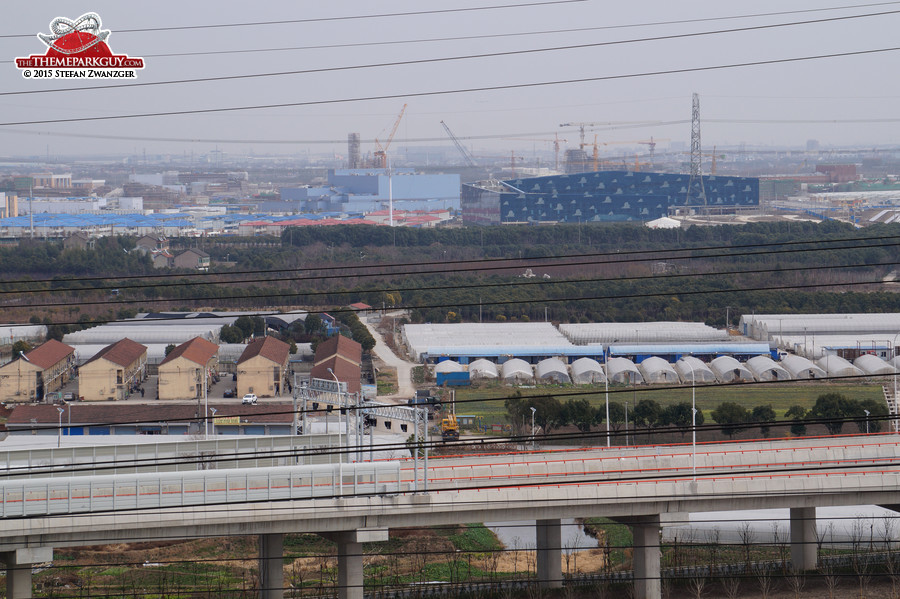 Hazyland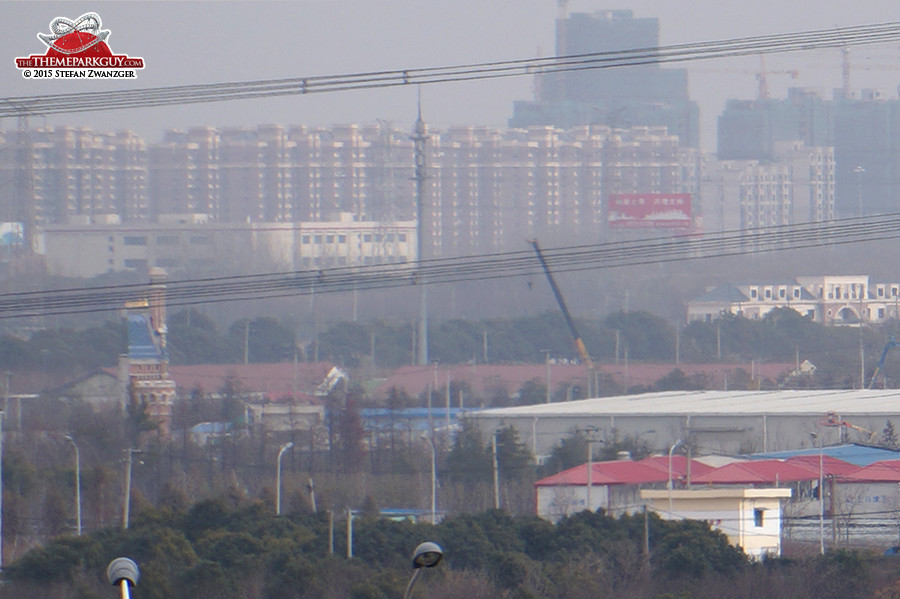 On site castle mock-up (bottom left) against the backdrop of Shanghai suburbia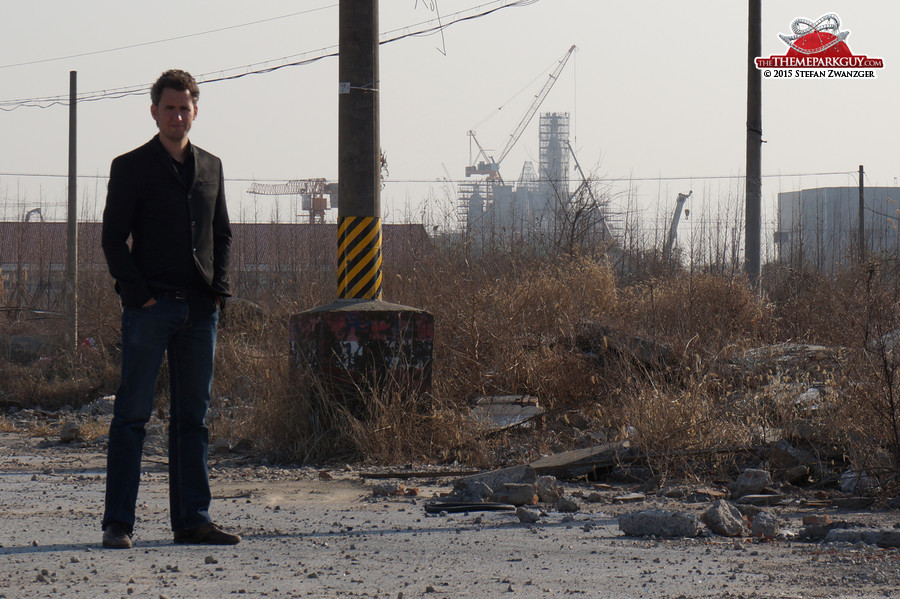 My sixth visit since 2009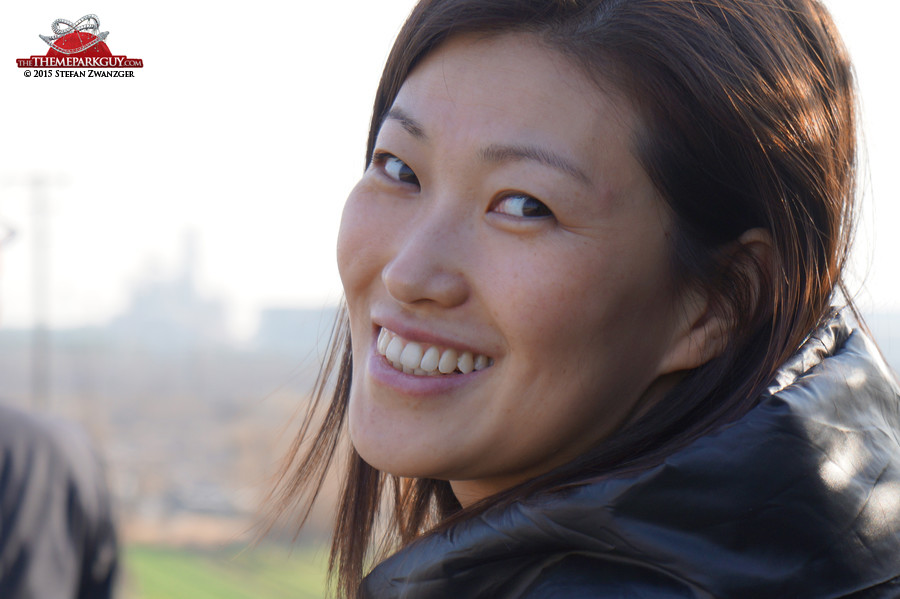 Emily and her native China are awaiting the Mouse's arrival
Construction Update
June 24, 2014
Construction is in full swing now, with multiple structures rising, including the Tron roller coaster, the Seven Dwarfs Mine Train, the Enchanted Storybook Castle, Pirates of the Caribbean and the resort hotels.
Fan Longde, the local shopkeeper who I've taken pictures with since 2010, is still there. In fact, he's the only man left, in the only house left, devoid of the village it was once part of. He now sells only cigarettes to his non-existing customer base, no more drinks; those who miraculously happen to pass by probably need a smoke to digest the rapid transformation.
In 1.5 years from now, Disney's 6th Magic Kingdom and 4th international adventure will be up and running, created by the most clever designers and engineers on earth, with technology not experienced before, and – believe it or not – even my friend Fan, the lone shopkeeper who turned into the last villagekeeper, looks forward to it. Enjoy the pictures: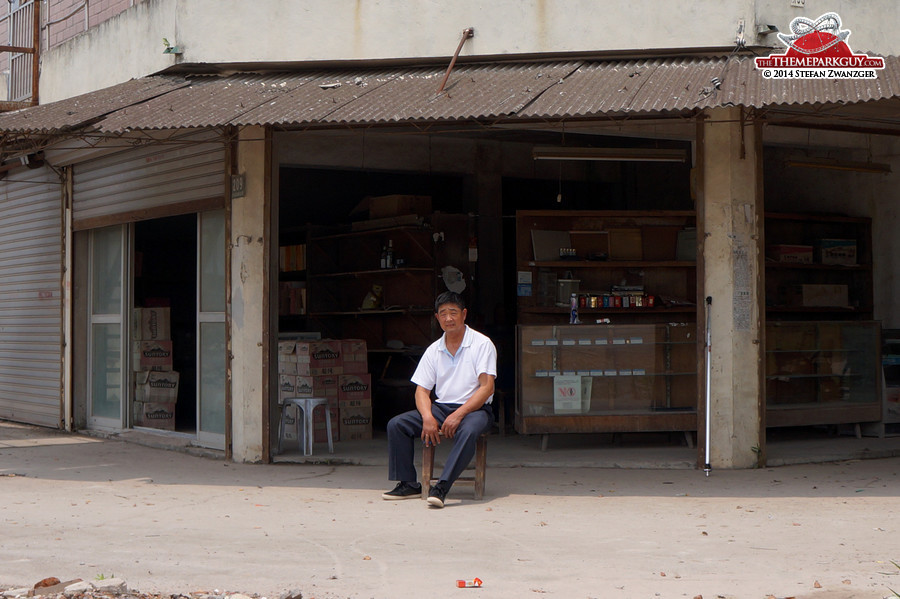 This is Fan Longde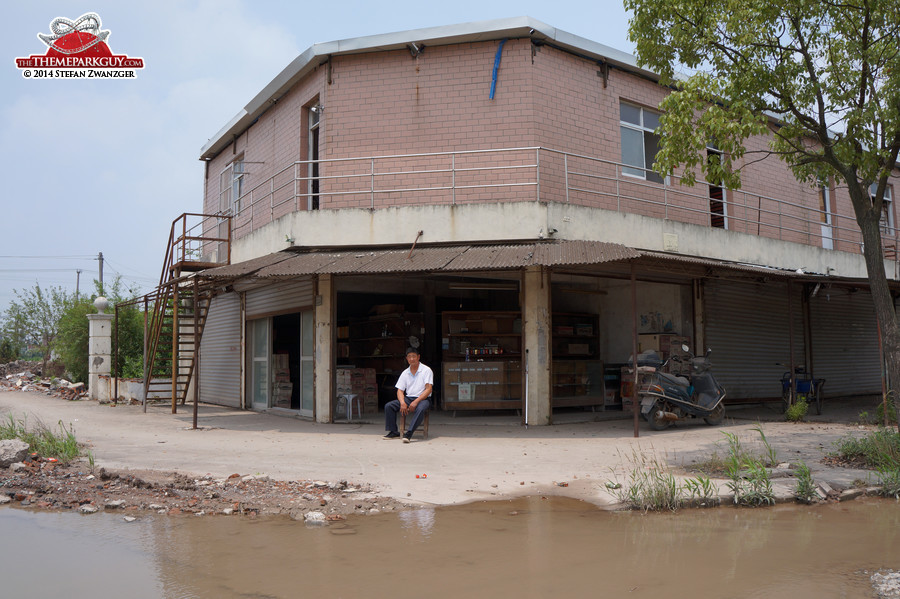 He runs a street corner shop...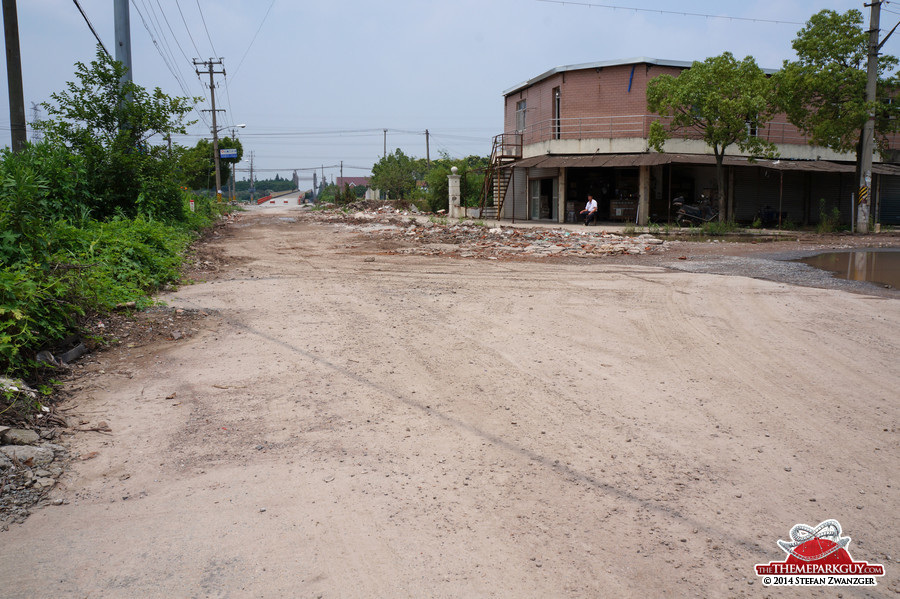 ...in a village that vanished.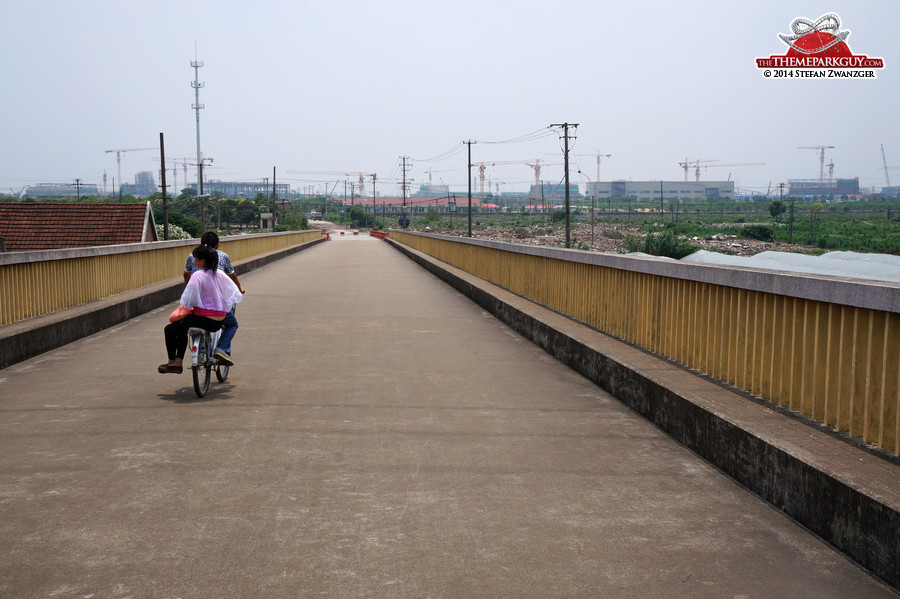 View from the bridge behind Fan's shop, just north of Shanghai Disneyland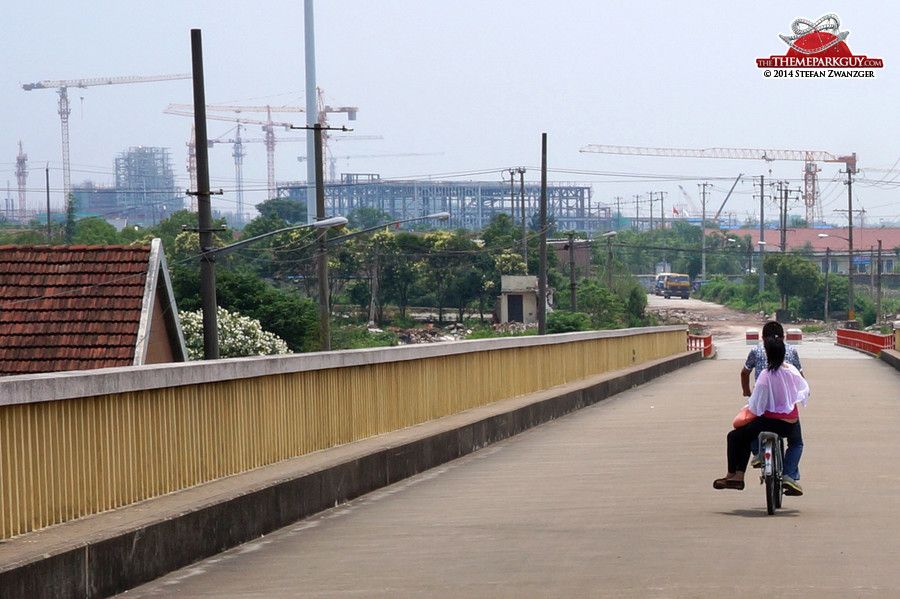 Construction: 'Roaring Rapids' on the left, 'Pirates of the Caribbean' on the right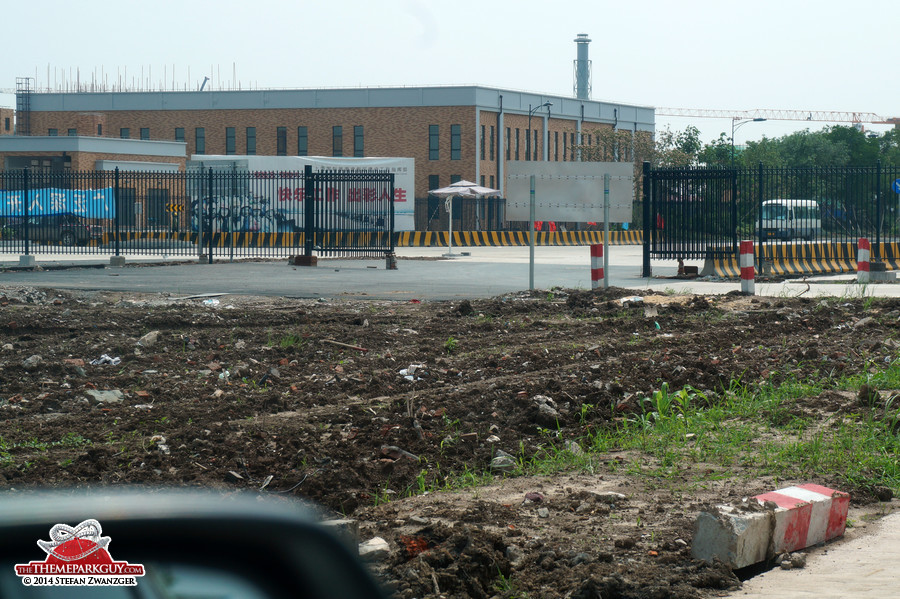 An unguarded entrance to the site. How tempting.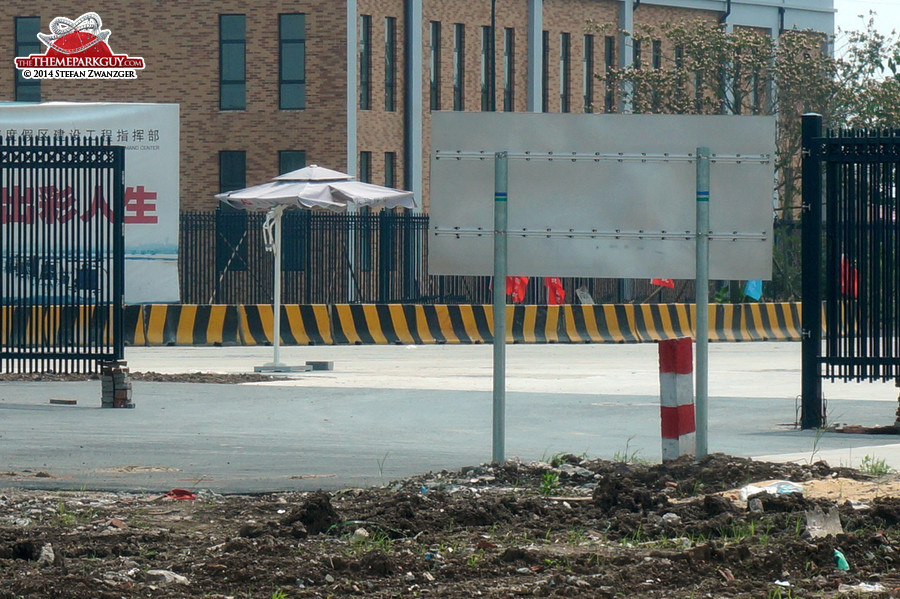 But rule number one is: never trespass!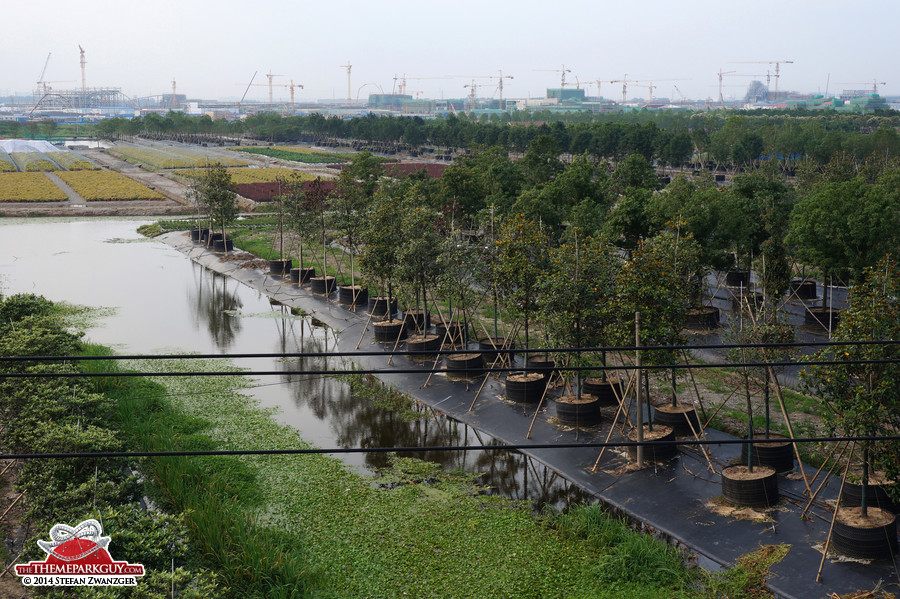 View from south of the Shanghai Disney lake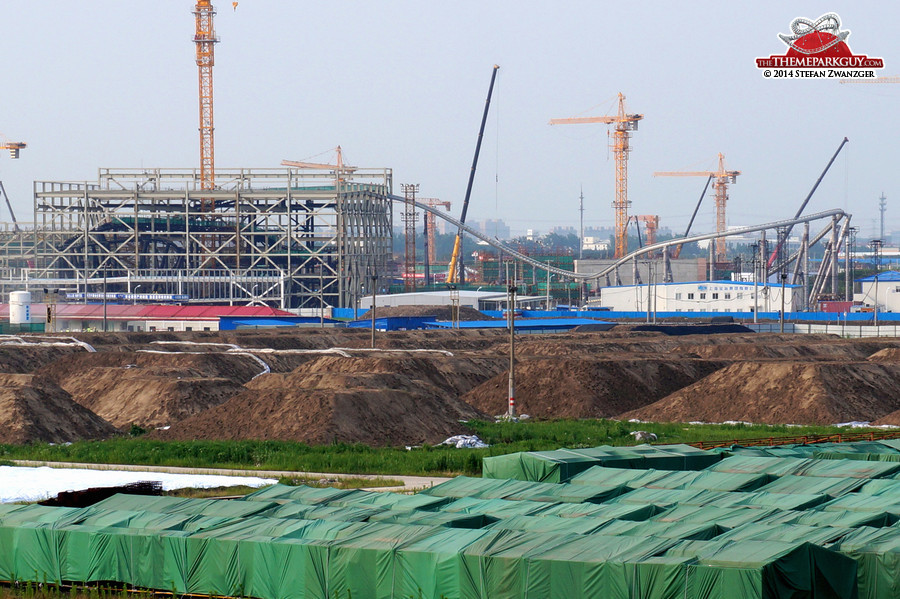 Tron roller coaster under construction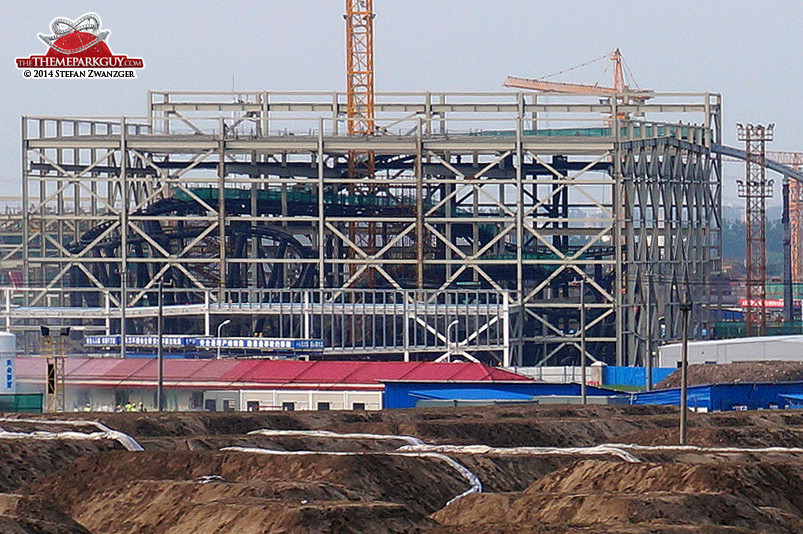 Tron coaster close-up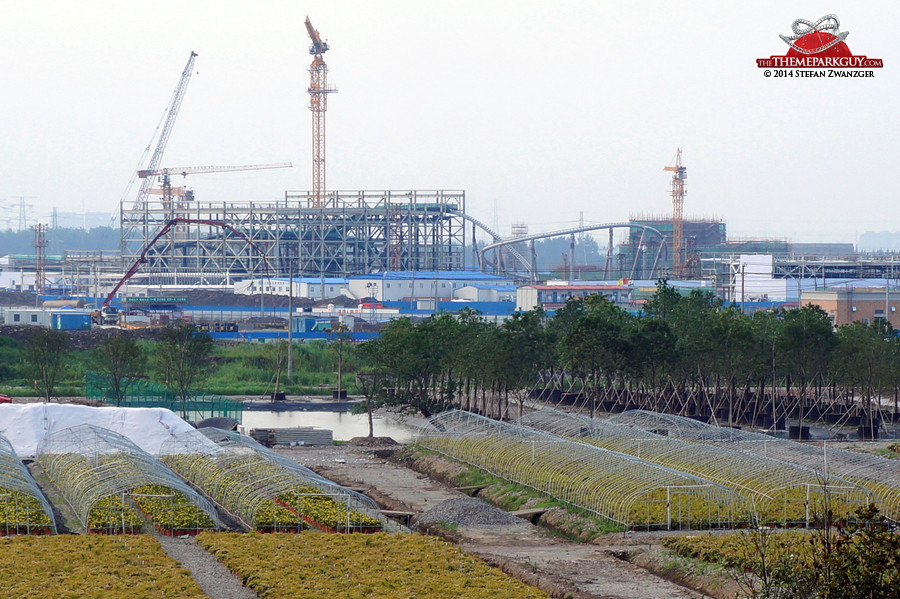 The structure rising on the right of the Tron coaster is the Disneyland castle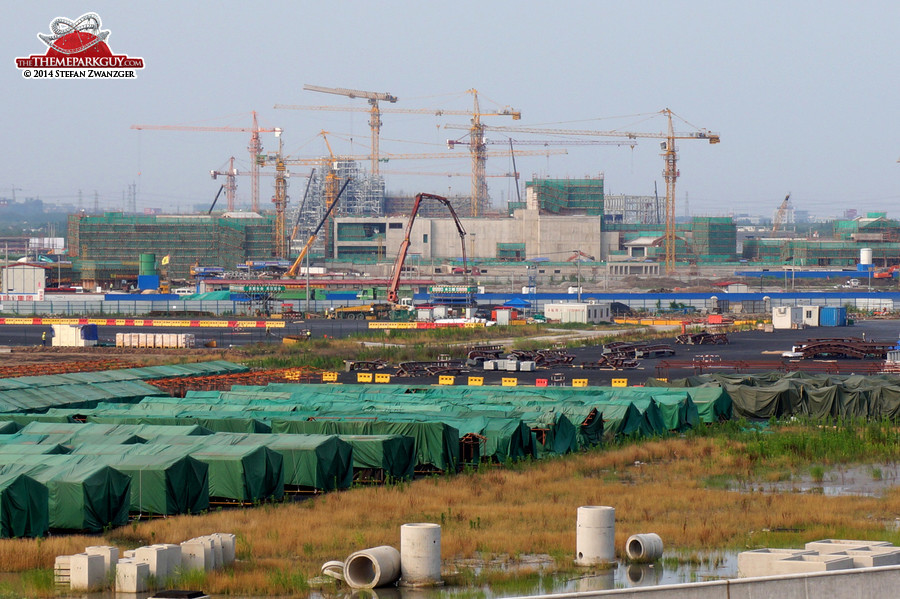 Fukushima decommissioning? No, it's Shanghai Disneyland in the making!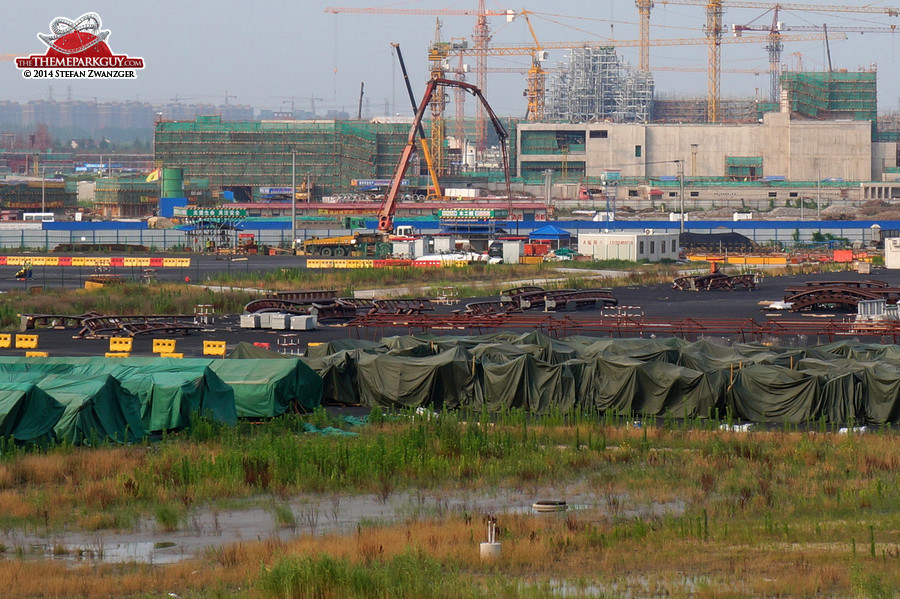 Coaster tracks stored outside...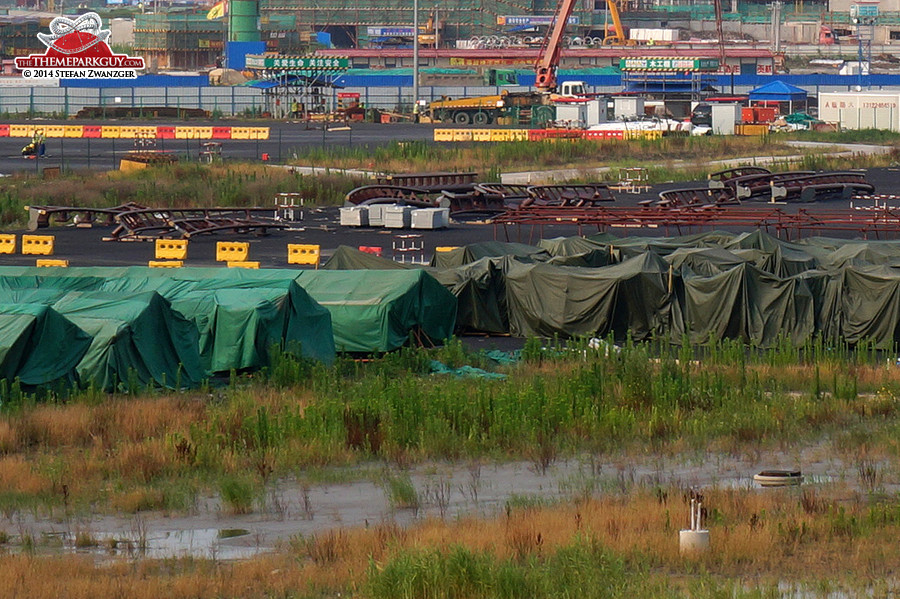 ...most likely belonging to the Seven Dwarfs Mine Train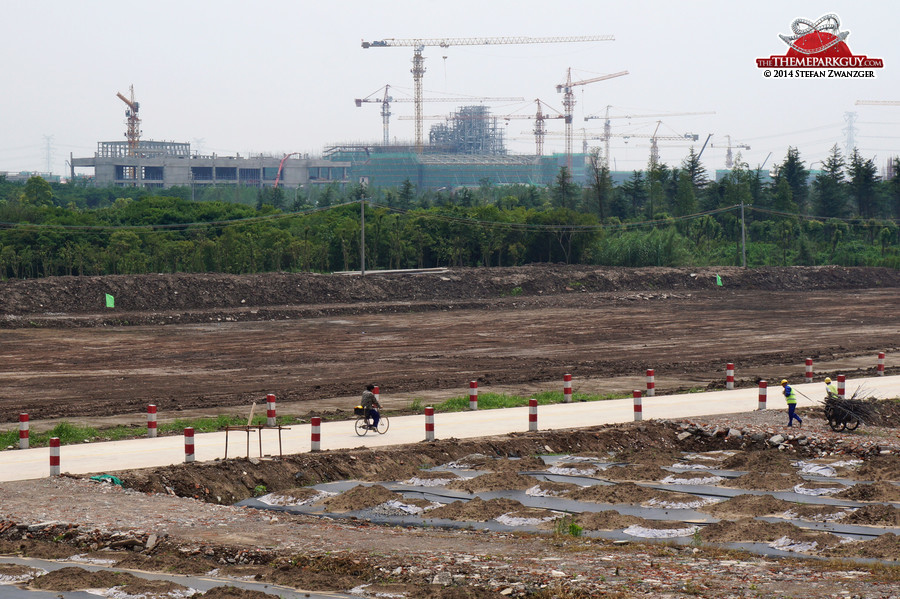 Rapid transformation (and 'Roaring Rapids' construction in the background)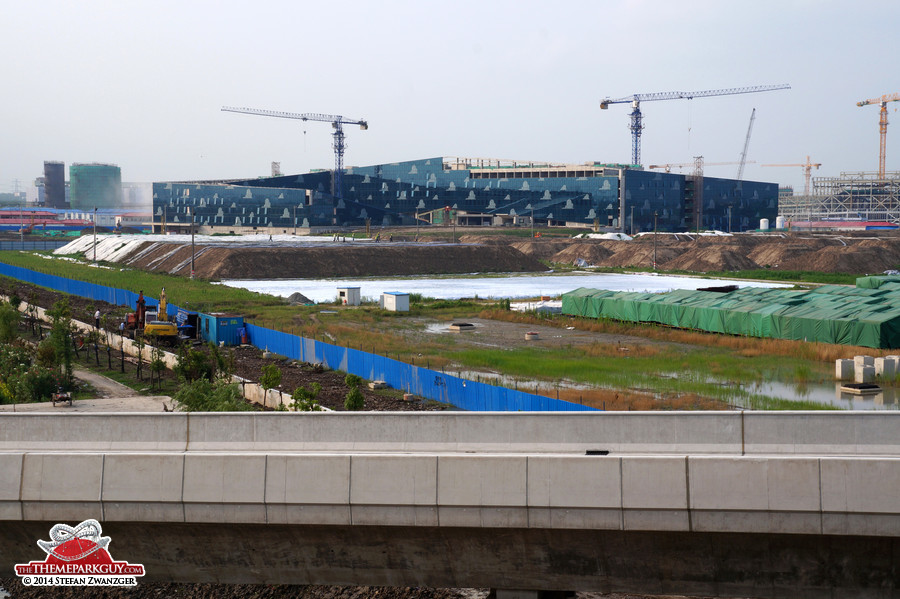 Toy Story Hotel under construction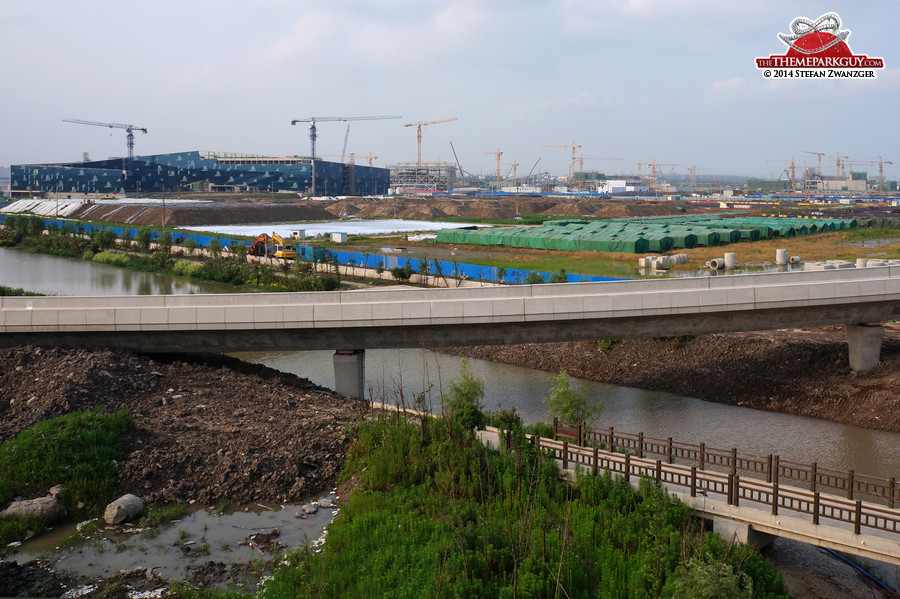 Shanghai Disneyland panorama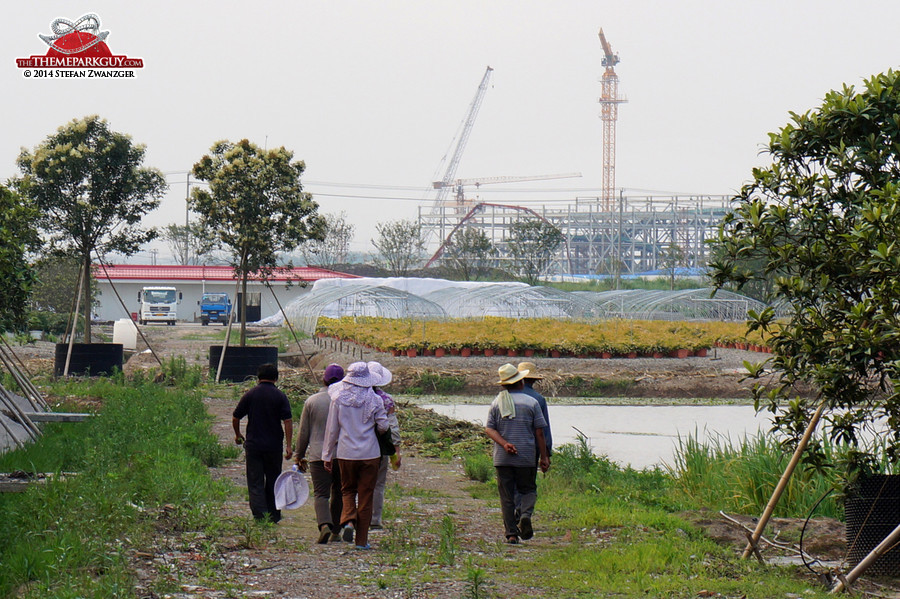 Farmers with Tron coaster
Construction Update
September 21, 2013
Latest update, 21 September 2013 (please scroll down for 2012, 2011, 2010 and 2009 updates):
- Street corner shop with smiling shopkeeper still alive, but surrounding village is gone.
- Lots of activity on site, but no rides going up yet
- Discovered a great viewpoint very close to the actual theme park site
- Pictured Shanghai Disney city office featuring Imagineers working late
Thanks to my friends Margot Chou and Drew Campbell for joining me on this little adventure!
Follow me on Twitter or contact me through LinkedIn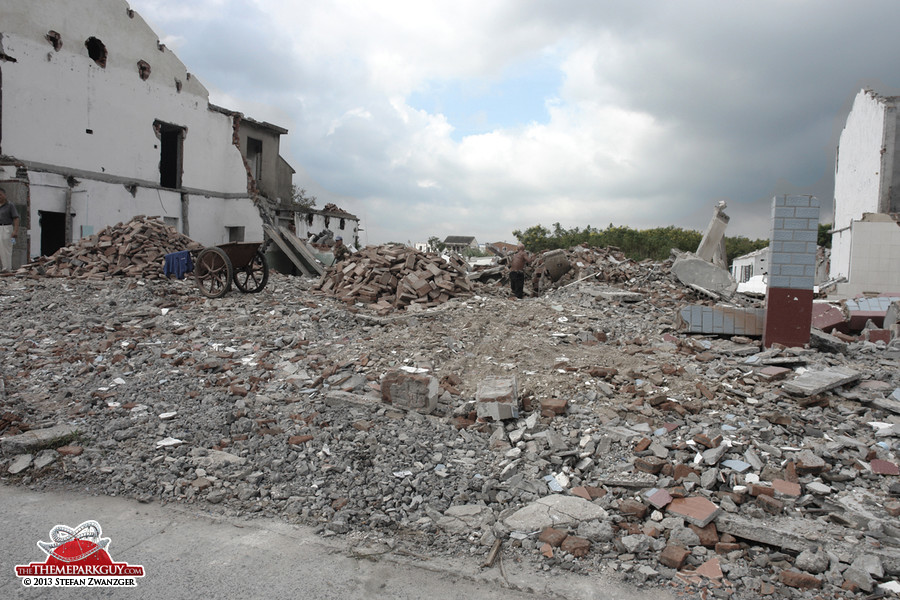 World War II film set? No, it's the villages surrounding the Shanghai Disney site.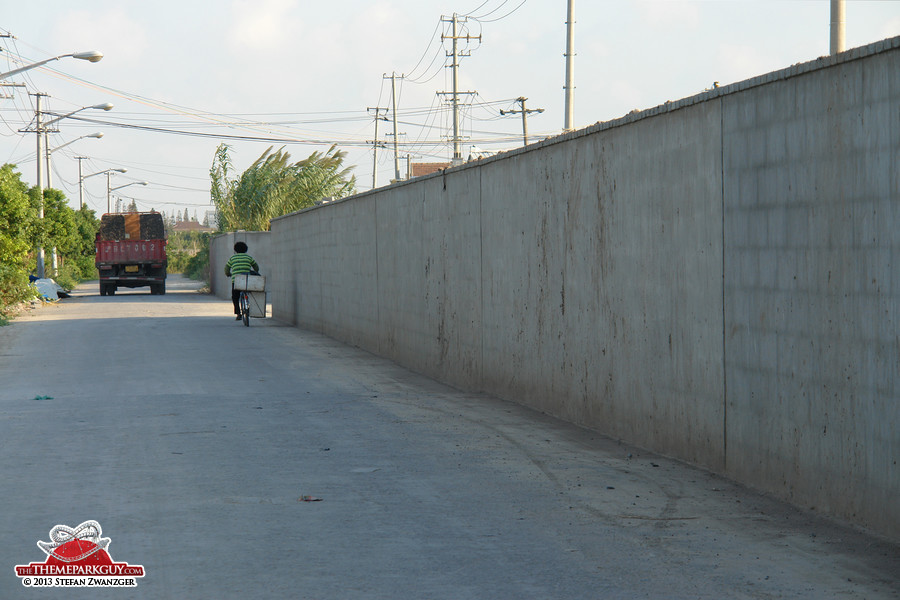 Berlin Wall separating East and West? Not so! This one is separating reality from fiction.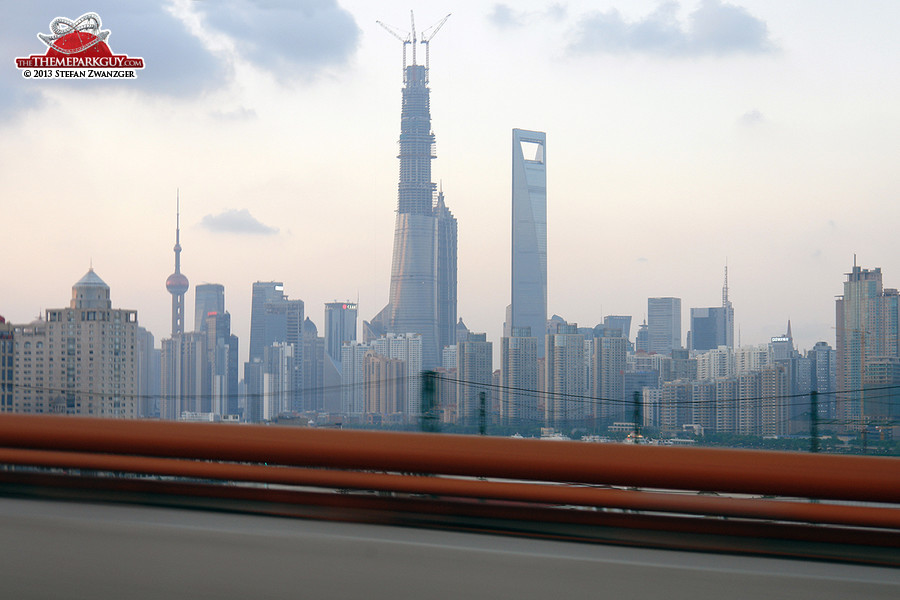 Shanghai Pudong skyline as of September 2013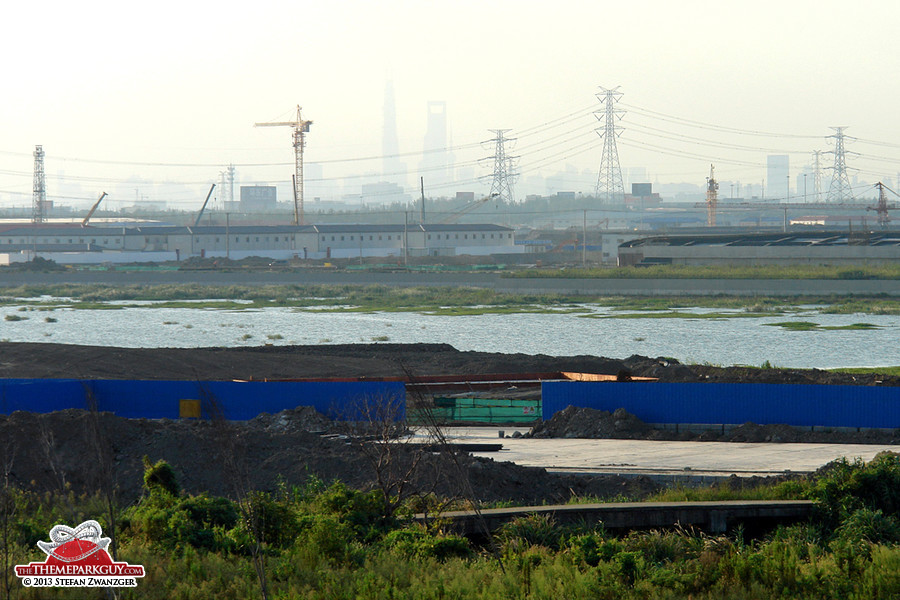 Pudong skyline seen from the Shanghai Disney lake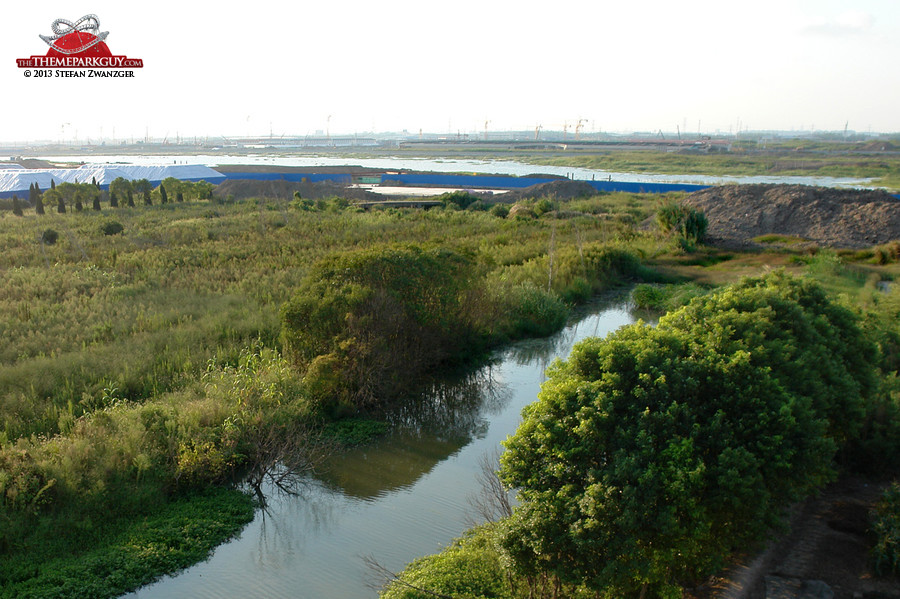 Zoom out view over the soon-to-be Shanghai Disney lake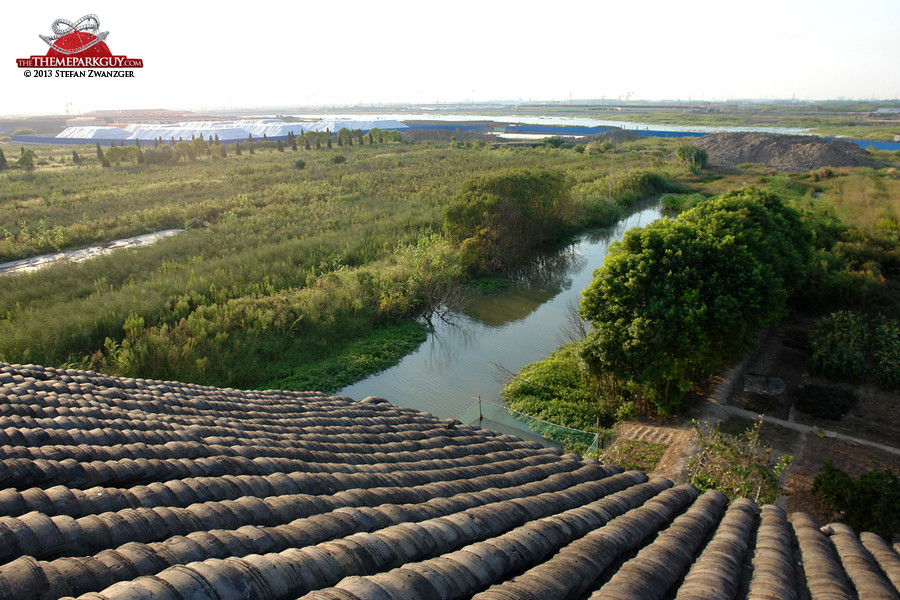 Yes, it's a bit scary. A good angle has its price!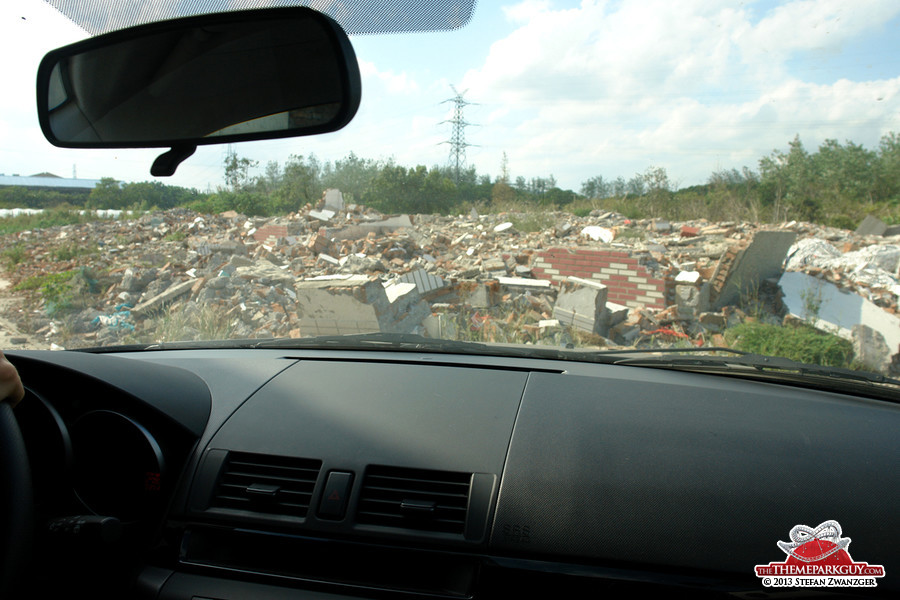 A common sight around the Disney site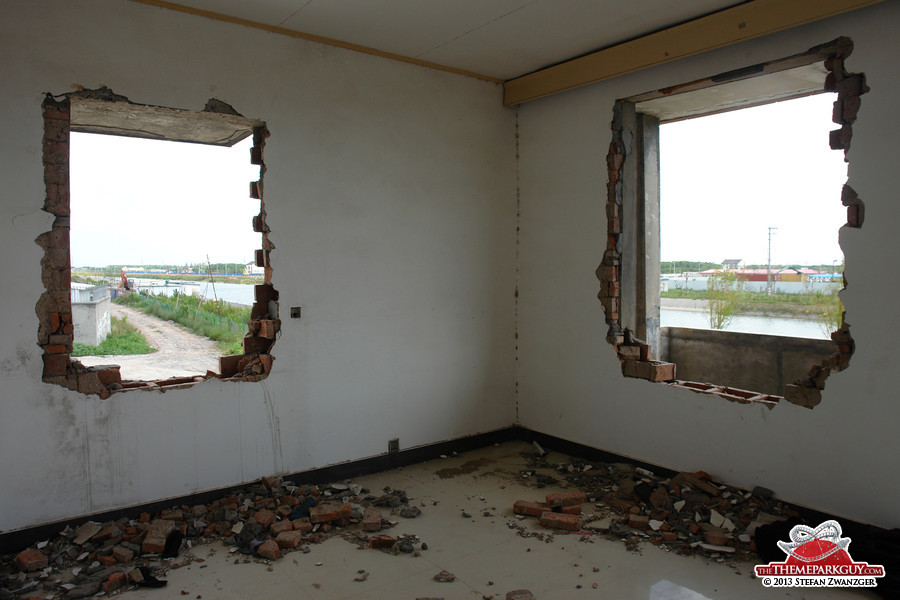 Last house standing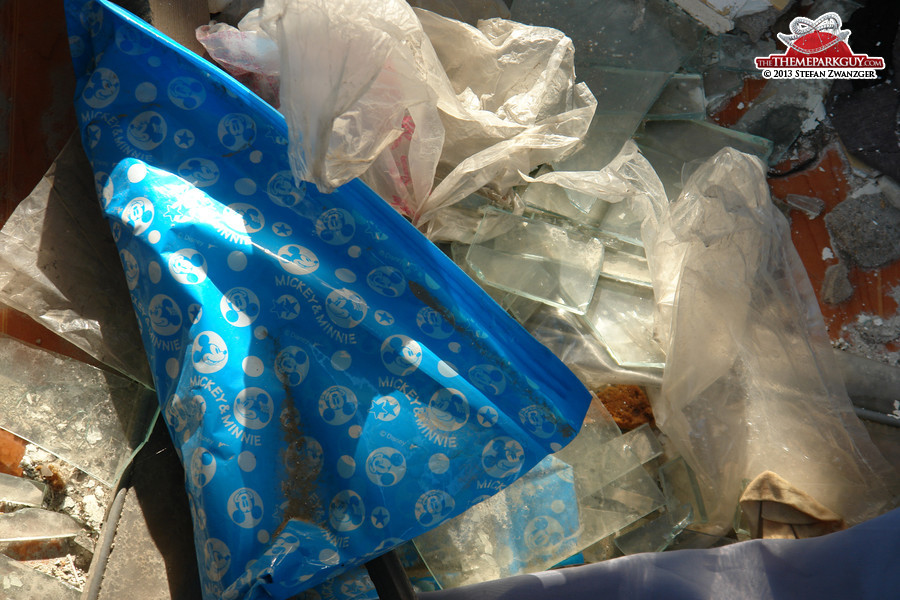 First Mickey gets into the houses, then into the hearts... and wham-bam the house is gone.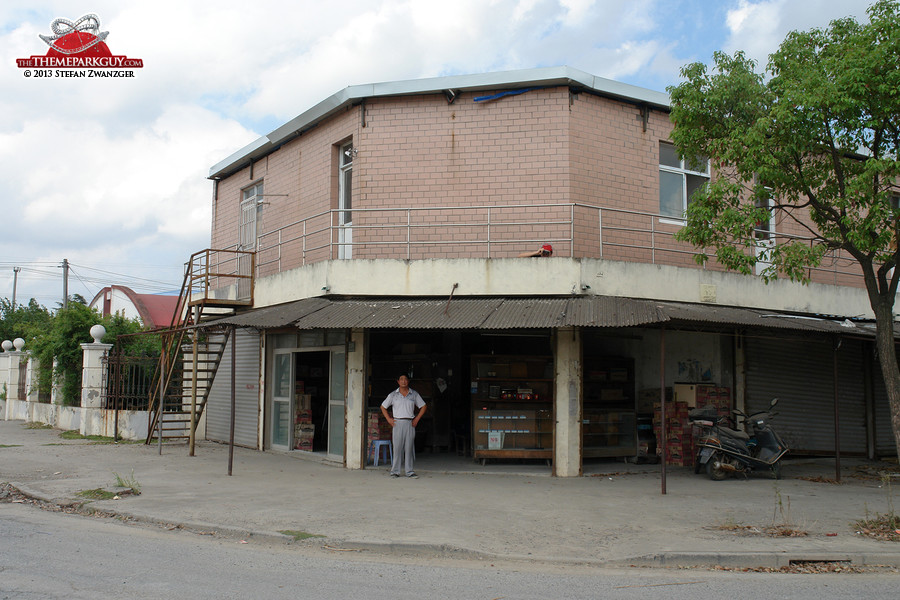 The street corner shop at Huangzhao Road is still there!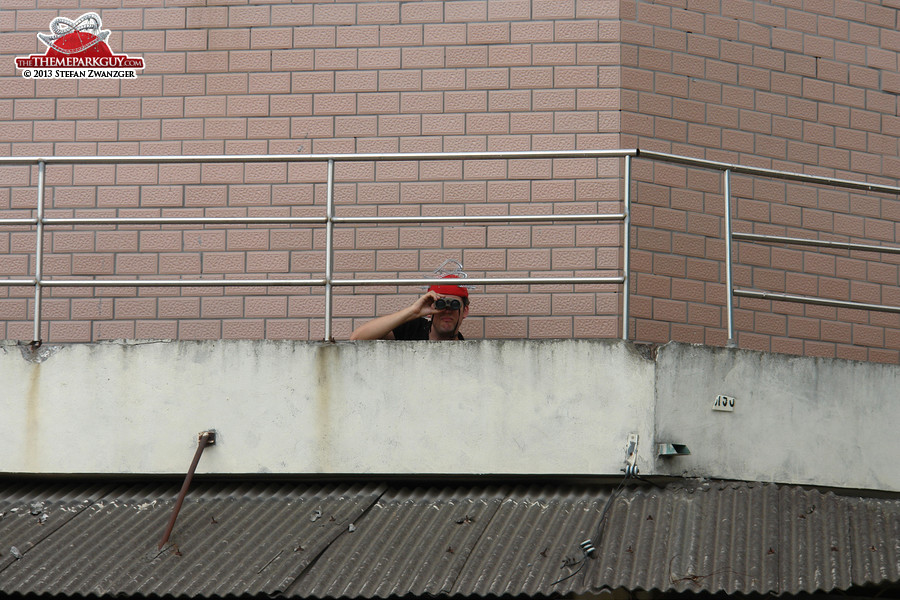 It's right to the north of the future Magic Kingdom park...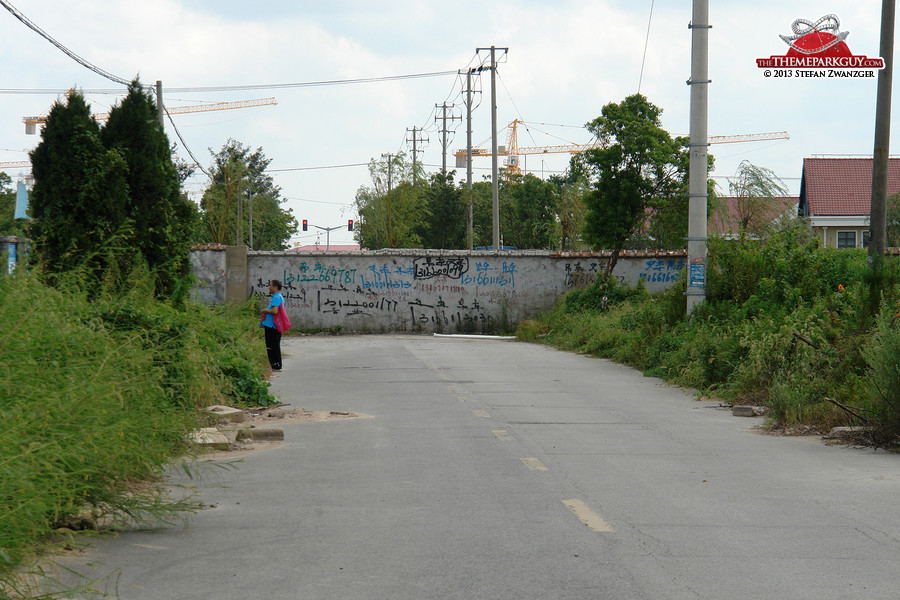 But not much to see from this angle!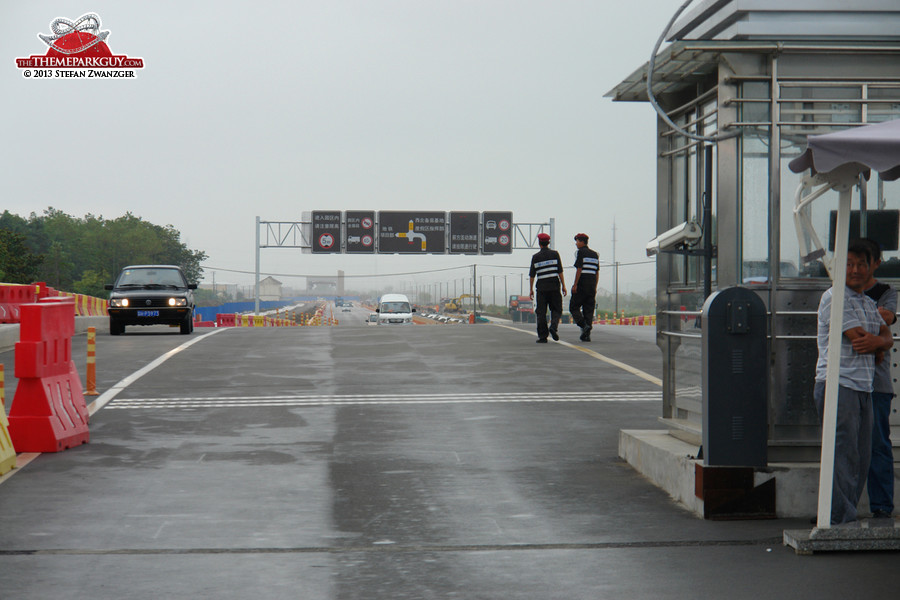 Here is the new Shanghai Disney Resort site main entrance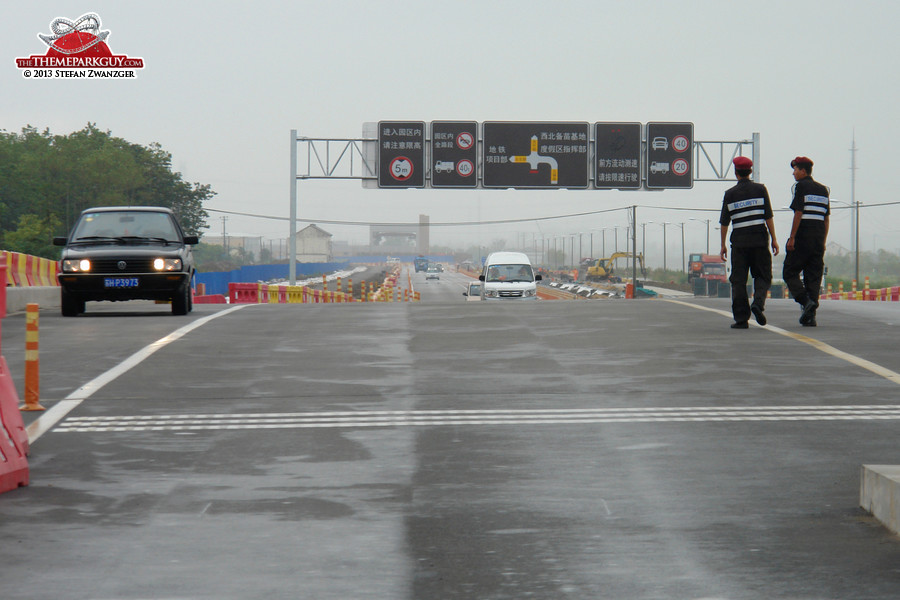 Not much to see here, either!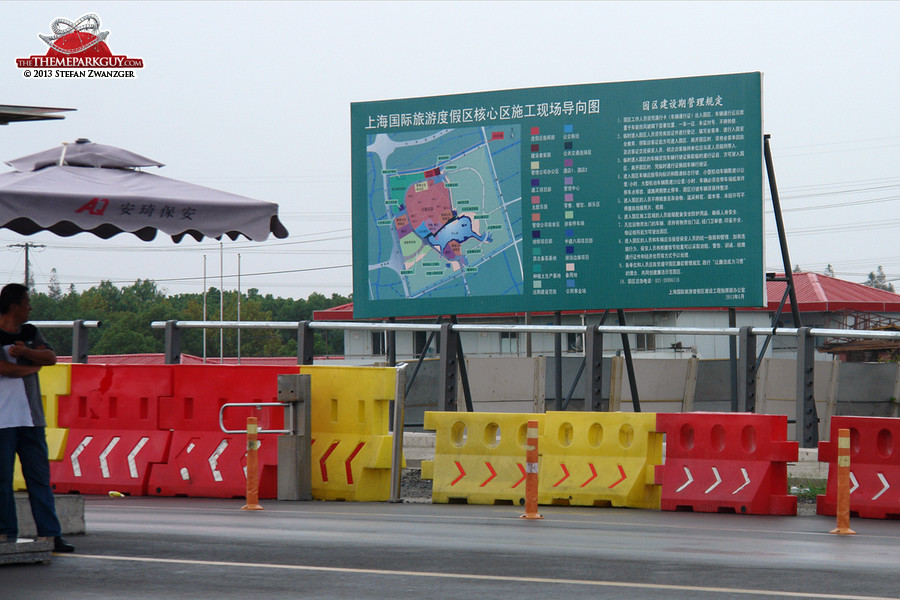 ...apart from a Shanghai Disney Resort project map, all in Chinese!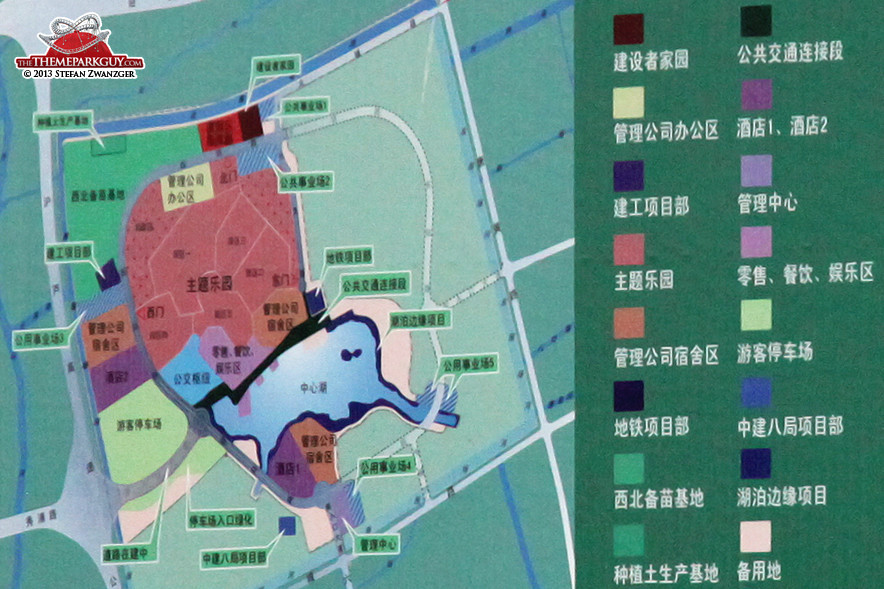 Shanghai Disney Resort layout. Theme park territory is marked red.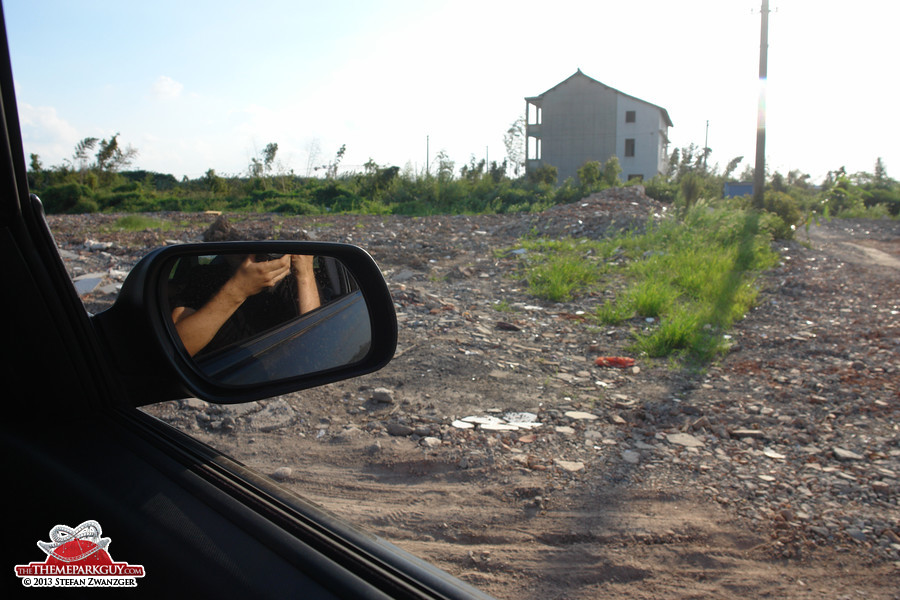 Stand alone, abandoned-looking house. Let's take a closer look!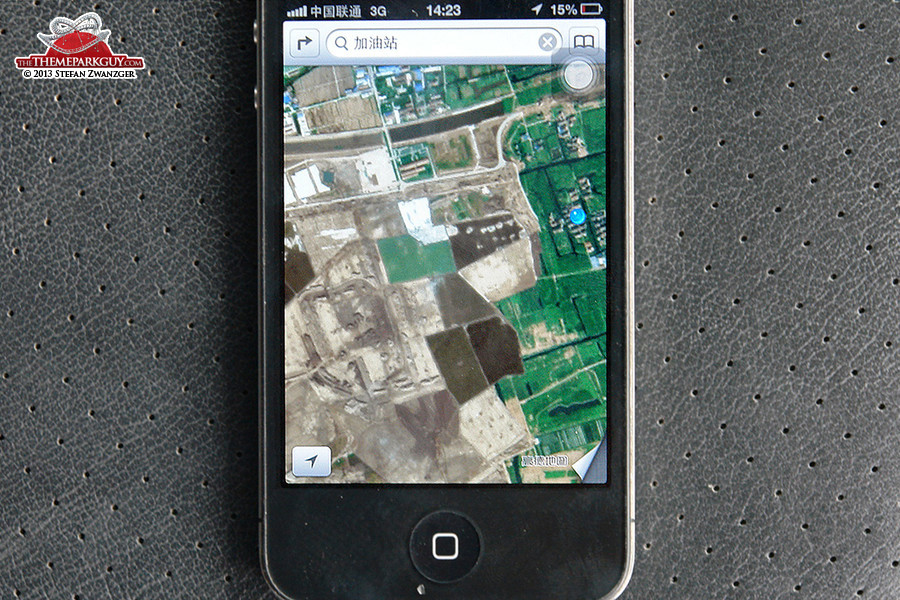 Our location looks good (blue dot). The Magic Kingdom site is right to the left!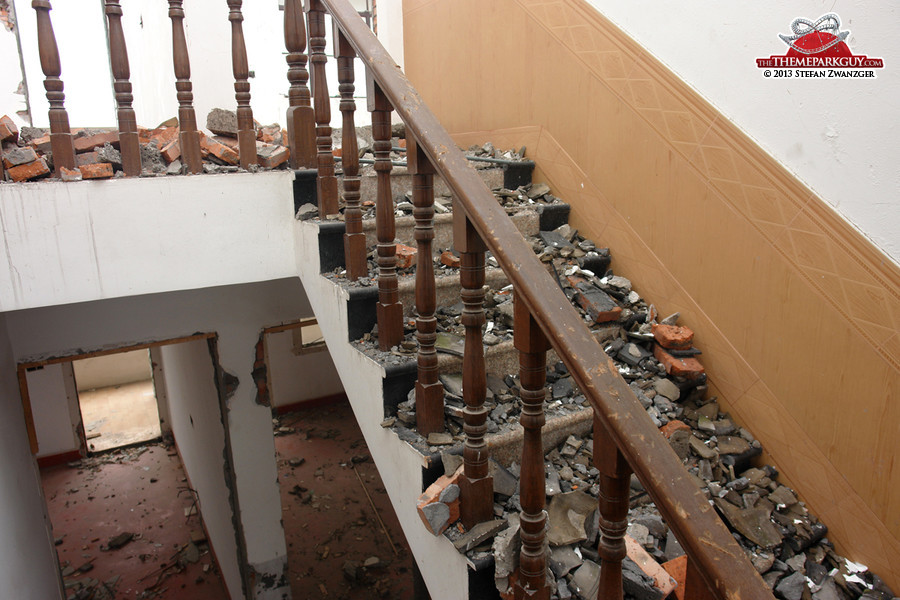 Up the stairs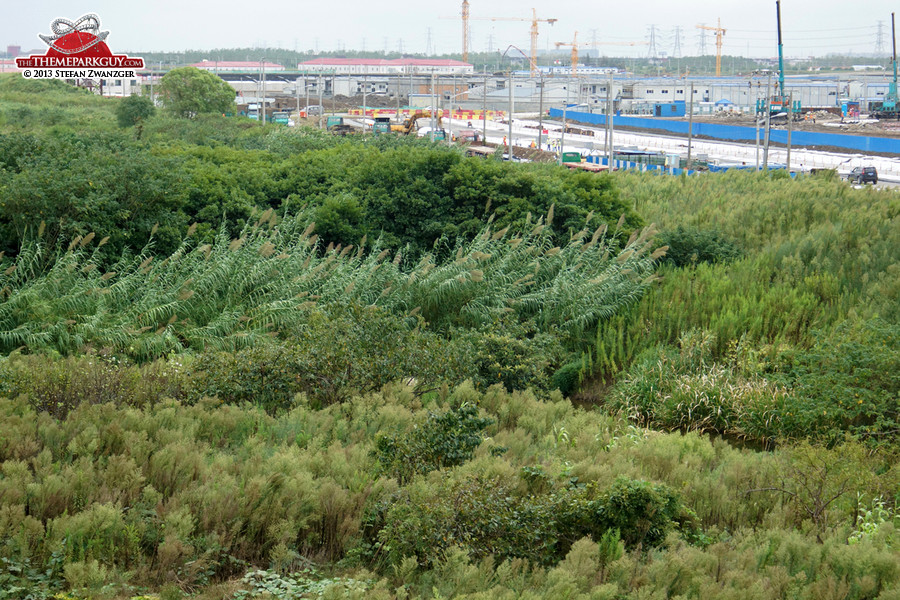 Nature meets Disneyland, here we go!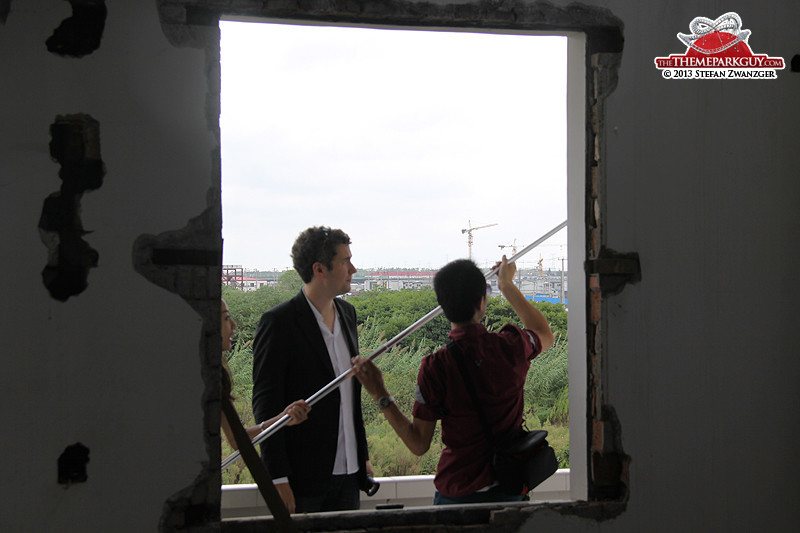 With the help of a pole you can even have a higher view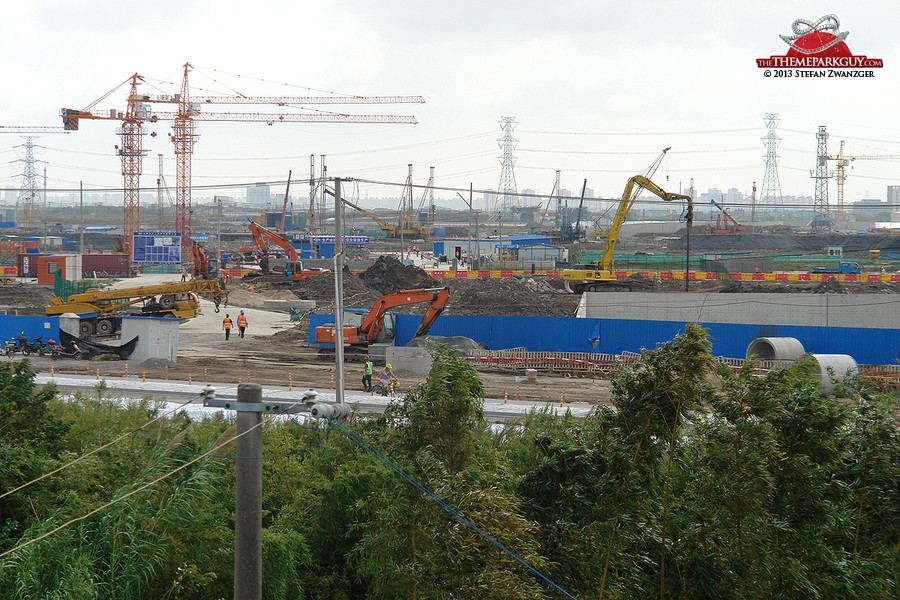 Hello, Shanghai Disney theme park site!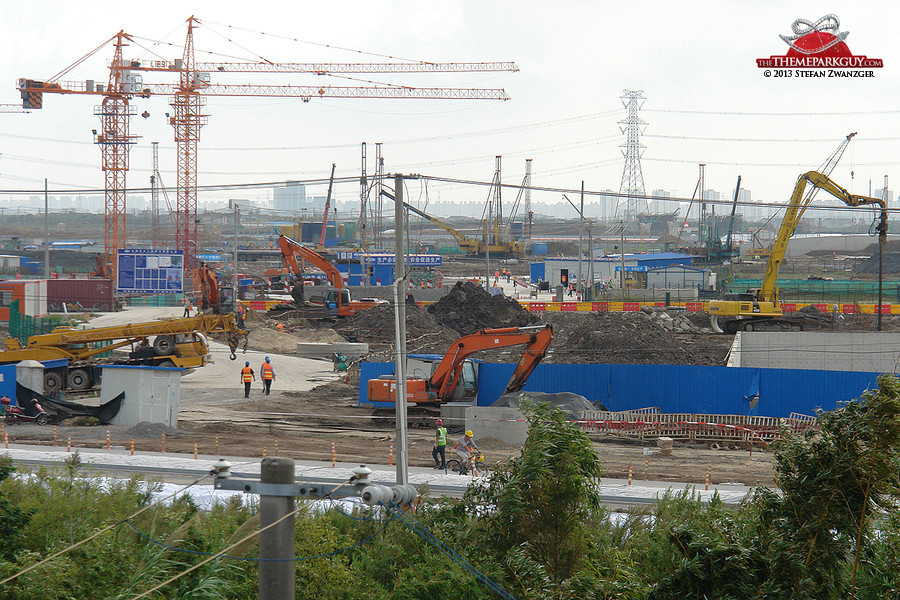 It's not a lake, it's not a parking lot, this is the actual theme park in the making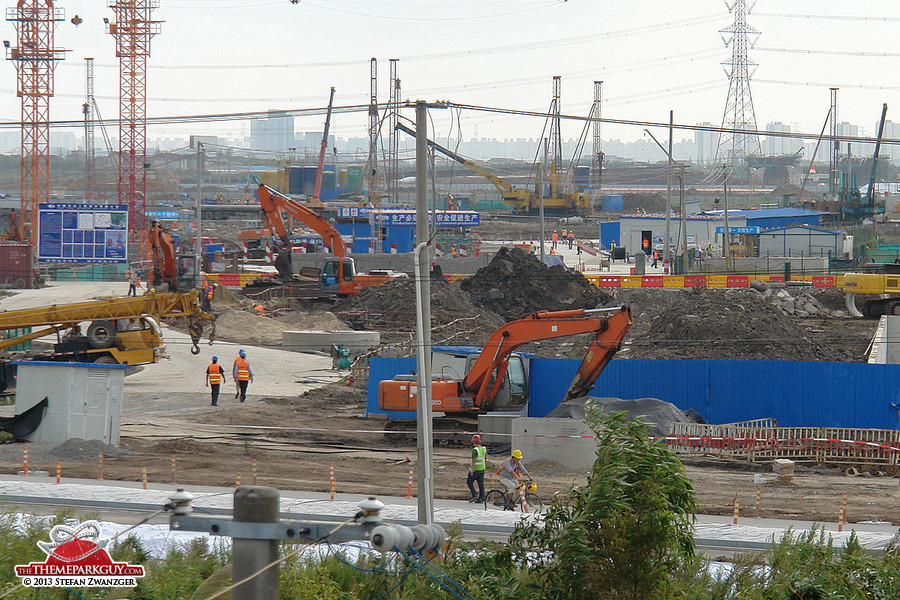 Closer look!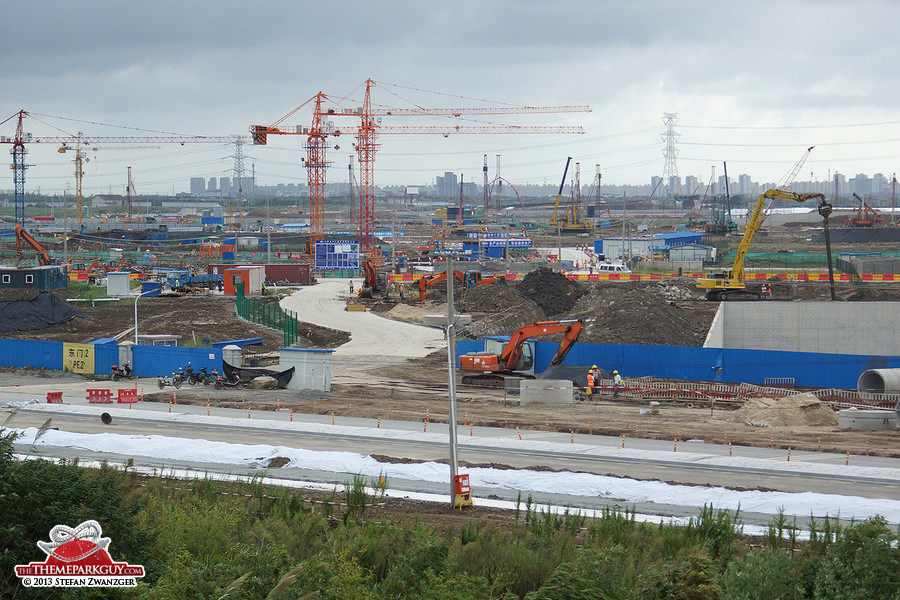 Pole up for an even better view!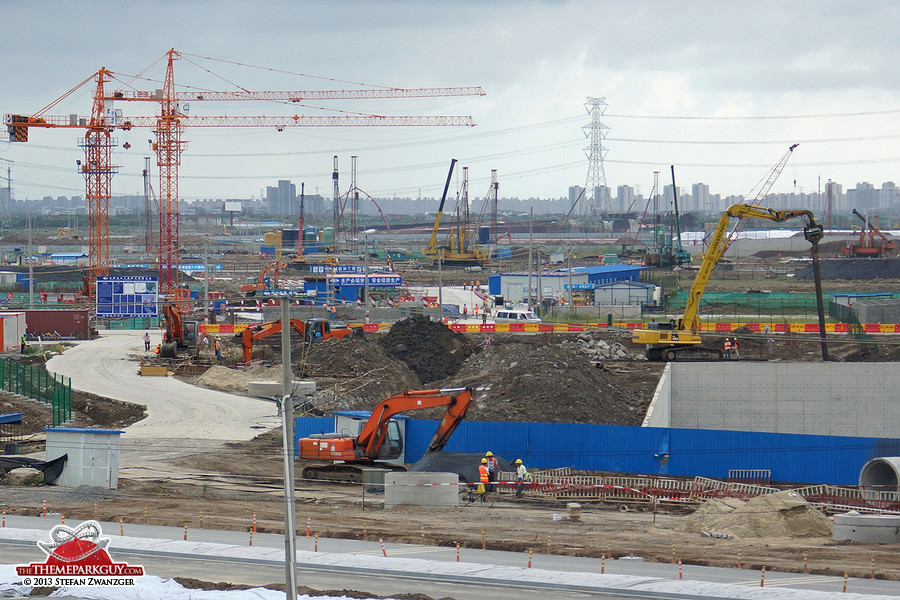 At this point it's hard to tell what is what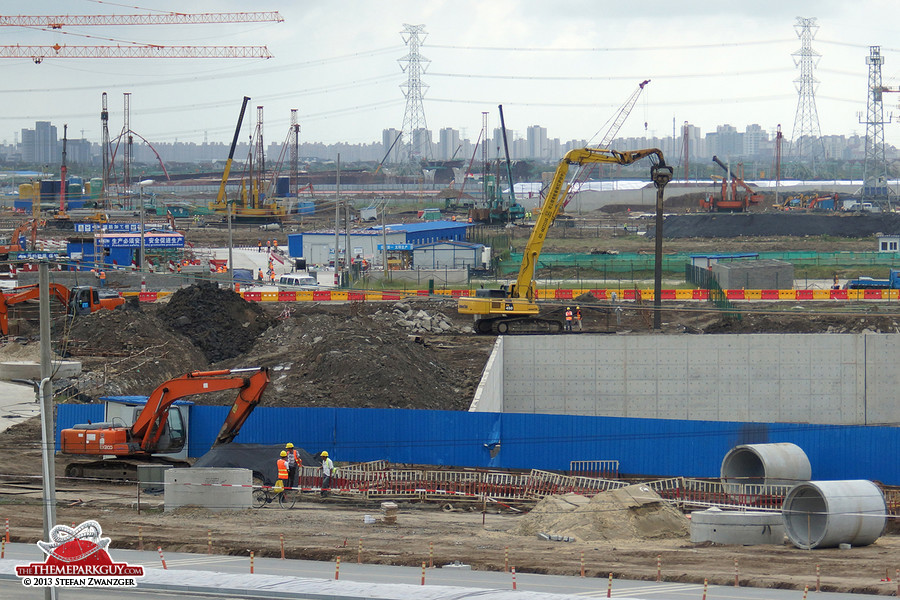 If you know, or can tell, please write to stefan 'AT' thethemeparkguy.com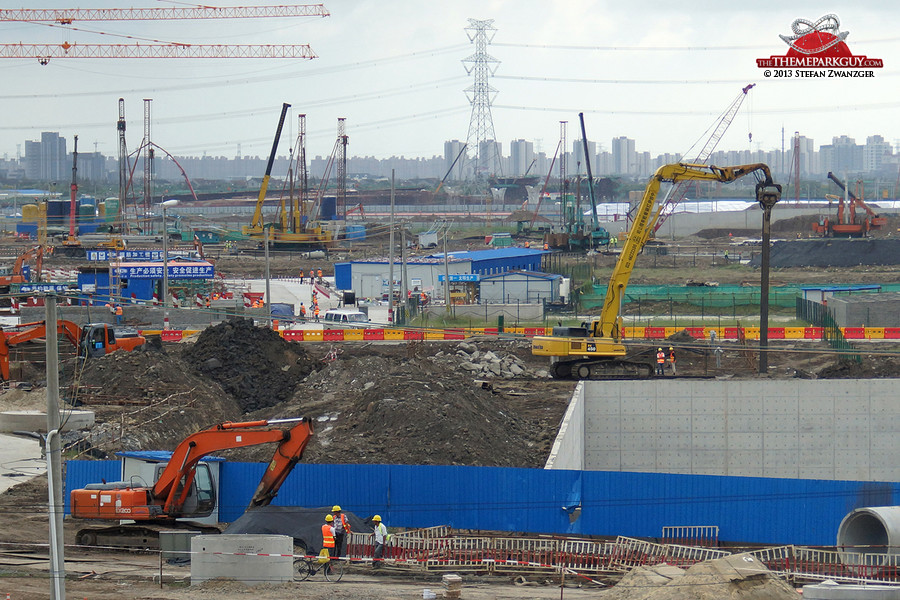 Shanghai Disneyland, September 2013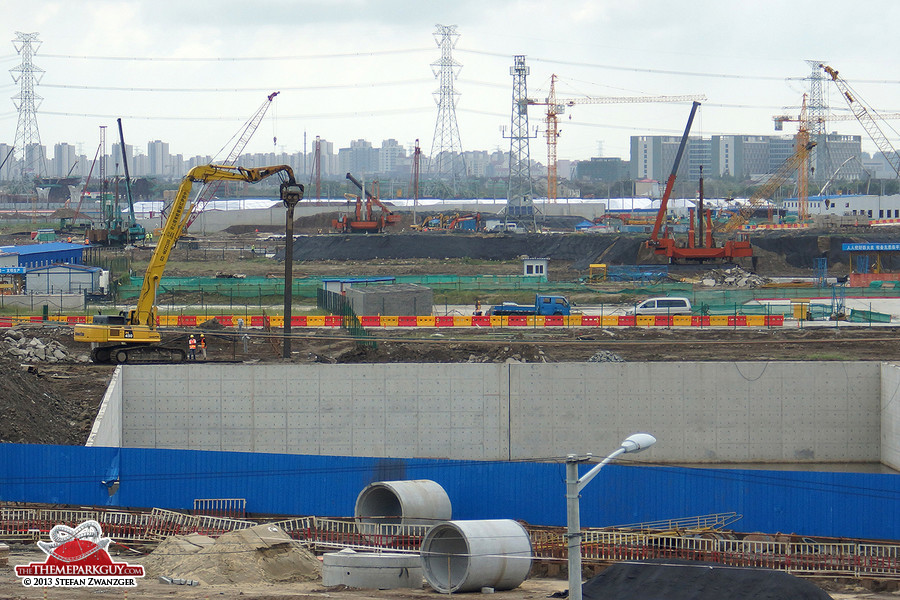 Let's pan a little bit to the right...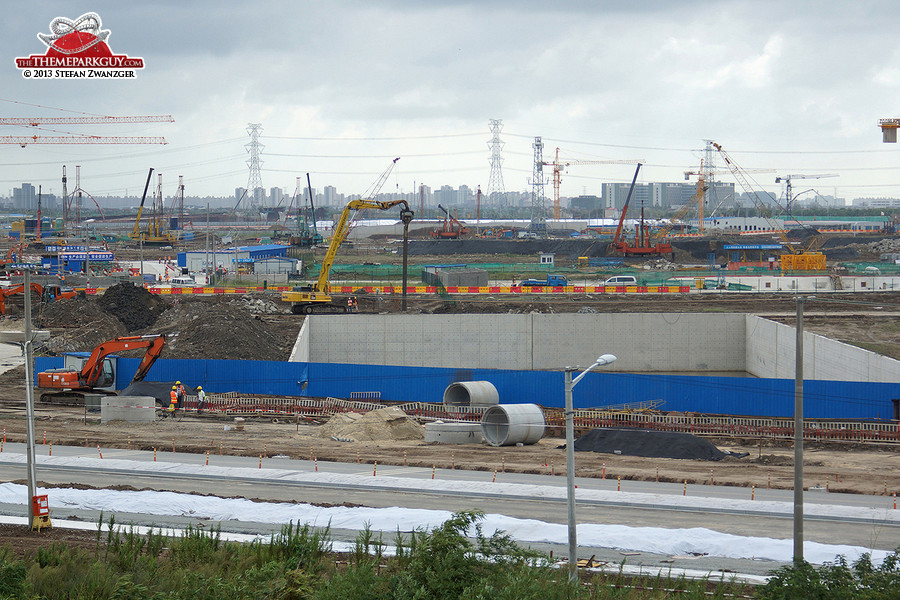 Park entrance will be on the left, Fantasyland on the right, Adventureland in the front...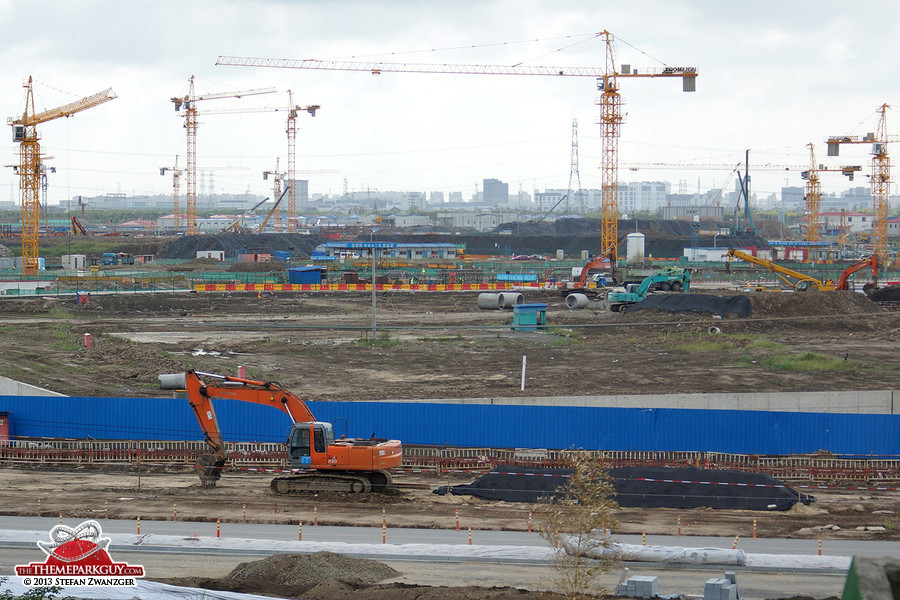 ...and the castle should be going up somewhere around that dirt mound in the center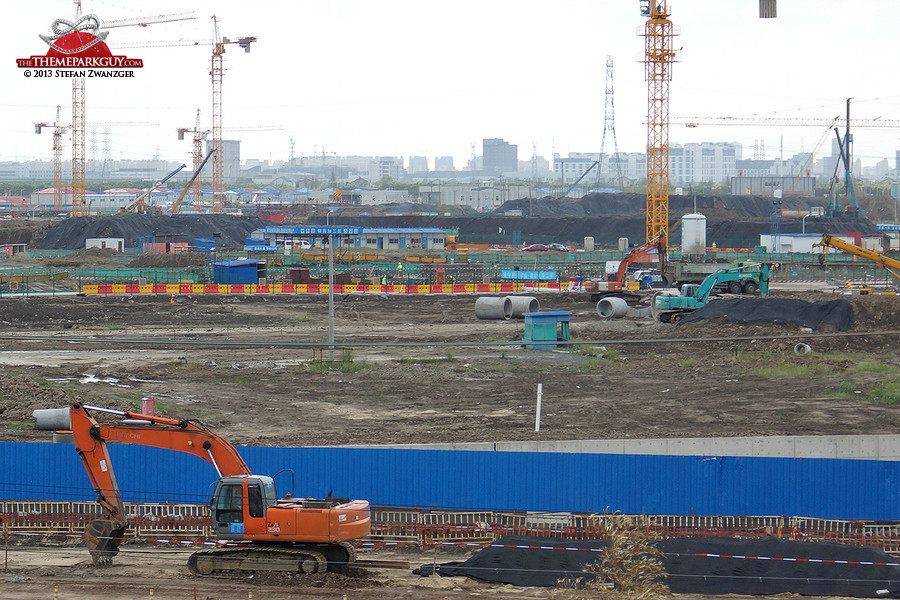 Shanghai Disneyland theme park construction site, September 2013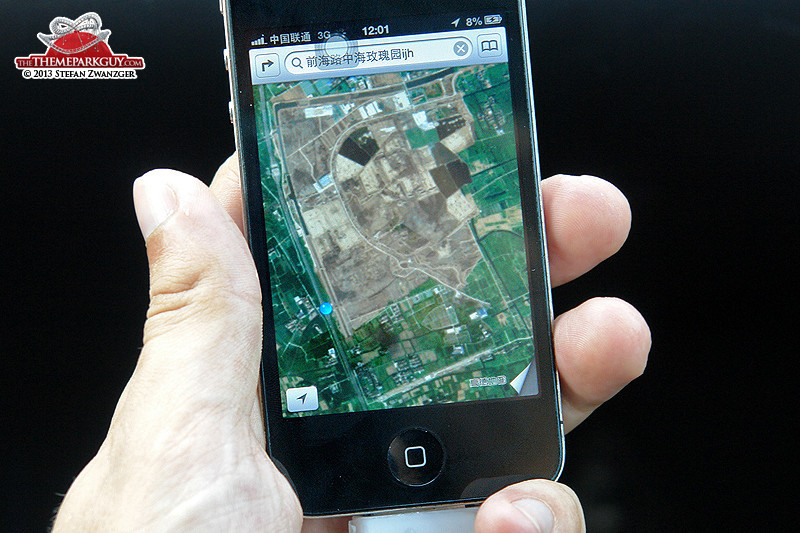 Let's go see the site from a different vantage point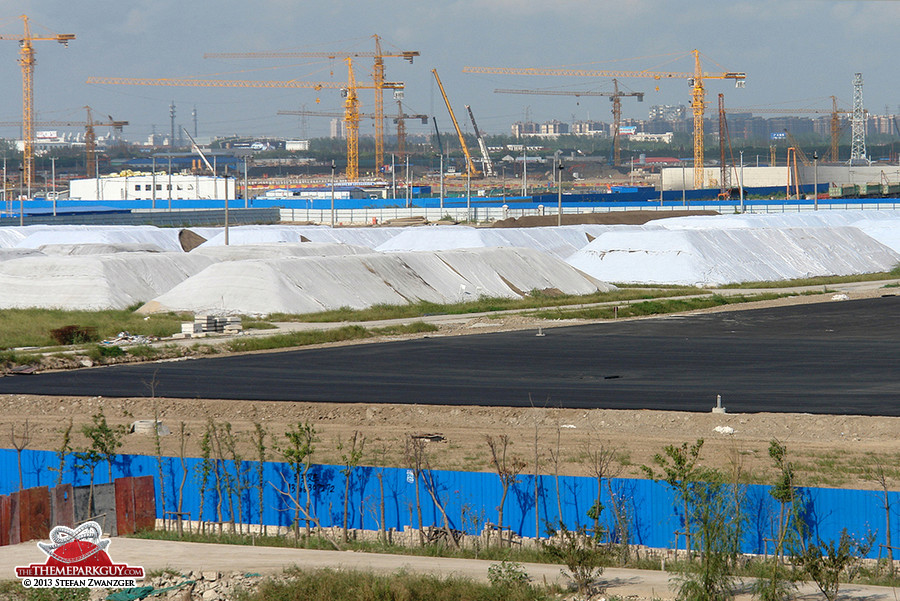 This is further away from the theme park site. Huge parking area under construction here.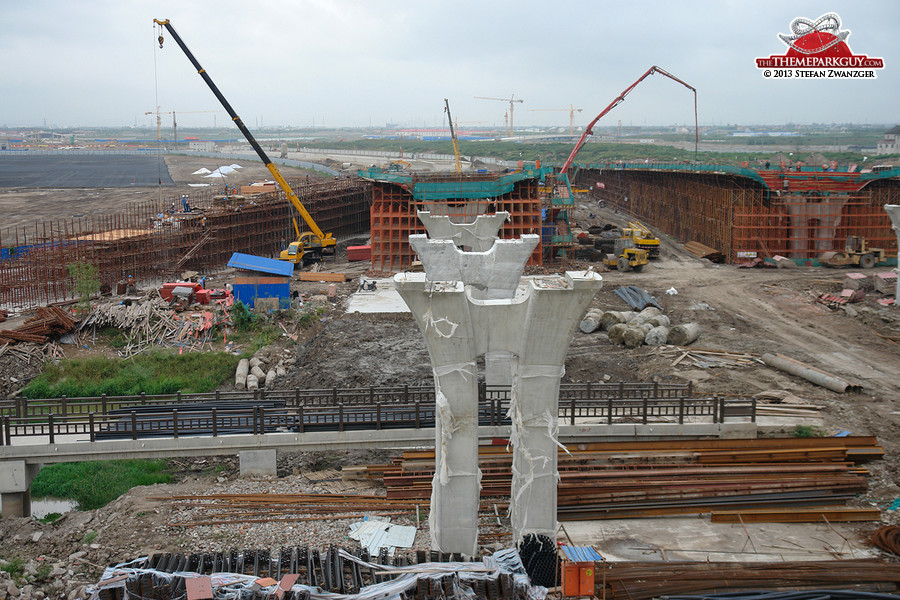 One of the main Shanghai Disney access roads under construction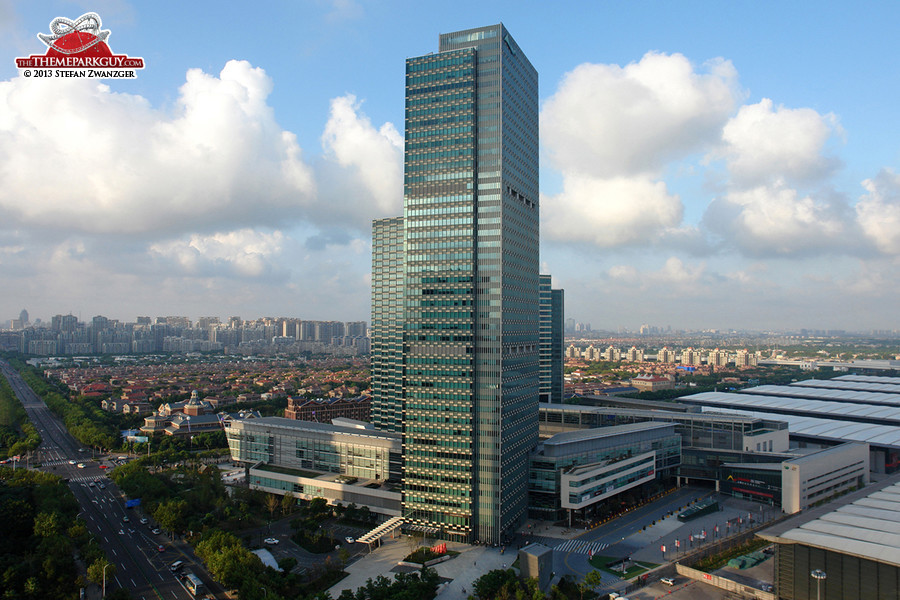 The Shanghai Disney city office resides inside this skyscraper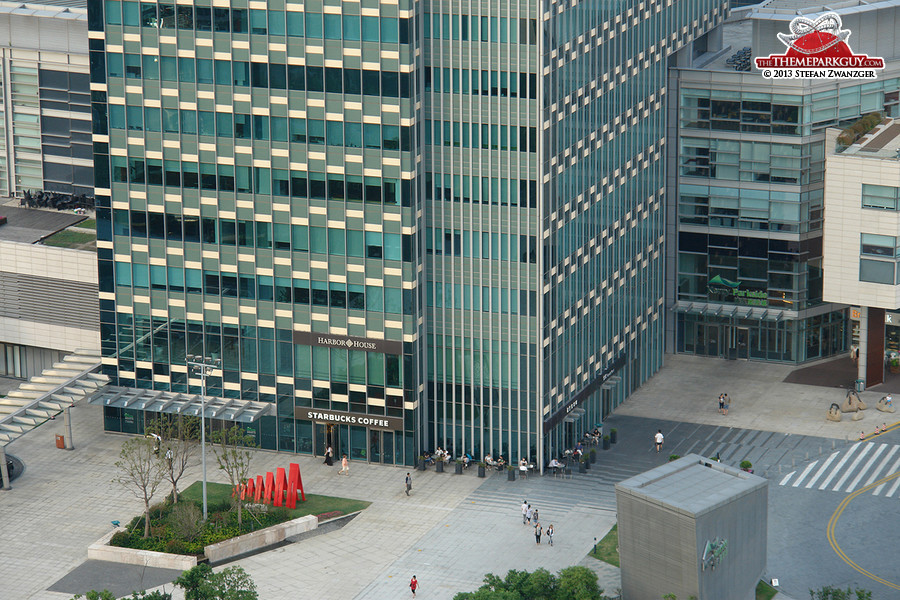 If you take a sip at this Starbucks, chances are high you'll meet an Imagineer!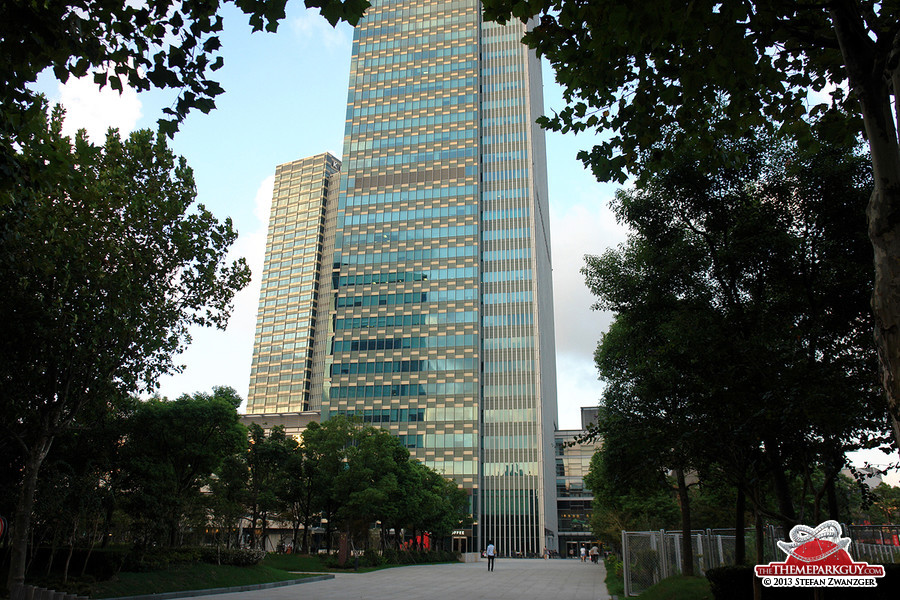 Floor 6 and 7 play host to Americans and Chinese working for a mouse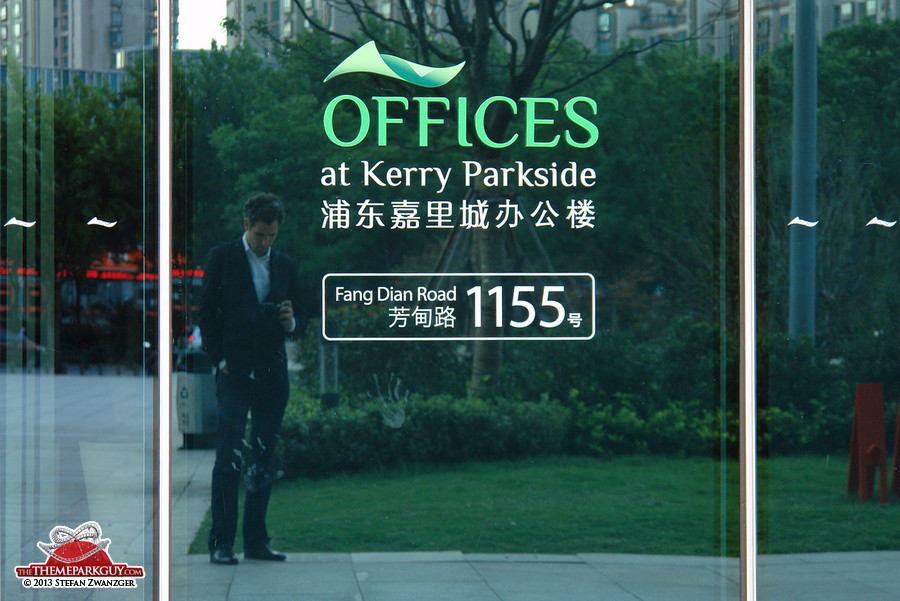 Shanghai Disney Pudong city office entrance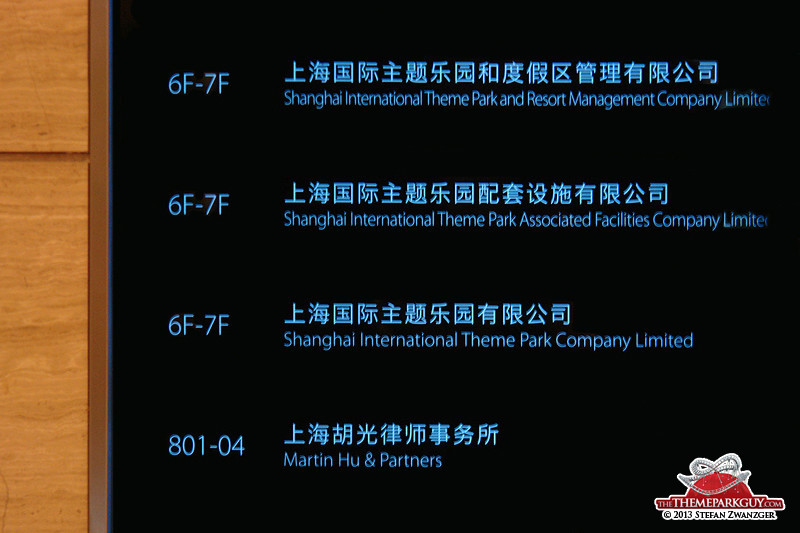 These company names are codewords for Disneyland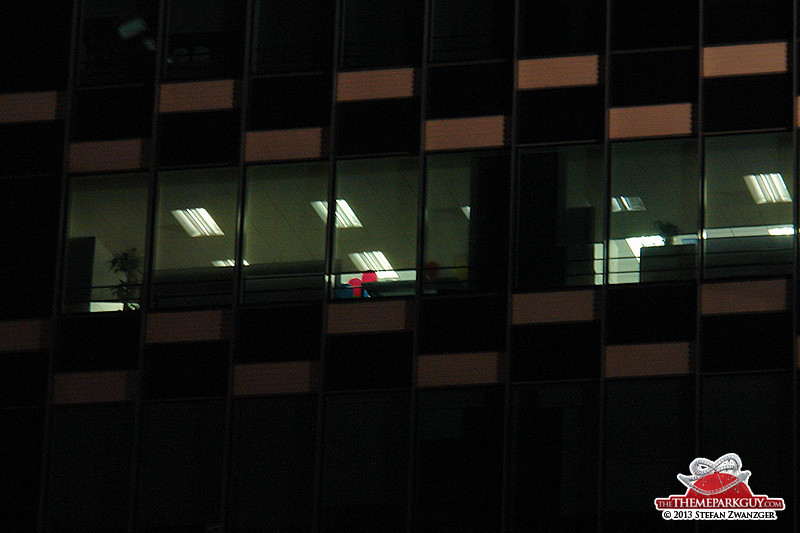 Balloons in the office and light at night, that's a good sign!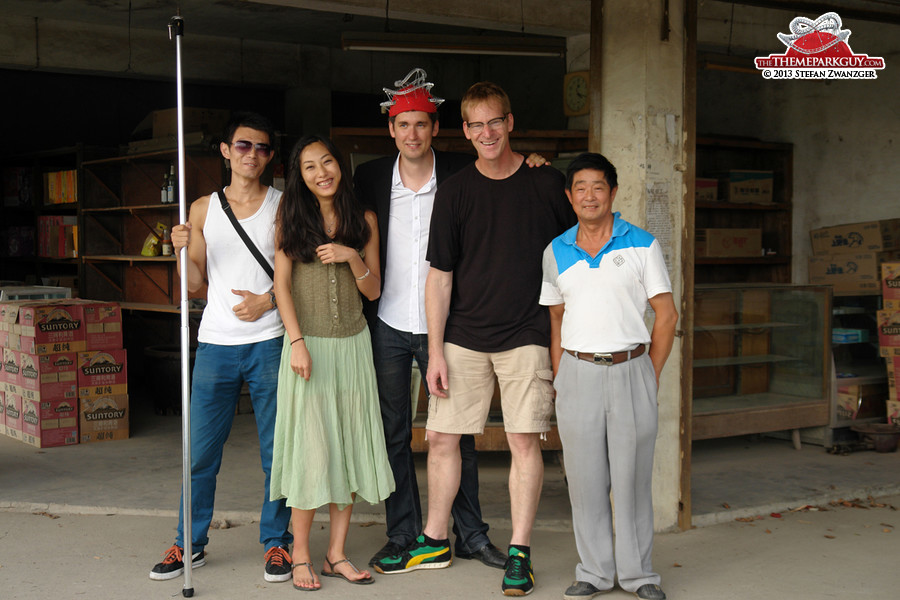 A big thank you to Margot, Drew and my Chinese friends!
Construction Update
June 14, 2012
Here's an update from the Shanghai Disneyland site, one year after my last visit.
Not much to see yet apart from leveled land, with the area's characteristic water channels filled/removed. Multi-lane tarmac roads forcing their way through powerless countryside villages have appeared, and being primarily used by two- and three-wheelers are a sight to behold on their own.
Disney Imagineers take up residence in Shanghai these days, bringing much-needed creativity to China's uninventive theme park portfolio. Something tells me that the projected December 2015 opening date is set rather pessimistically - given that the land is ready now to have attractions built on it, it may open way earlier!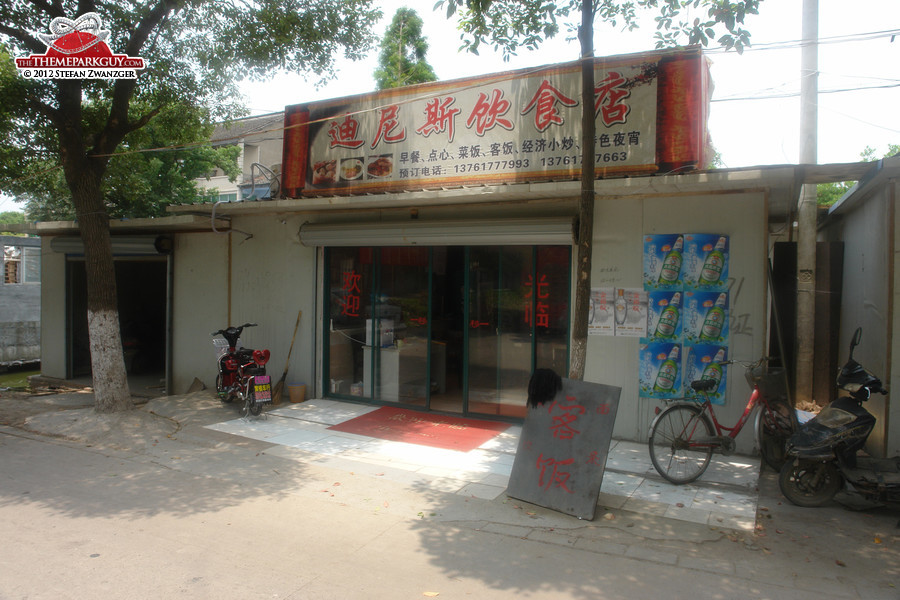 This sign reads 'Disney restaurant'. Entrepreneurship ahoy!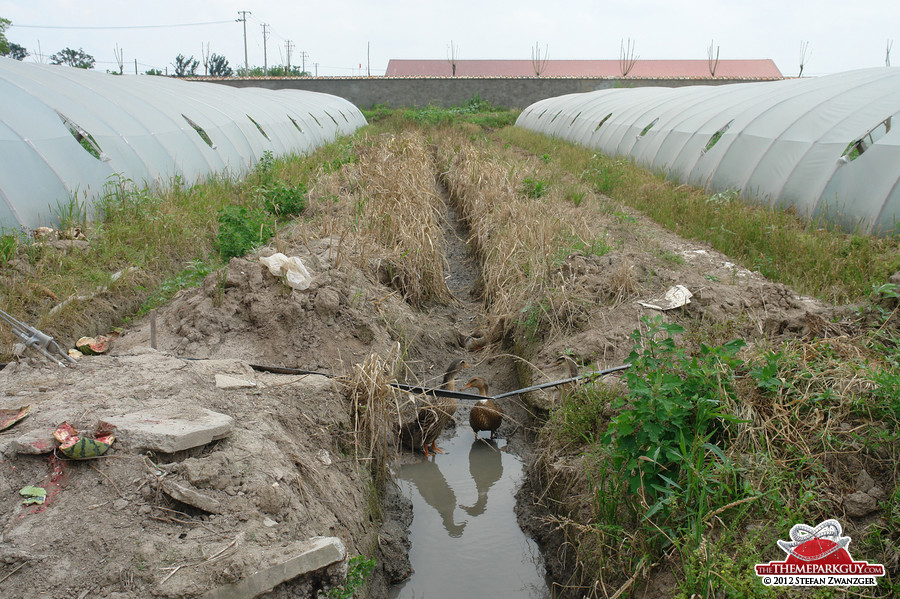 Chinese ducks cast a shadow, Donald Duck grows behind the wall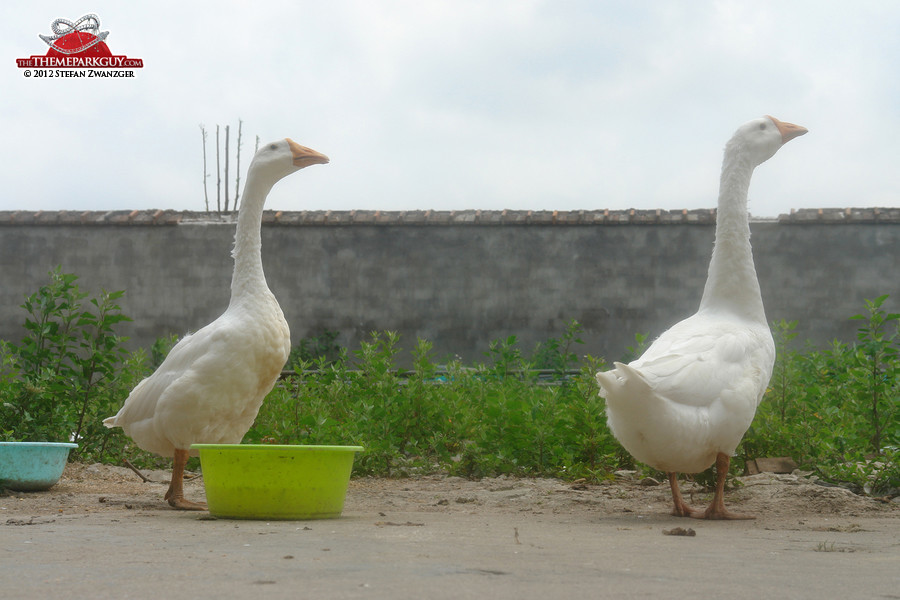 What's behind this wall, hubby?
The completed moat surrounding the Shanghai Disney site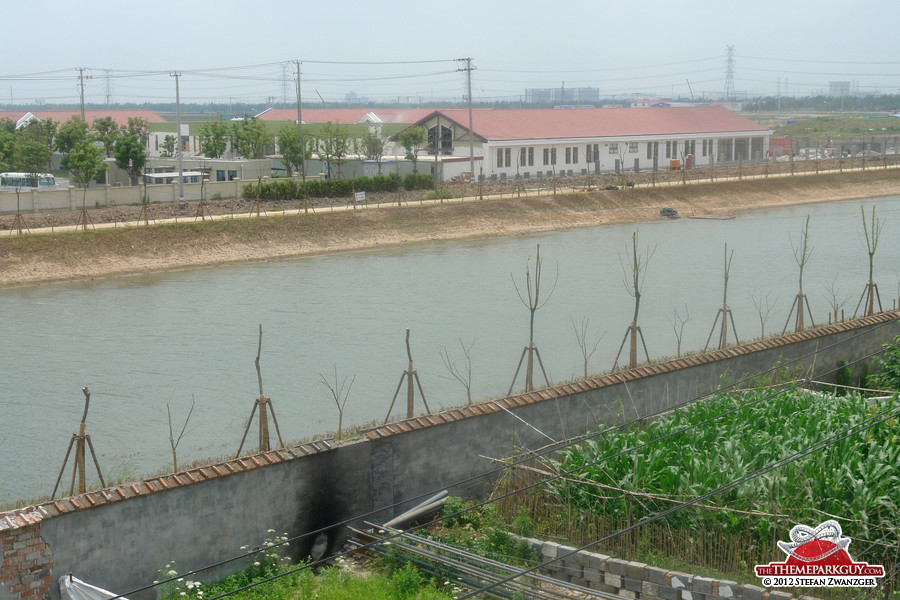 Shanghai Shendi Group / Disney site office behind the moat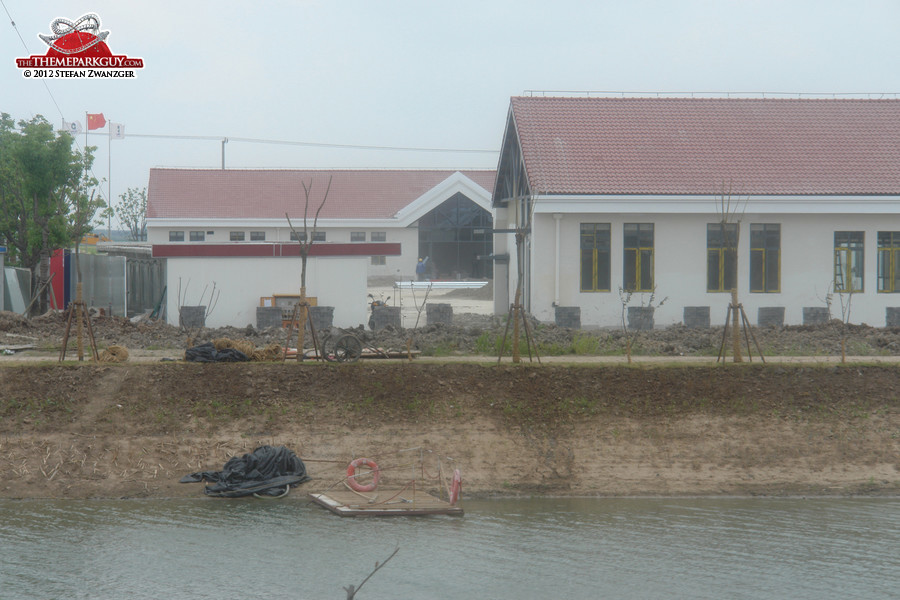 There is probably some great, secret artwork behind these well-protected walls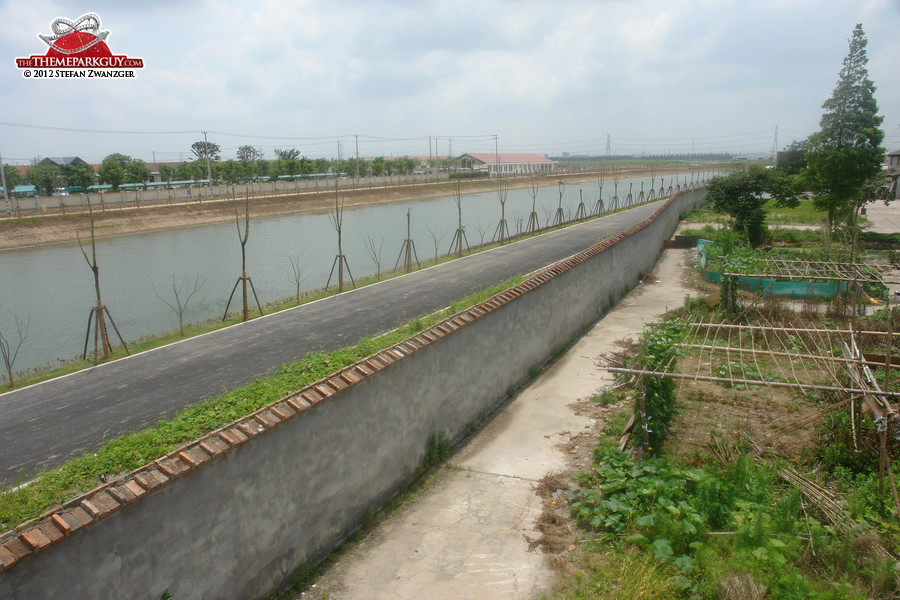 Disney site (left), separation wall (middle), Shanghai suburbia (right)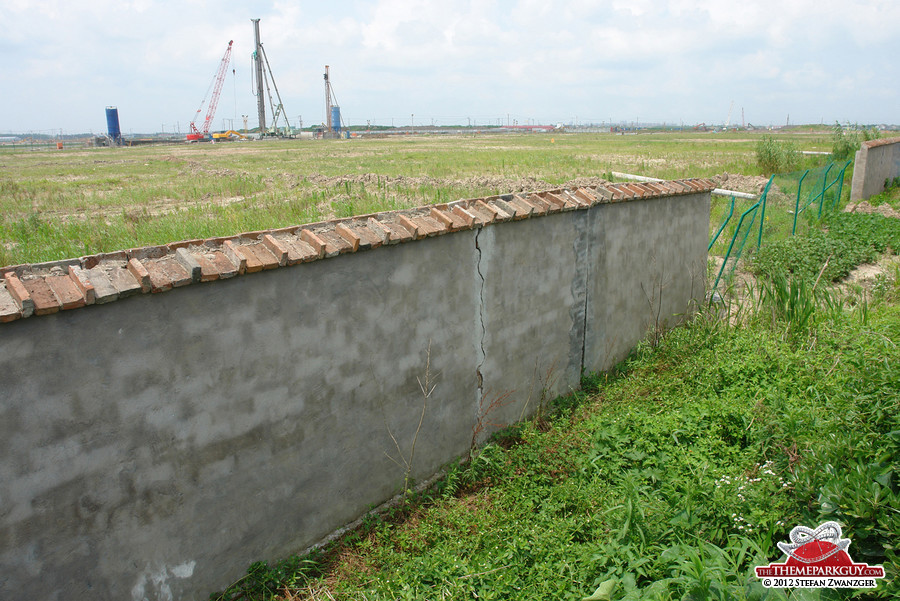 Shanghai Disneyland site, June 2012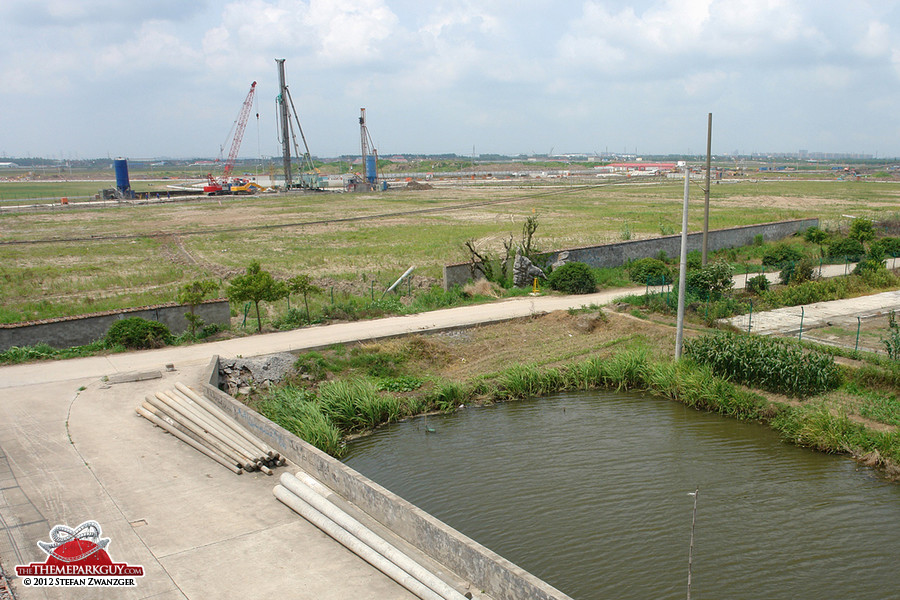 Elevated view on the Shanghai Disney site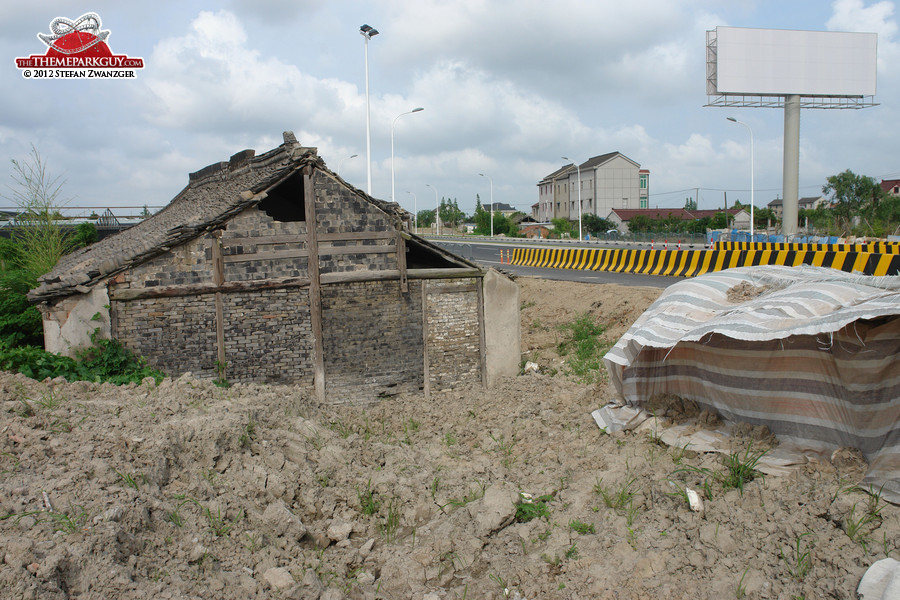 Brand-new tarmac roads have appeared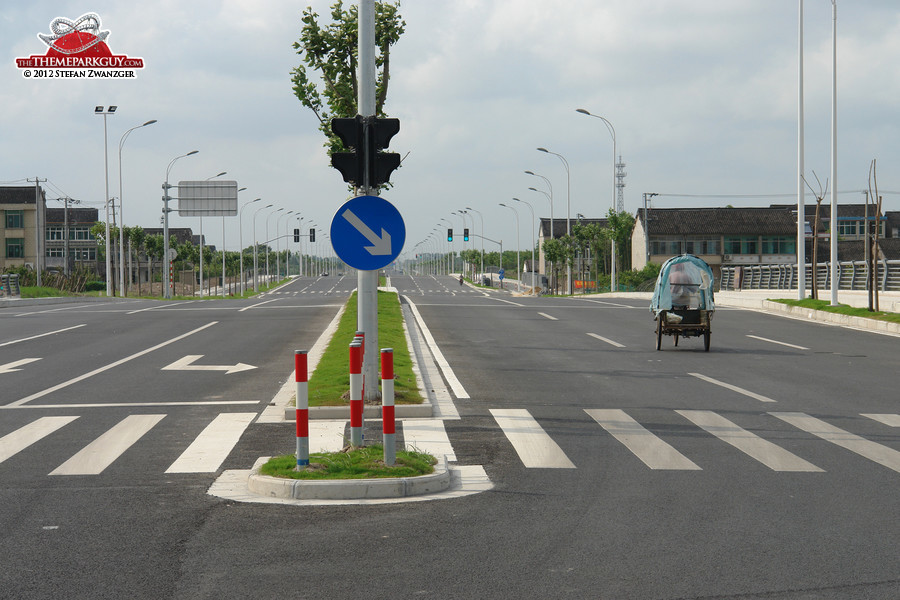 Shanghai Disneyland access roads, June 2012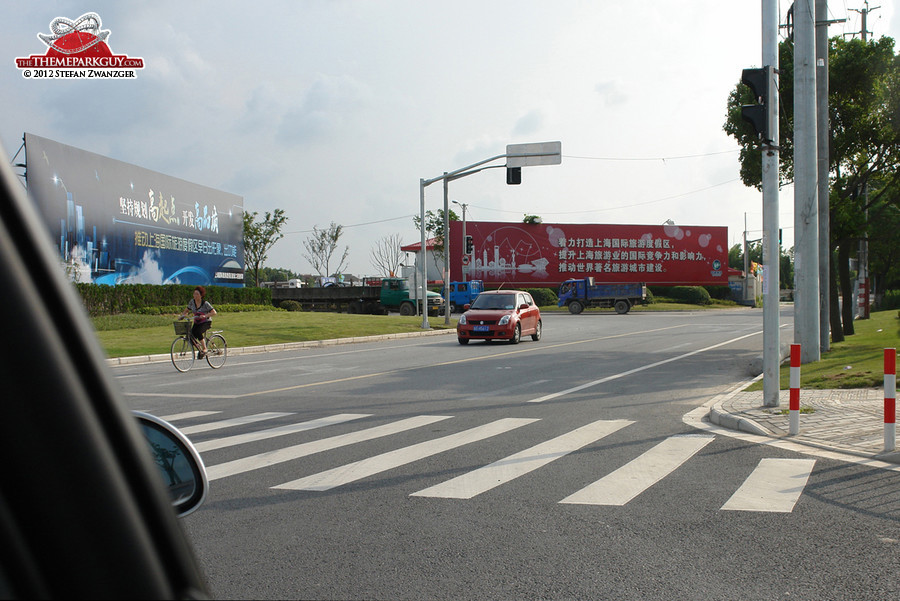 Site entrance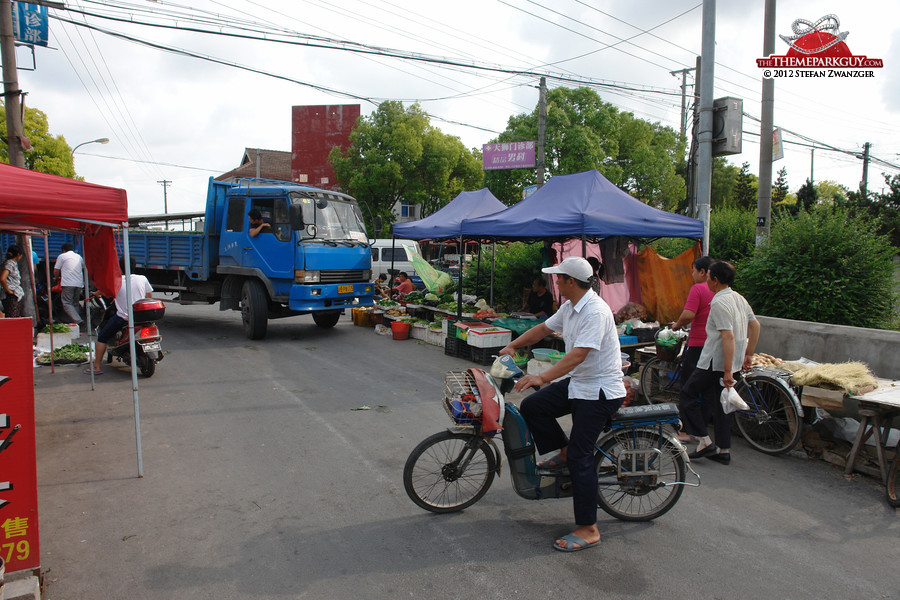 Truck stuck in the olden days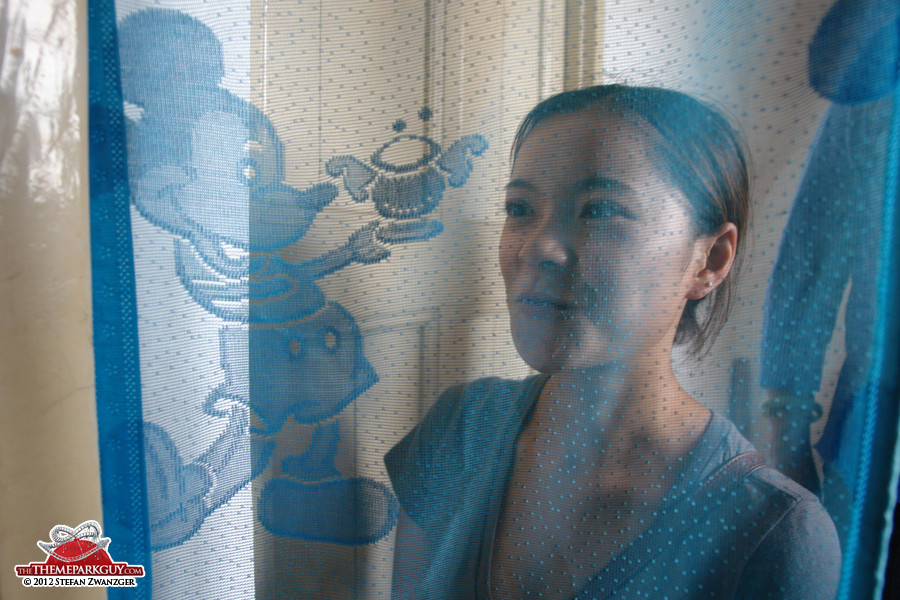 Self-made Mickey drapes in a house close-by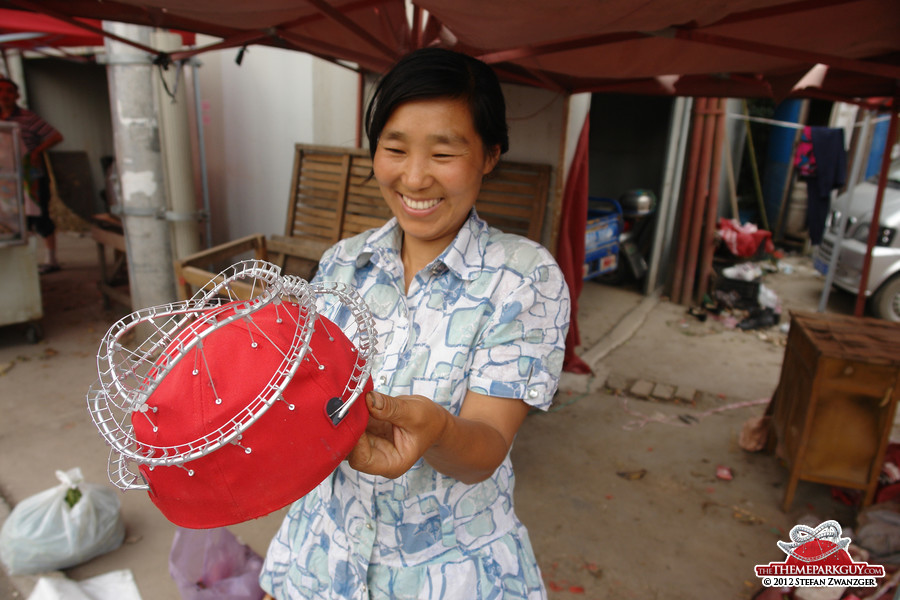 Roller Coaster Hat, still exotic!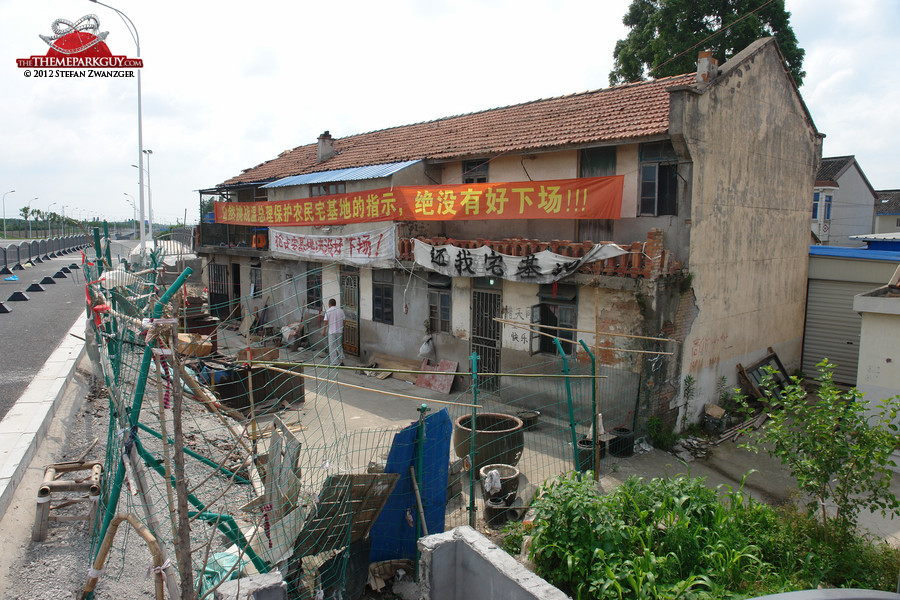 This house owner wasn't happy with the relocation package offered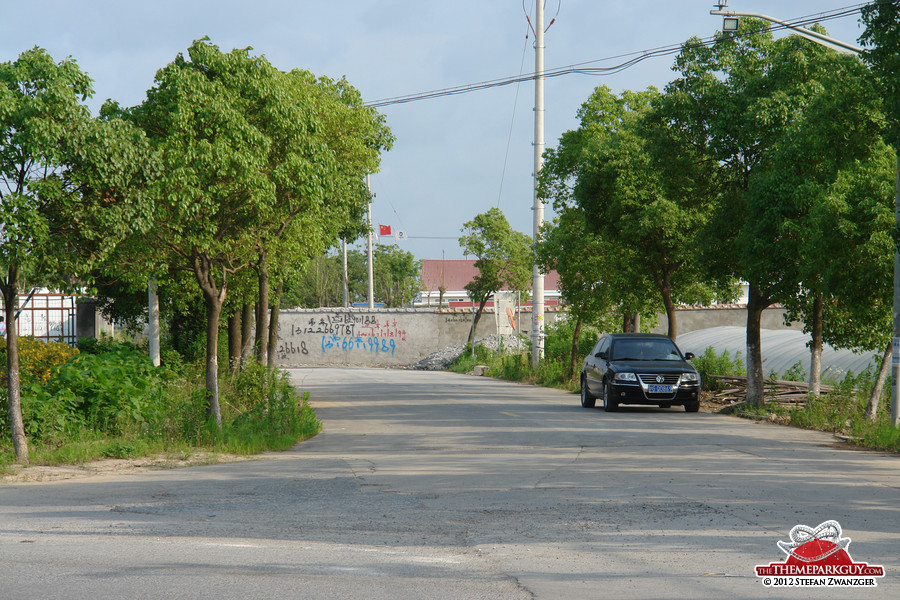 The Huangzhao Road gate is now closed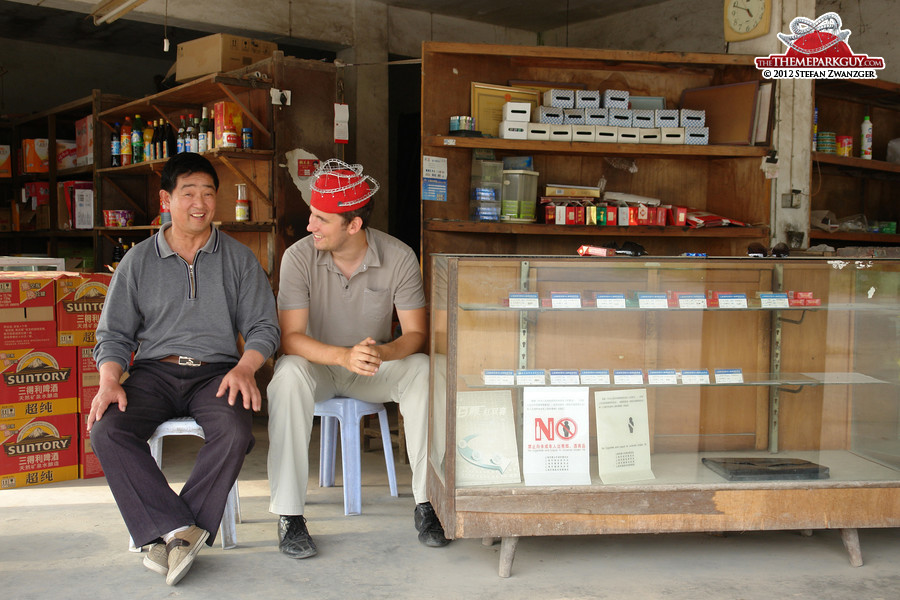 But hey, the street corner shop is still alive!
Construction Update
June 16, 2011
There is visible progress on the Shanghai Disneyland site: the huge moat that will encircle the Disney resort is being excavated, the three or four entry gates to the construction site are now equipped with barriers and security, and the site office has employees coming and going. And in the background, it's all digging and digging.
It's the third time I've been on site, and I must say it still feels out of place that a brand-new Magic Kingdom park will see the light of day here. Here, where life appears as if from different times, and from a different world. It's not the orange farms of Anaheim close to L.A.'s film studios. Nor is it the swamplands of the Disney-embracing Florida of the 70s, the harbor of high-tech and wealthy Tokyo, the middle-class suburbs of Paris, or the landfill on Hong Kong's airport island. It's the flat, remote, poor villages of Chuansha, Qigan, and Zhaohang, with all their dirty channels, crooked houses, toothless dogs, and smiling cyclists that made way for the invasion of the mouse; a mouse that became so huge and powerful that it can swallow men.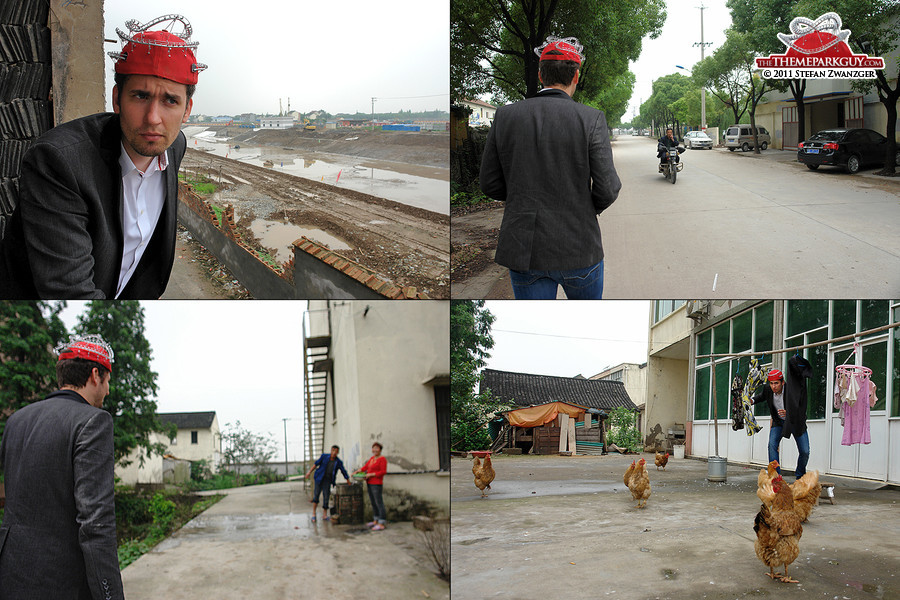 The coaster hat clown is back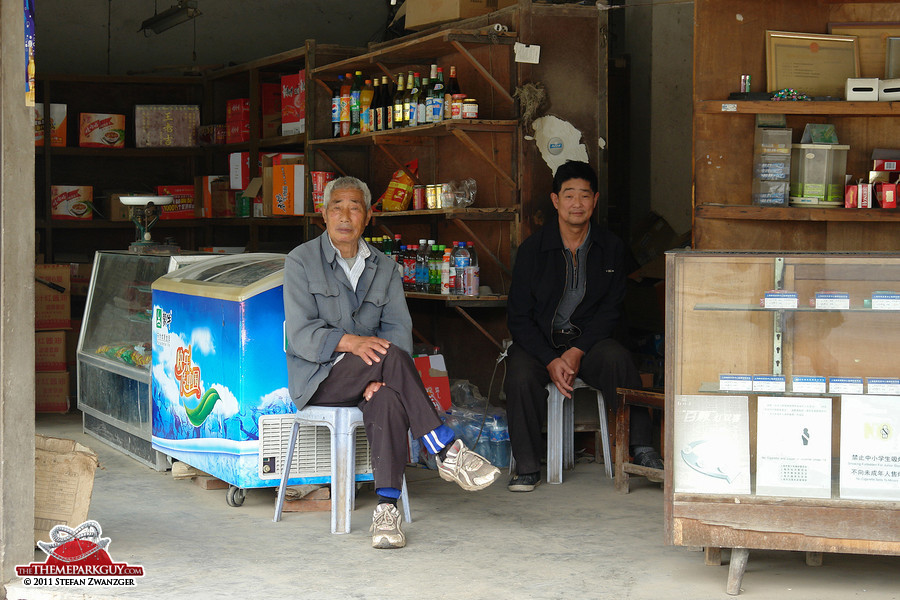 'Please, no!'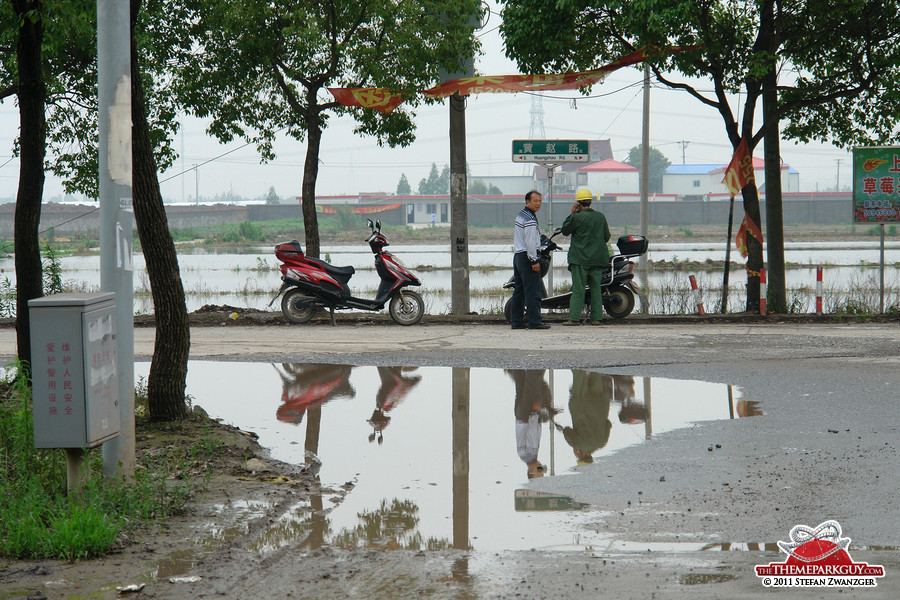 Approaching my favorite corner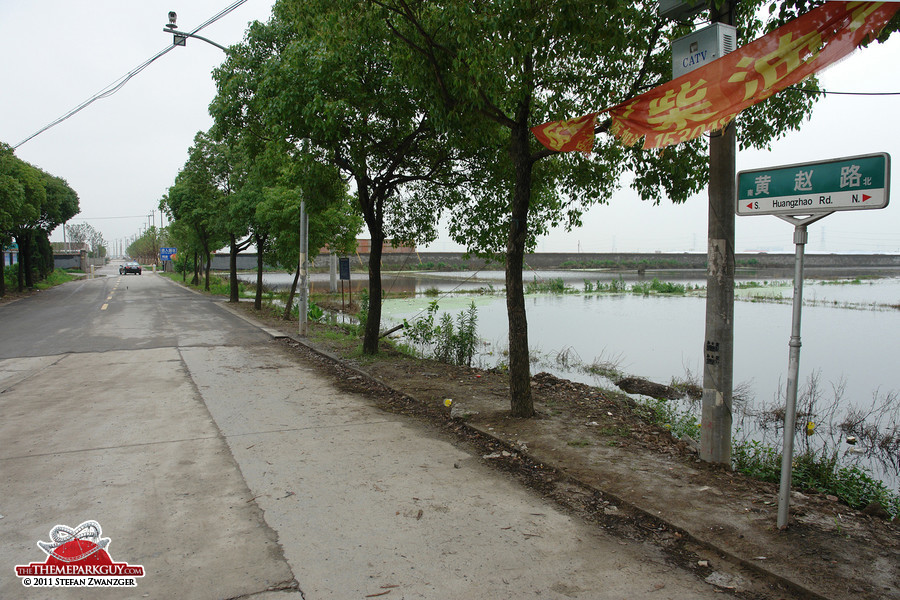 Huangzhao Road (see previous updates below)
Disneyland site gate (one of them)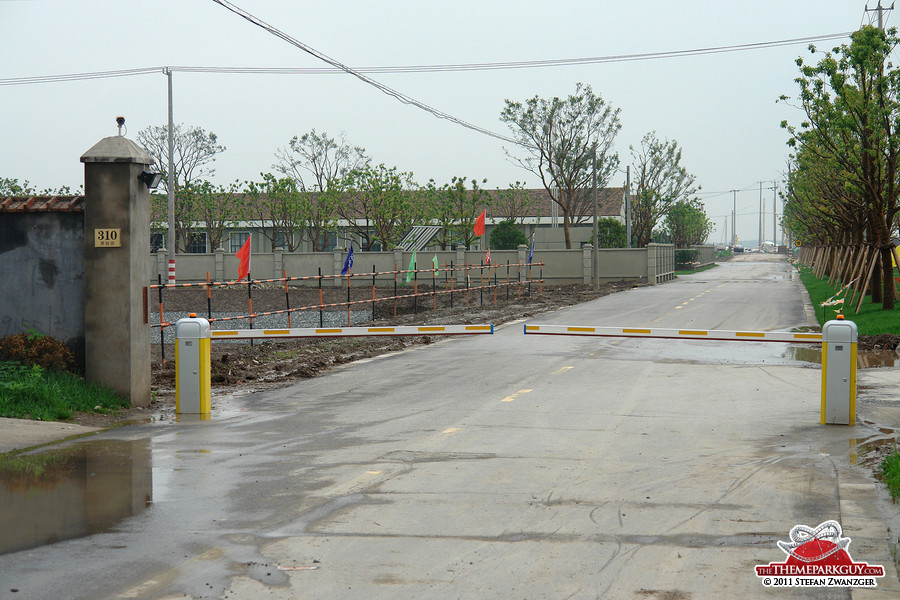 Now equipped with barriers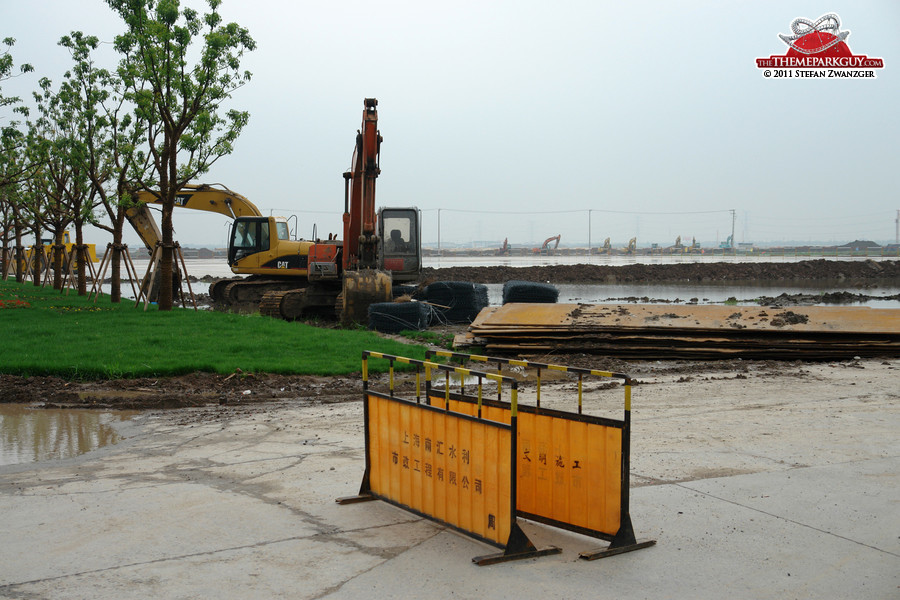 That's all you can see behind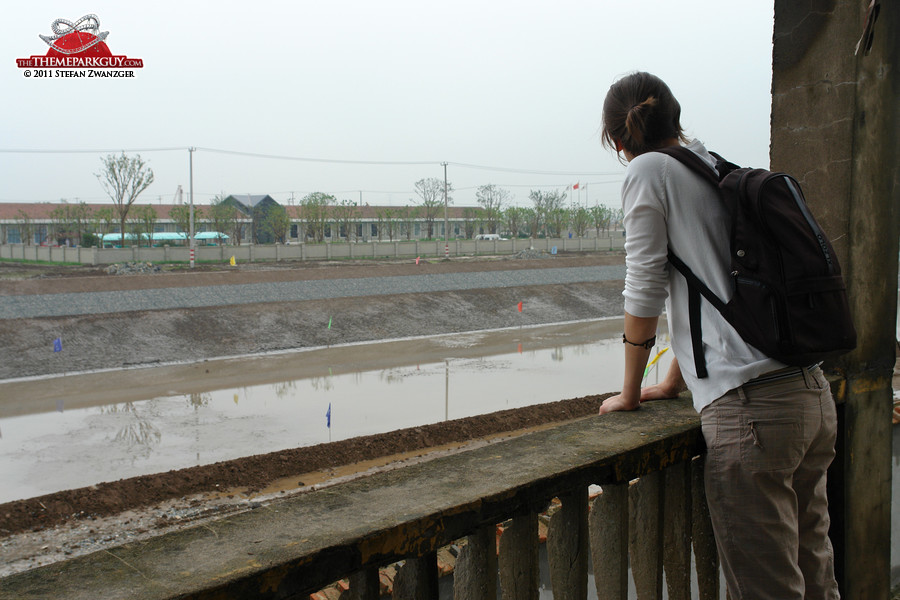 Let's get an elevated view!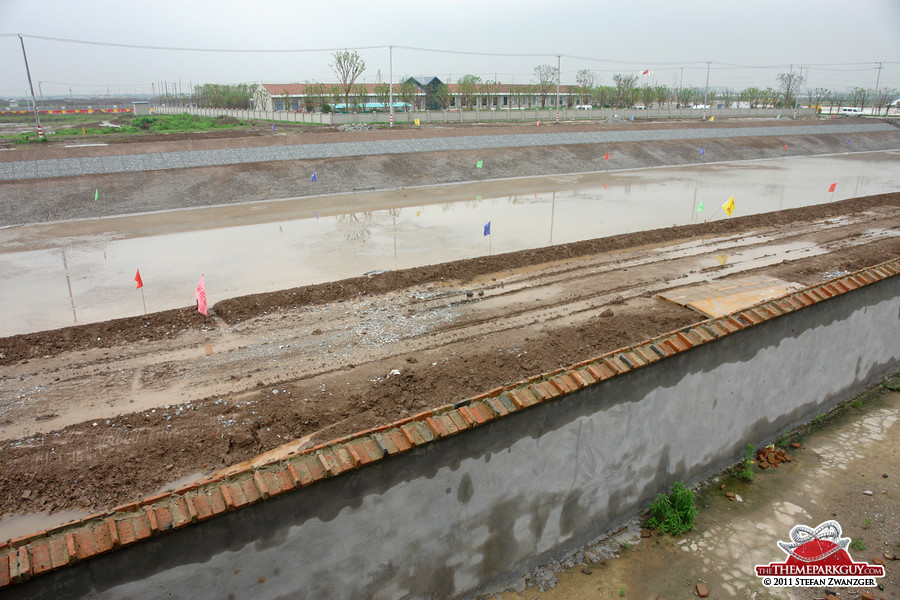 Wall at the front, moat in the middle, office at the back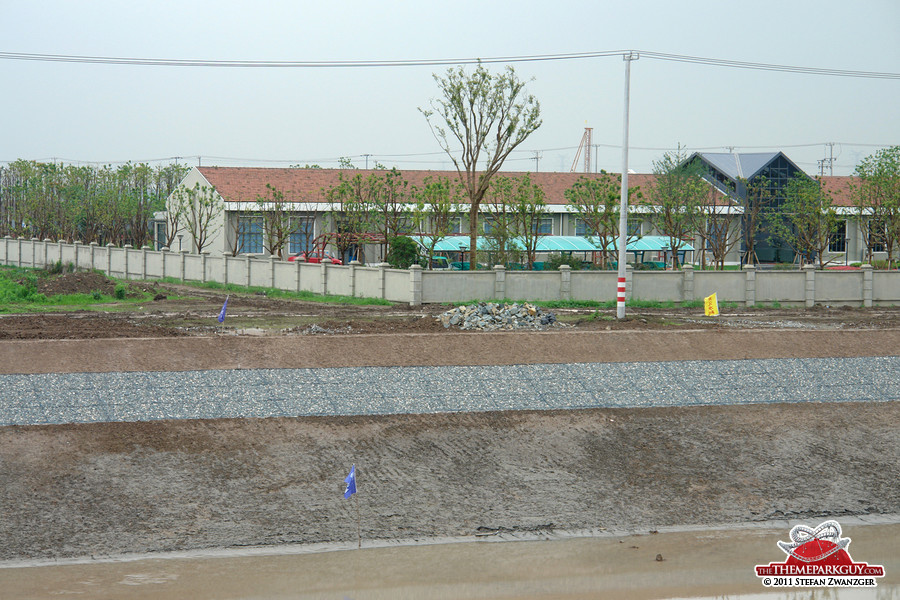 Disney and/or Shendi site office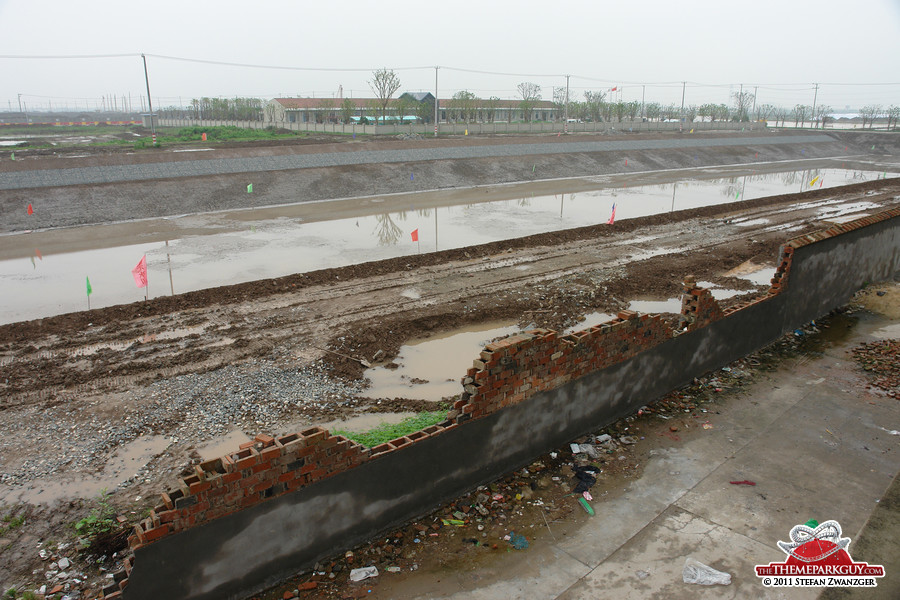 This wall lacks authority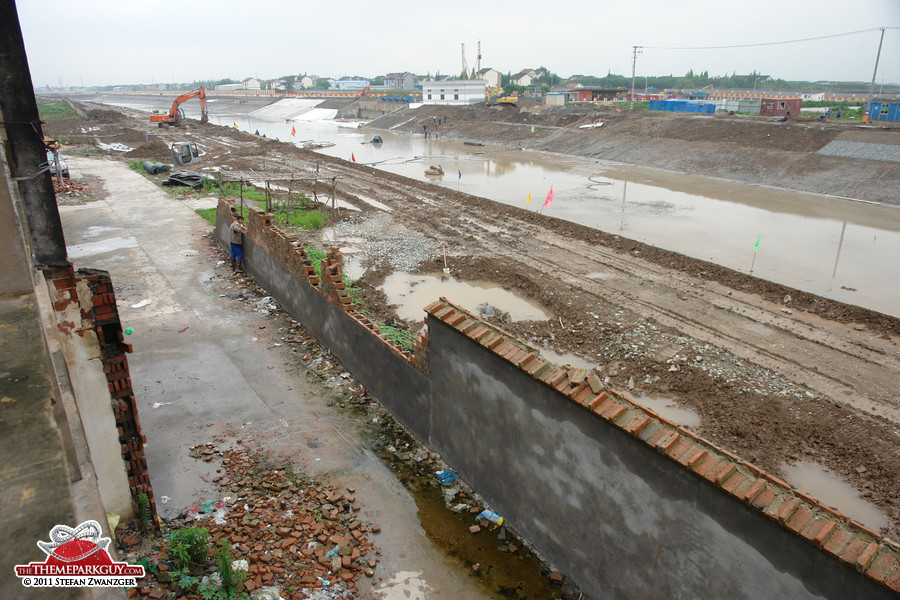 Massive excavations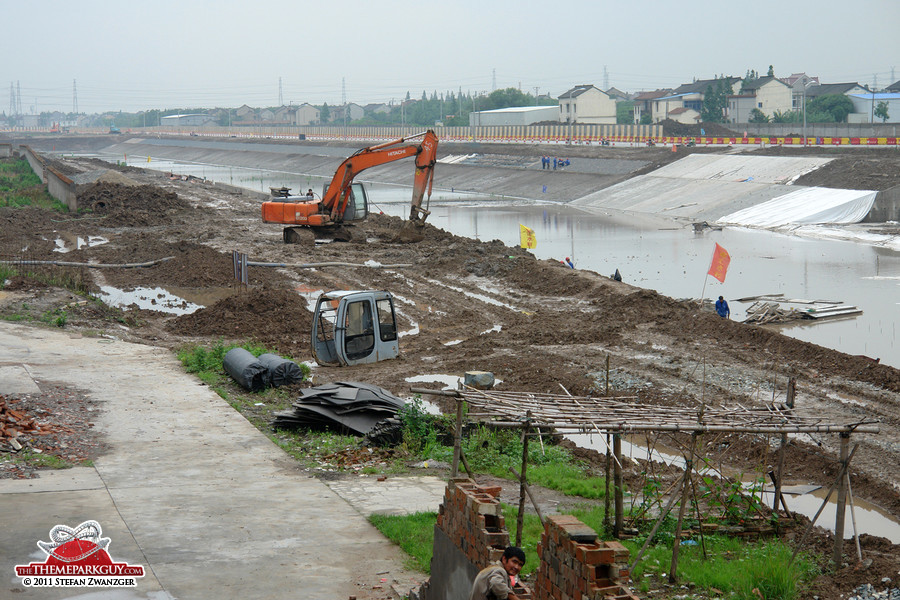 Closer view
Workers on site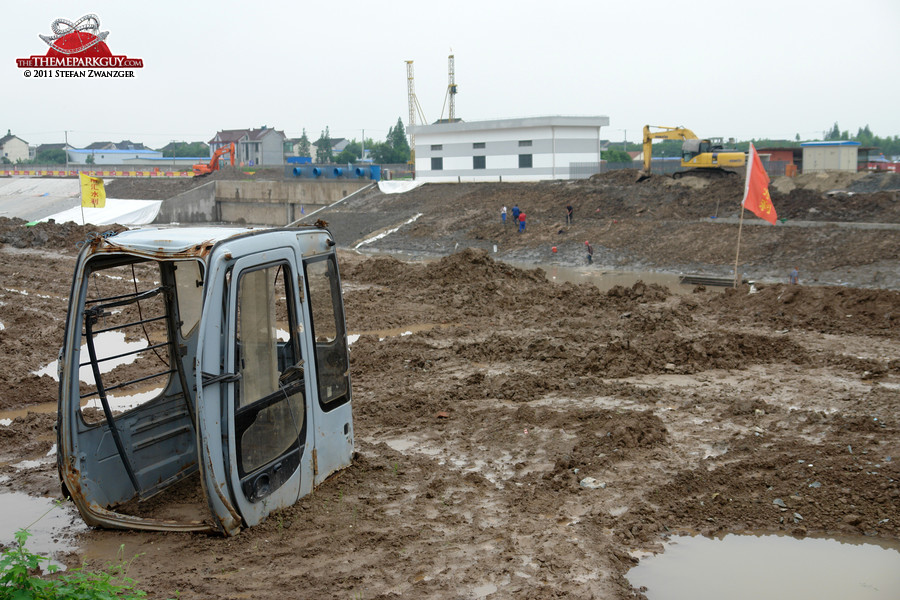 Photographer's angle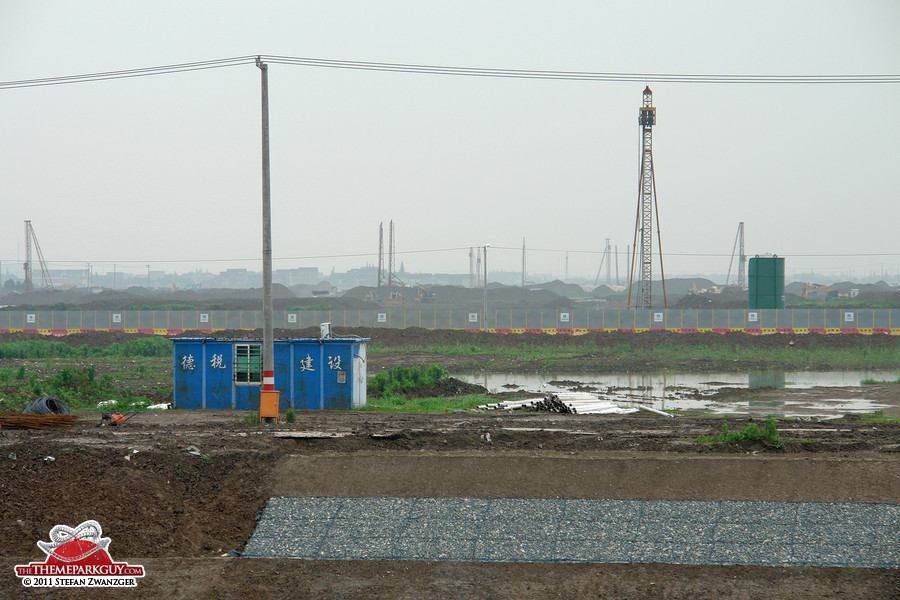 Shanghai Disneyland site in June 2011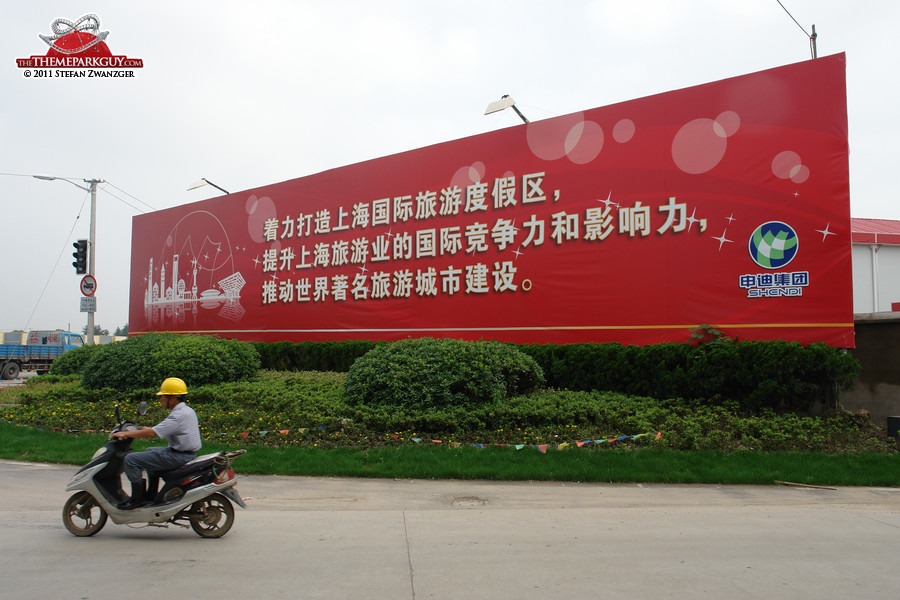 Shanghai Shendi Group poster
Disney's local (state-owned) partner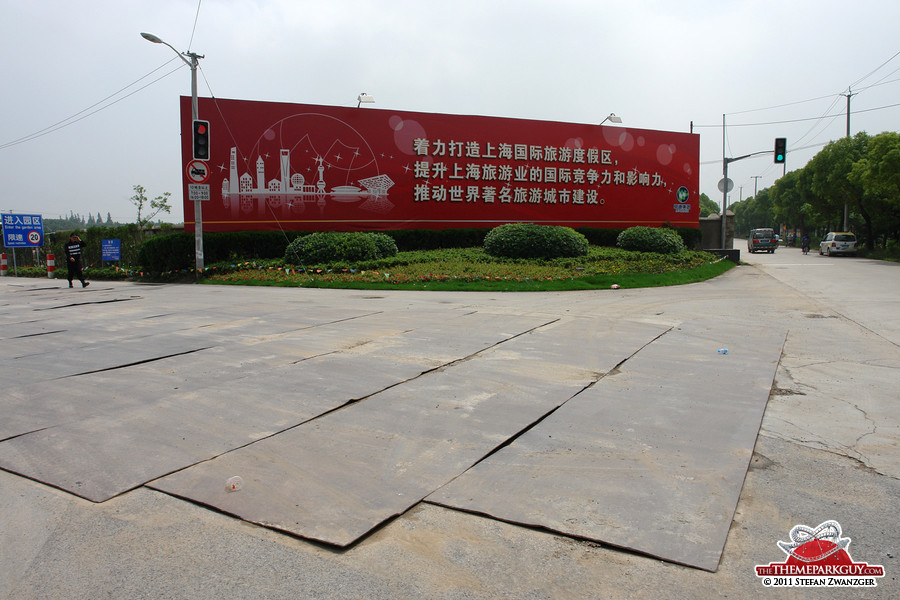 The major construction site entrance gate is here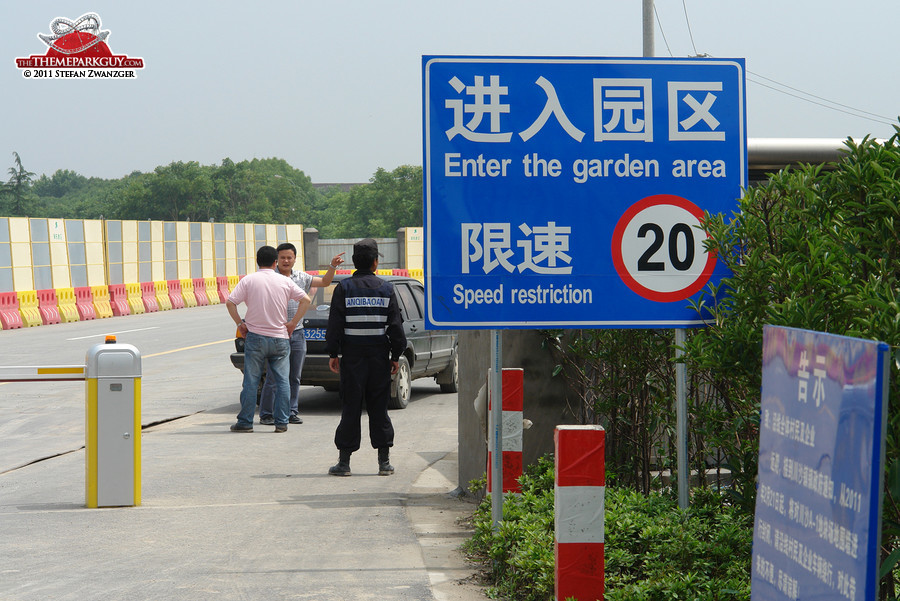 They call Disneyland the 'garden area'. Clever!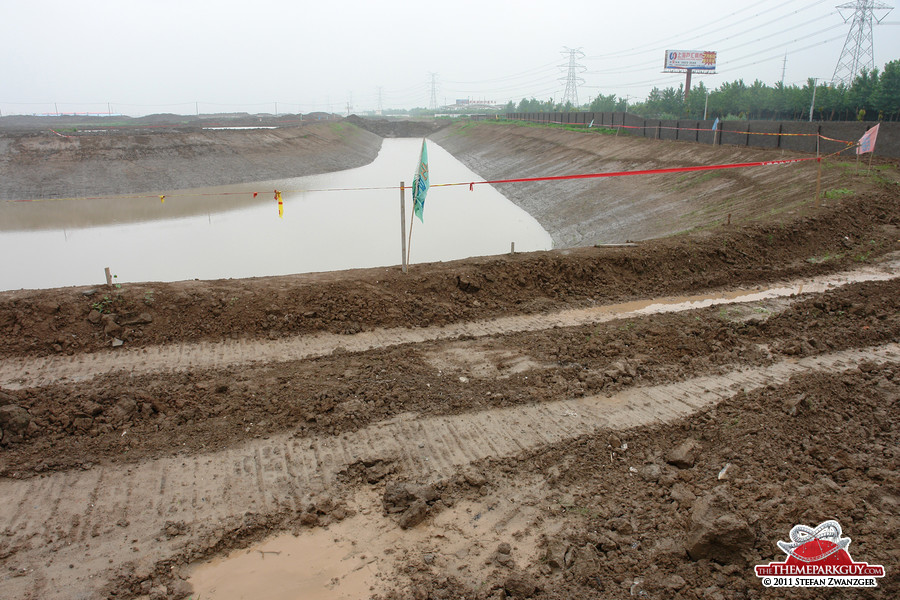 The circular moat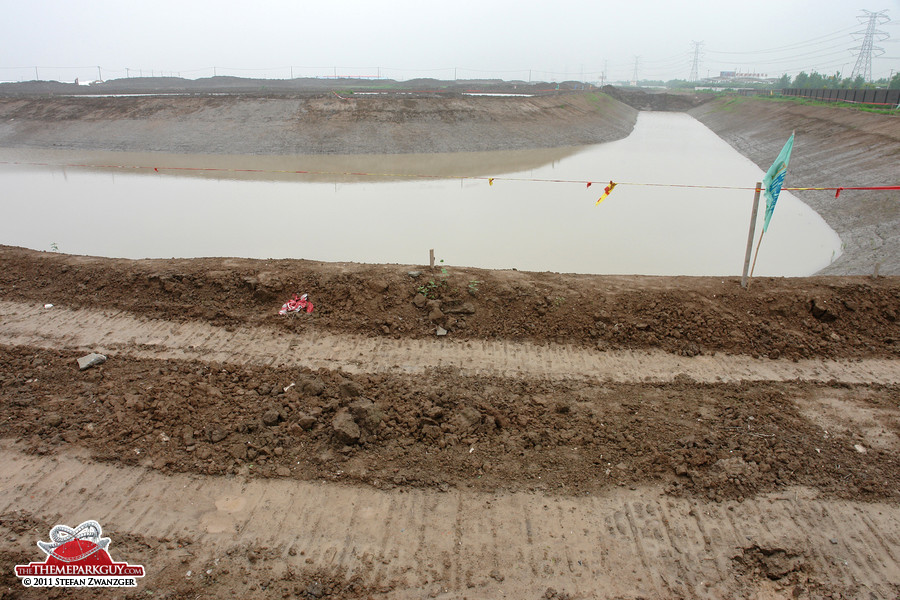 Different angle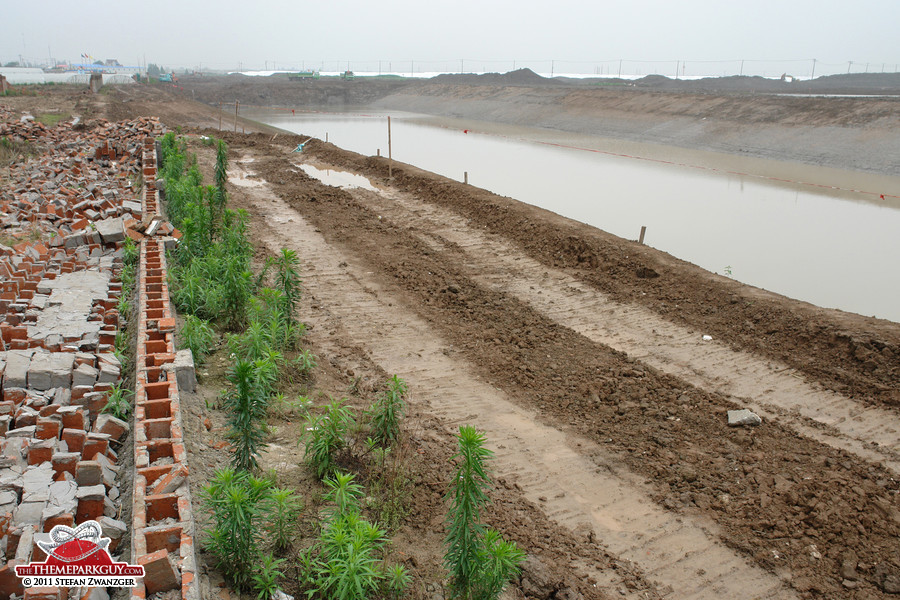 The landscape is changing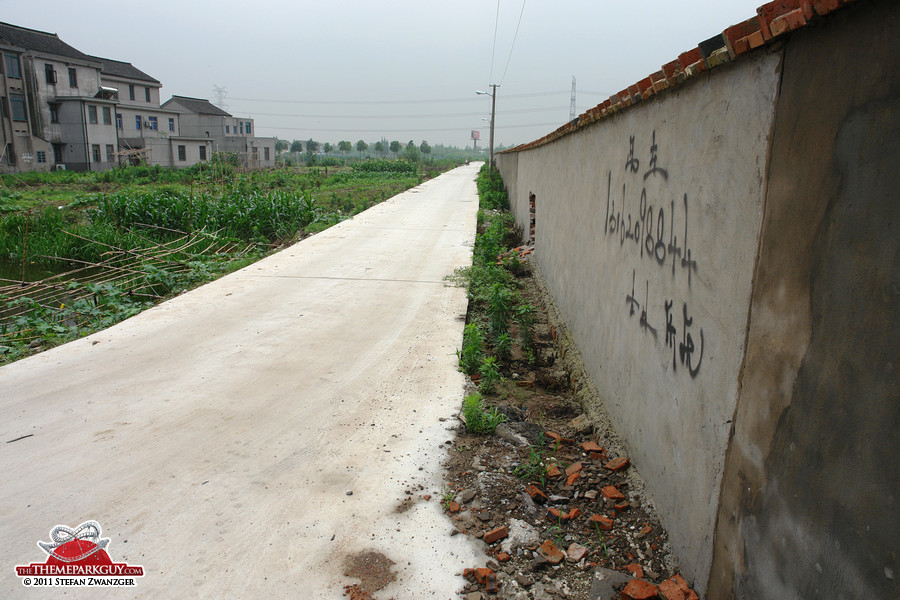 Shanghai Disneyland security wall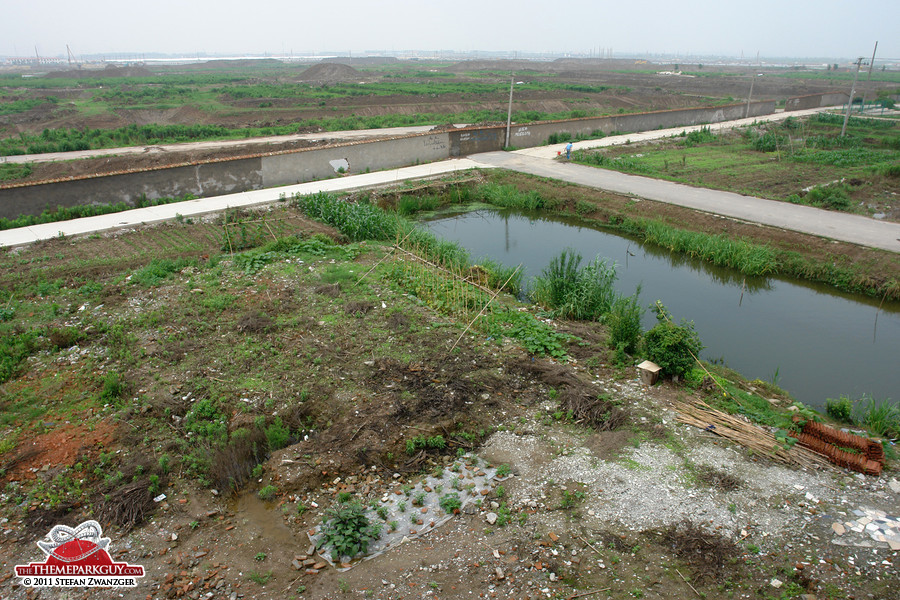 A hole in the wall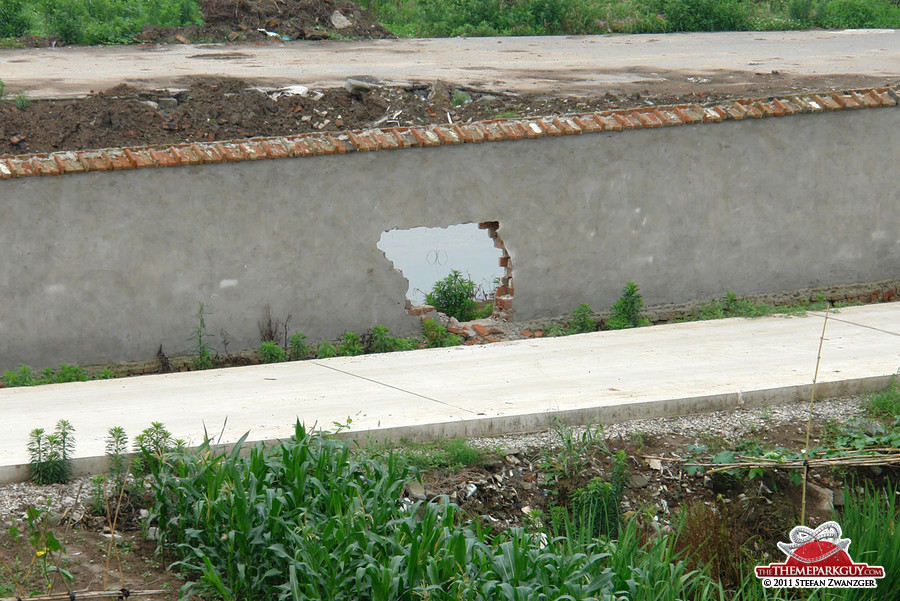 Looks like a cartoon character went straight through!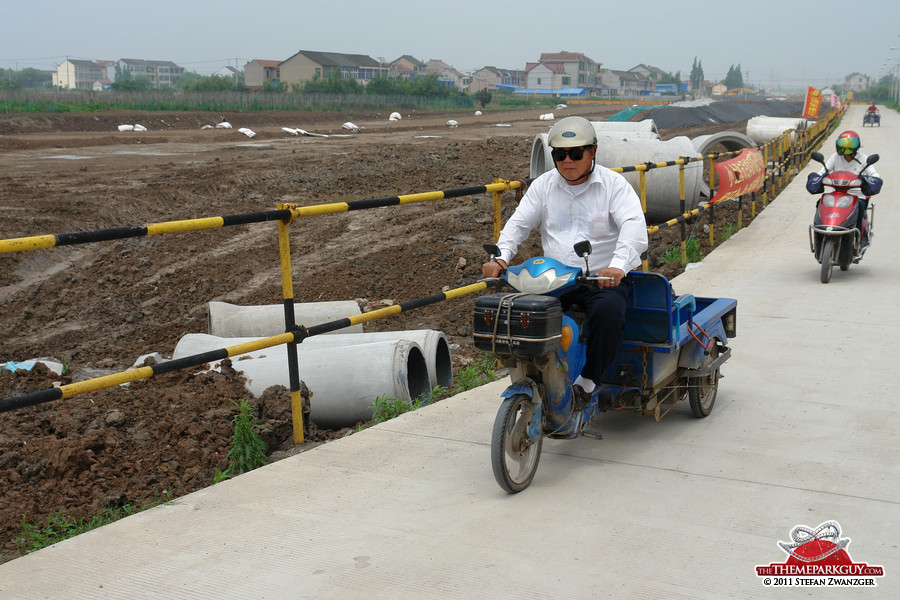 Local residents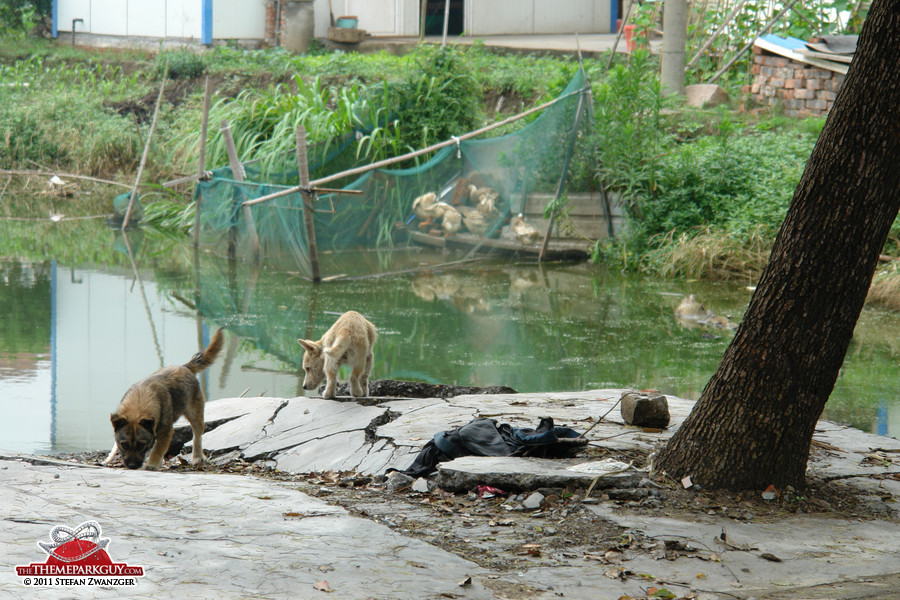 Local dogs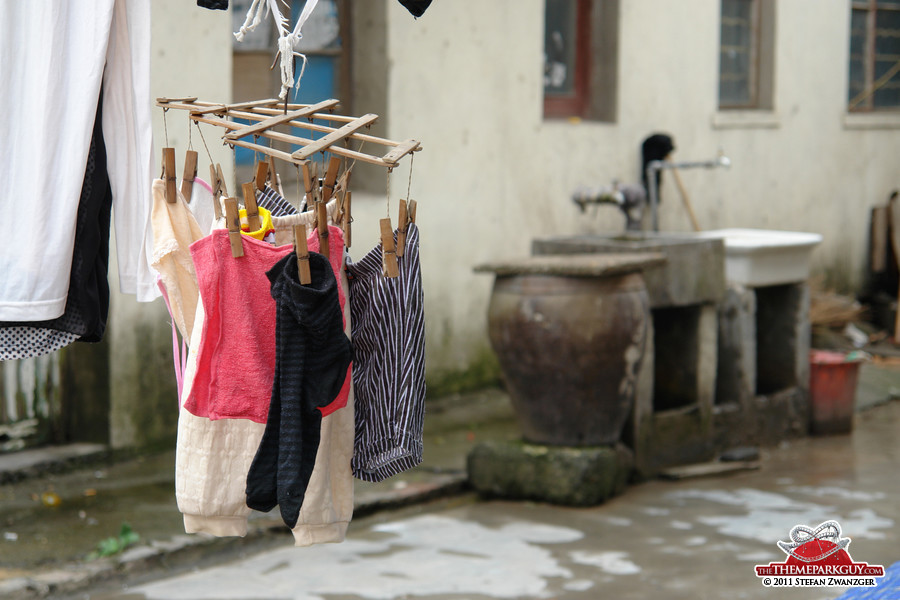 Local socks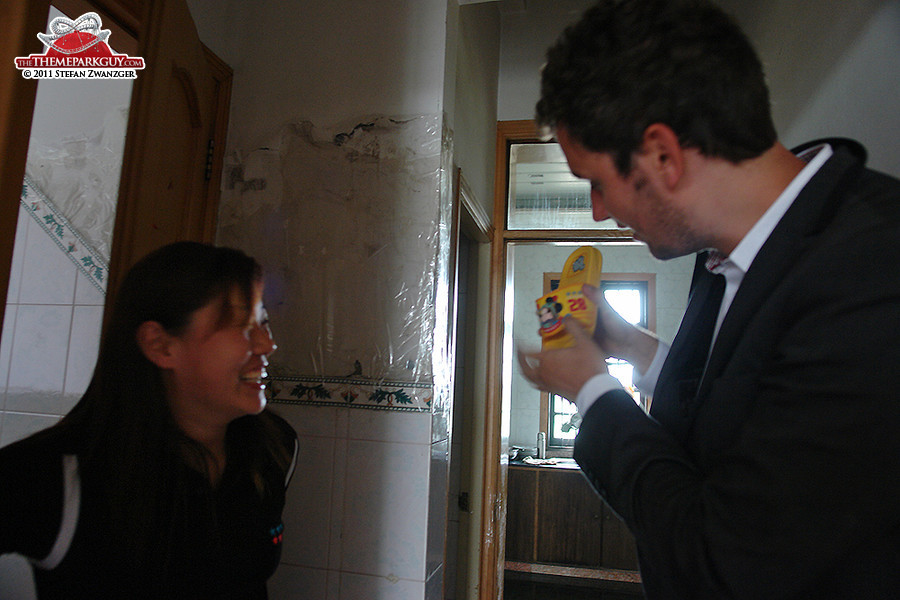 She lives next to the wall and owns Mickey Mouse shoes...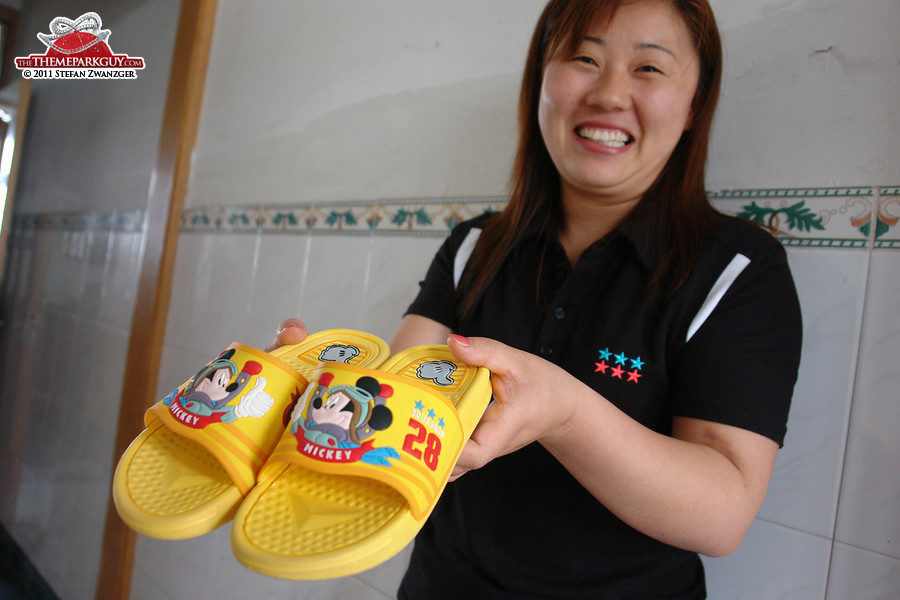 ...but she had no idea that the mouse is moving in next door!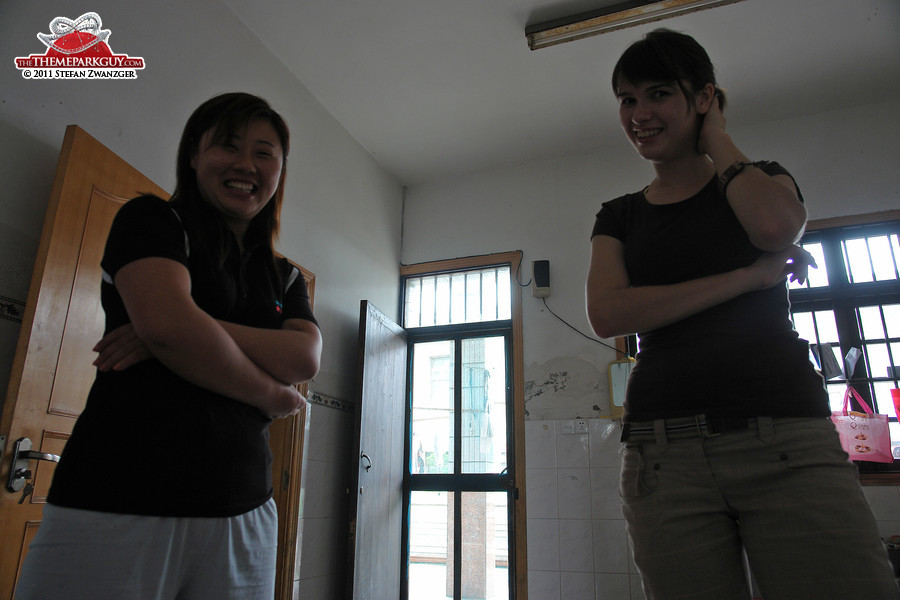 Thanks for your help, Rada (on the right, speaks Mandarin)!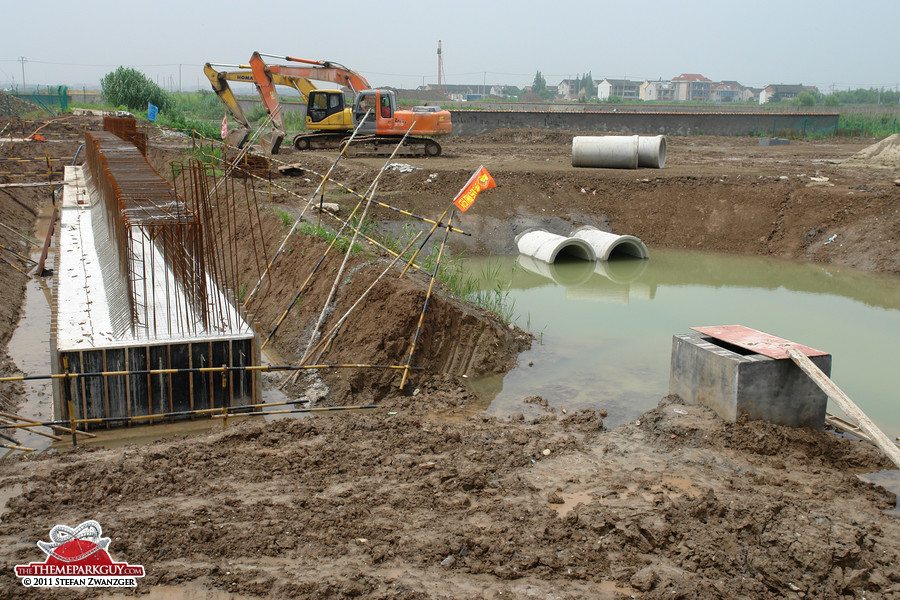 Infrastructure works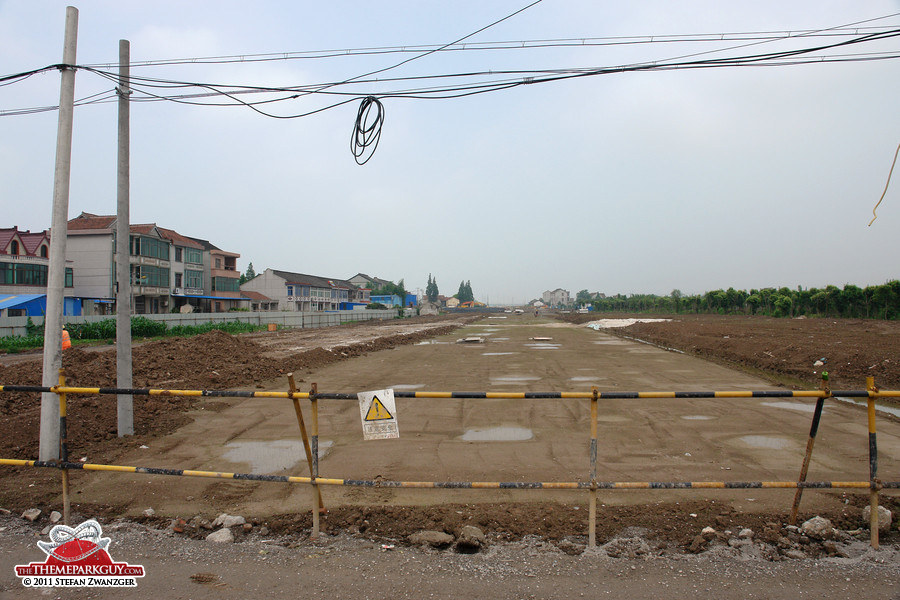 Future access roads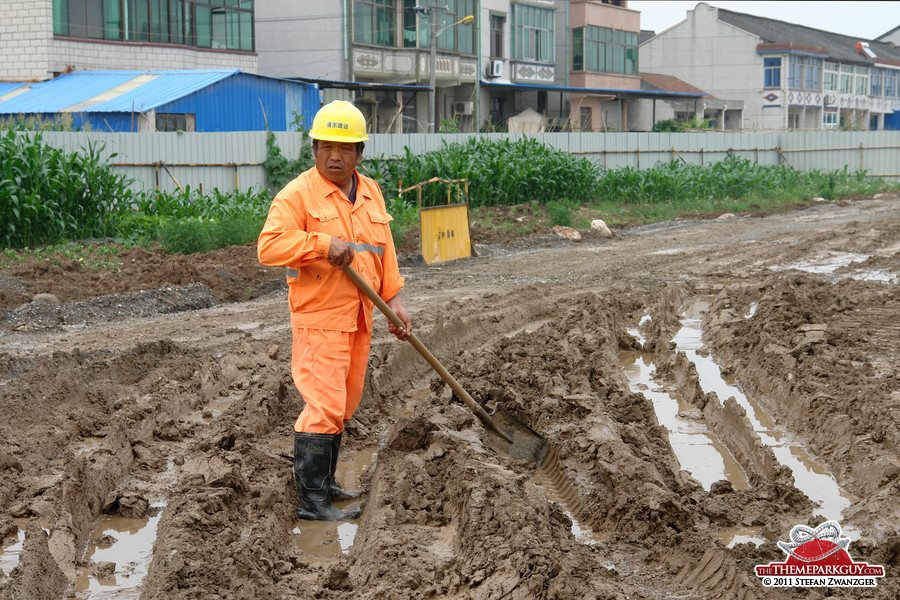 Lone worker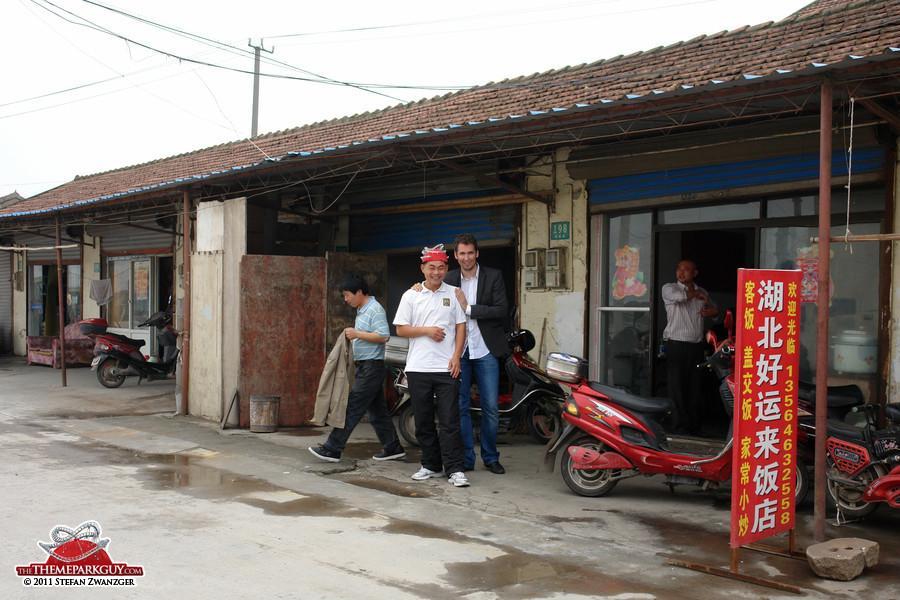 'I will be back.' - 'Please, no!'
Construction Update
October 14, 2010
Holy swamplands! The villages I pictured on my last update below were indeed the right ones.
They have completely vanished.

A huge swathe of Shanghai suburbia has been flattened to make way for the future Shanghai Disneyland site and a wall just over half the height of the Berlin Wall protects the new depopulated hole that gapes in the area and separates the remaining Chinese villages from the Disney site. The on-site construction office is currently taking shape, supplied by armies of trucks that race through small village roads, blowing the winds of change through the thinning hair of old Chinese men on bicycles. It really looks like it sounds!
How do the locals take the change? I ask a local resident how he would react if his house would be next on the demolition list. He thinks for a few seconds, takes a drag on his cigarette, gets these reflecting Marlboro man eyes and responds: 'Well, let's see. It's ok. All up to the relocation package!'
Wow. Well. I really can't say now if this conversation was representative for the whole neighborhood, but it left an impression. Mao's disciples turned into business men. Good for me, since I am duly looking forward to seeing Disneyland's latest incarnation rising from the ground!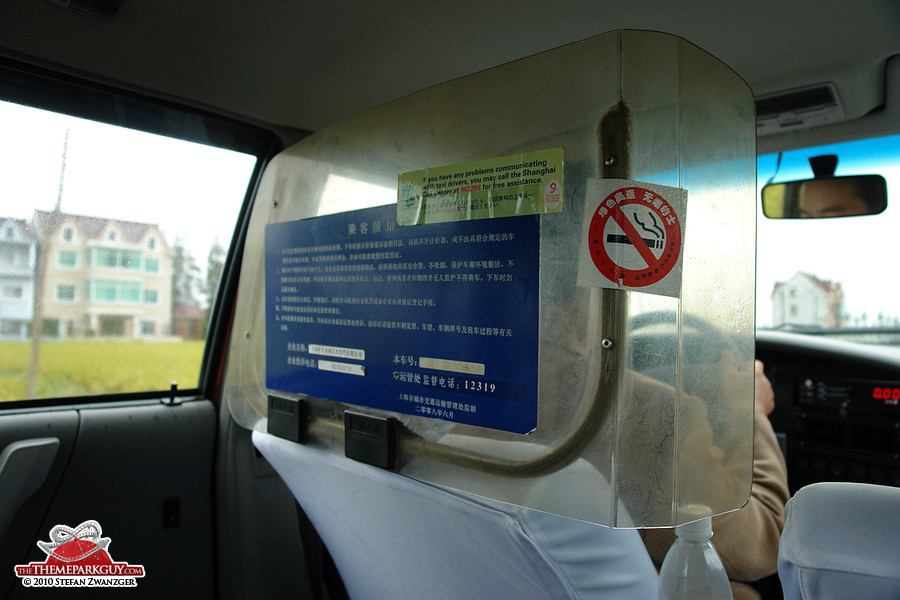 In the taxi again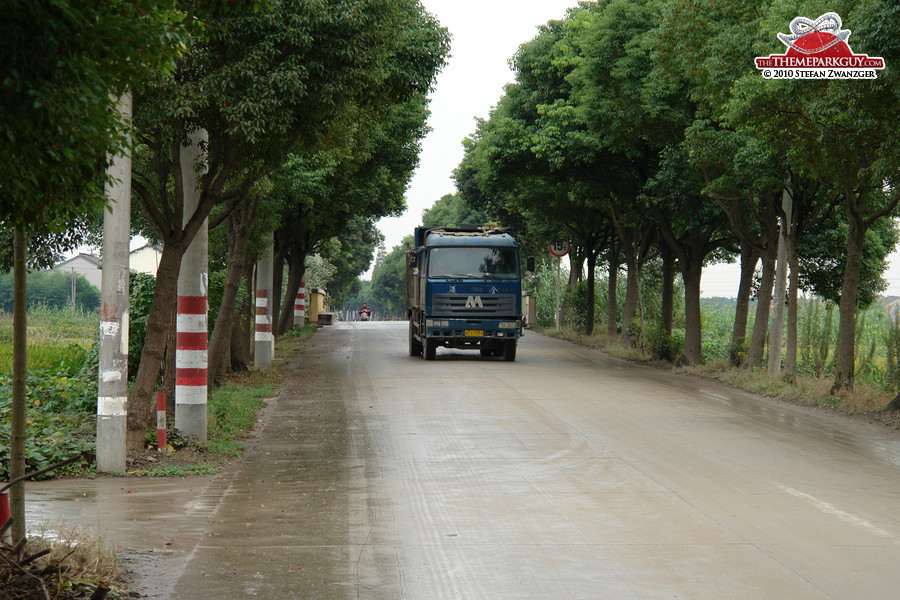 What's that? Trucks on village roads?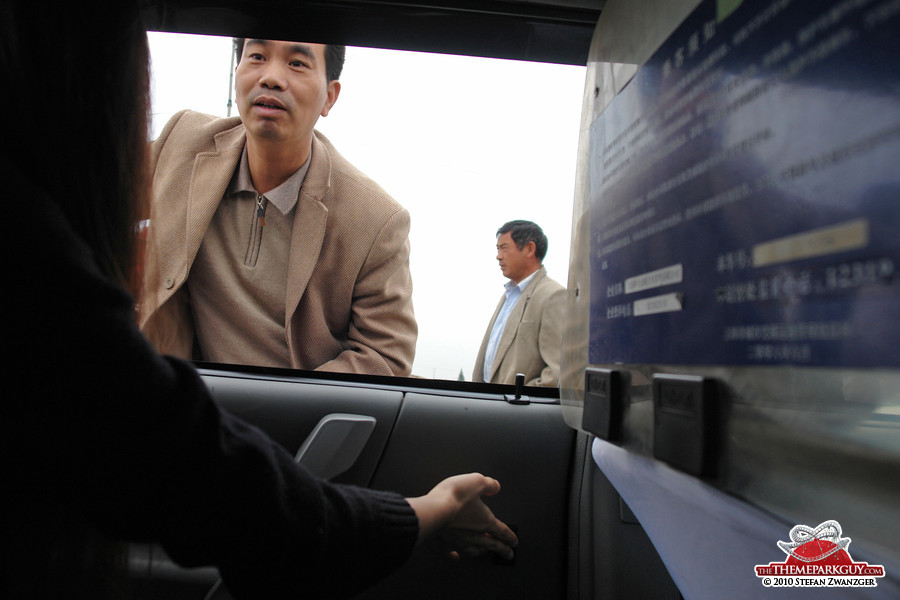 Locals point the way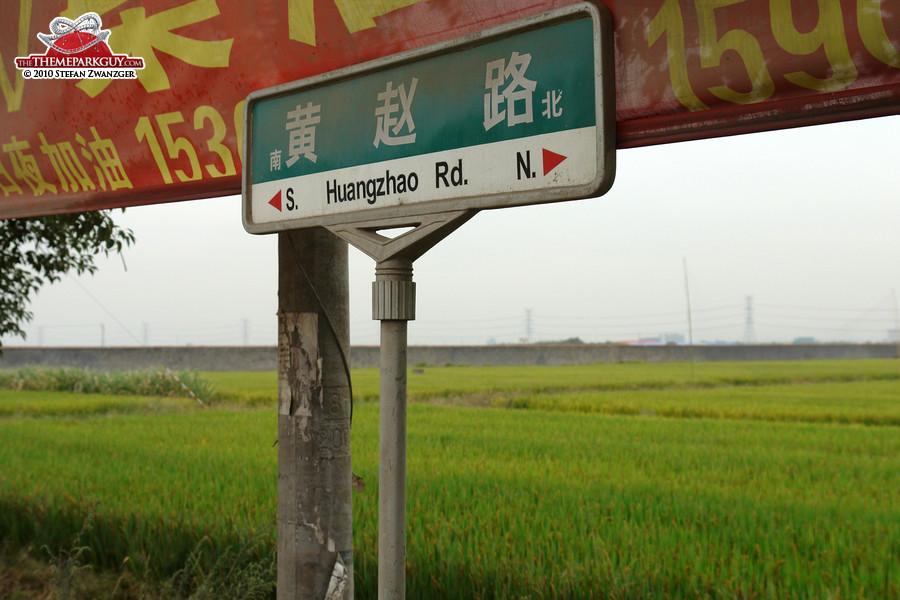 The good old Huangzhao Road sign from my last update
Something's changed
Security cameras in Qigan Village?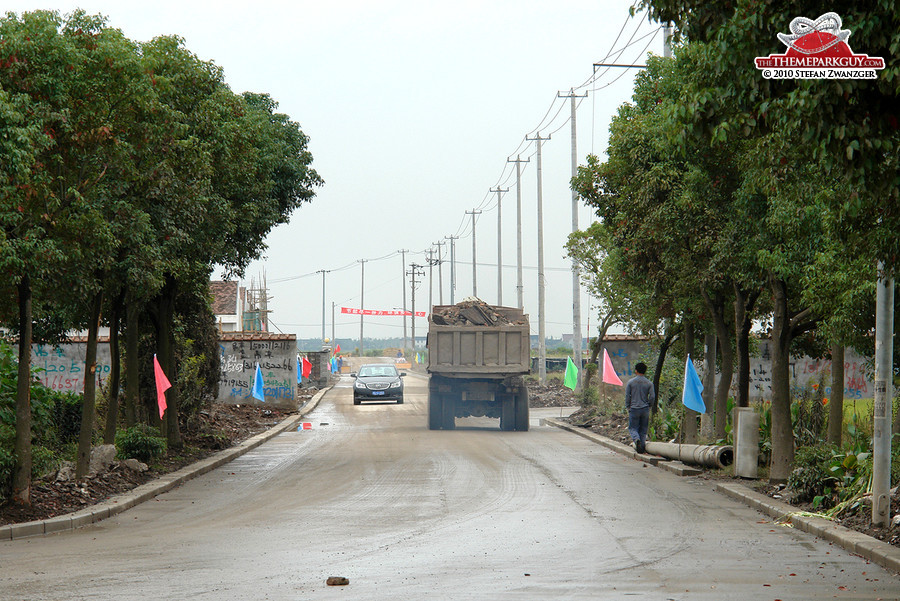 A gaping hole in the landscape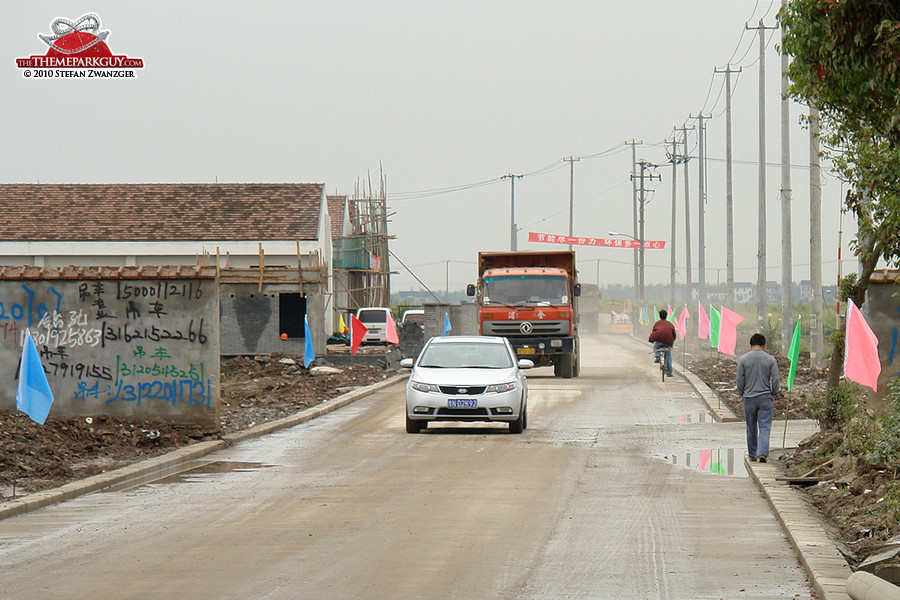 The future Shanghai Disneyland site!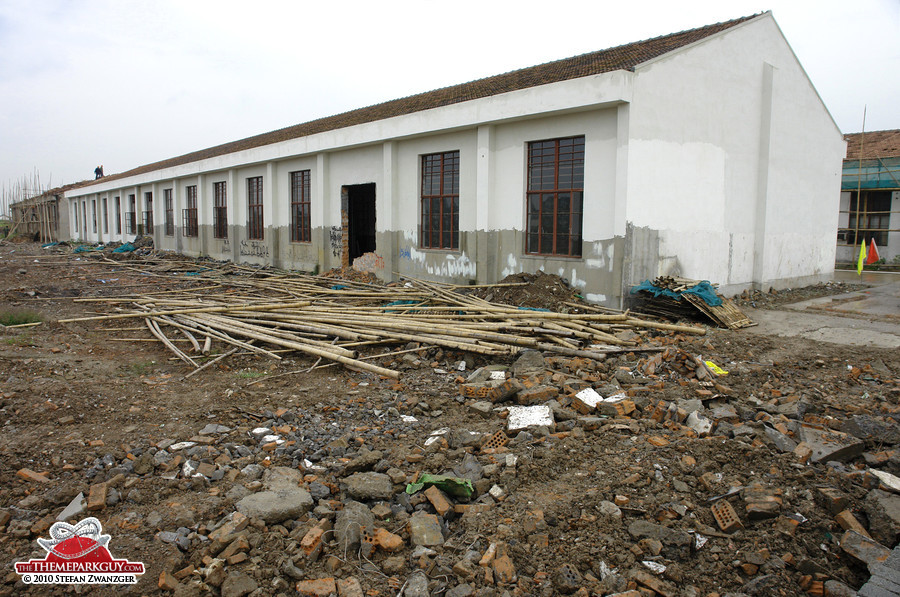 The upcoming Shanghai Disneyland construction/site office!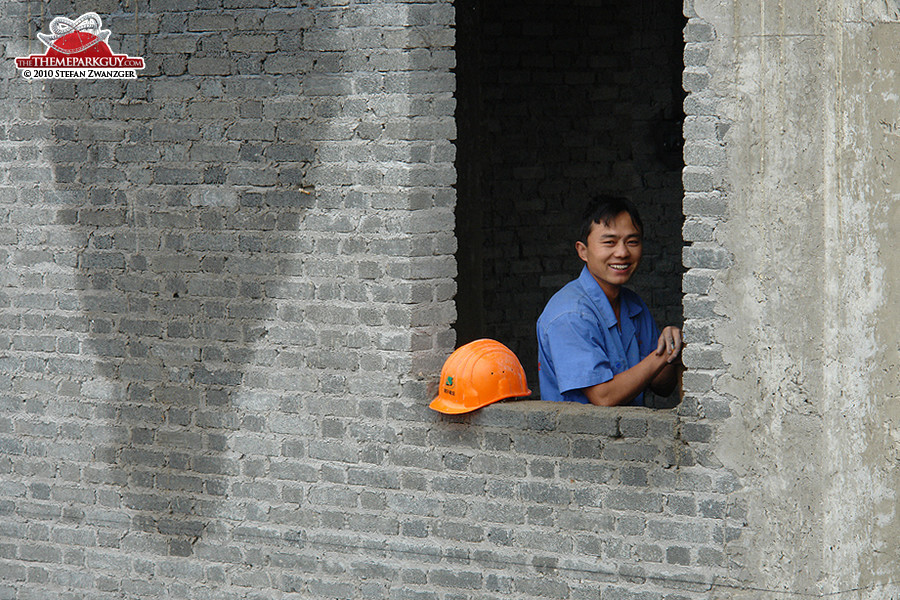 Starring local workers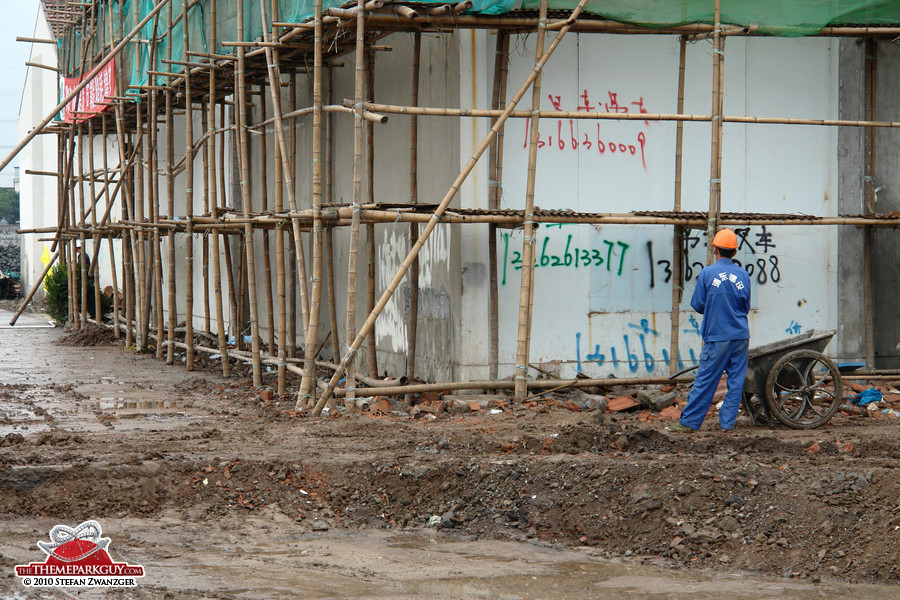 Finishing touches for the groundbreaking ceremony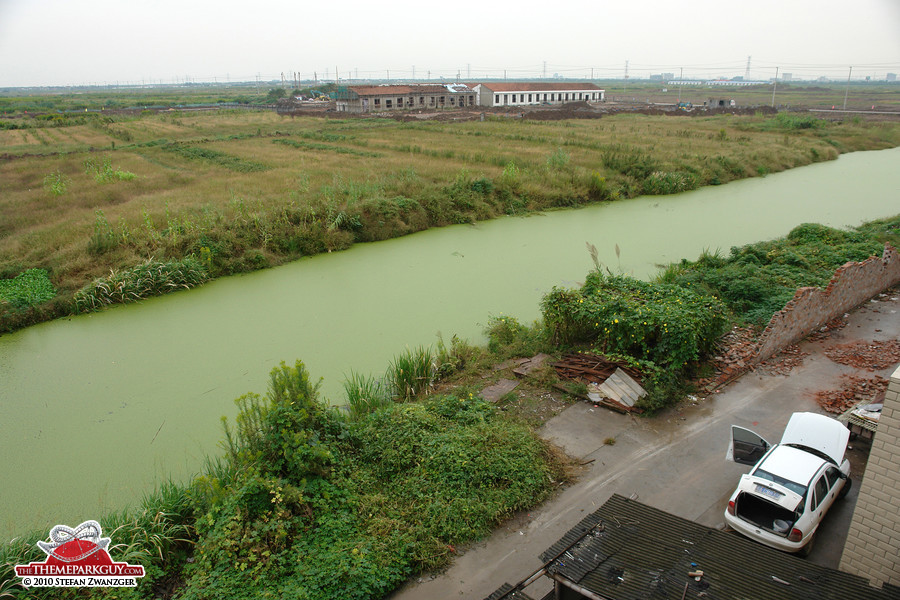 The Disney office from above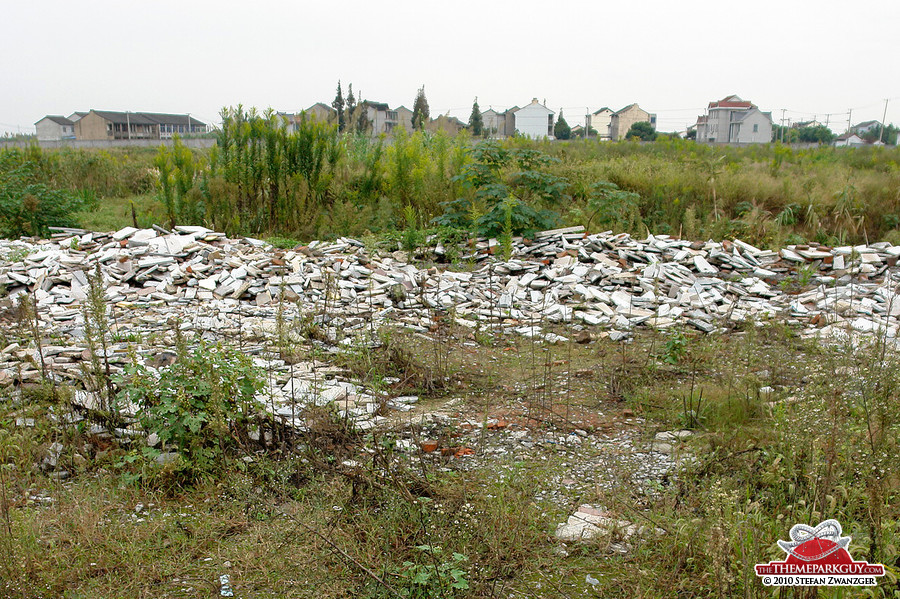 Demolished houses on site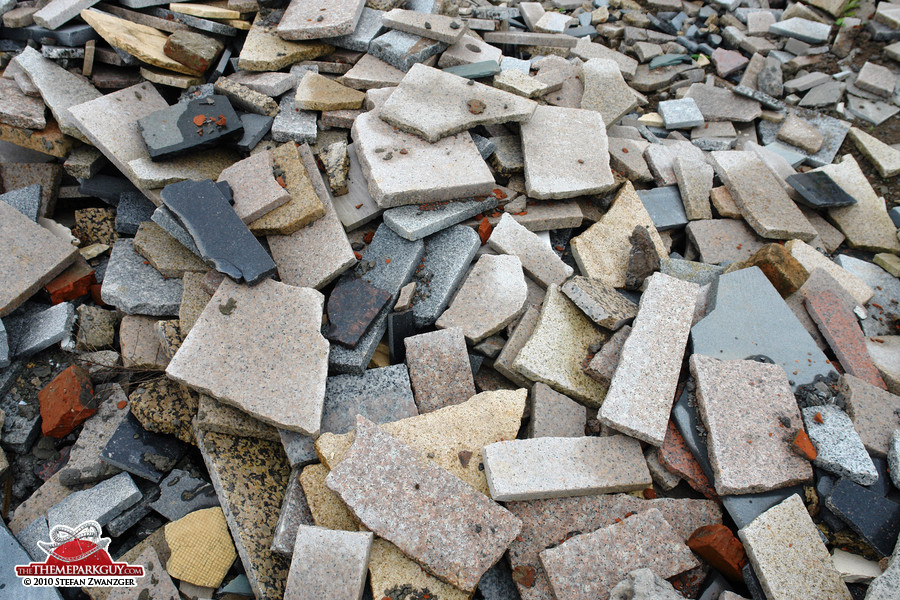 Close up
Disney site with separation wall in the back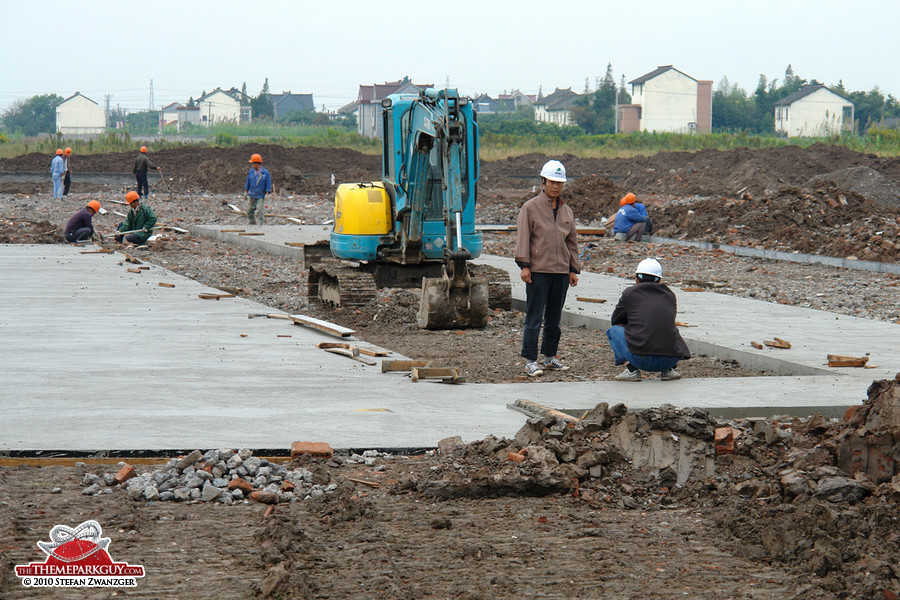 Work is progressing around the site office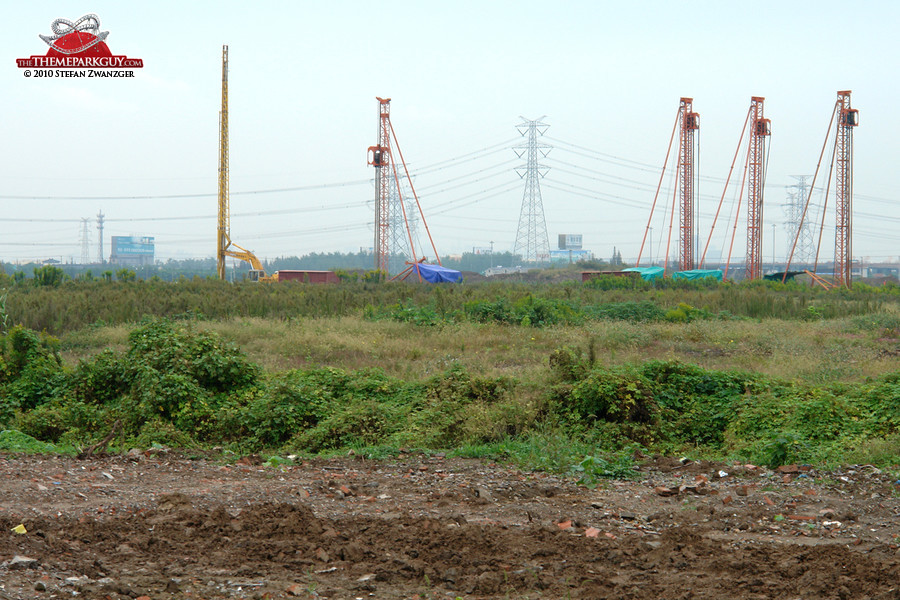 Cranes on-site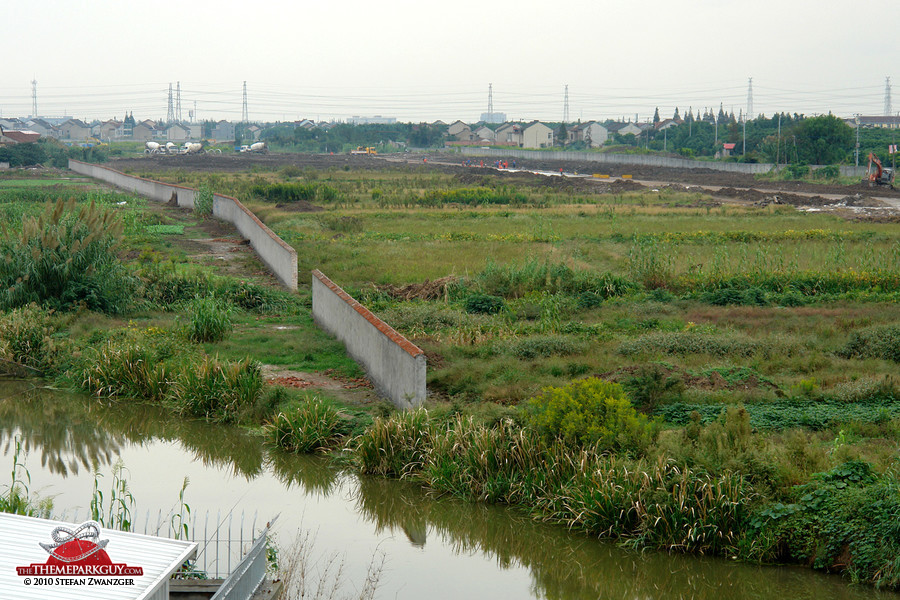 The Great Wall of Disney runs through the neighborhood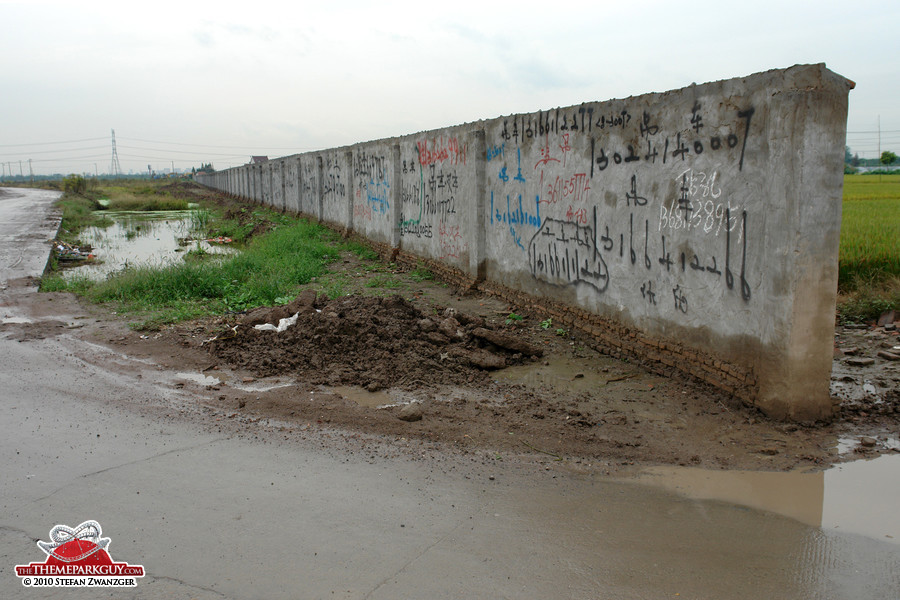 Close-up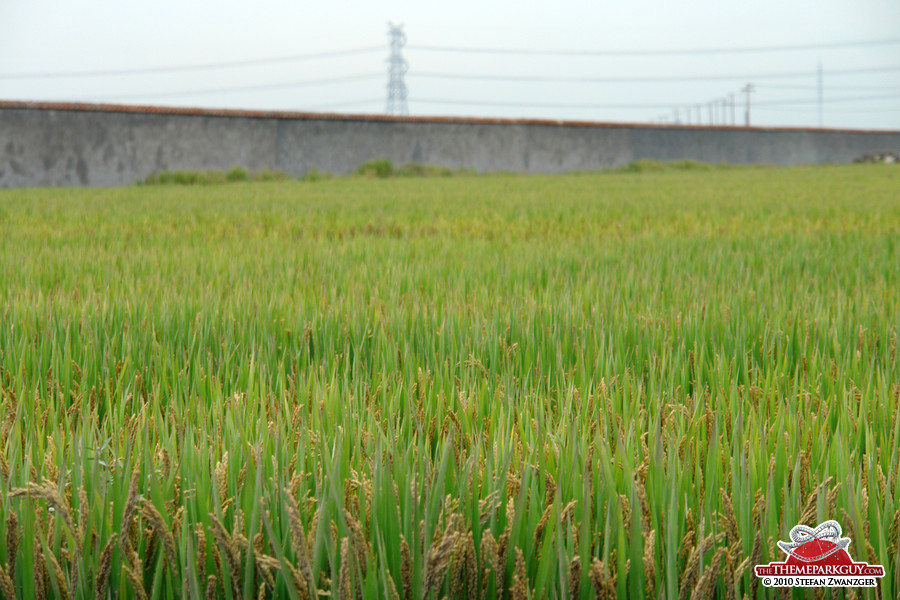 Magic wall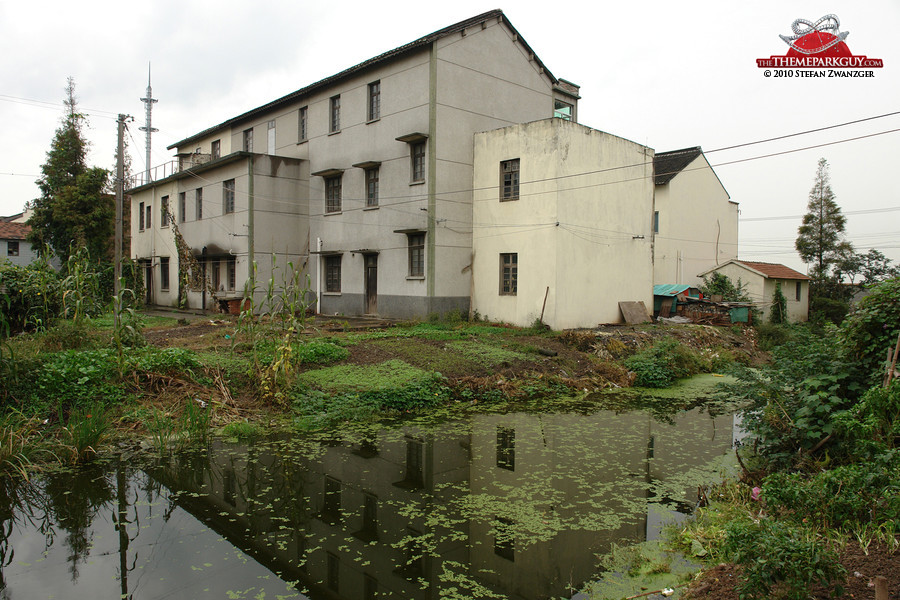 Not-yet-demolished houses in Qigan village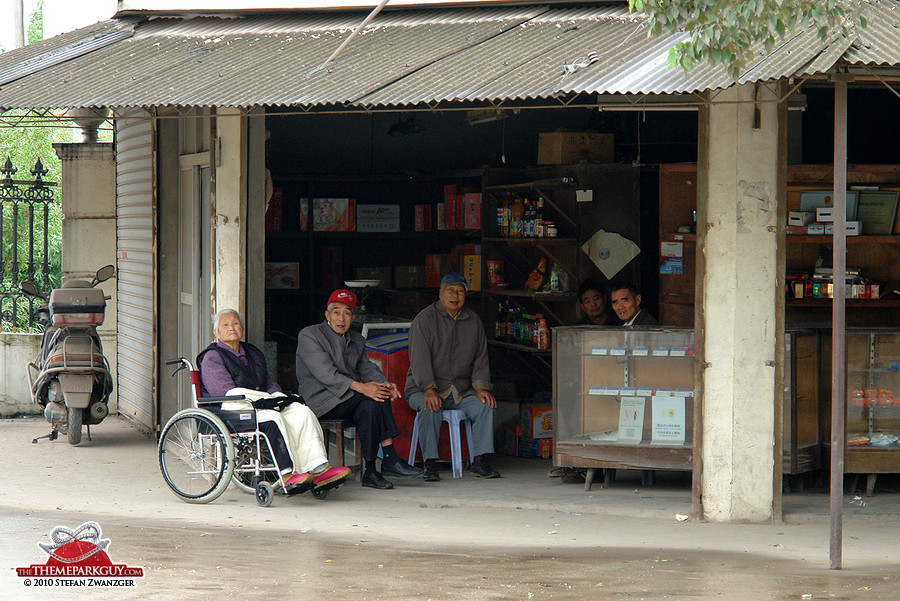 Locals sitting in a shop facing the Disneyland site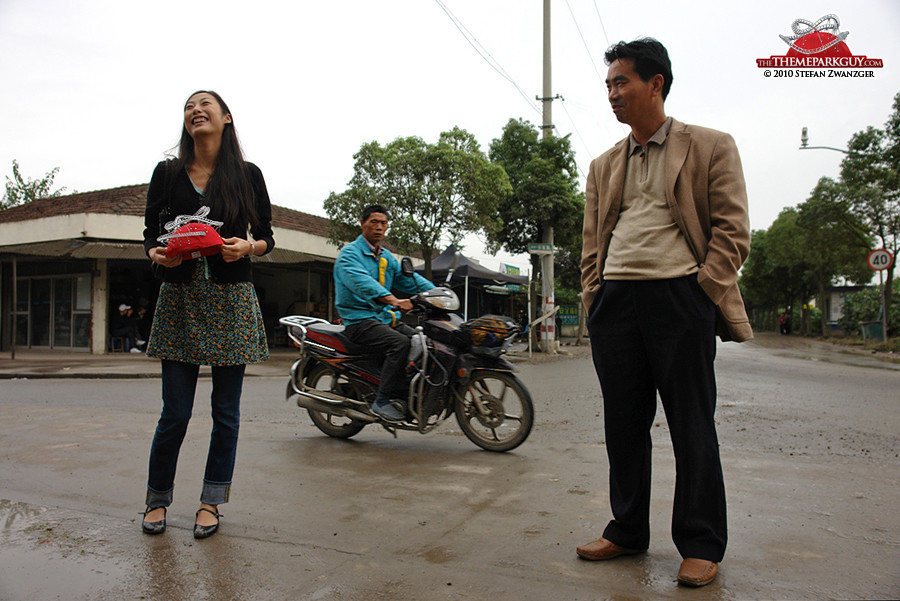 My great local assistant and our motivated driver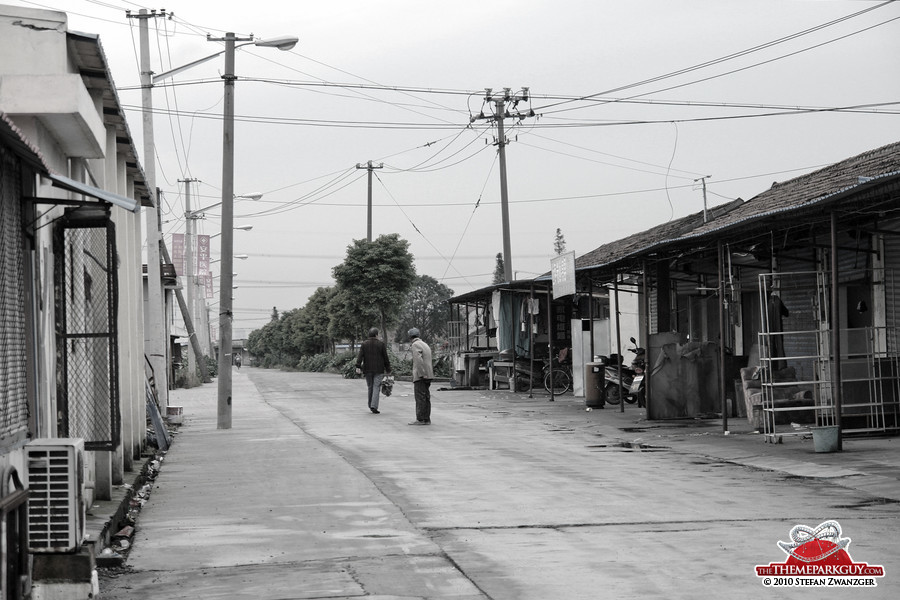 Photos of today already feel like pictures from the past
Construction Update
February 22, 2009
You really need a vivid imagination to picture a Disneyland park near Chuansha town. At present the area is a stretch of countryside halfway between Shanghai's Pudong International Airport and Shanghai city consisting of wetlands, woods, meadows and streams.
My assistant and I talked to locals in the quaint bicycle-filled streets of Qigan village and Zhaohang village and they are all very familiar with the Disneyland brand. Some say they have been eagerly anticipating the construction of a Disney park for nearly 10 years and were beginning to doubt it would ever come. However, in January 2009 it was announced that the Shanghai government and The Walt Disney Company had agreed to build a Disney park in this area, a plan which is being 'reviewed by the Central government' now.
The opening is scheduled for 2014. There is a small chance that I was picturing the wrong spot, but the future site is definitely somewhere very very close to it. I am extremely curious as to what is going to happen here. The moment Disney puts a fence in the wood, I'll be back!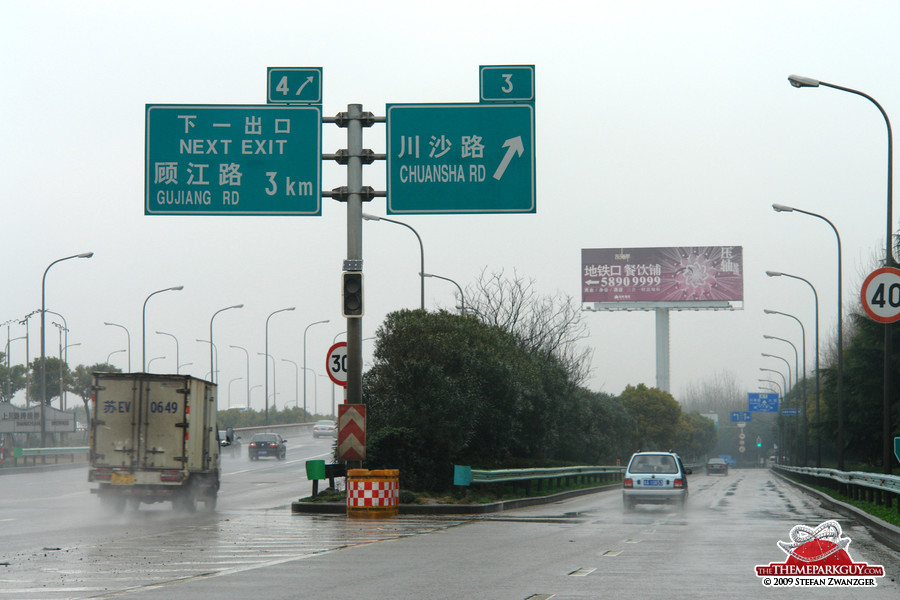 Chuansha exit - the future Disneyland site!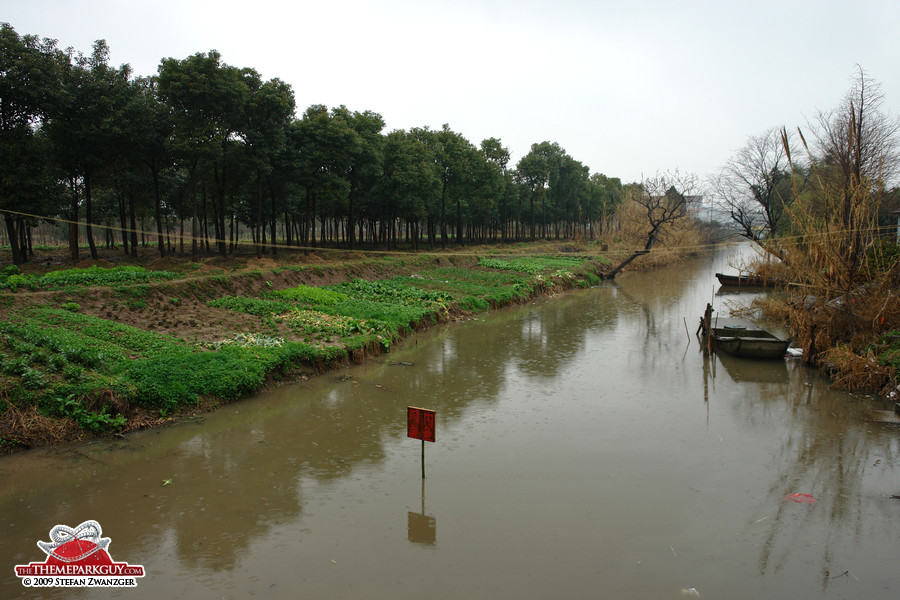 Florida feelings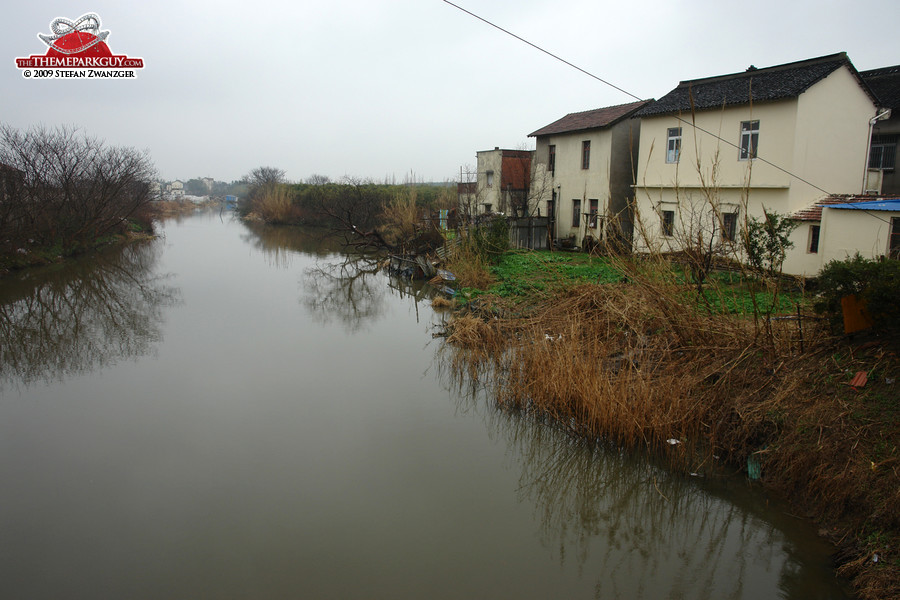 Future Shanghai Disneyland site?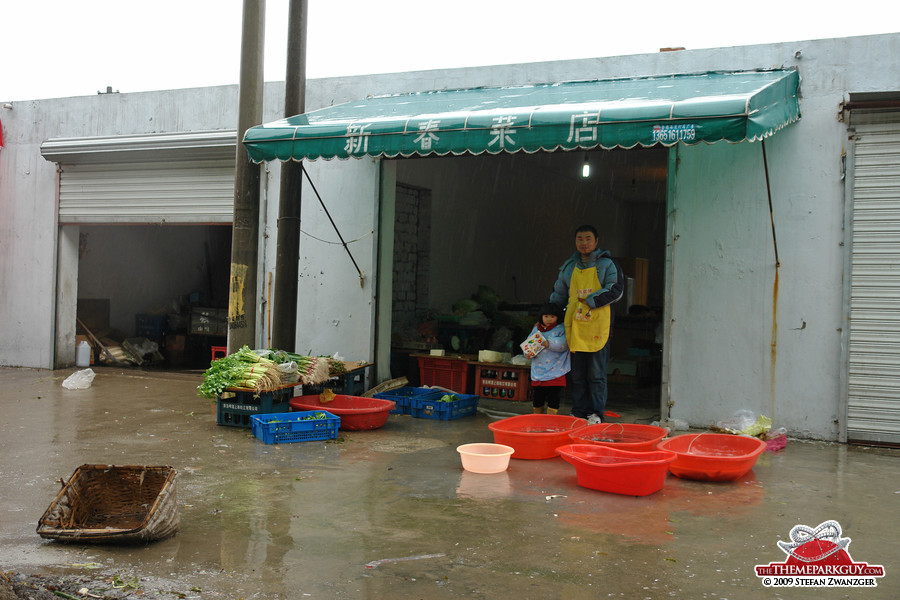 Local vendor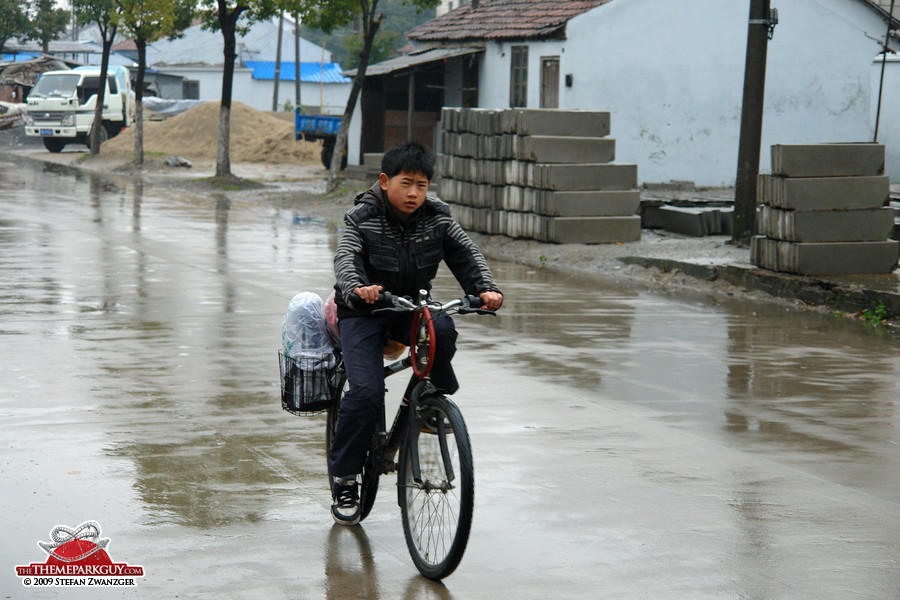 Local cyclist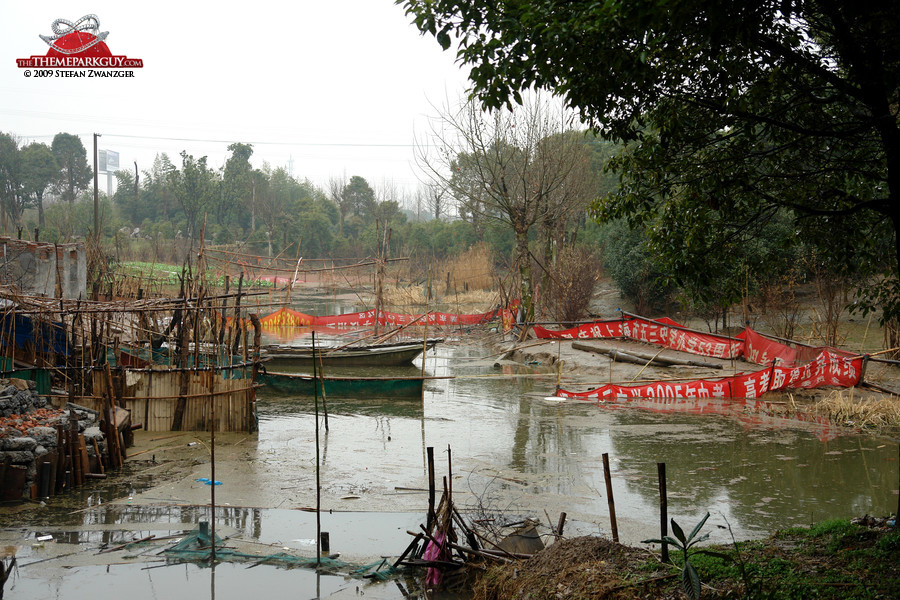 Local mess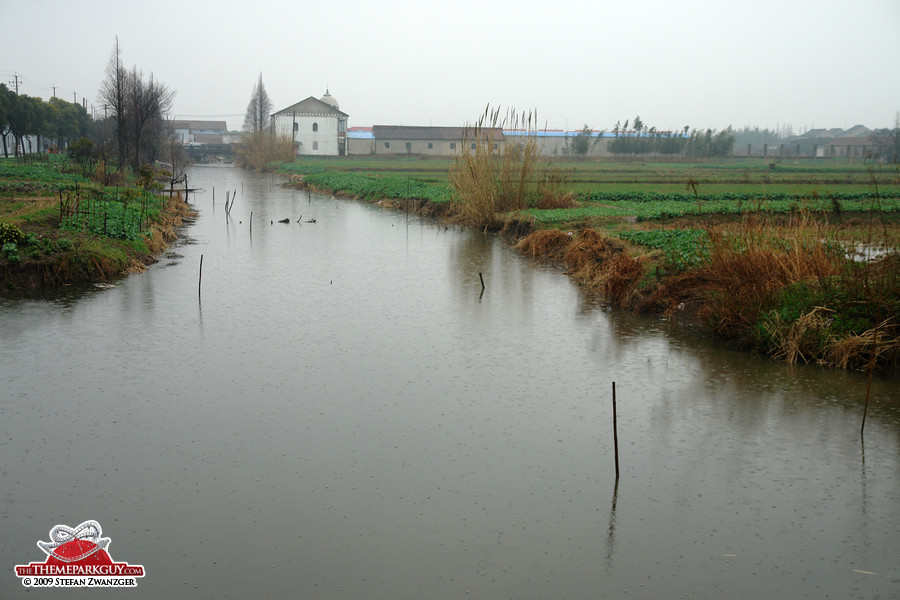 Local canal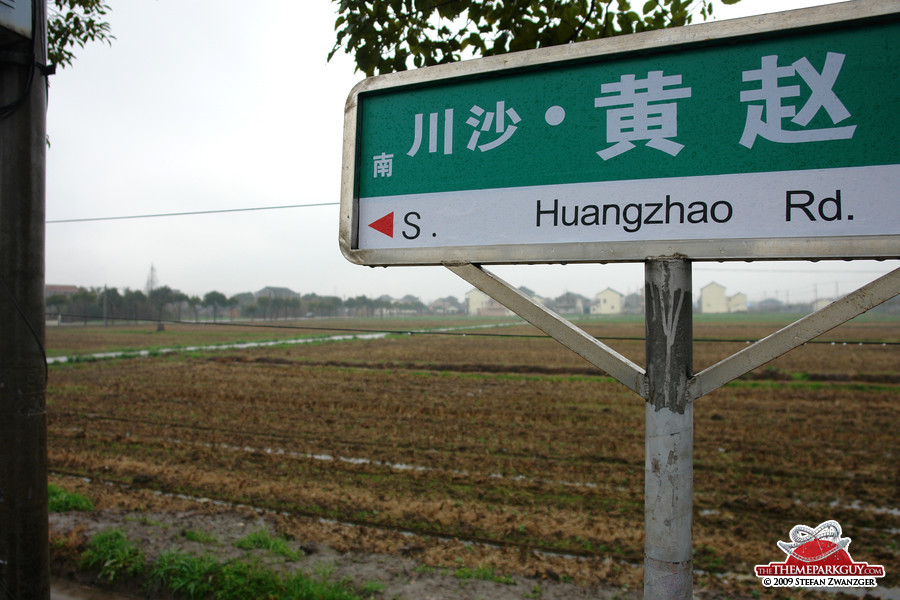 Huangzhao Road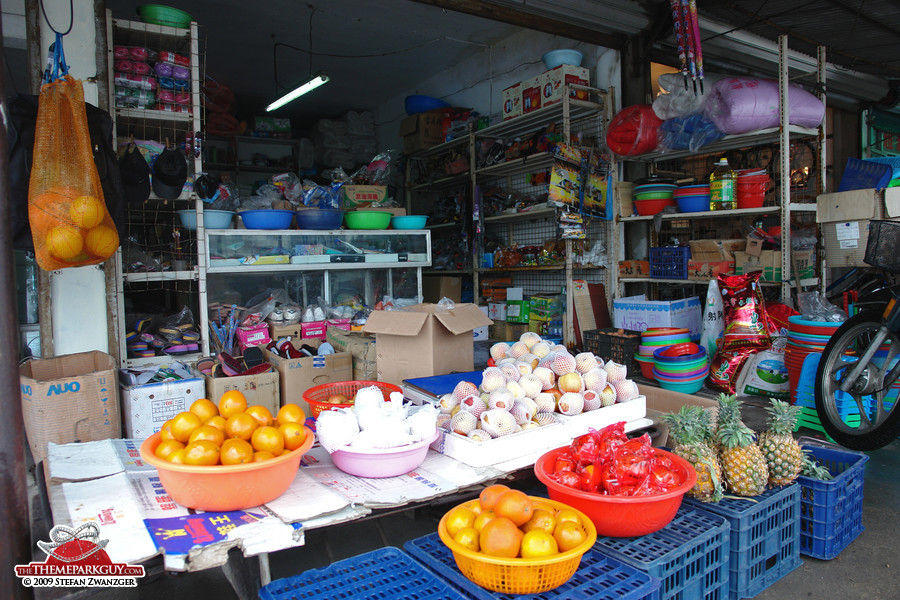 Local shop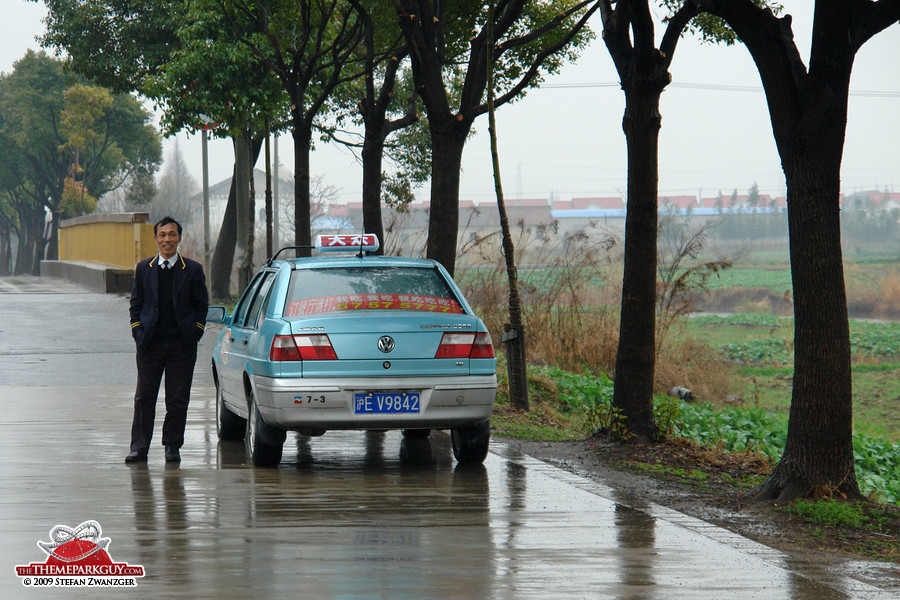 My happy driver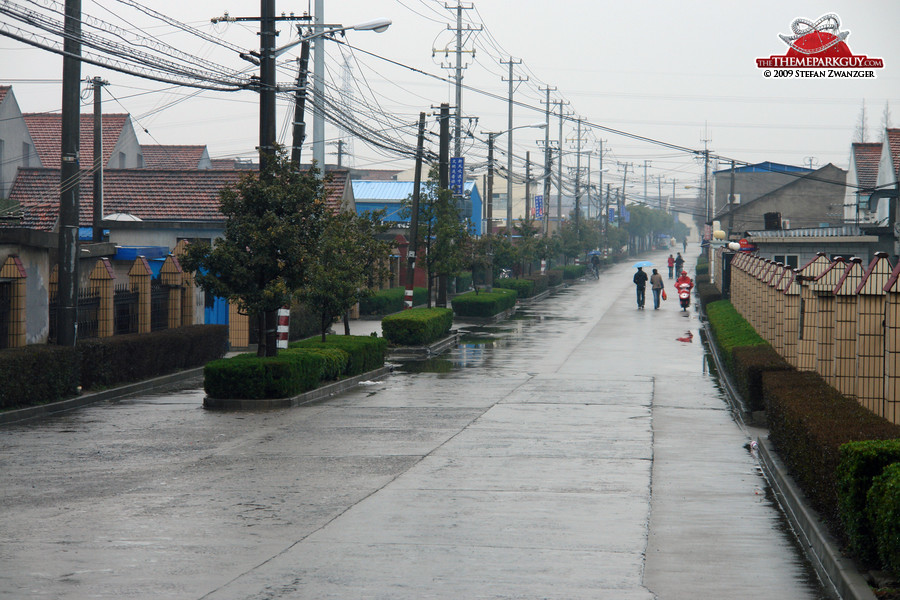 This village might be gone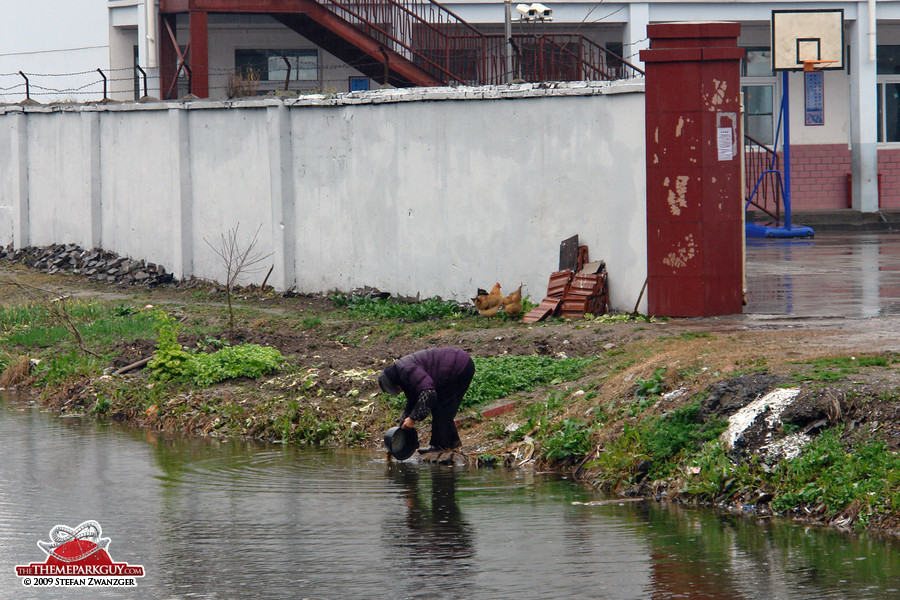 Water from the canal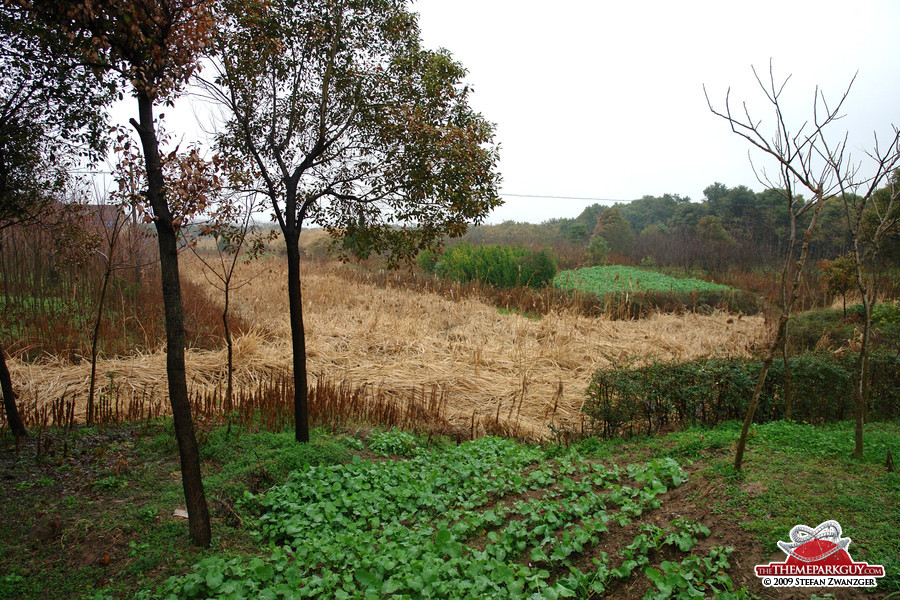 Local nature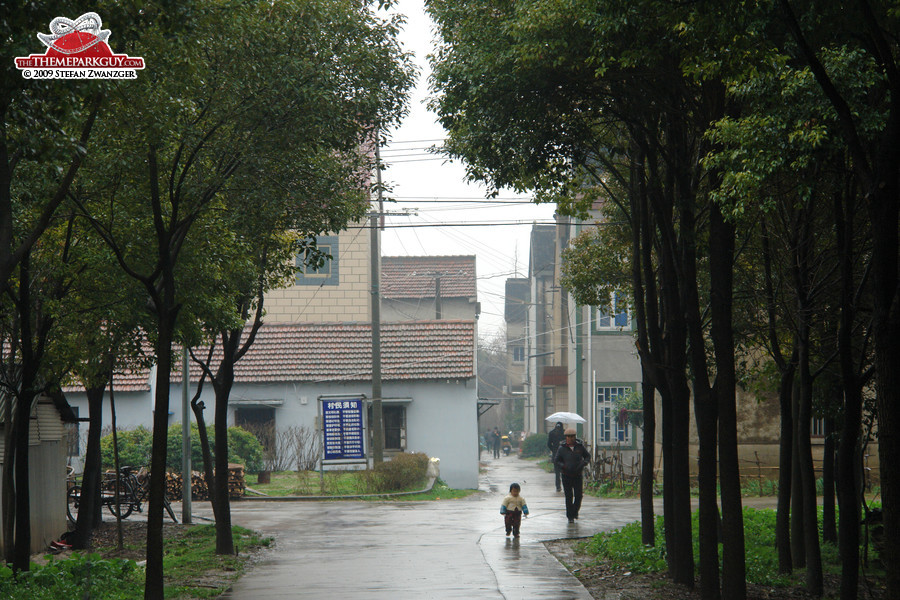 Magic wood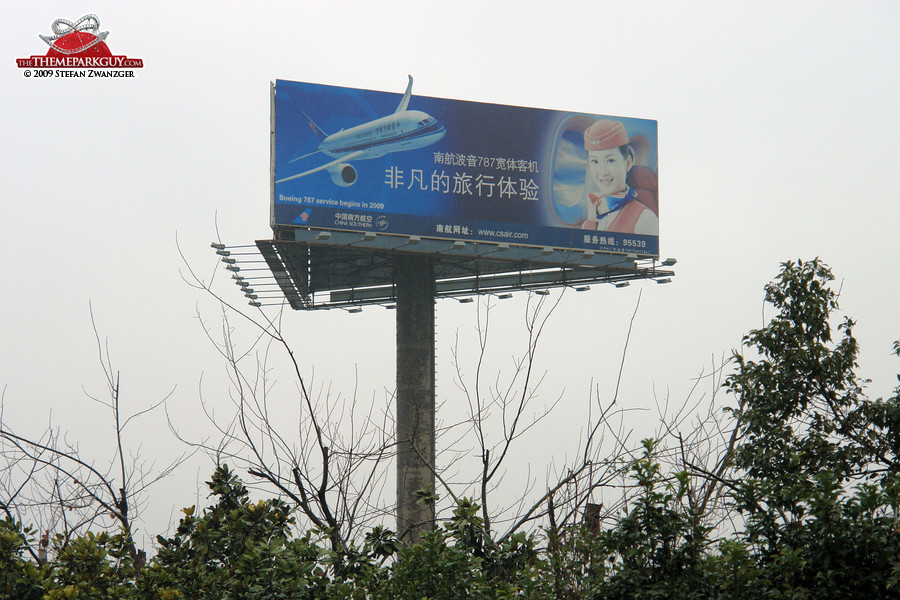 Shanghai Pudong airport is close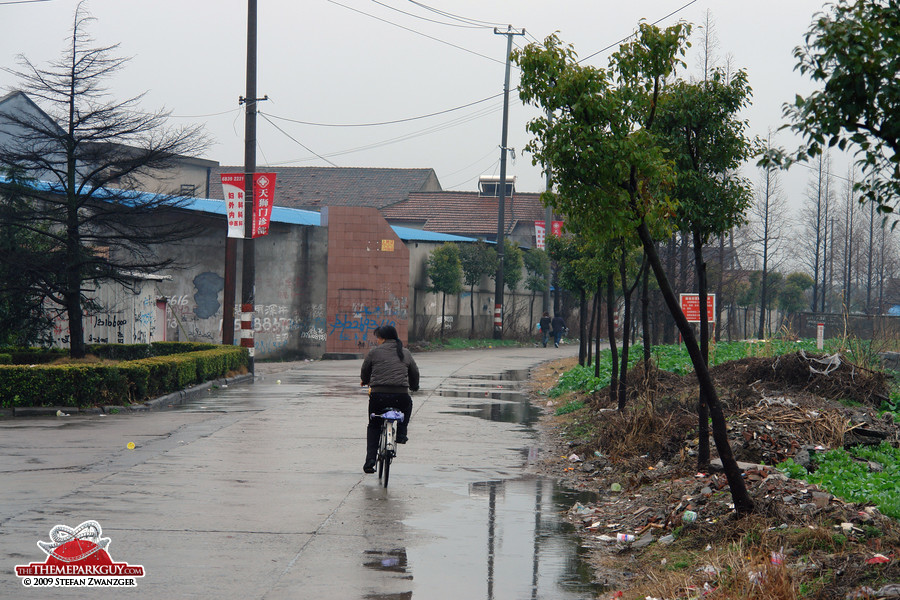 A rainy day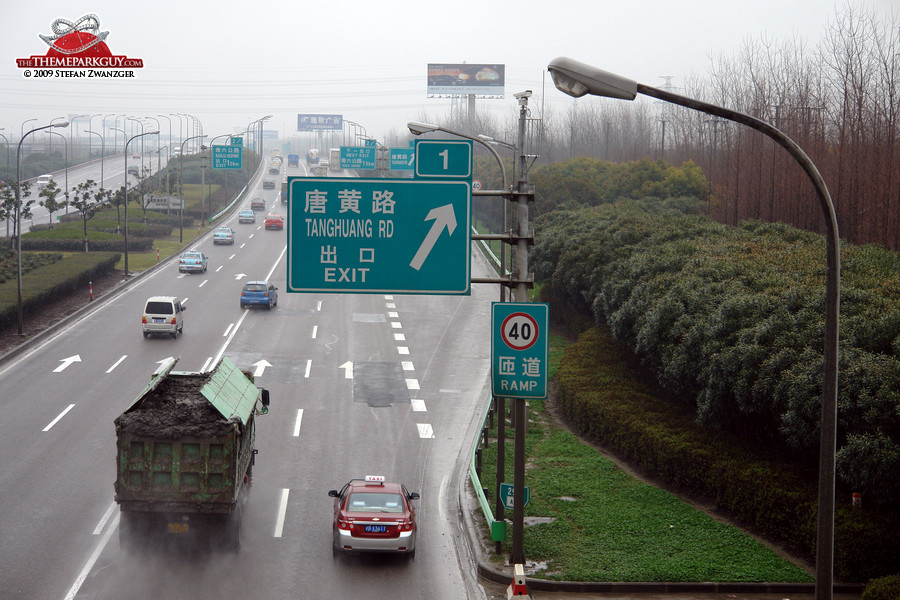 Chuansha exit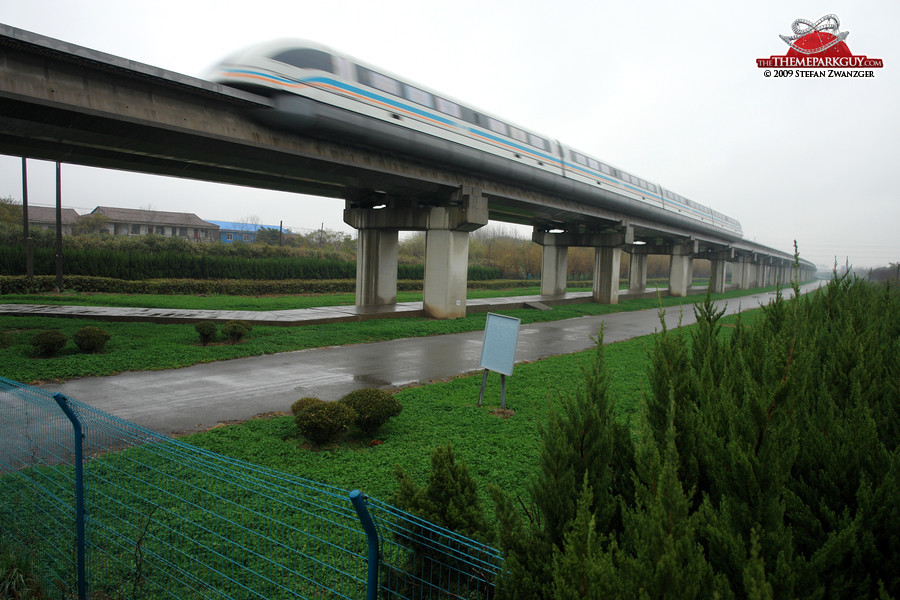 The high-speed Maglev train passes through Chuansha