Tehran amusement parks

Date Visited:
September 19, 2011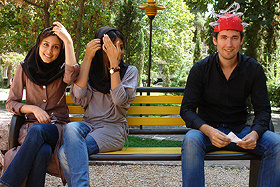 Review
Wow.
If you have never been to Iran, don't judge it by the political see-saw you grasp from the news. Yes, at this point in history, Iran is governed by a clan of spooky moralists with – as it appears to me from what I saw – a rather corrupt bureaucracy below them that is hypocritical beyond belief. But what they do not manage to stifle is a modern, 21st-century, open-minded, unprejudiced, hospitable, warm and cultured population that loves the world and its people. And Iranians have these trusting button eyes. All of them.
Young locals enjoy talking about house parties, secret dating places and second citizenships; the older generation recall their happy student times back in the US. What I have heard and seen there was completely contrary to popular perception. Persians are high energy people, certainly no terrorists, and many speak fabulous English; most of them have relatives in Canada, the US, the EU and Australia, which keeps them connected to the world, even though their passports permit only very limited visa-free travel.
The two amusement parks in Tehran are drainingly dull, though: Velayat Park is a new, charm-free indoor park for infants, and Eram Park - remarkably run-down, given that it's a permanent establishment - hosts two fun fairs at its opposite ends (there is a zoo in the middle) featuring all kinds of rusty amusement rides. Expect carousels, bumper cars, ferris wheels, ghost trains and soft drinks.
Notable is the old and frail yellow looping roller coaster in Eram Park No1. I must admit, I was scared. The loop is the tightest I have ever seen and the soda can-shaped ride vehicle's headrests are too low to keep your head stable. One can hear the riders' joyful screams rise when the coaster plunges into the loop and vanish within a second once they enter the murderous brain-turner itself. With every new rider, over and over, the same screams and the same silence in the loop. I had to try it. And it really hurts. It took me a while to completely get rid of the persistent neck-tension following this experience. This thing is evil.
Yet, when you turn around, and you see all these smiling, button eyed Iranians in these corroded rides around you, smiling at each other, smiling at you, you can bear that little neck crack. This coaster must feel like living in Iran today. It doesn't kill you, but it is genuinely uncomfortable and, in the long term, not really healthy.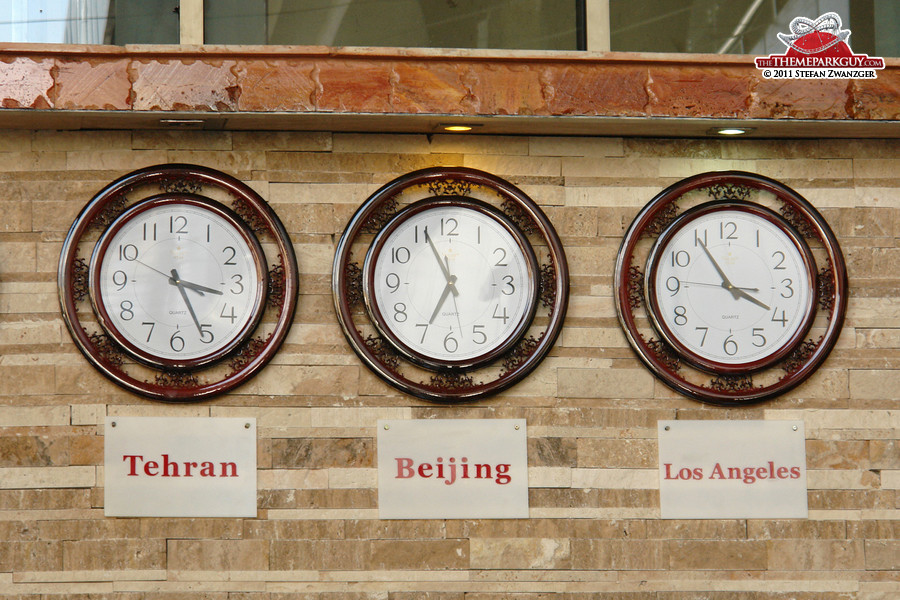 Time is running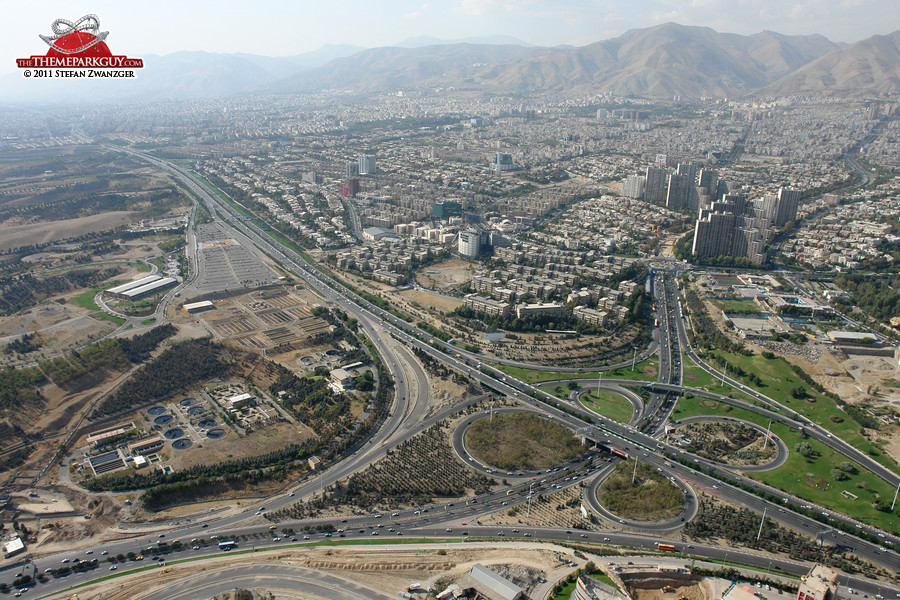 Tehran in September 2011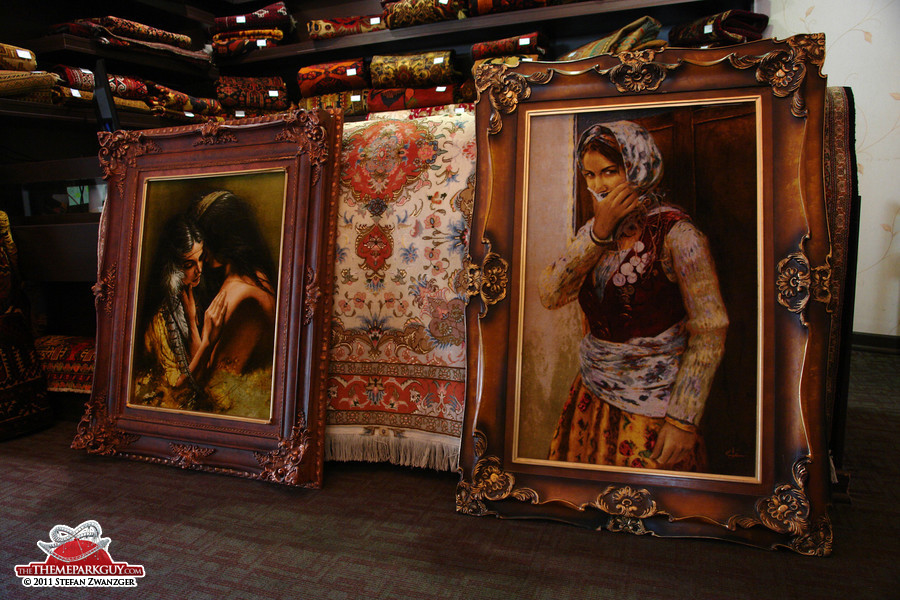 A mysterious city, completely different to other capitals in the Middle East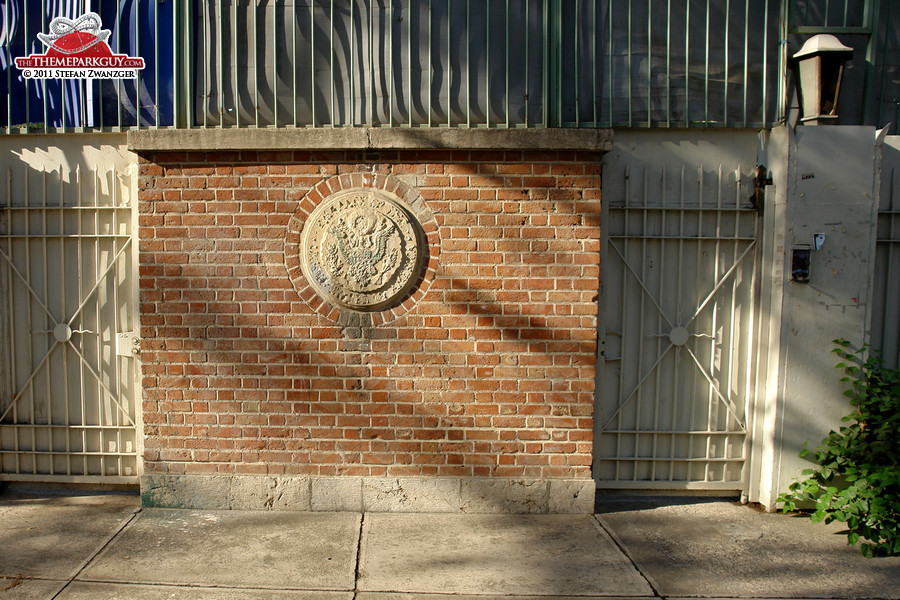 Taleghani Road in central Tehran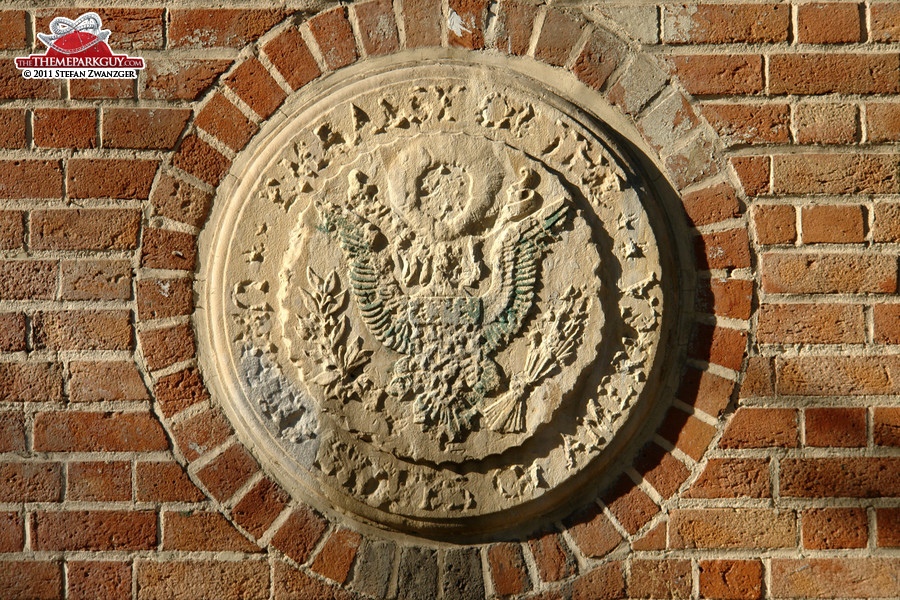 Embassy of the United States of America, Iran. Closed by force in 1979.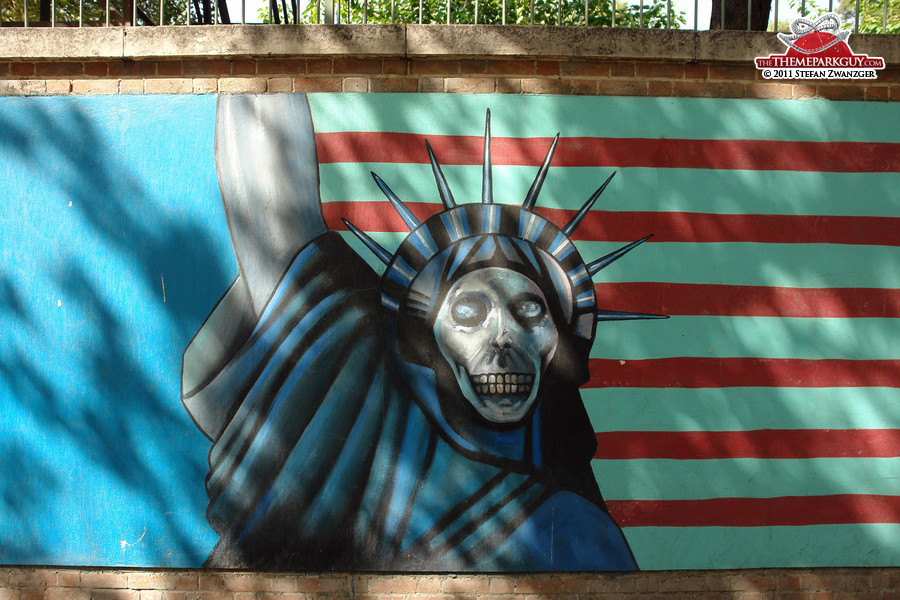 And this is what graces its walls today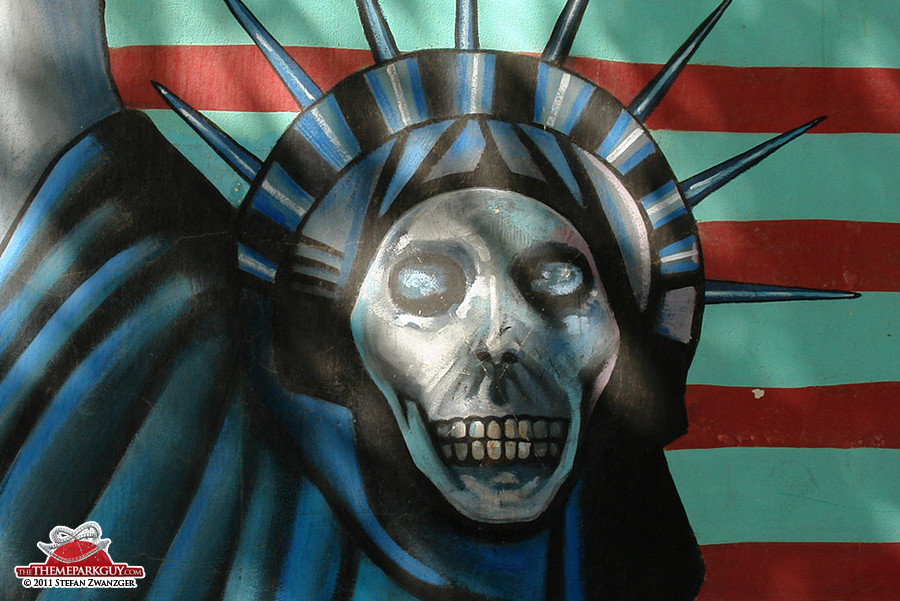 The Statue of Liberty corpse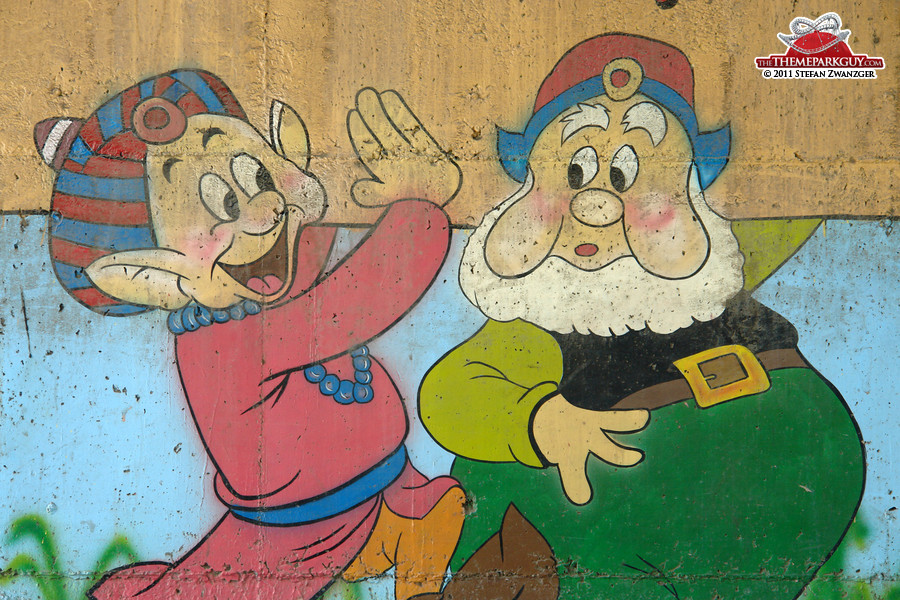 On the same day, on another wall, 10 miles west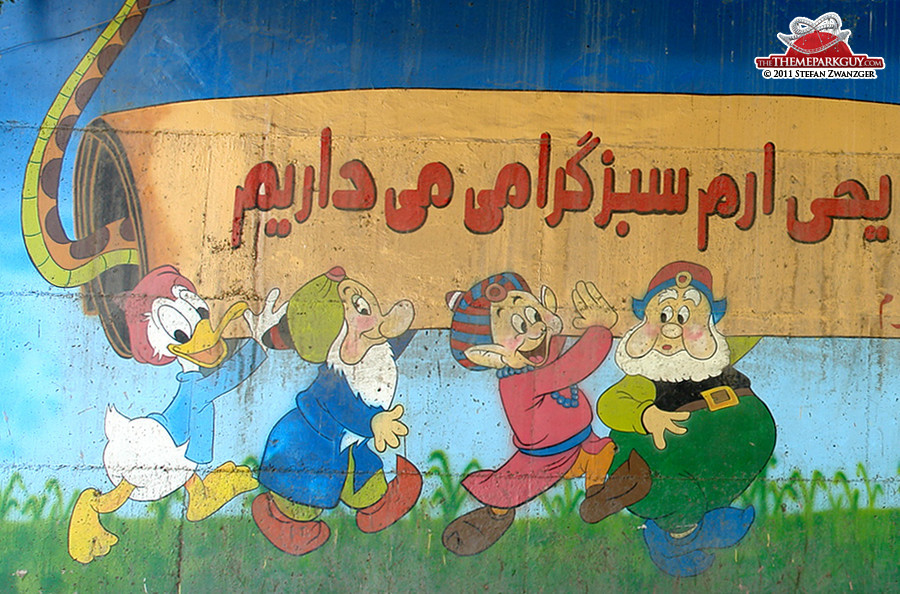 Donald is out with the Seven Dwarfs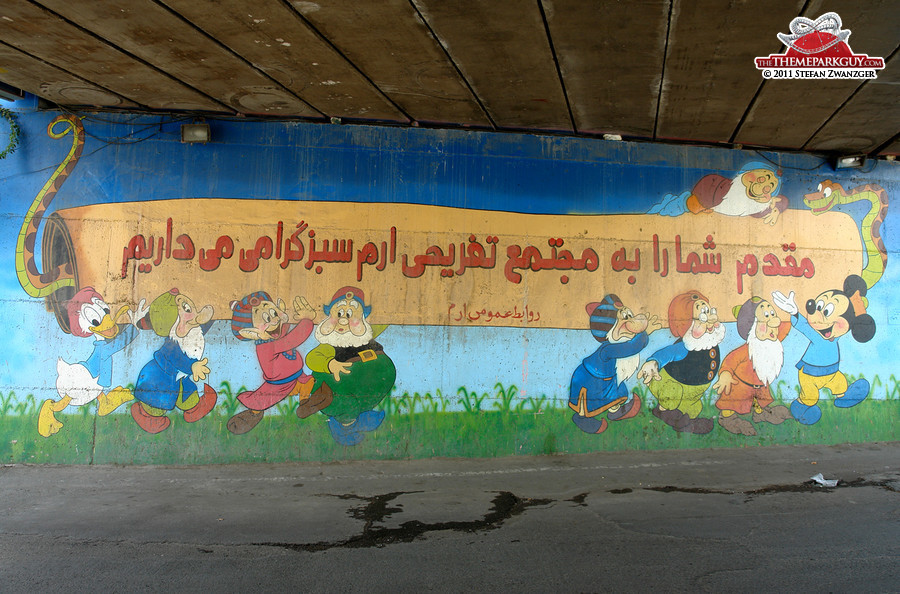 Wall painting at the entrance of Eram Park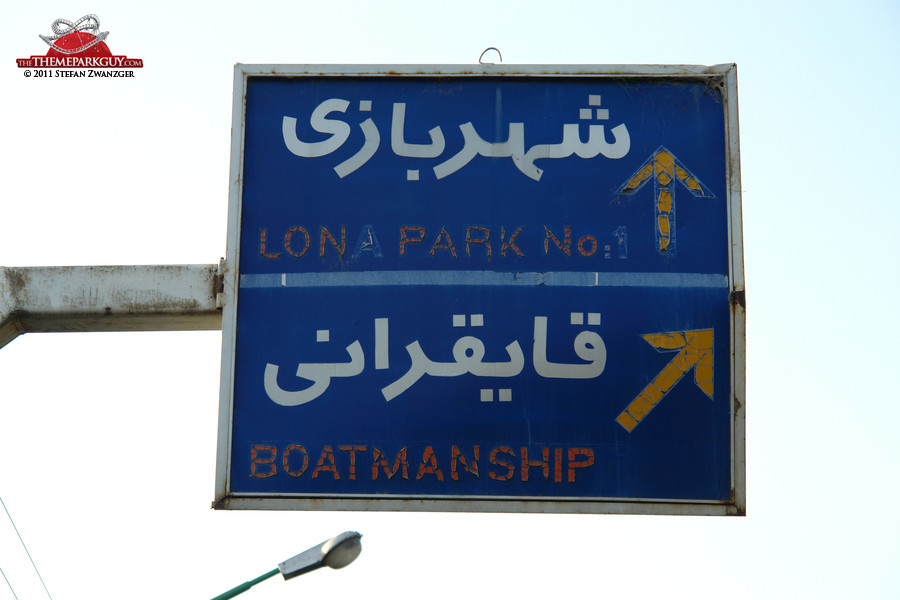 Eram Park is Iran's biggest amusement park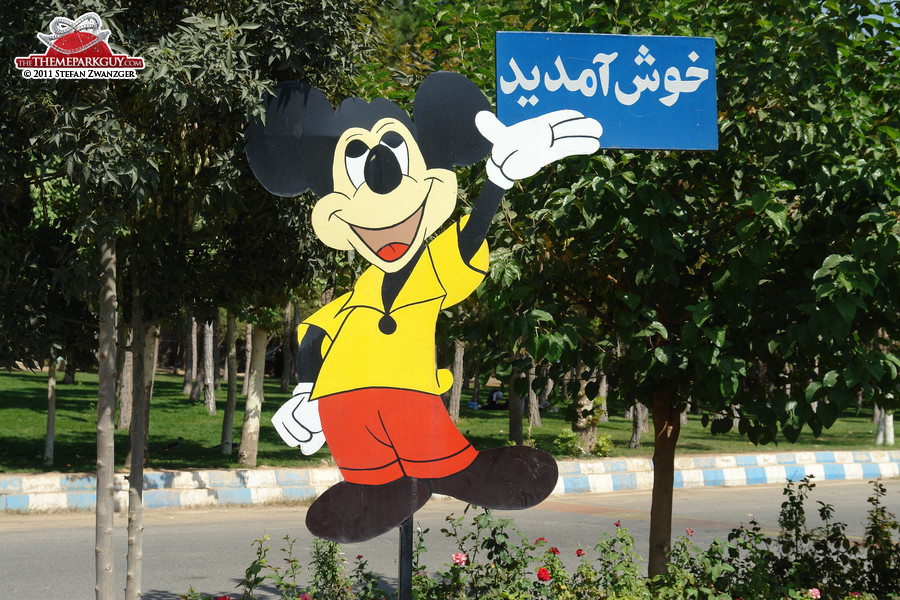 Mickey is here, as well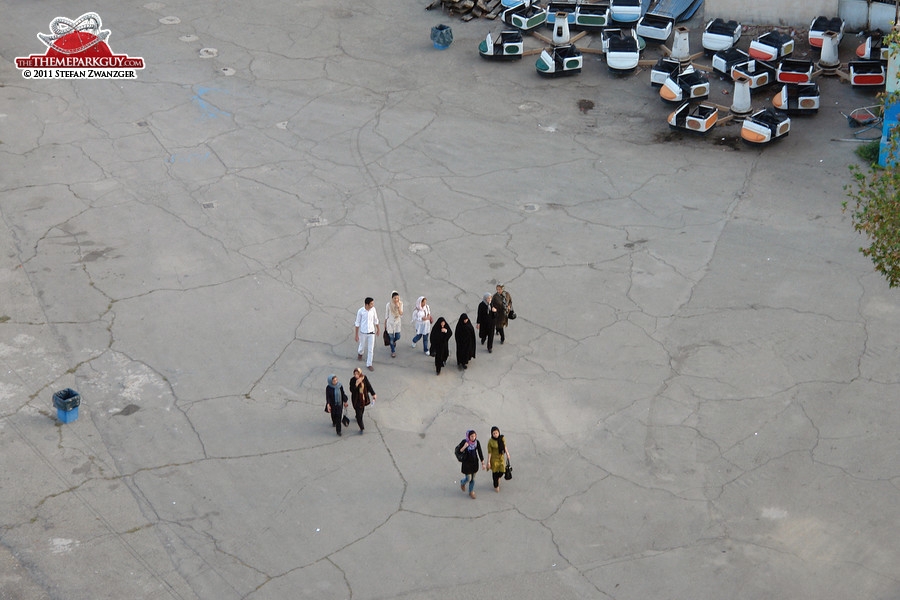 Locals on the way to the park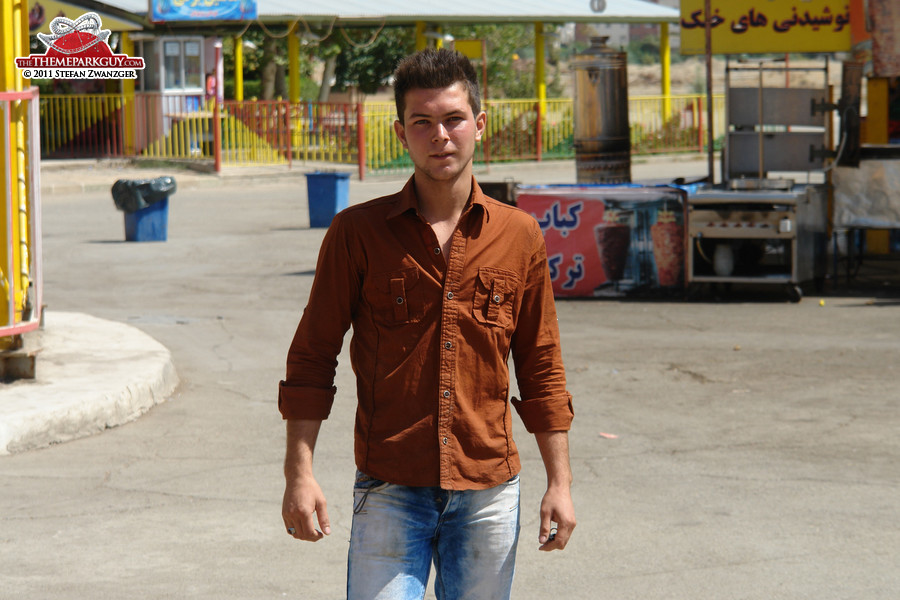 Young Ray Liotta? No, an Iranian guy with a soft spot for being photographed.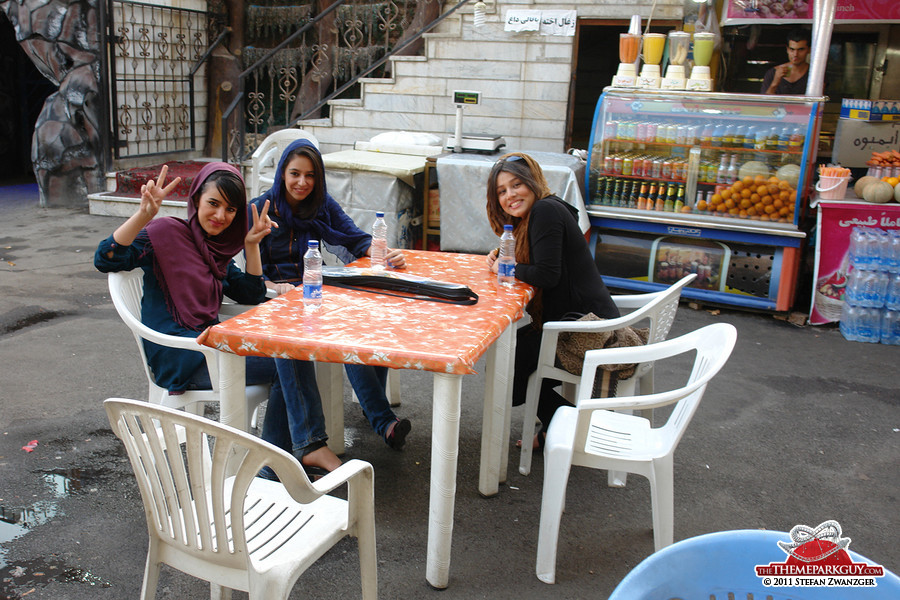 Iranian teenage girls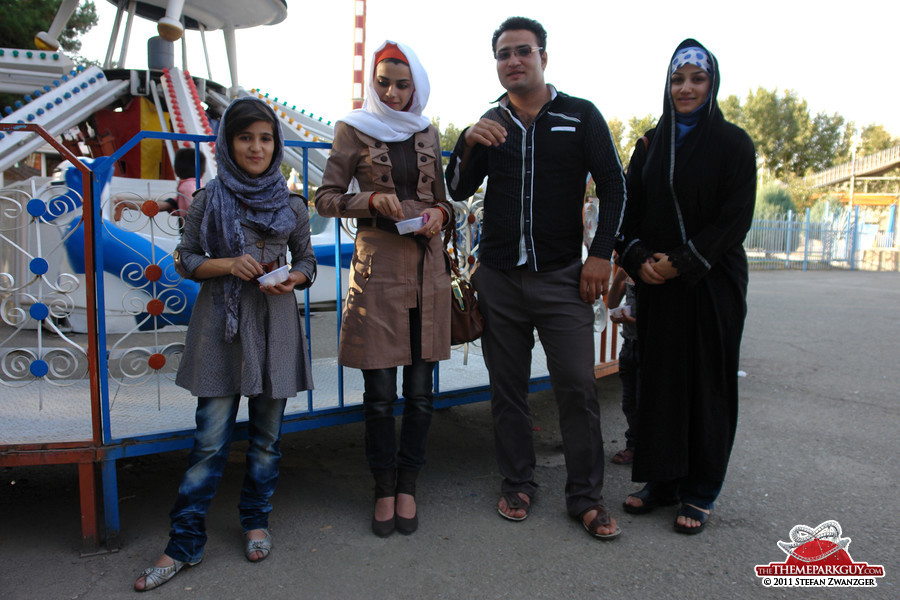 Iranian family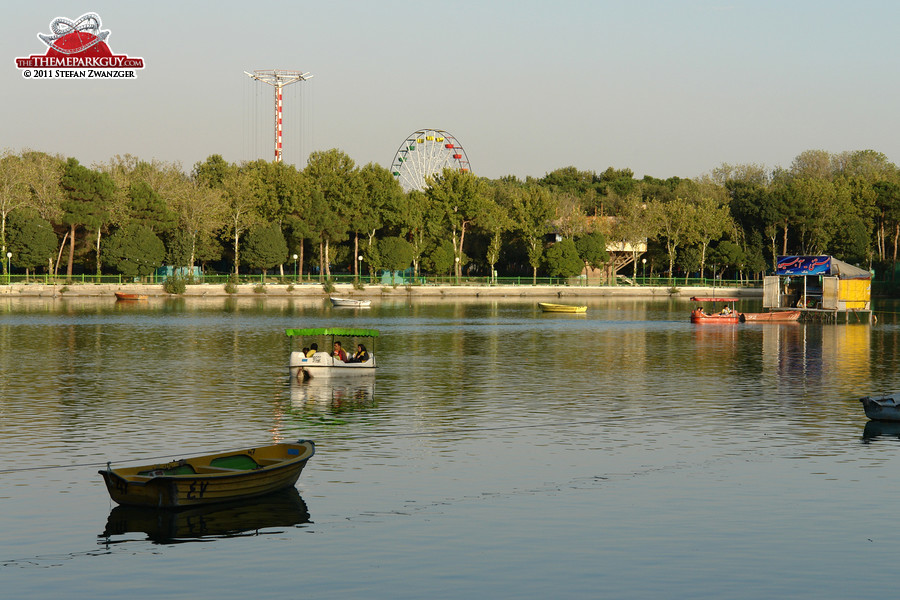 Lake in the center of Eram Park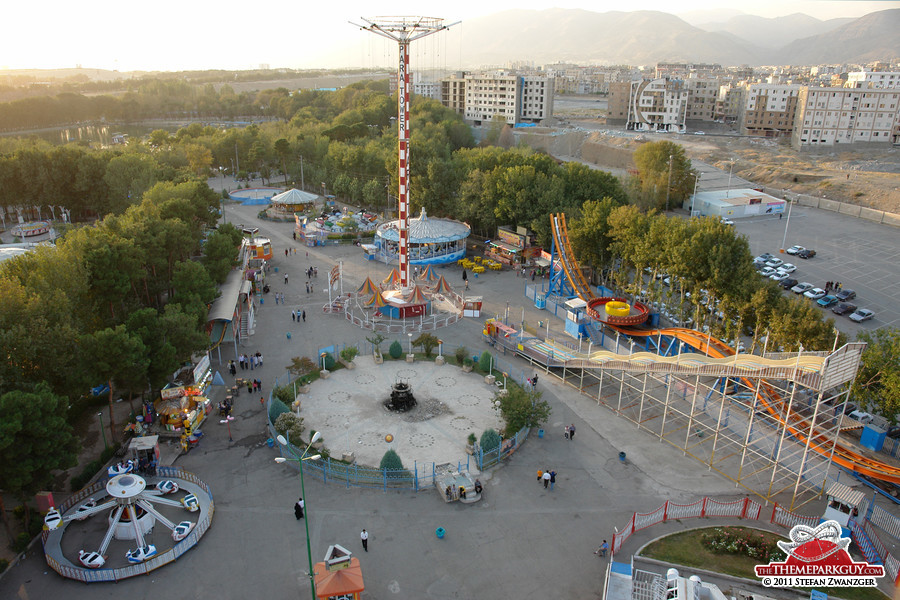 Luna Park 'Eram' in Tehran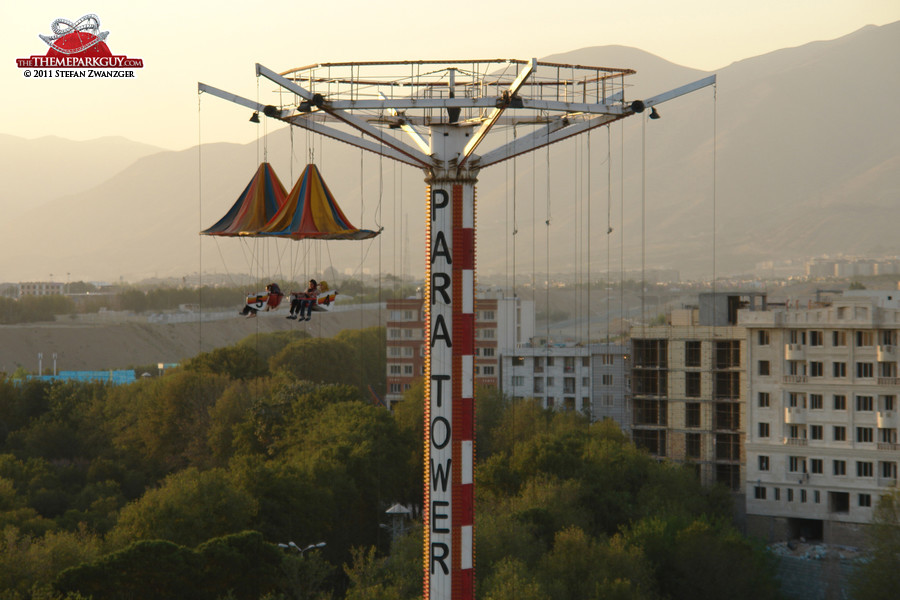 Para Tower ride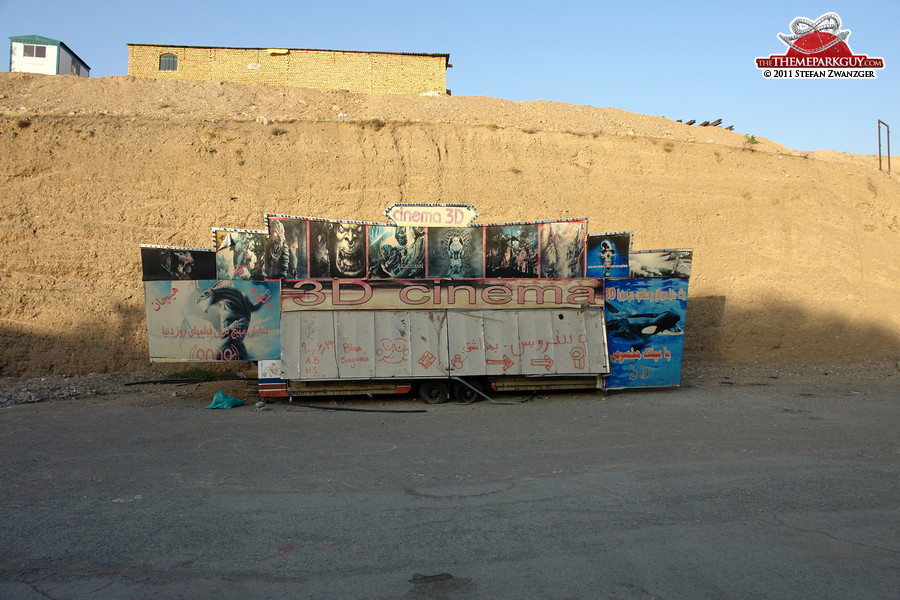 The evolution of D: 3-D cinema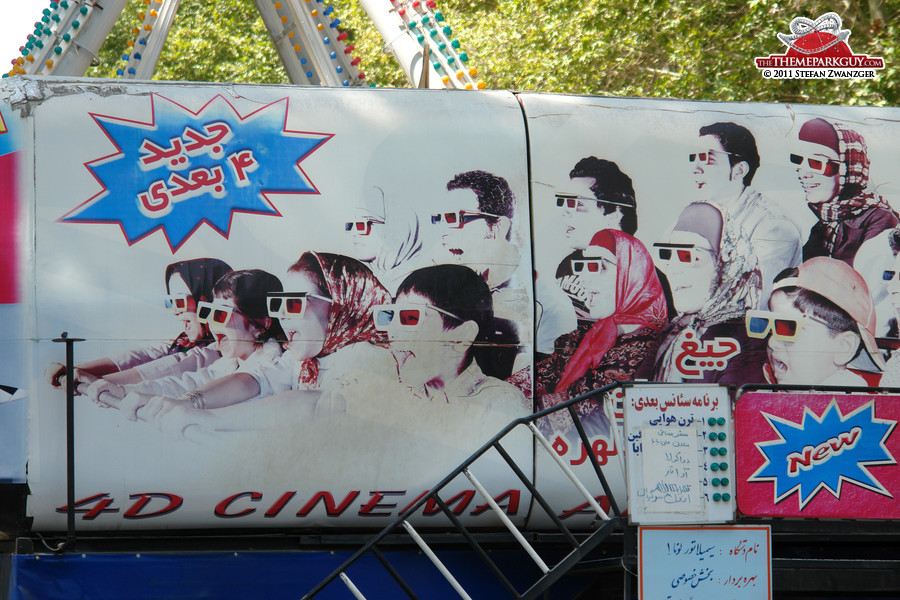 4-D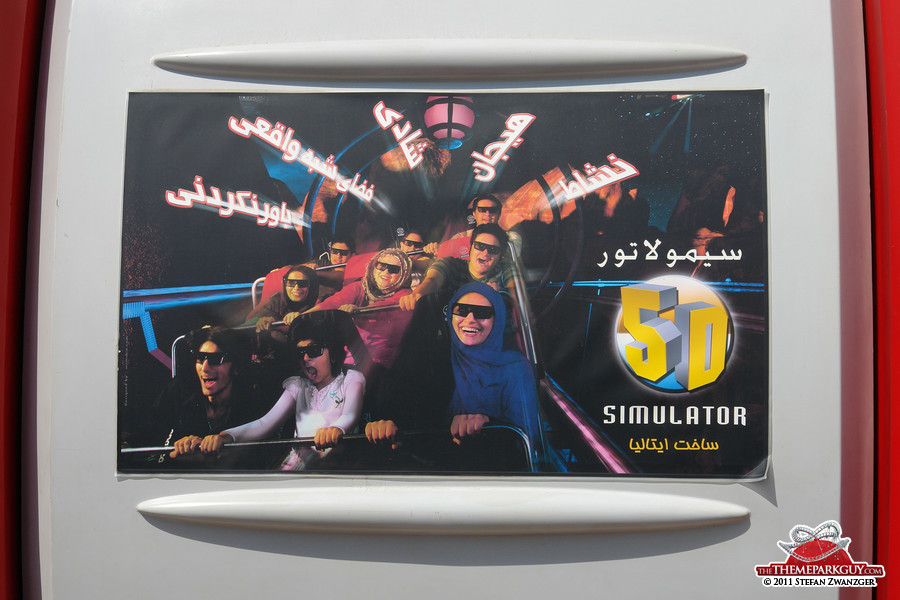 5-D!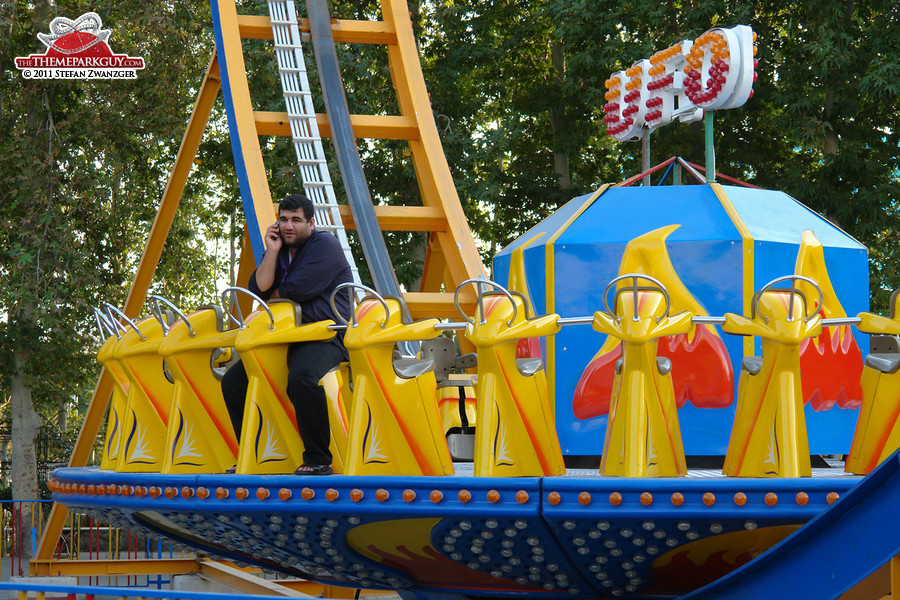 Ride operator taking a break
Hunted by Iranians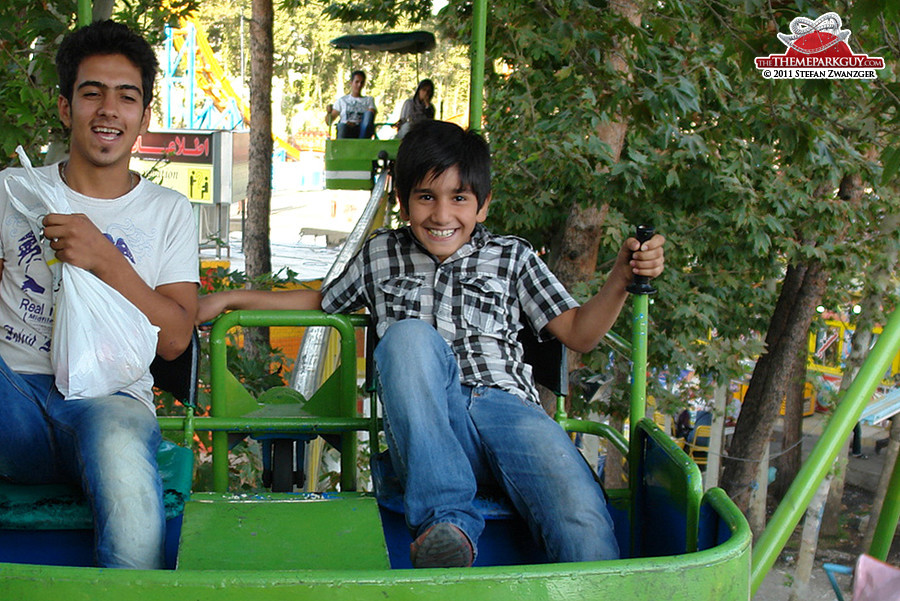 Look at this determination!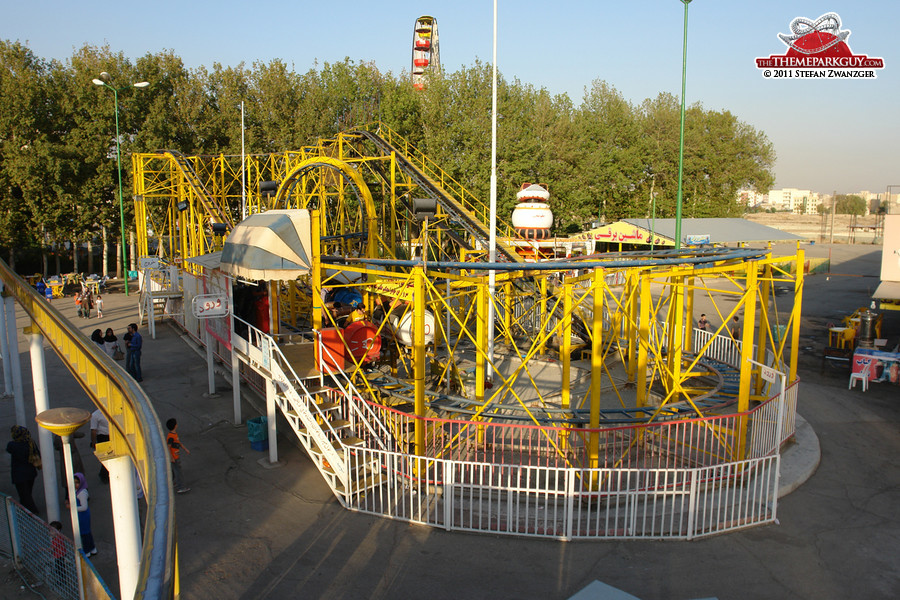 And here it is: probably the world's worst roller coaster!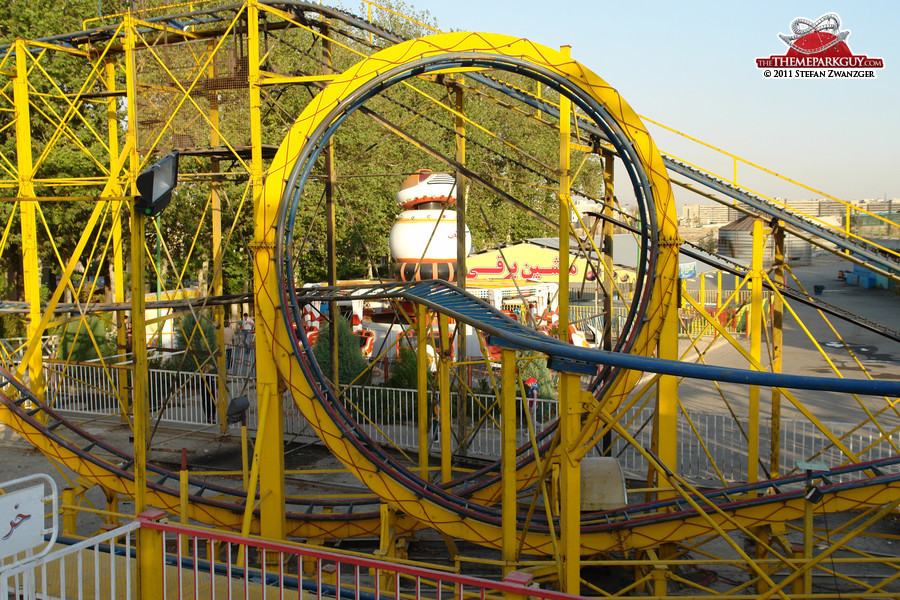 Extremely tight loop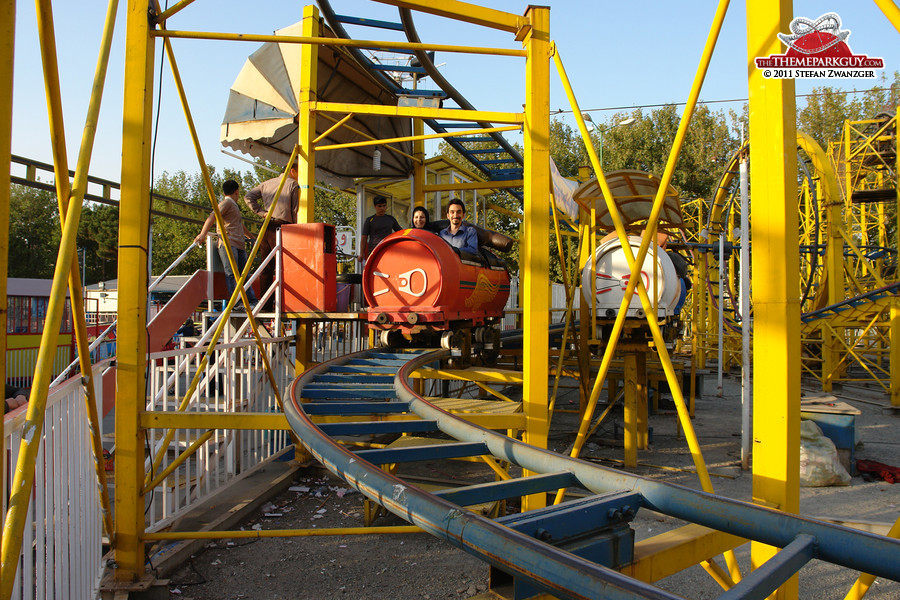 Soda can-shaped coaster cars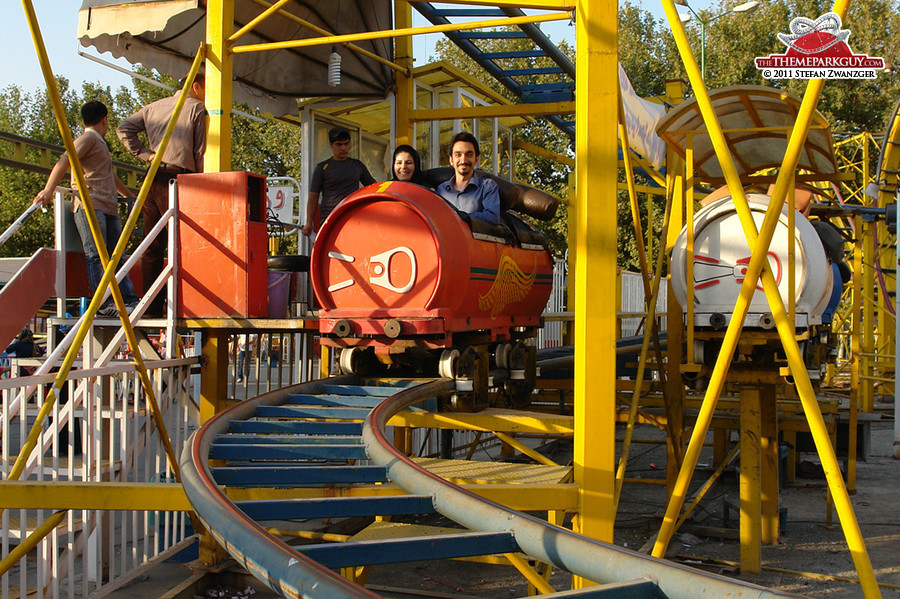 Closer view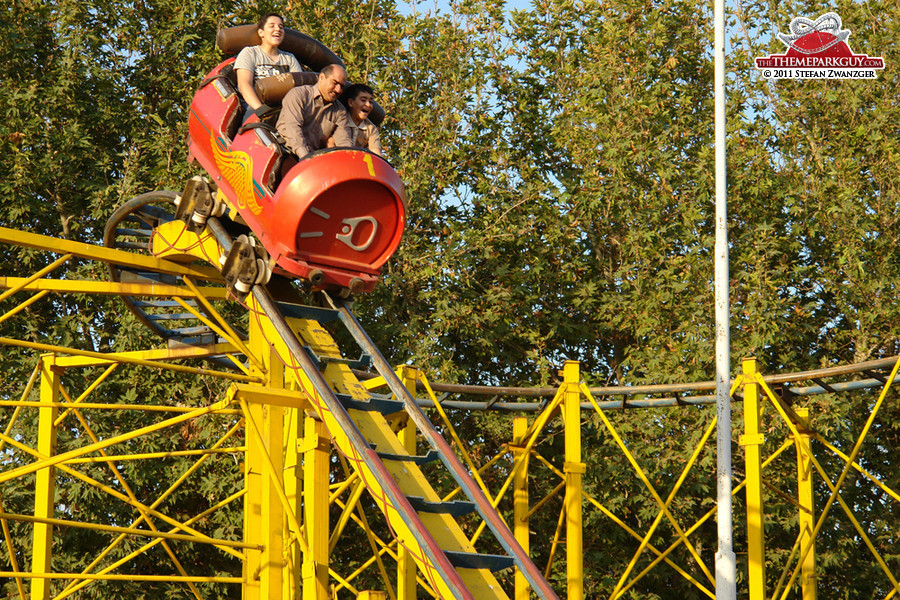 Plummeting into the loop
This is the point where riders stop screaming, because...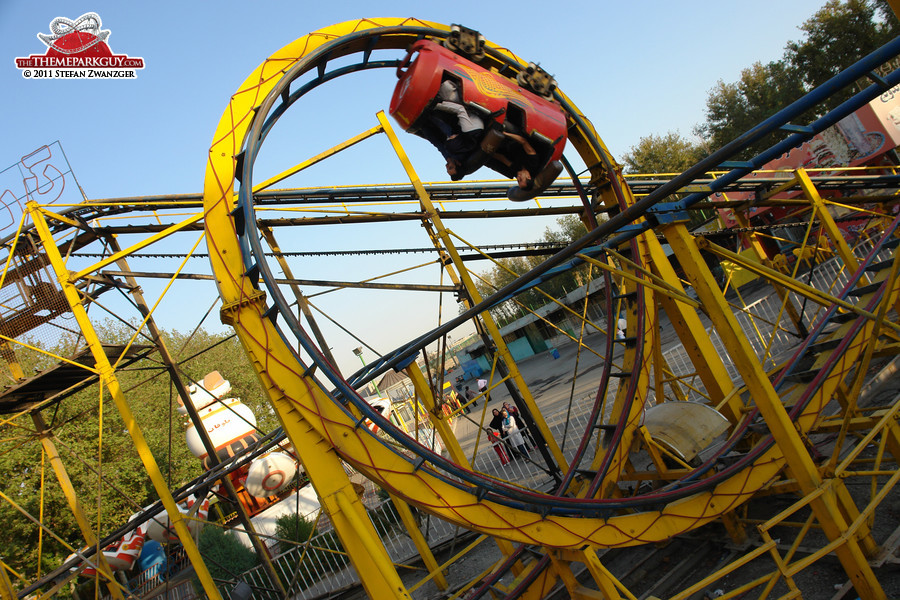 ...it...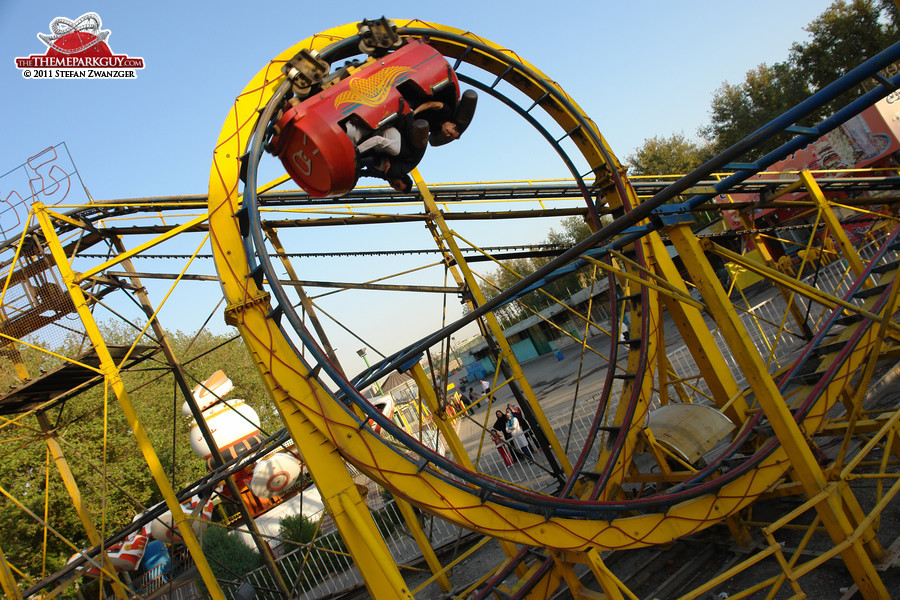 ...really...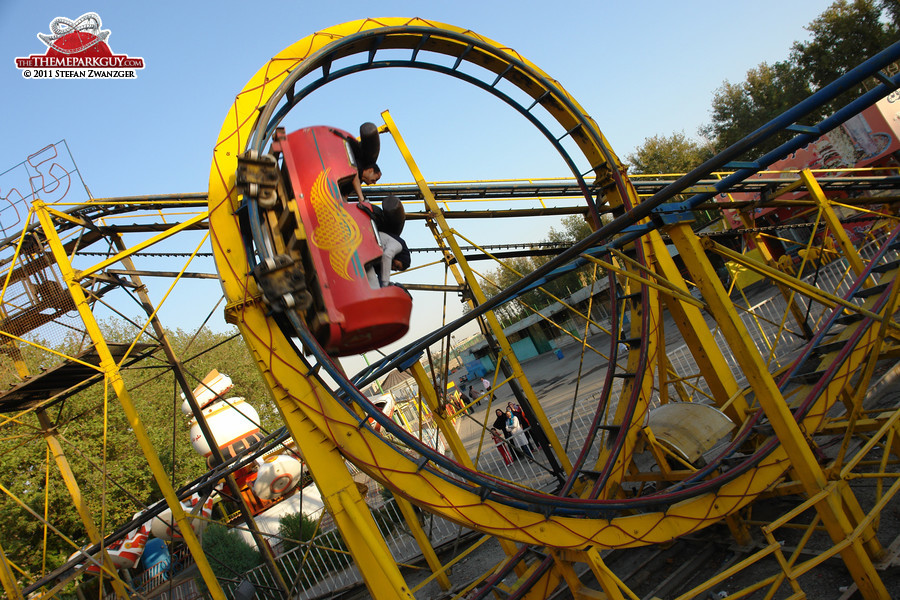 ...hurts.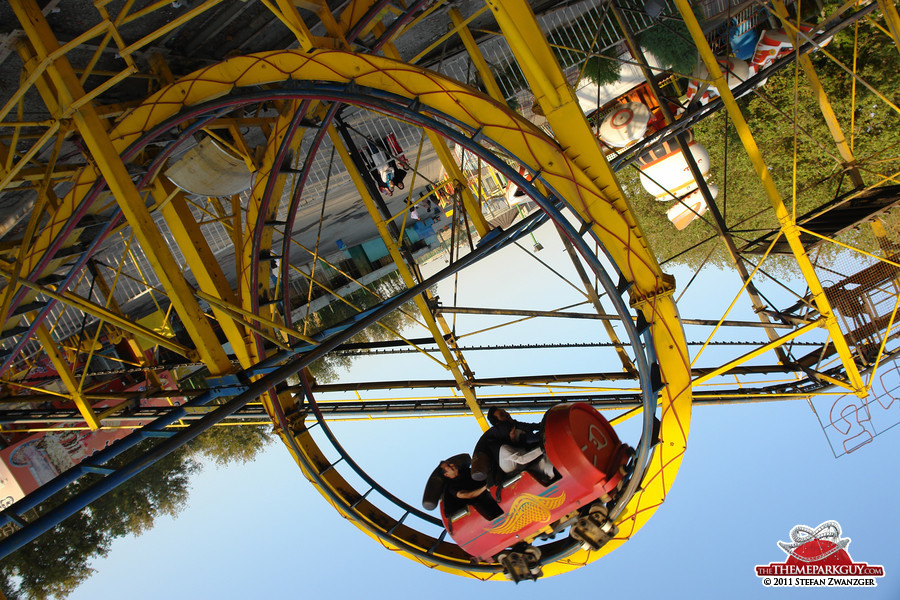 Let's take a look from a different angle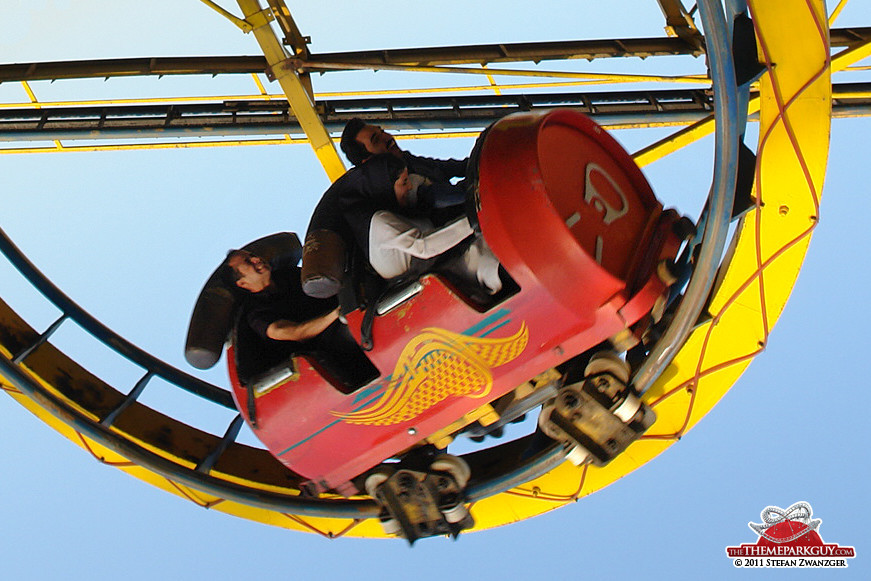 Pain in the back seat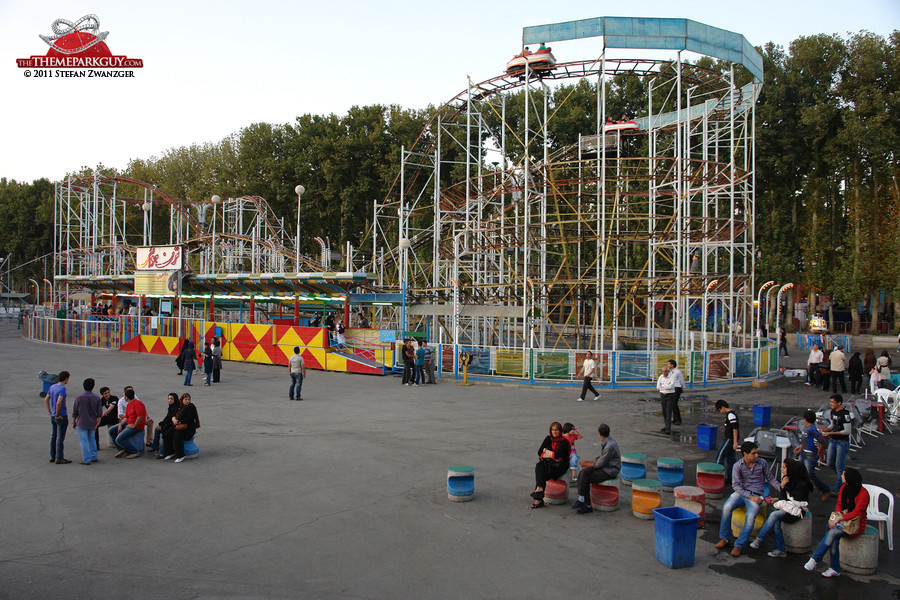 Another rusty roller coaster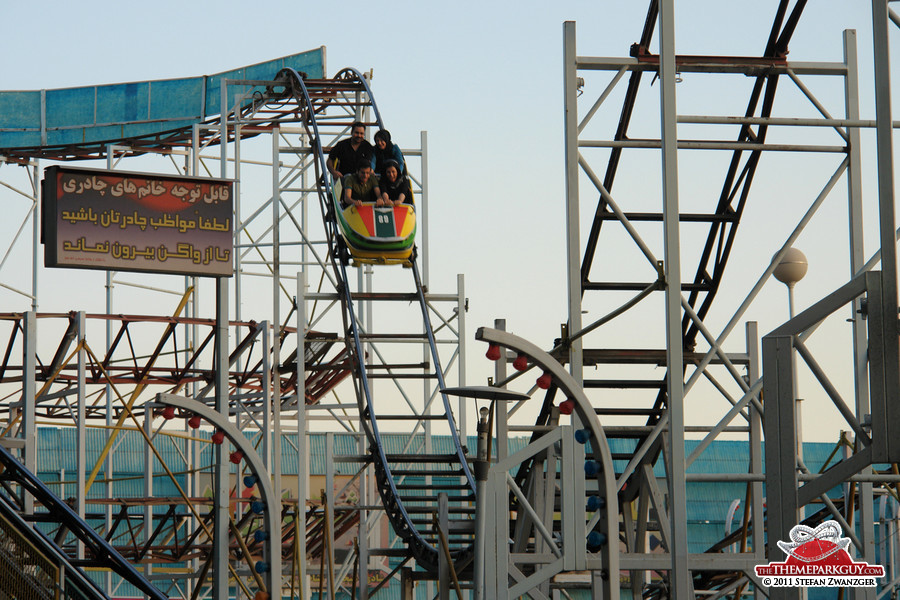 First drop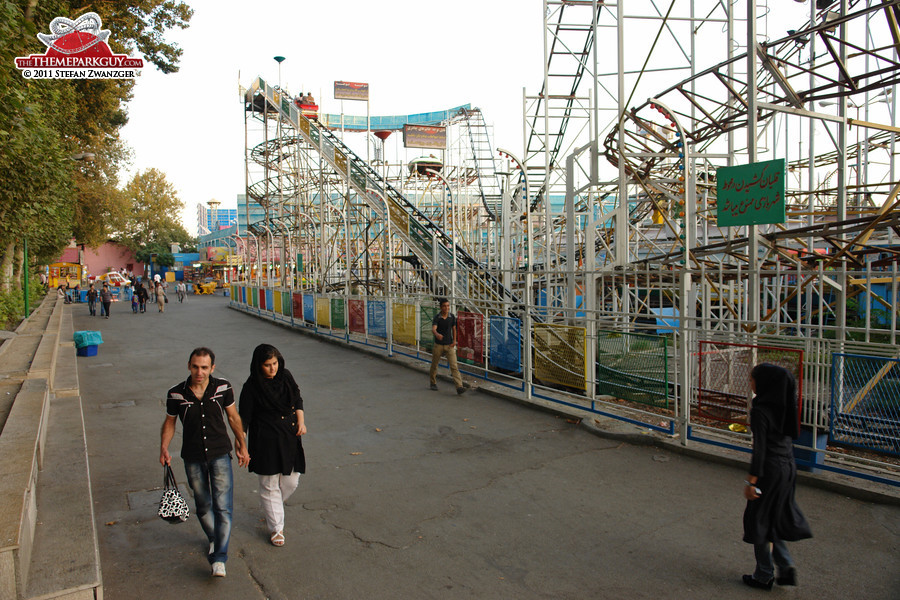 Eram Park atmosphere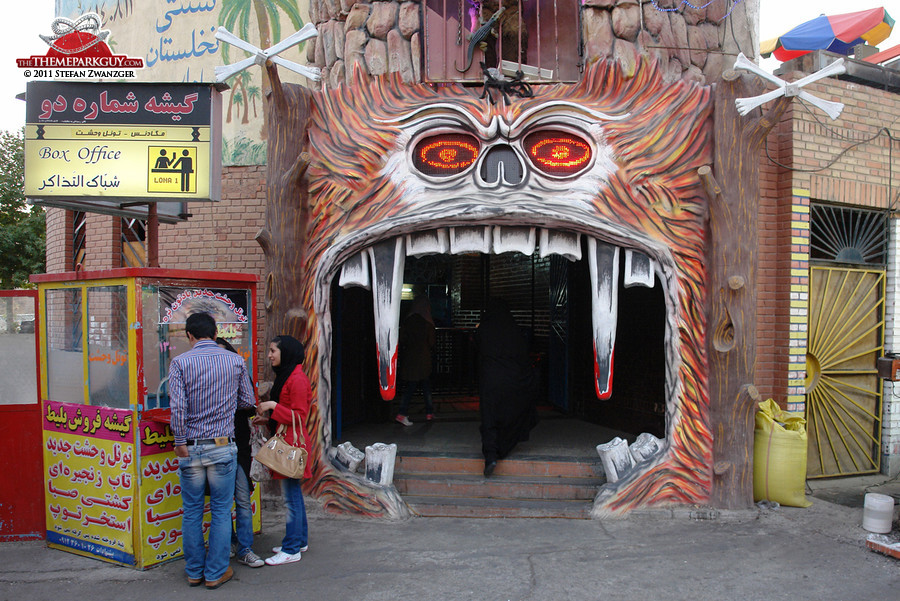 Ghost train full of spirits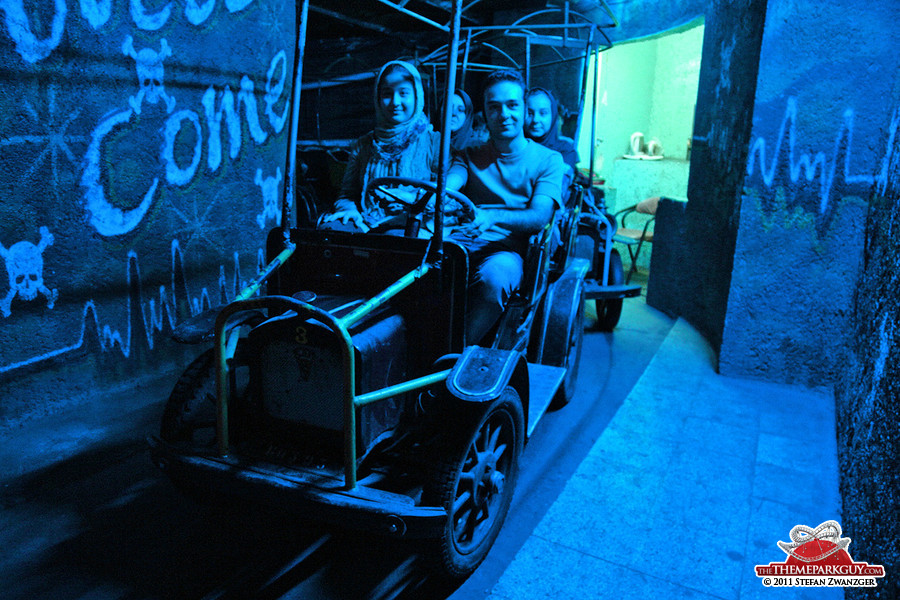 Ghost train cars. This is the low-quality ride you would expect.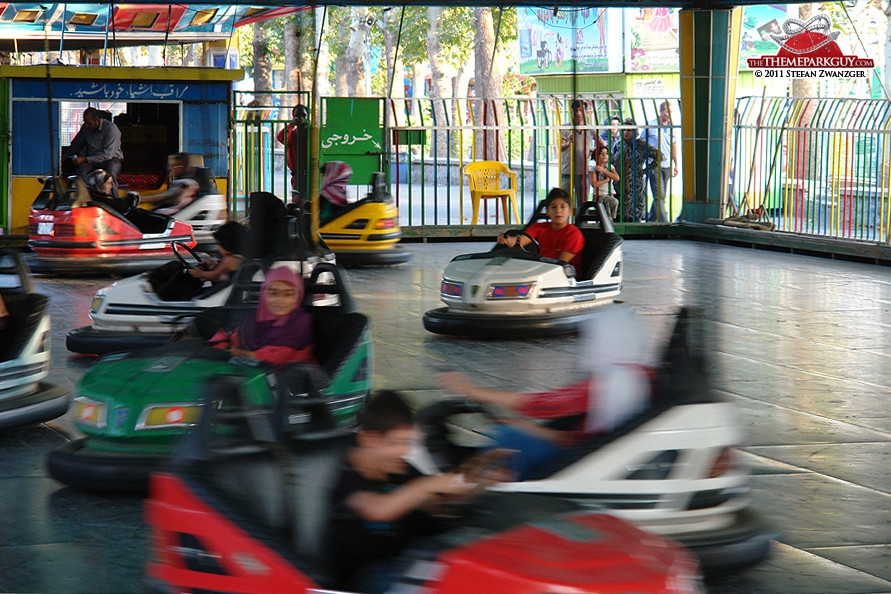 Bumper cars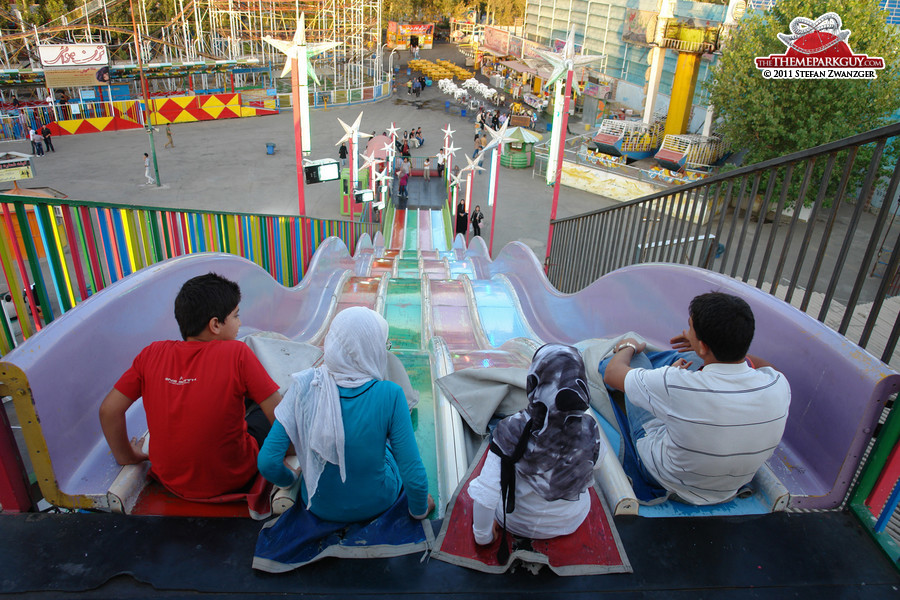 Family slide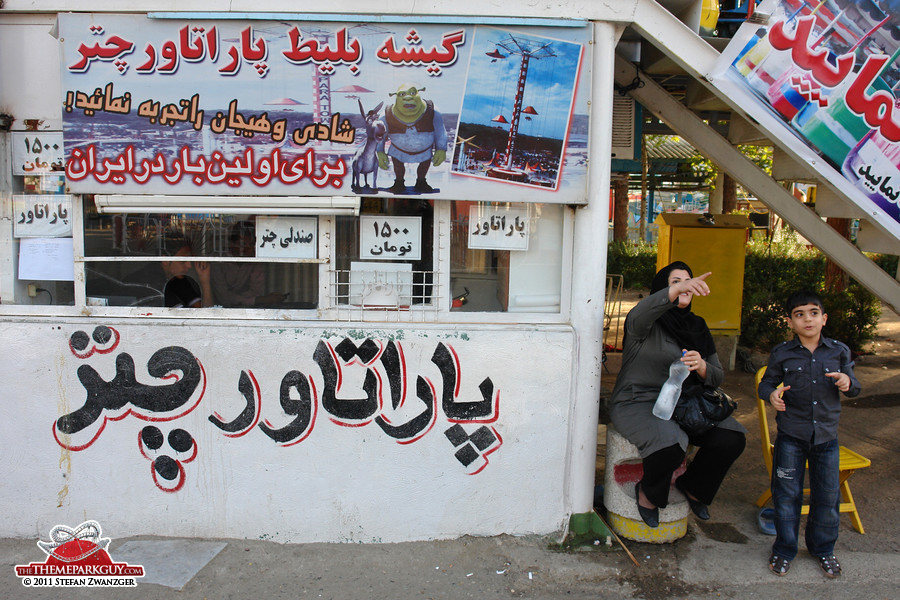 This picture proves that (look closely):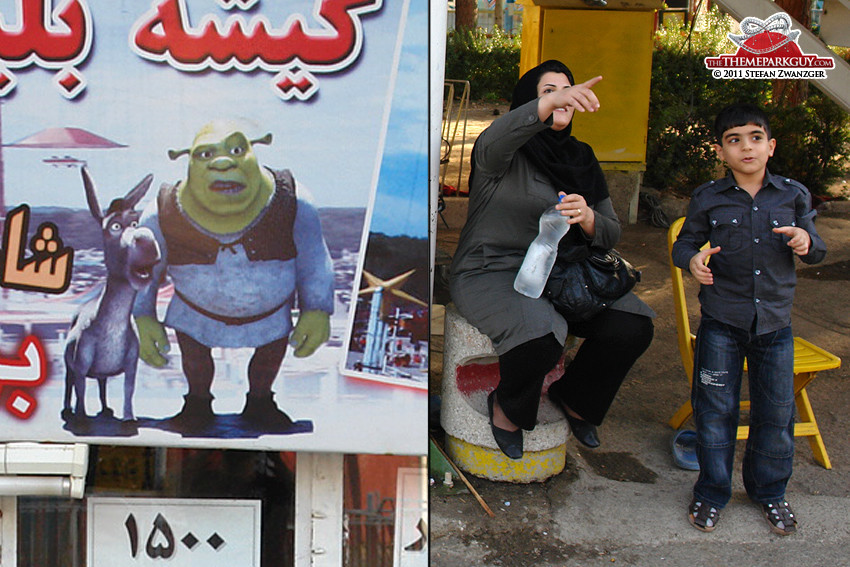 America is everywhere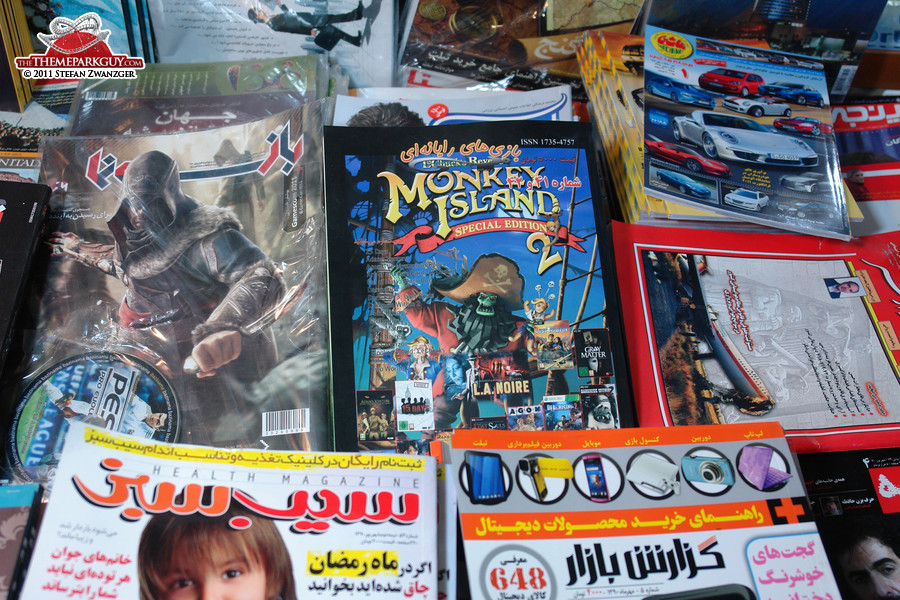 Famous US computer game Monkey Island seems to be popular in Iran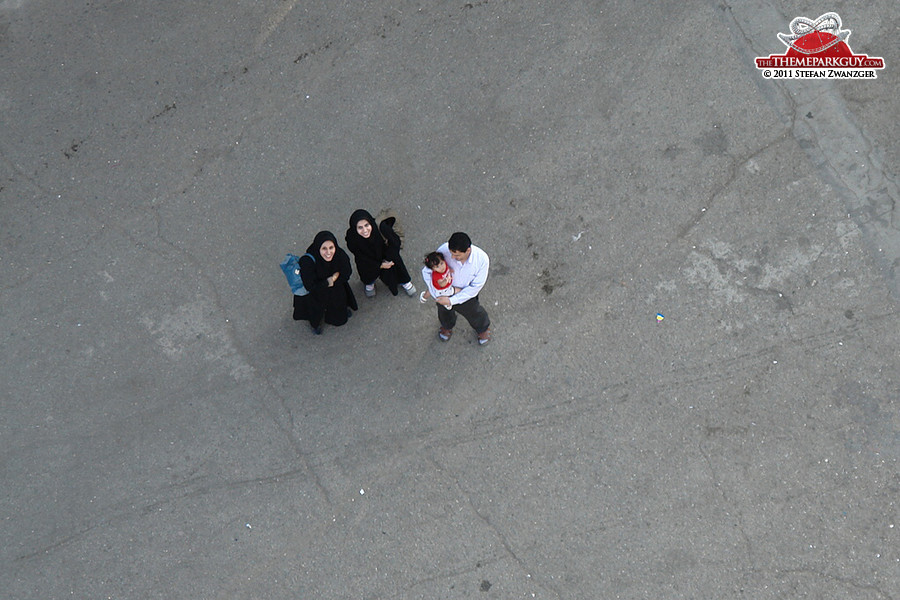 Iranians are really friendly to foreigners!
Eram Park Tehran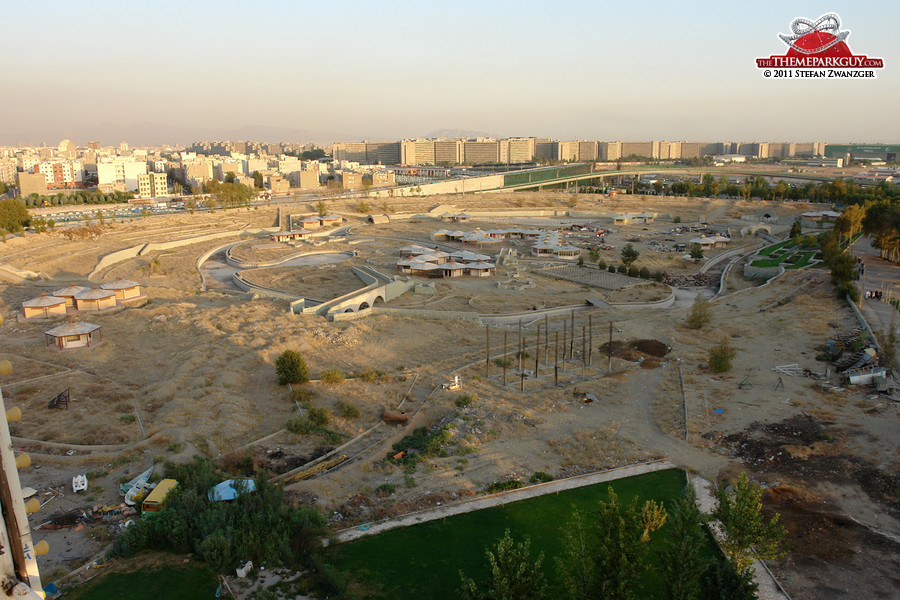 This was supposed to become a water park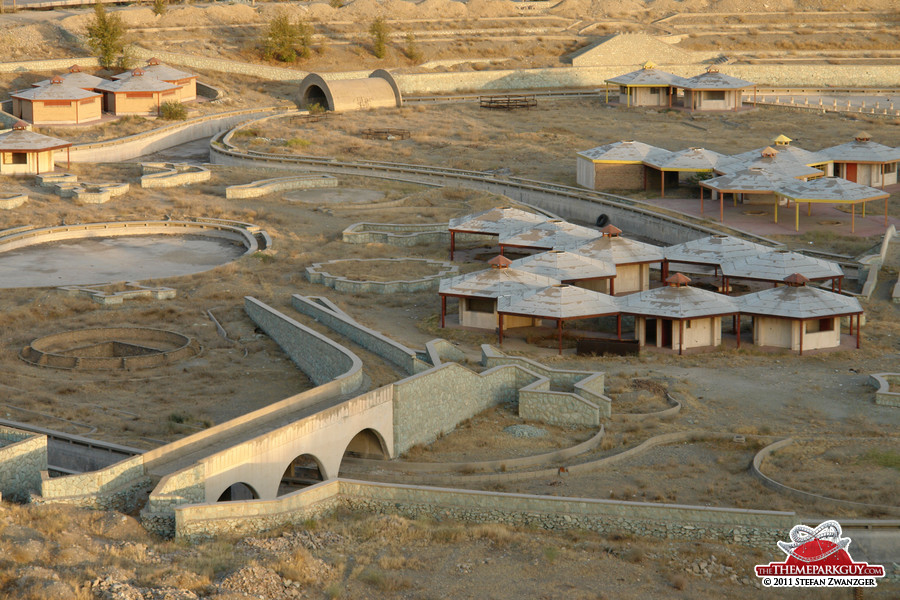 Construction came to a halt, though. Moral issues?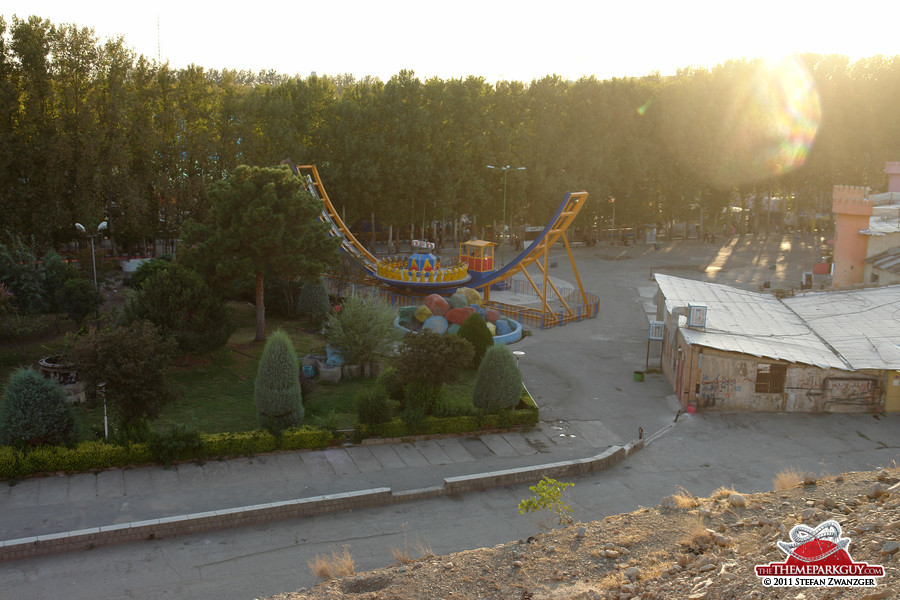 Eram Park was open only in the evenings (at least in September 2011)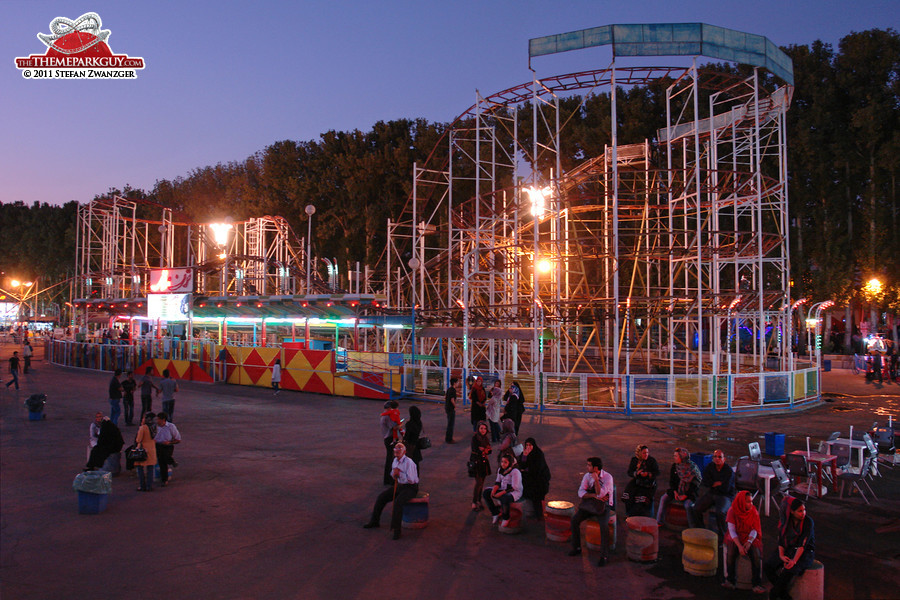 Evenings in Eram Park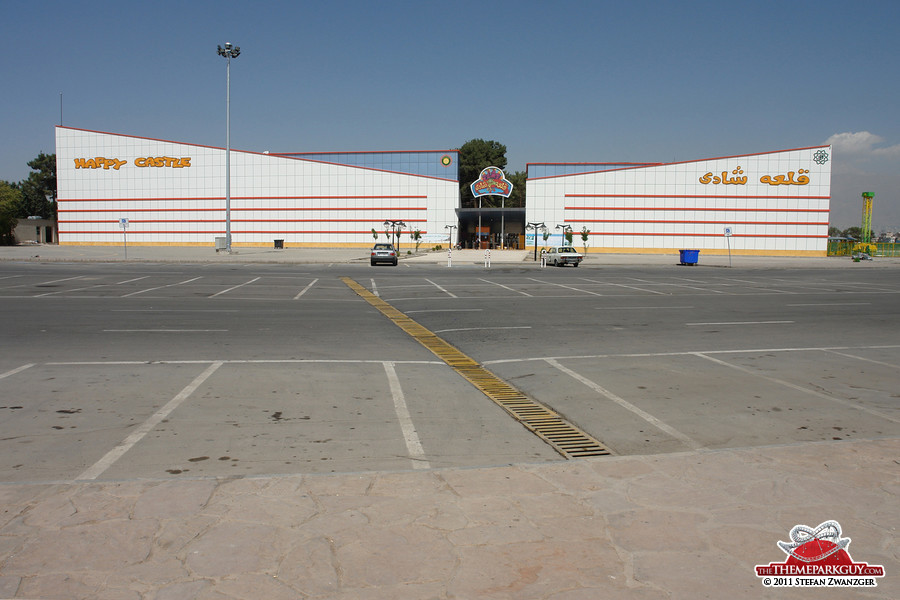 Velayat park in southern Tehran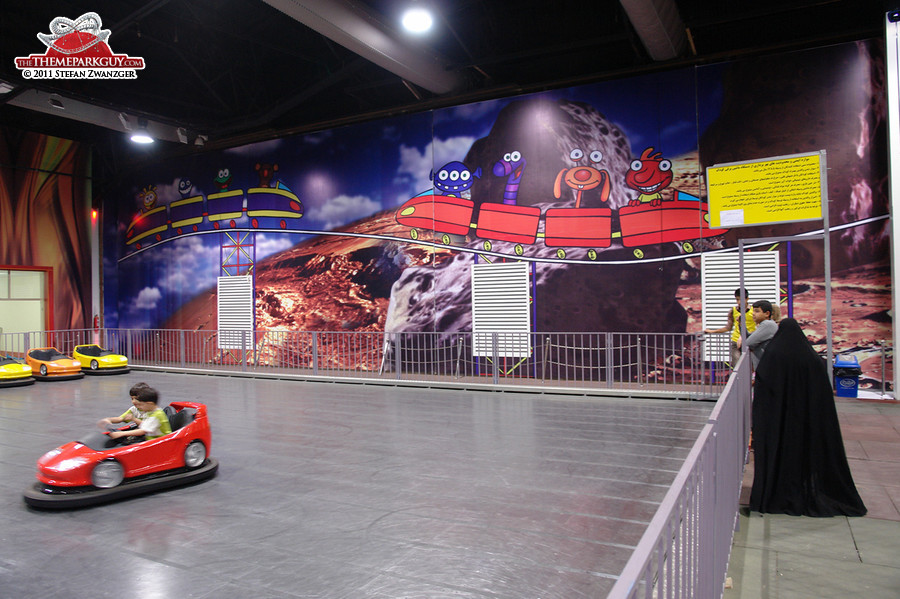 Here you can take the bumper car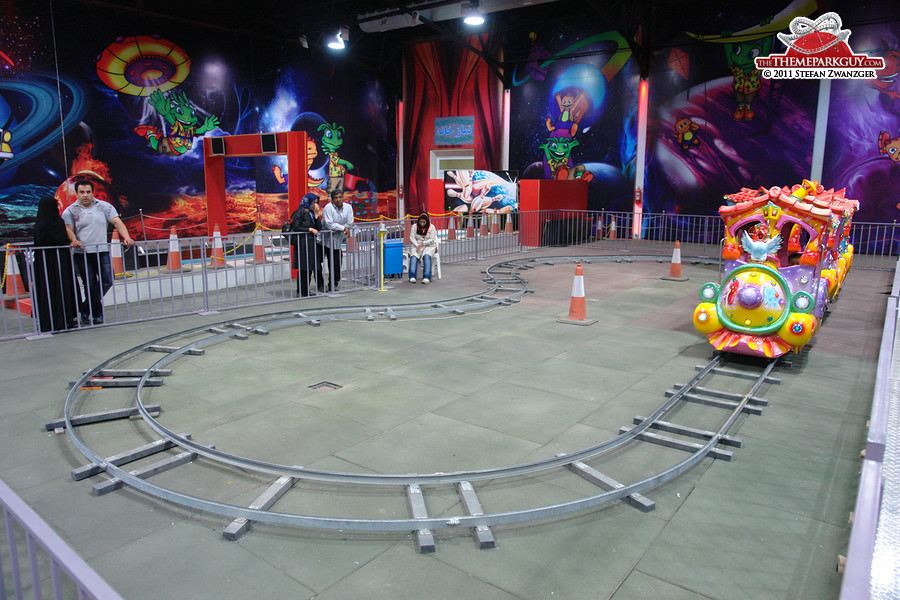 You can enjoy the toy train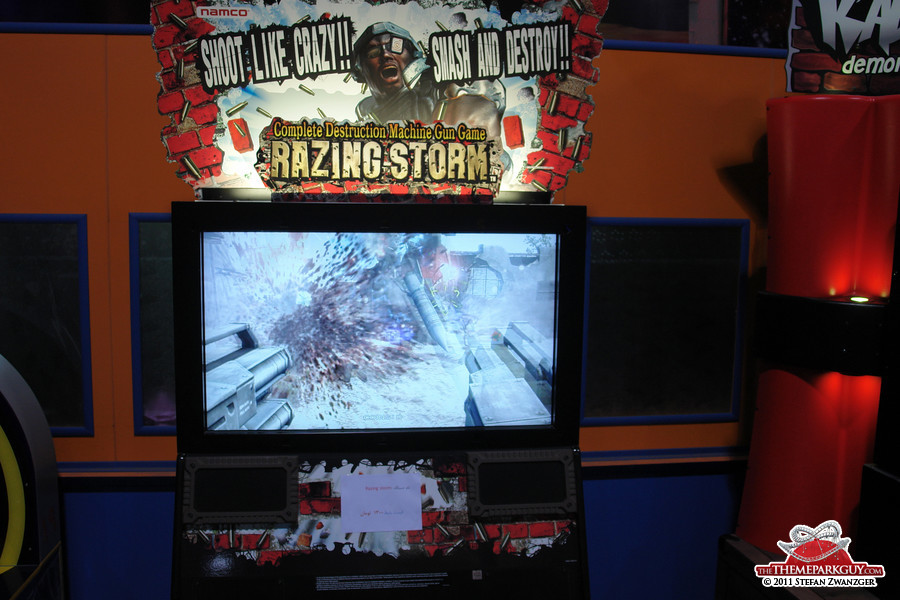 Or play the 'Complete Destruction Machine Gun Game', made in Japan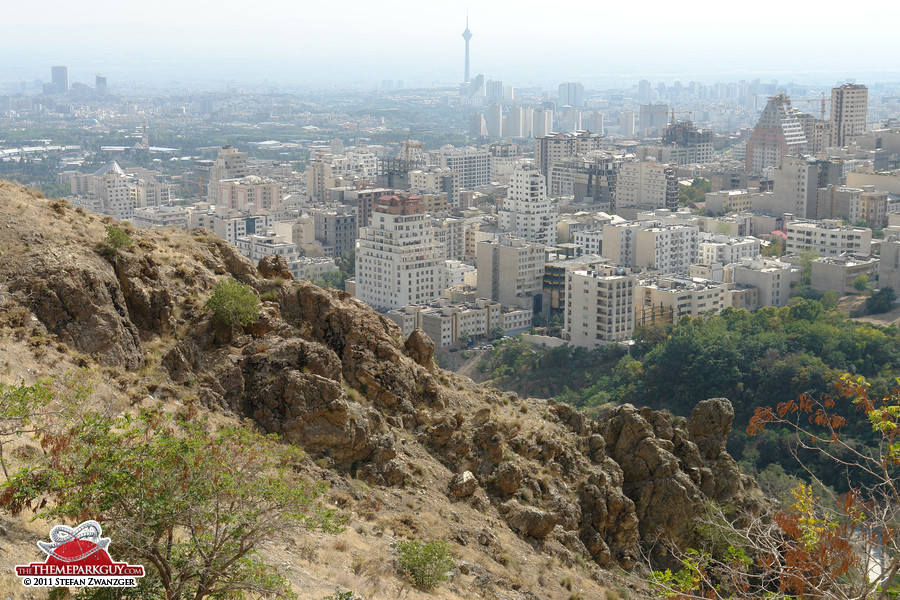 Tehran view from the mountains in the north of the city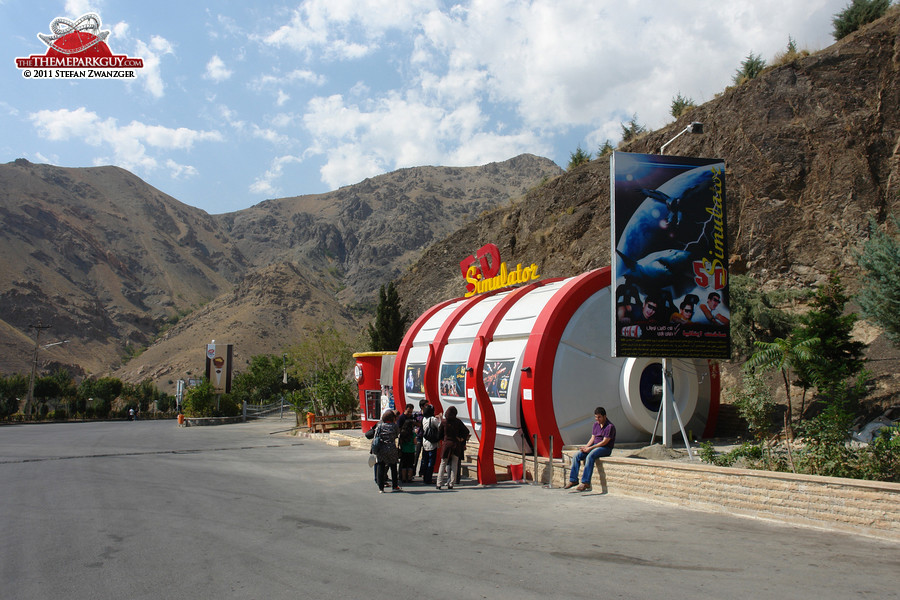 Up in the mountains: 5-D cinema in an unanticipated location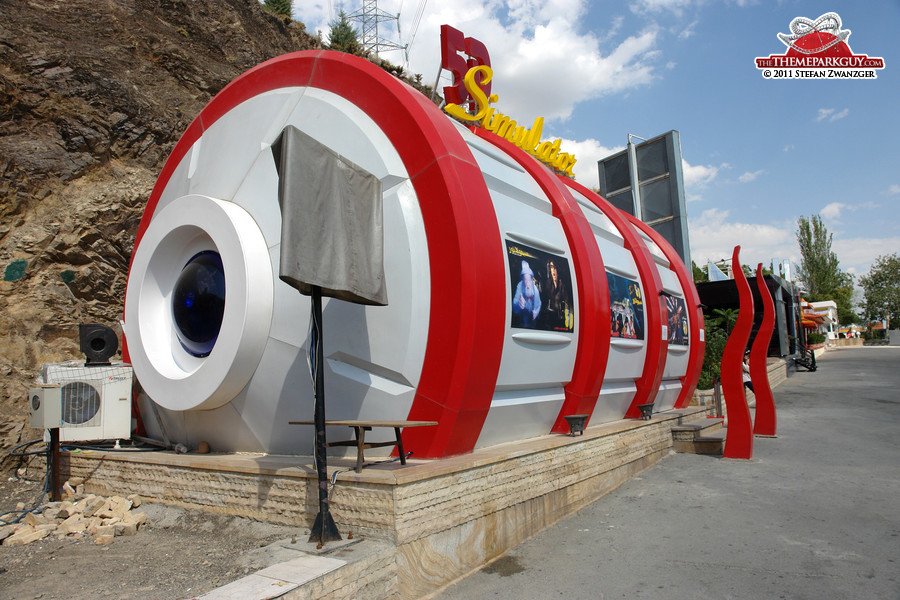 Made in Italy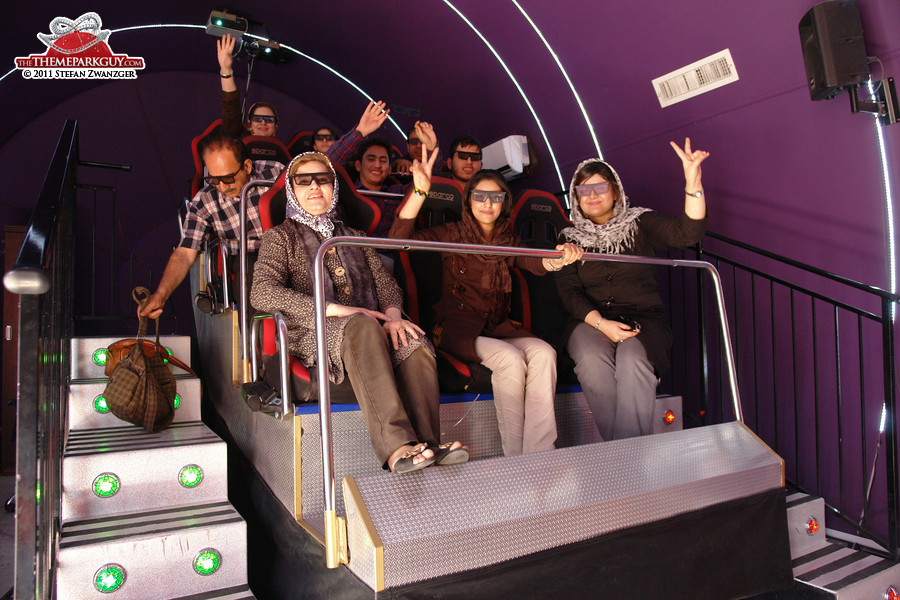 Iranians getting ready for their multi-D experience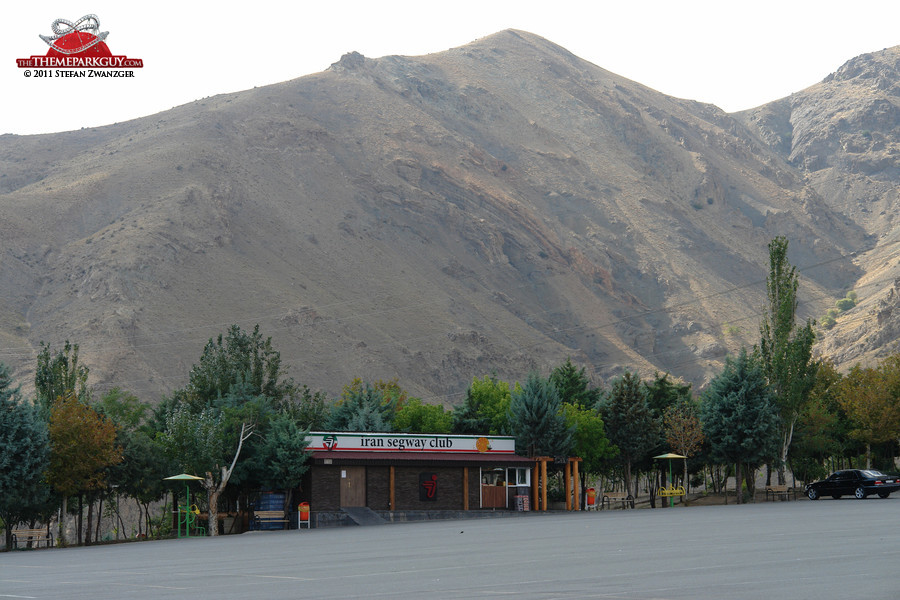 Here you'll also find the Iran Segway Club
The Segway is an American invention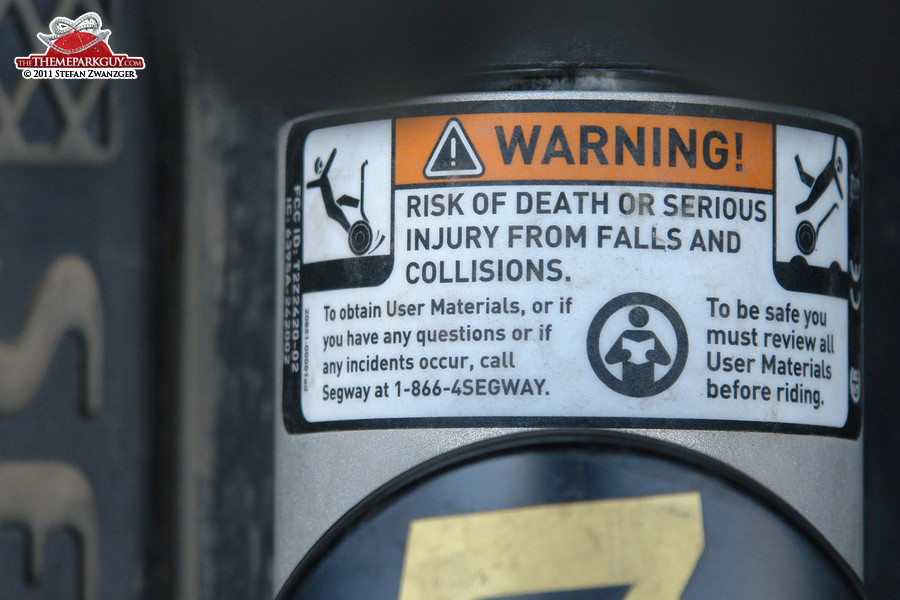 If any accidents occur, just call the US costumer service number!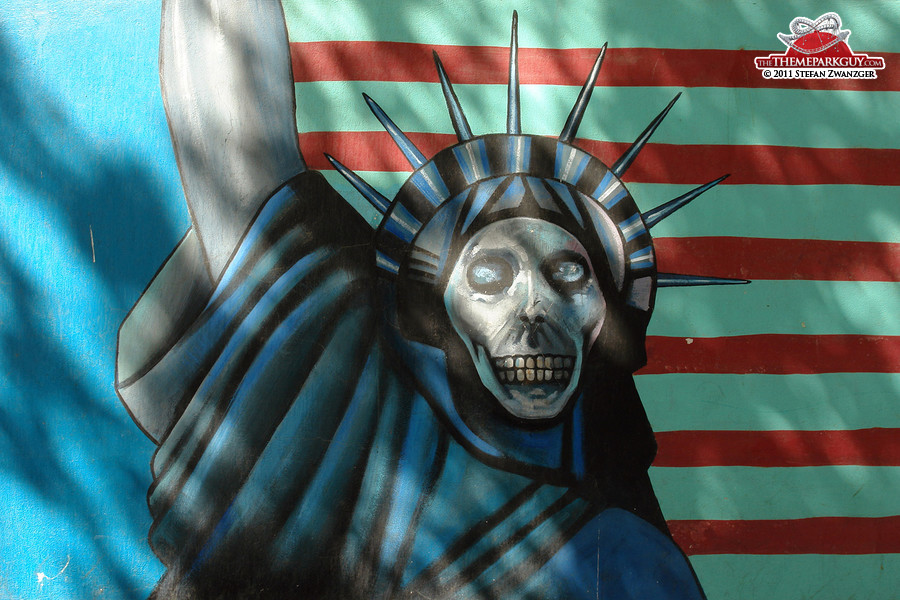 They will help you (in fact, they probably would)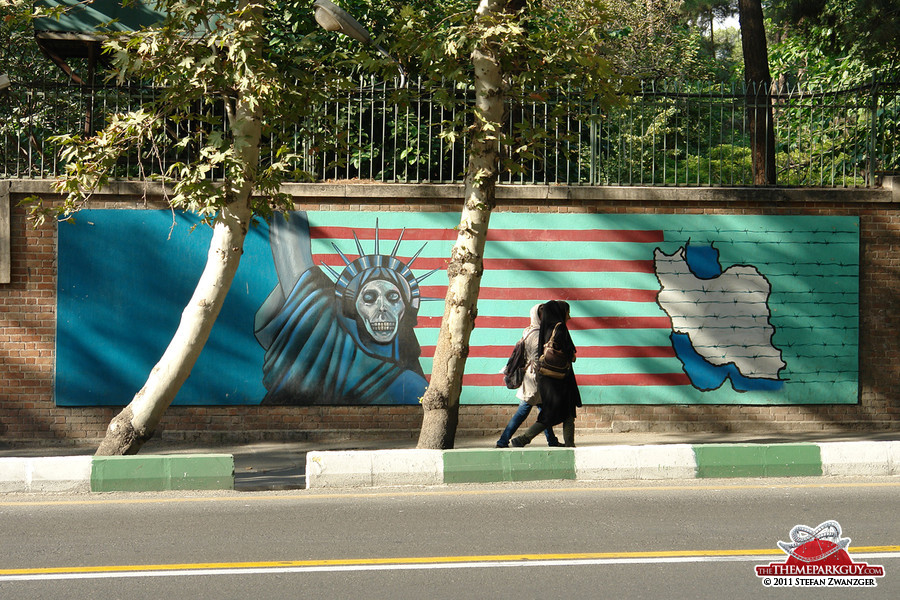 Iran's ugly face. But that's just one of the two faces of Iran...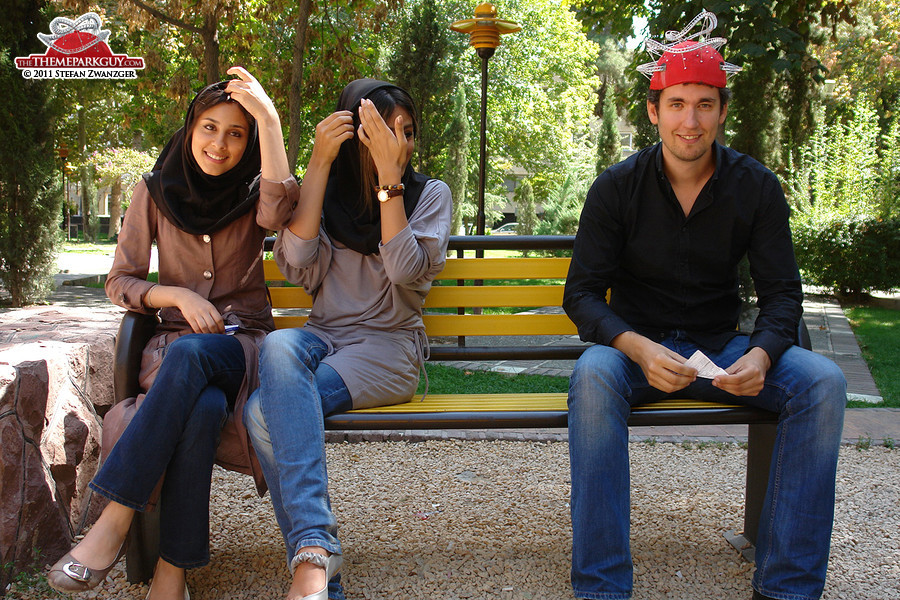 ...the pretty one you will experience when you go there!