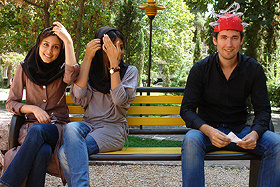 Review
Wow.
If you have never been to Iran, don't judge it by the political see-saw you grasp from the news. Yes, at this point in history, Iran is governed by a clan of spooky moralists with – as it appears to me from what I saw – a rather corrupt bureaucracy below them that is hypocritical beyond belief. But what they do not manage to stifle is a modern, 21st-century, open-minded, unprejudiced, hospitable, warm and cultured population that loves the world and its people. And Iranians have these trusting button eyes. All of them.
Young locals enjoy talking about house parties, secret dating places and second citizenships; the older generation recall their happy student times back in the US. What I have heard and seen there was completely contrary to popular perception. Persians are high energy people, certainly no terrorists, and many speak fabulous English; most of them have relatives in Canada, the US, the EU and Australia, which keeps them connected to the world, even though their passports permit only very limited visa-free travel.
The two amusement parks in Tehran are drainingly dull, though: Velayat Park is a new, charm-free indoor park for infants, and Eram Park - remarkably run-down, given that it's a permanent establishment - hosts two fun fairs at its opposite ends (there is a zoo in the middle) featuring all kinds of rusty amusement rides. Expect carousels, bumper cars, ferris wheels, ghost trains and soft drinks.
Notable is the old and frail yellow looping roller coaster in Eram Park No1. I must admit, I was scared. The loop is the tightest I have ever seen and the soda can-shaped ride vehicle's headrests are too low to keep your head stable. One can hear the riders' joyful screams rise when the coaster plunges into the loop and vanish within a second once they enter the murderous brain-turner itself. With every new rider, over and over, the same screams and the same silence in the loop. I had to try it. And it really hurts. It took me a while to completely get rid of the persistent neck-tension following this experience. This thing is evil.
Yet, when you turn around, and you see all these smiling, button eyed Iranians in these corroded rides around you, smiling at each other, smiling at you, you can bear that little neck crack. This coaster must feel like living in Iran today. It doesn't kill you, but it is genuinely uncomfortable and, in the long term, not really healthy.
Visit

for daily theme park construction updates worldwide