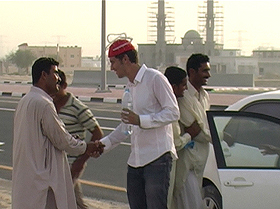 Review
Yes, you read it correctly: 'The Baghdad Zoo And Entertainment Experience' theme park.
Announced in spring 2008 with projected construction costs of $500 million, the park is supposed to be built next to the Green Zone, encompassing Baghdad's existing zoo. 'Ride & Show Engineering', the company behind the project, is a California-based developer owned by former Walt Disney Imagineers, responsible for wonderfully atmospheric rides like the E.T. ride at Universal Studios.
When flying over Iraq recently (the airspace is open again for civil aviation) I looked down at Baghdad and thought about how much negative press this place has had in recent years. Once famous for being the birthplace of civilisation and home to Babylon, Iraq is now commonly associated with war and suffering. This may all be about to change. I've met many Iraqis in the last few years, all of them intelligent and warm-hearted people, and I would love to visit their fascinating country for its cultural sites, people and, why not, for a theme park?
There are a lot of bloggers who reacted to this theme park announcement with cynisism, negativity and condescension. But let's sit back and think. What does Iraq need most? A new hotel for journalists? A new wall separating neighbourhoods? I think we have to learn to treat Iraq as a normal country again, a respectable adult rather than a problematic child. A theme park will be a sign of normality and could prove very popular with Iraq's population, half of which are under the age of 18. Congratulations to Ride & Show Engineering for this announcement and good luck with the project!
The photo above wasn't taken in Baghdad, it's Dubai. I haven't been to Iraq. Not yet.
Visit

for daily theme park construction updates worldwide