Can you contribute? More construction updates here!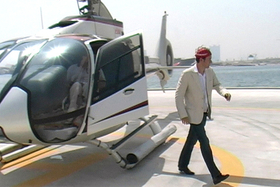 Review
The rise and demise of theme parks can have a uniquely melancholic poetry to it. Like in the untainted villages of Chuansha, just before the Shanghai Disneyland bulldozers came. Or in Chernobyl, where an abandoned, bright-yellow ferris wheel stands in sight of the grey entombed nuclear reactor. Or in cheerless North Korea, where a brand-new amusement park illuminates the dark nights of Pyongyang.
Yet, one of my timeless favorites graces the barren desert of Dubai. Tucked away from the public eye lies the corpse of the mighty Universal Studios Dubailand park, which started enthusiastic construction in early 2008 and came to a sudden stop roughly a year later.
Today the site is completely abandoned; even the security guard has gone, leaving a hastily scrawled note displaying his mobile number. What is left is a huge, well-defined hole in the desert that was to be the Universal Studios centerpiece lake, a massive circular sand hill encompassing the park to be, and a deserted office behind a massive Universal gate, all of which are being slowly eroded by the encroaching desert.
This was to be an amazing theme park, as the 2008 brochure testifies, featuring a Sindbad-themed section, a King Kong jungle coaster, the world's first Ghostbuster ride and a Jurassic Park structure never seen before. Originally scheduled for completion in 2010 (the same opening year as Universal Studios Singapore) this park would not have faced the space constraints of its South-East Asian counterpart. Space was in abundance, since Universal's chosen location was at the merging point of Dubai and the red, empty desert.
Universal Studios Dubailand would have undoubtedly become one of the most spectacular theme parks in the world.
I'm starting to get used to theme park announcements that never materialize. What happened to Paramount Movie Park Korea, Universal Studios Beijing, MGM Studio Park Korea? All shelved, abandoned or quietly disappeared. In contrast, Dubai's Universal Studios was on the verge of becoming a reality. I was told that roller coaster tracks (either destined for the King Kong Coaster or the Mummy Ride) were actually delivered to Dubai, but left in their cargo boxes baking in the heat. That's how close it was, so close to the point of no return. And now it's little more than a giant, stillborn camel in the desert.
I am getting melancholic, and I can't bear to see it abandoned in this condition. Everything is in place: the concept, location, infrastructure, coaster parts, and the world's busiest transit airlines – Emirates, Etihad, and Qatar – are all touching down close-by. Nothing else in the region compares to it, including Ferrari World (that may beat the thrill, but certainly not the quality of theming and attention to detail envisaged for the Studios). Worth some serious attention by some serious investors.
Visit

for daily theme park construction updates worldwide