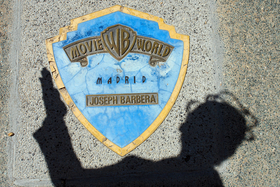 Review
Spain: great weather; wild-west landscape; swimming pools everywhere; warm, amiable and flirty people; wild kissing on the piazza; celebration of street life. And in the middle of all that, the American theme park outpost Parque Warner Madrid. Suprisingly, it blends in very well!
Batman, Superman, Bugs Bunny, Daffy Duck and Marty the Martian all speak Spanish and entertain the kids, while teens and adults ride the latest roller coasters, dark rides, flume rides and river rapid rides. The theming of the park's areas 'Old West', 'Superheroes World', 'Hollywood Boulevard', 'Cartoon Village' and 'WB Movie World Studios' is superb.
However, Warner Bros' attractions don't match the standards and creativity of Disneyland and Universal Studios yet, but they give it a pretty good try. I look forward to future Warner developments!
Visit

for daily theme park construction updates worldwide