Can you contribute? More construction updates here!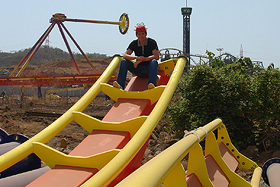 Review
India. One seventh of the world's population lives here, on a land area just above the size of Argentina. And, writing this from the perspective of a guy born in pampered Germany, the visible poverty is staggeringly shocking, as is the men/women ratio of 4:1 walking down the streets. Infrastructure provides a daunting challenge, too, and I understand why neither Disney nor Universal have set up here so far.
So congratulations to Manmohan Shetty and family, and the lending banks, for setting up this $295 million theme park in uncharted territory, both in terms of location and GDP per capita/ticket price-wise. Average monthly income in India as of 2012 is just over $100 per month, ticket price stands at $22 (INR 1.200). That's as if a single day ticket to Disneyland would cost US Americans $1,000. Imagica is not for everyone, but India's middle class is growing and can turn this into a success, and I believe it will work.
It's a solid park and I expected less. Even though it's NOT a Disneyland rip-off, like so many others, it's visible that the creators had a good and long time at Universal Studios. Upon opening on April 18, 2013, Adlabs Imagica was still very much under construction. The theming is a bit of an unharmonious patchwork, but once the trees are grown they may provide natural puffers between the different zones and it will likely look much better than today. The park's size, attention to detail and theming can be roughly compared with Spain's Terra Mitica. Now to the rides:
Rajasaurus River Adventure: a carbon copy of Universal's Jurassic Park Ride, complete with (badly timed) T-Rex finale before the big splash. Animatronics are some 50% of Universal quality.
Mr India Ride: the equivalent to Universal's Back to the Future/Simpsons Ride. Mr India looks charming (imagine Tom Selleck as Indiana Jones), the animation is impressive, but the seat's movements were slightly too erratic.
Gold Rush Express: Thrilling, smooth and great runaway train coaster. This is a hit.
I for India: India's Soarin'. Unfortunately the worst of all rides. There is an issue with the seat's angle, since you see one-third the legs and feet of the riders seated above you, one-third the motionless base with the staff looking at you from below, and only one-third the movie screen you are supposed to be 'surrounded' by. There is also a serious ride safety issue with the shoulder restraints, which do not lock and are only kept down by their own weight and a traditional lap seatbelt pulled through. Scary.
Cinema 360: safe and great!
Alibaba: shooting gallery dark ride in the tradition of Disney's Buzz Lightyear rides.
Wrath of the Gods: the equivalent to Universal's Poseidon's Fury. Not bad either, with quite elaborate theming and motivated, charming actors that do a great job!
Despite the obvious Universal copies, I was positively surprised with what I saw. Adlabs Imagica is not the perfect park, but I really believe in its success and can picture new franchises pop up across India. This Shetty knows what he's doing.
Visit

for daily theme park construction updates worldwide