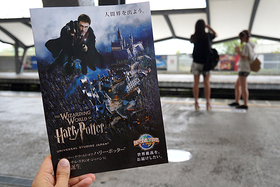 Harry Potter Update
June 17, 2014
Japan's version of The Wizarding World of Harry Potter is about to open, and here's a little preview, with pictures taken from every possible angle outside the Universal park.
There is obviously not much overtly innovation that went into Osaka's Potter land, compared to the prototype built in Orlando. What the Universal Creative guys have done well here is that they separated the Harry Potter section much better from the surrounding lands, with a charming, enchanted grove acting as a buffer. And Jaws – an amazing, classic, worthy Universal attraction – hasn't been destroyed. Good job!
The opening date is set for July 15th, 2014.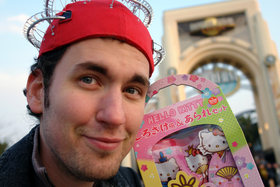 Review
February 20, 2008
This one is my favorite Universal Studios theme park so far: the incredibly friendly Japanese staff, the slaphappy Japanese visitors and the entire feel of this park, inaugurated in 2001, are terrific. Everything is a bit more meticulous and advanced than in the American Universal theme parks.
You will find here:

• Jurassic Park - The Ride: a wild flume ride through Jurassic Park jungle packed with vegetarian dinosaurs (appearing first) and meat-eaters (surfacing later). Same ride as in the US, but the Japanese riders' screaming is more fun!
• Back to the Future - The Ride: the last of its kind remaining in the world, replaced by 'The Simpsons Ride' in the American Universal parks. Doc Brown and his rival Biff Tannen chase each other through various times and dimensions in a pleasant flight simulator with a charming non-CGI dinosaur at the end.
• Jaws: a very well-themed boat ride through Amityville, home to Spielberg's unmerciful shark. Several encounters with the shark, from all sides and angles, make this ride a real shocker! Timing is everything.
• E.T. Adventure: this classic, atmospheric flying-bicycle ride elevates you over redwood forests and American suburbs into E.T.'s home planet. High trees and alien sounds in huge dark rooms create an enchanting atmosphere.
• Terminator 3-D: this is the best 3-D movie Universal Studios has released to date, directed by 'Titanic' legend James Cameron in 1996 with Schwarzenegger reprising his role, packed with great surprises and effects that go far beyond simple 3-D experiences. The excessively passionate live performance of the female 'Cyberdyne' employee during the queuing process beats that of her colleagues in Hollywood.
• Hollywood Dream - The Ride: a music-charged roller coaster unique to Universal Studios Japan; fast and thrilling, you're strapped in only at belly height.
It's definitely worth taking Japan's futuristic Shinkansen express train from Tokyo to Osaka in order to pay a visit to this theme park. Whizzing past extinct volcano Mount Fuiji is a ride in itself.
Visit

for daily theme park construction updates worldwide