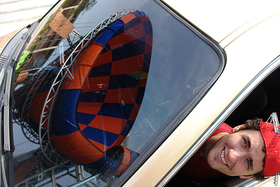 Review
According to a 2010 press release from Canadian slide manufacturer White Water West 'the largest and most thrilling waterslide in the world' just opened in South Korea. The slide is evocatively named 'The Abyss' and The Theme Park Guy was duly bound to don his hat and head over to investigate.
To find it I had to travel to Sokcho, a rather remote holiday town 4-hour's drive from Seoul on the Eastern coast of South Korea. There, the bombastic funnel shaped slide indeed competes for attention with the beautiful mountain scenery surrounding it. But don't come all this way expecting to find a real water park. The monstrous slide is the lone ride at 'Seorak Water Pia', which otherwise consists only of swimming pools, saunas, jacuzzis and a really small wave pool.
So, is 'The Abyss' any better than the massive funnel-shaped 'Tornado'-titled slides manufactured by competitor ProSlide that can be found in Australia (WhiteWater World), the US (Wet'n Wild) or China (Chime Long Waterpark)? Well, it's just different: it's a family raft (sitting up to seven or eight) instead of the tubes (sitting up to four) used in the other funnel slides; it's the same turn, the same drop, the same yell and the same endorphin-fuelled high. Personally, I like the tubes more since they provide a smoother slip compared to the family rafts, in which you always feel some friction against the slide floor. Yet, it's a great slide on its own.
And remember, you are in Korea: remove your shoes the moment you enter the building and wear a bathing cap when entering the pools. Otherwise someone may yell at you. Not as passionately as on The Abyss, but you will hear it.
Visit

for daily theme park construction updates worldwide