Review
October 11, 2010
You buy a very expensive entry ticket that includes all the rides, there is just one way in and out, you only walk on dedicated paths, you are constantly monitored, you never get to see the backlot, the crew sleeps on site and the whole thing shuts down at night. What's that? A theme park? Well, it's North Korea!
I went there in October 2010 to take a look at the three major funfairs that decorate its desolate capital Pyongyang: Mangyongdae, Taesongsan and Kaeson
The first two are around thirty years old, look expectedly run-down and sprawl Soviet-style over large areas. Both contain a huge amount of old rides including coasters, flume rides and rocket-themed spinning rides.
It was the latter, 'Kaeson fun fair', that left an impression, though: in a city with no internet, no international phone calls and no shopping malls, this beacon of modernity sports a brand-new, Italian-manufactured (Zamperla Ltd), belly-down 'flying' roller coaster and entices visitors with an absolute rarity in bleak Pyongyang: light at night! In fact, all the city's post-sunset electricity goes into spotlights for monuments, stadiums, statues of its leaders and Kaeson, while the rest of the capital descends into total darkness. Now that is frightening.
North Korea is a fascinating time machine journey many decades back, but it is also a depressing nightmare of enforced ignorance and isolation in the darkness. I could hardly concentrate on the amusement there and left with the conviction that it's a matter of incredibly crying urgency that the two Koreas unite again.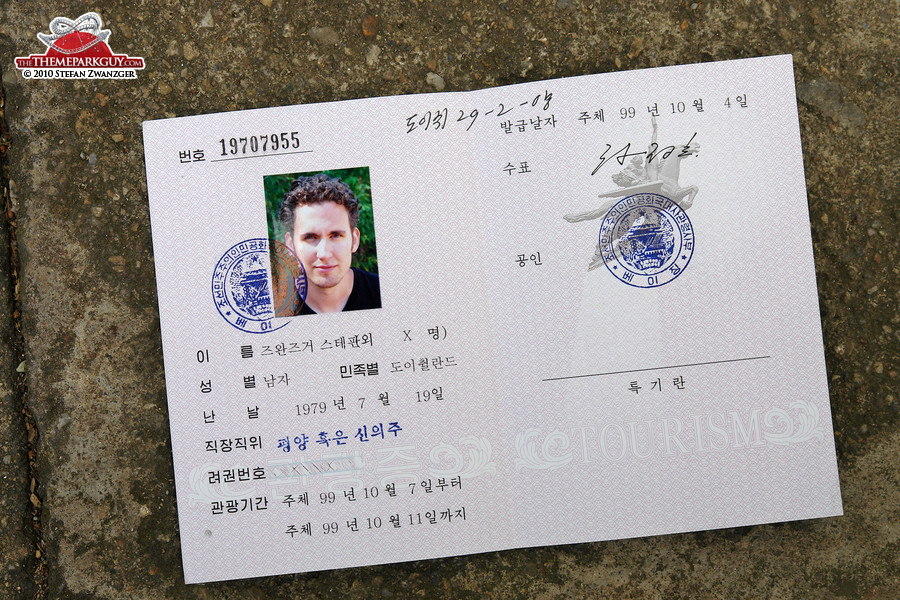 This is what a North Korean visa (tourist card) looks like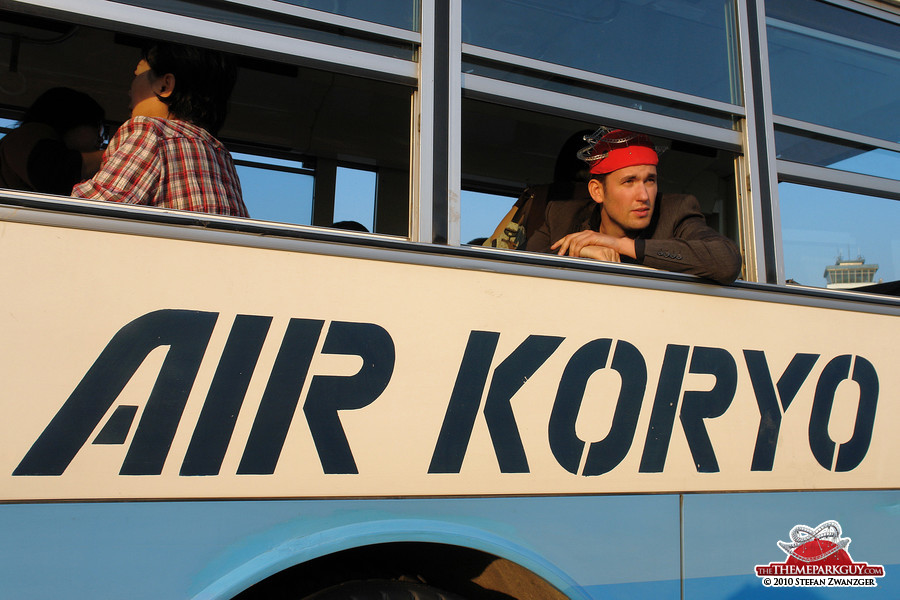 Arriving at Pyongyang airport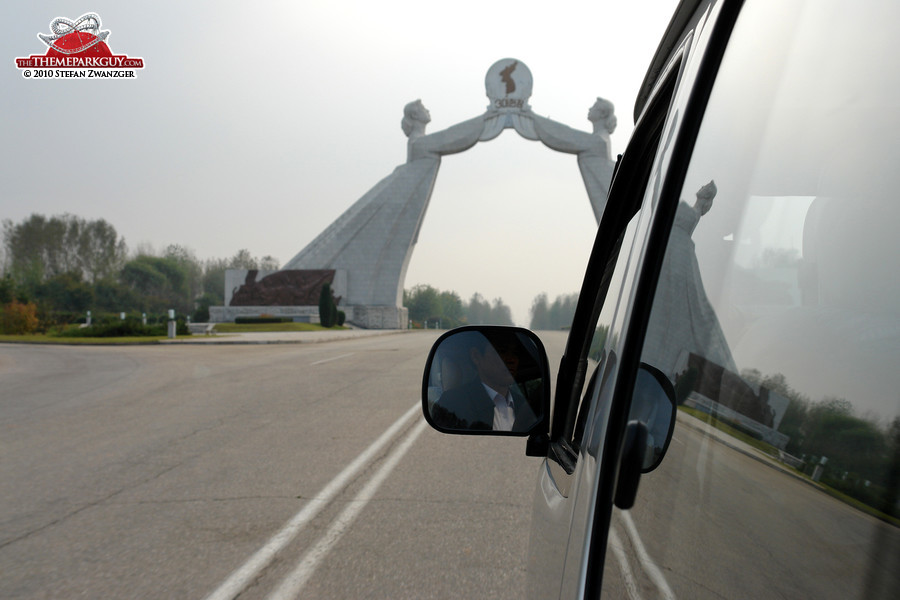 Reunification, through North Korean eyes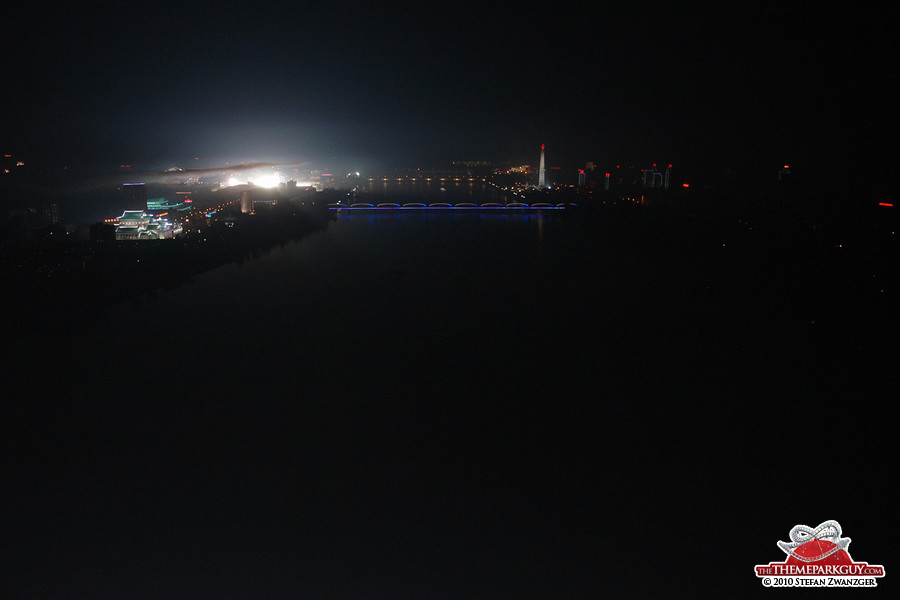 Pyongyang at night. No electricity.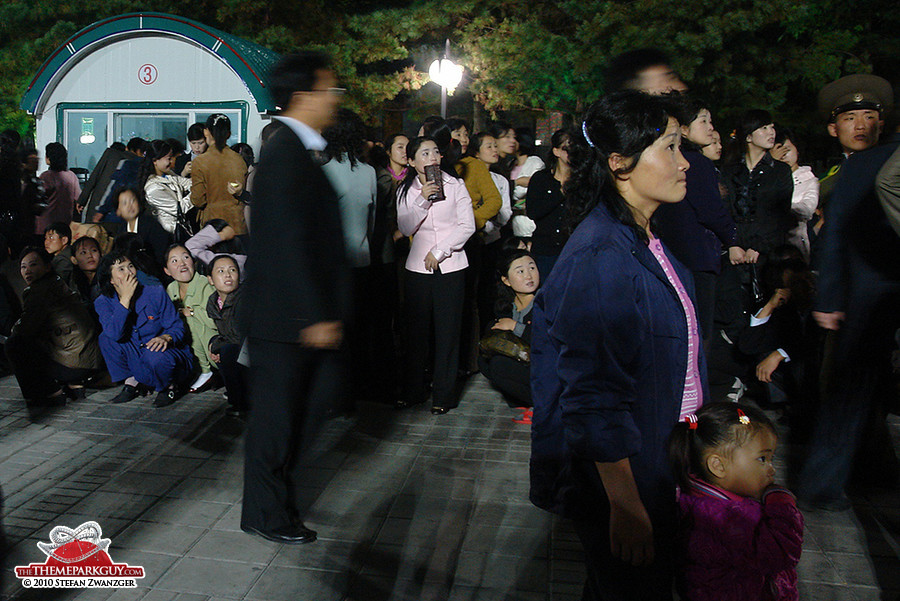 Here is where the light goes: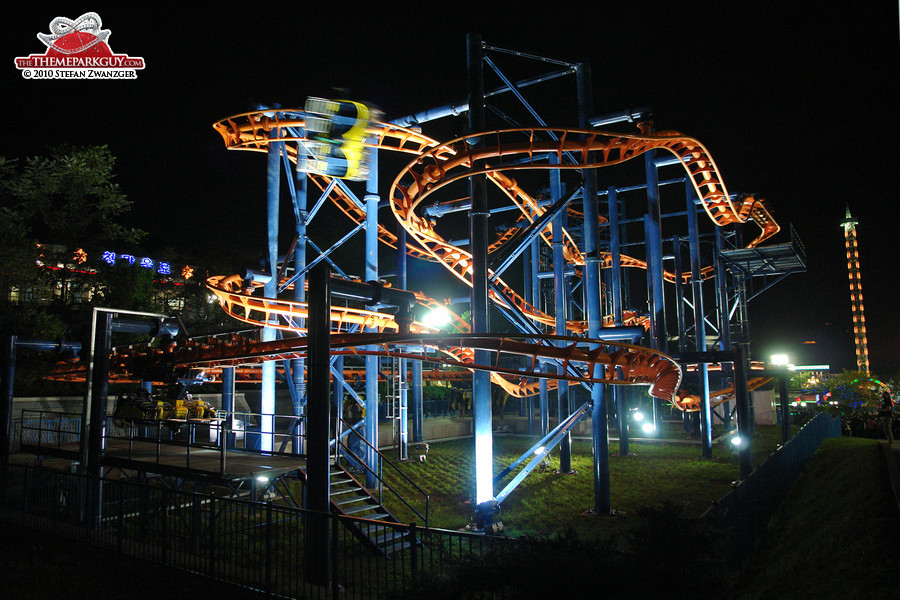 Kaeson fun fair's brand new roller coaster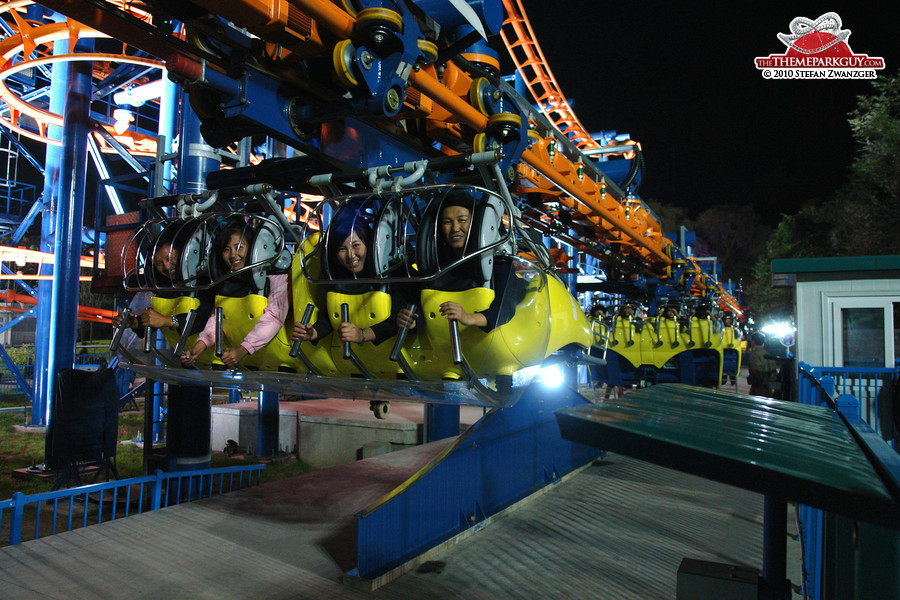 Made in Italy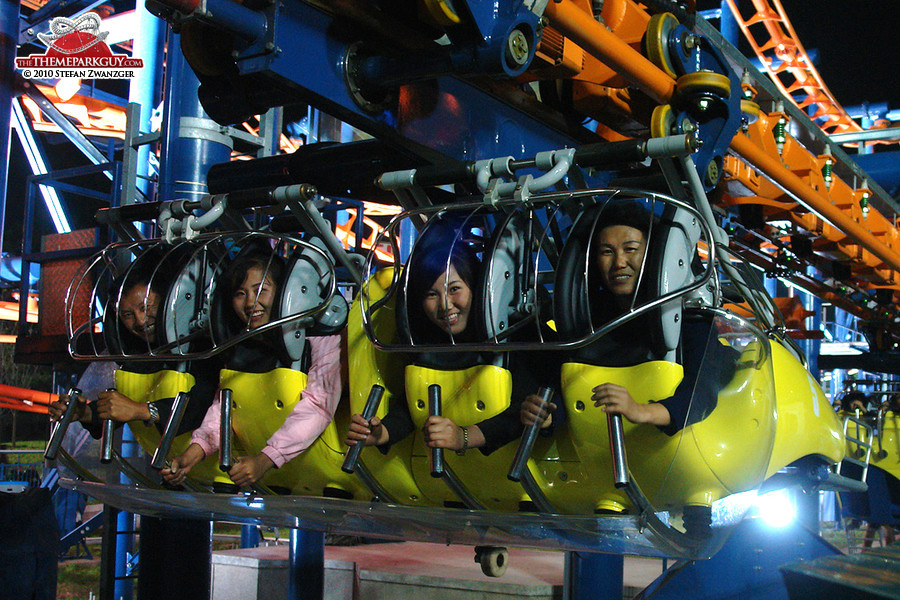 North Koreans in their favorite roller coaster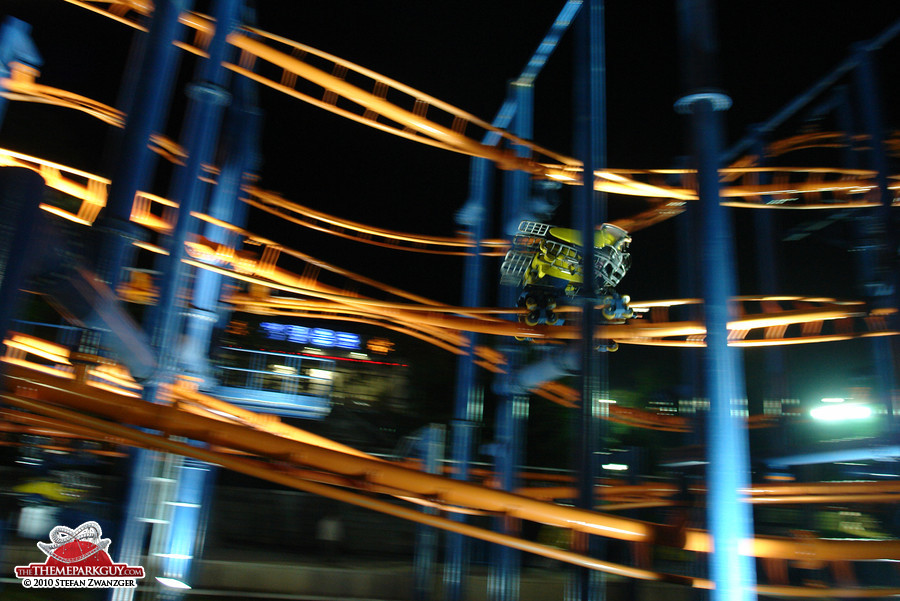 Racing through Pyongyang's dark nights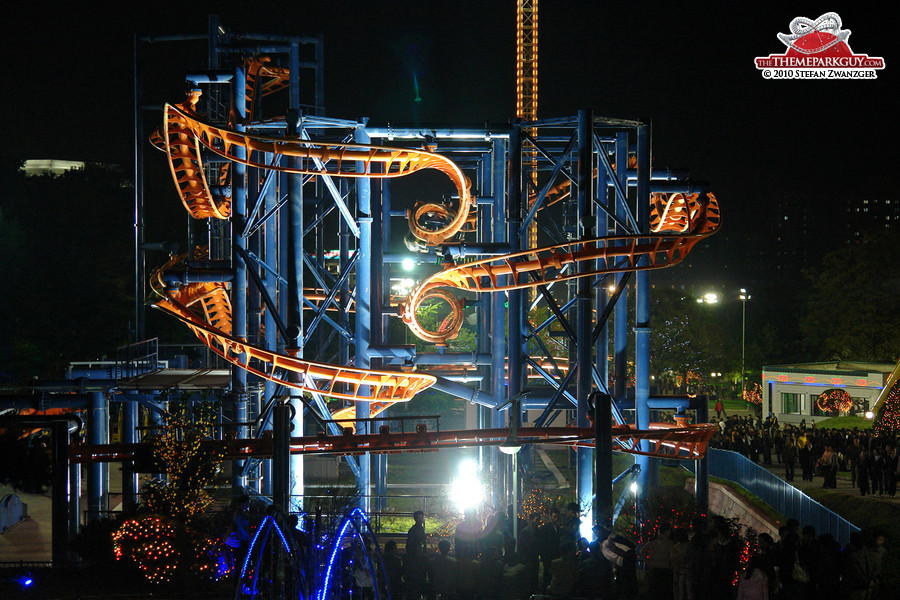 Probably the most cutting-edge installation in the whole country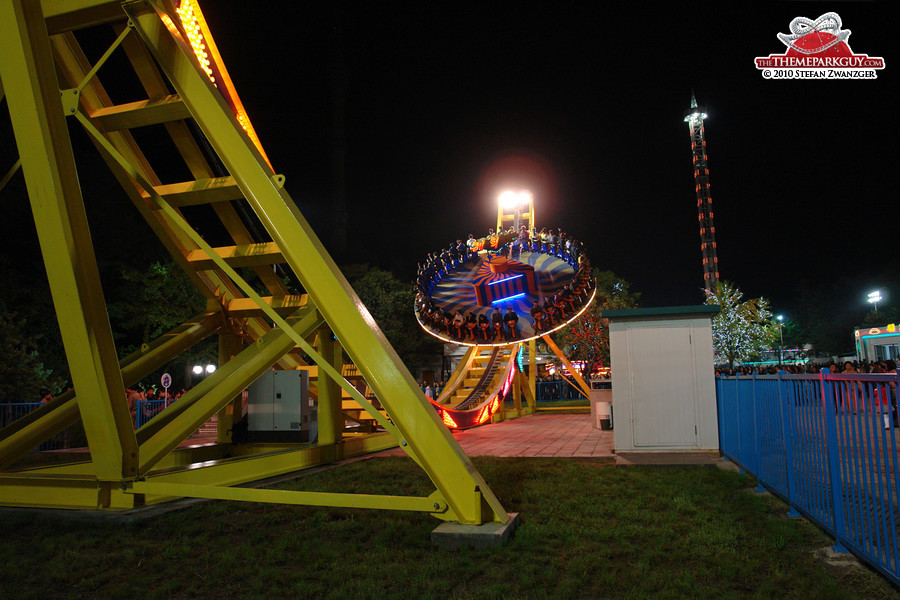 More freshly imported rides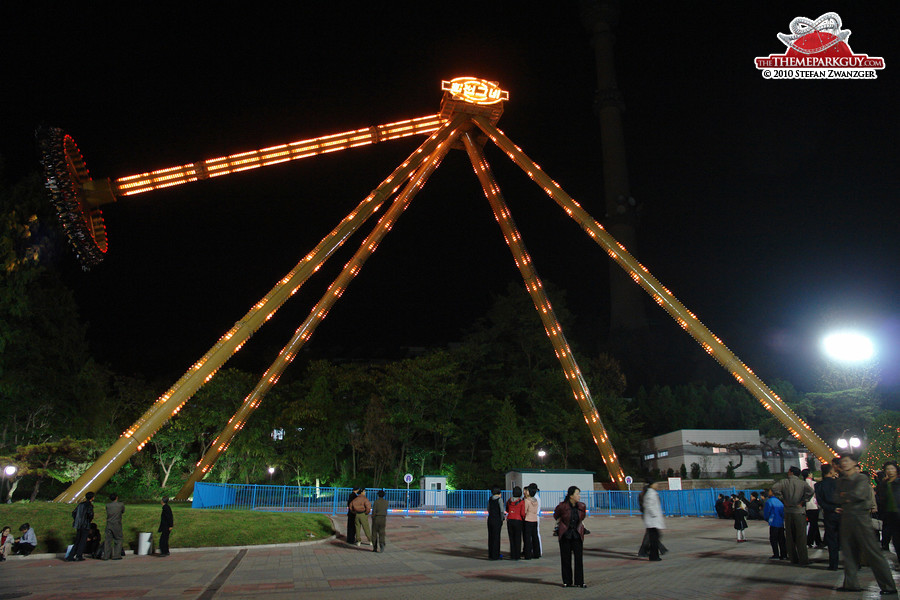 Kaeson fun fair Pyongyang just reopened this year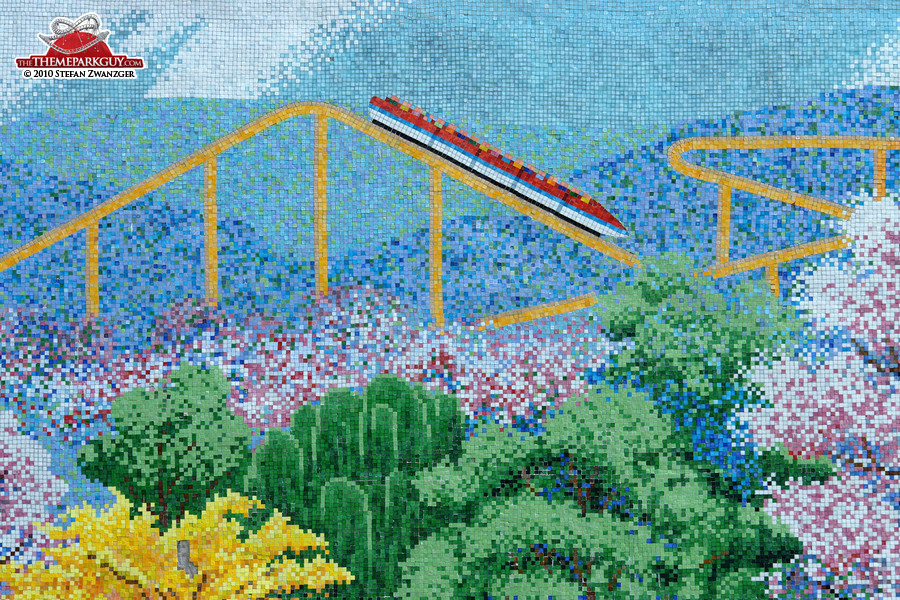 Taesongsan fun fair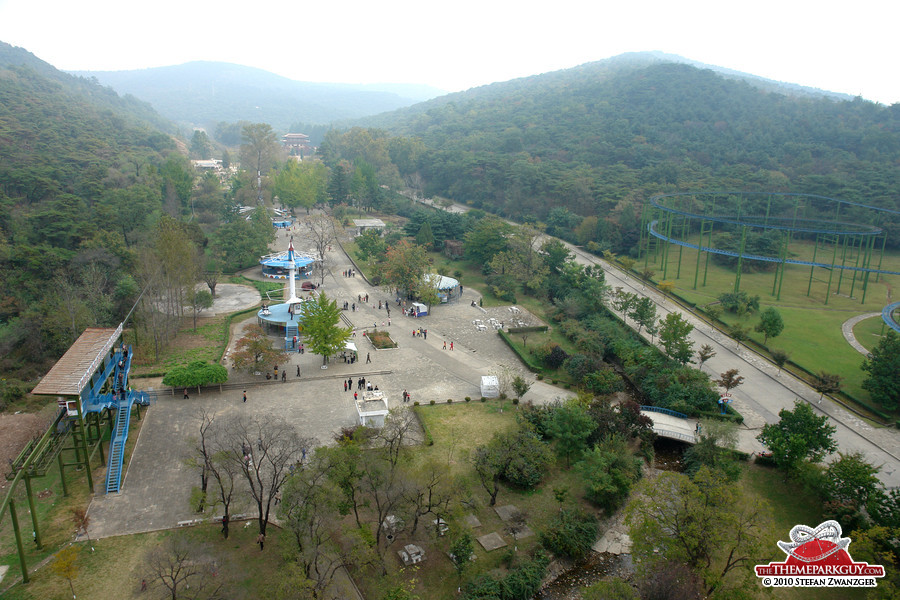 Old and deserted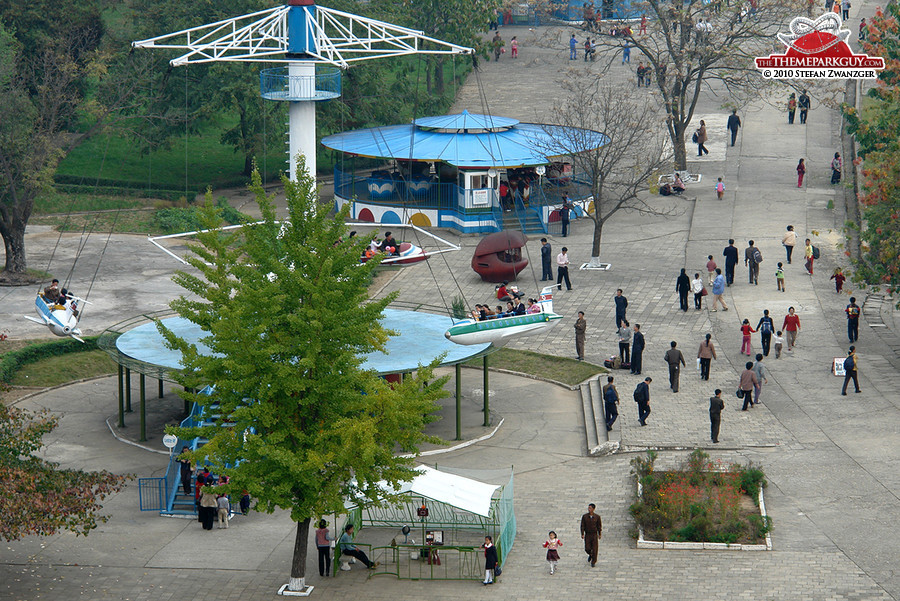 Air Koryo-themed carousels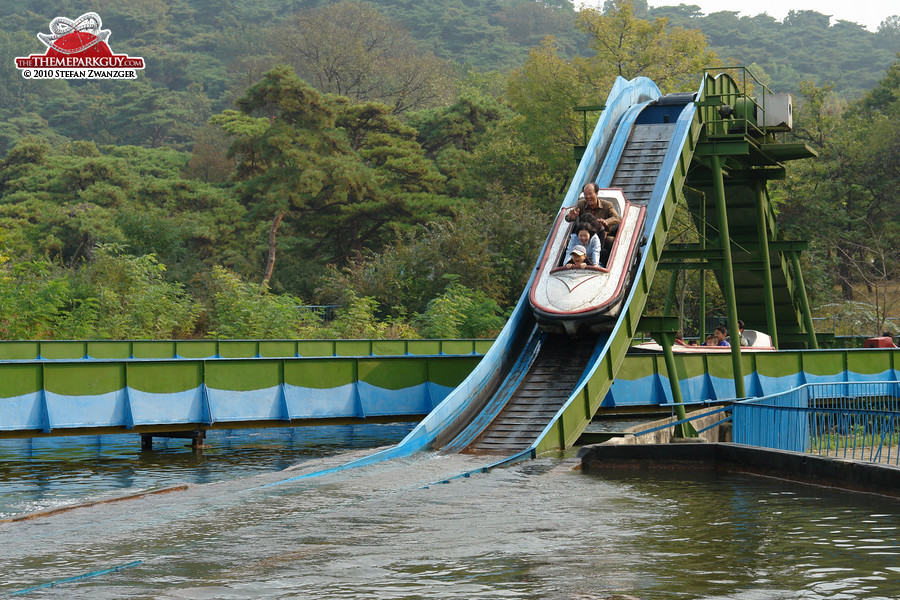 North Korean flume ride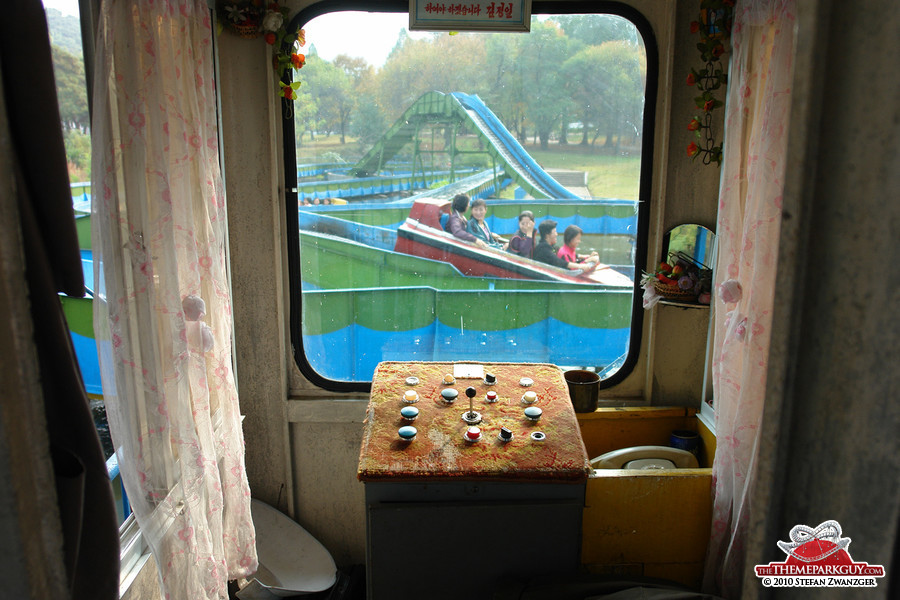 The operator's cabin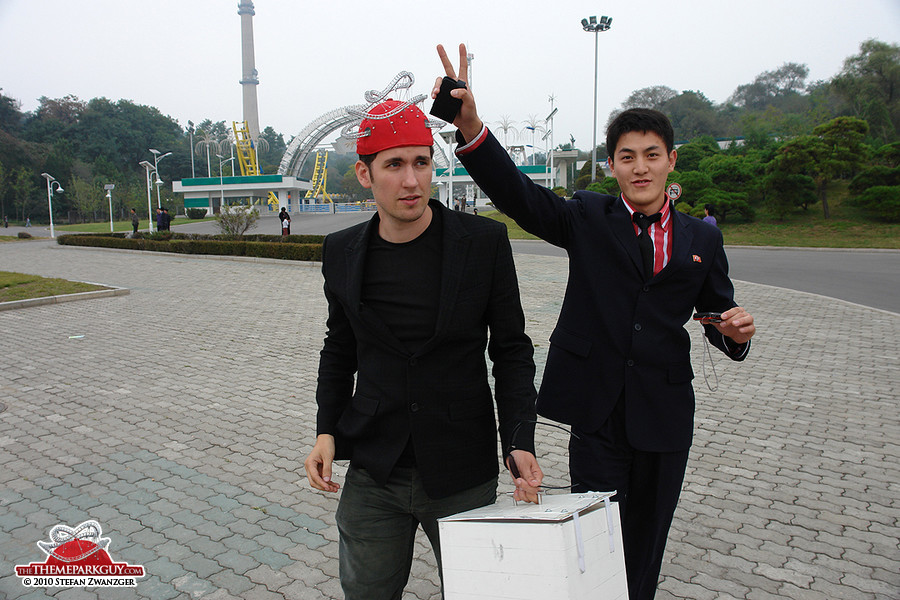 North Koreans are no different from other people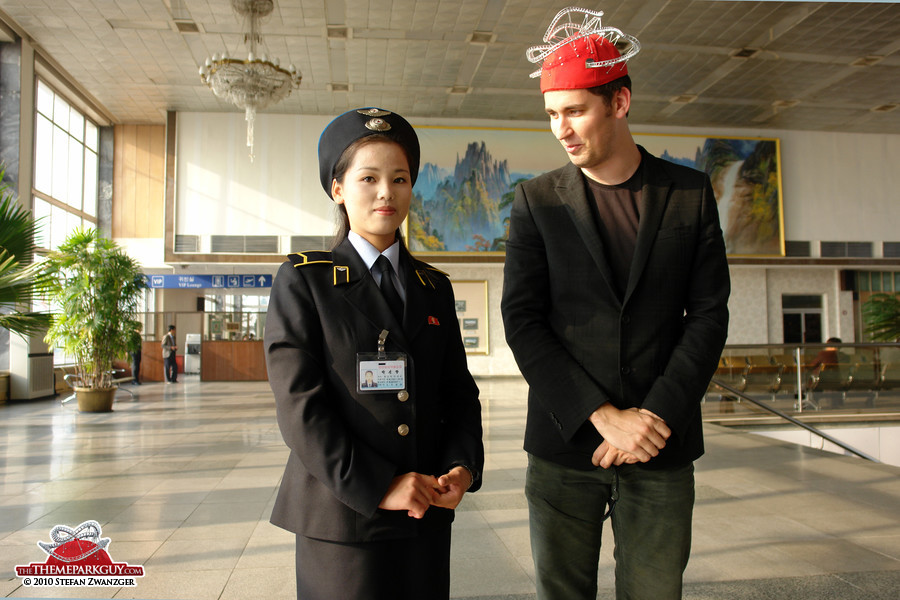 Maybe a bit stiff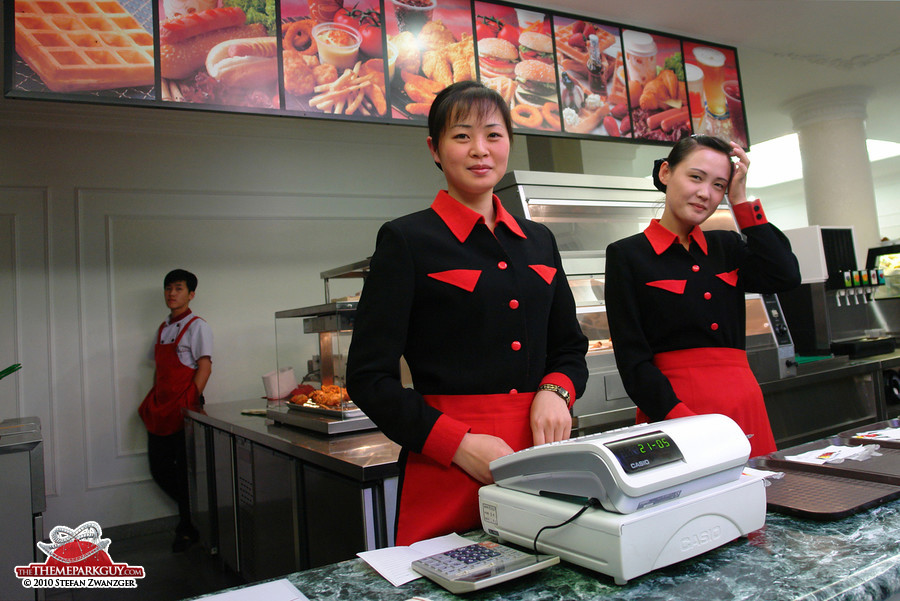 Yet cute. And yes, she is selling burgers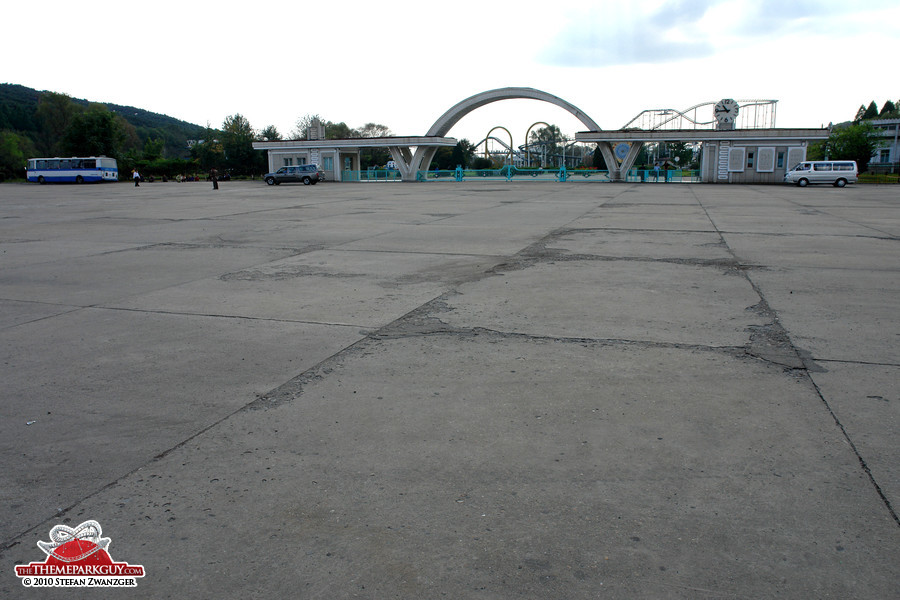 North Korea is probably the world leader in deserted amusement parks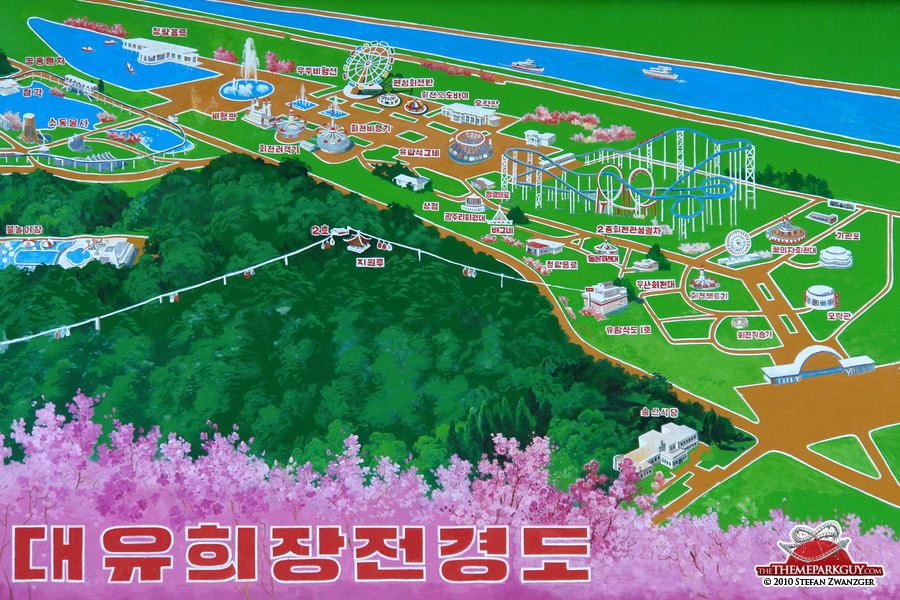 Mangyongdae fun fair, Pyongyang's biggest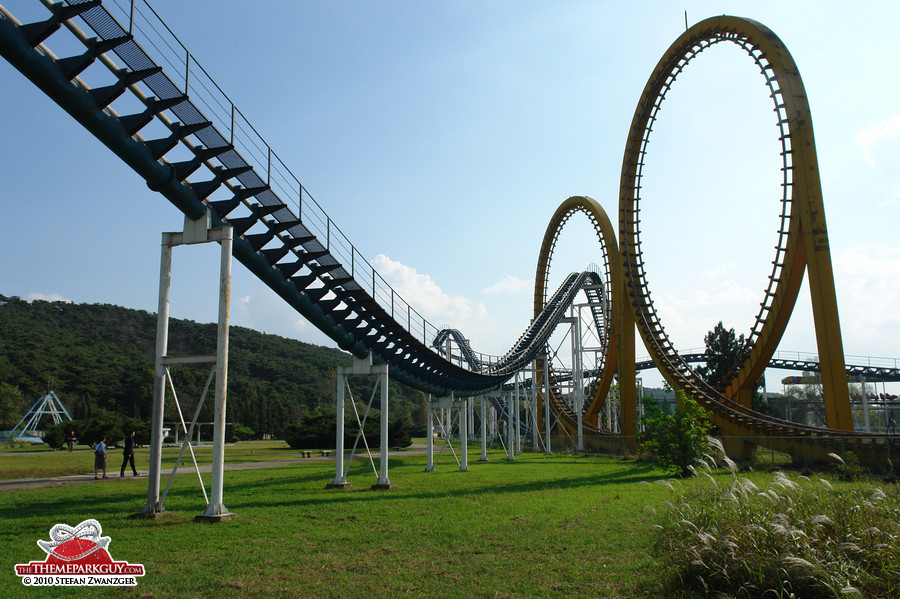 North Korea's biggest roller coaster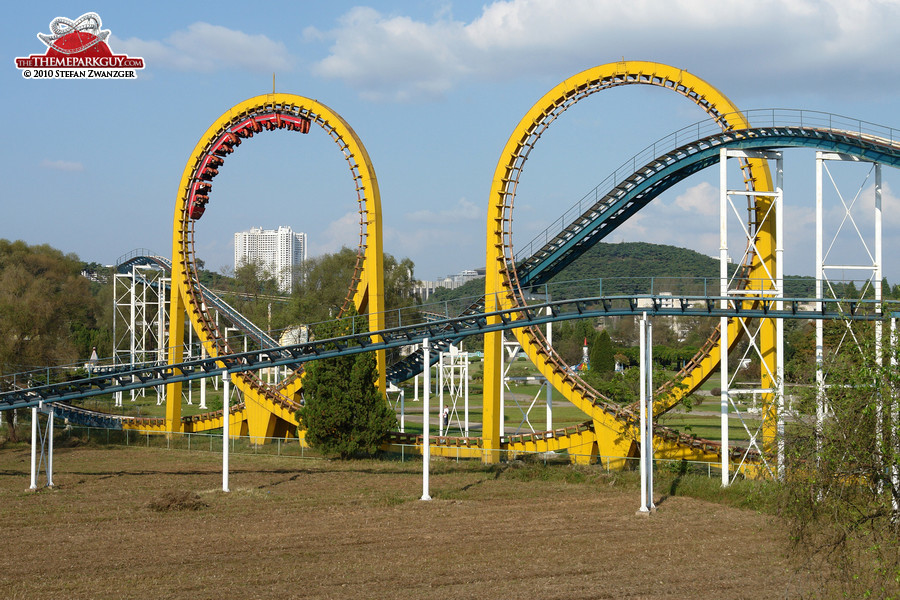 Double loop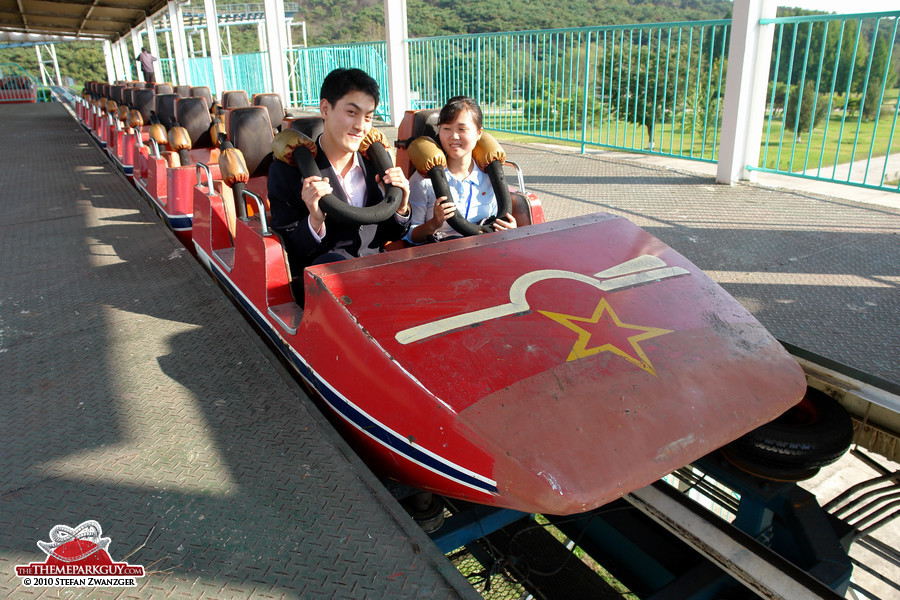 Communist coaster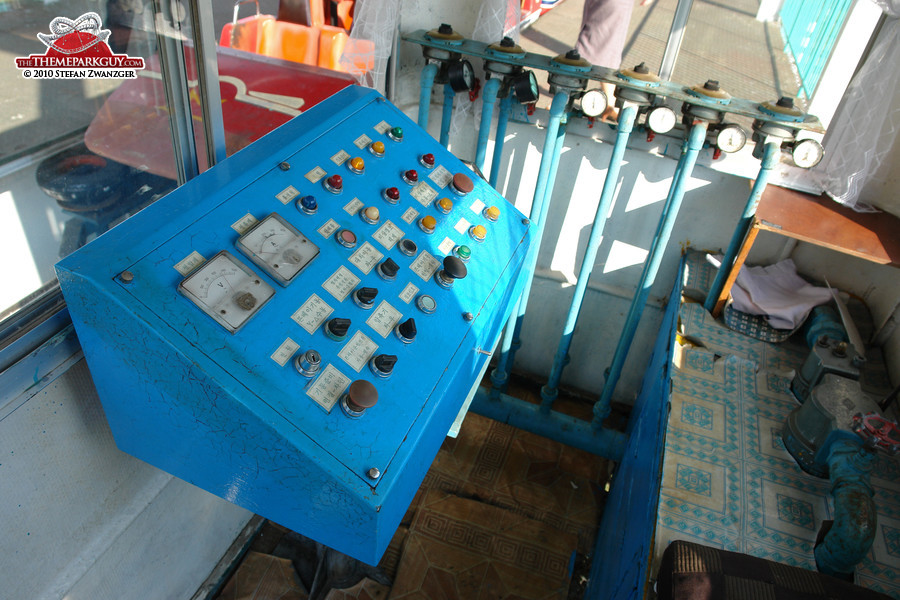 Operator's room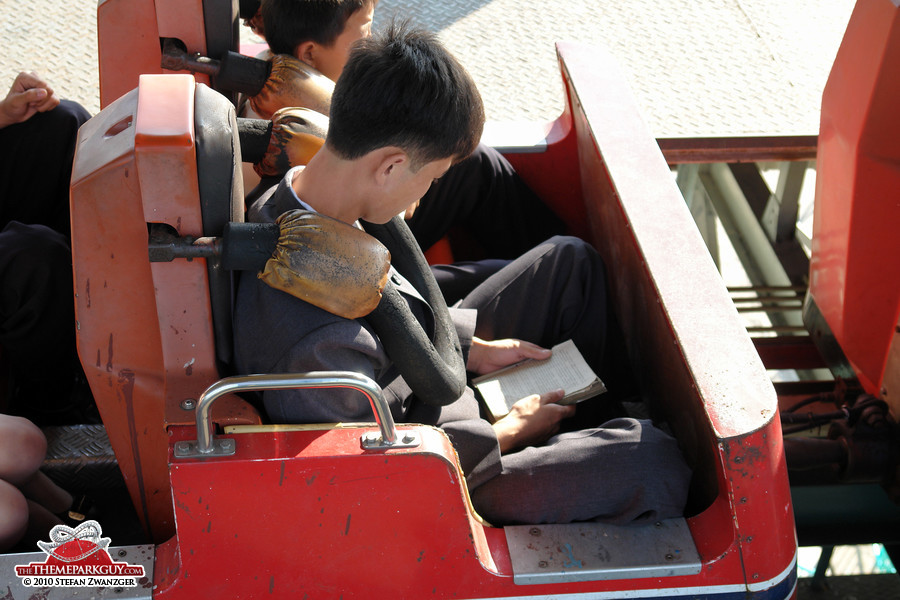 This guy is reading a book on the ride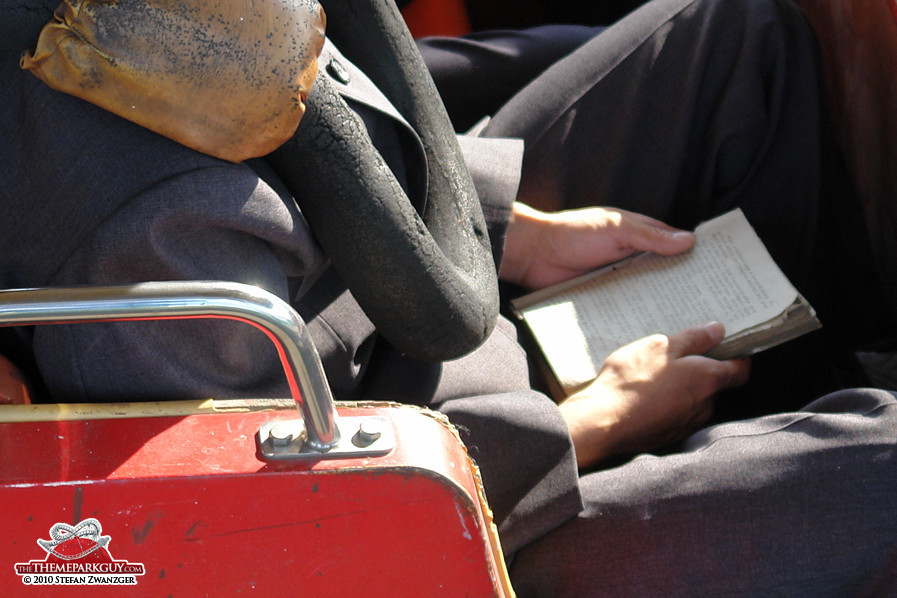 I wish I knew what it was about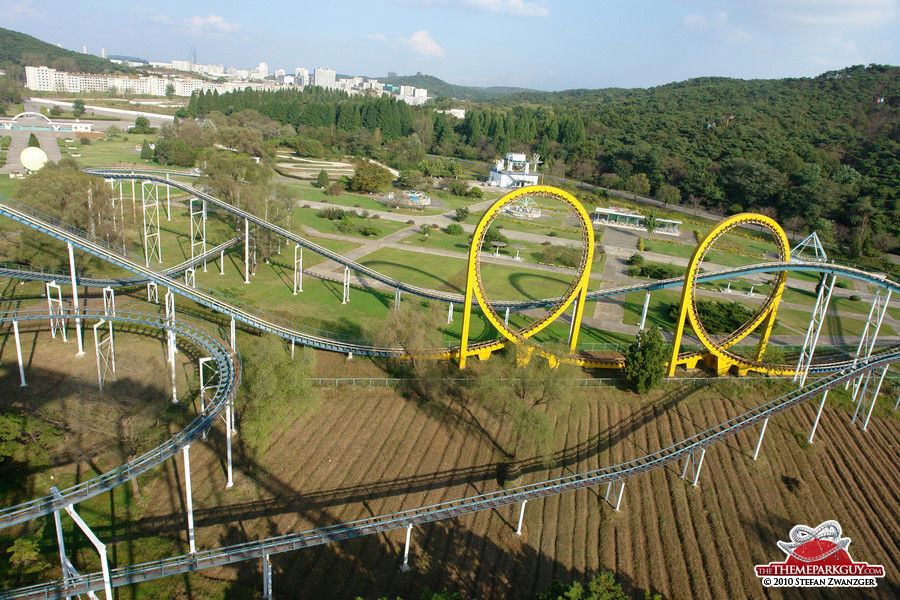 View from the coaster peak: in the background you can spot the famous Ryugyong Hotel!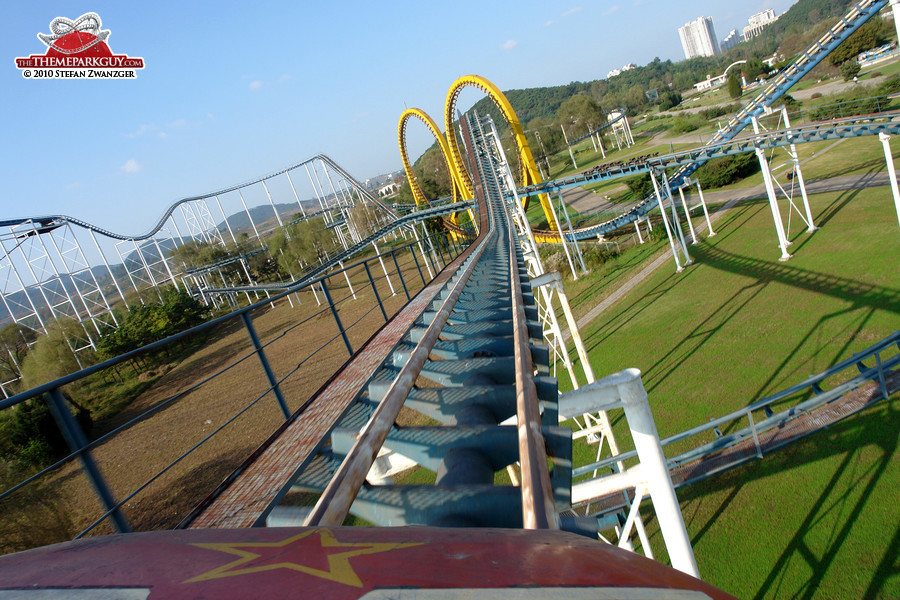 The coaster ride, it's actually not scary!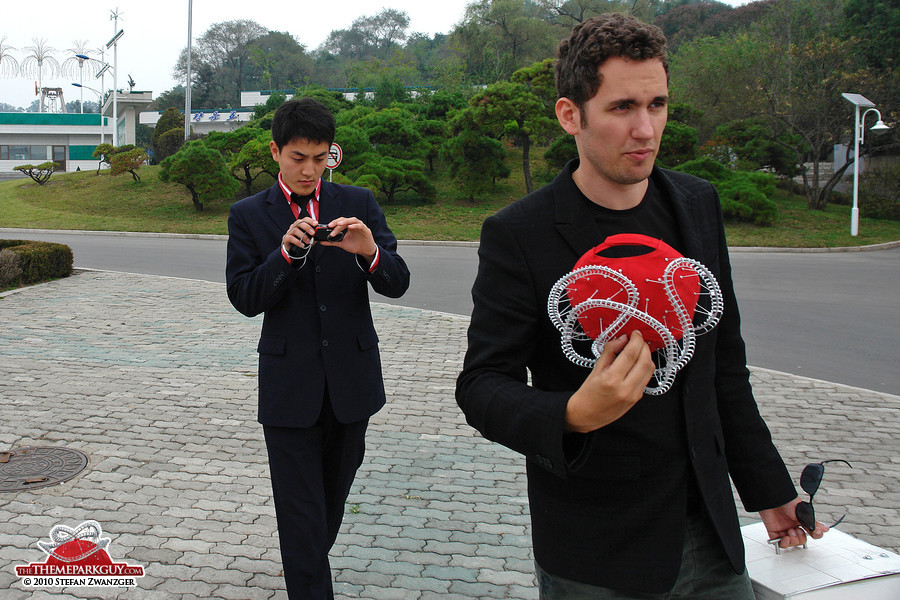 Your guides will take care of you very well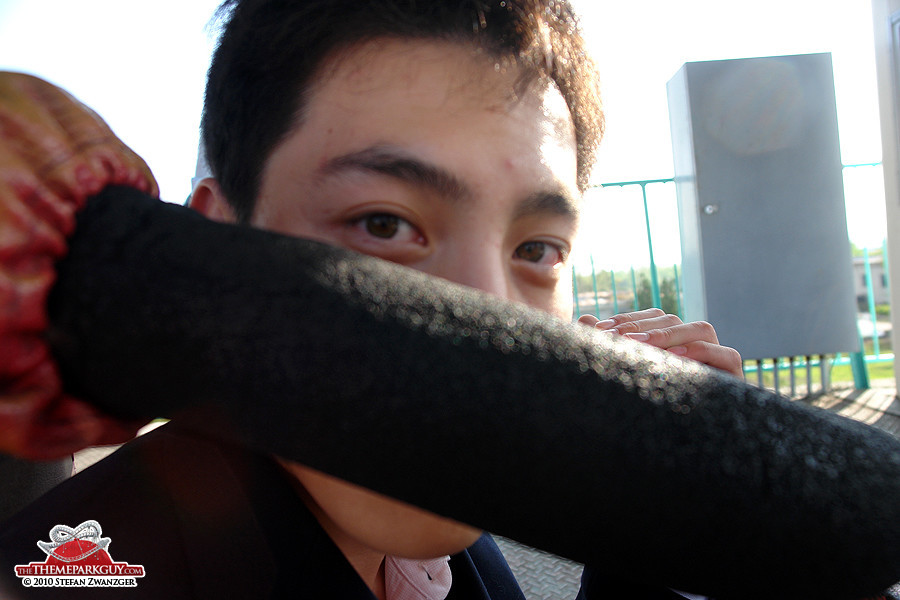 'Hello Stefan!'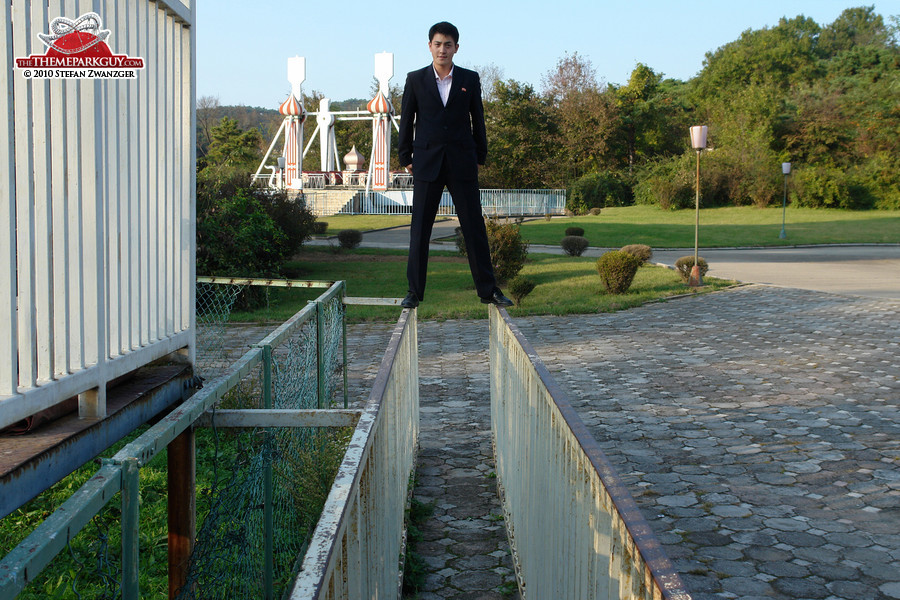 'How did you like the ride?'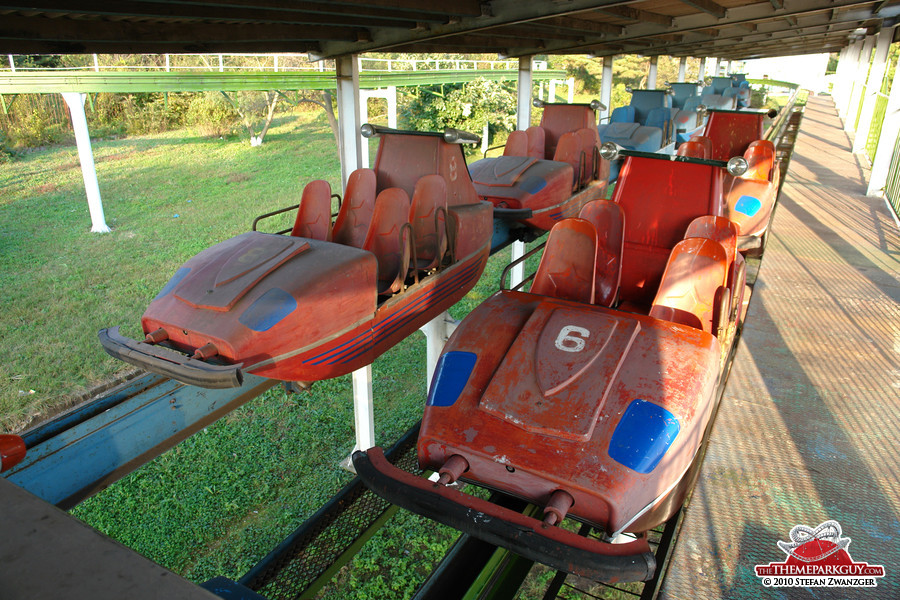 'Well, dear guide...'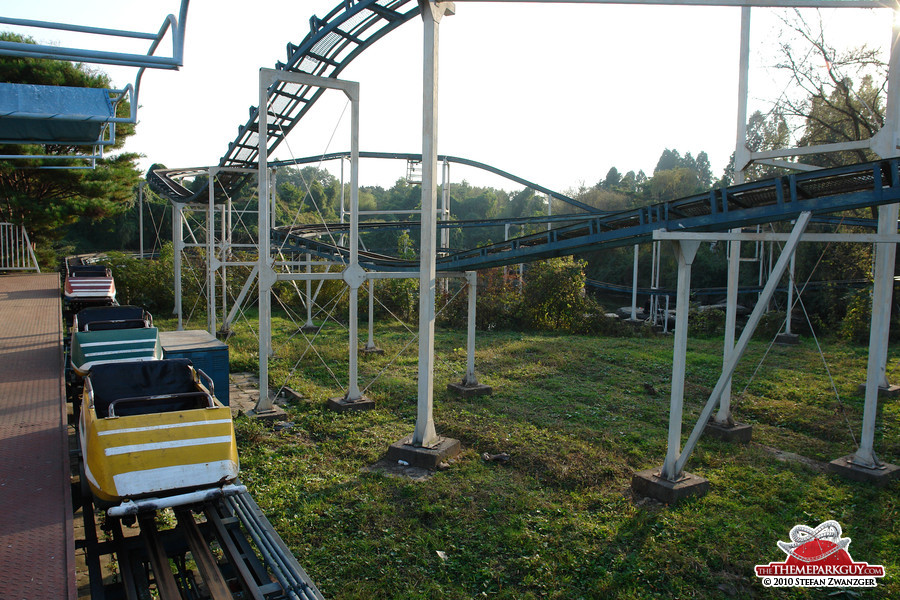 'They are ok'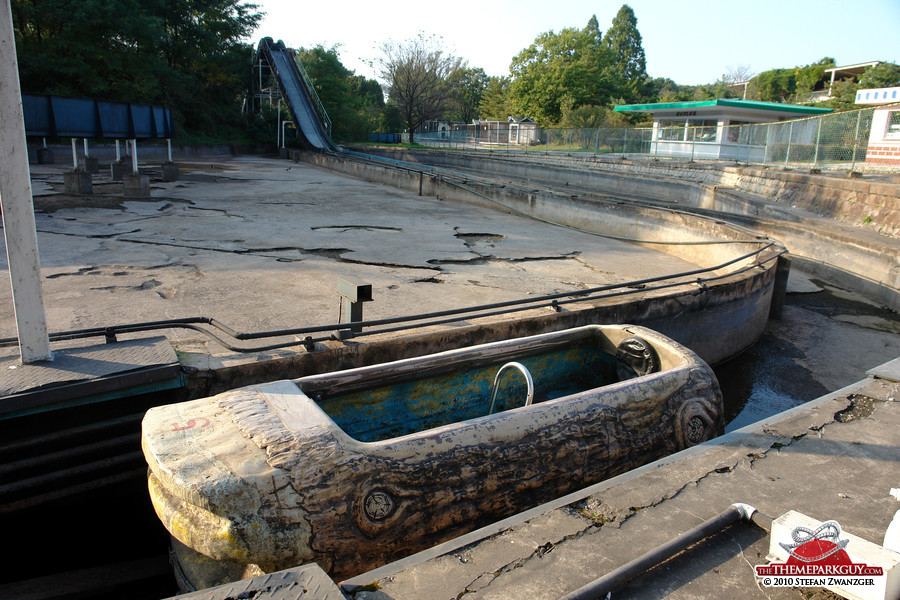 'Not precisely fascinating'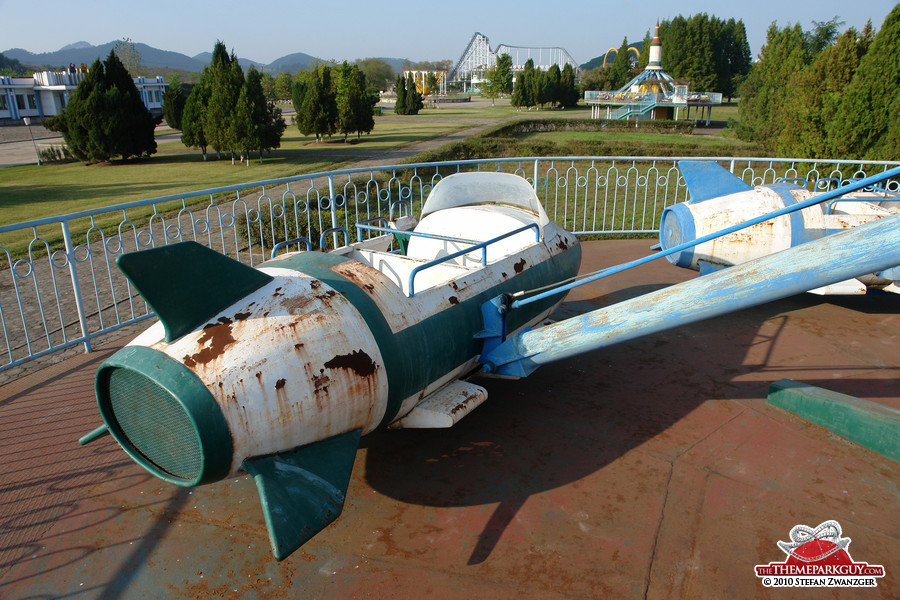 'But I feel honored to be here!'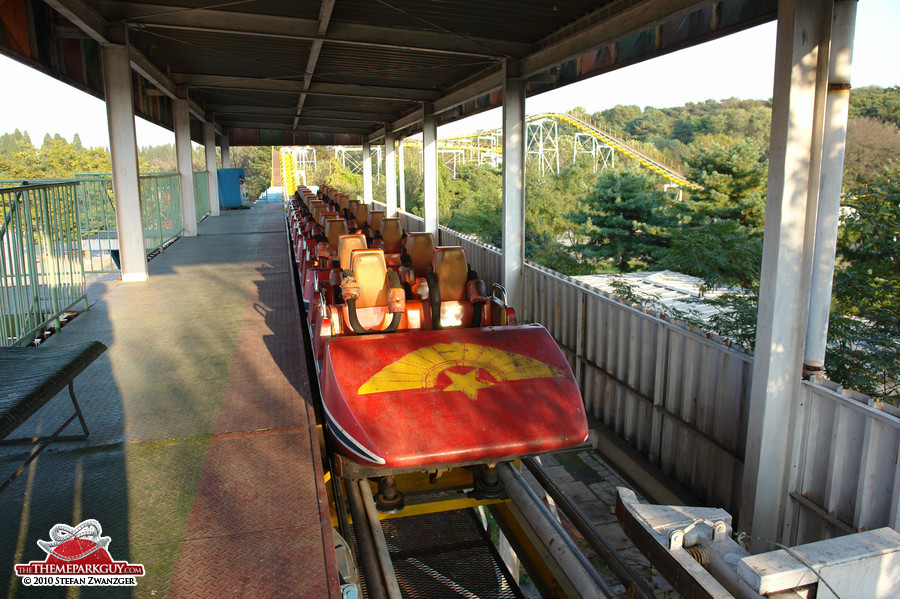 'It would help if more rides were operating!'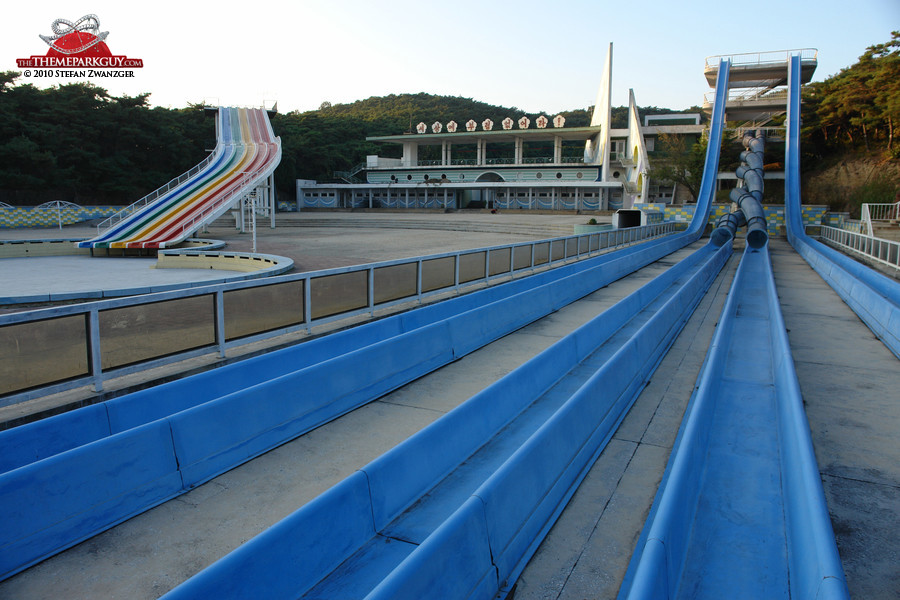 That includes the water park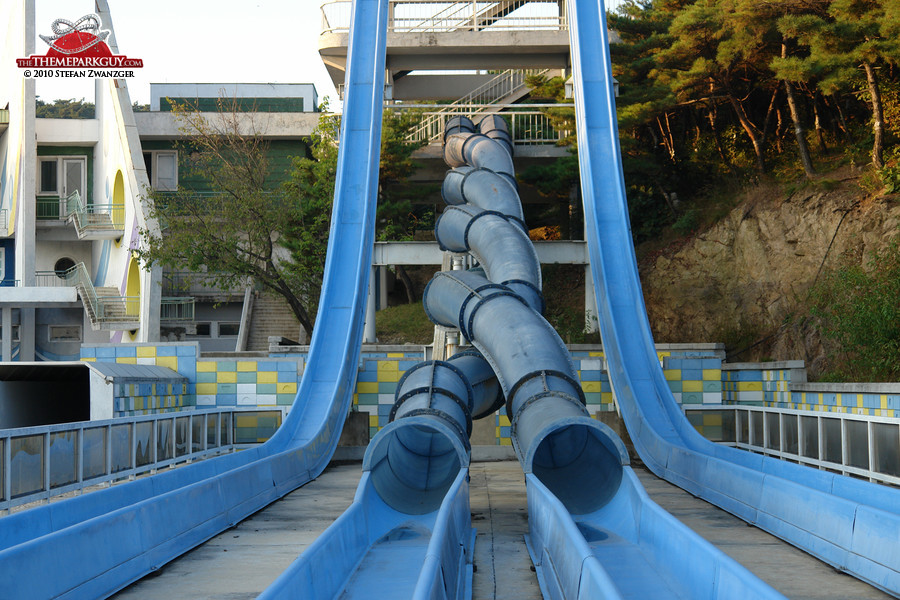 Pyongyang water slides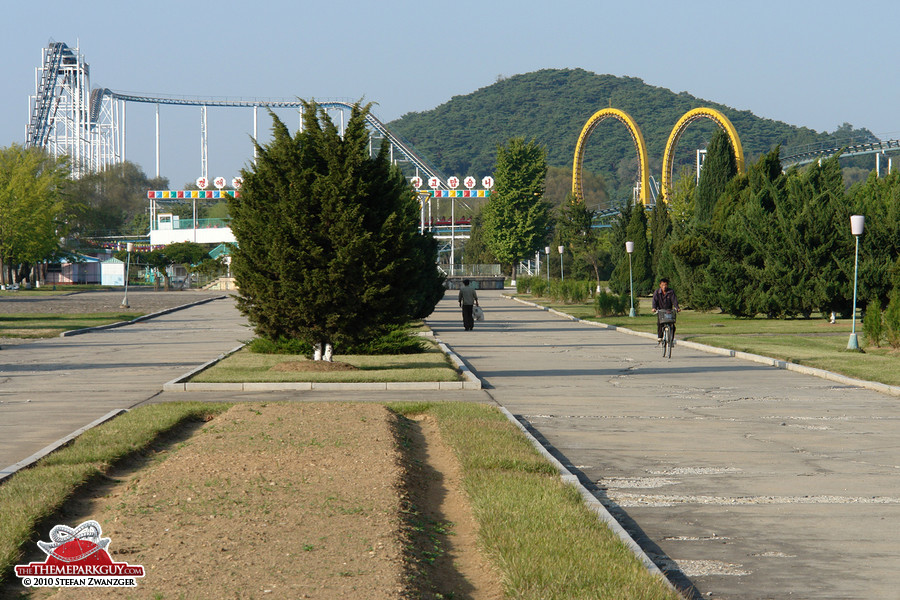 The guy on the bicycle is the coaster operator on his way home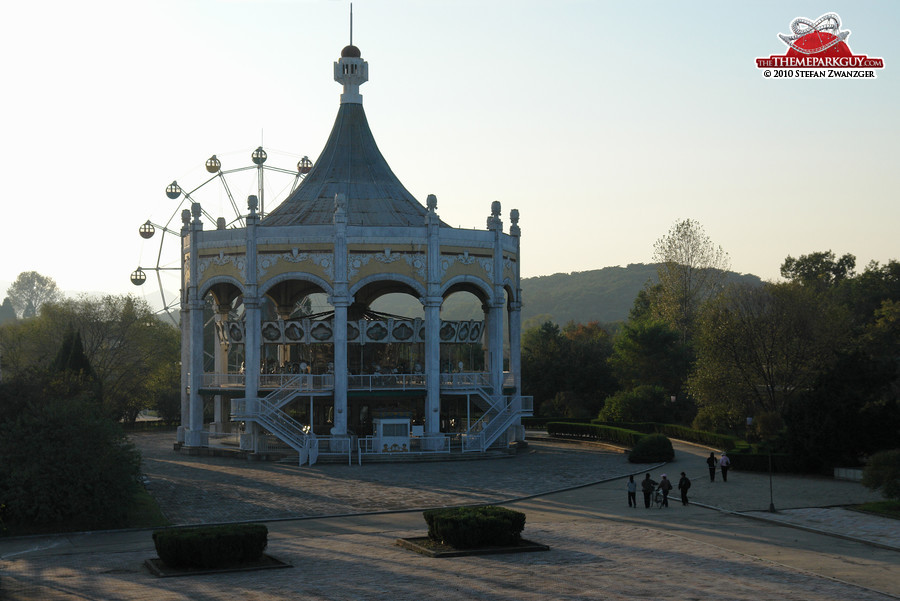 Goodbye North Korea
On a private note
October 10, 2010
Thank you to my friend Thomas Frick for joining me on this tour and taking some great shots of me trying to get comfortable in Korea's bizarre North. Thank you as well, my dear guides, you did your very best to make our trip enjoyable. One day, when your country opens up and allows access to the internet, you will be able to read this and I look forward to seeing you again. I really, dearly hope to hear from both of you!
And last but not least, dear reader, if you ever starve for a real vacation from everything (including the 21st century), then North Korea is the place to go. That's a holiday you won't forget.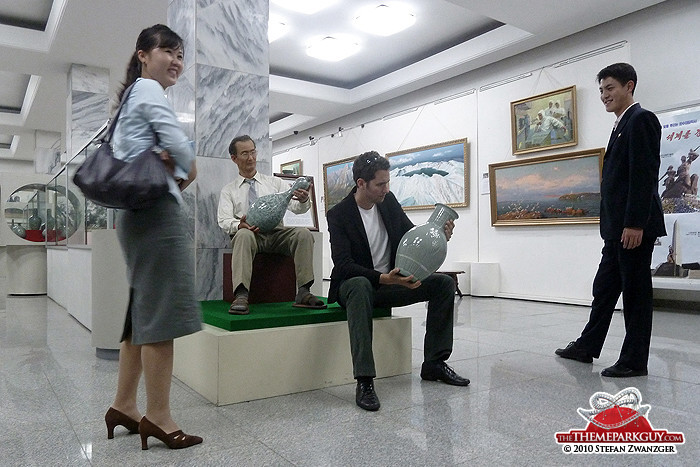 Your guides are always with you and they always find you.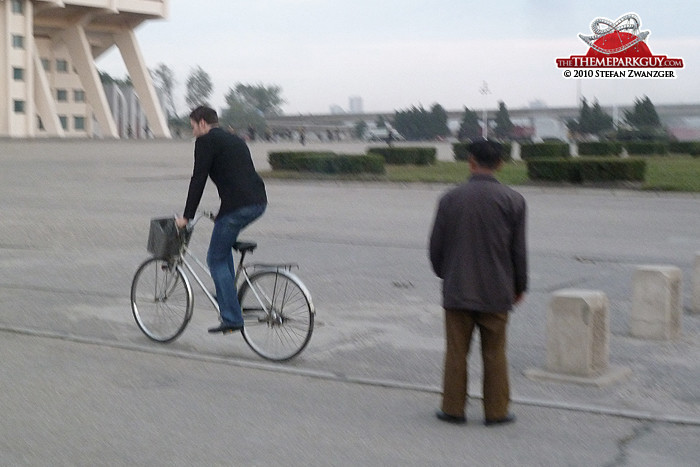 Yet, by stealing a local's bicycle...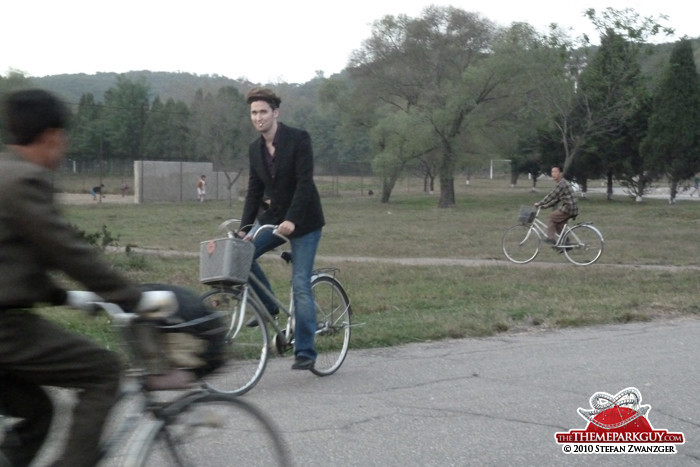 ...I had a few minutes on my own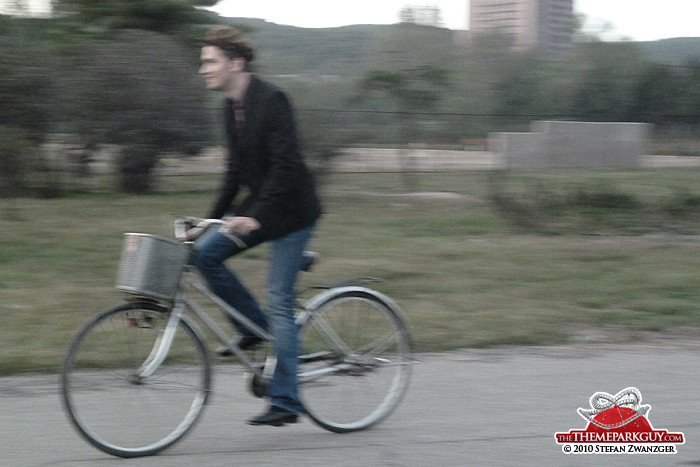 Freedom!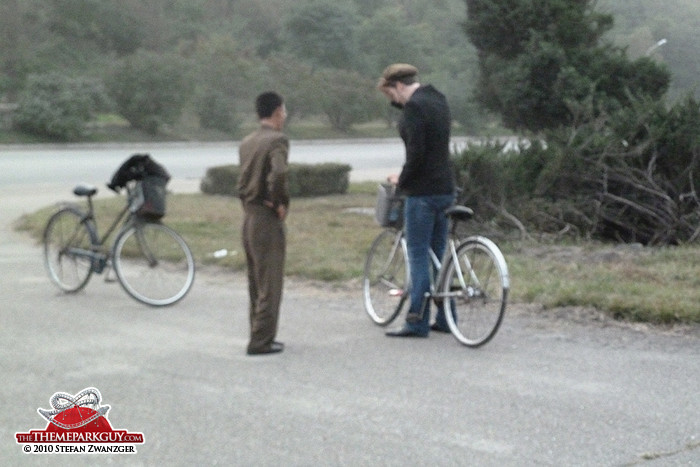 Well, for a minute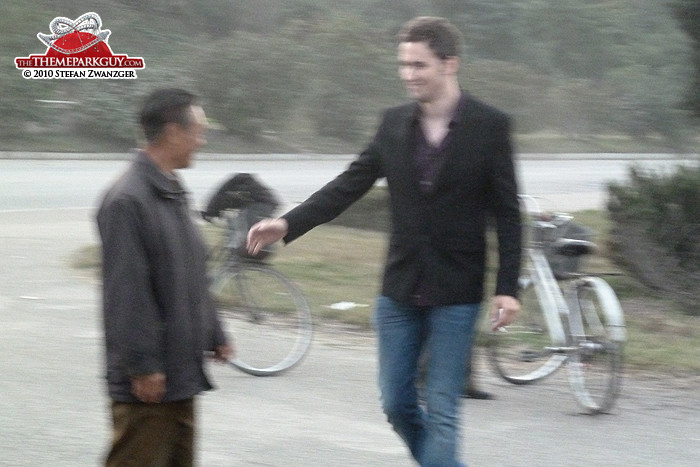 Thank you!