Can you contribute? More construction updates here!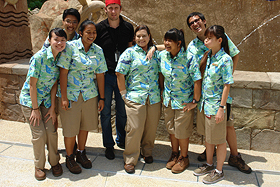 Review
Resorts World's Marine Life Park comprises two separate ticketed gates: Adventure Cove Waterpark and the Southeast Asia Aquarium.
While it's not as disappointing as I found Gardens by the Bay, I don't feel it lives up to the high expectations. Don't get me wrong, though, it's good! It's basically a two-storey experience: the underground level constitutes the aquarium with its huge tanks, and the ground level above is dedicated to water park and dolphin interaction. The way everything is interconnected makes for an engineering and architectural masterpiece, including rooms of the Equarius Hotel reaching up to the ocenarium. S.E.A. Aquarium is huge with its marvelous, giant tanks and educational displays, but lacks character and theming. Perhaps this was never the intention, but apart from the well-crafted shipwreck display it's not really an outstandingly memorable environment. The smallish water park has a selection of pretty lame slides, a short little wave pool, an artificial snorkeling reef, the usual lazy river, lots of greenery and a bit of theming here and there.
All in all, the aquarium is by far the best in South East Asia and the water park (that looks a bit like the brother of Waterbom Bali) is alright, but when it comes to marveling at man-made masterpieces, I'd recommend to head down to Universal Studios Singapore next door.
Visit

for daily theme park construction updates worldwide