Can you contribute? More construction updates here!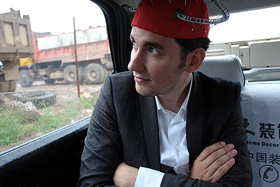 Review
Industrial, smoggy Wuhan - that's the location of China's upcoming, fifth Happy Valley theme park.
I find these amusement parks are fantastic for the locals. They surprise with brand-new coasters and quality rides, manufactured by the best suppliers around the world. And the 'Happy Valley' brand gets better with each new park - the predecessors being located in Shenzhen, Beijing, Chengdu and Shanghai.
Creating fun places with peace-inducing landscaping outside Mainland China's restless, smog-choked, mega-metropolises is more than appreciation of property surrounding it; it's a matter of social urgency.
When I had a look at the site in October 2010 all I found was a suspicious security guard and two excited marketing girls. I am sure that, at the moment of publishing these words, the cranes are already rising above the ground. Full speed. The China way. Full smoggy throttle towards the opening in 2011.
Visit

for daily theme park construction updates worldwide