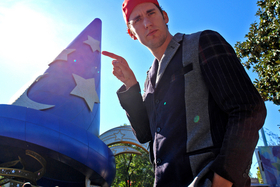 Review
While not the best in Walt Disney World, Disney's Hollywood Studios still provides the world-class experience you would expect from a Disney park. These are the unmissables:
- 'The Twilight Zone Tower of Terror' free fall ride is the best of its kind: the dropping elevator doesn't just plunge you straight down, it takes you a bit around the hotel as well, which makes the Tower experience less predictable and more 3-dimensional. An absolute must! This Tower of Terror was Disney's first and tops the versions found in California and France.
- 'Rock 'n' Roller Coaster starring Aerosmith' is the most thrilling roller coaster Disney has built to date.
It accelerates from 0 to 100km/h in just a few seconds, shooting you into a loop and several corkscrews. The ride experience is very comfortable and is unlikely to leave you with backache or nausea.
Other highlights include 'Toy Story Mania' (a shoot-'em-up computer game-themed ride), 'Studio Backlot Tour' (featuring the amazing Catastrophe Canyon, which will pleasantly surprise and shock you), 'Star Tours' (a Star Wars-based flight simulator that needs an upgrade) and the enjoyable 'Indiana Jones Epic Stunt Spectatular!' show. Hollywood Studios also plays host to the worst attraction Disney ever created: 'Sounds Dangerous'. I wonder how long this pointless 'sound-experience' cinema will remain open. It left behind a baffled Theme Park Guy, a silent audience and another guest saying 'That was different'.
It's a great Disney park, but the other three have more to offer: Magic Kingdom with regards to atmosphere and Epcot/Animal Kingdom with regards to uniqueness.
Visit

for daily theme park construction updates worldwide