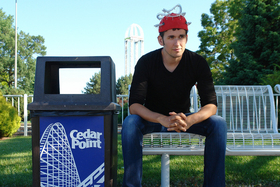 Review
Cedar Point is a 100-year old fun fair that turned into a wholeheartedly American suburban coaster jungle. It is so spread out and boasts so many coasters that it's a struggle to make it round the park in one day.
There are hanging coasters, racing coasters, dueling coasters, even standing coasters (imagine approaching a loop while standing!), catering to all ages, though pubescent teens are well overrepresented. The park contains some of the highest and wildest coasters I have seen and is at the time of writing home to the second fastest coaster in the world, 'Top Thrill Dragster', which offers an intoxicating emotional cocktail of anticipatory fear and pure exhilaration as the astronaut acceleration high kicks in. Bravo!
If I were The Coaster Collection Chap, I would now go on and on with details. For The Theme Park Guy, well, it's just another collection of coasters.
Visit

for daily theme park construction updates worldwide