Can you contribute? More construction updates here!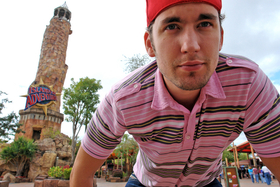 Review
This is the only Universal theme park in the world which doesn't have the 'studio' theme. It's a great adventure-themed park featuring some of the world's best and most thrilling attractions.

You'll enjoy the 'Jurassic Park' flume ride, beautifully integrated into a jungle setting instead of a studio surrounding, featuring caves, primeval forests, swampland with dinosaur animatronics and John Williams' film music. At the climax you'll face a huge surprise from above simultaneously with a deep and long drop. This is actually one of the best storytelling combinations in theme park history: it lifts your attention up (you will look up, believe me!) and plunges you down at the same time. Everyone smiles after the splash. I've never, ever seen anyone unhappy after the Jurassic Park ride. It really works.
'The Amazing Adventures of Spider-Man' is the best illusion ride in the world today. Wearing 3-D glasses, you and your spinning ride vehicle are lifted through various 3-D screens embedded in Spider-Man's city landscape. At the end you won't know where top and bottom are, whether you're falling, turning or dreaming - it completely alters your sense of orientation and your perception of movement! It's an ingenious piece of work!
Other highlights are a very, very wet Dudley Do-Right themed ride and another very, very, very wet Popeye-themed river rapids ride, both very refreshing on summer days and very stupid on winter evenings. The 'Incredible Hulk Coaster' is a smooth, fast and weight-defying world-class roller coaster. There is not much evidence of the Hulk theme, but it's just good as it is.
Universal's Island of Adventure is a must on your Orlando visit.