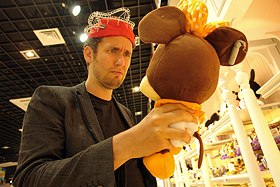 Review
I am speechless. This 2011-opened theme park just over two hours away from Shanghai (by a forbidding train/bus combination) beats the chicken feet out of my stomach.
It's just a dreadfully terrible copy of Universal's Islands of Adventure in Orlando, Florida. You'll find a carbon copy of the entrance street leading to the centerpiece lake (only uglier), a Spiderman ride rip-off to the lake's left (just so much worse and with nauseating movements) and a nearly 1:1 copy of Universal's 'Seuss Landing Land' to the right. The park owners even stole the park logo from their Universal Studios 'inspiration'.
But as if that wasn't enough: since Woody Woodpecker wouldn't have sold that well, you'll find a huge 'Disney Store' on the Main Street, complete with ugly fake Mickey, Minnie and Donald puppets. And to add insult to injury, these soft toys are emblazoned with fake 'Original Disney' holograms. Obviously, there seems to be no (rule of) copyright law in place to protect the originals. But, much worse, the park's managers and designers display their total lack of personal respect towards the creative output and property of other people. The copies are so obvious, shameless and crude, that it requires a high degree of creativity in itself to imagine such a monumental lack of imagination. This really is the worst copy of all copies I have ever seen!
The only saving grace is the back side of the park with its cutting-edge water rides and roller coasters, purchased from international suppliers. They are solid and fun, particularly the belly-down flying coaster. World Joyland as a whole, though, is an expensive embarrassment for the amusement park industry in China, since it exposes either an immense lack of local, creative talent, or a lack of developer's trust in existing local talent's abilities.
Visit

for daily theme park construction updates worldwide