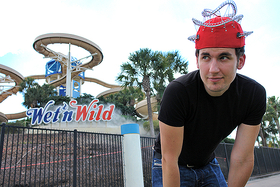 Review
Wet'n Wild boasts the most thrilling and mad water slides in all of Florida.
'The Bomb Bay', 'Brain Wash' and 'The Storm' will make your sister cry, your father scream and your mother faint. A unique feature is the use of ominous music in the slides to prepare you for the drops, turns and spins.
This water park won't please the fans of themed surroundings, but it's the perfect home for thrill seekers.
Visit

for daily theme park construction updates worldwide