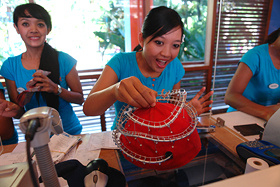 Review
Planes full of sun-seekers landing every 20 minutes. Adventurous backpackers on spiritual mass trips. Low-cost life in the side streets. Bad roads. Packed beach. Homeless cat. Moped. Massage. Burger King.
That's what Kuta, Bali's tourist aggregation zone, feels like.
And in the middle of this is Waterbom Bali, a cultivated and beautiful tropical garden with three slide towers and the latest Canadian water slides. It's really an impressively fine water park that makes the very best out of its location with its tantalizing discovery paths winding trough the jungle overgrowth. Don't miss the loop water slide and the U-shaped slide, they will make you scream with delight!
Visit

for daily theme park construction updates worldwide