Can you contribute? More construction updates here!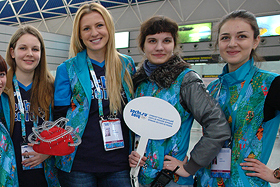 Review
The construction site of the Sochi Olympics is gargantuan, yet it feels a little cold and clinical. It has me wondering what the villagers of Adler – the Sochi suburb that will host the Olympic venues – will do with all these stadiums and monuments once the games are over?
The Sochi-Park, now under construction adjacent to the Olympic site with German/Dutch manpower and coaster tracks, will leave something behind that's worthwhile: Russia's first modern theme park!
Smart, because it's not themed around Wild West villages and enchanted castles, but around Russia's history and heritage.
The budget is reportedly some US$ 300 million. That's a solid amount, and, if invested and consulted wisely, can make for a charming park with heart and soul. Let's hope for the best.
Visit

for daily theme park construction updates worldwide