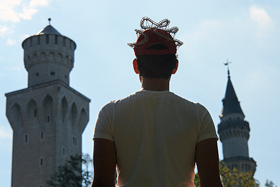 Review
Walt Disney was here! Shortly after the Second World War the mastermind toured Europe seeking inspiration for his envisioned Disneyland park in Southern California.
Neuschwanstein Castle, the dream castle built by King Ludwig II of Bavaria celebrating Richard Wagner's operas, opened as late as 1886 (many people think it's much older). Disney and his architects fell in love with the castle and emulated its turrets and many other features in their magic copy 10,000 kilometers away in Los Angeles.
Observing the gargoyles on the walls, one might get the idea that the Pirates of the Caribbean had their origins here and the dripstone grotto room within the castle looks like the fetus of Big Thunder Mountain. A closer inspection of the castles in Disneyland Anaheim and Hong Kong Disneyland reveals a lot of further similarities.
What fascinates me is that at the time when Disney visited Neuschwanstein, the 'classic' German castle wasn't any older than Disneyland is today!
Visit

for daily theme park construction updates worldwide