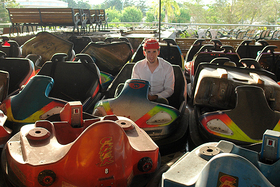 Review
In the mid-1990s there were no Hong Kong Disneyland or Universal Studios Singapore in South-East Asia: it was Brunei's well-manicured, billion-dollar Jerudong Park, with its Michael Jackson concerts and cutting-edge rides, that was the envy of the region.
Less than 20 years later, it's all ruins and decay. Despite still being open and having a few carousels and bumper cars operating, all the major rides (like a suspended roller coaster and a mountain log flume ride) have either been sold - some of them to Thailand - or totally abandoned. It's a haunting picture to see this sad remnant of a once-glorious theme park laying largely deserted, encompassed all about by its long, mighty fences carrying Jerudong's still-proud trademark horse head logo.
What do we learn from the fate of Jerudong Park? It is rather unsurprising: this massive amusement development wasn't born out of supply and demand, it was passion and pride that brought it into being. The park, including its top-notch rides, didn't ask its visitors to pay entrance fees for years, which sounds fabulous. Yet, since there was no critical mass to support it, all that was needed to put it into such a pitiful state was the declining interest of its wealthy owners. Brunei has the funds to resurrect it at anytime, but to make it viable the Sultanate would have to become a major hub of tourism in South East Asia - which it isn't, at least not today.
I can see a small-sized children's amusement park breathing life here, though, and this is actually what's being attempted at this stage.
Visit

for daily theme park construction updates worldwide