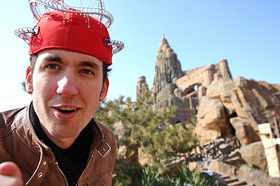 Review
When I entered Happy Valley Beijing the first time, my attention immediately drifted towards the obvious borrowings from Disney parks. DisneySea, Disney's California Adventure and Disneyland itself have all left heavy traces here. According to my review standards, the theme park lost one star straight away.
However, everything which came after was surprisingly impressive. The state-of-the-art roller coasters, flume rides and park structure made for a great day. The highlight of the park is a wonderful flying roller coaster (you ride facing downwards giving you a Superman experience) taking you through an incredibly huge and well designed 'Atlantis' mountain castle.
Despite the lack of a soul in this park, where themes crowd in on each other and therefore look a bit lost and mish-mash, it is very well worth the visit and beats theme park standards in many other countries.
Visit

for daily theme park construction updates worldwide