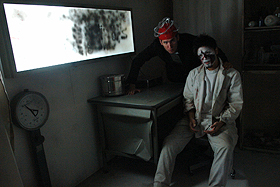 Review
This Japanese classic is a bearable bus ride away from Tokyo, at the foot of Mount Fuji, which serves as a great backdrop for DisneySea, as well.
Don't miss riding 'Eejanaika', if you dare. These rare 4th Dimension roller coasters are the wildest and most intense rides on earth to date. Riding it feels like being thrown into a massive, uncontrolled accident. Imagine skydiving and having a meteor shoot into your parachute. Or being suddenly grabbed and then death-rolled by a crocodile. Here are your hands, no there are your legs, there goes your mobile phone, oh and here it comes back, and the legs again... you will surely forget anything else you thought about before.
The park's trademark attraction Haunted Hospital is an endless, tasteless walk-through ghost house in which you'll be chased by employees dressed as hospital staff. If you like such shenanigans, go! On top of this, many more coasters and rides await you, but by and large, the whole park appears as clinical as its dysfunctional hospital. Nothing beats DisneySea, anyway.
Visit

for daily theme park construction updates worldwide