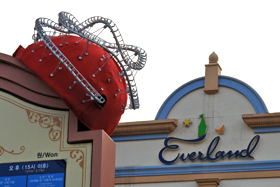 Review
Everland is one of the world's most successful theme parks with regards to crowd levels, on a par with the Disneyland and Universal Studios parks. I don't understand exactly why*.
The park has a nice setting in between forest-covered mountains and contains all the standard theme park features like roller coasters, water rides, themed villages, flower shows and animals, but there's nothing distinctive which makes this Samsung-owned venture deserve its outstanding success. When South Korea's Universal Studios and Paramount Movie theme parks see the light of day, Everland might suffer.
My personal highlight was a safari bus tour through lion and bear territory, where real bears walked upright next to the bus like next-generation Disney animatronics. I visited in winter time and nearly all major rides (the two main roller coasters and all the water rides) were closed. That might have spoiled my experience and offended my value-for-money sensibilities! I will return in summer time and review my review.
*Now I know why. Update 2010: Returned in summer time, rode the wooden roller coaster and was very, very impressed - one of the world's best coasters. Increased the rating.
Visit

for daily theme park construction updates worldwide