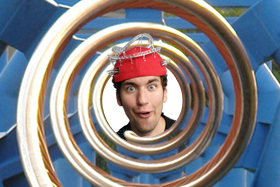 Review
Guangzhou's Chime Long Paradise resembles a showroom for the latest coasters and thrill rides manufactured in Europe and North America.
There is a lack of interconnecting theming and design, but the park is equipped with some solid attractions: Splash Battle, a Waterworld-inspired (though not very original) stunt show, a great dive roller coaster (that pauses just before a vertical drop, letting you peer into your screaming destiny), the first motorbike-shaped launch coaster in Asia and a ten-inversion roller coaster with its record breaking number of corkscrews make for a screaming day out.
Nevertheless, the neighboring Chime Long Waterpark tops the thrills of its dry, older brother.
Visit

for daily theme park construction updates worldwide