Can you contribute? More construction updates here!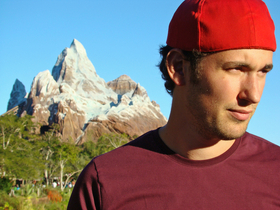 Review
Animal Kingdom is the best Disney park in North America, containing unique thrill rides, a drive-through safari and terrific landscaping. I love strolling around here: its dense jungle and perfect cocktail of rides make for the best possible theme park experience.
'Expedition Everest', opened in 2006, is a colossal, fast and surprising backwards-and-forwards roller coaster careering through a Himalayan landscape in search of the yeti. With stops, thrills and a stunningly life-like yeti animatronic at the end, it leaves nothing out apart from some lacking interior design within the mountain structure. 'Everest' is quite a rough roller coaster by Disney standards and, given the extensive exposure to G-forces, not for everyone.
'Dinosaur': due to its hidden location, many visitors miss this attraction. Don't!! Using the same 'Enhanced Motion Vehicle' technology as the Indiana Jones rides in California and Japan, you get warped back in time, crashing through a dark dinosaur jungle. In my opinion it's actually better, faster and more comfortable than the Indiana Jones versions. Picture meteors thundering down around you in the dark while speeding through the primeval forest, with dinosaurs and predators everywhere!
'It's Tough to be a Bug!' is the best 3-D movie Disney ever created. The screen is set into the roots of the beautifully designed artificial 'Tree of Life', made up of dozens of animals carved into the tree's trunk. After the most inspiring and well-designed theme park queue you will ever wait in, you will watch a greatly entertaining movie, complete with bugs attacking the audience... from everywhere!
'Kilimanjaro Safaris': your driver will take you on a narrative journey, cruising in your safari vehicle through an African-themed landscape with lions, elephants, rhinos, crocodiles and giraffes. The size of the area that awaits you behind this attraction's small entrance is very surprising. Fabulous!
Whatever your plan is, don't skip Animal Kingdom when visiting Walt Disney World!
Visit

for daily theme park construction updates worldwide