Can you contribute? More construction updates here!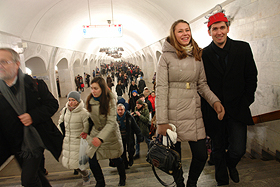 Review
As of 2012, the headlines in the English press about Russia can really give you a scare. Quite on the contrary, though, every time I visit I like it very much. Yes, there is the occasional guy walking down the street that looks like he has no mother. But what I also see, and what intrigues me, is a young generation of Russians in their teens and early twenties that is English-speaking, friendly, open-minded, educated, motivated, philosophical, cosmopolitan and straightforward – people that are hard to find elsewhere. I am confident they will build an amazing, livable country for themselves and for those who will come to live here.
When I mention Universal Studios Moscow to people unfamiliar with the city I tend to hear comments like, 'What? In Moscow? As in the capital of pre-fab Soviet housing? No way!'
Be not mistaken, the Moscow of today absolutely has the consumers with the disposable income to make this park a success. We've all seen the time-honored wintertime pictures of the Kremlin and Saint Basil's Cathedral, but now let me show you a modern Moscow that you might not have seen before – a growing, mystical metropolis in which an indoor Universal Studio theme park will fit as a natural feature when it opens in 2018.
If all goes well, construction of Galaxy Park, the megamall that will house the Studios, will commence in 2014. No offense to Ferrari World and Lotte World, but this park is likely to be the first real cutting-edge themed park under a roof.
Visit

for daily theme park construction updates worldwide