Can you contribute? More construction updates here!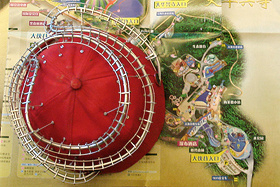 Review
This is China's Walt Disney World, or more precisely 'Overseas Chinese Town (OCT)'s adaptation of it. OCT is the 1985-founded Chinese conglomerate that set up the 'Happy Valley' theme parks in Beijing, Chengdu, Shanghai and Shenzhen.
Spread over a vast area of 9 km2 and stretching all the way from the coast to high up in the mountains, there are some truly astounding components to this factory smog infested wonderland.
The cashier will ask you if you want to visit both parks, 'Knight Valley' and 'Tea Valley', or just one of them. 'Tea Valley' is not a theme park, but merely a calm and beautiful botanic garden carved into the mountains, together with a fake Swiss town equipped with London phone booths and romantic lakeside restaurants serving chicken feet.
'Knight Valley' is the one with all the rides. The newly-opened wooden coaster from Pennsylvania-based 'Great Coasters International' is fantastic, as is the extensive funicular railway that brings you up to the vista point with its thrill rides, and if you choose, all the way up to 'Tea Valley'. The water fall flume ride was closed on all three days I was there – OCT East shuts down 80% of the park when it's raining.
Less amazing attractions include the Stunt Show, which is a bad copy of Universal's Waterworld, and '4000 Miles to Earth Center', which is a shameless mix of Universal's 'Spiderman' ride (ride vehicles) and Disney's 'Journey to the Center of the Earth' (setting).
Nevertheless, I must say that OCT East impressed me. I was expecting much less.
Visit

for daily theme park construction updates worldwide