Can you contribute? More construction updates here!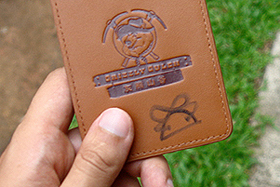 Expansion update
May 31, 2013
Hong Kong Disneyland expansion, here's my opinion:
Mystic Point surely is the highlight of the three new areas, featuring a beautifully-themed and -narrated dark ride, experienced in a trackless ride vehicle with some stunning sparkle and projection effects, as well as animatronics. Danny Elfman's tailor-made supporting soundtrack greatly adds to the magic and makes for a stimulating and playful, albeit little short experience. It's not as good as 'Journey to the Center of the Earth' or 'Pooh's Hunny Hunt' in Japan, but it's a remarkable family ride unique to Hong Kong Disneyland.
Regarding Grizzly Gulch: somewhere, someday, someone important must have come to the conclusion that Asians don't like thrills - and, somehow, this has had a lasting impact on Disney's strategic decision-making.
Given that the middle-aged woman seated next to me in the just-opened Grizzly Gulch coaster screamed murderously when taking a horizontal curve at toy train speeds, this verdict may not be so wrong, after all. 'Big Grizzly Mountain Runaway Mine Cars' - the coaster's title that reminds me a bit of the bumpiness of saying 'Indiana Jones and the Kingdom of the Crystal Skull' - is nothing more and nothing less than a shrunken, flattened version of the Expedition Everest roller coaster found at Disney's Animal Kingdom in Florida.
It's just mildly thrilling and feels more like a Swedish massage than a turbulent plane ride (congrats to manufacturer Vekoma for making the ride insanely smooth). The storytelling proves solid with two plot-and-direction twists that the uninitiated won't expect, and both theming and animatronics are as excellent as expected.
Toy Story Land is undeniably the cheapest-looking land Disney ever created, just as the original at Walt Disney Studios in Paris. Yet, add some beloved characters and classic scores to the mix, and it works. With the three new lands open, surely Hong Kong Disneyland is now better than it ever was.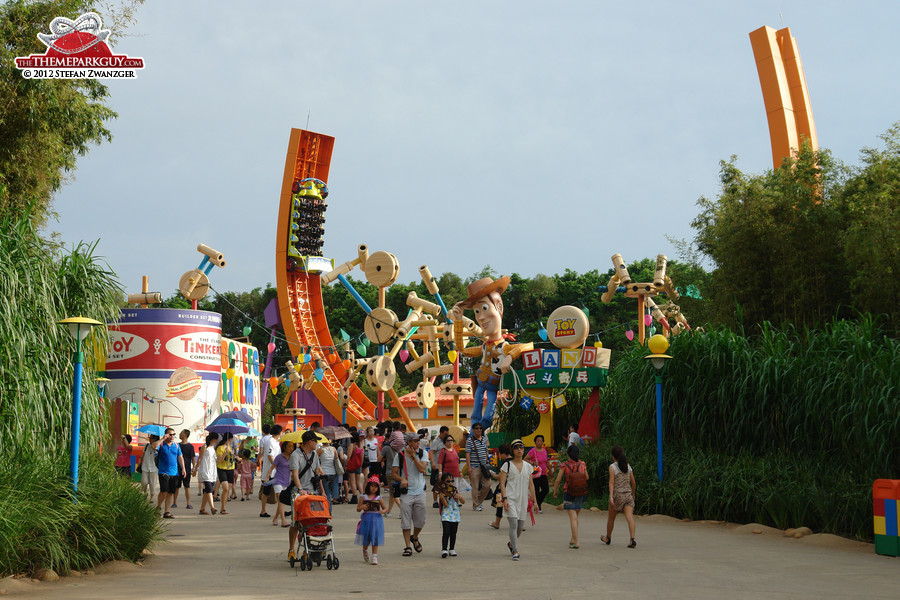 Toy Story Land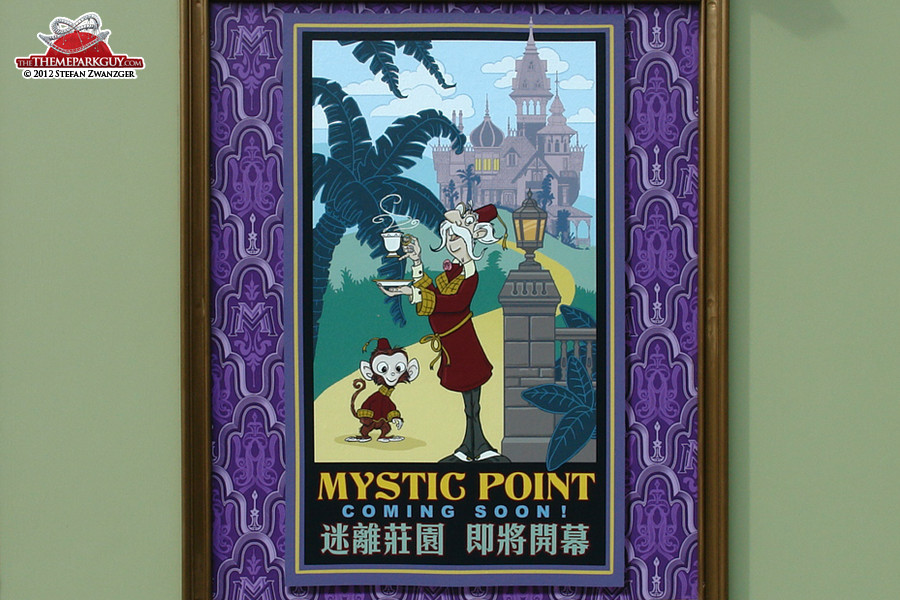 Mystic Point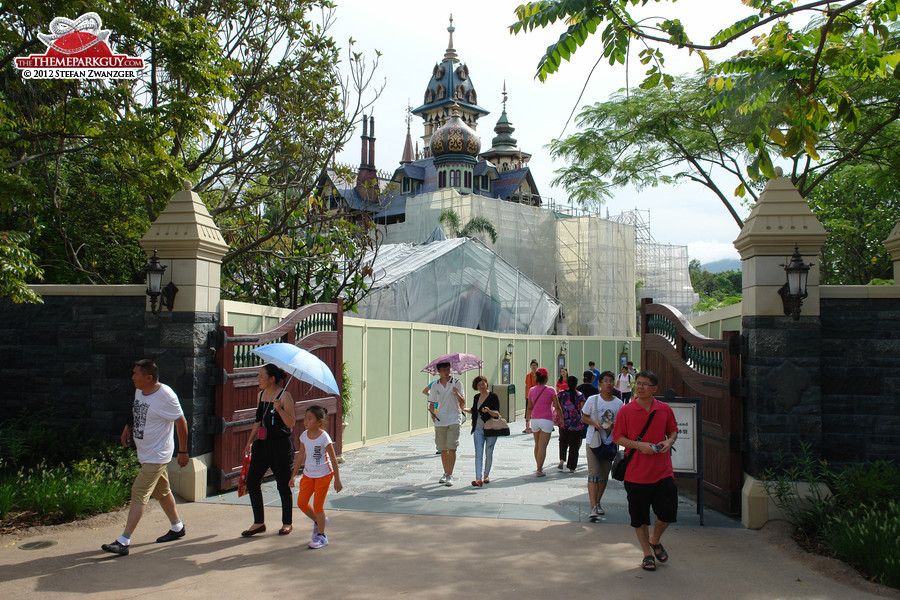 Mystic Point under construction in August 2012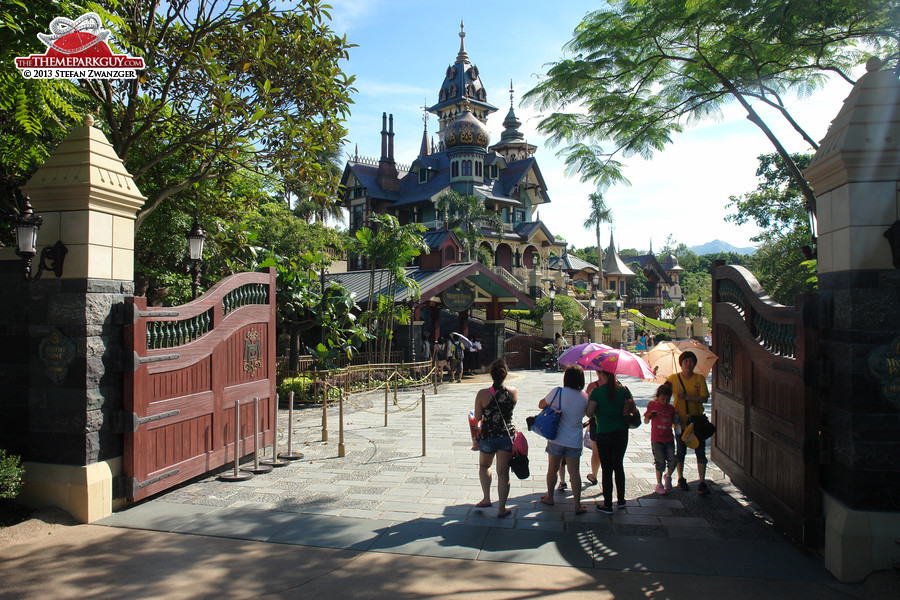 ...and open in May 2013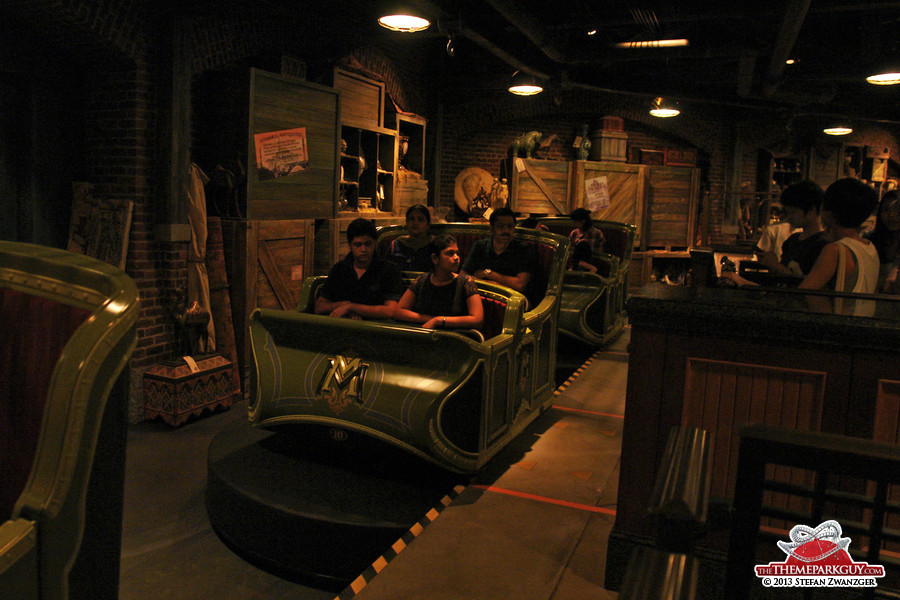 Mystic Manor trackless ride vehicles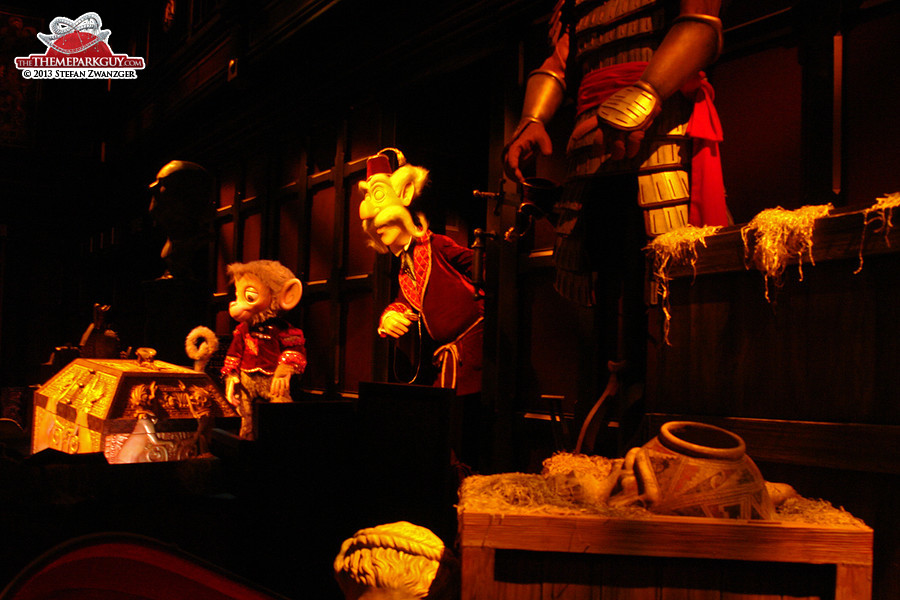 Starring a monkey and his traveling human companion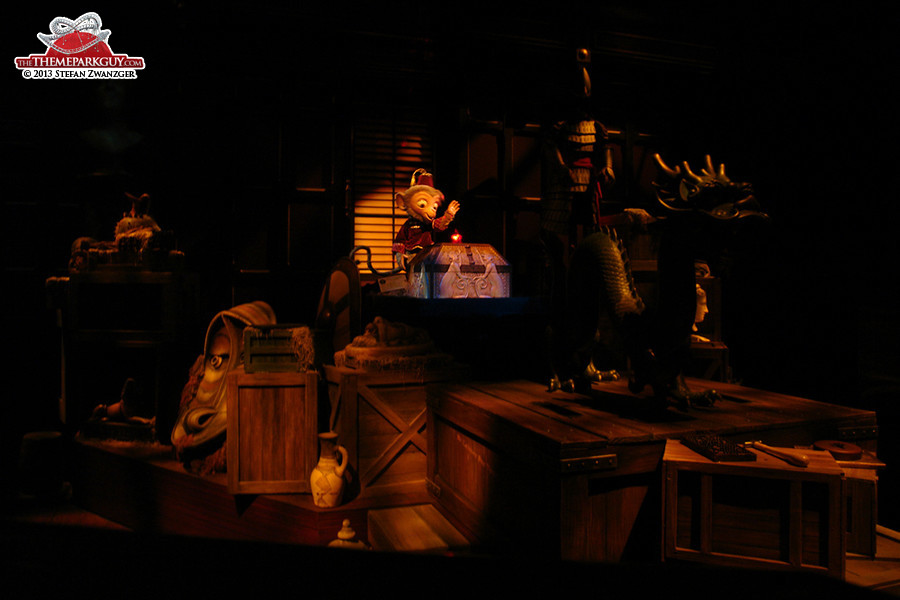 Monkey likes the music box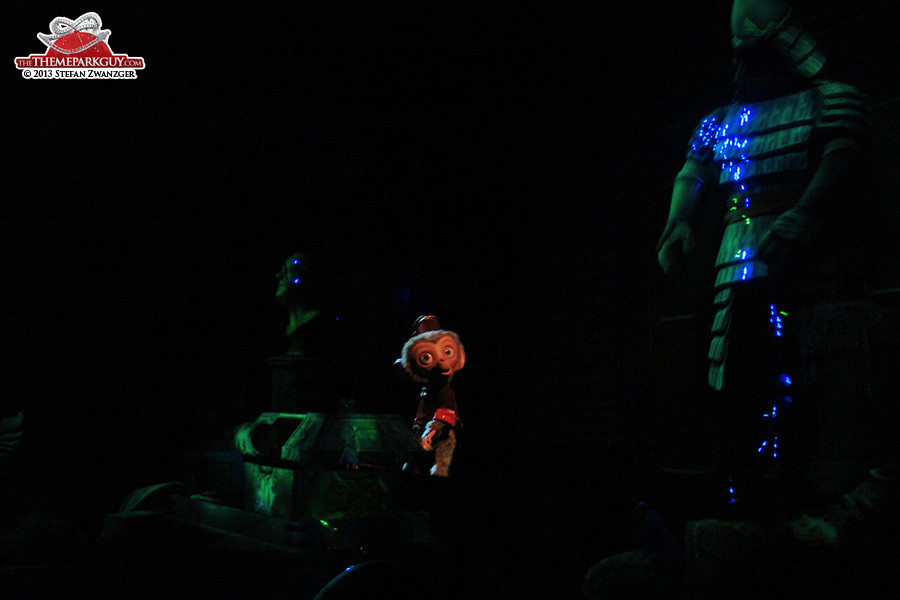 Oops, what did monkey do?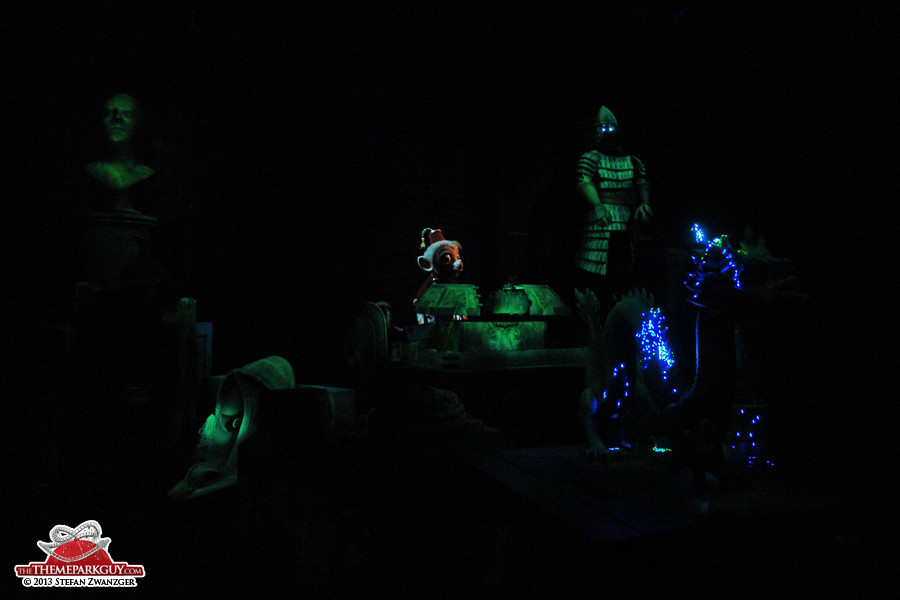 The activated music box brings everything to life. Beautiful!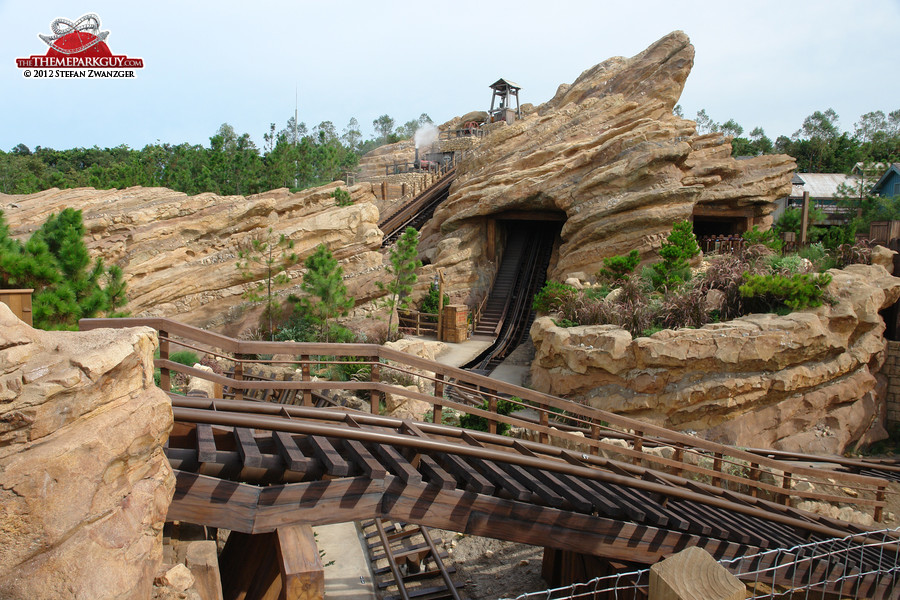 Grizzly Gulch roller coaster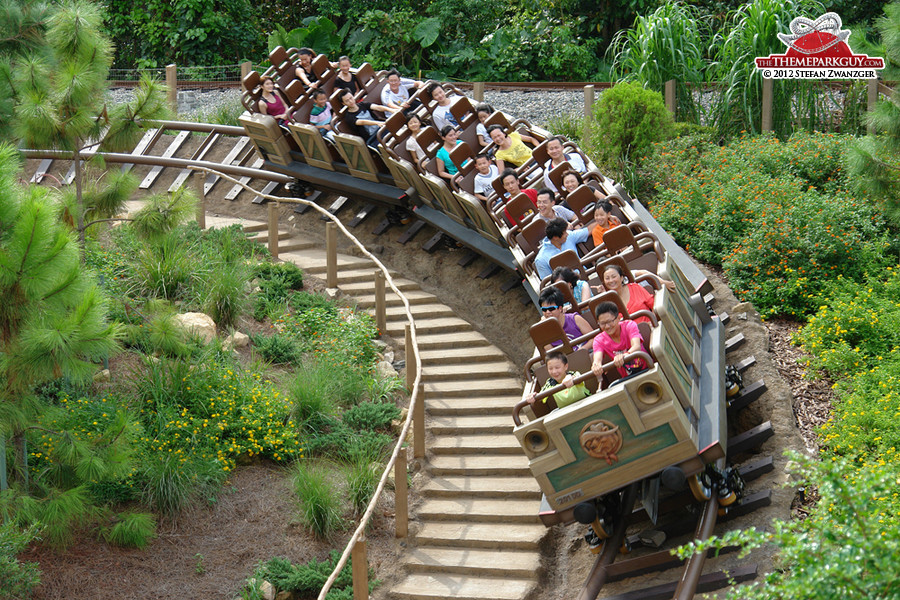 Hong Kong Disneyland's most thrilling attraction!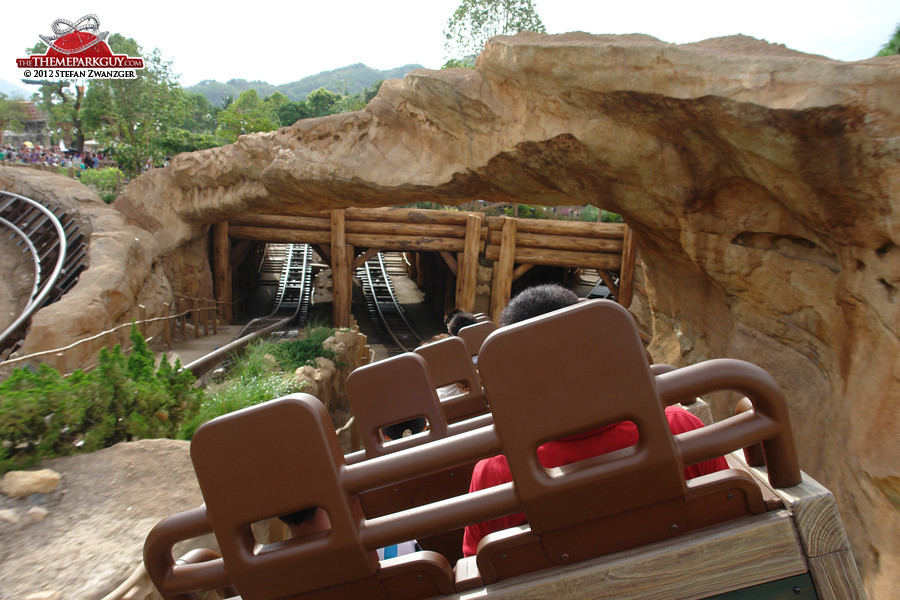 Big Grizzly Mountain Runaway Mine Cars POV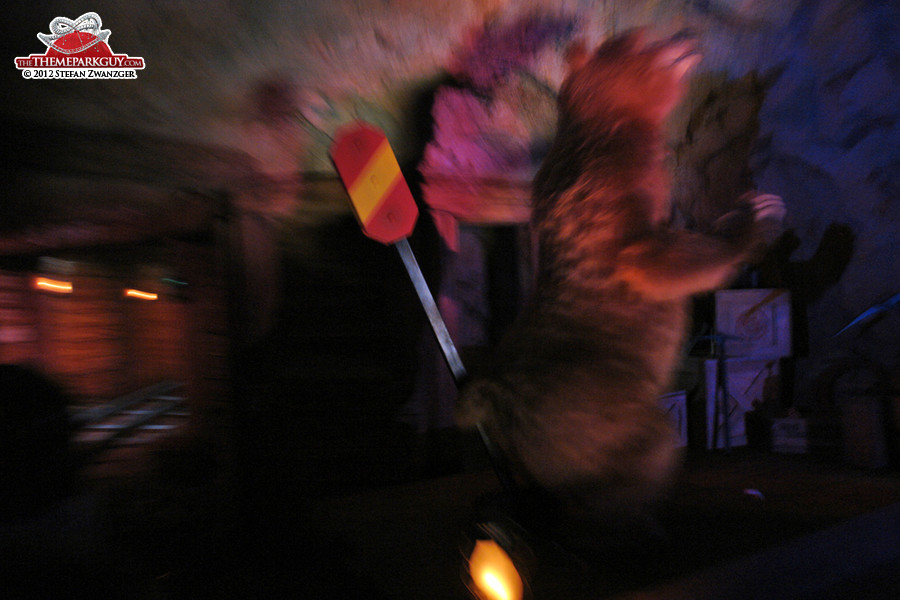 First animatronic bear, rubbing up against a railway switch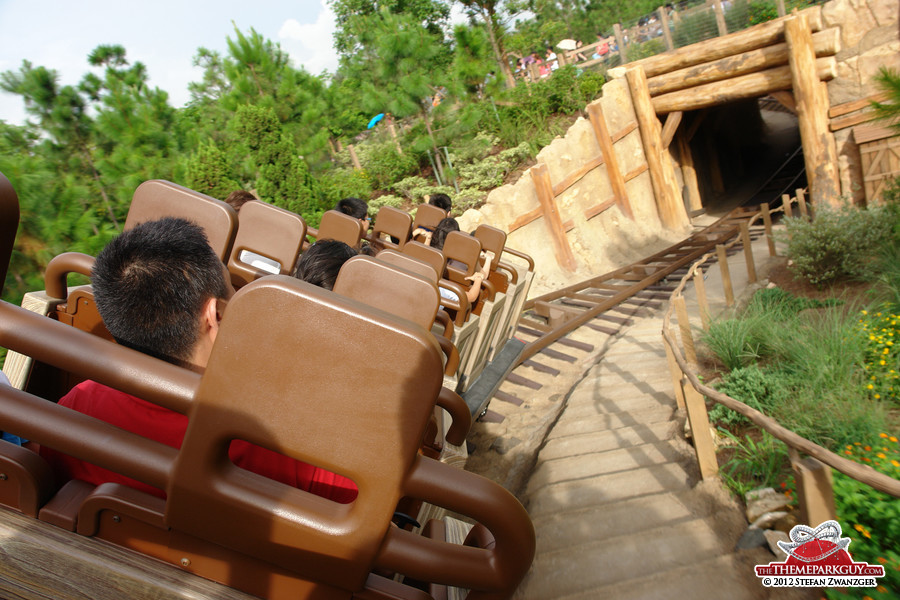 And back outside!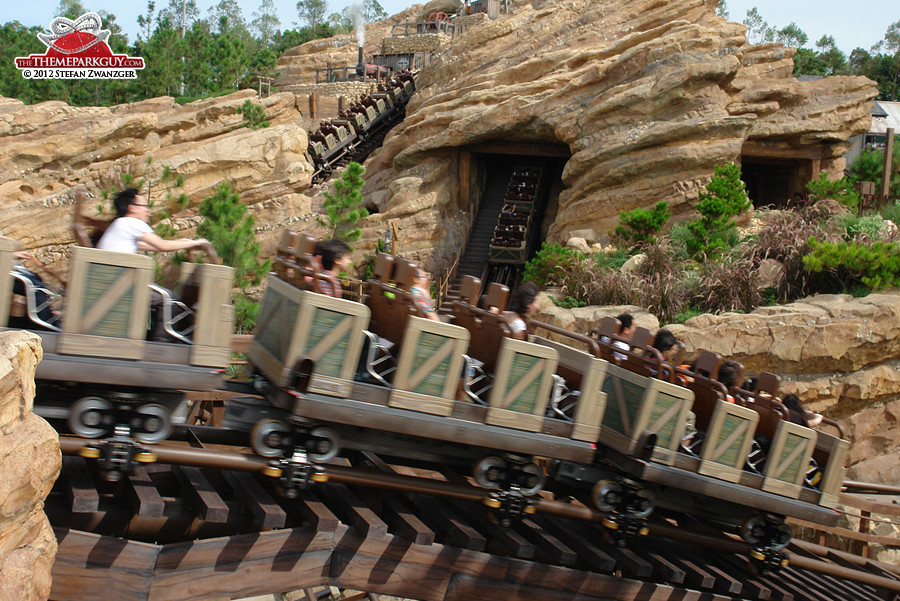 Three coaster trains operating simultaneously!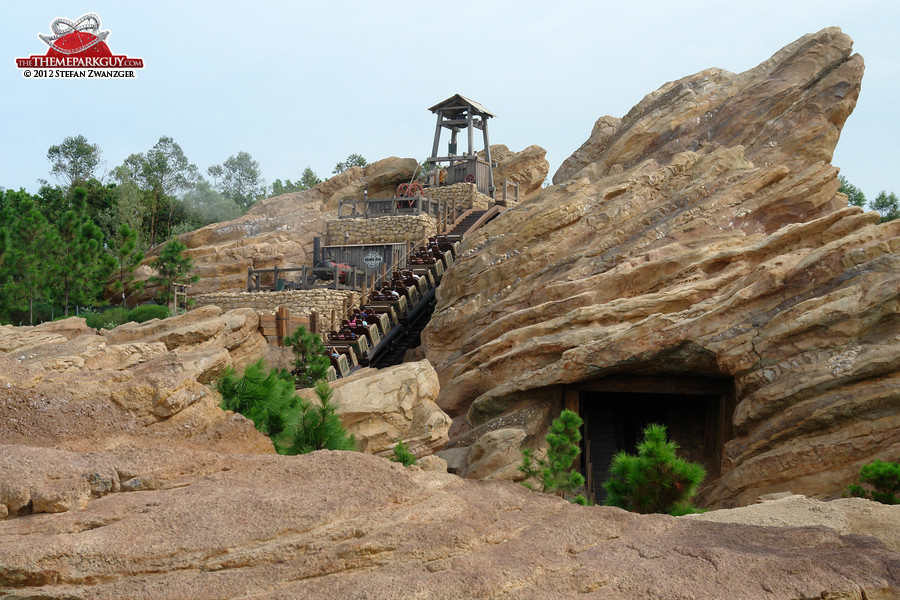 The highest point in Grizzly Gulch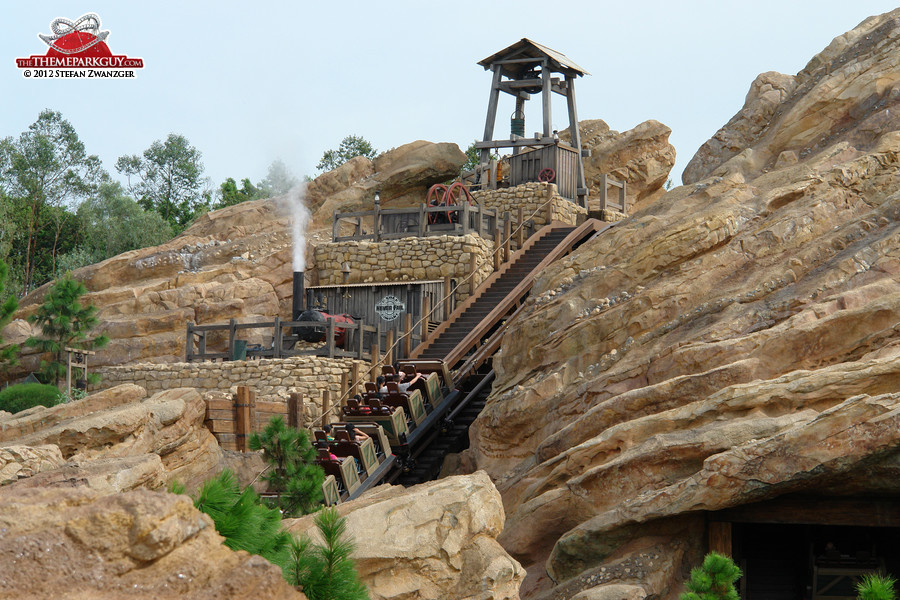 A turning point in the ride's story!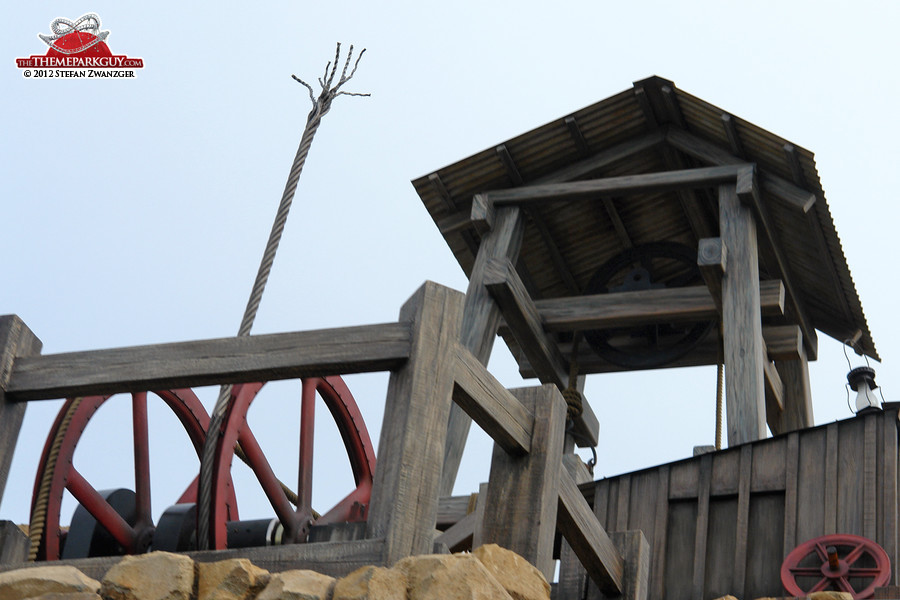 First-rate cable snap effect, followed by a backwards plunge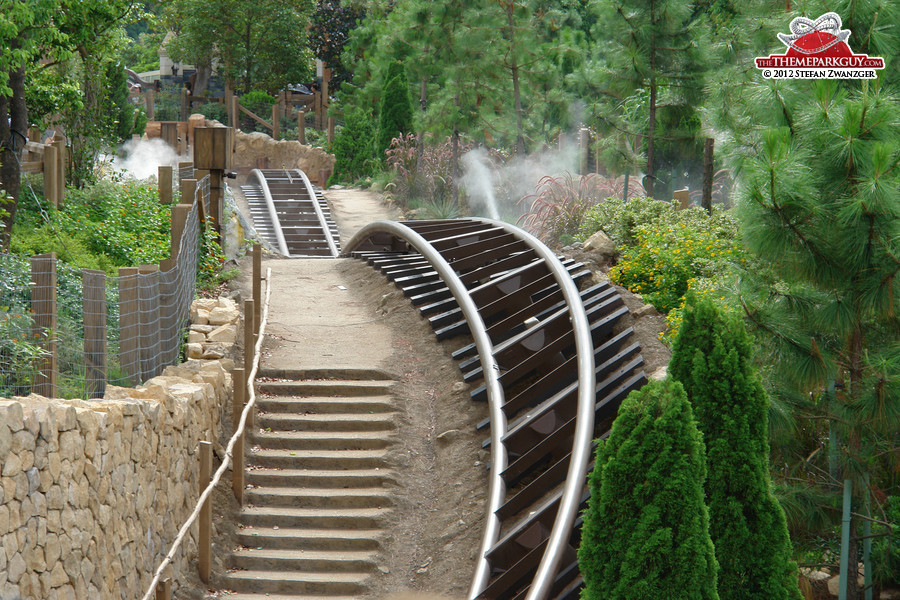 Smooth Grizzly Gulch coaster tracks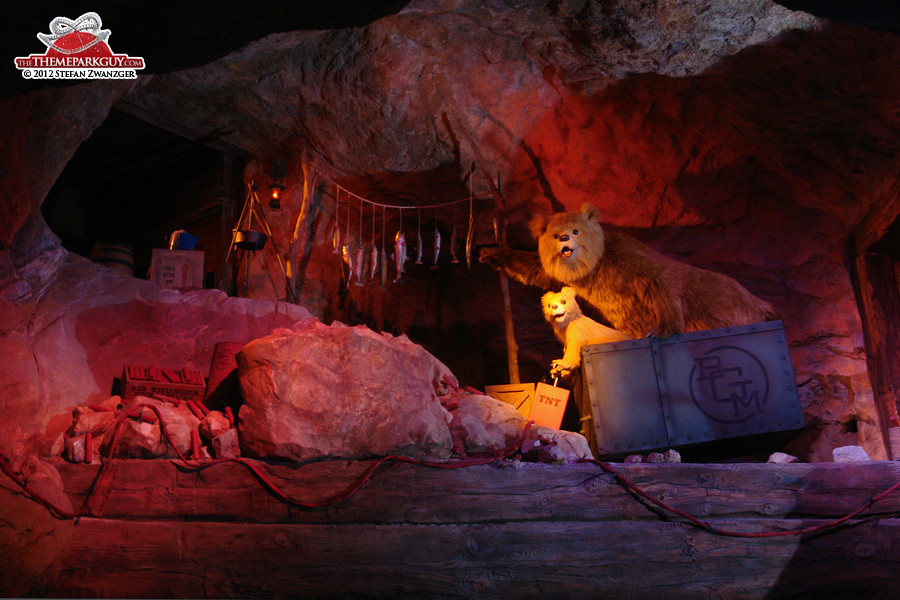 Grizzly bear animatronics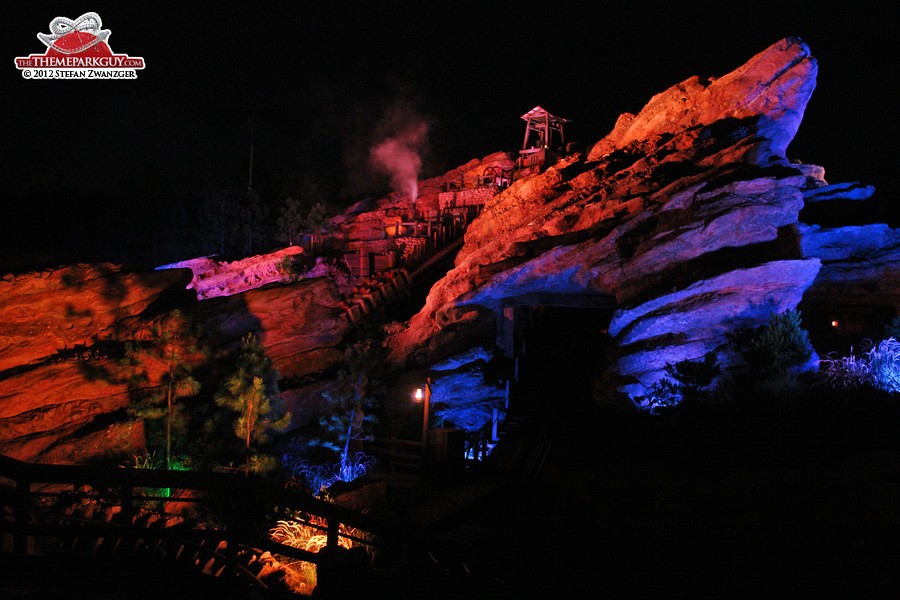 Big Grizzly Mountain Runaway Mine Cars at night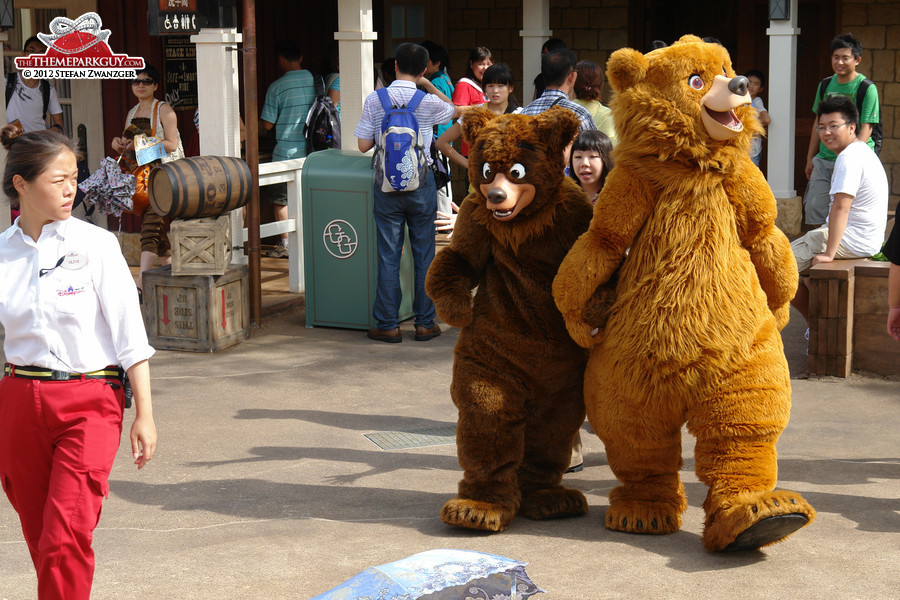 Why does the cast member on the left look so protective?
Because, in Disneyland, love...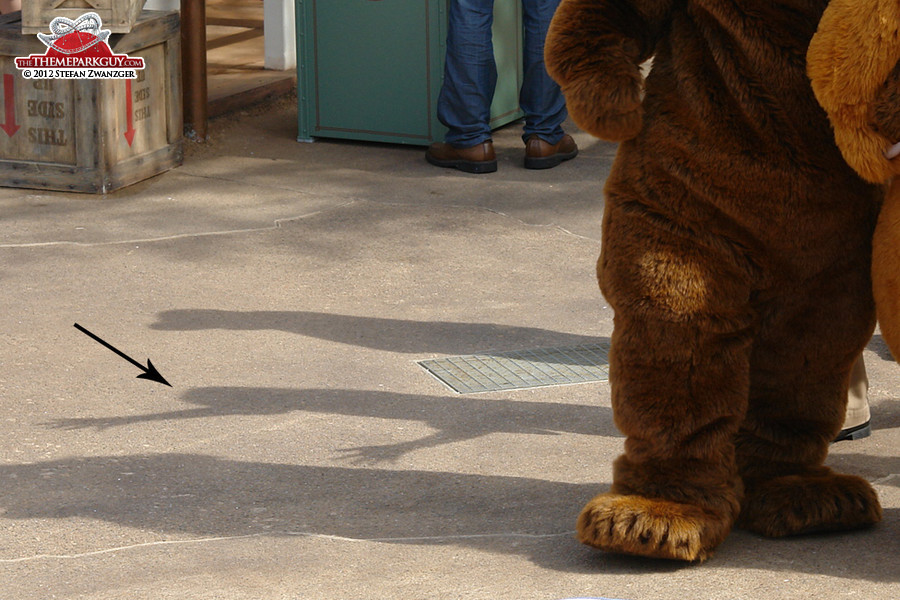 ...knows no boundaries!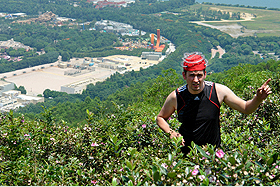 Construction Update
June 05, 2012
Phuh! On a personal note, this was the last time I hiked up and down these treacherous mountains. Being passionate about getting aerial photos is one thing, being a suicidal, masochistic geek another. It's a 7 hour hike through painfully untamed jungle and they got venomous snakes up there. I am convinced people in military camps do tougher things, but these trail-free mountains are close.
Please enjoy the final and exclusive set of Hong Kong Disneyland aerial pictures, taken in June 2012 and focusing on its awesome expansion: Grizzly Gulch roller coaster (brown rock structure), Mystic Manor dark ride (grey building in the center) and Toy Story Playland (orange shuttle coaster in the foreground):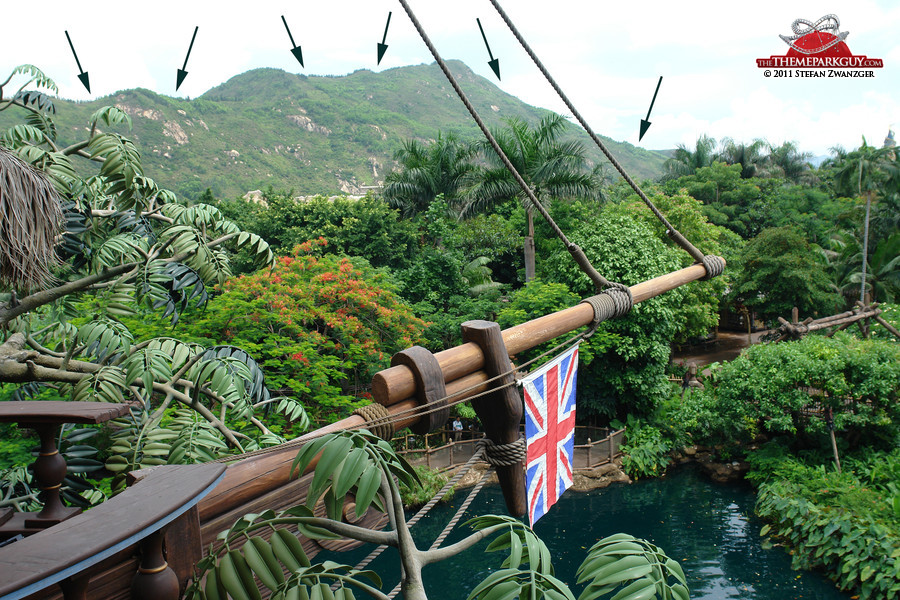 And once again: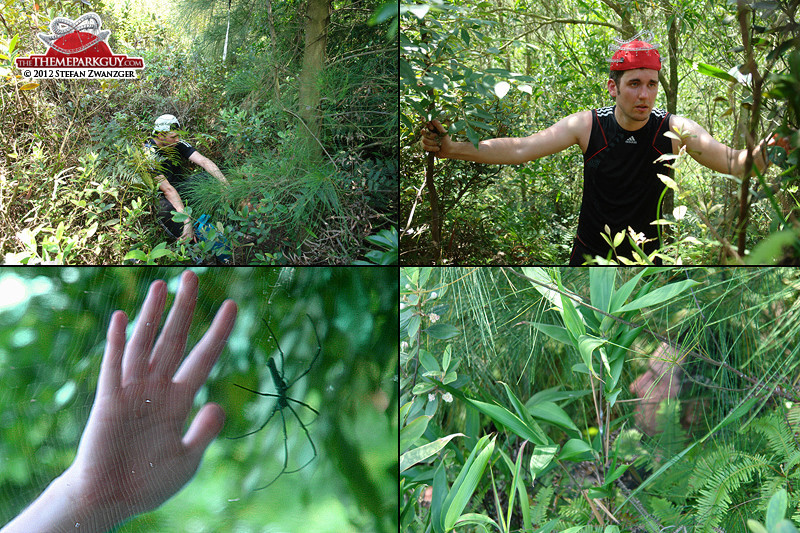 Hiking pal Michael and The Theme Park Guy are back in the bush...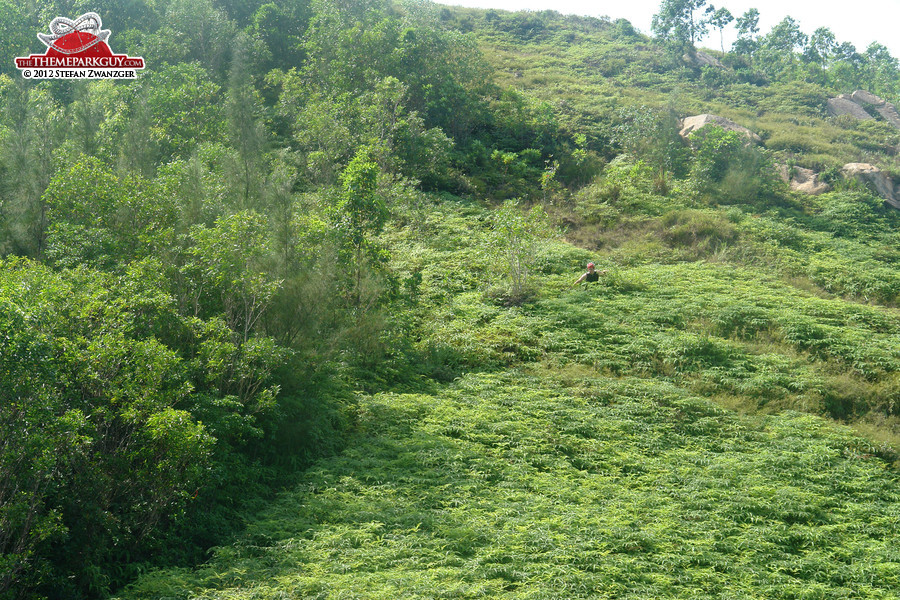 ...to bring you the updates you deserve!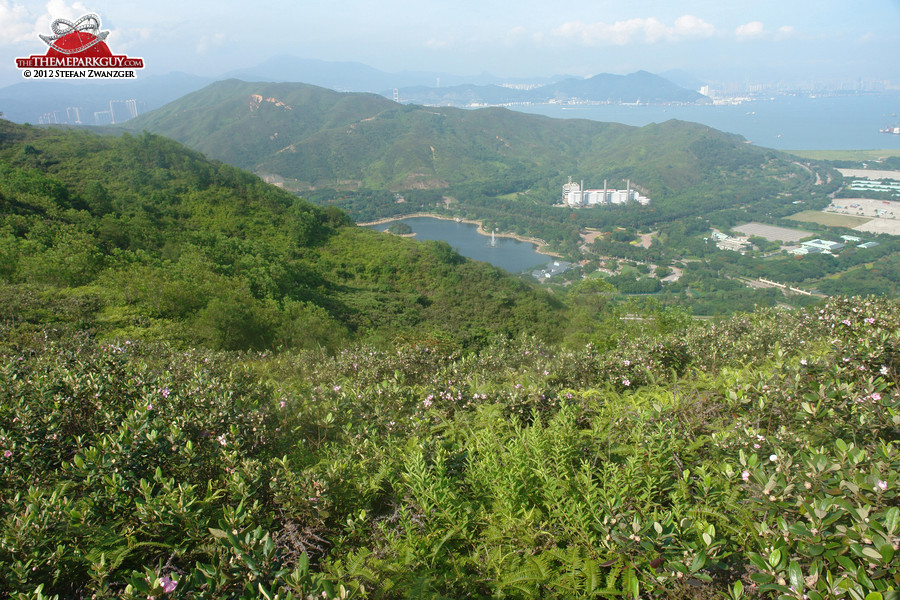 Hello Inspiration Lake! Visibility deteriorated, unfortunately!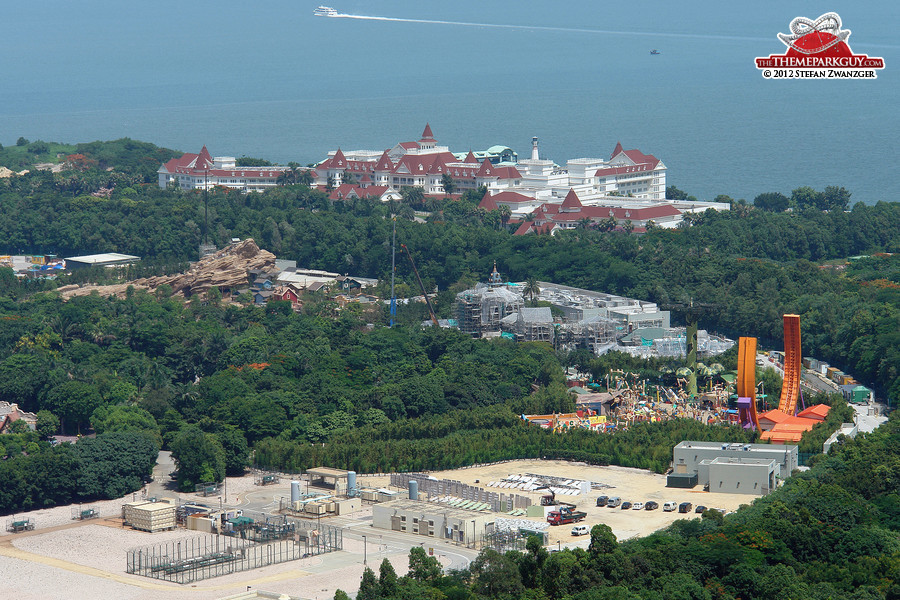 Hong Kong Disneyland expansion, here we go!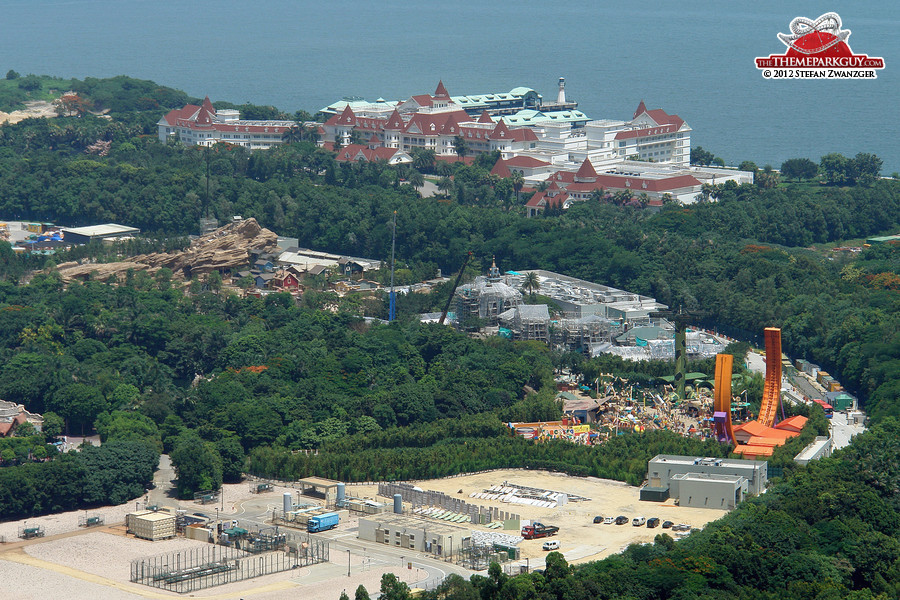 Hong Kong Disneyland expansion area, June 2012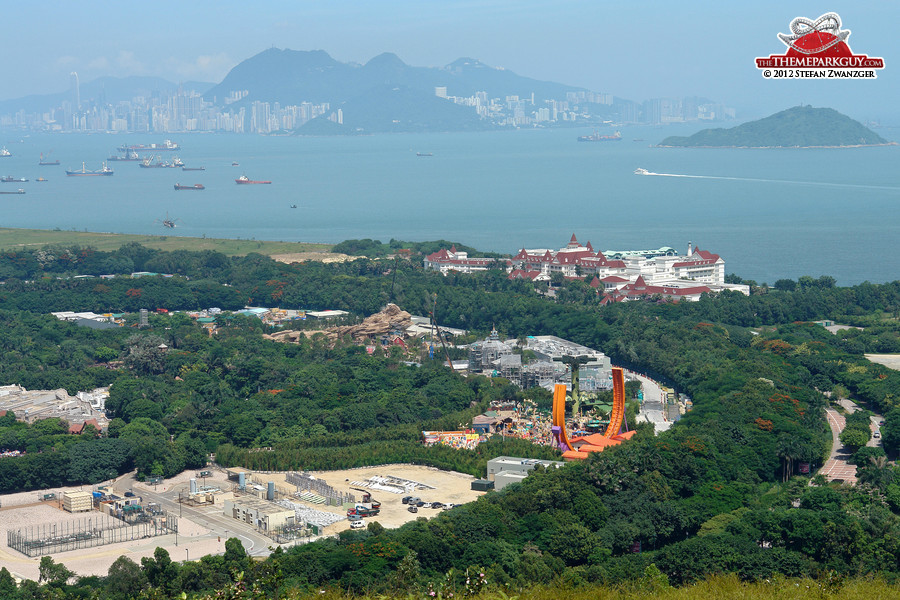 Disneyland expansion, with Hong Kong Island in the background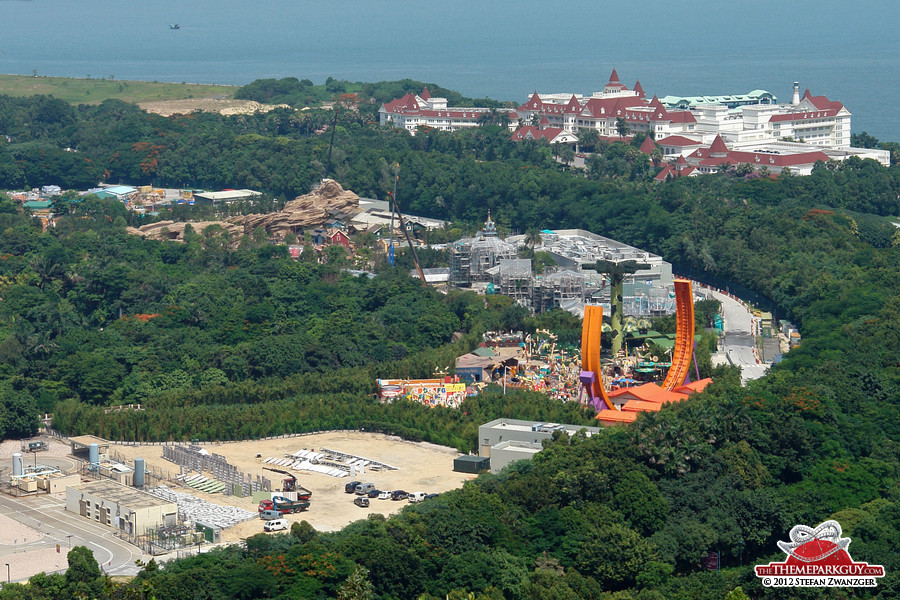 Zoom in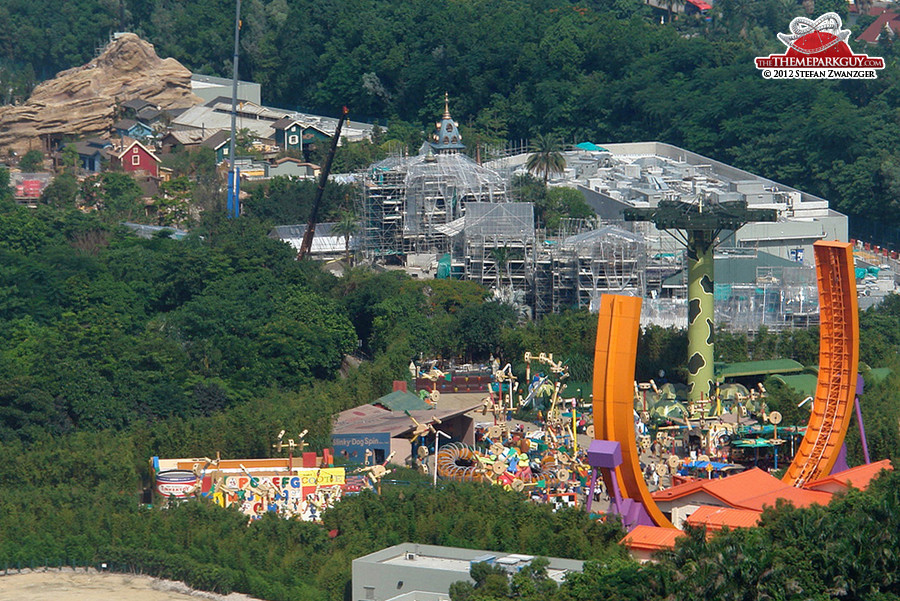 Grizzly Gulch coaster (left), Mystic Manor dark ride (middle), Toy Story Land (right)
Toy Story Playland, operating since 2011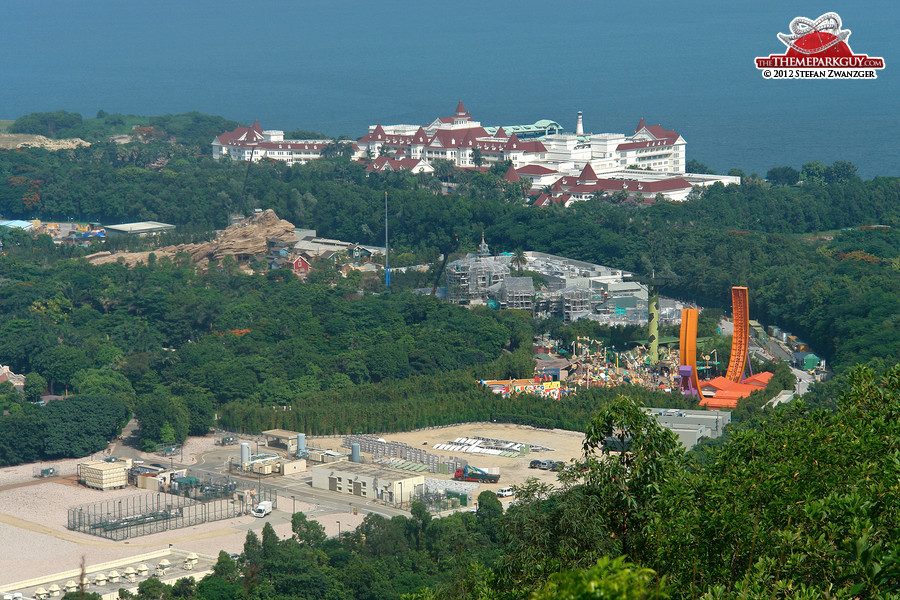 Hong Kong Disneyland expansion in the evening light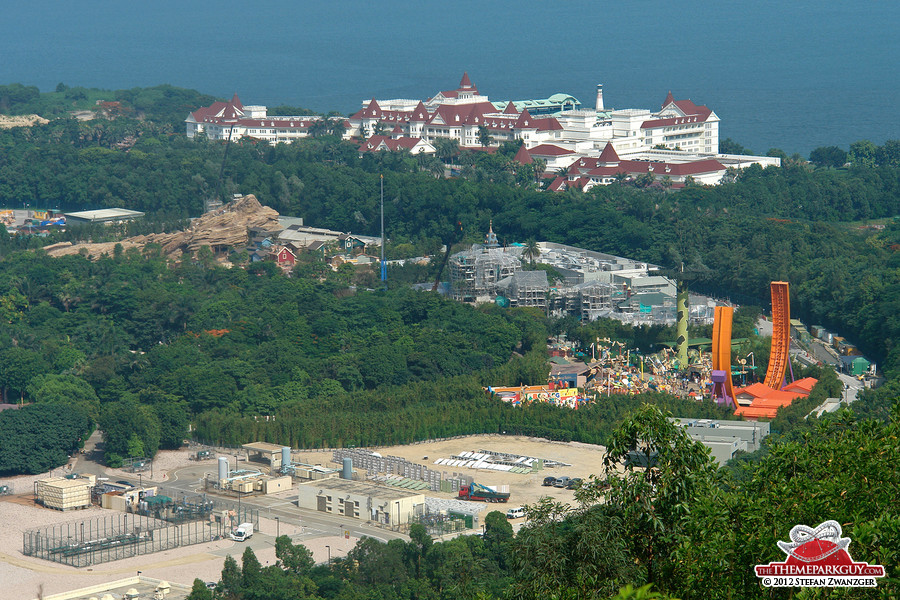 Closer look, approx. 2 hours before sunset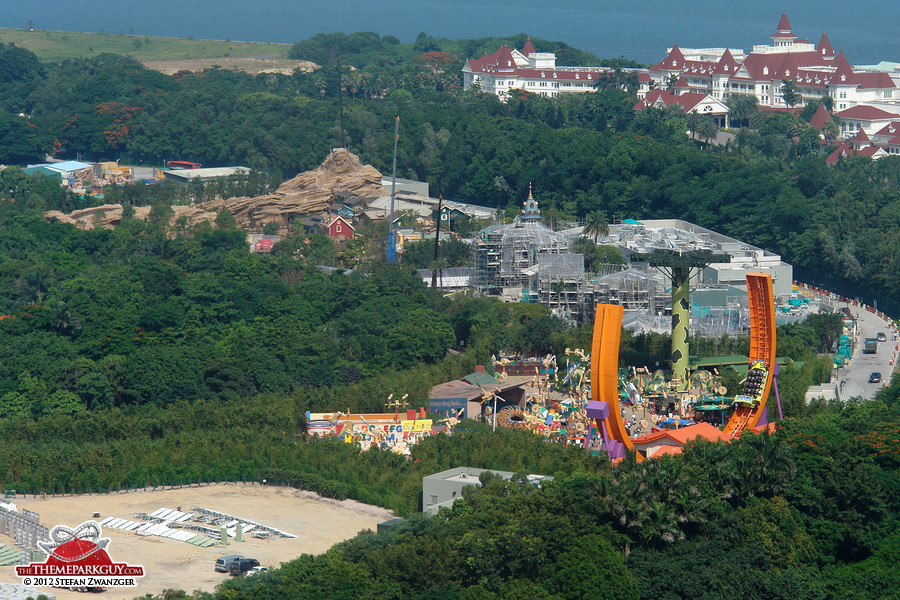 Hong Kong Disneyland expansion aerial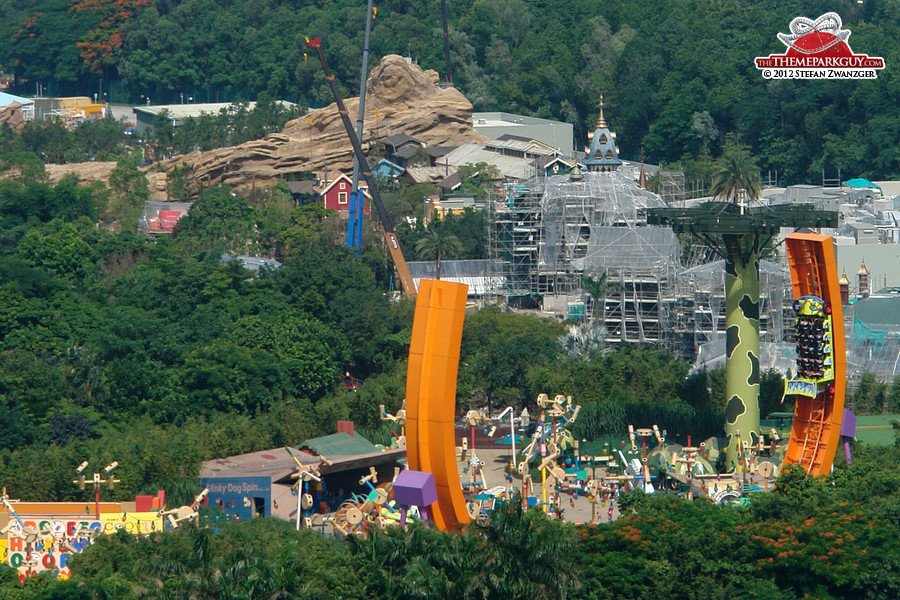 Toy Story coaster in the foreground, Mystic Manor and Grizzly Gulch still under construction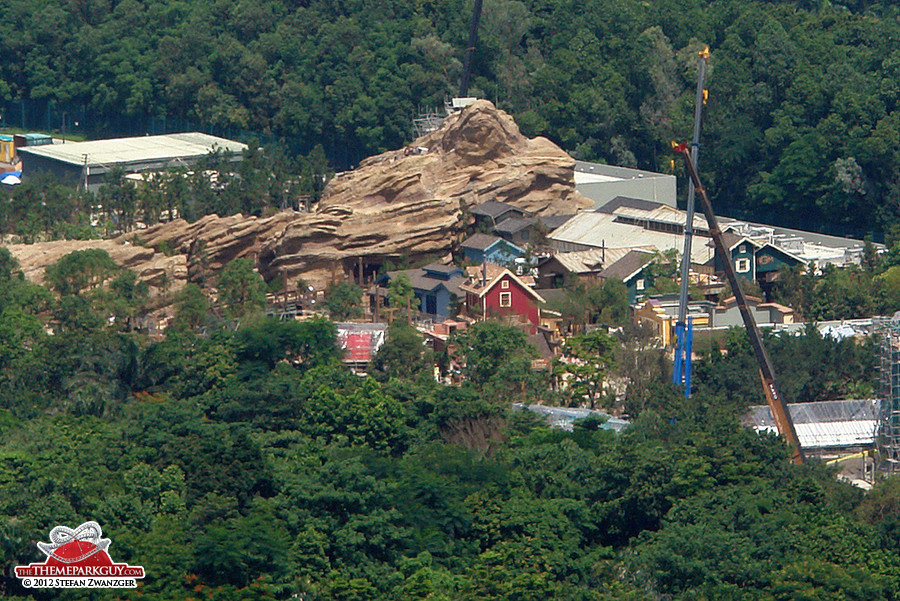 Big Grizzly Mountain Runaway Mine Cars coaster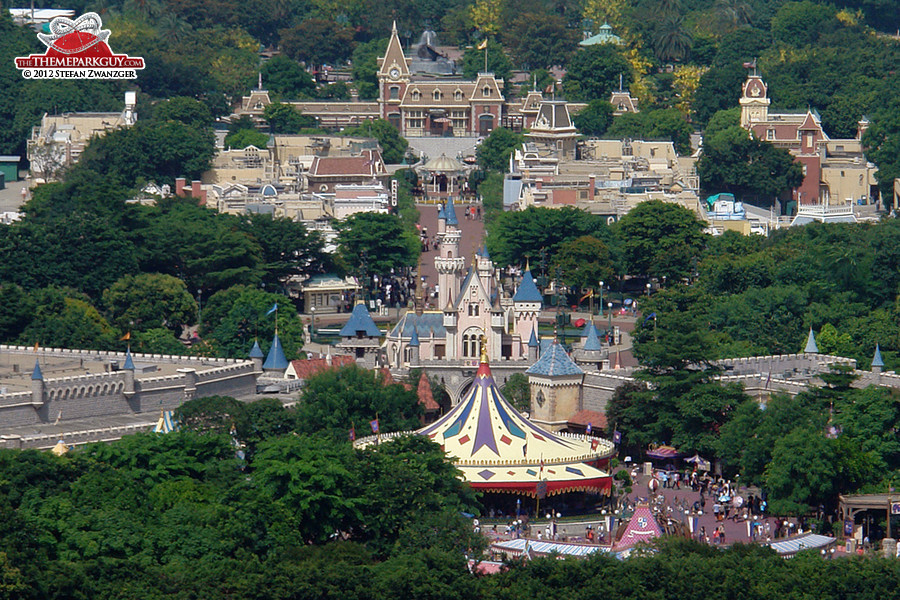 Hong Kong Disneyland seen from a very unique angle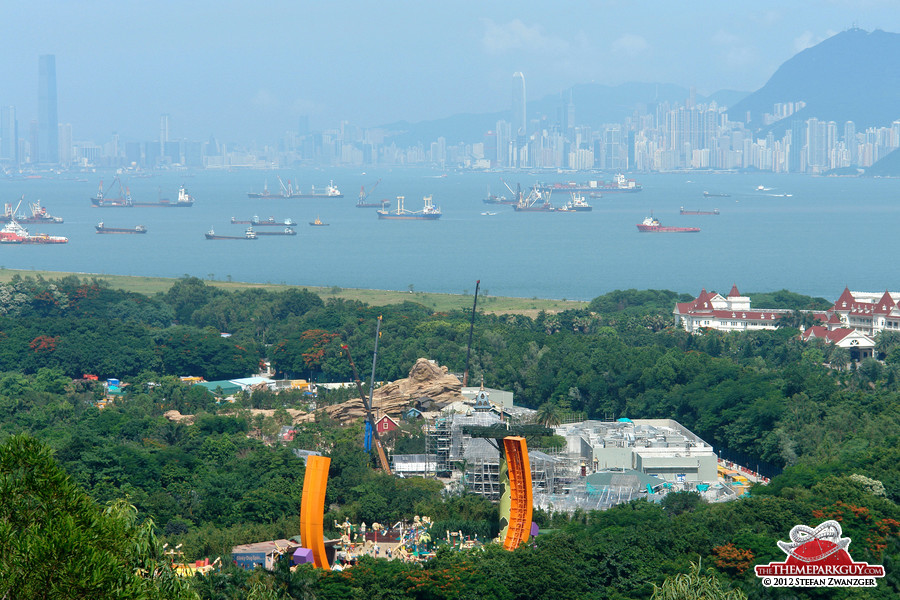 Hong Kong Disneyland, with both Kowloon and Hong Kong in the background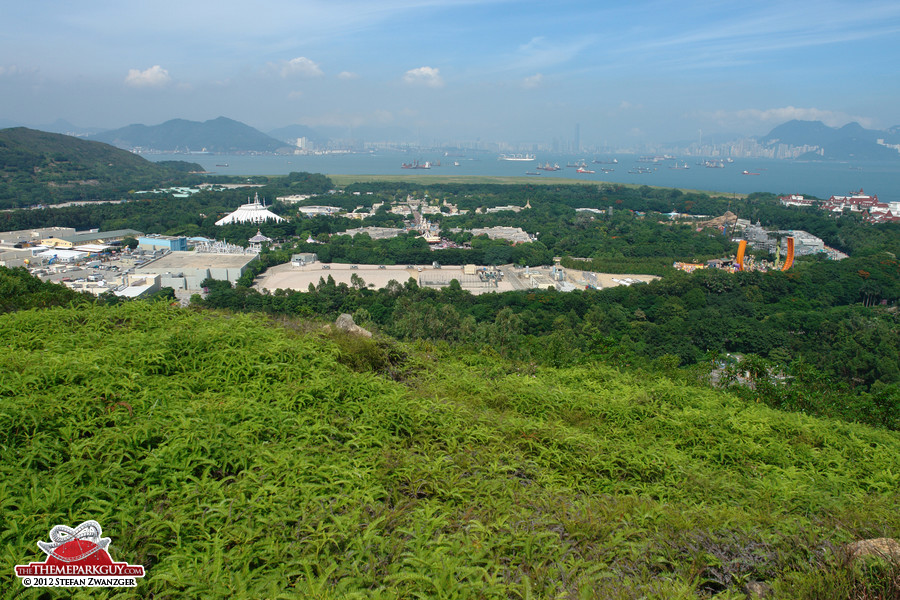 Hong Kong Disneyland wide angle shot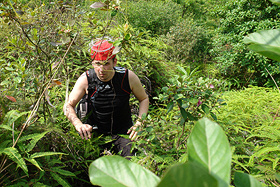 Construction Update
June 13, 2011
Well, this is quite an update.
In order to take the aerial photos of Hong Kong Disneyland below, my local hiker friend Michael and I had to trek for seven hours over mountains on hiking trails that ceased to exist. We had talked about doing it for two years, but only the expansion gave us the final reason to go. This was the real Jungle Cruise, and together with the thunderstorm suprise we got up there I can say it's the scariest thing I have done since putting a needle into a wall socket when I was a kiddo! You can't see the trail whatsoever (no one must have walked there for years) and there are some perilous cliffs on both sides of the mountain. Without exaggeration, our toe nails were bleeding/falling off after that hike. Don't try to repeat it. I mean it. It wasn't funny.
We got a great view of the Disneyland expansion area: Toy Story Land with its U-shaped orange shuttle coaster and green 'Toy Soldiers Parachute Drop' attraction in the foreground, the world-exclusive and probably terrific dark ride 'Mystic Point' in the middle, and the 'Grizzly Trail' mountain roller coaster (featuring bears and dynamite) in the background. I am anxiously looking forward to this expansion since I believe it will change Hong Kong Disneyland forever.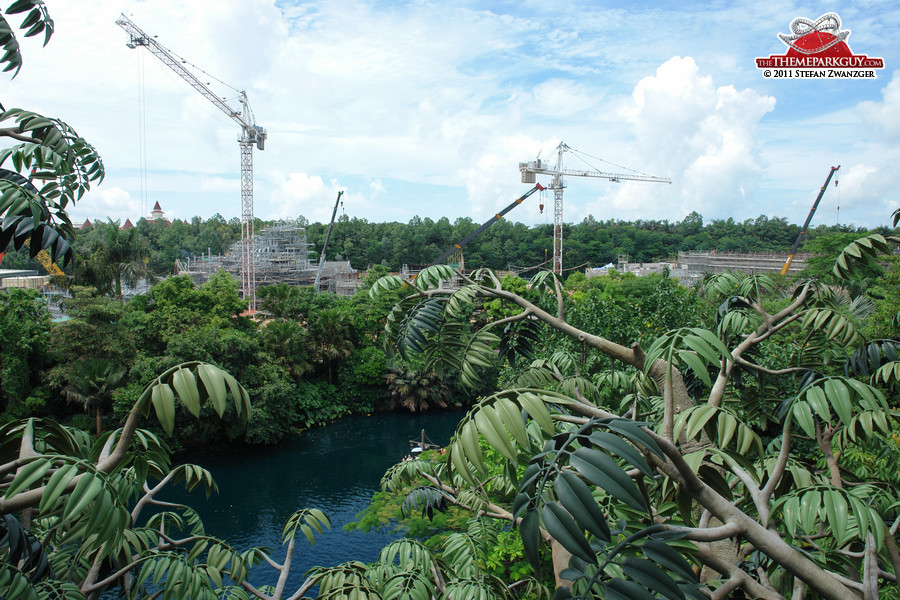 Hong Kong Disneyland expansion, seen from Tarzan's Tree House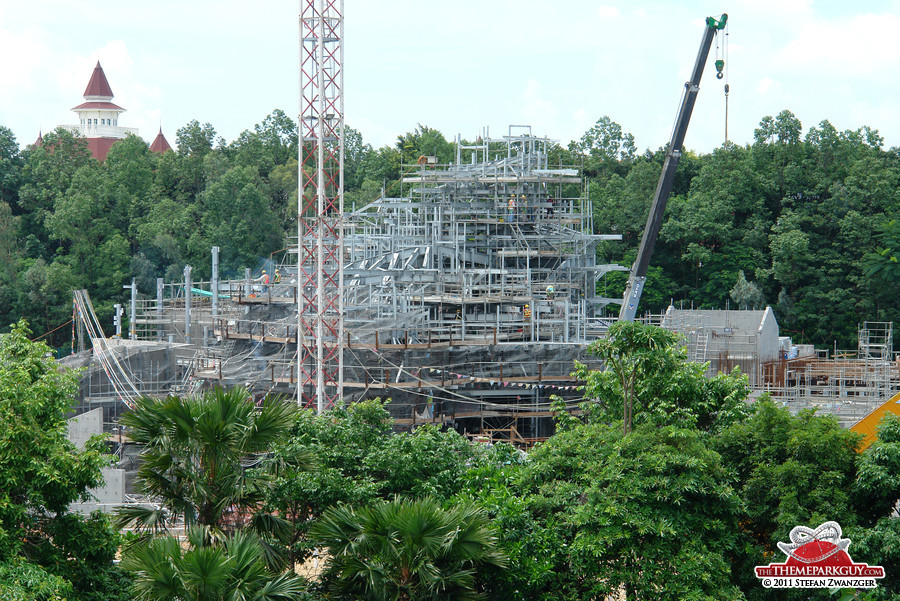 Grizzly Trail mountain coaster under construction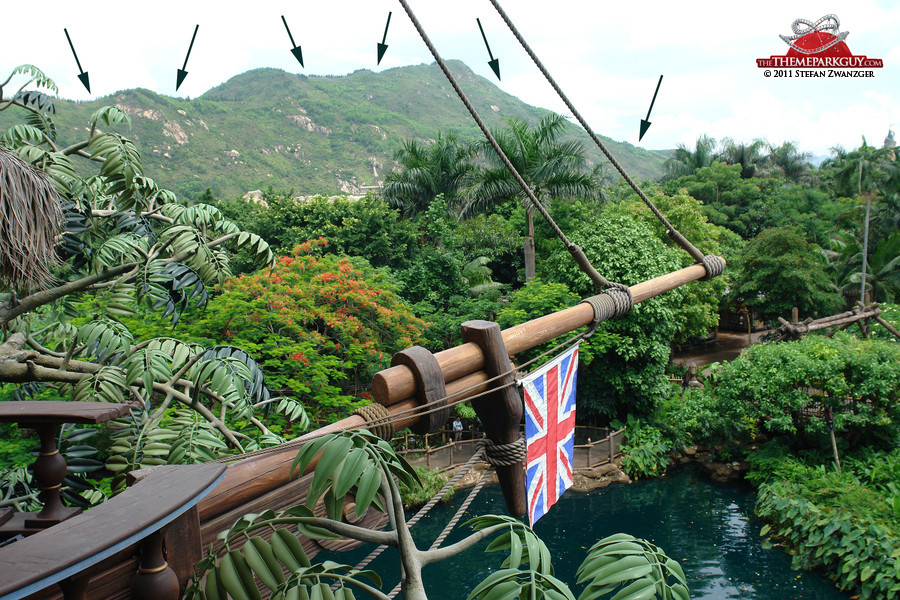 Let's get an aerial view!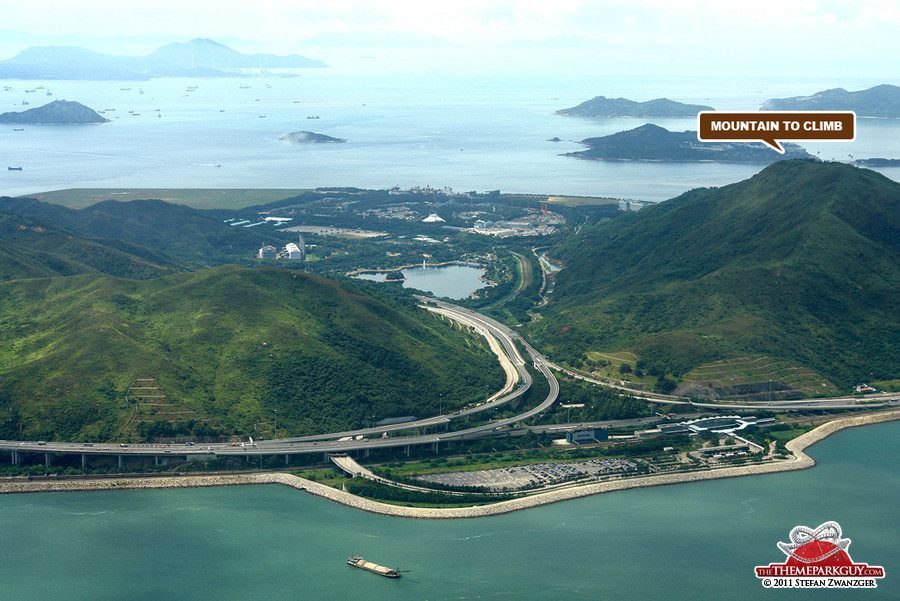 There are no proper hiking trails on the right mountain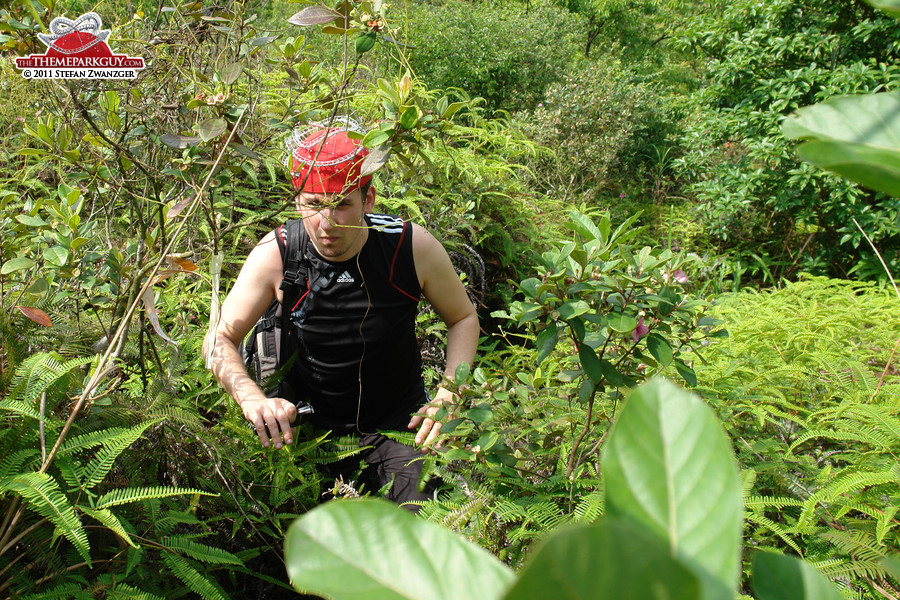 Doesn't matter.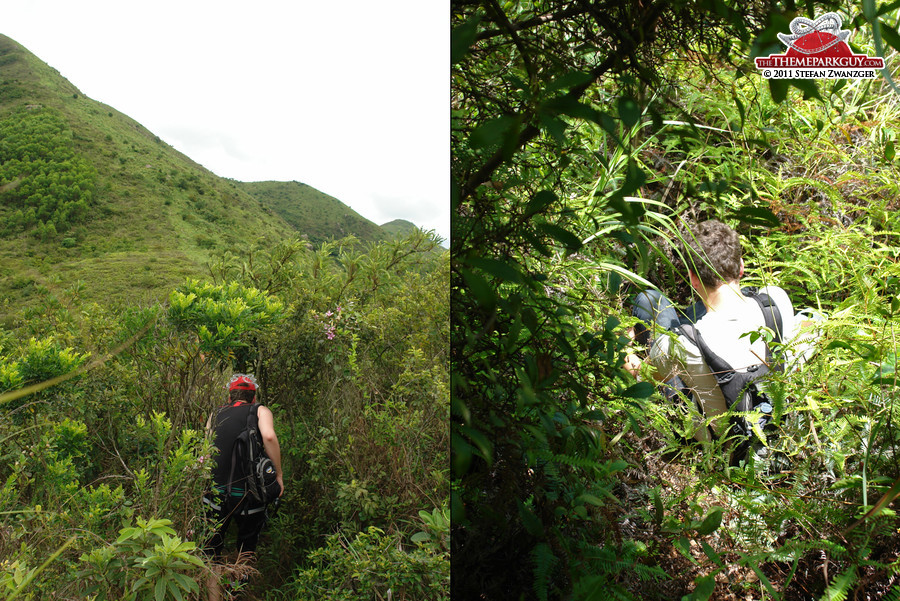 It's really been a rough hike
Even my hiking-pro friend Michael got a bit exhausted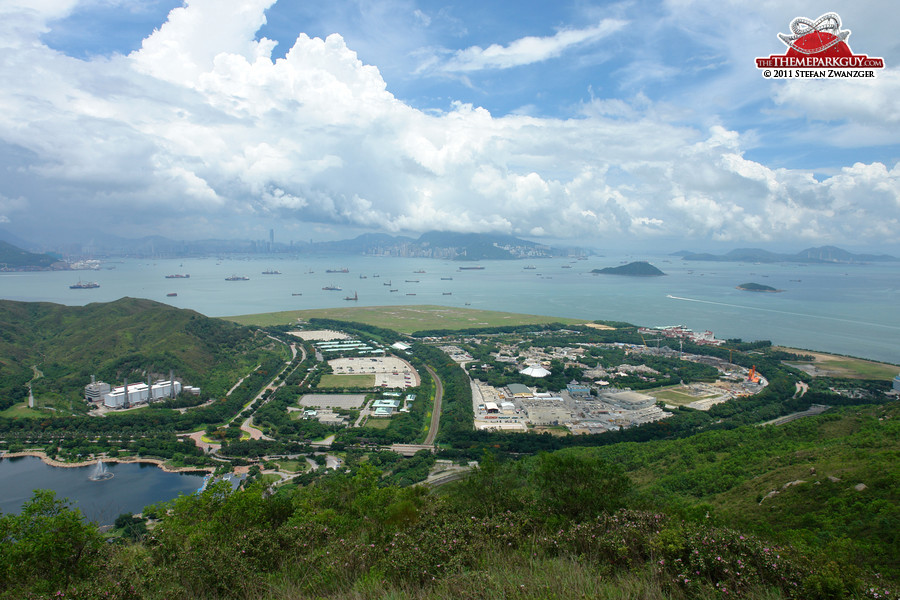 Hong Kong Disneyland Resort!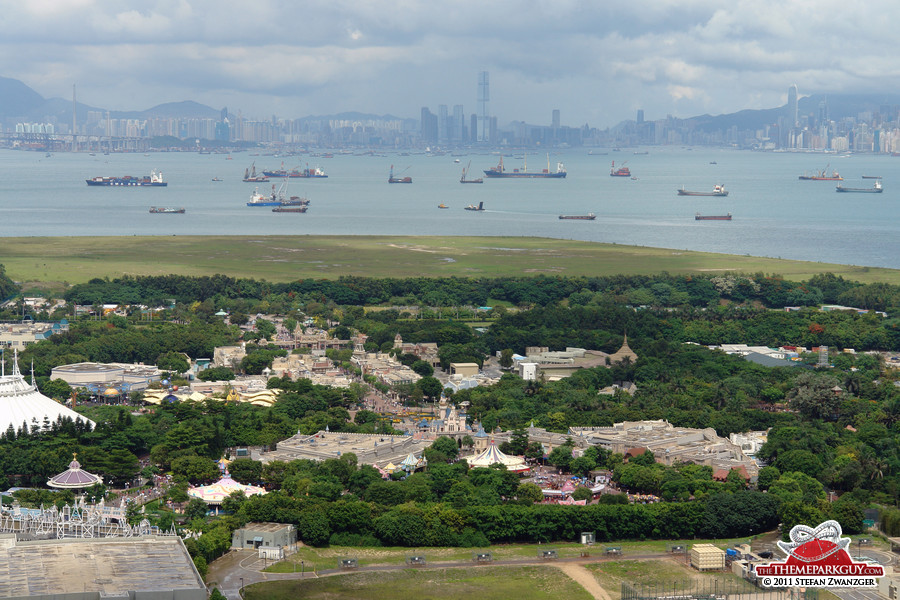 Disneyland, with Hong Kong in the background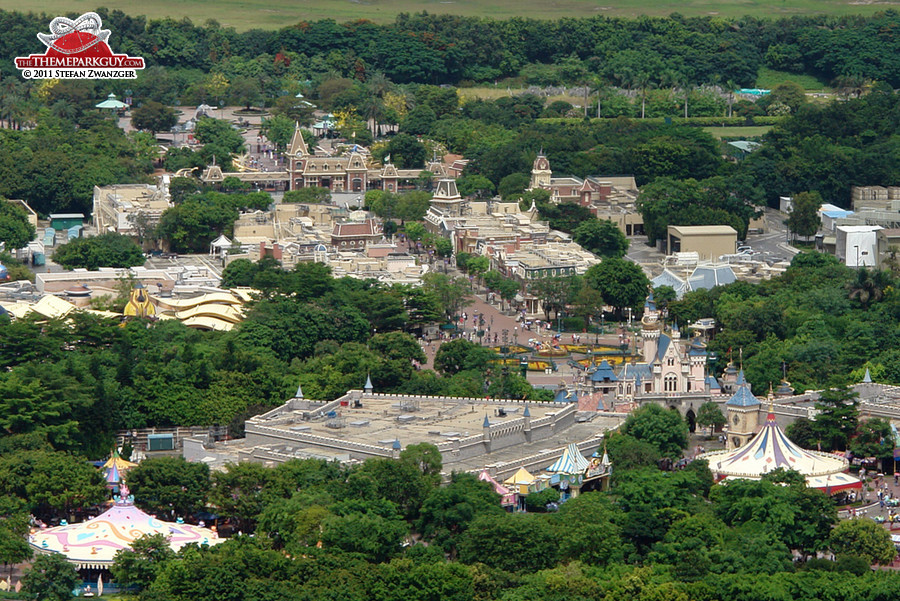 Main Street and Castle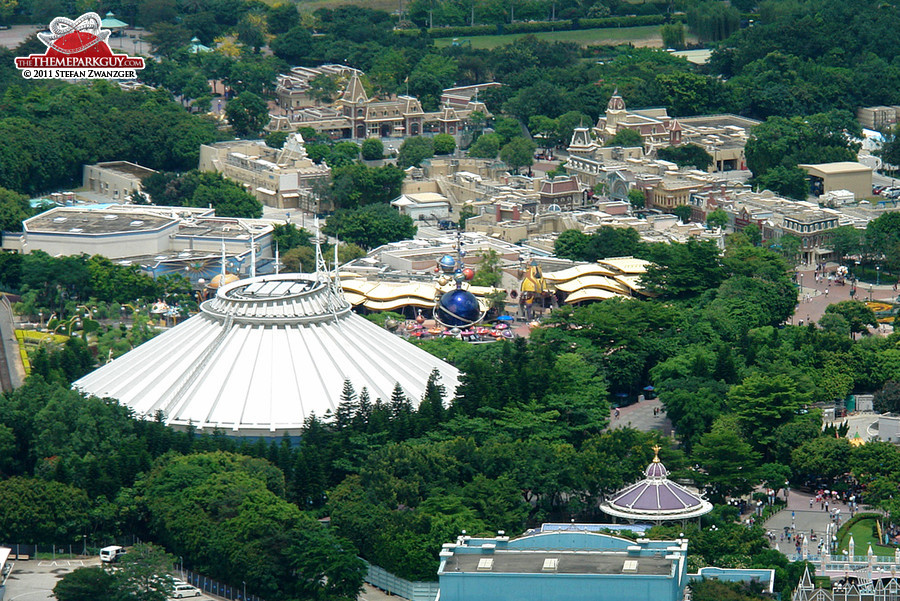 Space Mountain and Tomorrowland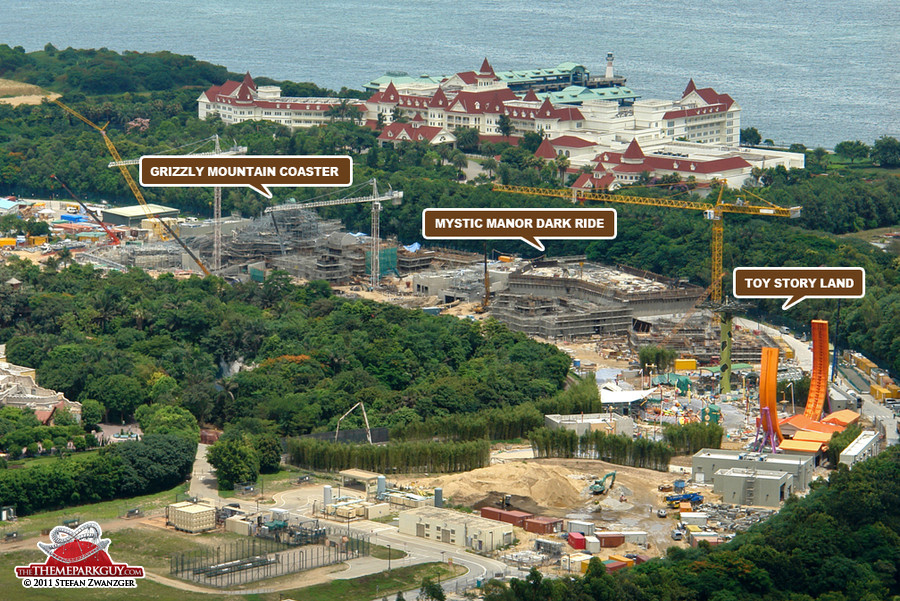 Hong Kong Disneyland expansion June 2011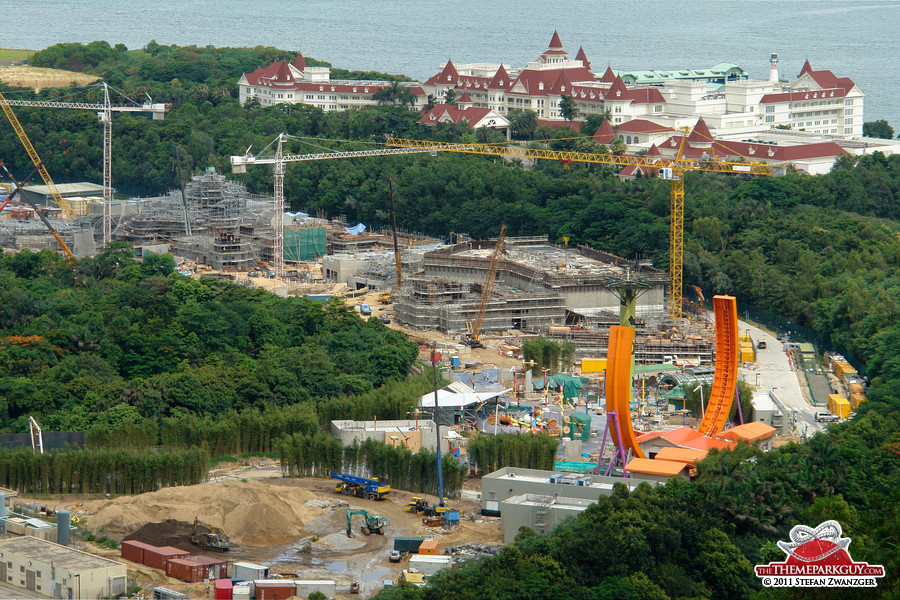 Three new lands/rides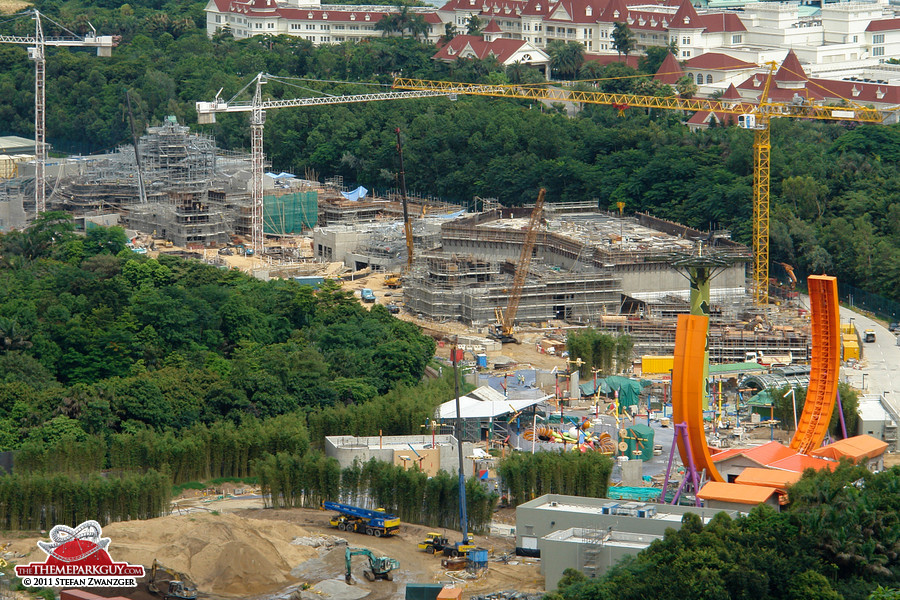 Grizzly Trail (left), Mystic Manor (middle), Toy Story Land (right)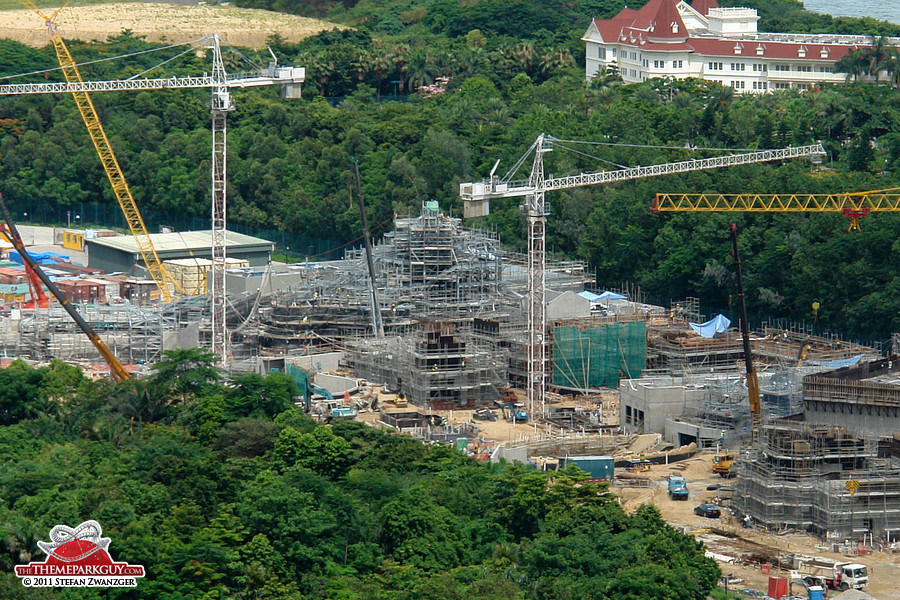 Grizzly Gulch mountain roller coaster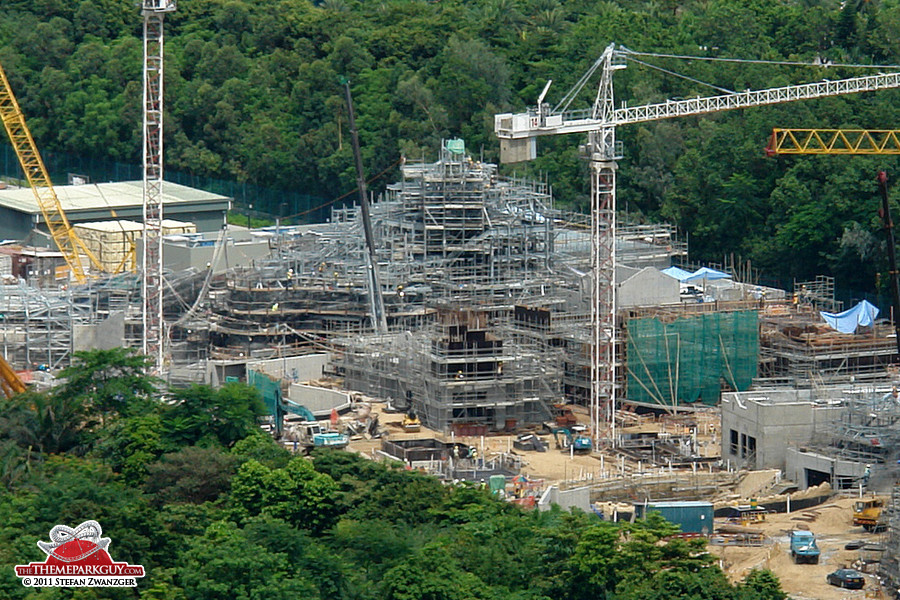 Closer view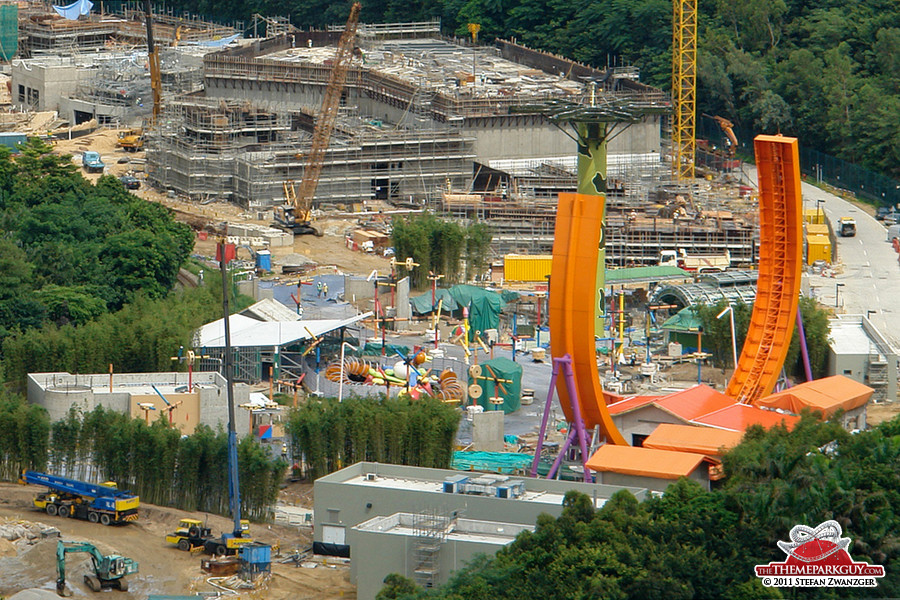 Mystic Manor dark ride at the back, Toy Story Land at the front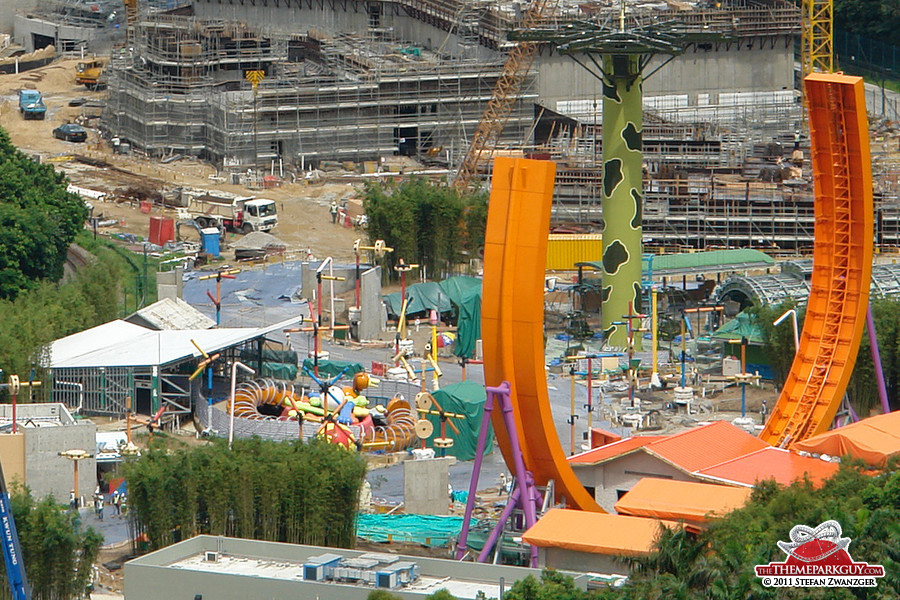 Toy Story Land
Update
October 10, 2008
Little photo update: 'It's a Small World' is now open and a Halloween Special with ghost houses where real life ghosts surprise/attack harmless visitors was (temporary) operating as well. A hit with the locals, I never saw the park that packed.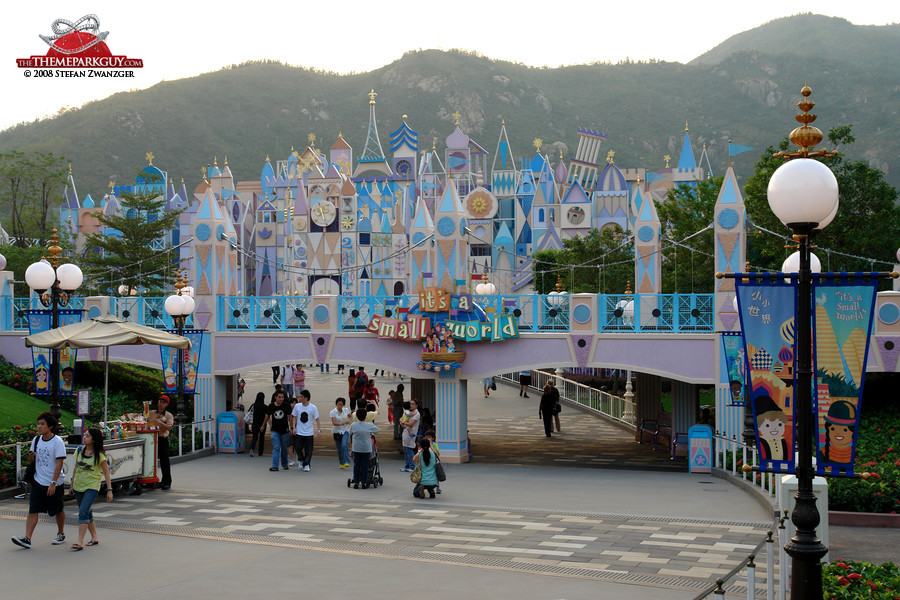 Newly opened: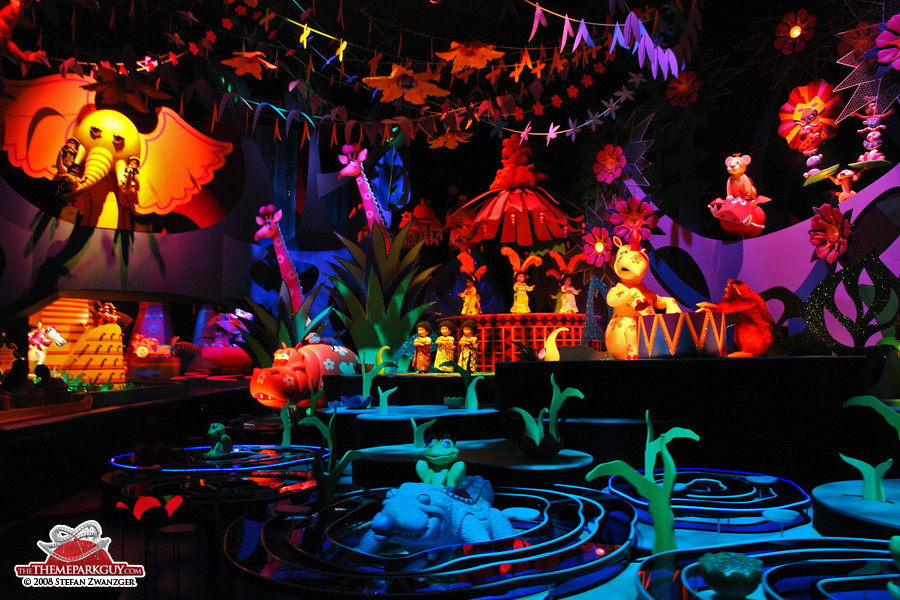 It's a Small World!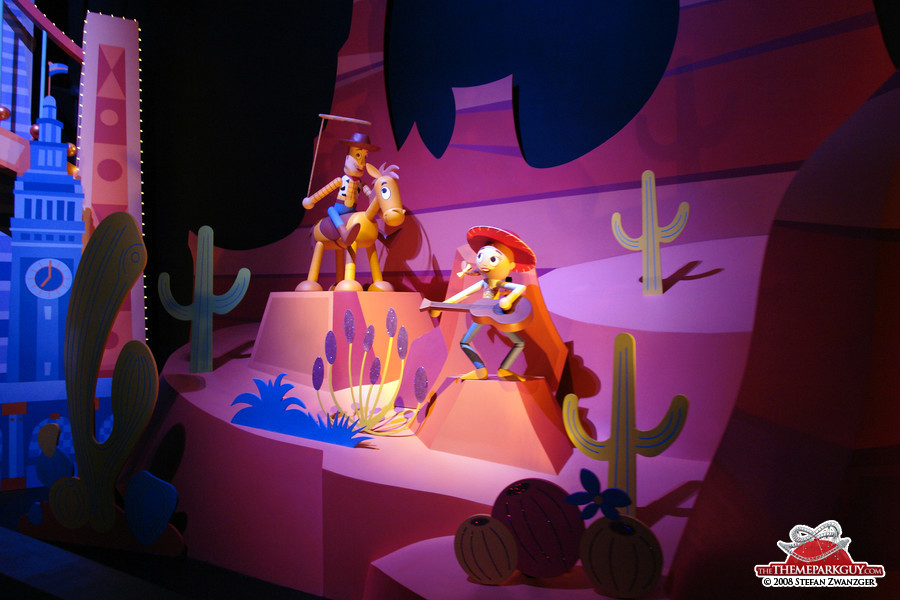 Disney characters at Hong Kong Disneyland's It's a Small World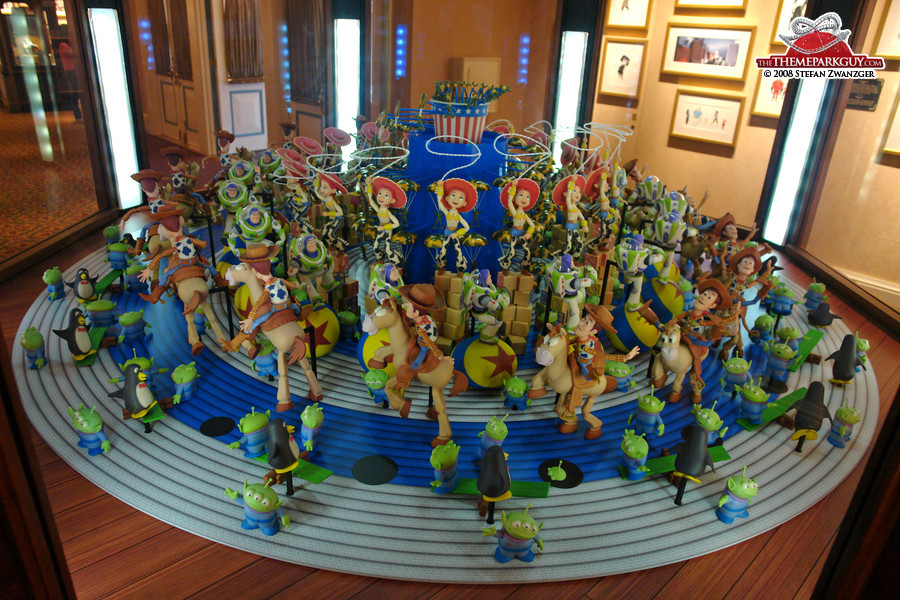 This exhibit will make your eyes dance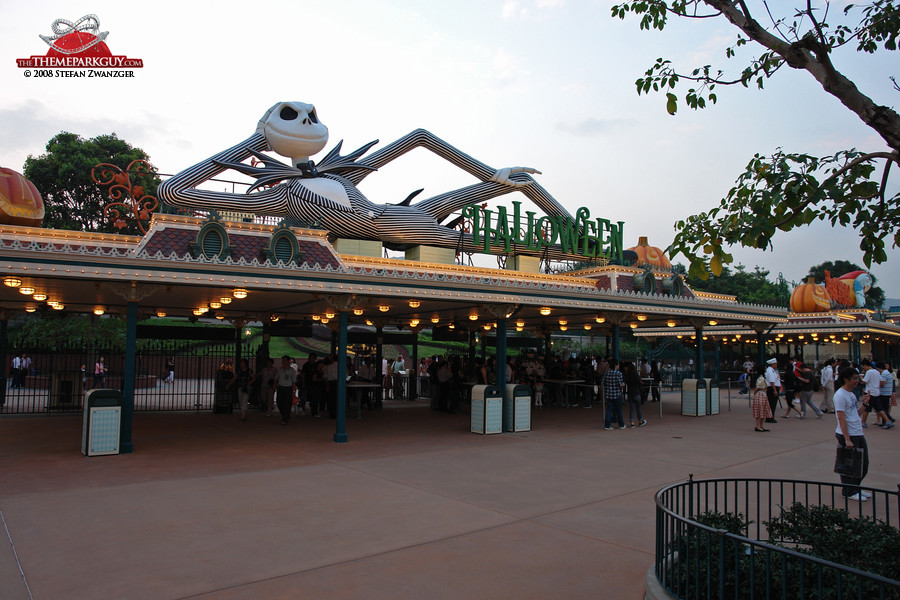 Hong Kong Disneyland entrance during Halloween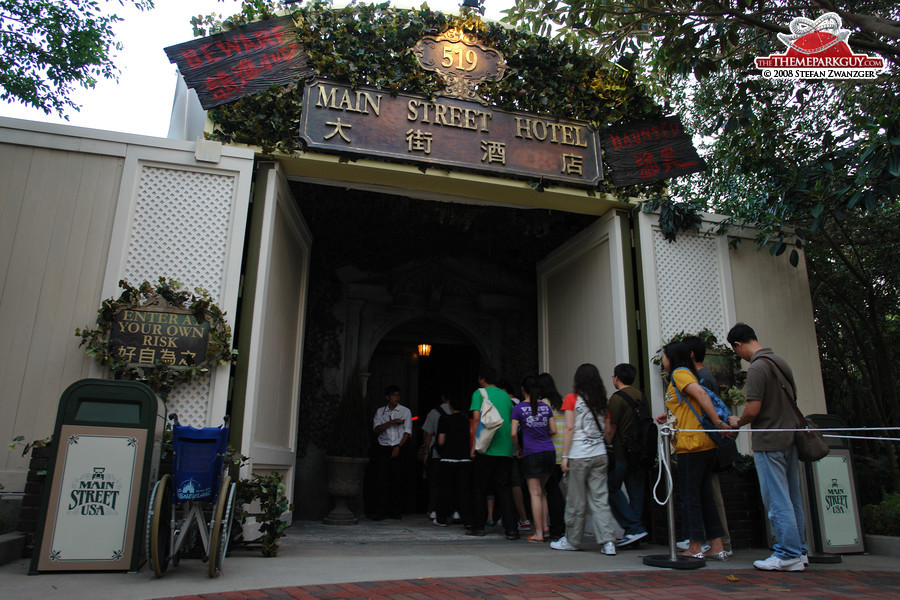 Haunted house, set up exclusively for Halloween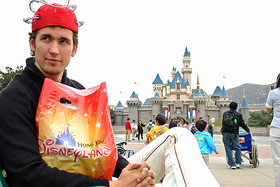 Review
March 07, 2008
I love Hong Kong Disneyland. There are no thrills, no ghost trains, no flume rides and apart from 'Space Mountain', which is not really the best version of itself, no roller coasters. BUT the potential of Disney's Hong Kong venture is huge! The resort is nestled between two mountains and the sea, the most beautiful setting of any Disney park in the world, and plenty of space is left for expansion.
Hong Kong Disneyland is designed to resemble the original Disneyland park in California, created and opened by Walt Disney himself in 1955. The castle looks the same, the park structure is similar and it contains roughly the same number of attractions. Highlights of the park for the time being: 'Space Mountain', a roller coaster in the dark; 'Jungle Cruise', a great new version of the classic Disney river adventure featuring amazing elephant animatronics; 'Stitch Encounter', an entertaining interactive attraction; 'Mickey's PhilharMagic', a brilliant 3-D movie featuring Disney characters on a screen that 'magically' changes in size.
The park's current size is too small but the existing rides, landscaping and surrounding lakes are all superbly done. Visit Hong Kong Disneyland if you have kids or if you are a Disney fan and you will enjoy it a lot. However, if you're looking for thrills, don't go just yet. Wait a few years. This is the moment when you should buy stocks: the park is underrated and will flourish in the years to come.
The two Disney hotels, by the way, are absolutely brilliant: as of now, you get better rooms, better service, better pools and more peace of mind than anywhere else in Hong Kong for this budget.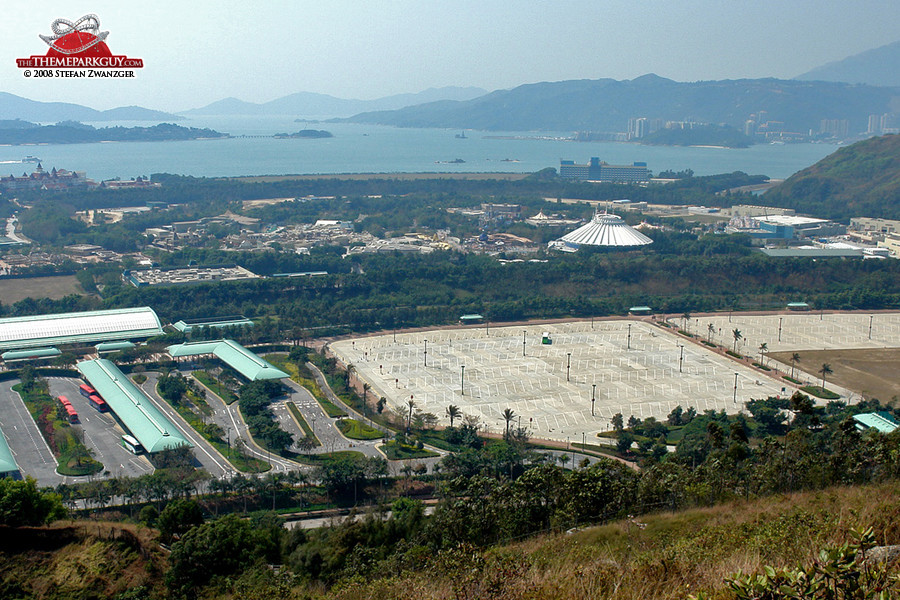 Hong Kong Disneyland seen from the mountains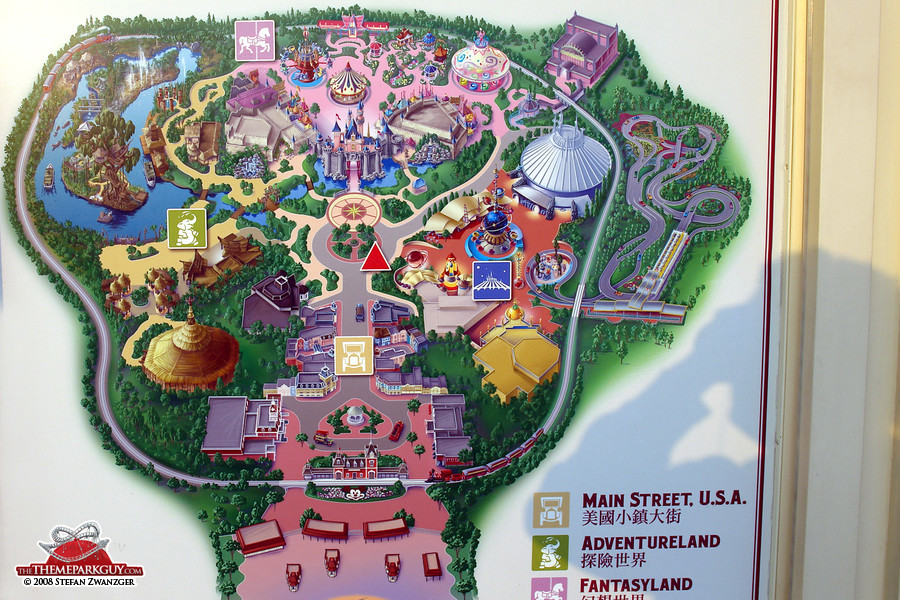 Hong Kong Disneyland map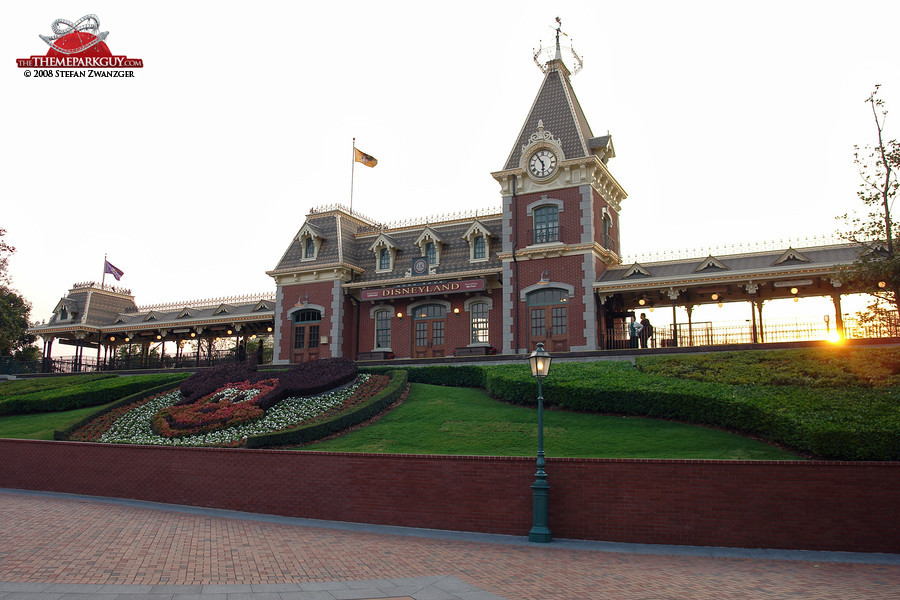 Hong Kong Disneyland entrance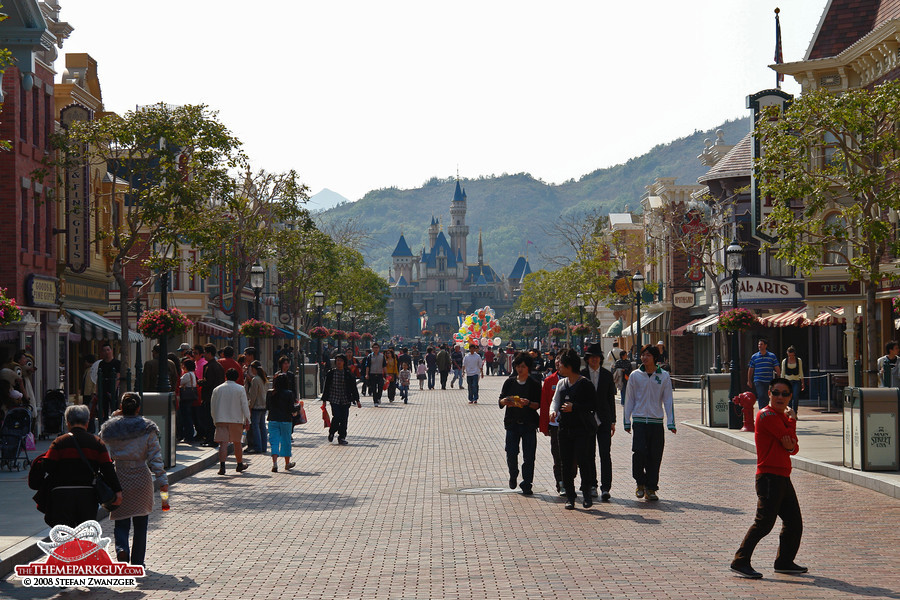 Main Street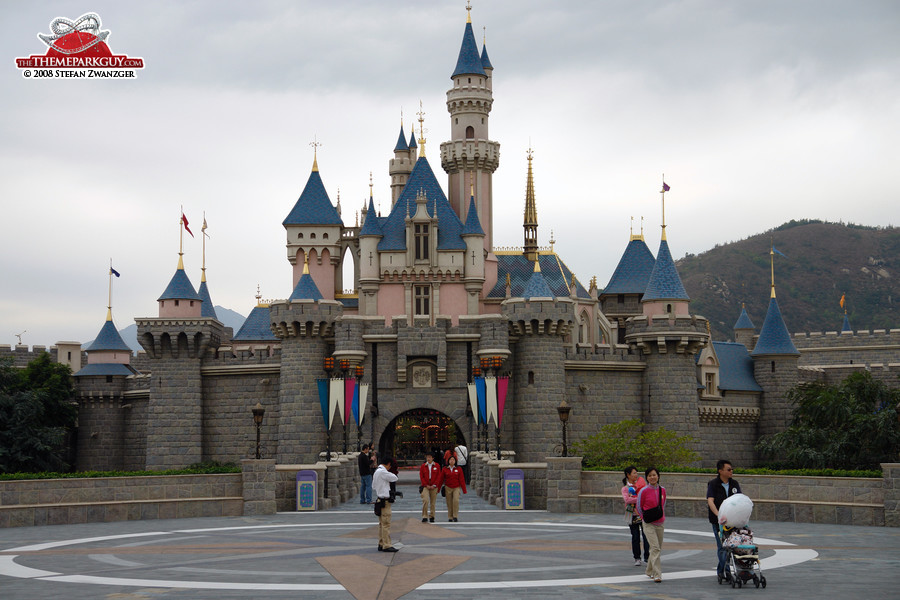 Hong Kong Disneyland castle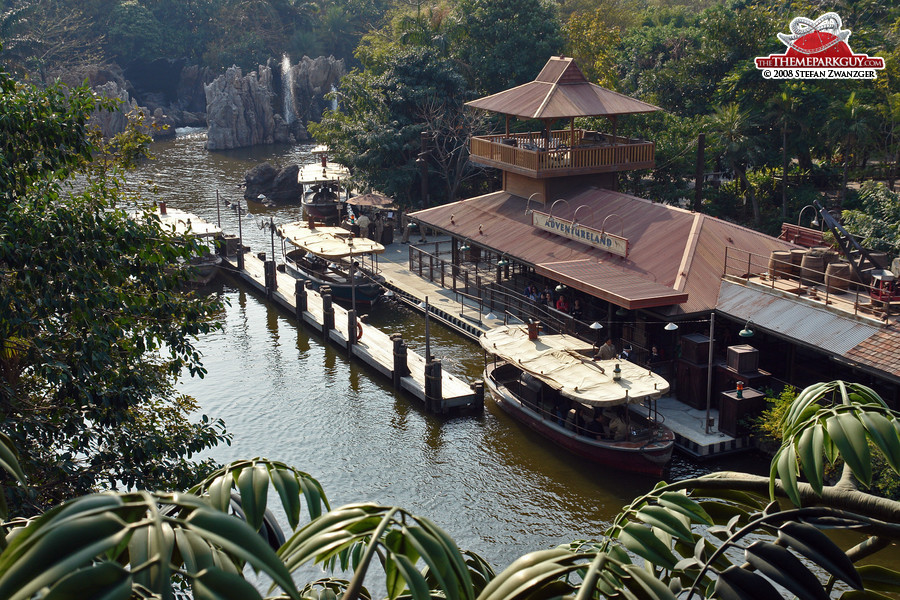 Jungle Cruise loading station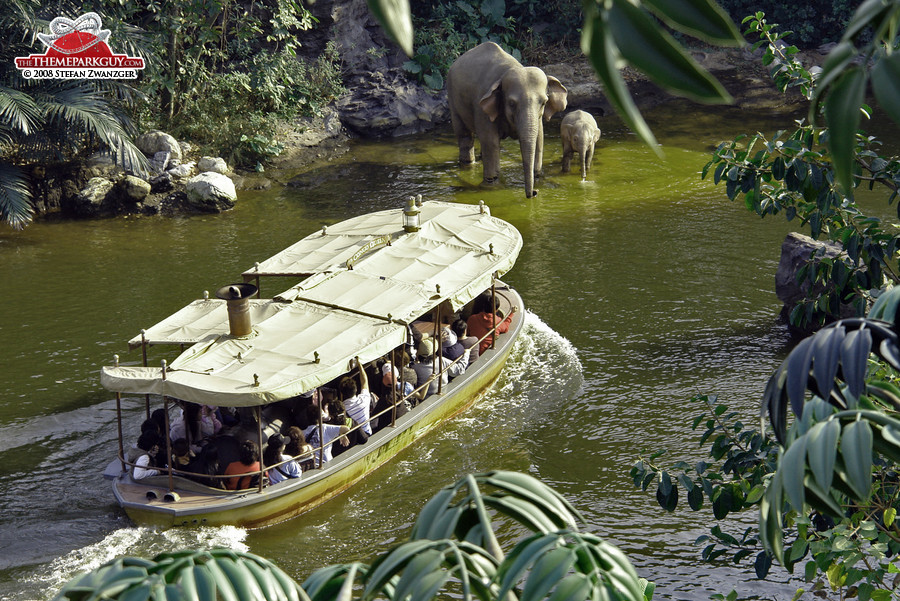 Disney's Jungle Cruise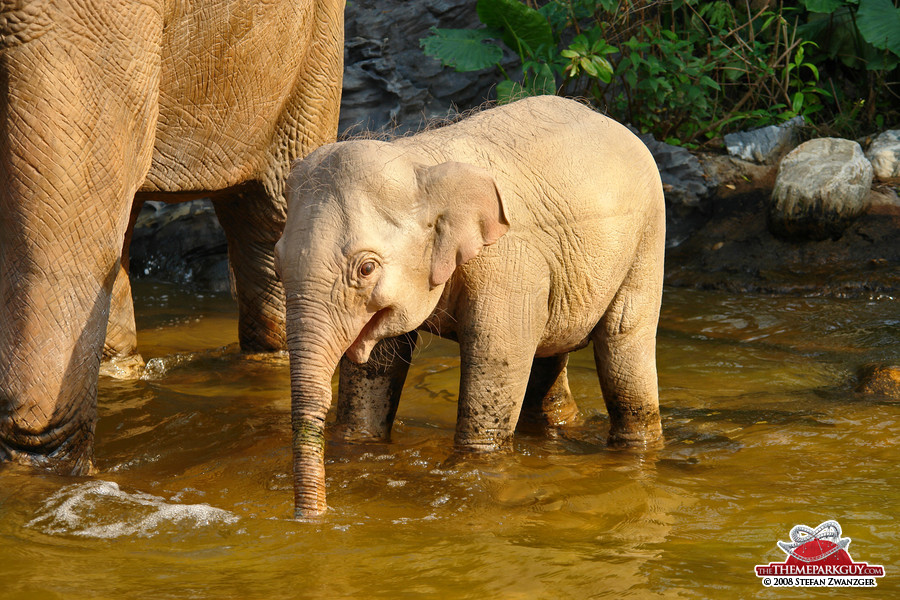 Amazing animatronic elephant baby!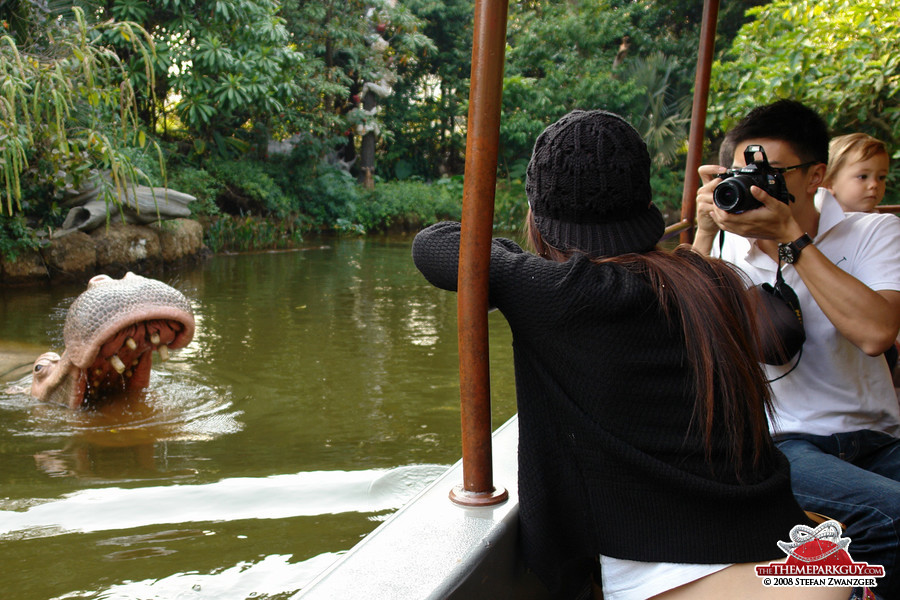 On the Jungle Cruise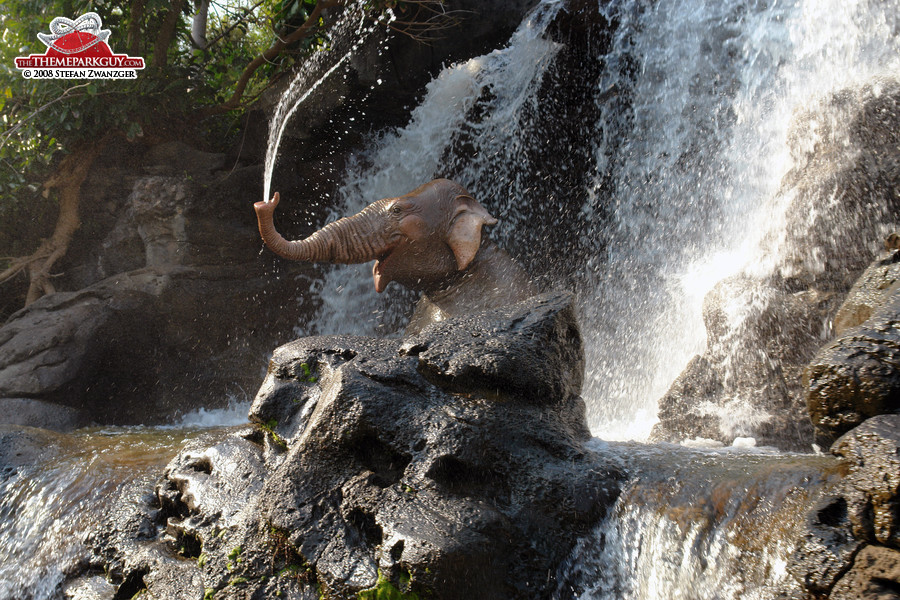 Jungle Cruise animatronics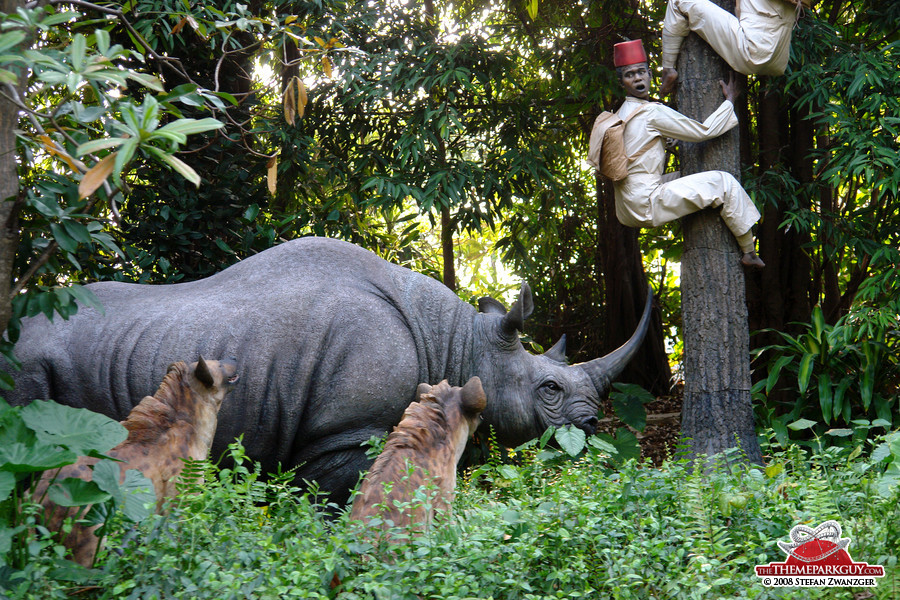 Jungle Cruise setting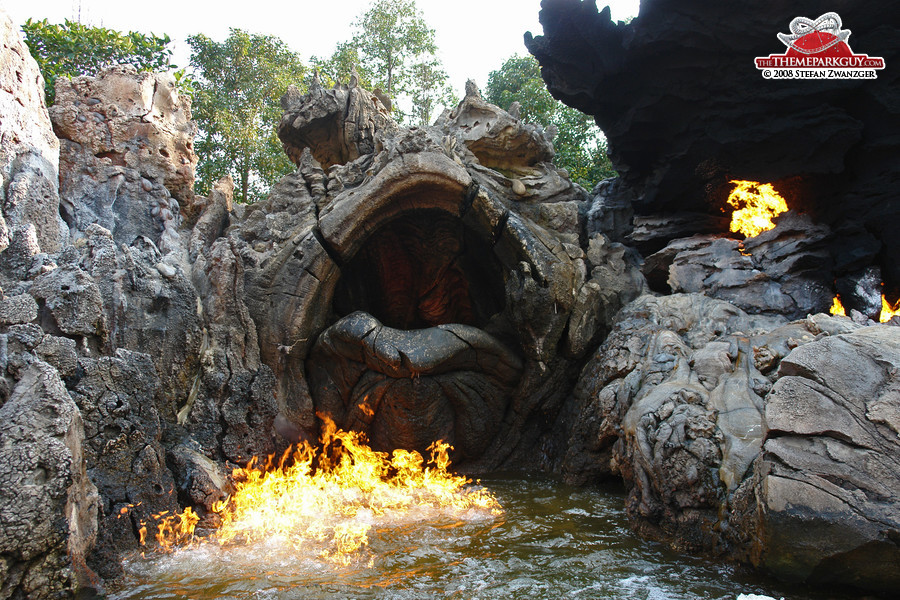 Jungle Cruise climax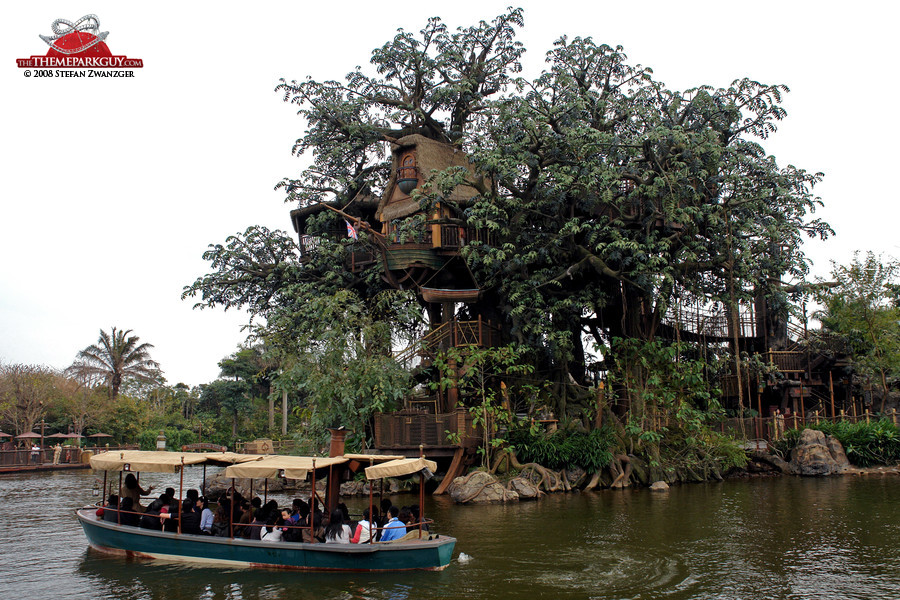 Jungle Cruise meets Tarzan's Tree House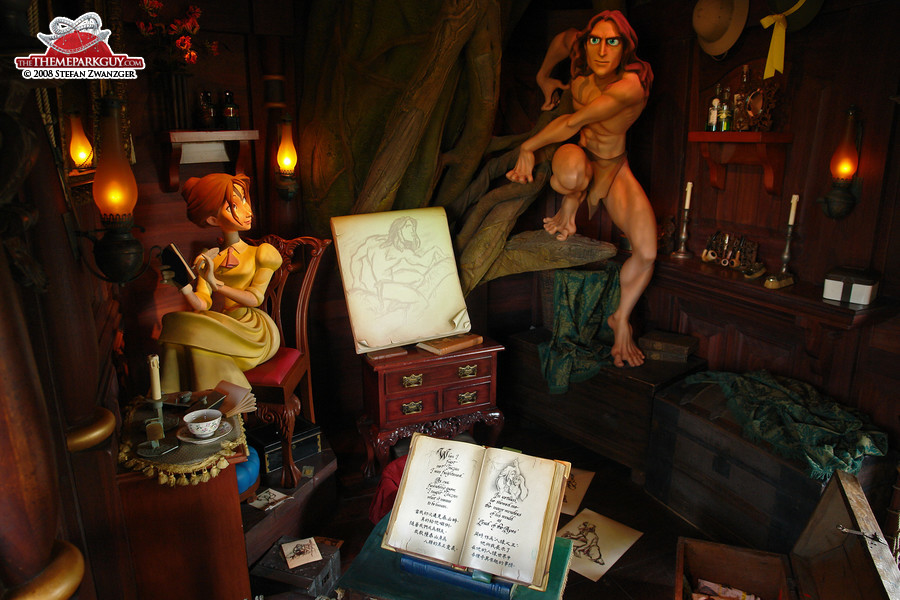 Tarzan (doesn't move)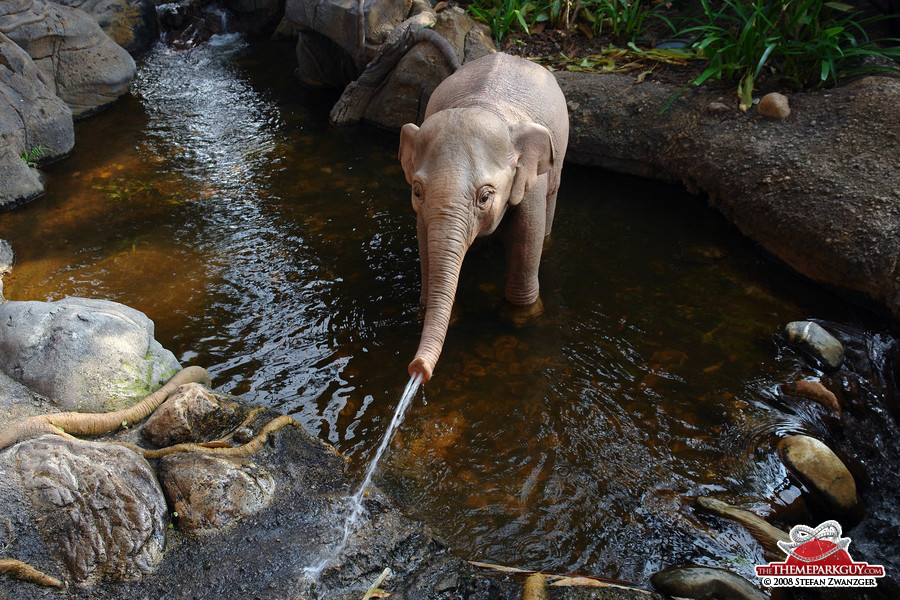 Perfect little animatronic elephant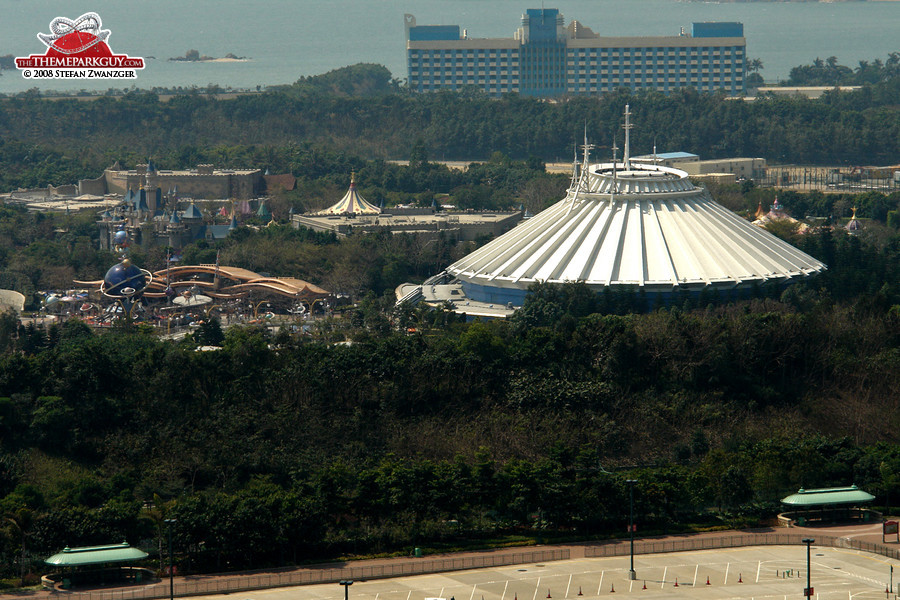 Space Mountain seen from an elevated point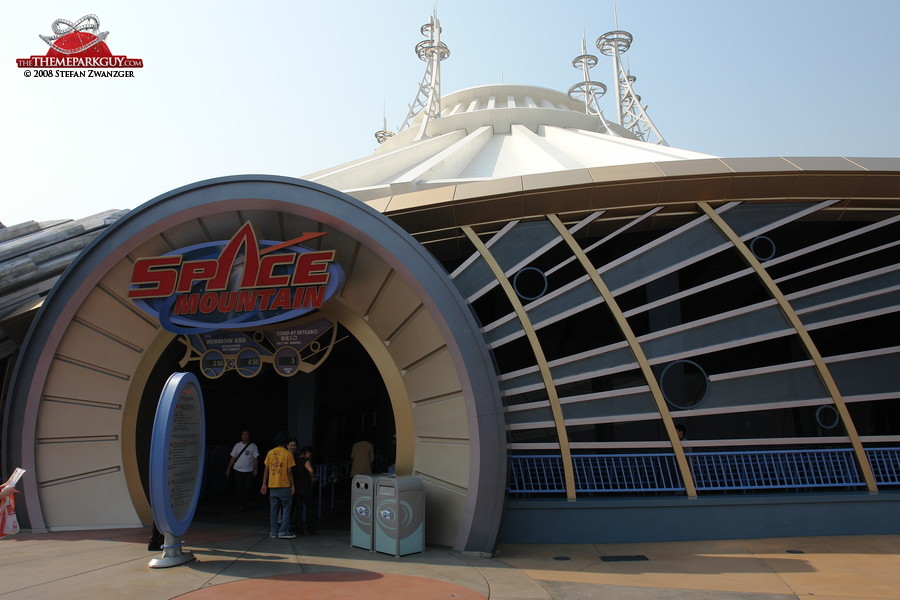 Space Mountain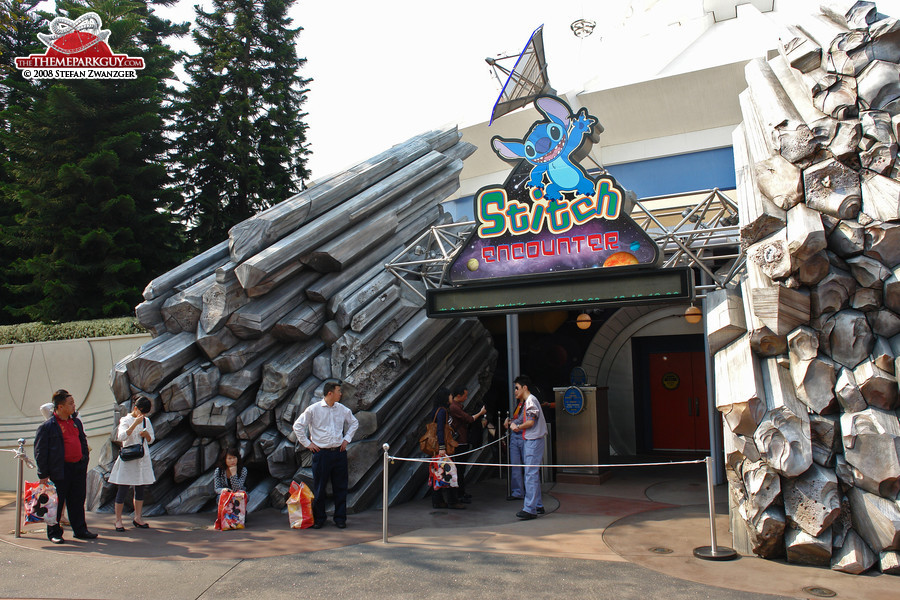 Stitch Encounter entrance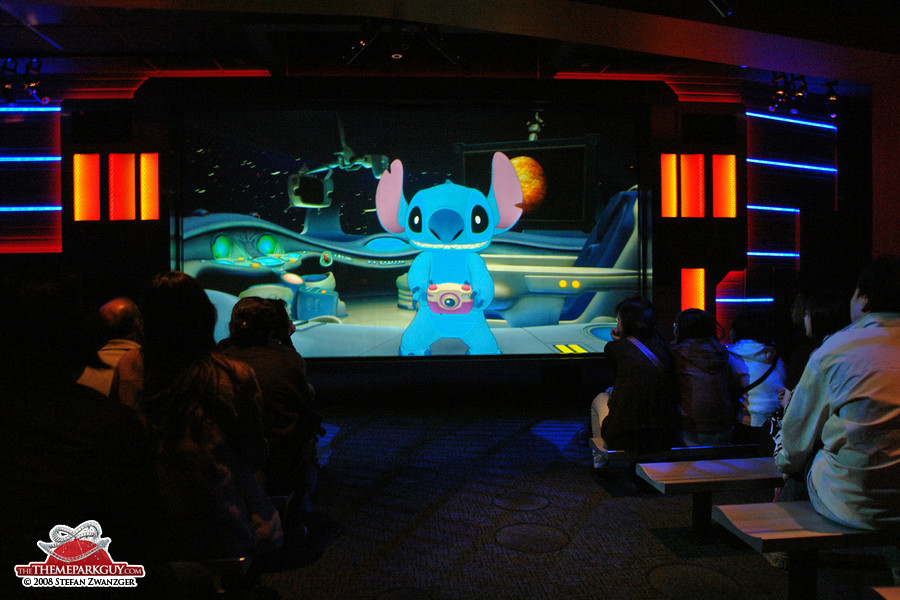 Stitch, communicating with the audience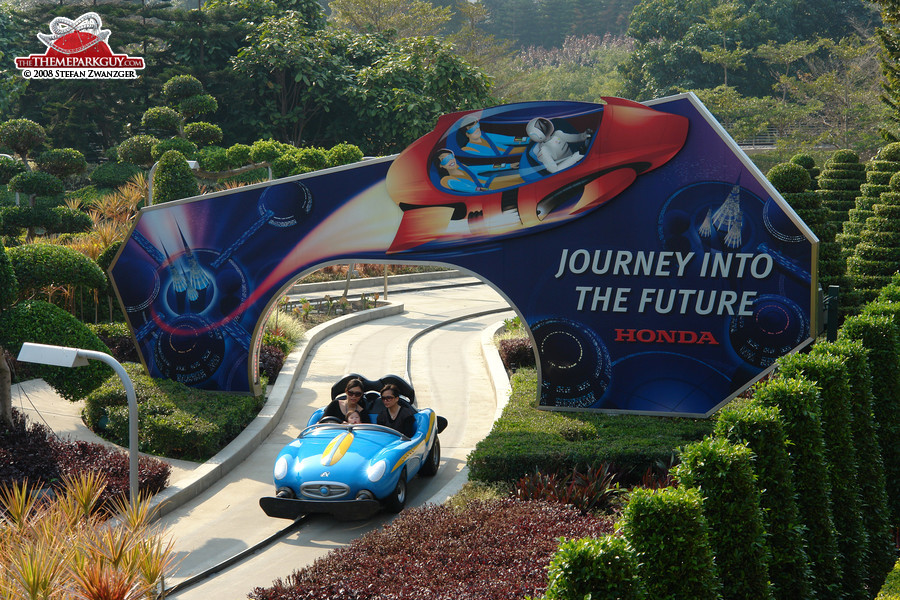 Autopia. A terrible attraction.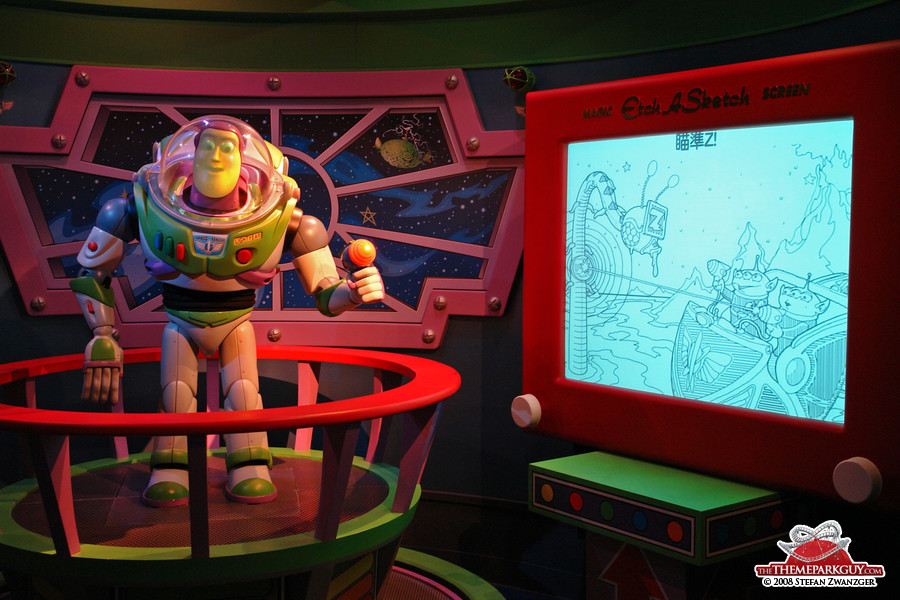 Buzz Lightyear dark ride attraction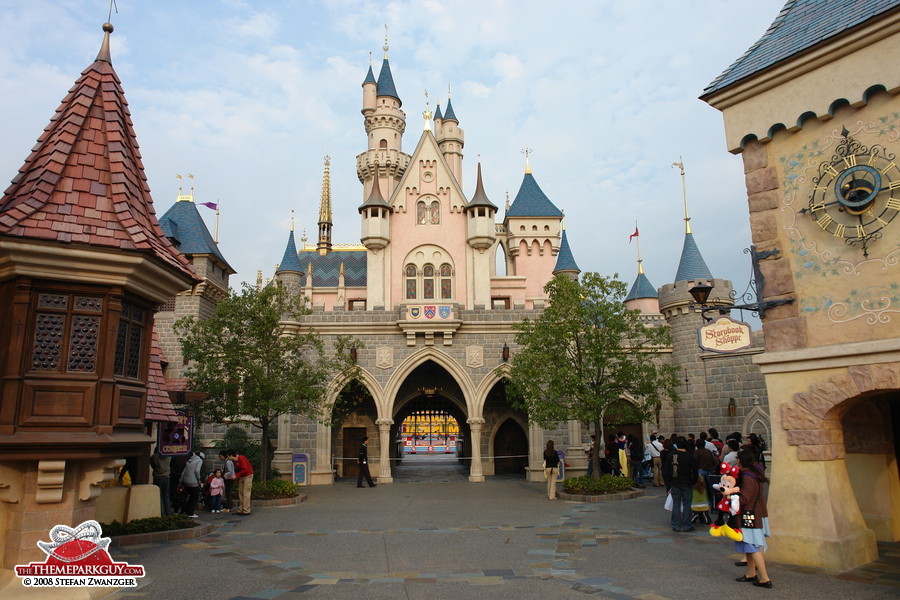 Hong Kong Disneyland castle seen from Fantasyland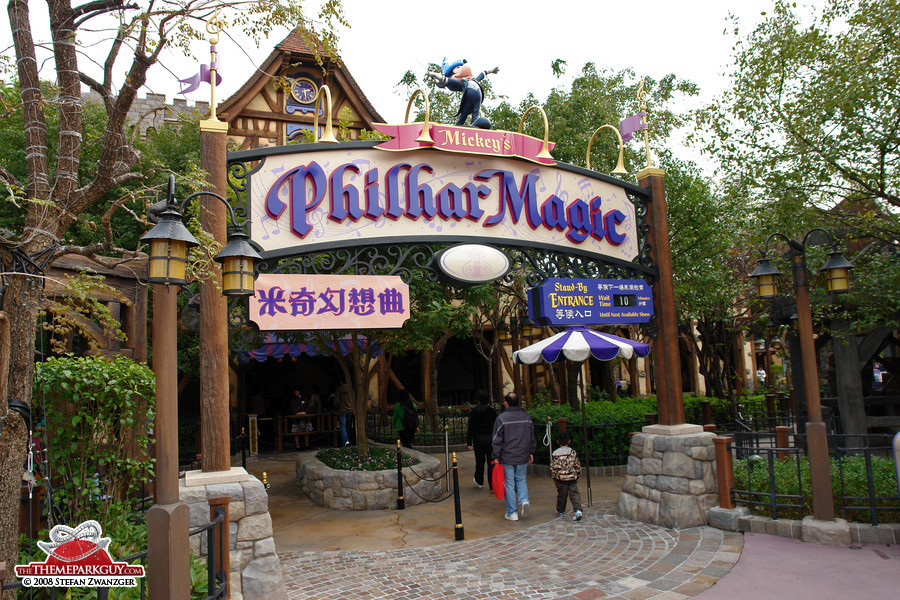 PhilharMagic, a brilliant 3-D movie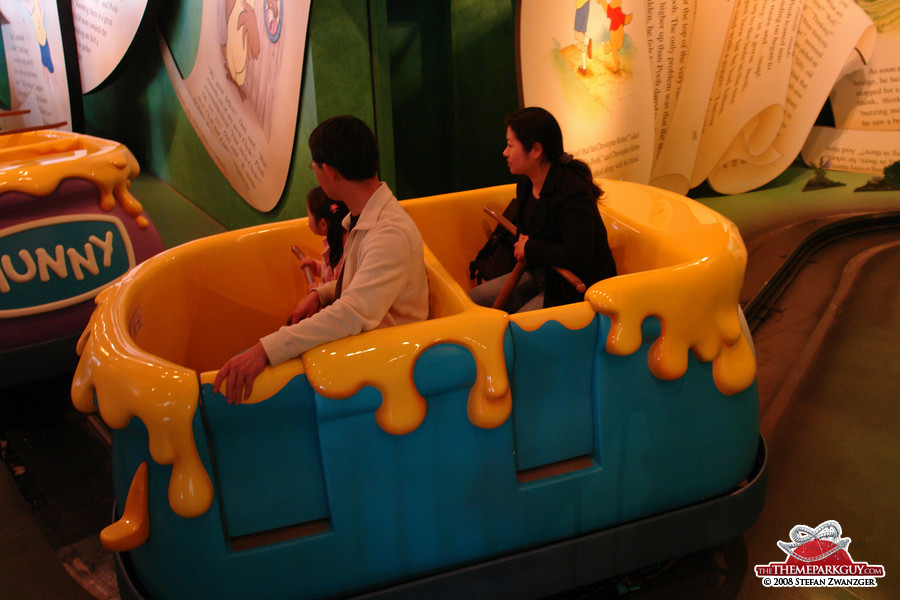 Winnie the Pooh dark ride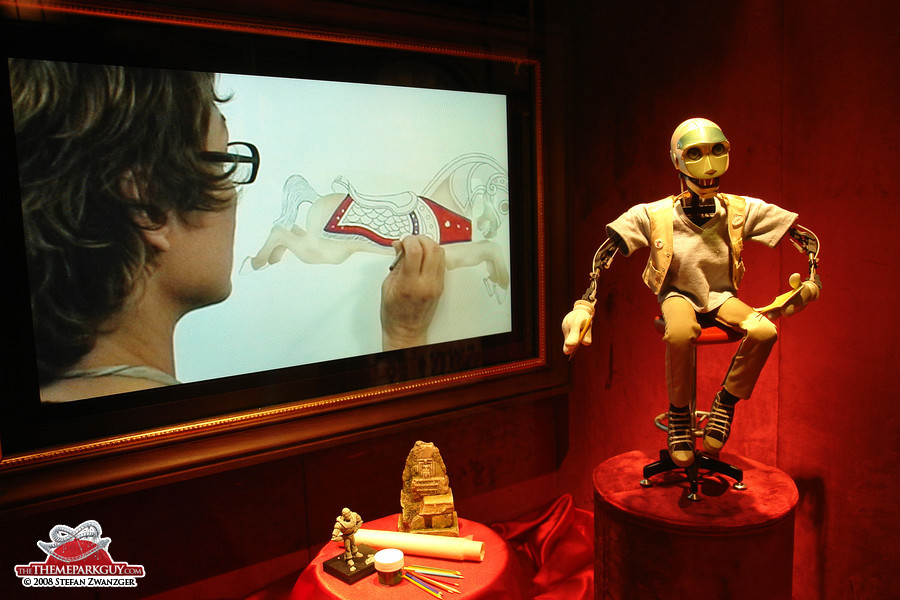 Exhibition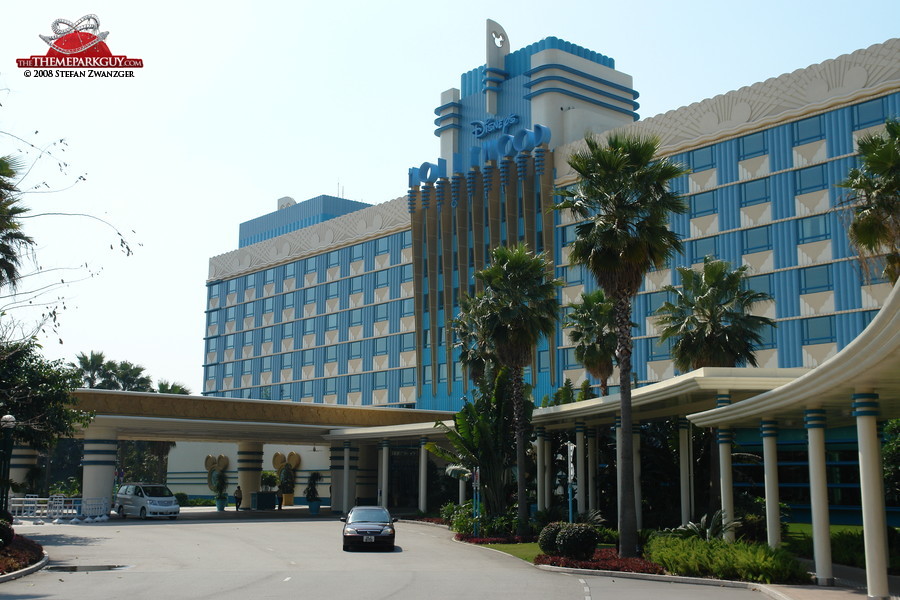 Disney's Hollywood Hotel: unbeatable value!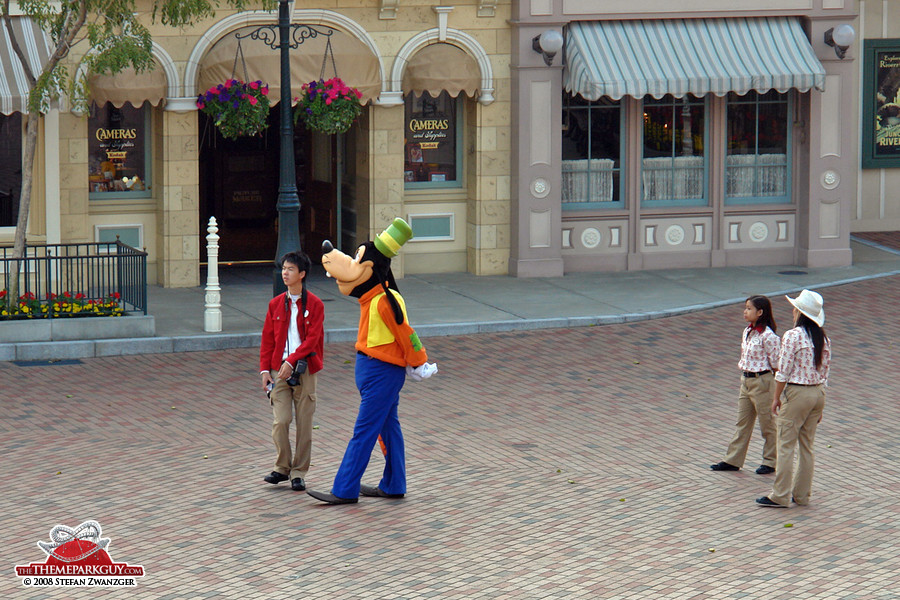 Lonesome Goofy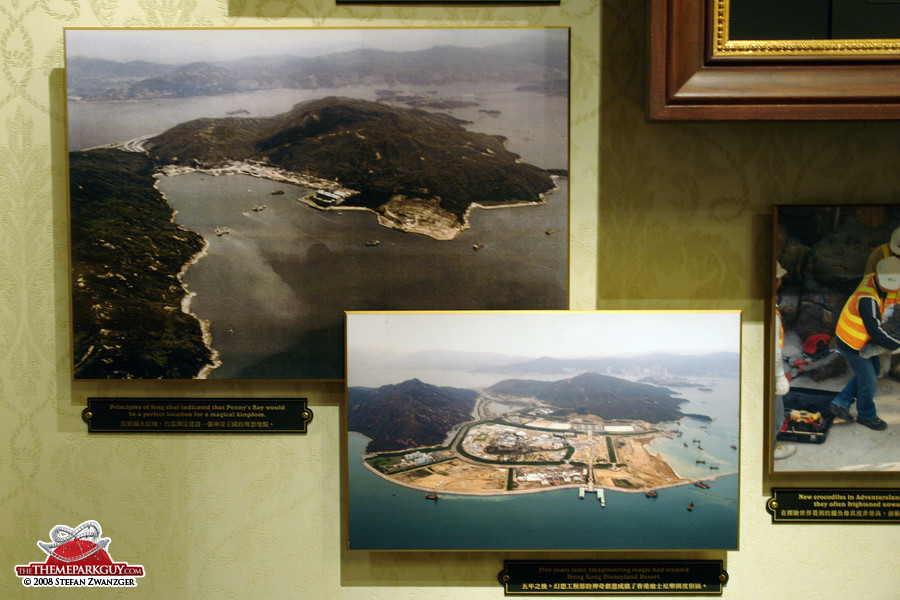 Hong Kong Disneyland landfill in the making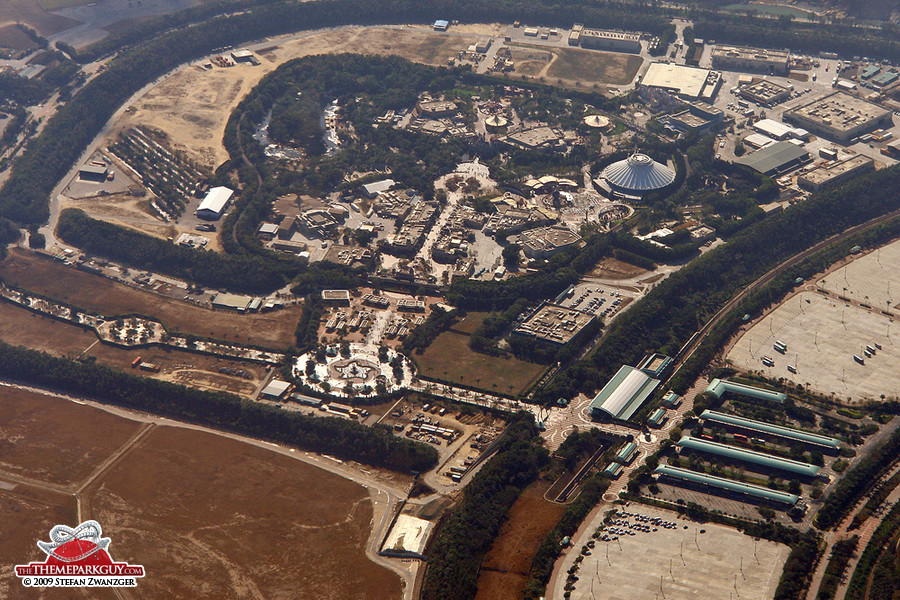 Hong Kong Disneyland seen from the plane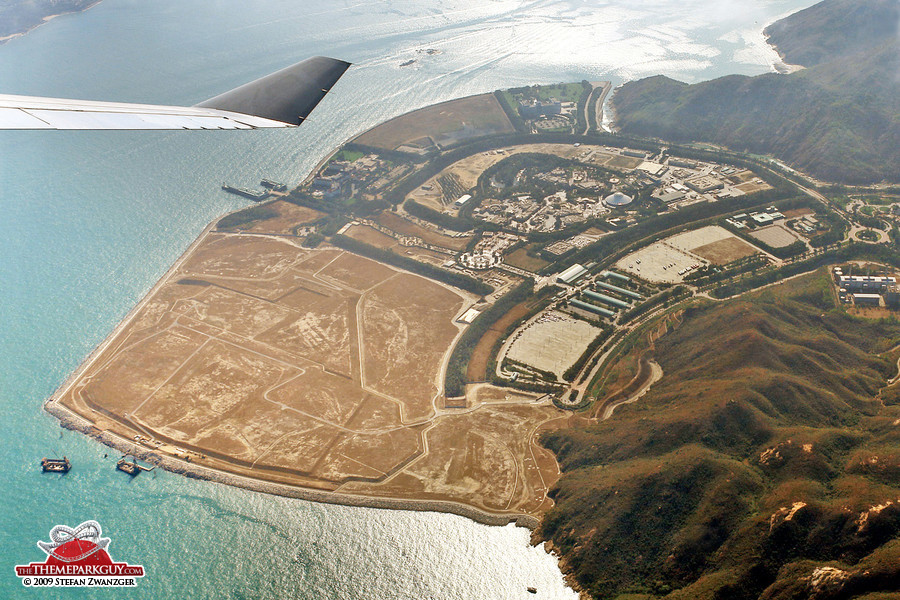 Huge room for expansion here