Can you contribute? More construction updates here!

Aerial Photo Update
July 24, 2009
Coming back to the world's best theme park always makes my hair stand up. I never get bored walking around the meticulously designed Mount Prometheus and riding its ingenious 'Journey to the Center of the Earth' thrill ride, accompanied by its thundering-poetic soundtrack.
And I certainly never get bored flying over it by helicopter, a pricey venture in Japan, but worth all the ten-thousands of happy yen. Congratulations to the whole team of Walt Disney Imagineering for truly delivering beyond any expectations!
[additional 2009 aerials added on April 02, 2013]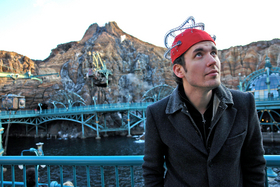 Review
February 18, 2008
DisneySea is the best theme park in the world. There might be people who would argue with me about that, but I will defend my position of 2008: this is it! It's the peak of theme park history. The One. The Best.
The park was originally planned for California, but later scrapped and built right next to the incredibly busy Tokyo Disneyland Park. Let me tell you my reasons for calling it the best theme park in the world:
• Mount Prometheus: an awesomely natural-looking volcano mountain which easily beats Animal Kingdom's Expedition Everest. You can walk around it and you will be stunned, you can walk inside it and find a bombastic, thundering, overwhelming Jules Verne dream island, the likes of which you have never seen before. Beautifully designed ultralarge volcano drilling machines, storybook submarines and boats that cruise right through the volcano's lake: everyone is stunned here! Walk inside. Watch the people. Close your eyes and listen to the sounds. Watch the giant water bubbles and soak up the atmosphere of the place. It's a real kick-ass experience in terms of both design and atmosphere. To date, nothing tops it. The center of the park is its highlight.
• 'Journey to the Center of the Earth': a unique ride exclusive to this Disney park and possibly the best ride ever created in theme park history. You descend by elevator to your futuristic, elaborately designed ride vehicle, in which you will travel towards the "center of the earth", spiraling through atmospheric caves, surrounded by fantasy animals and backed by a soundtrack that you will be humming for days after. The sudden change of pace as you accelerate to the volcano's peak is the highlight of the ride. It uses the same technology as in Epcot's 'Test Track', but with far more style. It's a sure bet that you will want to ride it again.
• 'Indiana Jones Adventure: Temple of the Crystal Skull': it's interesting that the ride's name unveiled the idea for the fourth Indiana Jones movie six years before it was actually shot. You will travel in an 'Enhanced Motion Vehicle' through a bug and snake-infested temple, complete with a life-like tornado and the famous rolling boulder. It's quite similar to the Indiana Jones ride in California's Disneyland.
• 'The Tower of Terror': differently themed to its namesakes in other Disneyland parks, this one is based around the story of an expeditionist receiving a mysterious voodoo puppet as a present on a trip to Africa. While queuing in the enclosed room with the large window it's worth looking out for an awesome effect: face the wooden voodoo puppet at all times and you will wonder, wonder and wonder how it disappears. Great magic! Afterwards, the actual drop tower awaits you.
There are lots of other unique attractions including 'Sindbad's Story Book Voyage', a very long indoor boat ride for the kids; '20,000 Leagues Under the Sea', a submarine ride amongst exotic sea creatures and 'Raging Spirits', a short roller coaster with a loop. The atmosphere everywhere, the eye for detail and the evidence of a real budget make me wish I could buy property inside the park and live there.
Above everything, the friendliness and care of the Japanese staff beats that of all other theme parks in the world. Nowhere else will you feel as welcome as here. Wherever you live, it's worth buying a ticket to Japan, even if it's a 15-hour flight for a mere 2-day visit to this park. You will return home and say: "Hey! I've seen something really unique in this world!" DisneySea is under-attended by foreigners. There are a lot of happy Japanese people around, but the global community hasn't discovered it yet. Next time, skip Walt Disney World in Florida and visit DisneySea Japan instead!
Visit

for daily theme park construction updates worldwide