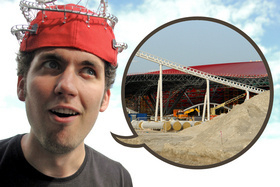 Park Review
November 04, 2010
Ferrari World's signature attraction - the fastest roller coaster in the world - is also its best. 'Formula Rossa', built by Swiss/German coaster company Intamin, is a mind-blowing rocket ride that makes you forget everything else you had in mind prior to the monster-acceleration launch of 0-240km/h in 4 seconds. It's so mind-blowing that, on my first ride, the Arab girl seated next to me couldn't help but clutch my arm, something that would NEVER happen on any other occasion. Formula Rossa takes off so fast, cultural conventions don't have time to keep up! What a rush!
The grey coaster tracks sticking out of the opposite side of the building belong to a Ferrari-car-modeled dueling roller coaster (two coasters racing against each other on two intertwining tracks) of corresponding quality, very suitable for coaster beginners and those who fear the mind-blow or the temptation to touch their fellow passenger.
Inside the massive building you'll find all kinds of dark rides, most of them acting as graceless Ferrari commercials. Unfortunately, they don't live up to the coaster standards; they look like wannabe-Universal and -Disney rides and feel as if the budget got tight during the finishing touches. Some of them are seriously bad.
I believe the opening of Ferrari World will be transformative for Abu Dhabi. Finally a public place to mix, mingle, queue and yell together in a city that currently consists solely of residential/office buildings, a few parks and two major shopping malls. A place to chat with someone random who shares the ride experience with you. A place to leave the need for speed behind, for better road discipline afterwards. A monumental catalyst for all things missing in the city. That's the true achievement. The theme park itself is average.
If it ever manages to fill up, which will be an immense back-, brain- and soul-breaking challenge for its operators given the combination of its size (86,000 sqm), price (61 USD per adult) and location (20km away from Abu Dhabi city, which itself has just under 1 million pretty busy inhabitants), it would be the first theme park in the Middle East that isn't empty.
And yes, Formula Rossa is worth the stop-over or drive to Abu Dhabi. On my walk outside around the coaster I heard everything from really bloodcurdling wordless death screams to expletive strings like 'Mother holy blasted shit!'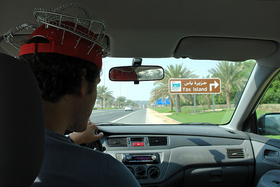 Construction Update
October 27, 2009
With the opening of the Saadyiat Island Highway and the Yas Island hotels ahead of the Formula 1 race in October 2009, the Ferrari World theme park was suddenly unveiled to the general public of Abu Dhabi and its race-addicted visitors.
Ferrari World is housed under an incredible roof structure resembling a gigantic Manta Ray, from which its two roller coasters protrude. The white launch roller coasters will supposedly be the fastest in the world, the smaller, grey one a dueling coaster featuring Ferrari vehicles. The building itself will house dark rides, cinemas and rides for kids.
This giant venture is supposed to open in 2010 – most likely towards the end of the year. I am very curious to see how much attention to detail will be evident inside that vast building, which remains, for now, in the middle of nowhere. This is the next bombastic theme park opening after Universal Studios Singapore.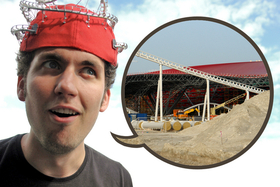 Construction Update
May 05, 2009
Incredible what I witnessed here: a massive, red-colored space ship-like structure called 'Ferrari World Theme Park', due to open in spring 2010. Two huge state-of-the-art roller coaster tracks stick out of it and, inside the mammoth building, work is underway on an impressive amount of creative dark rides. Mack Rides (Europa-Park) and Maurer Soehne ('Hollywood Rip, Ride, Rockit' in Universal Studios Florida) are all on-site.
The atmosphere, created by the mixture of sand, sea, cranes, creatively-crafted experimental buildings and thousands of workers on this monstrosity of a construction site, tops that of Las Vegas' City Centre.
Yas Island has made incredibly fast progress since my last visit. The Formula1 track close by, to be completed by October 2009, keeps the pressure on deadline-meeting construction. Other developments such as Warner Brothers and the water park haven't started construction yet as far as I could see.
Visit

for daily theme park construction updates worldwide